May, 20, 2011
5/20/11
1:02
PM ET
Examining the most crucial event in the history of every team in the division.
Peyton Manning
melded a team and a town, resurrected the once-proud horseshoe and will finish up as a contender for the greatest of all time on the quarterback list.
There is no minimizing his impact.
Said DaveatIU: "Without drafting Peyton Manning... they would be the Los Angeles Colts right now. 'Nuff said."
The Blog Network offered four choices per team, plus the option to vote "other." And out of 160 total options, the drafting of Manning got a higher percentage of votes on his team's ballot than anyone or anything else.
As of Thursday afternoon, Manning had a whopping 87 percent of the Colts' vote. He didn't win by a little. He outpointed the next three biggest Flash Points in your eyes by 18 percent: Joe Namath's guarantee for the Jets, the Broncos trade for
John Elway
and the Packers' hiring of Vince Lombardi were all at 69 percent.
In general, AFC South voters went modern. With the Jaguars and Texans, there is no other choice. With the Colts and Titans, you chose not to hearken back to Baltimore and Houston, respectively.
I understand many of you don't regard Baltimore/Indianapolis and Houston/Nashville as single histories. But we don't get to decide. The Irsay and Adams families did.
As edutil21 wrote: "The question is asking about the colts FRANCHISE, not the cities of Indianapolis or Baltimore, and with that in mind it is perfectly plausible to include anything that occurred during the Franchise's time in Baltimore."
And so, as big a moment as drafting Manning was in setting his franchise's course, I think my vote has to go to The Greatest Game Ever Played, the 23-17 overtime win over the Giants in the NFL Championship Game at Yankee Stadium in 1958.
Without that game, are we certain the league turns into an entity where Manning has the chance to make the impact he has?
j_sleik83 was disgusted with the balloting: "And the idiots voting reign supreme. It's the 58 title game. In NFL history it's number 1, much less Colts history. And btw, Johnny Unitas is still the greatest QB in Colts history."
Added CPCaesar: "Do Colts fans have zero sense of history?! I can understand a strong showing for Peyton, but to have him blowing out the game that made the NFL into a televised sport is ridiculous! This team has a legacy that includes Don Shula and Johnny Unitas, but it seems as if their impact on the game is lost on a modern fan base…"
There was also a pretty good other mentioned by a few, including krankor: "The actual Colts Flash Point didn't even involve the team. It was in 1955 when the
Pittsburgh Steelers
brilliantly decided that it would be a shrewd move to cut Johnny Unitas."

TITANS: Epic playoff collapse set stage for relocation
With the Titans, modern also ruled. I understand why 52 percent of voters clicked the button for The Music City Miracle.
For Nashville sports fans to get a play like that in the team's first year as the Titans, in the city's first playoff game, was absolutely remarkable. It put the team's claws into everyone with any sort of interest that day for the long haul. Quite frankly, it spoiled them, too.
With apologies to greenlawler and the majority of voters, I've got to go a different direction again.
The Oilers/Titans are, historically, average at best. Since the AFL-NFL merger, the team has had 18 winning seasons, 17 losing seasons and six .500 seasons. It's 14-19 all-time in the playoffs even counting the AFL days when it won a couple of titles. Since the Music City Miracle season, the team is 2-5 in the playoffs. What was transformed?
Put the MCM aside, and the biggest historical moments for the franchise are generally not wins: A yard short of overtime in its one Super Bowl appearance; back-to-back AFC Championship Game losses in Pittsburgh to end the 1978 and 1979 seasons; and the firing of Bum Phillips after an 11-5 year in 1980.
And the mother of bad playoff moments, that epic playoff collapse in Buffalo on Jan. 3, 1993, when the Oilers blew a 35-3 lead to lose 41-38 in overtime.
That's the Flash Point to me.
What if that team or the 12-4 team a year later (that was scarred by that disaster), went to a Super Bowl? What if it won a Super Bowl?
Surely Bud Adams would have maintained a better standing in the city, which would have been more willing to build a new stadium. Take away that loss, and there still could be a team in Houston wearing powder blue and an oil derrick. (And a guy like me, who got his big break in sports writing because Nashville got an NFL franchise, might be an admissions director at some private high school.)
So I align with mag5011ad: "If they don't blow that 32 point lead, I think they represent the AFC in the Super Bowl, not the Bills. With that excitement in the city, they get the support to build a new stadium, which keeps the team in Houston. Most defining moment. . ."
JAGUARS: Quick Final Four appearance boosted city
A trip to the AFC Championship Game in the Jaguars' second season of play had quite an impact on the market in 1996. It got 52 percent of your votes as the Jaguars' Flash Point, and I am in agreement.
But your comments were mostly about the 1999 season, when the Jaguars hosted the AFC Championship Game. They lost to the Titans for the third time that year, in a season which they lost to no one else.
Said markpark64: "I would say the 1999 AFC Championship Game. It was the last home playoff game and ended a run of four straight playoff appearances. The Jags' history can really be divided into pre-1999 (2 AFC Championship Game appearances in 4 years) and post-1999 (only 3 playoff games and 1 playoff win in over 10 years). The team has not been the same since the 1999 loss."
You also wanted to spin forward, which isn't the game we're playing but was understandable.
Said SeattleJaguar: "It may be too soon to say, but I think the promotion of Gene Smith to GM will be looked at as the most significant turning point for this franchise. The fan base is starting to become more mature and a unique football culture is beginning to establish itself. We are seeing a young, die-hard, fan base emerge from the 'Jaguars babies' of the 90s. If you go to any games, its remarkable how young the fans are and they will stay loyal to the Jags, unlike the old farts that abandoned the team after the 90s. Go Jags!"

TEXANS: Controversial draft choice proved correct
Texans fans voted, narrowly, for the drafting of
Mario Williams
in 2006 over the awarding of the franchise in 1999.
The Texans got crushed for the selection, but history shows they knew exactly what they were doing. He's a superior player to
Reggie Bush
or
Vince Young
.
The decision to draft Williams did not transform the team, but there is nothing that's boosted a nine-season-old team in such a dramatic fashion.
Said vonstev1668 "Though I voted for the win against the Cowboys [in the franchise's first game], the truth is the Texans haven't had their defining moment yet."
Said EMajorwitz: "Trick question, hasn't happened yet. [Dom] Capers and [Charley] Casserly essentially ruined this team with their horrible drafting and free-agent signings. Other than
Andre Johnson
, I don't like a single first-round pick. Nearly a decade into the franchise's history and we still haven't made the playoffs while recent expansion teams like Carolina and Jacksonville have been deep into the playoffs."
June, 29, 2010
6/29/10
11:00
AM ET
[+] Enlarge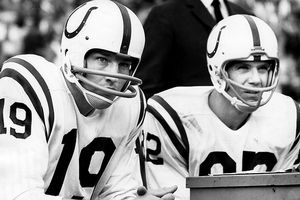 NFL/Getty ImagesJohn Unitas and Raymond Berry led the 1958 Colts to victory in "The Greatest Game Ever Played."
Notable players:
QB John Unitas, WR Raymond Berry, LT Jim Parker, HB Lenny Moore, RB Alan Ameche, DT Gene Lipscomb, DE Don Joyce, DE Gino Marchetti, DT Art Donovan.
Analysis:
It's very difficult to choose against the 1958 NFL champions, who took the crown with an overtime win in "The Greatest Game Ever Played." That win over the Giants at Yankee Stadium avenged a regular-season road loss to New York and did much to propel the NFL and football to prominence.
It's prompted books with subtitles like "The Birth of the Modern NFL" and "How the 1958 NFL Championship Changed Football Forever."
And Baltimore's lineup featured six players -- Berry, Donovan, Marchetti, Moore, Parker and Unitas -- who are in the Pro Football Hall of Fame, as is their coach, Weeb Ewbank.
These Colts were 6-0 at home and finished 10-3. Before the title tilt, they'd won by an average of 17 points and only once by a margin as small as seven. Their three losses were by 14 points. While Unitas threw 19 touchdowns against seven interceptions, the offense was really run-based with 24 rushing touchdowns and an average of 177.3 ground yards per game.
The defense posted even more impressive numbers, allowing only nine touchdown passes while intercepting 35 passes. Safeties Andy Nelson and Ray Brown had eight interceptions each.
And, before you fire off that e-mail: Sorry if Indy folks don't like it, but yes, Baltimore and Indianapolis are the same franchise. Check the nickname, check the record books, check with the league. We're following its lead. This is what happens with relocated teams, with only the Browns/Ravens exception.
Most impressive win:
Did we mention "The Greatest Game Ever Played?"
Research room:
The 1958 Colts were the first team in league history to win a game in overtime, regular season or postseason.
Honorable mentions:
1959:
These Baltimore Colts finished 9-3 and beat the Giants for the title again, with the same core of eventual Hall of Famers the 1958 team had.
1968
: The famous clip of Joe Namath running off the field, his raised index finger wagging, overshadows these Baltimore Colts. They outscored opponents 402-144 and won the NFL title but lost Super Bowl III to the
New York Jets
in another game crucial to the league's growth.
2006:
Peyton Manning
and the
Indianapolis Colts
went 16-4 and their four-game playoff run produced a Super Bowl title. Yes, 2005 may have been a better team, but this one gets the nod because it got the trophy.
1970:
In the last five seconds of Super Bowl V, rookie kicker Jim O'Brien's 32-yard field goal lifted the Baltimore Colts to victory over the Dallas Cowboys.
January, 22, 2010
1/22/10
8:23
AM ET
Houston Texans
The Texans were
denied permission
to interview Atlanta quarterbacks coach Bill Musgrave and Miami receivers coach Karl Dorrell, says John McClain. Such denials are not uncommon.
Three Texans
were among players who went to Capitol Hill, says Alan Burge.
Indianapolis Colts
Jim Caldwell is
never unprepared
, says Phil Richards.
Caldwell
stays true
to his beliefs, says Richards.
The Colts have
a nasty defense
too, says Bob Kravitz.
Jets vs. Colts
still means a lot
to Joe Namath, says Curt Cavin.
If Jerraud Powers can't go, Jacob Lacey is
ready, as usual
, says Chappell.
On the biggest stage of his life, Pierre Garcon is doing
all he can
to help in Haiti, says Cavin.
The Jets
feed off
Rex Ryan's style, says Phillip B. Wilson.
Steve Weatherford is
scrambling for tickets
, says Wilson.
Wilson's
matchup page
.
Counterpunchers have become
sluggers
, says Judy Battista.
Peyton Manning and the Colts are looking to
shed a reputation
as playoff underachievers, says Nancy Gay.
Jarrett Bell looks at Manning's propensity to
clam up
at playoff time. Manning spoke for less than 10 minutes this week. It's not unreasonable to expect at least double that from the league's MVP the week of the AFC title game.
Jim Trotter
breaks down
the game.
John Oehser's thorough
game preview
.
The Jets running game poses
the big challenge
, says Tom James.
Reasons
to love the Colts, reasons to hate them, from Shutdown Corner.
Eighteen things
to watch for in Jets-Colts, from Deshawn Zombie.
The Jets ran well and
still lost
often this season, says Zombie.
Remembering the last Colts-Jets
playoff game
with Big Blue Shoe.
Called on to hold for field goals for the first time, Pat McAfee's been
reliable
, says Larry Hawley.
Jeremiah Johnson would like to see Edgerrin James, who is
an honorary captain
for the game, get the Deuce McAllister treatment and actually be on the roster. I'm against turning former players into mascots as the Saints did with McAlister last week.
Super Bowl III will be
replayed
Saturday night.
Jacksonville Jaguars
There is
no deal in place
yet for assistant coach Joe Cullen, says Vito Stellino.
A continuation of Chris Harris'
conversation with Jack Del Rio
.
A look at
who the Jaguars beat
from Jonathan Loesche.
Tennessee Titans
Kenny Britt's uncle
defends him
for posting bail for an old friend, says Jim Wyatt. People who are jumping to conclusions and wondering if Britt's the next Pacman Jones need to slow way down here. He's done nothing wrong.
Found some
interesting numbers
on Nick Harper in this Aaron Schatz piece on cornerback tackles.