August, 28, 2012
8/28/12
11:04
PM ET
Things we learned from Tuesday night's episode of "Hard Knocks" about the trade of cornerback
Vontae Davis
from the Dolphins to the Colts.
Davis

The Colts initiated trade talks via text to Dolphins general manager Jeff Ireland, presumably from counterpart Ryan Grigson.
Ireland expected a big contribution from Davis this year and thought he'd be tough to replace, but questioned Davis' role with the team in the long term, which is why he considered dealing him.
Miami's defensive-backs coach thought the pass-interference penalty that put Davis in position for an interception he returned for a touchdown -- nullified by said penalty -- in the preseason loss to Atlanta was "ridiculous" and showed "just a total lack of awareness."
Presuming he was listening to the television in his office, Ireland knew Colts owner Jim Irsay was tweeting about a potential trade, as the report on the TV had a broadcaster reading one of the tweets.
Ireland told coach Joe Philbin the offer started at a fifth- and sixth-round pick, then went to a third-round pick, then a second-round pick -- which Ireland said was not enough -- to a second and a conditional sixth, which is what the trade brought Miami.
Davis' immediate reaction upon being told by Ireland he was traded to the Colts was a desire to call his grandmother.
Ireland told Davis he has the ability to be great, but that the up-and-down waves in his consistency needed to be smaller for it to happen.
March, 10, 2012
3/10/12
11:27
AM ET
GMAC from Nashville writes:
Offering our
20th pick
for
[Dwight] Freeney
? Are you kidding me? I hope Ruston Webster doesn't read you. You didn't even mention the botched trade, when we sent our first to the Rams for Kevin Carter in 2001. He made the probowl one year and was gone after his fourth... and he was 28 at the time. You think he wanted to play here? C'mon man. I'd rather have a top 20 prospect, who is committed to the team that drafted him than watch Freeney (32), who probably bleeds colt blue, be injured for most of the duration of his contract here. A third at most. I won't make this any longer because you probably won't respond anyway. Keep up the good work.
Paul Kuharsky:
Yeah, I won't respond. I am known for hiding.
People are overly protective of draft picks. Who's this great pass rusher they will get at 20? Will he be as good as
Michael Griffin
's been as a safety after being the 19th pick?
They need a special pass-rusher. Freeney is one. There aren't many, if any, in this draft. They are gone by 20. Seven of the last 21 defensive ends drafted BEFORE 20th rate as busts at this point to me.
I said start off by offering a second-rounder.
Kevin Carter wasn't great, but he was a pretty effective player for the Titans. Absolutely he wanted to play for the Titans. Why wouldn't he have?
Ron from Murfreesboro, Tenn., writes:
Any chance the Titans pursue the Saint's
Carl Nicks
. He's a great player at a position of need for the Titans. Not sure what his price range would be like. If we go out and get him then I think we can focus the rest of the offseason on improving the defense. What are some other offensive line candidates the team will look at both in free agency and the draft?
Paul Kuharsky:
Nicks will be the costliest guard in the league. Someone other than the Titans will very likely be writing those checks. A mid-range free agent or draft pick is most likely. Can't tell you names.
Garrett from Missoula, Mont., writes:
If
Peyton Manning
goes to Miami, what are the chances
Reggie Wayne
joins him? It seems like a perfect fit with Miami's roster and the history Wayne has there, especially if Manning goes.
Paul Kuharsky:
With or without Manning, I would think Miami would be a favorite to land Wayne. He could be great for another QB too.
Larry Dorsch from Pittsburgh writes:
Where do you see
Tommie Campbell
"fitting it" with the Titans?
Paul Kuharsky:
He will compete for third corner. He will be the third, fourth or fifth corner and a key special-teamer.
Amy Hamilton from Indianapolis writes:
It makes no difference how long we had to prepare. It is profoundly depressing. Sure, it's only a game. I keep telling myself that to no avail. There is no comparison to Favre or Montana. Peyton revolutionized the game and put us on the map. I really don't care if
Andrew Luck
is the right choice - you stick with Peyton until he's ready to be done. Maybe we Hoosiers are unusual in that respect.
Paul Kuharsky:
Revolutionized the game? A bit strong, I think. He's a fantastic player and unique. Others can't do what he does (or did) in terms of altering plays at the line. But for that to be a revolution, we'd have to see more guys starting to do it. And they aren't.
And Joe Montana won four Super Bowls. I know it's about the team, not just the quarterback, but you needn't be dismissive of Montana in order to be complimentary of Manning.
It was not my sense that most Hoosiers said the Colts had to stick with Manning given the circumstances, just that he deserved to go out gracefully.
Aaron from Jacksonville, Fla., writes:
Hey Paul, why is everyone thinking that Miami is "close to a championship" and ideal for Manning? Do they not remember that just last season the Dolphins won only 6 games and also fired their head coach? Sure coaching may be a FACTOR but you have to figure the fault lies with the players as well. Just curious.
Paul Kuharsky;
I am with you. I think they are being over-rated – in large part because, while I like Joe Philbin, I know nothing of how he will be as a head coach.
Gavin from Fairmont, W.Va., writes:
I am a long time Colts fan and come often to your blog. I keep seeing that Luck is the most NFL ready QB, and I wanted to know your thoughts on this. Doesn't that, being the most NFL ready QB, mean he has little to no room to improve so you are basically getting what you see.
Paul Kuharsky:
No, it doesn't mean that at all. NFL-ready means ready to play in the NFL. It means he'll be better at the beginning.
It doesn't mean has maxed out or won't have room to learn and get better.
March, 7, 2012
3/07/12
6:43
PM ET
What kind of scheme will fit
Peyton Manning
best?
One that's a lot like what he ran while he was with Indianapolis.
We can do a lot of speculating about what's most important to Manning going forward. My belief is a guy who is a creature of habit and loves routine and repetition will be most inclined to go somewhere where he gains a good measure of control. Where the coach and offensive coordinator will be willing to bend things to him. Where he can continue to do the things he's been honing for years.
That's why I don't see Washington as a good fit at all.
[+] Enlarge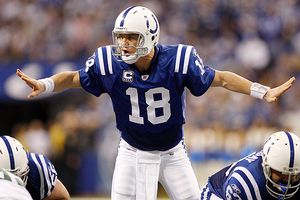 Jerry Lai/US PresswirePeyton Manning would likely do best in an offense that's similar to the one he ran in Indianapolis.
Mike Shanahan is a control freak and his son and offensive coordinator, Kyle, is a chip off the old block. Toss Manning into that mix and there isn't enough control to go around.
Ken Whisenhunt in Arizona has shown a willingness to fit a scheme to a signal-caller. Joe Philbin in Miami is just starting out and would surely be willing to tilt things. Pete Carroll in Seattle seems to be a flexible guy when dealing with big personalities and stars. Romeo Crennel in Kansas City is a defensive guy.
John Fox is intense, but he and John Elway wouldn't jump in unless they would mold things for Manning. And we certainly know they are willing to move away from the offense
Tim Tebow
was running.
"In the end, the chances are that whichever team Manning lands with will incorporate its present offensive system intertwined with what Manning did with the Colts,"
writes Matt Williamson of Scouts Inc

. "Manning's offense in Indy included a zone run-blocking scheme that featured athletic, movement-based linemen, limited personnel groupings and formations, a ton of pre-snap reads, and a timing-based passing attack that thrived after hours and hours of practice time."
I can't give away the store of the Insider piece, so I won't share the order Williamson lists the matches in. We'll go alphabetical as we share some snippets. As a bonus, my blog network brethren have chimed in with a flexibility rating for the coach/staff/scheme. A "10" means the team would hand over the keys to Manning and a "1" means he'd be expected to run precisely what the coaching staff wanted.

Arizona
Williamson:
"This is the offense I would expect to change the most for Manning. Ken Whisenhunt is a very good offensive mind, but his philosophies have changed dramatically in his tenure as head coach, depending on the quarterback he's had at his disposal."
Flexibility index from Mike Sando:
7

Denver
Not on Williamson's list.
Flexibility index from Bill Williamson:
10

Kansas City
Williamson:
"Adding Manning should make the team the clear favorite to win the AFC West, if not more. But, without a quarterback of the future on the roster, if Kansas City swings and misses on this acquisition, it could cost it dearly. Cassel is mediocre, and probably always will be, which could make the Chiefs too complacent in terms of finding a replacement or successor. It's time for them to be aggressive."
Flexibility index from Bill Williamson:
10

Miami
Williamson:
"With Joe Philbin taking over in Miami, the team will be installing an offense very similar to the one in Green Bay, which would fit Manning with all the pre-snap reads it requires. Also, limiting some of the injury risk of signing Manning and putting all the eggs in that basket is that Miami has
Matt Moore
returning. Although Moore is far from elite, you could do much worse as backups go."
Flexibility index from James Walker:
7

New York Jets
Williamson:
"I don't think Manning would put New York over the top because it has problems at right tackle, No. 2 wide receiver and possibly at running back on offense. On defense, the Jets have a hole at safety, at outside pass-rusher and with an inside linebacker who excels in coverage."
Flexibility index from Walker:
10

San Francisco
Williamson:
"Manning wouldn't have to put the entire team on his shoulders in San Francisco. The wide receiver position certainly needs upgrading, but Manning could have a reduced role from his time in Indianapolis -- which might be best for him now -- and consistently get his team into strong play choices at the line of scrimmage."
Flexibility index from Sando:
3.5

Seattle
Williamson:
"With a power ground game, an improving offensive line and some young receiving weapons to work with, Manning might be able to accomplish quite a bit with this offense. If Seattle signs Manning, it definitely could make a run."
Flexibility index from Sando:
8

Washington
Williamson:
I also have some concerns about how well Mike Shanahan would be able to -- and how willing he would be to -- alter his offense, which stresses a move-oriented quarterback, to fit Manning's cerebral skill set.
Flexibility index from Dan Graziano:
3