September, 16, 2011
9/16/11
5:11
PM ET
New AFC North blogger Jamison Hensley did not have enough on his plate Thursday, his first day with ESPN.com. So I maneuvered to steal some of his time to talk about two key matchups in games pitting our teams against his on Sunday. It produced this post.
Call it rookie hazing.


PK:
For starters, I'm curious about the Browns' plan to slow down
Robert Mathis
, I know they've got some issues at right tackle.
JH:
They haven't even settled on one guy, they're going to go with a rotation with
Artis Hicks
and
Oniel Cousins
. For the chemistry and to get into a rhythm with the offensive line, that's just not an ideal situation. So I think the best way for them to negate Mathis is through strategy.
Colt McCoy
is going to take a lot of three-step drops, get rid of the ball very quickly. Because if he holds the ball like he did last week against Cincinnati, he's going to get hit.
They feel very confident in
Joe Thomas
on the left side with
Dwight Freeney
, but the big question is how they stop Mathis. I think they just can't let Mathis get a shot on McCoy, I think they have to be smart. Because right now that's the biggest matchup problem they have.
PK:
And if the Browns can get ahead, like Houston did last weekend, the biggest way to make both those defensive ends non-factors is to run the ball. So I'm sure Cleveland is hoping for a big day from
Peyton Hillis
.


How about with the Ravens, I know they've got some questions on the secondary and their defense is keyed around their front.
Kenny Britt
has shown himself to be, perhaps, the Titans' most dangerous guy. If he gets loose in that secondary and they can protect
Matt Hasselbeck
, what happens back there?
JH:
That's going to be a big question. The Ravens thought they had a deep secondary coming into the season. Then they lost first-round pick
Jimmy Smith
to a high ankle sprain, he's going to be gone for a month. Then you have
Chris Carr
who hasn't practiced this week because he aggravated a hamstring injury.
So you have
Cary Williams
, a former Titan, starting for the Ravens, and
Lardarius Webb
, who was very inconsistent last year but who's coming off a good, strong game. I think they're going to have to do this by committee because Kenny Britt is a talented receiver. I think they're going to have to use a lot of
Ed Reed
shading his way.
I don't think they can honestly go into this game thinking they can put one guy on him and really take Kenny Britt out of this game. Whatever side Kenny Britt goes to, I think that's where Ed Reed follows.
PK:
Britt and Hasselbeck still have some timing issues. That can be just the sort of thing Ed Reed finds an opportunity to pounce on.
June, 14, 2011
6/14/11
4:35
PM ET
Aaron Kampman
was a bit reluctant, but played along.
Kampman
On the day ESPN.com's Power Rankings took on left tackles, I asked the
Jacksonville Jaguars
defensive end for his top 10.
He considered, and came back to me with five, including a three-way tie at the back of his list. He included only players he's faced, but offered some commentary on each.
Here's his list with those comments:
Why not 10 left tackles? Kampman said it's just tough to differentiate that many guys, emphasized that all the guys he mentioned were all very close in talent, didn't want to talk about guys he didn't face or know and said judging a left tackle is closely tied to the speed with which a team's quarterback gets the ball out of his hand.
"Look at how long a guy has to protect," he said. "That's the secret. If the ball is out in under 2.5 or two seconds, a lot of it doesn't matter. I've beaten guys clean and the ball is already gone."
May, 31, 2011
5/31/11
11:27
AM ET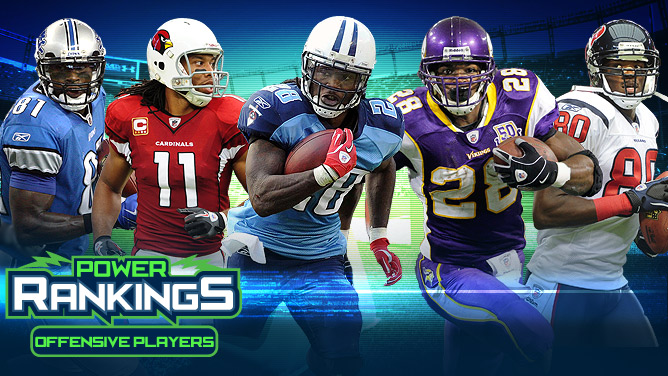 ESPN.com IllustrationChris Johnson (center) and Adrian Peterson (center-right) share the top honors in our Offensive Player Power Rankings.
ESPN.com's NFL writers rank the top 10 offensive players (non-quarterbacks) in the league today.
Next week: Toughest venues to play in.
We've evaluated running backs, assessed receivers, tackled tight ends and critiqued quarterbacks.
Our next assignment for ESPN.com's Power Rankings: Rate the top 10 offensive players in the NFL, taking signal-callers out of the equation.
It's a difficult task, considering we've not addressed the offensive line. (I believe that left tackles are on the long-term agenda, but that is not my department.)
Nobody else took my route. I simply put a giant premium on explosiveness and passed on O-linemen entirely. I didn't do it because I downgraded their importance. Backs, receivers and tight ends couldn't qualify for consideration here, obviously, without quality line-blocking.
I did it for three reasons.
Like virtually every football writer, I am least good at evaluating offensive linemen with my own eyes.

Although conventional wisdom says to build inside-out, if I could select 10 offensive football players with whom to start a team, I'd load up on playmakers and feel good about the potential to build a good line starting with my 11th choice. (I'd have an excellent offensive line coach.)

We're not in the prime of Jonathan Ogden or Walter Jones or Alan Faneca. And although some great linemen got votes here, none is so good he HAD to be here. Right now, we might be more about units than superior individuals.
But my logic is easily disputed by someone who took a completely different tack. NFC North blogger Kevin Seifert voted linemen fifth and sixth with
Joe Thomas
and
Jake Long
, respectively.
"It's definitely harder to measure the impact of a singular offensive lineman versus skill players, but to me you're fooling yourself if you either subordinate their role or don't consider the best linemen to be just as important as the best running backs or receivers," Seifert said in an email laced with compliments of the AFC South blog's content. "Linemen don't touch the ball, so their impact on any given play is more limited than, say, when
Adrian Peterson
gets a handoff.
"But over the course of a game, an elite offensive lineman can contribute to a victory just as much. And, more obviously to most people, a sub-par performance from an offensive lineman can lead to defeat. I made sure to rank my top running backs and receivers ahead of any offensive lineman in this ranking, but I thought the two best guys in the league -- Joe Thomas and Jake Long -- deserved to be ranked over the second tier at the other positions. So that's how I went about it."
And so here's the buried lead:
Tennessee's
Chris Johnson
edged Minnesota's Adrian Peterson in our Running Back Power Rankings, but the two finished dead even here, sharing the No. 1 slot.
They are ahead of Houston receiver
Andre Johnson
by six points, while two more receivers rounded out the top five: Arizona's
Larry Fitzgerald
and Detroit's
Calvin Johnson
.
AFC West blogger Bill Williamson cost Peterson the outright No. 1 spot by voting him seventh, just as he cost Peterson a tie in
the running backs poll
by putting him third.
"I think Chris Johnson is the best running back and I think
Jamaal Charles
is right behind him," Williamson said. "I see Charles often. The guy is the goods. So, that leaves Peterson just a tad below. I stuck to my running back power rankings, which cost Peterson. Seems like it happened again. But I'm comfortable with it."
Atlanta receiver
Roddy White
is sixth, Jacksonville running back
Maurice Jones-Drew
seventh, Long eighth, Thomas ninth and Charles tied for 10th with San Diego tight end
Antonio Gates
.
Jones-Drew caused a bit of a divide. He wasn't named on five of our eight ballots, but NFC East newbie Dan Graziano and NFC South maven Pat Yasinskas had MJD in their top four.
"He's the every-down back, he's the goal-line back, he catches the ball," Graziano said. "I just think his overall contributions to the offense set him apart. He may not be as good or skilled a back as Peterson or Johnson, which is why I ranked those guys higher.
"But for me he has more to do with how his team's offense runs and succeeds than does a receiver like a Fitzgerald or White. And while I think Jamaal Charles has more talent, the fact that he doesn't play as much as Jones-Drew plays moves him further down the list for me."
Said Yasinskas: "I look at Maurice Jones-Drew as more than just a running back. He's an all-around weapon."
As usual, the reasoning of my colleagues makes me secretly second-guess some of my decision-making. Wait, did I say that out loud? Then not so secretly.
It's hard to go wrong, obviously, with an entire pool of offensive players (minus quarterbacks) to choose from.
Guys who got votes and finished 12th through 19th --
Reggie Wayne
,
Jason Witten
,
Michael Turner
,
Arian Foster
,
DeSean Jackson
(thanks to my vote, talk about big plays),
Nick Mangold
,
Greg Jennings
and
Steven Jackson
-- qualify as an All-Star team on their own merits.
Here's hoping the lockout doesn't leave us writing columns off imaginary games between teams featuring our first- and second-strings.
January, 20, 2009
1/20/09
1:30
PM ET
Posted by ESPN.com's Paul Kuharsky
Like the Titans, the Jacksonville Jaguars could really use a reliable and versatile downfield threat. A lack of explosive plays is an issue the team must address.
If the Jaguars could add any one player in the NFL to their team, either Larry Fitzgerald or Andre Johnson would be a good choice. (I'm leaving out Steve Smith because he's a few years older than those two.)
The Jaguars, though, will need to do a lot of work this offseason to fortify their lines on both sides of the ball if they are to return to the sort of physical mentality they want as their style and reputation.
Albert Haynesworth could be a huge help to the Jaguars' defense, particularly if he could spark a return to form by John Henderson.
But I lean toward the offensive line where the Jaguars will be looking for a new left tackle to anchor a line they want to push people around.
Walter Jones just turned 35. So my thinking is to sift through the league's best young left tackles -- Jordan Gross has six years of experience, Ryan Clady, Michael Roos and Joe Thomas all have less than that.
I invite you to chime in with comments here or notes to my mailbag. After I see what you have to say, I will make a plus-one selection for the Jaguars by week's end.