April, 13, 2011
4/13/11
2:40
PM ET
The National Football Post's Joe Fortenbaugh has a nice piece reviewing AFC South
draft trends
.
Here's a nugget on each team with a thought from me:
Fortenbaugh:
"Since 2001, the Colts have drafted only three offensive tackles. To put that in perspective, take note that over the last 10 years the team has spent the same amount of selections on kickers and punters (3)."
[+] Enlarge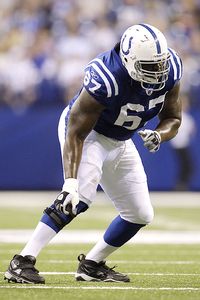 AP Photo/Darron CummingsThe Colts spent a 2007 second-round pick on Tony Ugoh but cut him last season.
Kuharsky:
It's significant and it's time to make a substantial investment. But when a team has a left tackle who plays for nine years and goes to three Pro Bowls (
Tarik Glenn
) and gets steady play from its right tackle for eight years (though
Ryan Diem
slipped last season) there isn't cause for huge expenditures at the spot. They failed in a second-round attempt (
Tony Ugoh
in 2007) to replace Glenn.
Fortenbaugh:
"Since 2001, the Jaguars have drafted nine defensive ends, but only two (
Derrick Harvey
,
Quentin Groves
) have been selected within the top 100 picks."
Kuharsky:
Jaguars GM Gene Smith worked to offset that by bringing in free agent
Aaron Kampman
last offseason. And now it appears quite possible Smith will spend the 16th overall pick on a defensive end to complete the makeover of the line that included their top four picks from 2010.
Fortenbaugh:
"Since Gary Kubiak took over as head coach in 2006, the Texans have drafted exactly 19 offensive players and 19 defensive players."
Kuharsky:
It's nice to populate the roster in a balanced fashion. But if Houston does as it should and looks to fill a load of defensive holes in this draft, these numbers will tip to the defensive side.
Fortenbaugh:
"Since 2005, the Titans have selected an average of 2.0 wide receivers per draft. Tennessee has landed at least one wideout in each of the past six drafts and has selected as many as three wide receivers two times in the last six years."
Kuharsky:
The all-star receiver roster of those past six drafts:
Courtney Roby
,
Brandon Jones
,
Roydell Williams
,
Jonathan Orr
,
Paul Williams
,
Chris Davis
, Joel Filani,
Lavelle Hawkins
,
Kenny Britt
,
Dominique Edison
, Damien Williams and
Marc Mariani
. The lone Pro Bowl appearance was Mariani last year -- as a return man.
April, 12, 2011
4/12/11
4:43
PM ET
A look back at pre-draft reviews of a late-round success or an early-round miss in the AFC South.
Paul Williams, former Titans receiver, Fresno State, 2007 third round, 80th overall
Mel Kiper, 12th receiver
"… Williams will have to step it up a notch at the pro level if he's going to reach his maximum potential. He has a chance if a team can be patient with him, coach him up, and bring him along slowly. In that scenario, he could be competing for a spot as a starter in his second or third year in the NFL. While he's transitioning at WR, Williams will pay big dividends with his outstanding performance on special teams. His ability in this area certainly enhances his draft rating.
[+] Enlarge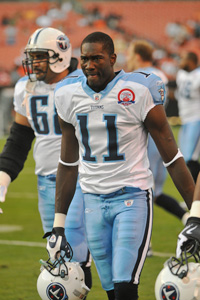 AP Photo/David RichardPaul Williams had just one catch for seven yards in his three seasons with the Titans.
Pro Football Weekly, 16th wide receiver
"Has everything you desire at the position. Is physically one of the most gifted receivers in the draft and flashed signs of brilliance at the Senior Bowl, but will require a very patient, sympathetic position coach who can improve his confidence."
NFL Draft Scout: 16th wide receiver
COMPARES TO:
Ken Lucas
, Carolina – "Williams just does not impress as a wide receiver, as you can plainly see he is not happy on offense. With his previous experience and family bloodlines on defense, he would be better served playing cornerback, but needs to sit down and do a gut-check to see if he has the heart to play the game."
After four seasons:
Fred Graves was the sort of position coach PFW suggested Williams would need, though Williams had a harsher, less patient coordinator in Mike Heimerdinger.
Williams was cut by the Titans before the start of the 2010 season and finished the season on the Houston Texans' practice squad.
He didn't play at all as a rookie, appeared in just five games and made just one catch for the Titans in his second year and was a practice squad guy in Year 3, doing his part to keep the Titans' never-ending search for a quality wideout moving.
Since the Williams miss, the Titans have spent five more picks on wide receivers. It's always easy to look at a miss and see players behind him who turned out better. In this instance, Arizona got
Steve Breaston
in the fifth round as the Titans drafted two more non-contributing receivers after Williams in Chris Davis (fourth round) and Joel Filani (sixth).
February, 18, 2009
2/18/09
12:00
PM ET
Posted by ESPN.com's Paul Kuharsky
They are easy matches for mock drafters.
Give the Colts the best defensive tackle you can find at 27. Insert the top remaining wide receiver next to the Titans' line at 30.
But presuming those picks is a mistake on both counts, unless you are banking on those teams breaking from their staunch recent histories.
Indianapolis looks to draft the best player available early on, and after a couple top interior linemen go early, team president Bill Polian said defensive tackle value doesn't usually re-emerge until the later rounds.
And the Titans, who once passed on Randy Moss, haven't touched a receiver in the first round since they took Kevin Dyson ahead of Moss in 1998, giving off a vibe since that it's just too unpredictable a position to value so highly.
| | |
| --- | --- |
| | |
| | Matthew Sharpe/Getty Images |
| | The Colts would be bucking a trend by picking Ole Miss DT Peria Jerry in the first round. |
Indianapolis suffered on the interior defensive line last season, not because it had planned poorly, but because of two surprises: Quinn Pitcock, a fourth rounder out of Ohio State in 2007, decided to quit football before training camp last year. Ed Johnson, who'd been an impact player as an undrafted free agent in 2007, was on a zero tolerance policy, got in some trouble after one game in 2008 and was let go.
The Colts will add multiple interior linemen between now and training camp, but they will likely come with a pick or two later in the draft, and inevitably, with a potential diamond in the rough they don't even need to spend a pick on. Besides Pitcock, Polian hasn't drafted a defensive tackle since 2002, when Larry Triplett was a second rounder and David Pugh a sixth rounder. In 11 years, Polian's drafted five players at the position, only Triplett higher than the fourth round.
"I've always approached the draft as take the best player no matter what the position is," Polian said. "Don't worry about filling a need, you can do that later in the draft. Take the best player in the first two rounds, whoever he is."
So it's fair to say through much of his tenure he hasn't seen a lot of defensive tackles of value available with his highest picks?
"Yeah, that's probably correct," he said. "They go in the first 15 usually, then you see them resurface in the latter rounds -- five, six, seven."
January, 24, 2009
1/24/09
8:00
AM ET
Posted by ESPN.com's Paul Kuharsky
You ask, I answer. I'd like to make mailbags a regular Saturday feature during the offseason, but can only do so if I get a steady flow of entries in the mailbag. Especially good questions, of course, often result in a blog entry all their own.
And away we go...
Kevin from Portland writes: Paul- In my haste to write you after the Bush signing, I failed to recognize that Marinelli had signed on to coach for the Bears. Is there any other candidates who would be a good for this posistion for the Texans? Also, there is talk of hiring Alex Gibbs' son as our devensive backs coach. What knowledge do you have of his performance as a coach in the past?
Paul Kuharsky: The son, David Gibbs, could be great. I've heard good things from some people who know him. But I do think there is a great, big football world out there beyond one's staff, people tied to the place one used to work and relatives of people on one's staff. I touched on a lot of that in this column.
---
Colby in Augusta writes: Hey Paul, Love the blog this year, good stuff. My question revolves around the growing concern about the upcoming "uncapped" year in 2010. Are the owners going to be able to agree on a new CBA before 2010, and if not, can we expect them to try to make sure that 2010 is the only uncapped year and reach a new agreement after 2010?? And how exactly does this effect the smaller market teams (ie. Titans), will they still be able to put forth the money necessary to sign who they need?
Paul Kuharsky: I appreciate the kind words.

The uncapped year is a poison pill intended to make the sides reach a new agreement before it comes into play. The prevailing opinion is that if it ever gets to an uncapped year, the players will never sign on to a return to a cap. That's not good for anybody, but certainly not for small-market teams like the Titans.
I don't expect the league or the union will let it get to that point.
---
Jeff in Jacksonville writes: Paul I was talking to a friend of mine about Jacksonville's Huge Drop off from 07 and we starting talking about what teams next year have the possibility of being the Jags 08. Our two teams where the Bucs (Old Defense, Lost of DC, Firing of HC/GM), and Baltimore (Old Defense,Possible Lost of DC). Do you think our choices are legitimate, and if no what other teams do you see going from a Playoff team in 08 to having a losing season in 09, It happens every year so who are your candidates.
Paul Kuharsky: I think you make two good choices, though if Joe Flacco makes a nice second-year jump that could set the Ravens up for good things on offense if they draft well.

I don't assume a new coach and GM will be a bad thing in Tampa.

Two more I see as possibilities -- the Vikings could easily be a third-place team in my eyes. I just don't love anyone in that division. The Peppers stuff with the Panthers could be divisive and Delhomme's future is iffy.