April, 29, 2011
4/29/11
11:43
PM ET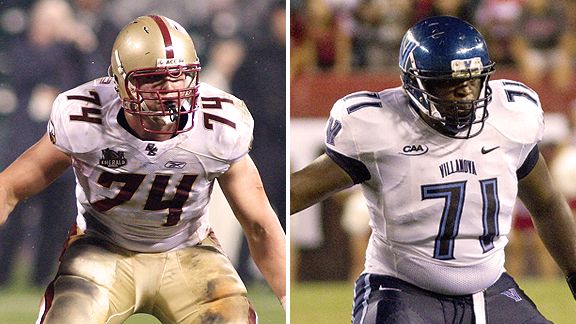 ICON SMIThe Colts hope to have found a new foundation to their O-line in Anthony Castonzo and Ben Ijalana.
Peyton Manning
's been extraordinarily durable during his 13 seasons in Indianapolis.
His next contract will be for five or six years, and could be his final deal.
While he's an expert at getting the ball out of his hand before he can get sacked or hit, a patchwork line too often forced him to act before plays could develop last season.
A year ago, Bill Polian talked about needing to revamp the offensive line. But the Colts did little to address it. Then injuries further contributed to their problems.
This time around, Polian's jumped on tackles
Anthony Castonzo
and
Ben Ijalana
with his first two picks.
At home, Manning is dad to new twins. When he gets back to team headquarters he'll find another set, potential bookend tackles who should be able to buy him more time and allow things to develop downfield. (Running backs
Joseph Addai
, if he's back, and
Donald Brown
, are sure to welcome the new duo as well.)
General manager Chris Polian said Thursday that first-rounder Castonzo is in at left tackle. Vice chairman Bill Polian said Friday that second-rounder Ijalana can play tackle or guard.
While Castonzo is likely to be at left tackle from the start, Ijalana could displace right tackle
Ryan Diem
-- perhaps this year, perhaps next -- or has a chance to start out on the inside.
Four quarterbacks went before the Colts got to No. 22, which they clearly believed helped push them a guy they never expected to have a crack at in Castonzo.
"Solid, steady, reliable, smart, all of those qualities are what you would like in any player, but certainly along the offensive line," Chris Poliansaid. "Again, when you go through your checklist of all the things you want both on and off the field, you have a check in a lot of those columns."
Said coach Jim Caldwell: "He's a guy with length and he can move his feet. He's certainly a very, very good pass protector and a guy who does a nice job in terms of the run, as well. He's smart. That's something we look for just in terms in making certain that our guys can grasp the material, catch on quickly and he's one of those guys. Any guy that majors in biochemistry and is a Rhodes Scholar is obviously a pretty heady guy."
Castonzo has played since he was a freshman at Boston College, showing great durability.
"I get to block for the best quarterback in the league, that's more than you can really ask for," he told Indianapolis reporters. "It's great. I'm going to a team that's a great team already, which is unbelievable. I'm just really excited."
"I think I'm up to the task. I expect that [Manning] is going to demand a lot of me. I expect that I can deliver."
The Colts gave Washington a fifth-round pick to jump from 53rd to 49th in the second round to grab Ijalana. He is the first player from Villanova selected in the first two rounds since
Howie Long
in 1981.
Ijalana's long arms combined with toughness, strength and great feet make him a fit that was worth dealing up to acquire.
While protection for Manning is priority one, the two mobile linemen may help the team return to a run-game staple: the stretch play. Addai and Brown would both benefit from chances to run outside on plays in which linemen lead them to the edge. It's something the team's gotten away from with less mobile guys manning the tackle spots. Incumbent left tackle
Charlie Johnson
is more natural at guard and Diem is slowing.
Indianapolis has used only one draft pick on an offensive lineman since 1997 higher than the ones they used on Castonzo or Ijalana. Second-rounder
Tony Ugoh
cost the team the 42nd pick in 2007, but he didn't provide steady play and was released before the 2010 season.
The Polians would love to see Castonzo and Ijalana give the franchise something on par with what it found in 1997, the year before Bill Polian joined the team.
That year the Colts drafted tackles
Tarik Glenn
and Adam Meadows with their first two picks, 19th and 48th overall. They were both part of the starting line for seven years. Glenn played 154 games and went to three Pro Bowls. Meadows played in 103 games.
The duo didn't start off as the two tackles, with Meadows at left tackle and Glenn at right guard their rookie season. From there, though, they were fixtures at tackle. Glenn played all but six games on the left side over the next nine years; Meadows all but 16 on the right over the next six.
"They just recently got Castonzo, so hopefully Anthony and I can be maybe a changing of the guard," Ijalana said in a conference call with Indianapolis media.
November, 17, 2010
11/17/10
5:12
PM ET
Working with the unfamiliar people who've replaced guys like
Dallas Clark
and
Anthony Gonzalez
and
Joseph Addai
this season,
Peyton Manning
's put school in session.
Thursday afternoons have been prime time for extra work.
Asked Wednesday about trusting
Jacob Tamme
, Manning gave an answer that went beyond just the tight end.
"I think you have to trust him," Manning told the Indianapolis media. "There is no time to get out there and say, 'Boy, I can't make this play because I'm not sure.' You have to go out there and go play. That's why practice reps, walk-throughs and meetings, we do a little extra meeting together with some of these young guys, we have a little school after Thursday's practice…I'm at least 14 years older than everybody in the room, I think.
"It may not be 14, but I feel really old.
Javarris James
,
Blair White
, Brandon James and Tamme and (Austin) Collie, it's a little Colts school after practice, but it's fun. We talk about kind of the basic fundamental things which you have to do. You can't take those things for granted with some of these new guys that just haven't been playing."
It's not 14, of course.
It's nine.
Manning is 34, while Collie and Tamme are 25, White and Javarris James are 23 and Brandon James is 22.
The way the season has unfolded has made it more of a grind, Manning said, but that grind is worth it when a guy like Brandon James is able to step in and make a few third-down catches. Manning said he's had to be more patient this season, which has also wound up being rewarding.
"Every week there is something new," he said. "You do have to be patient with that and understand that there is going to be some adjustments and some of what we call storms that you have to sort of work through. If you can work through, at the same time getting a win, and realize that we are making some improvement in certain areas, then that is a good thing."
Sunday in New England, the pace of grinding and patience may well be accelerated.