July, 8, 2011
7/08/11
10:10
AM ET
July, 7, 2011
7/07/11
2:49
PM ET
The
passing of Hall of Fame tight end John Mackey
hit me a little harder than other recent deaths of athletes.
The Mackey story is heartbreaking. He was one of the most dominating players at a position as you could find in the NFL. Once the ball got into his hands, Mackey was an unstoppable force. His big body would plow through defenses. Mackey was the essence of the physical style of football.
[+] Enlarge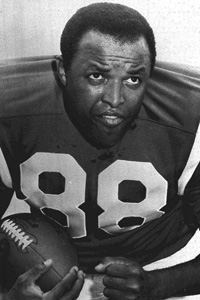 AP PhotoJohn Mackey played for the Colts from 1963-71 and for the Chargers in 1972.
But the physical pain he inflicted had its costs. He suffered from frontotemporal dementia and had to move to an assisted living facility. His death comes as retired players filed a lawsuit in Minnesota seeking a seat at the bargaining table in labor talks between owners and players.
Mackey's death should remind both sides of the importance of taking care of the players who made this game so great. Because of the concern about Mackey's health troubles after football, both sides came up with the "88 plan," which provided retired players money for nursing homes and adult daycare.
Mackey touched me most as a voting member of the Pro Football Hall of Fame. Mackey was part of my favorite class. I liked the class of 1992 because it included some of the most controversial figures in the NFL at the time -- Mackey, Al Davis and John Riggins.
Mackey had his detractors because he was part of a 1977 antitrust suit against the NFL seeking free agency for players. Owners controlled everything back in those days, and they didn't take well to challenges. Mackey was fearless on the field and didn't fear the consequences of putting his name on a lawsuit to help himself and his peers.
I was one of the youngest Hall of Fame voters at that time. Will McDonough, the former Boston Globe icon whom I modeled my career after, pulled me aside and asked me if I would help on support for Mackey, Davis and Riggins. Davis was unpopular in some NFL circles because of his many lawsuits and battles with the league. Riggins was controversial, but he was a great player.
Spurred by McDonough, I started quietly talking to voters to gauge their thoughts on these three NFL icons. The conversations, as they usually are in on- and off-the-record Hall of Fame discussions, were positive, but it was fascinating hearing some of the reasons some voters had questions about Mackey, Davis and Riggins.
I don't know if I convinced a single voter to support Mackey, Davis or Riggins, but the results said something. It was one of my proudest moments as a voter.
Unfortunately, Mackey wasn't able to fully enjoy the post-football life befitting of a Hall of Famer. Mackey's death may not open a seat at the bargaining table for retired players, but his portrait should be positioned in a spot for owners and players to see -- and to remember what he and others have meant to this game.
July, 7, 2011
7/07/11
9:49
AM ET
One of the reasons to like
Dallas Clark
is that he's got a sense of history.
As we learned of
John Mackey's passing
Thursday morning, I immediately thought of Clark. In 2009, Clark passed Mackey for the Colts' franchise record for receptions by a tight end.
Here's what Clark said about Mackey as he neared that record, from the Indianapolis Star:
"He's the man… "Any time that I've ever been (mentioned) in the same sentence with him, that's just a great honor. For what he did for Baltimore . . . what he did for the position in general was tremendous. He was special…"

"It was him and (Kellen) Winslow Sr., back in their days. They made people look at different things a tight end could do. It used to be they just blocked or maybe were an extra lineman.

"For them to change the position and change the way teams used them . . . that's the reason I have a job, I guess."
Mackey's influence in the sport extended well beyond altering a position. He was also the first president of the players association.
Here's Mark Klingaman's
obituary of Mackey
. I didn't know he was connected to Ernie Davis from time together at Syracuse, a cool connection between two very impressive football players and two very impressive men.
April, 16, 2010
4/16/10
9:22
AM ET
December, 25, 2009
12/25/09
3:00
PM ET
»
NFC Final Word
:
East
|
West
|
North
|
South
»
AFC
:
East
|
West
|
North
|
South
Five nuggets of knowledge about Week 16: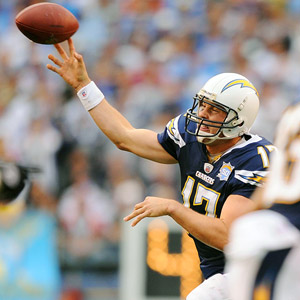 Christopher Hanewinckel/US PresswirePhilip Rivers may find increased success with short passes underneath against the Titans.
Chargers quarterback Philip Rivers throws deep well
, but shorter stuff might be more effective Friday night at Tennessee. The Titans and the Lions allow the highest completion percentage on balls thrown 10 yards or less -- 74.5. Much of that is by design. Jeff Fisher and his team are willing to give up small gains. But break a tackle against a defense with two young linebackers (
Gerald McRath
and
Colin Allred
) subbing for
Keith Bulluck
and
David Thornton
, and a short gain could be a long one. One aside: The Titans lost their first two home games this season by a cumulative score of 65-40. They've won their past five at LP Field by a combined score of 165-78.
Dallas Clark's next 100-yard receiving game
will be the eighth of his career, which will match Hall of Fame Colt John Mackey's total. Clark's got the most tight end TDs in the NFL since 2007 with 27, leading
Antonio Gates
by four.
Peyton Manning
and Clark have connected on 41 touchdowns. They trail only two duos in history: Sonny Jurgensen and Jerry Smith of the Redskins (43) and
Drew Bledsoe
and
Ben Coates
of the Patriots (45).
Matt Schaub can thank his sure-handed wide receivers
for the career year he's having. Among wide receivers who have been targeted on at least 45 passes this season, nobody has caught a higher percentage than
David Anderson
(80.4), while teammate
Kevin Walter
is third on the list at 77.4. The Texans are third in the league with an on-target/drop percentage of 5.3, according to ESPN Stats & Information. It's also a testament to Schaub's accuracy.
The Jaguars' interior line play hasn't been great
this season in protecting
David Garrard
from the rush, but it must be doing something right when
Maurice Jones-Drew
gets the ball. He should get a good deal of carries up the middle at Gillette Stadium Sunday. Stats & Info says Jones leads the NFL in rushes and yards up the middle this season. New England's interior run defense has been suspect this season. MJD has 202 of his 278 carries up the middle this season for 834 yards and seven touchdowns. The Patriots allow 4.3 yards per carry up the middle, and that number's been 5.9 in their past two games.
The Jets blitz a bunch.
Manning doesn't flinch when teams send extra rushers. According to Stats & Info, the Jets send at least five players after the quarterback on 55.7 pct of passing plays, by far the highest percentage of any team in the league. But Manning is completing 70 percent of his passes against the blitz this season and has a passer rating of 106.8 against five or more rushers. Jets' opponents have completed 49.6 percent of their passes against blitzes, while Manning's hit on 69.9.
November, 19, 2009
11/19/09
11:56
AM ET
Houston Texans
The
spotlight beckons
Mario Williams again, says Richard Justice.
Matt Schaub sees Monday night as a chance to
showcase the Texans
, writes John McClain.
Vince Young is
a double threat
for the Texans, says McClain.
A replay of
McClain's chat
.
Indianapolis Colts
Surpassing John Mackey
humbles Dallas Clark, says Mike Chappell.
Gary Brackett is
quite familiar
with Ray Rice, says Phil Richards.
A knee injury means
Terrell Suggs won't play
against the Colts on Sunday.
The Colts are missing Anthony Gonzalez, are watching Jerraud Powers gain confidence and are
relentless on defense
, says John Oehser.
The
standard is high
for Clark, there's accountability on the offensive line and Reggie Wayne is as good as there is, says Oehser.
Thirteen players
missed practice Wednesday, writes Oehser.
The league is looking into
a postgame incident
where Bill Belichick's security guy and a cameraman came into contact, says Tom Spalding.
Yes, the failures of Tony Ugoh and Mike Pollak are bad, but the Colts have been
able to replace them
, says Stampede Blue.
The Colts and Saints are the league's two best teams, but one of them
probably won't make the Super Bowl
, says Clark Judge.
Jacksonville Jaguars
Perry Fewell will make his head coaching debut against the Jags, a team he
used to work for
, says Vito Stellino.
Rashean Mathis is out of the Buffalo game
with a groin injury
, says Michael C. Wright.
Is there a segment of Jaguars fans that spend time searching for
signs of disrespect
? Vic Ketchman wonders,
Clint Ingram is
not what he should be
, says big Cat Country.
Jimmy Smith
got probation
after a guilty plea to a drug possession charge.
Tennessee Titans
With Chris Johnson and Young, the Titans are
double trouble
running the ball, says Jim Wyatt.
David Letterman
saluted Bud Adams
, says Jim Wyatt.
Adams is making the weekend
a reunion of the original Oilers
, says Terry McCormick.
Chase Stuart looks at
Johnson's numbers
.