January, 22, 2014
Jan 22
8:39
AM ET
NASHVILLE, Tenn. -- Ken Whisenhunt is down to two position coaching vacancies.
While they are all important, these may be the two most important: The offensive and defensive lines.
Offensive line was supposed to be rebuilt into a strength last season as the Titans signed veteran guard
Andy Levitre
, drafted guard
Chance Warmack
10th overall and drafted center
Brian Schwenke
in the fourth round.
[+] Enlarge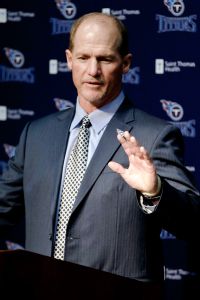 AP Photo/Mark HumphreyOffensive line coach and defensive line coach will be two of Ken Whisenhunt's most critical hires.
But a rebuilt interior didn't jell quickly or play consistently even with mentoring from two Pro Football Hall of Fame offensive linemen, head coach Mike Munchak and line coach Bruce Matthews.
One of the criticism of Whisenhunt during his six years as head coach in Arizona was the Cardinals' failure to develop young offensive lineman. Another Hall of Famer, Russ Grimm, was Whisenhunt's line coach for his entire tenure in Arizona.
Grimm didn't coach in 2013, but I do not expect he will be joining the Titans' staff.
Offensive line was generally a strength for the Titans when Munchak was the position coach before he was elevated to the top job in 2011.
The Titans used to thrive on defense because they developed pass-rushers,
Jevon Kearse
and
Albert Haynesworth
, both first-round draft picks, head that list, but it also includes
Kyle Vanden Bosch
, a huge hit as a reclamation project.
Jim Washburn, recently retained by Detroit as the Lions' line coach, was a big part of that. Tracy Rocker followed him as Munchak's line coach, and for two years he had the assistance of Keith Millard, the team's pass-rushing coach.
The Titans really developed just one pass-rusher in that time, and defensive tackle
Jurrell Casey
is the sort of player who I think would play well under anyone.
Defensive coordinator Ray Horton will run a hybrid front that will feature 3-4 and 4-3 elements. The Titans have been a 4-3 since before the franchise relocated to Tennessee in 1997.
Whisenhunt, Horton and a new line coach will have a voice in drafting a guy – or a couple – who fit what they are looking for up front. It's imperative the team adds a quality edge pass-rusher, and the line coach Whisenhunt hires will be largely responsible for developing him.
Ron Aiken was Whisenhunt's defensive line coach for all six years in Arizona. He is now coaching the line at Oregon.
Whisenhunt is at the Senior Bowl in Mobile, Ala., where he is likely interviewing candidates for his remaining staff positions.
Jim Wyatt of The Tennessean reported Tuesday evening that the Titans will hire John McNulty as quarterbacks coach.
I reported early on that McNulty had an inside track on the offensive coordinator post, which wound up going to Jason Michael.
Whisenhunt's staff at this point, with holdovers in italics.
Offensive coordinator: Jason Michael
Quarterbacks: John McNulty
Running backs:
Sylvester Croom
Tight ends: Mike Mularkey
Wide receivers:
Shawn Jefferson
Defensive coordinator: Ray Horton
Linebackers: Lou Spanos
Secondary: Sigismondo "Louie" Cioffi
Assistant secondary:
Steve Brown
Special teams:
Nate Kaczor
Assistant special teams:
Steve Hoffman
Strength and conditioning:
Steve Watterson
January, 16, 2014
Jan 16
2:32
PM ET
NASHVILLE, Tenn. -- Getting permission to interview an assistant who is under contract is difficult business in the NFL.
Maybe San Diego wants to run away from tight ends coach Jason Michael. Maybe Pittsburgh wants to run away from linebackers coach Keith Butler.
I doubt it.
While those teams might want to keep those coaches, perhaps they are also doing a nice thing for quality employees and giving them a chance to look into a promotion, even if it comes elsewhere.
Perhaps part of it is that the Chargers and Steelers hold new
Tennessee Titans
coach Ken Whisenhunt in high regard, and that makes them more inclined to say yes. Perhaps in Butler's case, the Steelers feel badly about denying permission in the past and grant it.
For whatever reason, Ruston Webster and Whisenhunt got permission from San Diego and Pittsburgh, per Jim Wyatt of The Tennessean.
So for offensive coordinator, it looks like Michael or John McNulty, the former Tampa Bay quarterbacks coach.
And for defensive coordinator, it looks like Butler or Ray Horton, who has been granted broad permission by the
Cleveland Browns
to explore other opportunities.
UPDATE, 3:40 ET:
Gerry Dulac of the Pittsburgh Post-Gazette says Butler will remain with the Steelers.
January, 15, 2014
Jan 15
12:14
PM ET
NASHVILLE, Tenn. -- Tuesday I reported former Buccaneers quarterback coach John McNulty was close to becoming Ken Whisenhunt's offensive coordinator.
Wednesday Chris Mortensen reports that Chargers tight ends coach Jason Michael is in line for the post.

McNulty is not under contract, so the Titans can get him without anyone else's permission. San Diego doesn't have to allow Michael to move on, and such permission is the exception, not the rule in the NFL.
A bit on both of them:
Michael:
Quarterbacked a national championship team in 2002 at Division I-AA Western Kentucky and began his coaching career at the University of Tennessee as a graduate assistant in 2003-04. He also coached at the school in 2008.
His resume as an NFL coach:
Oakland Raiders
, quality control, 2005;
New York Jets
, quality control, quarterbacks, tight ends, 2006-07;
San Francisco 49ers
, quarterbacks, 2009-10,
San Diego Chargers
, tight ends, 2011-present.
A bio from the Chargers
.
McNulty:
Coached receivers for three years and quarterbacks for one under Whisenhunt in Arizona. In addition to
Larry Fitzgerald
, he coached Jimmy Smith and Keenan McCardell in Jacksonville. He was a quality control coach for the Jaguars in 1999, when the Jaguars lost three games all season, all to Tennessee.
His resume as an NFL coach:
Jacksonville Jaguars
, quality control, receiver, 1998-2002;
Dallas Cowboys
, wide receivers, 2003;
Arizona Cardinals
, quarterbacks, receivers, 2009-12;
Tampa Bay Buccaneers
, quarterbacks, 2013.
A bio
from when he was with the Cardinals.