November, 22, 2013
11/22/13
5:50
PM ET
INDIANAPOLIS -- My interaction with
Indianapolis Colts
coach Chuck Pagano only goes back to early August. He's usually pretty loose when he meets with the media throughout the week at the facility. There's only been a handful of times when that wasn't the case.
One of those times was this week when the topic often shifted to talking about facing
Arizona Cardinals
coach Bruce Arians, who was his offensive coordinator and led the Colts to a 9-3 record during Pagano's absence last season.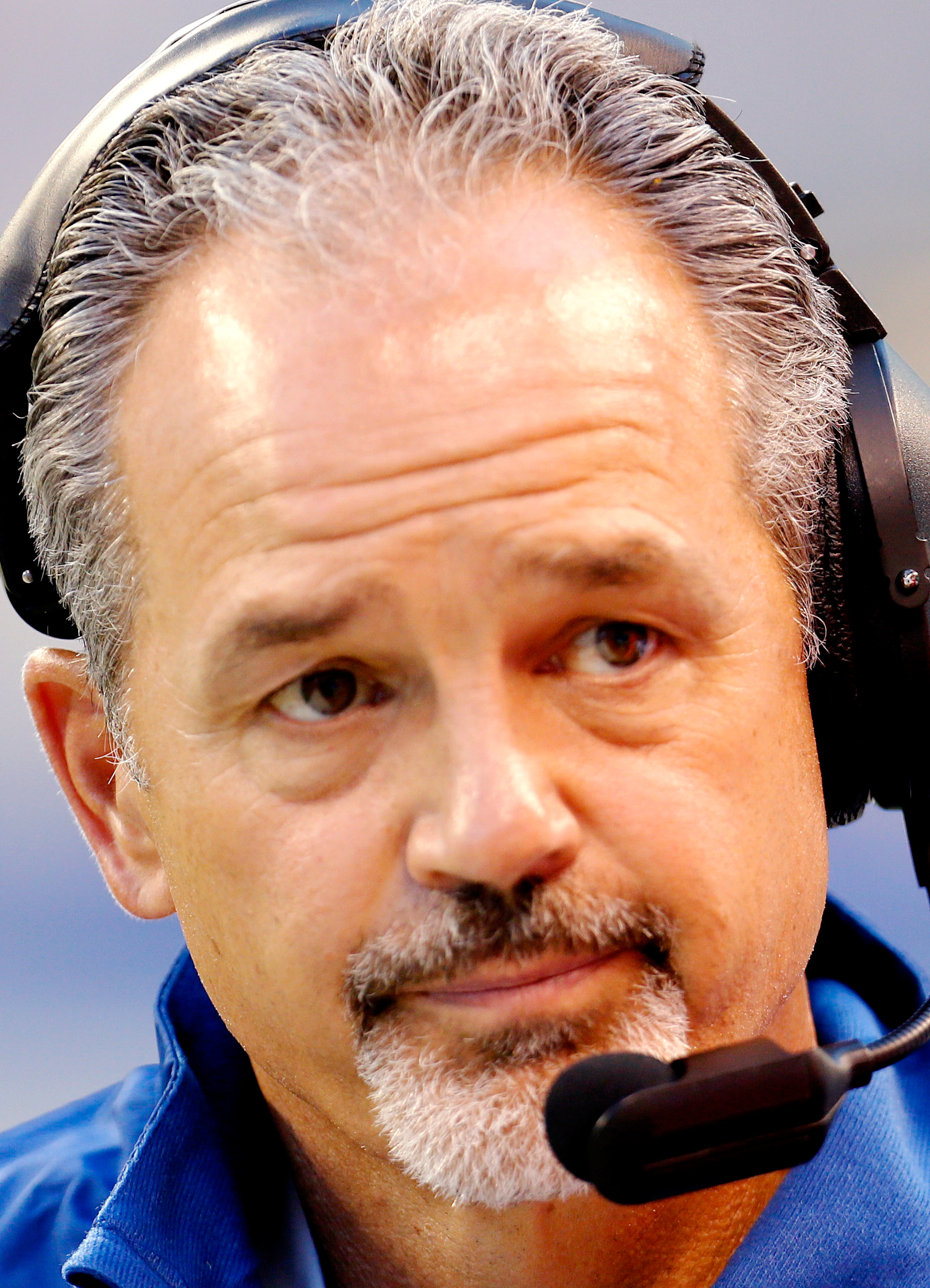 Pagano
Pagano doesn't want the focus to of the game to be on him and Arians. It's the Colts against the Cardinals.
Pagano doesn't have any animosity toward Arians. It's actually the opposite.
The respect is mutual between the two.
"Really, it's there, the relationship's there, we all know what happened and what transpired and all that stuff," Pagano said. "But it's about our players. It's about the Colts playing the Cards. It's about two teams trying to get another win. It's playoff football, that's the mindset. Like we said, we'll shake some hands before the game. But then it's about our players. It's about their players. It's about the game. It's about trying to win a football game."
Pagano was the same way earlier this season when they played the
San Diego Chargers
. Pagano's brother, John, is San Diego's defensive coordinator. Chuck Pagano said the only time he thinks about the connection is when asked by the media. He may think about it a little bit more with Arians because he knows the Colts well because he was on the staff at this time last year.
I'm not surprised Pagano doesn't want to be the center of attention. His players are the same way. The Colts don't operate that way.
"You really don't have time," Pagano said. "You're spending our time just like they're spending their time, and that's game planning and preparing and practicing and meeting and doing the things that you have to do to give yourself a chance to win."
October, 15, 2013
10/15/13
1:08
AM ET
SAN DIEGO – Observed in the locker room after the
Indianapolis Colts
' 19-9
loss
to the
San Diego Chargers
:
Wayne
Struggling to beat his brother:
Colts coach Chuck Pagano still can't beat his brother John, the Chargers' defensive coordinator. Chuck Pagano is 1-8 when facing his younger brother. The Chargers held the Colts to 267 yards of total offense. The Colts entered the game averaging 362.4 yards a game.
Wayne's milestone:
Colts receiver
Reggie Wayne
had five catches for 88 yards giving him 1,001 for his career. He's the ninth player in league history to have at least 1,000 receptions. "It's a great honor," Wayne said. "It's a humbling experience to be in an elite class with a bunch of guys who have helped pave the way for guys like myself. I wish it would have been more of a greater celebration."
No fourth-quarter magic:
Quarterback
Andrew Luck
is known for his comeback ability. He's led the Colts on nine come-from-behind victories in less than two full seasons. That wasn't the case Monday. "We are not coached to rely on a comeback," tight end
Coby Fleener
said. "We don't anticipate having to do it, but if it comes to it, we will be prepared and confident in our ability to do that."
October, 9, 2013
10/09/13
7:30
PM ET
INDIANAPOLIS – The Oct. 14 game at San Diego was supposed to be the start of back-to-back meetings between the
Indianapolis Colts
and two players who were key fixtures in the organization for a long time.
Dwight Freeney
and the Chargers were to be up first, followed by
Peyton Manning
and
Denver Broncos
on Oct. 20.
Freeney
Freeney won't face his former team, unfortunately. He is out for the rest of the season with a torn quad.
"We were all sick to see that his season was cut short by the injury," Colts coach Chuck Pagano said. "You can't say enough great things about Dwight. I know we only had one season together, but when you look at what he did for this organization and this city and all those types of things and his production. He's a great, great football player. Again, we all hated to see that his season got cut short. We don't want to see anybody get injured, nobody on our team, nobody on our opponent's team. You hate to see injuries, but they happen. Nothing but great things to say about Dwight."
Colts linebacker
Robert Mathis
, who tormented quarterbacks opposite of Freeney for 10 seasons, recently said he knows his former teammate will bounce back from the injury and continue to be effective when he returns.
Freeney spent the first 11 seasons of his career with the Colts, totaling 107.5 sacks and 258 tackles. Like Mathis, Freeney had to adjust his game to fit Pagano's 3-4 defensive scheme last season.
"Coming in here in our first year, the strain that changing systems put on him and Robert and just how they bought in and did everything that we asked," Pagano said. "I got nothing but fond memories, obviously, and great things to say about him."
The Colts decided not to re-sign Freeney during the offseason. He told SI.com in August that the organization didn't even make him an offer. "I wished they would have offered me something so I could've retired a Colt," Freeney told the website.
Pagano will go against somebody he knows very well in San Diego next week. His younger brother, John, is the Chargers defensive coordinator.
"Another ballgame, it's just another ballgame," Chuck Pagano said. "We've played each other before. There's no communication this week, for obvious reasons."
November, 8, 2012
11/08/12
7:48
AM ET
Chuck Pagano and Rick Reilly share a hometown -- Boulder, Colo.

Pagano
So when Reilly
writes about the Colts' coach
, he's got some handy background.
When Pagano, who's fighting leukemia, took off his hat as he delivered a postgame speech Sunday at Lucas Oil Stadium, he revealed his bald head publicly for the first time. Reilly saw something from Pagano he'd never seen before: frailty.
Chuck Pagano has always been as unstoppable as the wind and twice as unpredictable. In the first grade, his teacher called (his mom) Diana and asked if she could tie him to his chair to settle him down. "Sure," Diana said, "as long as I can come down there and tie you to yours." He'll turn left when you think he's going right. But there's always a reason. The man could motivate a tree sloth.

"Coach Pagano's an inspiration,' says Colts QB Andrew Luck who just shaved his head in solidarity, along with more than 20 teammates. 'I love him. We all do.' No wonder every Colts player wears a "Chuckstrong" T-shirt during pregame warm-ups.

"But a constant chemo drip and 25 days in one hospital bed will get down even a 5,000-hour energy drink like Chuck. So when his brother flew in from San Diego on a rare day off two weeks ago to spend 10 hours with him, he had his own motivational speech to give him.

'Listen,' (his brother) John said before he left (from a recent visit). "Anybody comes in that door, you show strength, you show grit and you show them how you're gonna whip this thing. 'Cause you are.'"
There is a lot of quality insight and detail here, from a top writer who happens to know the guy and the family he's writing about.
We keep learning more about the coach the Colts are rallying around, and it keeps showing us why exactly the team is rallying so hard.

AFC SOUTH SCOREBOARD
Friday, 8/22
Saturday, 8/23