October, 5, 2013
10/05/13
11:06
AM ET
Time for the weekly dip into Twitter questions. Thanks to all contributors.
.
October, 19, 2012
10/19/12
1:30
PM ET
»
NFC Final Word
:
East
|
West
|
North
|
South
»
AFC
:
East
|
West
|
North
|
South
Five nuggets of knowledge about Week 7:
Best versus best:
Houston and Baltimore are the only two AFC teams currently over .500. While those two teams are a combined 10-2, the rest of the AFC is only 31-49. According to Elias, this is the furthest into any season that either conference had as few as two teams with winning records. In fact, neither conference had ever made it past two weeks like that. Counting last season's playoff win, the Ravens are 6-0 all time against the Texans. Houston gave up six passing touchdowns in its first five games, then six more last week in a blowout loss to the Packers.
Better start:
As the Jaguars head to Oakland, they need a plan that will help them get out to a lead, or at least score more early. The Jaguars have scored only two first-quarter touchdowns in their past 16 games. Their record in those games is 5-11. Since Week 6 of last season, only the Cardinals (in 17 games) and the Colts (in 16 games) have scored as few offensive touchdowns in the first 15 minutes of games.
[+] Enlarge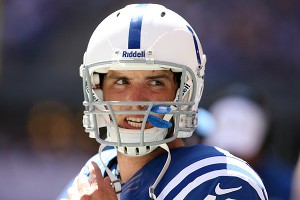 Brian Spurlock/US PresswireIt will be a rare battle of rookie quarterbacks when the Colts' Andrew Luck and Cleveland's Brandon Weeden meet on Sunday.
Young quarterbacks:
With
Andrew Luck
and
Brandon Weeden
set to square off, this is the first matchup between two of the five rookie quarterbacks to start a game this season. (Since 1950, no more than three rookie quarterbacks started in Week 1 in a season before this year.) Luck is fifth in the league in passing yards per game (297.6), and his 1,488 passing yards are the second-most ever by a rookie through his team's first five games (
Cam Newton
had 1,610 last season). Luck needs to be conscious and wary of Browns cornerback
Joe Haden
. Though a suspension kept him out of four games, he's gotten his hands on a bunch of passes already.
Roving threat:
Last week the Titans felt fortunate to avoid free-lancing Pittsburgh safety
Troy Polamalu
. This week they run into Buffalo's
Jairus Byrd
, who's similar in his freedom to judge passes and go make plays. He had two interceptions last week in the Bills' win over the Cardinals, including the takeaway from
John Skelton
in overtime that set up the game-winning field goal.
Matt Hasselbeck
needs to be aware of where Byrd is, and conscious of the safety's ability to close on a play.
Also:
Over the past five seasons, when Ravens linebacker
Ray Lewis
has been out, the team has actually allowed the same yards per rush (3.6), and its average yards per play and yards per pass play have been lower. … Look for Houston QB
Matt Schaub
to test the middle of the Ravens' defense. Among quarterbacks with significant snaps, only Hasselbeck (54.5) has thrown more of his passes within 10 yards of the line of scrimmage and inside the numbers than Schaub (48.6). … Texans WR
Andre Johnson
has dropped a pass once every five targets this season on throws more than 10 yards downfield. The previous three seasons Johnson dropped a pass once every 31 targets on such throws. … The Browns have lost 10 straight road games, one shy of the franchise record (from 1974-76). Cleveland's 10-game road losing streak is tied with the Colts' for the longest active streak in the NFL. The Colts, meanwhile, have won four of their past five at home. … Weeden leads the NFL with 10 interceptions, but the Colts have only two picks this season. … Since Week 8 of the 2010 season, the Titans have 12 road losses, tied for the second-most among AFC teams.
August, 23, 2012
8/23/12
11:37
PM ET
NASHVILLE, Tenn. -- Some thoughts out of the Titans'
32-27 win
over the
Arizona Cardinals
at LP Field on Thursday night.
The Cardinals wanted to test out rookie left tackle D.J. Young as they look to replace the injured Levi Brown (triceps) for the season. Young failed this test, badly, as the Titans' big defensive free agent addition Kamerion Wimbley attacked him with great effect. Wimbley sacked John Skelton on his first play and Kevin Kolb on his first. He had a couple of hurries, too. The Cardinals' entire offensive line was bad in pass protection and the Titans rushed very effectively. Jurrell Casey is really turning into a well-rounded defensive tackle. He's an absolute handful.
Want variety? On the Titans' first four offensive plays from scrimmage, they lined up with an empty backfield, with two tight ends, with three wide receivers and with two backs. The only thing with the potential to make them predictable this season would seem to be down and distance.
Jake Locker was victimized by drops by Javon Ringer and Nate Washington, but finished the first half having hit on just 8 of 16 passes. Completing 50 percent, he still had a 115.6 passer rating since he had 124 yards and two TDs. Connections of 28, 29 and 35 yards have a way of helping out. He made better decisions and smartly took off a few times as he felt pressure.
On a first-quarter return, Marc Mariani suffered a gruesome broken lower left leg that was Theismann-esque. We'd been wondering about Darius Reynaud as someone putting pressure on Mariani for the return jobs. Reynaud comes out of the night as a lock to make the roster as the returner now because of Mariani's misfortune. I don't know whether Mariani would have been getting many, if any, receiver snaps at the expense of Kenny Britt (once healthy and when not suspended), Nate Washington, Kendall Wright, Damian Williams or even Lavelle Hawkins.
Middle linebacker Colin McCarthy has an excellent nose for the ball. But his two interceptions of Kolb on this night were absolute gifts. The first was thrown into an area filled with Titans, and he looked like the intended receiver on the second, which he returned for a 31-yard touchdown.
Aaron Francisco is a special-teams demon. I can't see how he won't be the fourth safety on this team, unless the Titans find better defensive depth elsewhere. If they do, special-teams coach Alan Lowry would surely shed a tear over losing Francisco.
Camp leg/kicker Will Batson was 3-for-4 on field goals, but accounted for only three points. He hit a 26-yarder in the fourth quarter, only to see it wiped away by a holding call against Taylor Thompson. Then Batson hit from 36... only to see it wiped away by a holding call against... Thompson. Then Batson hit from 46 and made it to the sideline without seeing a flag. Britt greeted him excitedly.
I don't know what's going on with the two-tone coloring of the Titans' light blue uniform tops. But it's incredibly distracting that the coloration is inconsistent from player to player. Quinn Johnson and Ringer, standing side-by-side, didn't look like they were wearing the same jersey. Honestly. Nike, are you reading?
The new "Titantrons" at LP Field are really impressive. It's a big benefit of the stadium's open-end zone configuration. -- finding room to fit giant HD video boards wasn't an issue. Some other buildings that might want to match these won't have a spot for them. Stadium game productions are updated and far better. But the lyrics of "Folsom Prison Blues" on the big screens, intended to produce a sing-a-long between the third and fourth quarter, appeared to fail miserably. Put that one on the shelf.