July, 18, 2012
7/18/12
3:29
PM ET
Continuing our look at new assistant coaches in the AFC South who will be especially important in 2012, we turn to Jacksonville.

I wrote
this piece
on wide receivers coach Jerry Sullivan in late June. He's an experienced coach with an excellent reputation. He's been endorsed by some big-time guys like
Larry Fitzgerald
.
And frankly, he's a major upgrade from the under-qualified Johnny Cox, who was fired shortly after Jack Del Rio was dismissed last year.
Of all the position groups in the AFC South, the Jaguars' receivers may have been the worst. They had a No. 3 guy in
Mike Thomas
cast as their No. 1, and his effort tailed off late in the year.
Not only has Mike Mularkey upgraded things by adding Sullivan, but the franchise added two receivers who should make the offense much more threatening: free-agent addition
Laurent Robinson
and No. 5 pick in the draft
Justin Blackmon
. Now Thomas will be in the spot where he should be best.
Sullivan and those receivers are all reliant on improvement from quarterback
Blaine Gabbert
. But they are all reasons the team expects that improvement, too.
June, 28, 2012
6/28/12
11:42
AM ET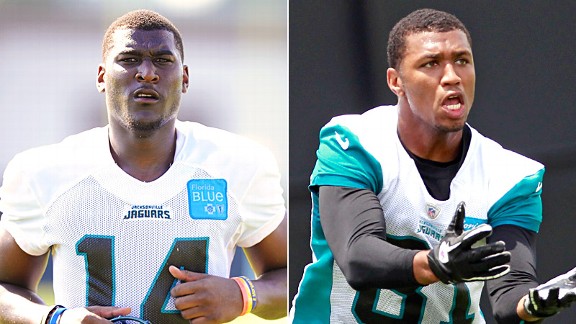 Getty Images/AP PhotoJustin Blackmon, left, and Laurent Robinson will learn from one of the most experienced receiver coaches in the game.
Jerry Sullivan spent the position period of the Jaguars' offseason practices running slow-motion routes.
Put your foot in the ground, like this. Drop your hips, like this. Don't round the corner, like this.
Although free-agent addition
Laurent Robinson
and No. 5 overall draft pick
Justin Blackmon
are the most visible guys the Jaguars brought in to fix some serious problems at wide receiver, the guy who is coaching them in a show-don't-tell style may prove just as significant.
Mike Mularkey had Sullivan atop his wish list for the job, but didn't even call him. Sullivan, who will turn 68 on July 14, was retired.
"I didn't reach out to him, he actually reached out to me," Mularkey said. "I thought he was retired. Gene Smith and I discussed him initially and I said, 'I think he's out of the loop.' Just by chance I was driving home one of those first weekends after I was hired here and there's a text: 'Hey Mike, I'd like a chance to work with you and Brat [offensive coordinator Bob Bratkowski] -- Jerry S.'
"So I called Gene and said, 'I don't know if this is the Jerry S. you and I talked about, but I am going to call and find out.' And it was. He had a couple other options, too, and I am glad he chose this one."
A year earlier, when Mularkey interviewed in Tennessee but lost out to Mike Munchak, Mularkey had texted Sullivan about wanting him if he got the Titans' job. The link was set.
This time, Sullivan was in Atlanta training
Brian Quick
for the scouting combine. Sullivan sent that text, got invited to interview and after about three hours said it was easy for him to sign up to be part of Mularkey's staff despite an opportunity in Arizona, where he could have worked with another receiver he's close with from work during the lockout,
Larry Fitzgerald
.
The year before, with little job security as he formulated his final staff, Jack Del Rio wound up with an under-qualified receivers coach in 2011.
Things were such a struggle for Johnny Cox that when Del Rio was fired and Mel Tucker took over as interim coach, he fired Cox and shifted quarterbacks coach Mike Sheppard to receivers.
During the lockout, Robinson worked with Sullivan in Minnesota.
[+] Enlarge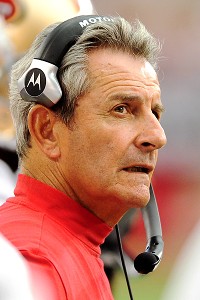 Mark J. Rebilas/US PresswireJerry Sullivan is looking forward to the challenge of developing Jacksonville's receiving corps.
"He kind of helped me get over the hump and get into my breakout year [in Dallas]," Robinson said. "Having the opportunity to learn from him every day is going to be huge for me and the other wide receivers. He's a great coach, probably the best receiver coach in the NFL. He felt like he could contribute and help turn this thing around."
Sullivan may be approaching 70, but he carries the energy of a far younger man onto the practice field, where he's exacting. As he instructs his guys, he leaves little to the imagination, banging home points he's clearly hit in the meeting room and addressed on the field before.
In May, not having spent long with his new charges, he already seemed to have a feel for who needed pushing and who needed stroking, offering different things to different players.
He'll be expected to squeeze production out of Robinson and Blackmon. He will also try to rebuild
Mike Thomas
, who ranked too high a year ago but can be a good third guy. He will attempt to help promising second-year man
Cecil Shorts
get over what appears to be game-day stage fright. He will aim to develop a gem or two -- perhaps undrafted rookie
Mike Brown
from Liberty.
"I like the challenge that belies me, I'll put it that way," Sullivan said. "I look forward to it. We've got a lot of young guys who've got a lot to learn, but I'm excited about their attitude and we've just got to put one foot in front of the other going up the mountain. Some days you slide a step. Some days you gain two steps. ...
"It'll be a well-rounded group if everybody gets to where they need to be. We've got a ways to go. That's a common phrase around the league, I know. Nobody wants to put themselves out there. My whole thing is the group needs to improve to be NFL caliber to win games."
His biggest message in the offseason may have been this: When you run routes against NFL cornerbacks, you're in control or they are.
"You're either hearing elevator music, or you're hearing Guns & Roses," Sullivan said. "If you're hearing Guns & Roses, you're probably not going to be successful. You want to be nice and smooth and calm and in control of how you do it."
In helping the Jaguars' receivers, Sullivan will be helping quarterback
Blaine Gabbert
, and that's the biggest job for everyone connected to this offense.
"They can be more confident in that he knows what they are going to do and how they are going to do it," Sullivan said. "I think that's huge. I think he's a young kid that's got a nice arm. He's obviously been maligned, unfairly I think. If we do our job and play at a good NFL level, we'll help him be better and we'll help the team be better.
Said Gabbert of Sullivan: "His knowledge of the game is going to help not only the wide receivers, but the quarterbacks, the offense and the entire team."
Thomas got a lot of attention early in the offseason when he said Sullivan was super-regimented and the group probably needed that.
The new assistant certainly endorsed the signing of Robinson and the drafting of Blackmon.
If they are good, we could be back here saying he's as important of a new position coach who has landed in the division.
"Jerry's been everything I thought he'd be with these guys: very detailed, very demanding," Mularkey said. "Plus, being a former coordinator, I always like to have those kind of guys in the room.
"His drive is still there. There is no way he could sit at home in the living room."
April, 28, 2012
4/28/12
7:38
PM ET
»
NFC draft analysis
:
East
|
West
|
North
|
South
»
AFC
:
East
|
West
|
North
|
South
Despite talk of grabbing the best player available, it's funny how often needs and picks seem to line up.
Of 31 picks, I count four that don't technically qualify as addressing needs: Jaguars fifth-round linebacker
Brandon Marshall
, Titans fifth-round tight end
Taylor Thompson
, Jaguars sixth-round cornerback
Mike Harris
and Colts seventh-round quarterback
Chandler Harnish
.
We saw the Texans replenish at outside linebacker, on the offensive line and at kicker and add to their options at receiver. The Colts loaded up on help for No. 1 overall pick
Andrew Luck
-- seven of their other nine picks bring offensive players to Indianapolis . Jacksonville addressed its big needs right out of the chute, then made a couple of odd selections. Tennessee didn't take two players at the same position.
BEST MOVE
[+] Enlarge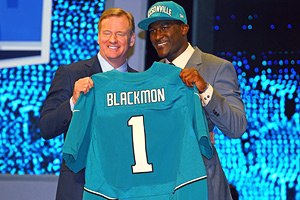 Al Bello/Getty ImagesJustin Blackmon is the premier playmaker the Jaguars' offense sorely needed.
The Jaguars came into the offseason in dire need of upgraded weaponry for
Blaine Gabbert
. They started last season with wide receiver
Jason Hill
as a starter, and he was cut before the season ended.
Mike Thomas
was miscast as a top-of-the-group guy when he should be a No. 3.
Cecil Shorts
showed he needs a lot of time to develop.
Mike Mularkey hired a solid receiver coach, Jerry Sullivan. He's a tremendous upgrade from Johnny Cox, who was quickly fired after Jack Del Rio was dismissed during the 2011 season. Free agency brought
Laurent Robinson
, who should help, and
Lee Evans
, who'd be gravy if he can revive his career.
The Jaguars successfully sold pundits on the idea they'd be trading down, then only gave up a fourth-rounder to move up from No. 7 to No. 5 to draft Oklahoma State's
Justin Blackmon
. He's a dynamic receiver who can catch balls outside his frame and cause matchup problems.
Outside of Luck, no team in the division got a player who can cure an ill better than Blackmon can fix what ails the Jacksonville offense. Now it's on Gabbert to show he can effectively get the ball to the new star receiver.
RISKIEST MOVE
The Titans didn't touch a defensive end until
Scott Solomon
in the seventh round, and they didn't add an offensive lineman at all. And pass rush and run blocking were two areas that qualified as weaknesses at the end of last season.
Tennessee hosted
Scott Wells
,
Chris Myers
,
Jeff Saturday
and
Dan Koppen
and saw all four sign elsewhere. On Saturday, coach Mike Munchak made those meetings sound like information-gathering get-togethers rather than courtships, a stance that's pretty insulting to veterans who wouldn't waste time making visits without the possibility of a contract.
The defense of incumbent starters on the interior --
Eugene Amano
and
Leroy Harris
-- has entered a new round now. Munchak said the team felt no "dire need there" and that "we have guys we can win with." Still, watch for a key undrafted addition or free agent or two.
The Titans added one big piece this offseason to its insufficient pass rush in the form of free-agent end
Kamerion Wimbley
, who was a cap casualty in Oakland. He may provide a big boost but also probably shouldn't be on the field for every play. Tennessee's only attempt to bolster itself on the edges came with the 211th pick, end
Scott Solomon
from Rice.
The Titans face a pretty good slate of quarterbacks this season. Those passers may have a lot of time to throw.
MOST SURPRISING PICK
We
hit it hard
Saturday night, but the Jaguars' selection of
Bryan Anger
in the third round was a baffler. Yes, the team will benefit from a big leg and stands to gain field position.
But Jacksonville overrated special teams' impact by deciding to draft Anger so early rather than addressing other needs where it could have selected a player with a chance to play.
The Jaguars have a recent history of messing up at the position, and teams that struggle with stability at a spot are prone to overreach in an effort to correct it.
I believe that's a good piece of what happened here. They could have gotten him or a punter who still would have been a big upgrade later.
The Jaguars found
Terrance Knighton
,
Derek Cox
and
Will Rackley
in the third round in Gene Smith's previous three drafts. They are all starters who affect games more than a punter can.
They can rationalize this pick. And we can stridently disagree.
FILE IT AWAY
Six receivers came into the division -- Blackmon,
Kendall Wright
in Tennessee,
T.Y. Hilton
and LaVon Brazill in Indianapolis and
DeVier Posey
and
Keshawn Martin
in Houston. That's two first-rounders, two third-rounders, a fourth-rounder and a sixth-rounder.
The countermeasures?
Just two incoming cornerbacks -- Titans fourth-rounder
Coty Sensabaugh
and Jaguars sixth-rounder Harris.
Secondary depth could be severely tested by good quarterbacks and receivers, especially when the division faces the NFC North and the high-powered passing offenses of Green Bay, Detroit and Chicago.
The Colts have no proven corners beyond
Jerraud Powers
. The Texans lost
Jason Allen
, who played a reasonable amount. The Titans need to unearth a new nickelback now that
Cortland Finnegan
is gone. Only the Jaguars have fortified the spot, adding two-time Super Bowl winner
Aaron Ross
, presumably getting Cox and
Rashean Mathis
back healthy and drafting Harris.
The AFC South is a big running back division, but it's become more equipped to sling it and may not have the people needed to cover offenses with a lot of downfield weapons.
"It tells you that this is a wide-open league, the offensive focus is on scoring points probably more than ever," Titans general manager Ruston Webster said. "It's becoming more of a quarterback-wide receiver league probably every day."
April, 10, 2012
4/10/12
1:39
PM ET
Obviously no one on the Jaguars is under more pressure in 2012 than
Blaine Gabbert
.
But the quarterback is such an obvious choice, we will set him aside and go a different direction, to one of the people Gabbert or
Chad Henne
will need to be productive if the Jacksonville offense is going to make a significant jump.
Wide receiver
Mike Thomas
will have better coaching with Jerry Sullivan and a better supporting cast with
Laurent Robinson
,
Taylor Price
and, presumably, a high draft pick in the mix.
Matt Williamson of Scouts Inc. has said Thomas
can combine
attributes of
Wes Welker
and
Steve Smith
.
But many Jaguars fans were left wondering about Thomas last season, when he fell off after he got a contract extension in early October. That three-year, $18 million deal included $9 million guaranteed. It eclipsed the three-year deal worth $13.35 million with $5 million guaranteed that Green Bay gave
Jordy Nelson
.
Thomas finished with 44 catches for 415 yards and a TD, and after the contract he didn't have a game better than four catches for 36 yards. Nelson was obviously playing for a far better team with an MVP quarterback, but he had 68 catches for 1,263 yards and 15 touchdowns.
Word in Jacksonville was that Thomas gave up late in the season, frustrated by a bad receivers coach in Johnny Cox and a struggling rookie quarterback in Gabbert. Cox was fired by interim head coach Mel Tucker and replaced by quarterbacks coach Mike Sheppard.
The Jaguars need Thomas to be the player they thought he was when they drafted him and then when they gave him the extension. He needs to be part of the solution for Gabbert, not an addition problem.
Thomas said recently he will benefit from
being pushed
by Sullivan, and if that helps, great.
But once the Jaguars signed him to a new deal, he graduated to an NFL veteran who shouldn't necessarily need pushing. He's a guy who should be motivated by simply living up to his contract and the faith his bosses have showed in him.
Will the additions amount to enough help? It's too early to say and we don't know who they will draft. But Thomas shouldn't be the top option in the receiver group, and with Robinson in the fold Thomas should rank second at best.
Thomas is under pressure to produce.
December, 5, 2011
12/05/11
12:11
PM ET
JACKSONVILLE, Fla. -- In his first year calling plays for the Jacksonville defense, Mel Tucker's had a solid season for the Jaguars.
He was given a huge upgrade in personnel out of free agency, and the team's issues in a 3-8 season have been primarily on offense.
[+] Enlarge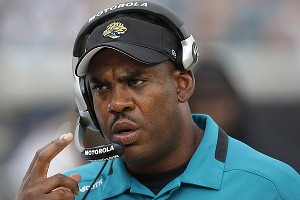 AP Photo/Phil Coale, FileJaguars interim coach Mel Tucker makes his debut on Monday against San Diego.
Tonight, as he debuts as the team's interim coach in a home "Monday Night Football" game against San Diego, Tucker will be without his three top outside cornerbacks.
Will Middleton has joined
Rashean Mathis
and
Derek Cox
on injured reserve.
While Chargers quarterback
Philip Rivers
has struggled this season, he could be in line to make some connections at EverBank Field, where recent addition
Ashton Youboty
, undrafted
Kevin Rutland
and retread
David Jones
are in line to play in Jacksonville's secondary. Jones, who struggled mightily last season, was re-signed as Middleton went to IR.
Drew Coleman
plays as the nickel corner and seems to be pigeonholed there, but whether Tucker likes him outside or not, the Jaguars might have to use him more.
I'm not sure what Tucker can do in the team's remaining five games to hold on to the job. He's respected and he's expected by those who put him in place to do well. But after nearly nine seasons of Jack Del Rio, the Jaguars are a team in need of fresh air, and new owner Shahid Khan is likely to want to make a splash with an outsider who revamps the way the team plays.
Tucker has been assured of an interview, and many are mentioning him as a strong candidate for the post. At this stage I'd guess it's more likely the new coach, hopefully an offensive mind, recognizes the Jags' productive defense and tries to get Tucker to return to the coordinator post.
ESPN's Mike Tirico will do the play-by-play of tonight's game. He watched Saturday's practice and was part of a production meeting with Tucker.
"He's very detailed, very organized," Tirico said. "I think it's definitely an approach that would be what I'd expect from a guy who's learned from Nick Saban and Jim Tressel, among others. The practice was a crisp, well-paced practice."
It's been a whirlwind week. Tucker had no hint of what was coming when he reported to work Tuesday. Since then, he dismissed receivers coach Johnny Cox, shifted Mike Sheppard from quarterbacks to receivers coach and gave offensive coordinator Dirk Koetter full sway over the quarterbacks.
He's overseen the construction and installation of a game plan. He's dealt with Middleton's injury.
And he's very likely implemented some other unseen alterations to the operation.
"For that sort of fire drill for a guy who's 39 and has never been a head coach, he's seems pretty organized," Tirico said.
At his first practice as the head man leading up to this game, Tucker arrived 30 minutes early. He talked of wanting to get some fresh air, but also confessed it gave him the vantage point he wanted as he began to watch everything.
The Jaguars know they've got new eyes on them.
What Tucker sees will be important. What Tucker shows will be more important.
November, 30, 2011
11/30/11
8:47
PM ET
Two things buzzed around the Jaguars' offense as things fell apart this season, producing a 3-8 record that got Jack Del Rio fired.
The wide receivers were insufficiently coached by the inexperienced Johnny Cox.
[+] Enlarge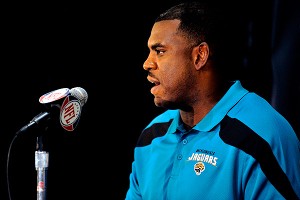 AP Photo/Rick WilsonJaguars' interim coach Mel Tucker made several moves on Wednesday.
Rookie quarterback
Blaine Gabbert
wasn't getting as much quality, hands on coaching from quarterback coach Mike Sheppard as he needed.
Mel Tucker's staff move Wednesday suggests both sentiments were correct. The Jaguars' interim coach let Cox go, and shifted Sheppard to receivers. Offensive coordinator Dirk Koetter will take control of the quarterbacks.
Del Rio didn't really have a lot of options in terms of staff. His assistants only had one year remaining on their contracts. Anyone he added would have had the same, and the best assistant coaches find more security than that.
Quarterbacks coach Mike Shula jumped to Carolina in the offseason, and Del Rio shifted one of his best teaching assistants, Todd Monken, from receivers to quarterbacks. Then Monken bolted for an assistant job at Oklahoma State, and Del Rio had to shuffle again.
Now, Tucker clearly sees the potential for addition by subtraction.
The team also made roster moves at receiver.
Jason Hill
, who's been in the No. 2 role all season, was released. That makes room for more playing time for
Jarett Dillard
, rookie
Cecil Shorts
and
Chastin West
.
The Jaguars also signed running back DuJuan Harris from their practice squad, signed cornerback
Morgan Trent
and put safety
Courtney Greene
on IR.
Perhaps Harris will have a chance to earn touches in front of the struggling backup to
Maurice Jones-Drew
,
Deji Karim
.
Greene is the 18th Jaguars to go on the list, a league high.
January, 22, 2011
1/22/11
8:56
AM ET
That intact staff Jack Del Rio envisioned has not stayed together.

Quarterbacks coach Mike Shula has jumped to Carolina, and assistant defensive line coach Ben Albert is off to Temple,
says Tania Ganguli
.
Shula got good reviews, but I'm sometimes skeptical about quarterback coaches as I think they can be mere extensions of the offensive coordinator, if the offensive coordinator is a good one. Dirk Koetter is a good coordinator.
Albert worked under defensive line coach Joe Cullen, the team's best defensive coach. Again, filling a support role is not nearly as difficult as filling a position coach job with Del Rio's length-of-contract restrictions.
Sources tell Ganguli that realignment on offense is already set:
Receivers coach Todd Monken is now quarterbacks coach, and offensive quality control assistant Johnny Cox has been elevated to receivers coach. Staff assistant Matt Griffin will take over Cox's former position.
Monken is a great teacher and he has experience with quarterbacks from his work on the college level. I've watched him work with the Jacksonville receivers at practices and really have an appreciation for the way he operates. He'll be missed in that group, but if he has the same influence on
David Garrard
and a drafted quarterback, they will be fortunate to work with him.
Cox will have a tall task to do Monken-caliber work with the wideouts.
January, 25, 2009
1/25/09
9:48
AM ET
Posted by ESPN.com's Paul Kuharsky
Nada, sorry.
Bob Kravitz wonders if the Colts got rid of the right assistant coaches.
An I-was-wrong-alert. I thought the Jaguars might hire Mike Trgovac when he decided to leave Carolina, because he and Jack Del Rio are friends. But Trgovac landed in Green Bay as defensive line coach. Vito Stellino reports it's official: Mel Tucker is the new defensive coordinator, Russ Purnell is the new special teams coach, Charlie Jackson is the new defensive line assistant, Luke Richesson is the new strength coach and Johnny Cox is the new quality control coach.
Gene Frenette says the Jaguars should take the best available player with the eighth pick in the draft and expects Jack Del Rio will be running the defense no matter who's the coordinator.
Michael Griffin has big plans for big improvement in the offseason, writes Jim Wyatt.
Wyatt thinks Jeff Fisher is leaning to Chuck Cecil over Dave McGinnis for defensive coordinator. I agree and think the announcement hasn't come because Fisher wants to get his other ducks in a row first.
A look at the free agents in the Titans defensive backfield from Gary Estwick.
AFC SOUTH SCOREBOARD
Thursday, 12/18
Sunday, 12/21