August, 1, 2012
8/01/12
8:12
AM ET
Reading the coverage ...
Houston Texans
Left tackle Duane Brown is
the anchor
in the Texans' trench wars, says John McClain of the Houston Chronicle.
Ben Tate
doesn't begrudge
Arian Foster for his big contract, says Dale Robertson of the Chronicle.
Indianapolis Colts
Dwight Freeney gave Andrew Luck some
early camp advice
, says Phillip B. Wilson of the Indianapolis Star.
Only two players in Colts history -- Johnny Unitas and Peyton Manning -- have
longer tenures
than long-snapper Justin Snow, says Mike Chappell of the Star.
Jacksonville Jaguars
Rashad Jennings won't say that Maurice Jones-Drew's absence is
good for him
, writes Tania Ganguli. (More on Jennings from me in a bit.)
Guard Will Rackley suffered
an ankle injury
during the Jaguars' Tuesday morning practice, says Vito Stellino.
Tennessee Titans
Tommie Campbell
has persevered
to get his big chance at corner for the Titans, says David Climer of The Tennessean.
Kendall Wright and the Titans finally
struck a deal
for the rookie receiver, says Jim Wyatt.
July, 6, 2011
7/06/11
9:21
AM ET
In ranking Colts all-time quarterbacks, Mike Tanier did not take the easy way out. He looked at signal-callers who played in both Baltimore and Indianapolis, which meant a head-to-head
Peyton Manning
vs. Johnny Unitas debate.
Unitas

Manning
Manning wins
, and Tanier makes a strong case, keyed around this: "There is nothing, absolutely nothing, in any of the records like Manning's body of work over the last decade."
This is as good a piece on Manning's historical standing as I can remember.
In it, Tanier sorts through a complicated issue in a discussion of how to compare greats from very different eras. Excuse the giant chunk, I promise it's worth it:
"One thing that often happens in these arguments is that we adjust the contemporary player down because careers are longer and stats are more prolific, but we never adjust the old timer down for the fact that media coverage has changed. In Unitas' heyday, sportswriters were almost uniformly fawning and invested in mythmaking. The football media was also rather primitive, compared to the modern football mass media and to baseball media of the time, so players weren't scrutinized heavily or scouted minutely. We don't have detailed scouting reports documenting every minor Unitas mistake, long columns explaining how Unitas lacks the courage or gumption to defeat Bart Starr, or bloggers making fun of Unitas' post-interception facial expressions. We had a hero-champion-warrior king. You cannot compare that bronze bust to the guy who will take the field in September (I type this with ever-increasing confidence) and possibly lose or throw two interceptions. You have to make harsh judgments when comparing old legends to new. You have to notice the fact that from 1961-63 Unitas was the third-to-fifth best quarterback in a 14-team league. You have to remember that Colts did just fine without him the year they reached Super Bowl III, a sign that his "leadership" was not all that important to a team that did darn well with his backup at the helm.

"There are other things to adjust for. Unitas won three titles. Winning an NFL championship in 1958 and 1959 meant winning one championship game, no playoffs. The other title came in 1971, when the NFL Colts got to share a division with four newly-arrived AFL teams, three of them terrible. The Jets, Bills, and Patriots combined to win seven games the year the Colts won Super Bowl V. This sounds like I am picking away at Unitas, and I don't mean to do that to one of the best quarterbacks ever. I am just explaining that "adjustment" is a two-way street. Unitas' 1950s Colts won 12-team leagues. It was an accomplishment, and a sign of excellence, but not a cudgel that can be used to beat another player over the head for winning a 32-team league "only" once.

"There's a reflexive need to argue against Manning's greatness, and I noticed it when looking through the message boards in the last few weeks when some of you were anticipating this Colts list. For Manning, we have amazing stats, wins, and longevity. Leadership that in any other era would be universally lauded. Uniqueness and durability at a position where a missed game is potentially a disaster. We toss them all away and point to a handful of playoff losses. The problem isn't bad here at Football Outsiders, where you guys really delve into the evidence and come away with measured conclusions. In other places, it is pathologically nutty, and some of them aren't even Patriots fansites."
The entire piece is worth a read. And a re-read. And a bookmark.
June, 30, 2011
6/30/11
1:00
PM ET
»
Best of NFC
:
East
|
West
|
North
|
South
»
AFC
:
East
|
West
|
North
|
South
As part of Best of the NFL Week on ESPN.com, here are five bests for the AFC South:
[+] Enlarge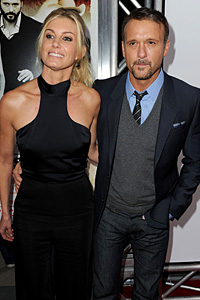 Kevin Winter/Getty ImagesFaith Hill and Tim McGraw are two of the Titans' more famous fans.
Best celebrity fans
-- Tim McGraw and Faith Hill bring a good deal of star power to LP Field and are the headliners of a large country music contingent that counts the
Tennessee Titans
as its hometown team. (There is a pretty good stream of musicians who pass through to take on the national anthem.) Hill picked games in print against staffers from The Tennessean last season and rare was the week when she didn't go with her team despite its struggles.
Best logo
-- We hit this in our
Power Rankings of helmets
. It's hard not to love that Colts horseshoe. First, it's a classic with a lot of history in two great cities. Second, it's a good luck charm so long as it's pointed the right way. It's practically stitched onto the image that comes into my head when I think of Johnny Unitas and
Peyton Manning
. Given the divisional competition -- three cookie-cutter "modern" NFL Properties designs (OK, the Texans' isn't too bad), this is a runaway.
Best tailgating
-- It's a Houston claim to fame. I get steady invitations to stop by but have always resisted, because it's not part of a reporter's pregame routine. Perhaps my boss will let me alter a game day to test things out for myself. It's a venue where cars line up well before the gates open and where there were huge complaints from non-ticket-holders because of a new rule forbidding them from taking up coveted parking lot space for pregame partying.
Best shot at HOF, non-QB
-- Colts defensive end
Dwight Freeney
is closer to the end of his career than
Andre Johnson
, so he gets the vote here. He's 31 but remains a consistent force who's a threat on every play. Offensive coordinators, left tackles and quarterbacks have to worry about him all the time, and game plans are built around slowing him. A high percentage of his sacks come with forced fumbles. With a few more good sack totals, his numbers will be at the right level to earn induction.
Best mascot
-- Much to rival T-Rac's chagrin in Nashville, I am going with wise-guy Jaxson De Ville of the Jaguars. Admittedly, it may be because I see him less and absence makes the heart grow fonder. But he's clever and edgy in a way that extends his appeal beyond people whose age is in single digits. He's an athlete who's
bungeed
onto the field and
flipped off a light tower
before rip lining, but his softer side is unafraid to
dance
to Michael Jackson. He's also been on fire and caught a last-second game-winning field goal.
May, 20, 2011
5/20/11
1:02
PM ET
Examining the most crucial event in the history of every team in the division.
Peyton Manning
melded a team and a town, resurrected the once-proud horseshoe and will finish up as a contender for the greatest of all time on the quarterback list.
There is no minimizing his impact.
Said DaveatIU: "Without drafting Peyton Manning... they would be the Los Angeles Colts right now. 'Nuff said."
The Blog Network offered four choices per team, plus the option to vote "other." And out of 160 total options, the drafting of Manning got a higher percentage of votes on his team's ballot than anyone or anything else.
As of Thursday afternoon, Manning had a whopping 87 percent of the Colts' vote. He didn't win by a little. He outpointed the next three biggest Flash Points in your eyes by 18 percent: Joe Namath's guarantee for the Jets, the Broncos trade for
John Elway
and the Packers' hiring of Vince Lombardi were all at 69 percent.
In general, AFC South voters went modern. With the Jaguars and Texans, there is no other choice. With the Colts and Titans, you chose not to hearken back to Baltimore and Houston, respectively.
I understand many of you don't regard Baltimore/Indianapolis and Houston/Nashville as single histories. But we don't get to decide. The Irsay and Adams families did.
As edutil21 wrote: "The question is asking about the colts FRANCHISE, not the cities of Indianapolis or Baltimore, and with that in mind it is perfectly plausible to include anything that occurred during the Franchise's time in Baltimore."
And so, as big a moment as drafting Manning was in setting his franchise's course, I think my vote has to go to The Greatest Game Ever Played, the 23-17 overtime win over the Giants in the NFL Championship Game at Yankee Stadium in 1958.
Without that game, are we certain the league turns into an entity where Manning has the chance to make the impact he has?
j_sleik83 was disgusted with the balloting: "And the idiots voting reign supreme. It's the 58 title game. In NFL history it's number 1, much less Colts history. And btw, Johnny Unitas is still the greatest QB in Colts history."
Added CPCaesar: "Do Colts fans have zero sense of history?! I can understand a strong showing for Peyton, but to have him blowing out the game that made the NFL into a televised sport is ridiculous! This team has a legacy that includes Don Shula and Johnny Unitas, but it seems as if their impact on the game is lost on a modern fan base…"
There was also a pretty good other mentioned by a few, including krankor: "The actual Colts Flash Point didn't even involve the team. It was in 1955 when the
Pittsburgh Steelers
brilliantly decided that it would be a shrewd move to cut Johnny Unitas."

TITANS: Epic playoff collapse set stage for relocation
With the Titans, modern also ruled. I understand why 52 percent of voters clicked the button for The Music City Miracle.
For Nashville sports fans to get a play like that in the team's first year as the Titans, in the city's first playoff game, was absolutely remarkable. It put the team's claws into everyone with any sort of interest that day for the long haul. Quite frankly, it spoiled them, too.
With apologies to greenlawler and the majority of voters, I've got to go a different direction again.
The Oilers/Titans are, historically, average at best. Since the AFL-NFL merger, the team has had 18 winning seasons, 17 losing seasons and six .500 seasons. It's 14-19 all-time in the playoffs even counting the AFL days when it won a couple of titles. Since the Music City Miracle season, the team is 2-5 in the playoffs. What was transformed?
Put the MCM aside, and the biggest historical moments for the franchise are generally not wins: A yard short of overtime in its one Super Bowl appearance; back-to-back AFC Championship Game losses in Pittsburgh to end the 1978 and 1979 seasons; and the firing of Bum Phillips after an 11-5 year in 1980.
And the mother of bad playoff moments, that epic playoff collapse in Buffalo on Jan. 3, 1993, when the Oilers blew a 35-3 lead to lose 41-38 in overtime.
That's the Flash Point to me.
What if that team or the 12-4 team a year later (that was scarred by that disaster), went to a Super Bowl? What if it won a Super Bowl?
Surely Bud Adams would have maintained a better standing in the city, which would have been more willing to build a new stadium. Take away that loss, and there still could be a team in Houston wearing powder blue and an oil derrick. (And a guy like me, who got his big break in sports writing because Nashville got an NFL franchise, might be an admissions director at some private high school.)
So I align with mag5011ad: "If they don't blow that 32 point lead, I think they represent the AFC in the Super Bowl, not the Bills. With that excitement in the city, they get the support to build a new stadium, which keeps the team in Houston. Most defining moment. . ."
JAGUARS: Quick Final Four appearance boosted city
A trip to the AFC Championship Game in the Jaguars' second season of play had quite an impact on the market in 1996. It got 52 percent of your votes as the Jaguars' Flash Point, and I am in agreement.
But your comments were mostly about the 1999 season, when the Jaguars hosted the AFC Championship Game. They lost to the Titans for the third time that year, in a season which they lost to no one else.
Said markpark64: "I would say the 1999 AFC Championship Game. It was the last home playoff game and ended a run of four straight playoff appearances. The Jags' history can really be divided into pre-1999 (2 AFC Championship Game appearances in 4 years) and post-1999 (only 3 playoff games and 1 playoff win in over 10 years). The team has not been the same since the 1999 loss."
You also wanted to spin forward, which isn't the game we're playing but was understandable.
Said SeattleJaguar: "It may be too soon to say, but I think the promotion of Gene Smith to GM will be looked at as the most significant turning point for this franchise. The fan base is starting to become more mature and a unique football culture is beginning to establish itself. We are seeing a young, die-hard, fan base emerge from the 'Jaguars babies' of the 90s. If you go to any games, its remarkable how young the fans are and they will stay loyal to the Jags, unlike the old farts that abandoned the team after the 90s. Go Jags!"

TEXANS: Controversial draft choice proved correct
Texans fans voted, narrowly, for the drafting of
Mario Williams
in 2006 over the awarding of the franchise in 1999.
The Texans got crushed for the selection, but history shows they knew exactly what they were doing. He's a superior player to
Reggie Bush
or
Vince Young
.
The decision to draft Williams did not transform the team, but there is nothing that's boosted a nine-season-old team in such a dramatic fashion.
Said vonstev1668 "Though I voted for the win against the Cowboys [in the franchise's first game], the truth is the Texans haven't had their defining moment yet."
Said EMajorwitz: "Trick question, hasn't happened yet. [Dom] Capers and [Charley] Casserly essentially ruined this team with their horrible drafting and free-agent signings. Other than
Andre Johnson
, I don't like a single first-round pick. Nearly a decade into the franchise's history and we still haven't made the playoffs while recent expansion teams like Carolina and Jacksonville have been deep into the playoffs."
December, 22, 2010
12/22/10
4:28
PM ET
Kerry Collins
is 13 pass completions away from matching
Joe Montana
(3,409) for 10th all-time and 334 yards away from tying Johnny Unitas (40,239).
The numbers, are of course, a testament to Collins' longevity. But you've got to be doing something right to last as long as he has.

Collins
He's not what he used to be, but he can still be effective, such as last week when he led the Titans to a 21-0 lead and a 31-17 win over Houston.
He said he doesn't get caught up in where he stands in the record book, though he may come to appreciate those things more someday.
But
Randy Moss
, who's a teammate with Collins for a second time in a second city, heaped on the praise when he was told the Unitas numbers.
"Hell, the guy he's passing speaks volumes. Johnny U?" Moss said. "Kerry is a great guy. He's a great guy in the locker room. I actually met Kerry when I was back in Oakland so we actually have a little rapport with one another. Back when he was at Penn State, Penn State was right next to West Virginia so I followed him in college, too. Just to see him, to be able to watch him accomplish a milestone like that is something he can really hang his hat on. That 40,000 … beating Johnny Unitas. That's a legendary quarterback. For him to be in front of Johnny U, that's saying something.
"So he can definitely appreciate his successes also. A lot of guys can leave the league and not really say that, that they had a really good career. When you have numbers and you have guys behind you that you looked up to -- I know as a quarterback he definitely looked up to Johnny Unitas -- for him to be able to surpass that, that's pretty exciting."
July, 5, 2010
7/05/10
9:06
AM ET
Chuck in Indy writes:
Your blog was about the AFC South which was created in 2002. You can`t go back before that with the Colts because they were in the AFC East prior to 2002. Why did you overlook the Titans/Oilers old records?
Paul Kuharsky:
If you
look at it again
, you'll find Houston teams are first and second runners-up. So how did I overlook them?
The assignment was the best team in each franchise's history. If their history extends beyond realignment -- and they all do except Houston -- then all that was considered. You wanted best teams since realignment? Boy would that have been boring.
---
Bond Brady from NYC writes:
You are a disgrace to the profession of journalism. The Baltimore Colts should never be included with the version in Indy when
discussing greatest teams
. As long as you perpetuate the lie that Johnny Unitas played for Indy your journalistic integrity is in jeopardy. The 1958 Baltimore Colts should be included under the
Baltimore Ravens
. You need to either take a history lesson or go back to journalism school to learn about integrity. Until you do, your writings are a disgrace to world of sports.
Paul Kuharsky:
Interesting world view.
I suggest you get yourself a Colts media guide. It includes all the Baltimore Colts' history. I didn't decide the franchise would carry its history to Indianapolis. The team and the league did, and they are allowed to make such a decision. The Irsays own the franchise. They can do with it what they want. It's pretty simple, really.
By the way, that's the way it's worked for every team that's relocated with only one exception, when the Browns turned into the Ravens and left their history in Cleveland.
Warren Moon
played for the Oilers who are now the Titans. It would be foolish to say he played for the Texans.
I never said Unitas played for Indy. I said he played for the Colts. That's indisputable. The franchise is the Colts -- not Baltimore or the Ravens or even Indianapolis, but the Colts.
So I've not committed any sort of journalistic crime, and you really should take a breath.
---
Andy in Jacksonville, Fla., writes:
Now, I'm not trying to belabor this point but I can't believe you think Colts have such a significant
talent level
over the Jaguars. I'm assuming you're just considering starters because I'd take the Jaguars TEs over the Colts. Is
Dallas Clark
better than
Marcedes Lewis
? Depends on what you're judging, as a pass catcher, yes, as a blocker no way. The fact you think the Colts LBs are better still blows me away.
Gary Brackett
? Really, Paul? You consider
Clint Session
better than
Daryl Smith
? The same Daryl Smith that Profootballfocus.com rated as the Number One Outside 4-3 Linebacker. As for the Colts CBs, why? Is
Kelvin Hayden
really better than
Rashean Mathis
? Is
Jerraud Powers
better than
Derek Cox
? They've got a better pass rush up front but as far as talent goes, it's a tie. Come on, Paul. I'm not saying the Jags are as talented as the Colts, but I think some positions need to be re-evaluated.
Paul Kuharsky:
Dallas Clark is better at doing what the Colts ask him to do than Marcedes Lewis is at what the Jaguars ask him to do. Pretty simple.
And sight unseen, outside of OTA work, I think
Brody Eldridge
gives Indy a boost at the position too. Ernest Wilford's had an excellent offseason in Jacksonville. Still, advantage Colts.
Gary Brackett is excellent, as is Clint Session. They are two guys. Daryl Smith is one. Advantage Colts. (Pro Football Focus is very interesting. But not always gospel.)
The Colts' corners were a major part of a defense that limited big plays. As a group, the corners are better in their system than the Jaguars' are in theirs.
I don't mean to beat up on the Jaguars, who are moving in a pretty good direction. But the talent gap is significant and I am not compelled to offer any changes to my scorecard.
September, 22, 2009
9/22/09
10:40
AM ET

Posted by ESPN.com's Paul Kuharsky
Houston Texans
Indianapolis Colts
Jacksonville Jaguars
Tennessee Titans
September, 22, 2009
9/22/09
1:21
AM ET
| | |
| --- | --- |
| | |
| | Doug Benc/Getty Images |
| | The Colts' defense was unable to slow down Ronnie Brown and Miami's rushing offense. |

Posted by ESPN.com's Paul Kuharsky
The Colts' offense had the ball for only 14:53 Monday night in Miami. Surgically precise when they needed to be, the Colts took an unconventional blueprint to the extreme and
beat the Dolphins, 27-23
.
Here are five things I took from the game:
Peyton Manning's MVP case starts earlier:
More than one NFL analyst tracks MVP candidates starting in the first week of the season. Move Manning on up.
Is there another player in the league as willing and able to deal with and excel in such bizarre circumstances? In that small window, he connected on 14 of 23 passes for 303 yards, two touchdowns and a 133.9 passer rating.
With
Reggie Wayne
doubled throughout, he turned to
Dallas Clark
and, for the winning points,
Pierre Garcon
.
It was Manning's 119th win, which pulled him even with Johnny Unitas for fifth all-time and past Unitas, who won a game in San Diego, to become the Colts' all-time leader in quarterback wins. His reflections on the milestones seemed pitch-perfect.
Oxygen needs to be handy at the defensive bench:
Not everyone is built to do what the Dolphins did in terms of rushing yards (239, a good share out of the Wildcat), third downs (15 of 21) and time of possession (45:07).
But Miami's success certainly did nothing to lead the plan out of vogue. Certainly Tennessee, San Francisco, Houston, New England, Baltimore and the Jets have the type of personnel to try a similar approach, or have some experience having done it.
Even if none of those teams run 84 plays on offense, a well-executed plan can produce a tired Colts defense. And a tired Colts defense is a lot less threatening than a fresh Colts defense.
Stopping the run remains as issue:
The 114 yards the Colts yielded in a two-point win over the Jaguars in Week 1 was regarded as a pretty good effort.
But the two week numbers are not very good. Last year's team gave up an average of 4.2 yards a carry. This year's number so far is 5.2.
(One aside: Teams running the Wildcat should not leave their quarterback on the field. The extra blocker sure seemed to key a lot of Miami's success out of the formation.)
Anyone who thought Indy's run defense was going to be fixed by adding bigger defensive tackles and installing new defensive coordinator Larry Coyer is disappointed through two weeks, but not with the end results.
Donald Brown scored some points:
The rookie running back appeared to make a very nice adjustment on his 24-yard reception in the second quarter.
And he was the running back on the field for the Colts' final two series. He had three carries and the 15-yard touchdown run on the first possession of the final period. And on the final drive, he helped pick up linebacker Reggie Torbor as he came after Manning on the quick pass to Garcon that turned into the winning score.
The broadcasters said they had no indication anything was wrong with
Joseph Addai
. Let's interpret Brown being on the field for crunch time as a good development for him, not an indictment of Addai. Maybe it was matchup-specific.
It's a bad scenario for a short week:
Manning and his guys will be fresh Sunday night on another national telecast, but is there anything the defense could look less forward to in five days than a flight to Arizona?
The franchise has experience at
back-to-back prime-time road games
, but only 10 of these players were around for it. They'll have to regale the kids with stories of how they won them both when they faced a similar scenario in 2003.
September, 18, 2009
9/18/09
10:35
AM ET

Posted by ESPN.com's Paul Kuharsky
Sporting News previews
Texans-Titans
.
Houston Texans
James Casey could start
at fullback
with Vonta Leach banged up, says Dale Robertson.
Texans-Titans offers
a reunion opportunity
for Bruce Matthews and Mike Munchak, says John McClain.
Chris Brown
is diplomatic
about his former team, writes Robertson.
How can anyone have
a shred of confidence
in the Texans after their opener, asks Alan Burge.
Indianapolis Colts
The legacies of Johnny Unitas and Peyton Manning
are intertwined
, says Phil Richards.
Anthony Gonzalez could miss as much as
eight weeks
.
Hank Baskett's
crash course
is underway, says Mike Chappell.
Jim Irsay says
not to worry
about a contract extension for Peyton Manning, writes Richards.
Look for Pat McAfee
to handle kickoffs
and Fili Moala to be ready to play, says John Oehser.
Monday nights are not the same, but they are
still special
, says Bob Kravitz.
A look back at
18 significant plays
from Jaguars-Colts from Deshawn Zombie.
Joseph Addai remembers
a wardrobe malfunction
, says Mike Chappell.
Jacksonville Jaguars
Why isn't Jacksonville
buying Jaguars' tickets
, asks Adam Aasen.
The
Jaguars' blackout
is official.
Vic Ketchman of jaguars.com talks about why
the empty seats
are a big deal.
Mel Tucker praised
Derrick Harvey's work ethic
, says Vito Stellino.
The Jaguars seem to be trying to
lower expectations
for Harvey, says Gene Frenette.
Bigcatcountry.com looks at how Jack Del Rio has
changed his tune
about Harvey. This is a smart take. Is the team is reframing -- and lessening -- its expectations of a guy it traded up to get? If so that's a bad sign. But maybe Del Rio is trying more to ease the pressure on a guy that's got to be feeling it.
Del Rio, who likes to
go for it on fourth down
, might like this blog entry from Brian Burke who cites a study that says it's often a good idea.
Key matchups
from Jay Gray.
Anquan Boldin is excited
to return to Florida
, says Eric Desalvo.
The Jaguars
released James Wyche
signed Jeremy Navarre from the practice squad and added tight end Zach Potter to the practice squad.
A look at
overreaction
about Del Rio, Harvey and Tim Tebow from Mike Nelson.
Good news and bad news
from Gray.
Tennessee Titans
The energetic Stephen Tulloch plays the game with
a lot of heart
, writes Jim Wyatt.
Jared Cook
returned to practice
on a limited basis, says Jim Wyatt and Gary Estwick.
Untested Ryan Mouton is
ready to return punts
, says Terry McCormick.
Chris Johnson doesn't love to
run in the rain
, but knows if it's wet he probably gets more chances, blogs Jim Wyatt.
Tulloch's
extra work
paid off, says McCormick.
September, 14, 2009
9/14/09
9:10
AM ET

Posted by ESPN.com's Paul Kuharsky
Don Banks hits on Colts and Texans in "
Snap Judgments
."
Houston Texans
Indianapolis Colts
Jacksonville Jaguars
Tennessee Titans
May, 20, 2009
5/20/09
12:10
PM ET
Posted by ESPN.com's Paul Kuharsky
Where does Peyton Manning-to-Marvin Harrison rank on the list of all-time great passing combinations?
How about Johnny Unitas-to-Raymond Berry?
Watch highlights of them and eight other tandems, see how NFL.com orders them, then rank them for SportsNation here.
February, 3, 2009
2/03/09
11:41
AM ET
Posted by ESPN.com's Paul Kuharsky
With your input, ESPN has pieced together a Mount Rushmore of sports for all 50 states plus Washington, D.C., and Puerto Rico.
Unsurprisingly, Peyton Manning is on two of them: Indiana's for his work as a Colt and Tennessee's for his college career at UT. He's one of 15 people on more than one.
Earl Campbell of the Houston Oilers, now the Tennessee Titans, is on Texas' Mount Rushmore.
One other AFC South connection: Johnny Unitas is on Maryland's Mount Rushmore.
You can view the full mountain range here, and vote for the five most impressive or significant states. Eventually one of them will be voted the best.
(And here is some banter on the subject from "1st and 10.")
As ESPN looks to trim the list, I think the AFC South Blog will take the concept and broaden it.
So look for posts the rest of the day soliciting your feedback for a Mount Rushmore of the Houston Texans, the Indianapolis Colts, the Jacksonville Jaguars and the Tennessee Titans.
August, 18, 2008
8/18/08
1:05
PM ET
| | |
| --- | --- |
| | |
| | Brian Spurlock/US PRESSWIRE |
| | League MVP and Super Bowl Champ, Peyton Manning has also been voted the greatest Colt of all time. |
Posted by ESPN.com's Paul Kuharsky
Readers' pick: Peyton Manning, QB
This boiled down to a battle between two of the great quarterbacks in league history.
It's difficult to measure players from different eras against each other. It's even more difficult to measure them against each other when they rank as the faces of the same franchise, but in different cities.
Voters gave the nod to Manning of the Indianapolis Colts over Johnny Unitas of the Baltimore Colts by a good margin.
I'm not trying to be a contrarian or to upset people in Indiana, but my ballot would have Unitas on top.
My criteria are not scientific. In these polls I've closed my eyes, envisioned the logo and seen who's highlight reel flickered on my eyelids.
When Manning's finished, maybe he'll overtake Unitas.
But right now I see black high tops and a guy who had a huge role in the NFL becoming what it is today.