December, 19, 2013
Dec 19
10:00
AM ET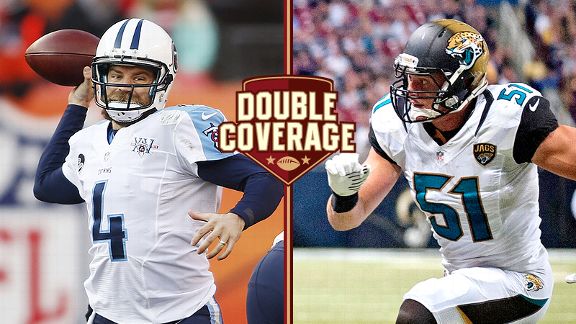 USA Today SportsPaul Posluszny and the Jags are aiming for a season sweep of Ryan Fitzpatrick and Tennessee.
JACKSONVILLE, Fla. -- Maybe
Delanie Walker
shouldn't feel so bad now.
The Titans tight end said he was embarrassed after the Jaguars won 29-27 in Nashville on Nov. 10 to pick up their first victory. Since then, the Jaguars are 3-2 with victories over Houston (twice) and Cleveland. The Titans are 1-4 with a victory over Oakland.
There seems to be much more stability in Jacksonville, too, because of the uncertain status surrounding Tennessee coach Mike Munchak.
Jaguars reporter Michael DiRocco and Titans reporter Paul Kuharsky break down Sunday's matchup at EverBank Field.
DiRocco
: Some Titans players were pretty vocal about being embarrassed due to becoming the first team to lose to the Jaguars. Is that something that still stings, and how have they rebounded from that loss?
Kuharsky
: It definitely left a mark. They are only 1-4 since then. It kind of set a bar for how bad they can be and re-established their propensity to lose to teams that are really struggling. The Jaguars are on an upswing since that game, and the Titans are on a downward spiral. If Tennessee losses to the Jaguars again, the Titans will be in line to finish in third place in an awful division, which is well short of their goals and expectations. The Titans are a better team than they were last year. But losing closer isn't a really big difference in the really big picture.
Let's turn that around. How has life changed for the Jaguars since that Nov. 10 breakthrough?
DiRocco
: I could go into a lot of stats that show how much better the Jaguars are playing, but that's not what's really important. The past six games have been more about the validation of the process, establishing the foundation of the franchise's rebuild, and confidence in the new regime. Coach Gus Bradley never wavered from the plan that he and general manager David Caldwell established. His message stayed the same throughout the eight-game losing streak to start the season: trust in the process, work hard, and focus on improving and not victories, and the victories will eventually come. Because that has happened, the players appear to have completely bought into what Bradley and Caldwell want to do, and there's a confidence in the locker room that the franchise is headed in the right direction.
We talked about
Jake Locker
the last time these teams met, but that was before he suffered a season-ending injury to his foot. How does that change the Titans' outlook on him and are they in the market for a quarterback in the offseason, too?
Kuharsky
: Locker is certain to be on the 2014 Titans. His fourth year isn't that costly and it's guaranteed. But they can't execute a spring option for his fifth year that would line him up for over $13 million. A lot of his fate depends on whether Munchak is back as the head coach. It's possible they go forward with Locker,
Ryan Fitzpatrick
and just-signed
Tyler Wilson
as their quarterbacks. It's also possible they'd draft a new guy, and depending on how high of a pick he could land in competition to start. I think it's less likely they chase a free agent like
Jay Cutler
if he comes free, but they have to assess all the possibilities. How can they completely commit to Locker based on his injury history?
One side effect of the Jaguars' surge is they aren't going to be in position to draft the first quarterback taken. What's your sense of what Bradley and Caldwell want in a quarterback and do you expect one to arrive in the first round?
DiRocco
: Offensive coordinator Jedd Fisch said something interesting last week. He said he wants his QB to scramble around, take off running to get yards and take some chances throwing the football. To me, that sounds like a pretty accurate description of Johnny Manziel. I'm not sure how that reconciles with the ideas of his bosses. Bradley comes from Seattle, which has the mobile
Russell Wilson
. Caldwell comes from Atlanta, which has the considerably less mobile
Matt Ryan
. My sense is that Bradley and Caldwell probably lean more toward the Wilson end of the spectrum. People think that eliminates Teddy Bridgewater, but that's not the case. He's not a runner but he can run if needed. If he's around, I'd expect them to take him. If not, then I would still expect them to go quarterback. It's their most glaring need.
You mentioned Munchak's job status. What's your take on whether he will be back next season -- and should he be?
Kuharsky
: He's shepherded improvement, but his team lacks an ability to finish. He's 0-4 in the worst division in football, 1-9 in the past two years. His teams have lost to the previously winless Jags in 2013 and the previously winless Colts in 2011. He's 4-18 against teams with winning records when the Titans played them and 2-19 against teams that finished the season with a winning record. To me, three years is a sufficient sample size to know what you've got and those numbers are the most telling thing on his resume. Keep him and they deal with all the limitations connected to a lame duck coach. I don't know what Tommy Smith, the head of the new ownership, will do. But the fan base overwhelmingly wants change, if that's worth anything. People still pay for tickets because they've got investments in personal seat licenses they do not want to throw away. But a lot of people are staying home on Sundays now.
Cecil Shorts
is done and
Maurice Jones-Drew
is uncertain. How can the Jaguars threaten on offense without their two best weapons?
DiRocco
: They were able to put up 20 points and post their second-highest yardage total of the season, including a season-high 159 rushing, in last Sunday's loss to Buffalo. Running back
Jordan Todman
stepped up big time and ran for 109 yards (Jones-Drew cracked 100 only once in the first 13 games) and tight end
Marcedes Lewis
was more involved in the passing game than in previous weeks (four catches for 54 yards and a touchdown). But I'm not sure that is sustainable. Teams will certainly concentrate on stopping Lewis and make quarterback
Chad Henne
move the ball with three receivers who have a combined 75 career catches. Todman doesn't scare anyone, either. The Jaguars will have to be creative on offense (they've run gadget plays the past three weeks) and capitalize on every opportunity they get.
December, 16, 2012
12/16/12
8:53
PM ET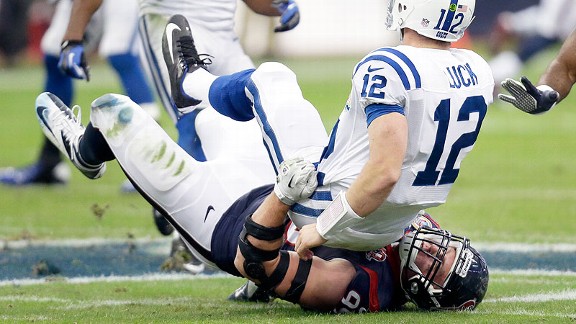 AP Photo/Eric GayTexans defensive end J.J. Watt sacks Colts QB Andrew Luck in the first quarter of Sunday's game.
HOUSTON -- While eight-year veteran linebacker
Barrett Ruud
was out of the league, he caught the Texans' Week 5 win against the Jets on "Monday Night Football."
On the telecast he heard his old coach from Tampa Bay, ESPN commentator Jon Gruden, assess
J.J. Watt
.
"He said he thought [Watt] was the best player at any position in the NFL," Ruud said. "You could maybe put
Tom Brady
and
Peyton Manning
, but I don't think anybody else is even in the same category.
"Gruden is pretty sharp. I played for the guy. He'll say some weird things. But when it comes to football he doesn't exaggerate too much."
The Texans signed Ruud just a few days after that game, and Sunday he joined Watt in celebrating
a 29-17 win
over the Colts that gave Houston its second consecutive AFC South title.
"I've watched [Watt] since I've been here," Ruud said. "His bad games are better than anybody else's good games. It's pretty impressive. ...It's almost comical how much he took over this game."
Leading into Sunday's game, Watt was like the rest of America: A sad citizen trying to come to grips with the elementary school massacre that took place Friday in Newtown, Conn.
He scribbled Newtown on his cleats to do a little bit to honor victims, families and first-responders, then had perhaps his best game of a stellar season.
Watt had 10 tackles, six of them for a loss, including three sacks. He also forced a
Mewelde Moore
fumble at the Texans' 1-yard line.
He had fun, he said. While he's thrilled to have the division wrapped up, bigger things await, he hopes. He declined to classify Sunday's work as his best of the year.
"There were a couple plays I left on the field," he said. "I know I missed two sacks."
If that wasn't his best, what was?
"Probably the first Jacksonville game," he said. "I only played 37 plays but I went out there and had a couple good ones."
The Colts don't have a very good offensive line. It's not a position they had many resources to address as they reshaped their roster. As they bid unsuccessfully for their 10th win in a surprising season, they were down two starters, center
Samson Satele
and right tackle
Winston Justice
.
Watt did much of his damage against the interior of
Joe Reitz
,
A.Q. Shipley
and
Mike McGlynn
.
On a third-and-20 from the Indianapolis 34 in the third quarter, Watt moved McGlynn aside and blew past him so quickly it appear he surprised himself -- overrunning quarterback
Andrew Luck
, who threw incomplete.
"He's a good player, obviously," McGlynn said. "Got to look at the film. We play them again in a couple weeks and we've got to neutralize him. They do some good things schematically that lets their D-line go ahead and pass rush."
"He's one of the premier D-tackles in the league and we just didn't do a good enough job executing on our blocks," Reitz said. "Obviously we let him get loose a couple times. ...He's got a lot of different moves, power and speed and quickness. He's a big guy in there. They have as good of a front as there is in the league."
Praise of Watt has been effusive this season, and leading into last week's loss to the Patriots, Bill Belichick added
Antonio Smith
to the conversation. But minus inside linebacker
Brian Cushing
for the season and outside linebacker
Brooks Reed
for a stretch, it's been some time since the front seven made such an impression and earned such a rave.
Out of the series where Watt had a tackle for a loss, the Colts scored one field goal and the Texans got a blocked punt from
Bryan Braman
, who returned it 8 yards for a score. The home team was actually plus-4.
On the 10 plays where Watt was credited with a tackle or sack by game statisticians, the Colts had just two positive plays: A 1-yard run by
Vick Ballard
and a 3-yard scramble by Luck.
For years, AFC South teams looked at how the Colts operated with Peyton Manning and drafted with an emphasis on running backs who could help them play keep-away and defensive backs who increased their chances of slowing one of the NFL's best quarterbacks.
Luck may wind up dictating some of the same things.
But the three teams of the AFC South looking to end a two-year reign by the Texans would be wise to raise the value they put on interior offensive linemen going forward.
"You need elite offensive line play to block elite defensive linemen like Watt with any consistency," Colts general manager Ryan Grigson said. "If you don't play near-perfect from a technique standpoint, he will eat you alive. Six-foot-six, 290 with motor and instincts. A true game wrecker."
"I've been preparing my whole life for this stuff and it's just starting to come to fruition," Watt said. "One thing I'm excited about is that it's not over. I have a lot of football left and there is so much better I can get. I can get those two sacks. I can go out there and play better and the fun is just beginning."
Smith plays opposite Watt on the Texans' three-man line. I wrote early in the year about Watt's goals for
redefining the position
of 3-4 end.
But when the Texans go into nickel, Watt is really playing tackle.
Reitz called Watt a tackle. So does Smith.
"We've got him labeled as a defensive end, so everybody is judging him on the measuring stick as an end, but he's beating two guys every play to get to 20 sacks," Smith said. "He's not out on the edge free on one guy every time. ...He might end up ending the season with the most tackles out of a defensive lineman and the most sacks. Where have you heard of that before? I've never heard of it."
Before the season Watt shared some goals with Smith, who told him, "I hope you get them."
"I turned around and I was like, 'He's never going to get that,'" Smith said. "A tackle has never gotten those kind of numbers. But he put the numbers down. He believed in them. And I think he's going to make them."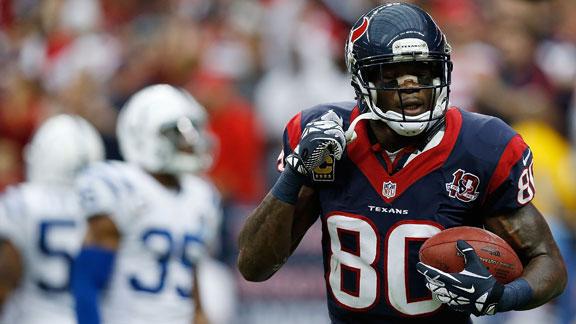 April, 13, 2012
4/13/12
10:21
AM ET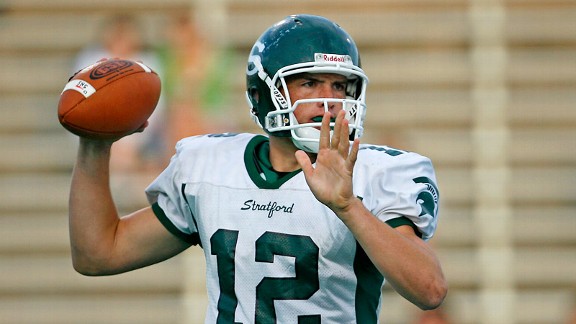 AP Photo/Aaron M. SprecherAndrew Luck developed as a high school quarterback playing seven-on-seven ball in Texas.
It amounted to fast-break basketball on grass: a summer tournament seven-on-seven football game.
Stratford High School coach Eliot Allen watched it unfold from his usual spot in the back of an end zone, not interacting with the kids representing his school against
Dez Bryant
and Lufkin High.
Over two 20-minute halves with a running clock, at a furious pace at which he had to throw the ball within four seconds of the snap against coverages that had no concern for the run,
Andrew Luck
didn't throw an incomplete pass.
"He's accuracy was unbelievable," Allen said. "That one game he didn't have an incomplete pass. I've never see it before or since. He throws such a catchable ball."
When the
Indianapolis Colts
inevitably make Luck the first pick in the draft on April 26, the Stanford quarterback will enter the league rated by many scouts and evaluators as the most pro-ready quarterback since John Elway.
While Luck's refined his remarkable touch as the leader of the Cardinal, he honed it early on in Texas seven-on-seven summer ball. He participated even as a rising ninth-grader, and Allen says Luck easily played 75 such games before moving onto college, contests that were crucial to the early development of good habits and exquisite ball placement.
As coach of Cypress Falls High, David Raffield regularly saw Luck play during the summer, then coached against Stratford in regular season and playoff football during Luck's junior and senior years.
"Watching Andrew grow and develop into a quarterback was nothing short of amazing," said Raffield, who now coaches A&M Consolidated High School in College Station. "The seven-on-seven allowed him to really develop his game. When you are out there as a quarterback running the offense, it's not plays being called by a coach. You're the guy doing it. You're becoming your own offensive coordinator. …
"His junior and senior year he had an amazing ability to place the football. The accuracy was phenomenal. He understood pass coverages. It gave him such advantages. I didn't know he's wind up being an NFL first-round draft pick, but I knew he was special."
The summer before Luck's senior year in 2007, his team finished second in Texas and played in a national tournament in Los Angeles. There, football staffs of high schools from California and Florida coached their players, Allen recalled.
It doesn't work that way in Texas, where a state organization runs the leagues and tournaments. A high school's coaches might help arrange leagues, tournaments and officials, but players work under the watch of others. Stratford uses former players from its team as summer ball coaches.
Texans coach Gary Kubiak was a St. Pius X High School (Houston) and Texas A&M quarterback well before seven-on-seven summers started. He joked if he had a chance to play that much, people would have discovered he wasn't any good.
Klein Kubiak, a former Strake Jesuit High School receiver who graduated in 2009 and now plays at Rice, played in the same district and overlapped with Luck. So as Gary Kubiak followed his son, he saw Luck play in tournaments. He's also seen just how much the competition and setting have done for Texas signal-callers.
"He was very impressive," Gary Kubiak said. "I think there is a lot of growth going on in those leagues right now. On a Saturday afternoon, those kids might play six of those games.
"I just think you can't get enough of those repetitions. It's almost like having two spring balls. It's almost gotten a little bit year-round, kind of like baseball."
Such summer-league play takes place in a lot of states now. But Texas was a pioneer.
So it's no coincidence that the three top quarterbacks in this draft -- Luck,
Robert Griffin III
and
Ryan Tannehill
-- are all from Texas.
"Think about these names," said
Tennessee Titans
quarterback coach Dowell Loggains, who started at quarterback for Cooper High School in Abilene, Texas, in 1997 and 1998 in both summer seven-on-seven and regular fall football. "Ryan Mallett,
Andy Dalton
,
Colt McCoy
,
Christian Ponder
, Andrew Luck,
Matthew Stafford
,
Kevin Kolb
, Robert Griffin,
Case Keenum
.
[+] Enlarge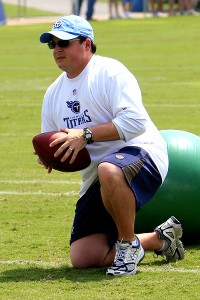 Danny Murphy/Icon SMITitans QB coach Dowell Loggains attributes the recent influx of quarterbacks from Texas into the NFL to all the extra reps they get.
"I mean it's huge. That's why all these Texas high school quarterbacks are coming out and doing really well. They are so much further along than the rest of the states, plus they get 15 dates for spring practice just like a college. They are getting so many more reps than the rest of the country."
Other states may be taking note and trying to copy, Loggains said. But it'll be tough for many to match or top Texas because of the facilities and money high school football has in the Lone Star State.
Added ESPN analyst Jon Gruden when asked about Texas' production of quarterbacks: "Obviously if you go to Texas, you can probably find passing tournaments going on right now, and if they're not going on right now, they'll be going on later this afternoon and for sure tomorrow and the next day. They throw the ball and have organized passing camps more than any place I've ever been."
Allen said seven-on-seven forces quarterbacks to figure out ways to beat man-to-man coverage with two-deep safeties and that doing so at an early stage of their football careers is invaluable. Against such a look from the secondary in an actual high school game, a quarterback would hand off most of the time.
"You don't win those games playing defense," Allen said. "It reveals a quarterback's accuracy and I don't think you can simulate stiff coverage in a better way. Andrew was very good at it. He can throw the deep ball. A lot of people give him a hard time about not being able to throw the deep ball. He was great at it. But his deal is, he just wants to get first downs."
As a high-schooler, Loggains said he thought the summer opportunity was "awesome."
And it made it a heck of a lot easier to get time and work with receivers, who might not show up for an informal session on a Tuesday night but wouldn't miss a chance to play in a game with a score and a title on the line.
The proliferation of seven-on-seven play actually influenced the game at all levels.
Coaches found they had quarterbacks equipped to run spread offenses in high school and moved away from traditional run-heavy, defense-centric schemes. They then fed those quarterbacks to colleges, where the spread continued to spread.
And when those quarterbacks landed in the NFL, teams had no choice but to employ some spread concepts, willingly or unwillingly, to try to take advantage of their quarterbacks' strengths.
"When we had
Vince Young
, we had to mix in a lot of that with [offensive coordinators] Norm Chow and Mike Heimerdinger," Loggains said.
Rather than an NFL idea trickling down, a byproduct of a high school idea trickled up.
And one scout I spoke with said he sees no end to it.
"That's the new craze, the seven-on-seven stuff," he said. "Texas has been doing it longer and it's the most organized state. How many good quarterbacks have come out of Texas the last 10 years? A ton. The more reps you get at anything, the better you'll be at it.
"It's why I stink so bad at golf."
November, 17, 2011
11/17/11
1:37
PM ET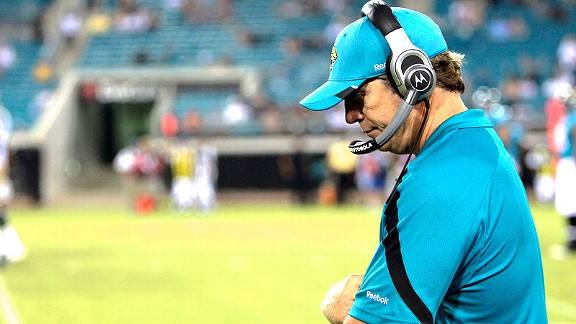 AP Photo/John RaouxIf the Jaguars replace Jack Del Rio, it makes sense to hire an offensive-minded head coach.
Ten weeks into most NFL seasons we have a good sense of head-coaching jobs coming open and the prime candidates for them.
This year feels different.
Jim Caldwell may coach a potential 0-16 team. But to hear Bill Polian talk, the Colts' coach may well survive. In Jacksonville, Jack Del Rio's got one year left on his contract and a lame-duck staff.
It's widely held that Jaguars owner Wayne Weaver will make a change if he judges the team to have shown insufficient improvement this season, and it's hard to envision a giant turnaround now for the 3-6 Jaguars based on how poorly the offense is producing.
As for prime head-coaching candidates, I sense no buzz about the hot, young offensive assistant who's the next big thing. In previous years -- no matter if they panned out or not -- we've seen guys like Josh McDaniels, Jason Garrett, Todd Haley and Ken Whisenhunt tabbed as up-and-comers who were ready.
Who are those guys now?
While Northern Florida might hold out hope that Weaver will want a name and would be able to lure one, I don't see Bill Cowher or even Jeff Fisher heading for EverBank Stadium.
The franchise should re-sign general manager Gene Smith, allow him to decide on Del Rio and make the recommendation on the next coach.
And if Smith's in the market, that next coach should be a young offensive mind who likes
Blaine Gabbert
and has the best shot at developing him. Smith needs to hit a home run finding the next Mike McCarthy, Sean Payton or, this year aside, Andy Reid.
I asked around this week, talking to a couple coaches and an executive about which NFL assistant qualifies as a QB guru who's ready to be a head coach.
Through those conversations, I present this list of possibilities:
Mike Mularkey, Atlanta offensive coordinator
-- Mularkey posted a 14-18 record as Buffalo's head coach in 2004-05. But he's got enough distance from that now that he could be worthy of a second act.
He took over as offensive coordinator in Atlanta in 2008, when quarterback
Matt Ryan
was a rookie. He has a bruiser of a running back in
Michael Turner
to go with Ryan. Ryan became just the second rookie quarterback in NFL history to throw for more than 3,000 yards, and the Falcons won 11 games.
There is a connection to Smith: Mularkey's son, Patrick, is a scouting assistant in Jacksonville's player personnel department.
Jay Gruden, Cincinnati offensive coordinator
-- Gruden's done fantastic work this season with rookie QB
Andy Dalton
. But is one good year enough to vault him to a head coaching job?
He worked on his brother Jon's staff in Tampa Bay from 2002-08, but as an offensive assistant he wasn't a year-round guy. He stacked the work on top of his duties quarterbacking and then coaching the Orlando Predators of the AFL.
Jay Gruden has head coaching experience in the AFL and the UFL, where he led the Florida Tuskers to the 2010 championship game as head coach and GM.
Word is he's different than his brother, calmer with a better presence with his players.
Rob Chudzinski, Carolina offensive coordinator
-- His first tour as an offensive coordinator came in Cleveland from 2007-08. The 2007 Browns won 10 games with
Derek Anderson
shining at quarterback.
Now Chudzinski's been lauded for his work with
Cam Newton
, revising and shaping the offense to feature what the rookie quarterback does best. He's got a strong background with tight ends, too, and is regarded as a rising star by many around the league.
He's also a quieter, unassuming type.
Tom Clements, Green Bay quarterbacks coach
-- Clements worked in the same post for New Orleans (1997-99), Kansas City (2000) and Pittsburgh (2001-03). During those stops he worked with
Tommy Maddox
during his comeback player of the year season in 2002 and with
Kordell Stewart
and
Elvis Grbac
during their best seasons.
He also worked as offensive coordinator in Buffalo in 2004 and 2005.
With Green Bay, Clements guided
Brett Favre
in his final Packers' years while helping prepare
Aaron Rodgers
. He's also had a hand in the progress of highly regarded backup
Matt Flynn
.
But does he have the qualities of a good head coach?
Pete Carmichael, New Orleans offensive coordinator
-- He's in his third year as Payton's top offensive lieutenant after three seasons as the Saints' quarterbacks coach.
Carmichael's been closely involved with an offense that has excelled with
Drew Brees
as quarterback, with a specific role in routes, protection schemes and quarterback responsibilities.
Like Clements in Green Bay, Carmichael works for a strong coach with an offensive background and so he doesn't function as the play-caller. While very smart, he comes across as bland and that could be a big issue for a guy expected to be the face and the personality of a franchise.
August, 11, 2010
8/11/10
2:21
PM ET
ANDERSON, Ind. -- Sometimes, when working to build a post, the entry is accelerated and breaks into pieces.
Since arriving at Colts camp, I've been asking questions about Clyde Christensen, who's in his ninth season with the team but his first as offensive coordinator.
It's a job he's held once before in the NFL, and his offense in 2001 with the
Tampa Bay Buccaneers
was not very good. (
Here's an interview
he did leading into that season.) On Wednesday I asked head coach Jim Caldwell about Christensen in his new position and about that Tampa Bay experience. His answer prompted me to look back at those Bucs and to write now even though I expect to talk to Christensen on Friday.
The Bucs were 30th in rushing with an injured Warrick Dunn, 15th in passing, 26th in total offense and 15th in scoring.
[+] Enlarge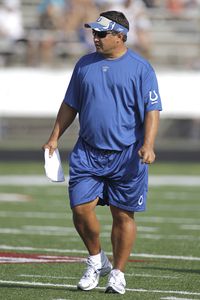 AP Photo/Darron CummingsJim Caldwell says he is confident in what Clyde Christensen (above) brings to the offense.
After 12 games, Christensen told the St. Petersburg Times: "It has to begin with me. That's my job. To get them coordinated. I have no problem with the criticism. The bottom line is the performance, and we should be better than we are.
"If I was giving myself a grade, I'd say about a C. Dead average. That's disappointing, because being average is not satisfactory."
Then after Philadelphia routed the Bucs 31-9 in the wild-card round, Tampa Bay receiver Keyshawn Johnson said: "A lot of guys on this team have a lot of bark, but no bite. Guys have to just shut up and play."
Per Caldwell's request, I checked the stats, and here's what I think he was driving at: A year after Tony Dungy and his staff were fired and Jon Gruden took over, the Bucs won the Super Bowl.
But that championship offense, in a league with one more franchise, was 27th in rushing (three spots better than Christensen's), 15th in passing (same), 24th in total offense (two spots better) and 18th in scoring (three spots worse.)
Gruden was regarded as an offensive genius at that point, but his offense had a lot of the same weak spots as Christensen's did.
While Caldwell indicated he thinks Christensen got a bad rap in Tampa Bay, the Colts coach also mentioned how a lot of coaches who were perceived to be not great in their first go-around rebounded to fare much better in a second chance.
He pointed to his own poor win-loss record as coach at Wake Forest, mentioned the difference in Dennis Green from college to the NFL and nodded in agreement when I mentioned Bill Belichick as another example.
"You ought to check the stats and see what exactly we were trying to get done and what we got done," he said of Christensen's year as coordinator with the Bucs, when Caldwell was quarterbacks coach on the same Dungy staff. "A lot of people make assumptions and have preconceived notions about things.
"But he's a very good football coach, he's a very capable guy, he's an excellent leader and I think you'll see he'll do a great job."
In Indy, Tom Moore is still around as senior offensive assistant and
Peyton Manning
is still determining what exactly to do on a play as he assesses things after breaking the huddle. We aren't going to see a discernable difference because Christensen is now officially at the helm. He's put in good years with the team, earned Caldwell's trust and loyalty as well as this promotion. He's obviously inheriting a great offense.
Still, it's reasonable to look at that stint in Tampa Bay and wonder how it will go.
"He's in his position because he's capable," Caldwell said. "He's a very good, very strong offensive mind. He knows our system extremely well. He's been working in it for a number of years now, had played a major role in it, oftentimes behind the scenes. ... [He's worked on] our red zone, we've been very effective in that particular area, and our third-down packages as well."
Stay tuned for more on him, and hopefully from him, later this week.
April, 23, 2010
4/23/10
8:51
PM ET
The Colts tend to cycle through linebackers, though they locked up
Gary Brackett
long-term and found a gem in
Clint Session
.
Second-round choice
Pat Angerer
could be a candidate to play on the strong side, where
Philip Wheeler
finished the year after
Tyjuan Hagler
had beat him out in camp but got hurt.
At Iowa, Angerer played his final three seasons in the middle. Jon Gruden just compared him to
Zach Thomas
. But Matt Williamson of Scouts is a little surprised about his 4.73 speed: "Angerer makes a lot of plays, but his lack of speed doesn't fit the Colts LB mold."
He does, however, fit their size mold. He's just over 6 feet and weighs in around 235 -- numbers right in line with Brackett and Session. Write-ups make him sound like a playmaker who might not have all the measurables, which are just the sort of things Bill Polian isn't generally concerned with.
The Colts have five picks remaining -- 94th in the third, 129th in the fourth, 162nd in the fifth, 238th and 240th in the seventh -- and the lingering question is about the offensive line.
It's perceived as a need after Bill Polian complained about the group's play in the Super Bowl and told
Ryan Lilja
's agent upon the guard's release that they were looking to get better.
Adam Terry
and
Andy Alleman
have been added, but many expected they'd address the offensive line high in the draft too.
Comments
at his pre-draft press conference should have signaled for us to ease up on those expectations.
Instead they've gone with edge rusher
Jerry Hughes
in the first and Angerer in the second.
January, 12, 2009
1/12/09
4:57
PM ET
Posted by ESPN.com's Pat Yasinskas
TAMPA, Fla. -- Forget for a second the Super Bowl victory and all the great players he coached. If you want to know what truly set Tony Dungy apart from other football coaches -- really, apart from a lot of human beings -- there is a story you need to read.
| | |
| --- | --- |
| | |
| | Greg Crisp/Getty Images |
| | Tony Dungy was more than just a football coach with the Tampa Bay Buccaneers. |
It sums up Dungy, who is retiring from the Indianapolis Colts and the National Football League today, as a person and a coach. It's the story of a man with a vision and the courage to stick to it quietly, no matter how much the world outside was banging on the windows.
The year was 1997. The Tampa Bay Buccaneers, in Dungy's second year as head coach, were showing some signs the lowly franchise might be ready to escape the so-called Curse of Doug Williams. With a young cast that featured Derrick Brooks, Warren Sapp, John Lynch, Warrick Dunn, Mike Alstott and Trent Dilfer, the Bucs got hopes up with a 5-0 start.
Then, it all seemed as if the season was about to fall apart because of one man. Well, make that two men because Dungy could see the problem as clear as the rest of Tampa Bay. But that stubborn streak that would become a part of his legacy was keeping him from, outwardly, doing anything about it.
The Bucs had a talented young kicker named Michael Husted who all of sudden started missing kicks. Not only was Husted missing field goals, but even extra-point attempts were flying badly off target.
The fans and the media were up in arms. It seemed Husted had to go or else the whole season would spin out of control. It was obvious to everyone, it seemed, except Dungy.
Week after week, he stood there with his arms folded on the sidelines, never showing the slightest emotion when Husted missed a kick. The Bucs lost three games in a row.
Any other coach would have simply brought in another kicker. But Dungy had laid out a philosophy that would end up applying to every player he ever coached and he had to stick to it. He knew something the rest of the world didn't.
While media and fans were breaking down Husted's kicking technique, Dungy knew what was in the kicker's head and heart.
The real story here was Husted's mother, Ann, was dying of cancer up in Virginia.
"I always prided myself on being a pro and being able to separate off-the-field stuff from what I did on the field,'' Husted said Monday morning from his home in San Diego. "But it got to the point where my mom's situation was taking up all of my thoughts."
On the Monday after the third straight loss (to Minnesota), special-teams coach Joe Marciano sat down with Husted and said, "What would you do if you were in our shoes?'' Husted pretty much shrugged and braced himself for the inevitable.
The next morning, Dungy called and Husted was sure he was being cut. Dungy's words said something else.
"He just said, 'You're a Buccaneer. You're part of our family. You're our kicker,''' Husted said.
Mission accomplished. The next Sunday, the Bucs went up to Indianapolis. Husted made a game-winning field goal that broke his slump. The season was saved and the Bucs went on to make the playoffs for the first time in a generation. Ann Husted died after the season, but not before she came to several games and sat with Dungy's wife, Lauren, in a private box.
"What he did was relieve the pressure from me,'' Husted said. "A lot of other coaches would have just let me go. I'm forever grateful to Tony for how he handled that. It speaks a lot about the type of individual he is and how he's not going to let outside forces influence what he knows is right.''
Throughout his career, Dungy has been criticized for being too stubborn or too soft. But, deep down, wouldn't you rather have someone who cares about you and not someone who flies off the handle and listens to the whims of the world?
That should be as much a part of Dungy's legacy as all the games he won and as much as becoming the first African-American head coach to win a Super Bowl. Yes, he did things differently at times, but, in the end, you can't argue with the results.
The Super Bowl win still is fresh in the minds of many. But what Dungy did in Tampa Bay might have been even more remarkable. He took over a franchise that was in disarray, replacing Sam Wyche as the coach soon after owner Hugh Culverhouse had died and Malcolm Glazer purchased the team. In those days, the Bucs played in dreary Tampa Stadium and there was speculation about them moving anywhere from Los Angeles to Baltimore.
In 1996, a very quiet man took over a mess.
"The thing is Tony just brought this silent, commanding respect,'' Husted said. "We never felt like there was a clear road map. He came in and established what we wanted to do and how to go about it. People bought into it in the locker room and we started winning.''
The Bucs got their new stadium in 1998 and consistent winning followed. Dungy couldn't quite get the Bucs over the Super Bowl hump. Jon Gruden came in and did that. But Dungy's contributions in Tampa Bay are going to be evident for a long time. The franchise has been respectable since his arrival, and the stadium has been full for years.
Respect might be the most fitting single word to sum up Dungy's career and that's fitting. Through it all, he always earned respect.
"I think the biggest thing was you never wanted to disappoint coach Dungy because of how he treated you,'' Husted said. "I think any player who ever played for him will tell you it was an honor to play for him. The league is going to miss him and I wish you could clone him and make every coach like that because it would benefit the whole league. But you know that whatever he does going forward, he's going to keep doing it the right way and he's going to positively impact a lot of people.''