November, 2, 2010
11/02/10
1:00
PM ET
»
NFC Decisive Moments
:
East
|
West
|
North
|
South
»
AFC
:
East
|
West
|
North
|
South
The Cowboys were poised to cut into the Jaguars' 14-3 lead and head into intermission with things turned around.
But in four downs starting at the Jacksonville 9-yard line, Dallas couldn't break through.

Miles Austin
caught a pass out of bounds. On the next play,
Jon Kitna
ran for 8 yards. Then
Marion Barber
ran off right guard and was stopped by
Daryl Smith
and
Kirk Morrison
.
On fourth-and-goal from the 1, Barber ran off left tackle and the same duo of linebackers stuffed him.
I'm not sure, however, that Barber's second or third effort wouldn't have broken the plane if
Justin Durant
had not run down the line and made the final push to rebuff the effort.
A booth challenge was upheld and the Jaguars went into the locker room fired up. They returned and built on their 11-point lead to win with ease, 35-17.
November, 1, 2010
11/01/10
10:28
AM ET
David Garrard
's excellent performance in the Jaguars' 35-17 win in Dallas on Sunday got ESPN Stats & Information and the Elias Sport Bureau revving.
The best of what Stats and Info came up with:
He was only the second quarterback since the 1970 merger with four passing touchdowns and a rushing touchdown in a road win. Trent Green did it in 2000.
Garrard's four passing touchdowns tied a Jaguars single-game record.
Garrard completed his first 12 passes of the game, one shy of the team record for most consecutive completions held by Mark Brunell, who had 13 straight in 1996 and 2003.
The Jaguars score at least 35 points on the road for the second time this season (they scored 36 at Buffalo in Week 5), the first time they've had two road games with at least 35 points in the same season.
The best of Elias Sport Bureau's notes:
Garrard threw four touchdown passes in a win at Dallas, six days after Eli Manning did the same. It was only the second time in Cowboys history that an opposing team scored on four or more touchdown passes in two consecutive home games. The first time it happened, the games were in two different seasons, and the quarterbacks were Eli Manning in the 2007 season opener and Jon Kitna, Dallas' quarterback Sunday, for the Lions in the 2006 finale.
Garrard completed his first 12 passes in the Jaguars' win, the longest completion streak at any point in any game against the Cowboys since Steve Beuerlein started 12-for-12 for the Panthers in a loss at Dallas in 1998.
Tracking back to 1960, Garrard's passer rating of 157.8 was the highest ever against the Cowboys, passing Jay Fiedler (156.0 for the 2003 Dolphins), Daunte Culpepper (147.1 for the 2004 Vikings) and Brunell (146.4 for the 2000 Jaguars).
Since 2000, only three quarterbacks have had a first half where they completed every pass and threw two touchdowns. Garrard on Sunday, Peyton Manning for Indy on Dec. 17, 2009, and Randall Cunningham for Dallas in Sept. 10, 2000.
October, 31, 2010
10/31/10
5:10
PM ET
Thoughts about the Jaguars
35-17
win over the Cowboys.
What it means:
Dismiss the Jaguars in the AFC South at your own risk, because 4-4 still gives them plenty of life in the AFC South halfway through their season.
Hero:
David Garrard
threw four touchdowns for the first time in his career and was tremendously efficient and accurate, hitting on 17 of 21 passes for 260 yards. He found the increasingly dangerous
Marcedes Lewis
for two of the scoring passes and really got
Mike Sims-Walker
involved with eight catches for 153 yards and a touchdown. Garrard also ran for the Jaguars' fifth TD.
What I liked:
A much maligned secondary produced three interceptions -- two from
Derek Cox
, one from
Rashean Mathis
. A fourth came from the gigantic defensive tackle
Terrance Knighton
. Three were on tipped balls, but the Jaguars were opportunistic against
Jon Kitna
.
Bad development:
Safety
Don Carey
earned an unnecessary roughness penalty for a helmet to helmet hit on
Jason Witten
, a play that knocked him out of the game with a neck injury.
What's next:
Jacksonville will enjoy its bye week before hosting back to back games against Houston and Cleveland.
October, 29, 2010
10/29/10
4:00
PM ET
»
NFC Final Word
:
East
|
West
|
North
|
South
»
AFC
:
East
|
West
|
North
|
South
Five nuggets of knowledge about Week 8: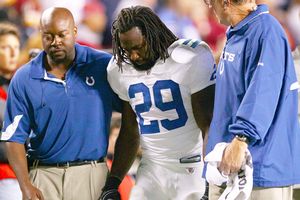 Win McNamee/Getty ImagesJoseph Addai has played a large role in protecting Peyton Manning.
Blitz pick up:
If RB
Joseph Addai
(shoulder) is out for the Colts against the Texans, Indy loses a big piece of its pass protection. Addai is superb at pickups.
Donald Brown
, also hurt, is not nearly as good. And
Mike Hart
and
Javarris James
have not played enough for us to know. It might be a spot for Houston to try to attack, but can the Texans afford to blitz much considering their coverage issues and
Peyton Manning
's tendency to find the open guy?
Yes, they're the Chargers:
The Titans spent the week saying how this Chargers team is not the same one they have lost seven straight to, including a 42-17 pounding in a game the Titans needed to stay in playoff contention on Christmas last season. But they are enough of the same team, and San Diego absolutely has Tennessee's number. The talented Chargers have lost three in a row, seem overdue and match up well.
Filling multiple roles:
The absence of
Pat McAfee
, the punter who's suspended for the game, goes beyond him being replaced for a game by
Jeremy Kapinos
. McAfee is also the kickoff man, and
Adam Vinatieri
won't hit them as deep. McAfee is the holder too, so Kapinos or
Jacob Tamme
or
Curtis Painter
will replace him there. One bad play by a replacement can really shine the spotlight on his absence, and the alleged drunken canal swim that created the suspension scenario.
Talent gap:
The Cowboys are largely regarded as a collection of talented players that has been unable to play well together as a team and thus find themselves at 1-5. They certainly view themselves as more talented than the rebuilding Jaguars, who are struggling but have a 3-4 record that the Cowboys would love to call their own. If
Aaron Kampman
and the young defensive linemen he's working with can rattle
Jon Kitna
, Dallas could sink even further.
Concentrating on their jobs:
When
Arian Foster
ran wild against the Colts on opening weekend, Indianapolis defenders got caught out of their lanes. There was a good deal of over-pursuit and a general lack of discipline. Both teams are coming off a bye. The Colts surely spent time discussing those problems and working on them. The Colts' defense has the people to play much better than it has so far. I suspect the Texans will have to balance things out offensively this time around, something
Matt Schaub
is fully capable of helping them do.
May, 3, 2010
5/03/10
2:15
PM ET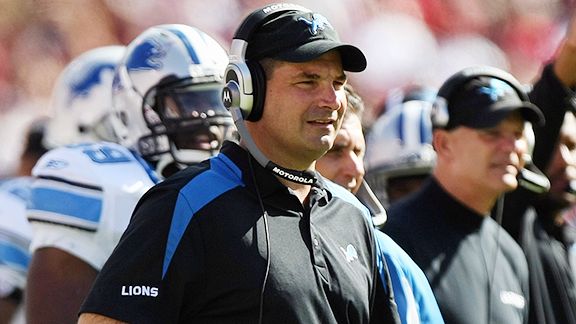 Jed Jacobsohn/Getty ImagesJoe Cullen is back in the NFL, bringing energy and high-decibel levels as a member of the defensive coaching staff.
JACKSONVILLE, Fla. -- The volume's been turned up to 11 over at the defensive line area of the Jaguars' practice.
Joe Cullen prowls and hollers, prods and hoorays as he pushes a revamped group that's expected to revitalize Jacksonville's defense.
Last year's 14 sacks were the fifth-worst total in the league since it started keeping sack stats in 1982. Enter Cullen, a once successful coach in Detroit who made national headlines for passing through a drive-through naked, a stunt that ultimately landed him out of the league.
Now he's been given a second chance as well as the first four picks of the Jaguars' draft and a veteran rusher in free-agent addition
Aaron Kampman
.
The Jaguars didn't do much behind that line. Veteran linebacker
Kirk Morrison
, acquired in a trade with Oakland, is the only real notable addition. A better pass rush, they say repeatedly, will do much to cure other ills like those at safety.
As Cullen had each lineman weave through four tackling dummies at minicamp practices that wrap up Monday, clubbing and ripping each one before turning left and flattening a fake quarterback, he left little unsaid.
"It's time to get double-digit sacks around here Harv," he bellowed to end
Derrick Harvey
, the team's top draft pick in 2008. "Not four sacks. That's what you were brought here to do: Rush."
He urged "tempo, tempo" and his assistant, Ben Albert reminded the troops: "We've got to reclaim the line of scrimmage."
"I think this is a great group they've given me to work with," Cullen said. "…It all starts up front. Basically the organization and the team is depending on us to lead the team, to lead the troops."
Two veteran linemen, newcomer Kampman and
Reggie Hayward
who came here in 2005, both love Cullen so far.
"I love his passion," said Kampman, the former Green Bay star. "The position is so much about relentlessness, tenacity and obviously those are some of his strong characteristics as a coach. He knows a lot about rushing the quarterback. He's learned from a lot of great guys in his career and one thing I've learned is you always look at the pedigree."
Those influences include Chicago defensive coordinator Rod Marinelli and Indianapolis defensive line coach John Teerlinck.
Said Hayward: "[Cullen's] whole motto is to work hard, to go after it. He's an intense little guy from upper New York or Jersey or somewhere. He says 'tonic' and not 'soda' and he's a little fireball. That's what you need, man. I think he's perfect for what we've got going on."
"The identity of the D-line is going to be hard work. We may not be as big as
John Henderson
or
Marcus Stroud
. But most of the time making plays is just effort. Do you give up? Or do you continue to work?"
The Jaguars
hired Cullen
in January with
the blessing
of commissioner Roger Goodell.
The quick recap of his fall: Cullen drove through a suburban Detroit Wendy's naked in 2006 -- a scene later revisited through a
Jon Kitna
Halloween costume. Cullen was arrested for that and separately for a DUI, incidents that led to a suspension for one game by the team, another game by the league and a fine of $20,000 for conduct detrimental to the league.
The two cases resulted in fines and 10 days of community service as well as a judge's order to attend outpatient treatment and Alcoholics Anonymous meetings.
"Motivated guys are great, right?" asked head coach Jack Del Rio. "Players or coaches, that's what you want… I know Joe's very hungry for an opportunity, when he's been in the league and the line's he's worked with he's done a nice job with and I think he's very thankful for a second shot."
"All I know is that there isn't a single one of us that's perfect, I know I'm not," Kampman said. "This profession obviously puts you in a fishbowl and the great thing is that I know he's addressed it with the group and is moving forward. Each and every one of us needs to be about redemption."
Cullen started off our chat with an emphasis on how grateful he is to owner Wayne Weaver, GM Gene Smith and Del Rio for the second chance.
In three seasons in the same post in Detroit, he had pretty good line play on pretty bad teams. In 2007 the Lions jumped from 24th to ninth in the NFL in sacks, and the defensive line accounted for 28.5, seventh-most in the league.
But he was exiled in 2009 when the Lions started over with a new coaching staff. He spent the year as an assistant at Idaho State.
He and his 2010 draft class will get a lot of attention this year. His rookie pupils include tackle
Tyson Alualu
, the 10th overall pick from Cal, third-round tackle
D'Anthony Smith
and fifth-round ends
Larry Hart
and
Austen Lane
.
"They're very talented, they're very gifted," Hayward said. "This is the time for someone to say, 'Hey, we've got a lot at stake here. Now do you want to mess it up by being a goof off or do something special?'"
Cullen isn't so much worried about quantity as quality in the sack department. He said he craves "impact sacks," the kind that come with strips or turn field position at a crucial spot in a game.
The defensive line won't be judged on sacks and can affect games in many more ways, Smith said.
"I think it's about making the quarterback move," Smith said. "You'd like to get him down a lot. But you make him move, most quarterbacks who can't set their feet to throw, cannot throw the ball accurately. So you get opportunities for more pass break-ups, for interceptions and you certainly get opportunities to get off the field with an incompletion."
Cullen's hardly set modest goals, especially considering it's a team with one very big star in running back
Maurice Jones-Drew
.
"We're going to be the face of the organization and really be the group that creates a relentless attitude about getting to where we want to be," he said. "So we've got to not just be good, we've got to be great in everything we do."
January, 20, 2010
1/20/10
9:18
PM ET
Joe Cullen's background is as a defensive line coach.

Cullen
Jack Del Rio has a defensive line coach in Ted Monachino.
So it's unclear just what is unfolding on Del Rio's staff. But Cullen looks like he's in line to join Jacksonville.
And before the punch lines start flying, the Jaguars did their due diligence on the former Lions assistant who once drove through a suburban Detroit Wendy's naked -- a scene later revisited through a
Jon Kitna
Halloween costume.
Commissioner Roger Goodell wrote Wayne Weaver a letter saying Cullen has redeemed himself.
This news story
will cover that for you.
Perhaps JDR is looking to double up. Pass rush is the Jaguars biggest issue, at least on defense.