June, 29, 2010
6/29/10
11:15
AM ET
Notable players:
LG
Bruce Matthews
, QB Steve McNair, RB
Eddie George
, DE
Jevon Kearse
, CB
Samari Rolle
, WR
Derrick Mason
, S
Blaine Bishop
, TE
Frank Wycheck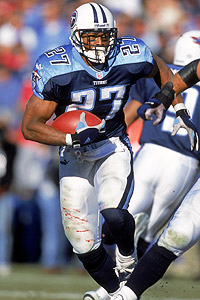 Scott Halleran/Getty ImagesEddie George rushed for 1,509 yards and 14 touchdowns in 2000. He also caught 50 passes for 453 yards and two scores.
Analysis:
While the Titans were transformed by reaching the franchise's first Super Bowl during an improbable run in 1999, most insiders -- and this observer -- believe the follow-up team was better.
Fred Miller
wasn't as good as
Jon Runyan
at right tackle, but
Randall Godfrey
was a significant upgrade over
Barron Wortham
at middle linebacker. The defense allowed 133 fewer regular-season points than the year before. The addition of offensive coordinator Mike Heimerdinger also qualified as an improvement. These Titans weren't discovering they were good, they knew they were good, rolling to a 13-3 season.
An opening-night loss at Buffalo was a grudge match over the Music City Miracle, but Tennessee responded with an eight-game winning streak. The Titans won in a variety of ways. They beat the Giants 28-14 and the Steelers 9-7, adapting to what a certain Sunday may have demanded.
They also lost close games to Baltimore and at Jacksonville. The total margin of their three losses was seven points.
With the NFL's best record and as the No. 1 seed, the Titans felt primed to return to the Super Bowl and win it. But they were undone by the rival Ravens, who upset the Titans in Nashville with big defensive and special-teams performances that sparked a run to a championship. Jeff Fisher says the 2000 Titans are the best team he's coached, which made the loss to the Ravens all the harder to swallow.
Most impressive win:
The Giants were ranked as the NFC's best team in 2000, and the Titans beat them by two touchdowns on Oct. 1.
Research room:
While it was the Ravens' year, and they are regarded as an all-time defense, it was the Titans who finished the year as the NFL's No. 1-rated defense.
Honorable mentions:
1993:
This edition of the Houston Oilers, which had two Hall of Fame offensive linemen in
Mike Munchak
and Matthews and a Hall of Fame quarterback in
Warren Moon
, rattled off 11 consecutive wins to conclude the regular season and finished 12-4. But they lost their first playoff game to Kansas City.
1961:
The Houston Oilers were 10-3-1 and won their second AFL championship in a row with 13 players who were in the AFL All-Star Game.
1999:
The Music City Miracle came to define a gritty, prepared, never-say-die team. They won their first playoff game thanks to the last-second trick play and came a yard short of forcing overtime on the final play of the franchise's lone Super Bowl appearance.
March, 19, 2010
3/19/10
10:29
AM ET
Houston Texans
Bob McNair supports
overtime reform
, says John McClain.
McClain's current draft
thoughts and musings
.
The Texans are
hardly alone
in being slow in free agency, says Alan Burge.
Indianapolis Colts
A look at
the cornerbacks
from John Oehser.
Jacksonville Jaguars
It's the
deadline day
for season-ticket renewals. Here's an update from Michael C. Wright.
Quinn Gray is going
to coach
at a local high school, says Hays Carlyon.
Businesses are
trying to help
the Jaguars sell tickets, says Kevin Turner.
Tennessee Titans
Terry McCormick's piece on Alge Crumpler's
departure
to New England.
Jon Runyan is making a run
for Congress
.
July, 9, 2009
7/09/09
8:23
PM ET
Posted by ESPN.com's Paul Kuharsky
| | |
| --- | --- |
| | |
| | AP Photo/Mark Humphrey |
| | Eddie George, right, and Craig Hentrich were among the former teammates to attend Steve McNair's memorial. |
WHITES CREEK, Tenn. -- Lance Schulters arrived at Steve McNair's memorial with another former teammate of the fallen Titans quarterback, Robaire Smith.
The two also saw Samari Rolle and Eddie George.
Those four friends always thought they'd be reunited with McNair for happier times.
"That's our seats right there, playing cards all day on the plane," Schulters said, gesturing the circle they'd comprise. "Steve always won the big hands. All the big pots he won. We just joked about that, like 'Man, this is crazy.'"
Instead, they gathered in this suburb north of Nashville, not to shuffle and deal, but to join more than 5,000 others to mourn McNair, who was shot and killed Saturday in a murder-suicide.
"We might feel indestructible and indispensable on the field, but the reality of it is we're all human, and we all have an end," said Kevin Mawae, Titans center and president of the NFL Players Association. "We just don't know when that end is going to come.
"It's a difficult thing to be here. But we're all NFL players and there are not very many of us and when one of us passes under these circumstances or any circumstances, you mourn the loss of that guy. He was a brother in the locker room to many of us."
More than 30 teammates -- Titans past and present -- attended the memorial, as did the franchise's owner, Bud Adams, Tennessee Governor Phil Bredesen and Nashville Mayor Karl Dean.
The list of current and former players also includes Derrick Mason, Samari Rolle, Jevon Kearse, Kevin Carter, Frank Wycheck, Yancey Thigpen, Benji Olson, Blaine Bishop, Kyle Vanden Bosch, Jon Runyan, Josh Evans, Justin Hartwig, Al Del Greco, Erron Kinney, Zach Piller, Craig Hentrich, Gary Walker, Joe Nedney, Chris Sanders, Al Smith, Chris Hope and Vincent Fuller.
Current Titans assistant coaches Dave McGinnis, Mike Munchak and Marcus Robertson (who was also a teammate) are also here, as is the team's starting quarterback, Kerry Collins. McNair was drafted third by the Oilers in 1995; Collins fifth by Carolina.
Jeff Fisher will speak during the memorial and is set to talk with the media after it's over.
George said he gathered with 15 or 20 former teammates to remember McNair Wednesday night at The Palm in downtown Nashville
McNair was killed on July 4, which led different players to different thoughts of future Independence Days.
"Here's an opportunity for us to get together every Fourth of July and celebrate his life," George said.
"I know from this point on, my July 4 will never be the same," Kearse said. "I may not even celebrate July 4 from this point on. Instead it will be on July 9 or something like that."
George wrote a poem -- entitled "Where Do Warriors Go?" -- in recent days as he tried to sort through his feelings about McNair's death.
"It was a great question, and based off of that question, these words just started coming out of me and I tried to put it into form," said George, who read the poem at the memorial service. "It was something that I wanted to send off to him, directly speak to him and send him off in the right way. Maybe one day I can recite it for you.
"It's a special place they go to. I don't know the exact place, and that was the question. In it all, he's done his best, right or wrong, and basically it was a message to say, 'You know what, you're free to go into that life, without any judgment. You've done the best you can do and we're going to hold it down here for you.'"
July, 9, 2009
7/09/09
7:14
AM ET
Posted by ESPN.com's Paul Kuharsky
In his 10 most intriguing moves of the offseason, Rick Gosselin includes Connor Barwin, Torry Holt and Donald Brown.
Houston Texans
Battle Red Blog wonders what Dunta Robinson would be worth in a trade. (I expect he ultimately signs the franchise offer of nearly $10 million and plays for the Texans this year.)
DeMeco Ryans talks with texans.com.

Indianapolis Colts
Jacksonville Jaguars
Vic Ketchman of jaguars.com assesses the state of the rest of the division as part of his newest mailbag.
Tennessee Titans
March, 6, 2009
3/06/09
9:00
AM ET
Posted by ESPN.com's Paul Kuharsky
It came up over and over in Thursday's chat, I get it a lot in the mailbag and it's a constant caller complaint on the radio.
A lot of fans seem obsessed with big names.
As in, 'Big Name X has been cut, will my team sign him, we really should sign him, he would fix everything and he's a big name.'
Here's a sampling of how we addressed it in our usual 3-4 p.m. Thursday slot:
Brandon West Orange, NJ: Hey do you think there is any chance of th Tennesee titans picking up any top notch WRs i know they got Washington, but it seems they should have a lot of cap space maybe T.O.?

Paul Kuharsky: There are no top-notch WRs out there, including T.O. Don't get carried away with name recognition.

Is that really the most important thing? That they have new guys you've heard of? Or do you trust them to find guys you'll love like KVB and Bironas and Tony Brown who you'd never heard of?
And later:
Jeff (Philadelphia, PA): Paul: With the Eagles only losing players lately, will they actually sign any big names to help their offense, and McNabb, this year?

Paul Kuharsky: Again the obsession with big names. The most important thing to the Eagles should not be that you are intimately familiar with who they sign. How much did you know about Runyan when they brought him in? He turned out OK, no?
I apologize if my replies came across as a little testy -- you can see the theme struck a nerve.
Sure, there are times when signing a star is a great move. But one of the best things about the league is how big-time players emerge. Look at homegrown studs like Robert Mathis and Owen Daniels, or smart additions who panned out big like Kyle Vanden Bosch [the aforementioned KVB]. Were you wild about those additions? I doubt it. Did they draw big headlines or lead "SportsCenter" or throw popcorn into their facemask? No. But do you love those guys now? I suspect so.
All I am saying, is give teams a chance.
Big names aren't a cure all. Look how tentative the league is being with Marvin Harrison, with Chris McAlister, with Mike Peterson, with Jeff Garcia. I'll bet it plays out similarly with Terrell Owens.
And there is nothing wrong with that.
February, 22, 2009
2/22/09
10:52
AM ET
Posted by ESPN.com's Paul Kuharsky
INDIANAPOLIS -- David Climer asks the big question regarding Albert Haynesworth this morning: Why did the Titans let it come to this?
I've been a bit outspoken on this, saying the team gave away the right to franchise Haynesworth a second time too easily in negotiations to ensure he'd be in camp on time last year.
These were the incentives:
Make the Pro Bowl.
Play 60 percent of the team's defensive snaps.
Play 53 percent of the team's defensive snaps and the Titans win 10 games.
Play 53 percent of the team's defensive snaps and the Titans finish in the NFL's top five in total defense.
Haynesworth only needed to hit one to be freed of the threat of being franchised again. He hit the first three but not the fourth.
I asked Jeff Fisher if the Titans didn't negotiate the right to tag Haynesworth too easily.
| | |
| --- | --- |
| | |
| | NFL.com Video |
| | The Titans' Albert Haynesworth shows why he is one of the top defensive tackles in the NFL. |
"I believe he was a big part of our defensive success last year, particularly because he was in training camp and he worked and he was conditioned and he started off fast," Fisher said. "There was always that possibility he would not have come to training camp had he not signed the franchise, then you've got all those other things."
In many ways, this is a first for the Titans. Yes, they let Jon Runyan walk away and didn't try to retain Jevon Kearse when he jumped to Philly. But most of their departures have been because of limited cap space or because they judged a guy to be done, almost always accurately. When they've had the financial resources they've locked up their top guys well in advance of free agency. If/when Haynesworth heads elsewhere, the Titans will be answering for something they haven't really faced since coming to Tennessee.
"It is unique, it's also not unique because we did do, I thought, everything we possibly could last year to try to get the deal done," Fisher said. "We made a decision which guaranteed us his services last year and we put a deal together which was good for both sides. He made three or of the four stipulations and it gave him an opportunity not to be franchised again. It doesn't mean we don't have a chance to sign him."