AFC South:

Jonathan Vilma
May, 16, 2014
5/16/14
4:15
PM ET
INDIANAPOLIS -- The thought of playing football had always crossed
Erik Swoope
's mind. He wanted to be out there tackling and catching passes with the rest of his friends while growing up in Southern California.
But there was a problem with Swoope's desire to play. He only wanted to play if he could do it with his friends. That wasn't possible because Swoope stood 6-foot-2 and weighed 200 pounds at the age of 12. And while he was already dunking a basketball by then, his friends were 50 and 60 pounds lighter than him, eliminating any chance of being teammates with them since Swoope didn't meet the weight requirement.
[+] Enlarge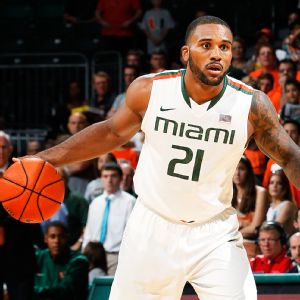 Joel Auerbach/Getty ImagesErik Swoope, a former four-year basketball player at the University of Miami, is trying his hand at football for the first time -- and with the Indianapolis Colts.
"I was taller and bigger than all my friends and it wouldn't have been possible for me to play with them," Swooped said during the first day of the
Indianapolis Colts
' rookie minicamp.
Swoope continued to think about playing football during his four-year basketball career at the University of Miami, but the opportunity to do both was too much to ask because of the overlap of the seasons, and he went to the school to play basketball.
The chance to play football finally came about when the Colts signed him as an undrafted free agent earlier this week despite Swoope not knowing what it feels like to get hit on the football field. Playing football for Swoope is like a kid learning how to ride a bike for the first time.
"The main thing to me between football and basketball is that I just love being an athlete," Swoope said. "In the weight room, trying to get as strong as you can, as fast as you can, as quick as you can. And in basketball, it's kind of a game of tempo. That's what I'm learning also in football, but it's more of an opportunity to be an athlete and for me, I'm enjoying it."
This isn't the first time the Colts have signed a player who did not play college football.
Marcus Pollard
played basketball at Bradley University before the Colts signed him as an undrafted free agent in 1995.
Patience is key for Swoope because of his lack of football experience. He's confident because he feels he's capable of picking up the game. He's also curious how quick he can learn it.
One of the good things going for Swoope is that there haven't been any expectations put on him. The Colts are set at tight end with
Dwayne Allen
,
Coby Fleener
and serviceable backups
Weslye Saunders
and
Jack Doyle
. Swoope is able to learn slowly.
The first thing Swoope did right was get together with former University of Miami football players
Jimmy Graham
and
Jonathan Vilma
a few weeks ago. Graham, who played basketball for the Hurricanes and spent his fifth year as a tight end on the football team, worked with Swoope on route running. Vilma would tell him what he was looking for from the linebacker position.
Elsewhere in the NFL, Green Bay's
Julius Peppers
played basketball at the University of North Carolina and played defensive end on the Tar Heel football team.
So why tight end for Swoope?
Tight end translates well from the basketball court to the football field, he said.
"I played power forward and I played on the wing, so I got use to playing a variety of parts on offense and defense," Swoope said. "That's one of the key carryovers, the size, the weight, the athleticism. It's a quicker carry over because you're use to studying a variety of things all at once."
Swoope doesn't know what to expect when it comes to getting hit for the first time. All he knows is that he needs to run with his 6-foot-5 frame low.
"My brother played football and he told me I'm going to get hit and I'm going to quickly learn to get down and get the pads down," Swoope said. "I'm looking forward to this experience."
February, 7, 2010
2/07/10
11:44
PM ET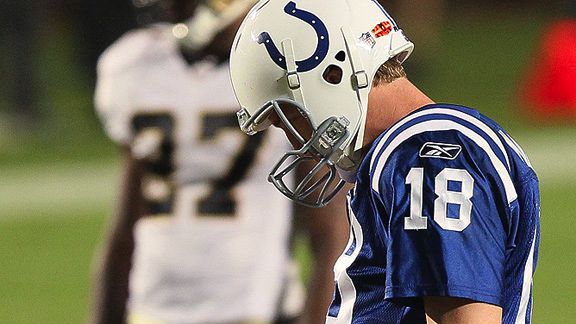 Jed Jacobsohn/Getty ImagesPeyton Manning threw for 333 yards and a score, but also committed the only turnover of the game.
MIAMI -- Cue it again.
All the talk about
Peyton Manning
's failures in the clutch, all the comparisons of the
Indianapolis Colts
to the Atlanta Braves.
Boy, the Colts sure are good in the regular season, but when it comes to collecting rings …
A team that made a season out of fourth-quarter comebacks couldn't find one Sunday night, and when it came to explaining
Tracy Porter
's game-sealing 74-yard interception return with 3:12 left, the Colts didn't have a lot to say.
"Porter made a great play on the ball," Manning said not long after
New Orleans' 31-17 Super Bowl XLIV
was in the books and red and silver confetti littered the Sun Life Stadium floor. "He made a good break on it. And he just made a heck of a play."
"He jumped the route," said
Reggie Wayne
, the intended receiver. "He did a good job jumping the route."
The quarterback and receiver both treaded lightly, not wanting to cast blame about what went wrong on a play Manning said they've run quite a bit. The throw was a bit off, or the route was, or both. And while we want to dissect it precisely, they weren't interested parties.
Brett Favre
threw an interception that hurt the Vikings' shot in the NFC title game in New Orleans. Like Manning, he owns a 1-1 record in the Super Bowl. I expect, though, that while Favre keeps people's attention cast as a rugged gunslinger, Manning will get a new round of holes punched in his résumé for being a cerebral signal-caller with just a .500 playoff record.
A win would have done a lot for those wanting to crown him the best of all time. A loss led to a classification in much more terrestrial terms.
"I don't think it dents him," Saints linebacker
Jonathan Vilma
said. "He's one of the top three quarterbacks in the league right now. Would he like to have that throw back? Of course. But every quarterback would like to have his interceptions back.
"I don't think it really does anything to his legacy. He's still going to be a Hall of Fame quarterback. And if he wins another, he'll probably be the best quarterback to ever play the game."
Indianapolis' Jim Caldwell, the rookie coach who guided an improbably successful season, shared the sentiment.
"I don't think it will have any bearing on his legacy," he said. "Obviously, he's a great player. It never comes down to just one single play in a game. There are a lot of different things that could have happened in that game that could have put us in a different position. He's still a great player, and outstanding performer, a great competitor. And that doesn't diminish it at all."
Even the most confident Saints had to think that Manning could tie the score quickly after
Jeremy Shockey
caught a 2-yard touchdown pass and
Lance Moore
added a two-point conversion to put the Saints up 24-17 with 5:42 on the clock: That's a lot of time for that quarterback and that offense.
Manning and the Colts regularly march the field in less. Their 11-play, 96-yard drive in the first quarter matched the 1985 Bears for the longest touchdown drive in Super Bowl history, and that one took just 4:36.
The way they played in a 14-2 season made them believe they would simply do it again. The worst that could happen was overtime.
With no huddle and out of the shotgun, Manning moved them 39 yards before the fateful third-and-5, which followed a timeout.
Saints defensive coordinator Gregg Williams said Porter trusted the play, knew the rush up the middle wouldn't allow Manning the time to beat him deep, allowing him to make the read and jump the pass.
"I felt that was the route they were going to run," Williams said. "Tracy knew that was the route they were going to run."
And so with a chance to bolster his legacy, Manning and his Colts instead watched
Drew Brees
build his. Instead of joining
Tom Brady
and
Ben Roethlisberger
as multiple Super Bowl winners, Manning was joined by Brees in a club of quarterbacks with one.
Brees posted the second-best completion percentage in Super Bowl history as the Saints' 10-point comeback matched the largest deficit overcome to win the ultimate game.
"Peyton Manning and Drew Brees are two of the best quarterbacks in the National Football League, and the people tonight got their money's worth watching two great warrior quarterbacks play," Williams said. "We were able to come up with a play, but he made plays also.
"We were able to hit him, we were able to hurry him, we were able to move him off his spot. He was still making plays. We made one play right there that was the difference in the ballgame. I'm sure he'd like to have that one back. But I'm happy we made it."
January, 31, 2010
1/31/10
1:00
PM ET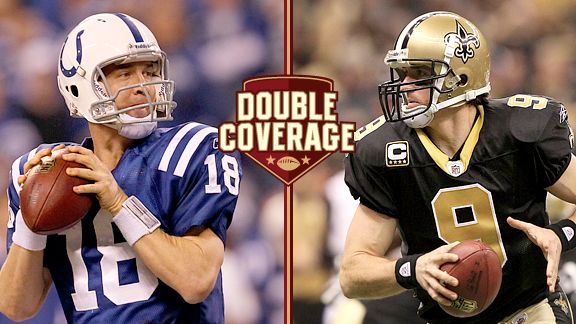 Getty ImagesPeyton Manning and Drew Brees lead two of the most powerful passing attacks into Super Bowl XLIV.
The Colts and Saints arrive in Miami on Monday, when the hype for Super Bowl XLIV will kick into high gear.
Eager to do our part, we locked NFC South blogger Pat Yasinskas, who analyzes the Saints for ESPN.com, and AFC South blogger Paul Kuharsky, who tracks the Colts, in a room and asked them to talk through several of the top issues.
We're sure to revisit many of them in the week to come, so consider this a tasty platter or appetizers. Tuck a napkin in your collar and dive in.
How much of a factor is it that the Colts have a recent Super Bowl championship on their resume, while this is the first Super Bowl appearance in a not-so-glorious franchise history for the Saints?
Pat Yasinskas:
I'm not going to even try to bluff my way through this one or downplay this aspect. This is a huge factor and the Saints are clearly at a disadvantage here. By my count, they've only got four players who have even appeared in a Super Bowl (with other teams, of course). That's safety
Darren Sharper
, cornerback
Randall Gay
, fullback
Kyle Eckel
and long-snapper
Jason Kyle
. Gay is the only one of those guys with a Super Bowl ring.
If you really want to pad the list, I suppose we could throw in tight ends
Jeremy Shockey
and
David Thomas
, who were on the injured-reserve list when their teams went to Super Bowls, and fullback
Heath Evans
, who went to a Super Bowl with New England. But Evans won't play in this one because he's on injured reserve. That's it. Not a long list of guys who have been there and done that.
The Saints haven't been here before, but they have to act as if they have. They've got strong veteran leadership in players such as Sharper,
Drew Brees
and
Jonathan Vilma
. They'll have to follow their lead. Just as important, the coaching staff has to set the tone that the Saints shouldn't stroll into Miami with their eyes wide open. They need all eyes focused only on winning the game.
Paul Kuharsky:
I'm not expecting the Saints to be overwhelmed or unfocused by the hype or events of Super Bowl week. They were smart to get their game plan drawn up and installed during the week after winning their conference, same as the Colts did.
It's Super Bowl Sunday itself that can prove to be the big difference. It's great to have people tell you about the unnatural start time, the long delay between warm-ups and pregame festivities and the extended halftime to make room for The Who. It's another thing to go through it yourself. Edge: Colts. Not only have they done it, they've done it in this very venue.
I also think the adrenaline that shoots through guys when kickoff finally arrives can make it hard for them to settle down. Indianapolis will be better prepared for that, and if the Colts settle down more quickly than the Saints, New Orleans has to hope by the time its feet hit the ground it's not facing a two-score deficit.
Understandably, the first thing people talk about with these two teams is the passing game. But both the Colts and the Saints can run the ball a little bit. Which team has the better running game?
[+] Enlarge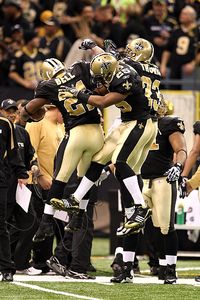 Scott Cunningham/Getty Images Mike Bell, left, Reggie Bush and Pierre Thomas are part of a running game that balanced New Orleans' offense.
PY:
I'm going with the Saints. People tend to overlook their running game, but it's a big reason why they're in the Super Bowl. One of the best things Sean Payton did in the offseason was realize his running game was inconsistent and just plain bad last year. He made a conscious commitment to make the running game better this year and the most impressive thing might be that he and general manager Mickey Loomis were able to avoid the temptation to go out and sign
Edgerrin James
or draft
Beanie Wells
.
They realized they already had some good backs in the building with
Pierre Thomas
,
Reggie Bush
and
Mike Bell
and they added
Lynell Hamilton
for a bit of depth. They had a good offensive line already in place, and Payton altered his play calling to have a more balanced offense that allowed the Saints to protect leads and run out the clock.
New Orleans doesn't have one dominant back. Thomas can do a bit of everything, Bush provides speed and a receiver out of the backfield and Bell and Hamilton give the Saints some power. This makes for a very solid combination.
PK:
I like the Saints' running game better as well, but as we've discussed thoroughly in the AFC South blog this season, the Colts aren't looking for conventional production in this department. They need their runners to pick up blitzes, put together some efficient runs, work well in play-action, and not put the team in bad spots with runs for losses. The home run plays are far more likely to come out of the passing game.
It's important to note that the Colts, the NFL's lowest-rated running team in the regular season, just out-rushed the Jets, the league's top ground game, in the AFC title game. Indy has survived a lot of quality running backs too, including the Titans' explosive 2,000-yard runner
Chris Johnson
. While he torched the rest of the league, averaging 5.8 yards a carry, he managed 4.1 and 147 total rushing yards against the Colts in two Tennessee losses.
The Colts may give up some yards, but overall they are more than capable of containing Thomas, Bush, Bell and Hamilton well enough to win.
The quarterbacks are obviously the marquee names in this game and they will be dissected all week.
PK:
I have a great deal of appreciation for Drew Brees, but even if he wins this game, we're not going to be calling him
Peyton Manning
's equal. Both quarterbacks are excellent leaders. Both are supremely accurate. Both have a quality stable of weapons.
But things begin to stray from there. Manning has four MVPs, including this season's, and he won it over Brees, who finished second. Manning has a lot more big-game experience and a title on his resume. And while he wasn't always at his best on the playoff stage, he's playing at a level right now where a lot of people feel, reasonably it seems, that he may just be unstoppable.
In the AFC Championship Game, against the Jets and the NFL's top-rated defense, he needed some time to figure out what New York was trying to do. Once he did, he shredded the Jets with 377 yards and three touchdowns. His in-game adjustments, with help from coordinator Tom Moore, are unparalleled. And like a lot of defensive coaches before him, Gregg Williams
is talking about
sending people at Manning and hitting him. These days, it very rarely works out the way against Manning and the Colts, as it did against
Brett Favre
and the Vikings.
PY:
Paul, let me start by saying I respect the heck out of Manning and all he has achieved. He is a first-ballot Hall of Famer and, quite possibly, the best quarterback ever. And I'll gladly agree that he probably is playing at his highest level ever right now.
That said, why can't we call Brees his equal if the Saints win this game? Seriously, I believe the only thing really separating Brees and Manning right now is a Super Bowl ring. Look at Brees' numbers the past few years. He's right there with Manning. I honestly remember watching him in training camp last year and thinking, "This guy is the closest thing to Peyton Manning I've ever seen'' and Brees has only continued to improve since then. He has carried a franchise on his shoulders and that franchise is the
New Orleans Saints
-- enough said about that.
As for the MVPs, that's a wonderful thing. But I think some of that is overrated and the Manning name carries a lot of weight in elections. I'm not trying to tear down Manning at all. But I think you have to at least let Brees in the same sentence if he can win this game. I'll offer a compromise here. If the Saints win this game, can we at least say the two best quarterbacks in the league are from teams in the South?
PK:
Well, beyond four MVPs to none, if the Colts win Manning will be up two Super Bowls to none, and while he's only three NFL seasons ahead of Brees he has led his team to the postseason 10 times to Brees' three. Lots of cushion there in my eyes. But I'll go with you on the South divisions ranking one and two if Brees gets his hands on that Lombardi Trophy.
We talked quarterbacks, of course we have to talk pass rushes. How much will the guys chasing Manning and Brees influence this game?
PK:
For a long time the Colts' defense was at its best when the offense got a lead and made the opponent one-dimensional. That did a lot to get the run game out of the mix against a defense keyed around speed, not size, and put
Dwight Freeney
and
Robert Mathis
in those maximal pass-rushing situations.
It doesn't have to be that way now. This version of the Colts is still fast, but the defense is a bit bigger with
Antonio Johnson
and
Daniel Muir
manning the middle of the line. It has a second big-hitting linebacker in
Clint Session
to go with
Gary Brackett
and boasts defensive backs who can come up and hit as well as run and cover.
Jon Stinchcomb
(against Mathis) and
Jermon Bushrod
(against Freeney) will be dealing with some serious speed. If
Freeney's ankle injury
holds him out or limits him, that will hurt. Raheem Brock is a quality third end, but he won't necessarily prompt the Saints to help Bushrod with a tight end or back, so the vaunted Saints passing attack may not have to sacrifice a weapon in protection. If the Colts bring a fifth rusher to help, as they have much more often in Larry Coyer's
first season
as their defensive coordinator, the timing up front can get all out of whack no matter who's at end.
If either defense can prompt some happy feet, it could be an edge.
PY:
Absolutely. The pass rush is going to be a deciding factor in this game for both teams. No doubt Indianapolis has a great pass rush and that's a challenge for the entire New Orleans offense, particularly Bushrod. He is a backup who has been forced to play all season because of an injury to
Jammal Brown
.
Bushrod has his limitations. But he has held up all right against players such as
Julius Peppers
and
John Abraham
.
DeMarcus Ware
has been the only guy to really tear him apart. Admittedly, a lot of that has to do with the rest of this offense more than it does with Bushrod's skills. The Saints account for him on every play and they've been able to cover him because the rest of their offensive line is so good. They've given him help from tight ends, fullbacks and running backs and the offense is designed so that Brees rarely takes deep drops and he gets rid of the ball very quickly. Plus, it's tough to fluster Brees.
Sure, it's tough to fluster Manning too, but that's not going to stop the Saints from trying, and their pass rush is better than a lot of people think. Defensive end
Will Smith
is one of the most underrated players in this game and Bobby McCray's a pretty good pass-rusher too. With
Sedrick Ellis
and
Anthony Hargrove
, the Saints are capable of getting a push in the middle and Gregg Williams is not afraid to bring the blitz -- although I don't see him doing it a lot in this game. The Saints beat up Favre and
Kurt Warner
in their two playoff games. I know Manning is seen as sacred by a lot of people, but I don't think Williams and the New Orleans defense view him that way.
PK:
However it unfolds, I root for a classic. We should have good seats, I want the good storylines too.
PY:
I'm with you my friend. Nothing better than the Super Bowl -- good football, good weather and good entertainment. Remember how great Bruce Springsteen's show was at halftime last year? Oh, that's right, you didn't make it. Hope The Who helps make up for that.
PK:
Could be another tricky day for you and the team you're following. But it'll be fun to join together to see how it unfolds.
March, 12, 2009
3/12/09
11:10
AM ET
| | |
| --- | --- |
| | |
| | US Presswire |
| | Can Drew Brees or Matt Schaub take the next step and lead his team to the playoffs? |
Posted by ESPN.com's Pat Yasinskas and Paul Kuharsky
The New Orleans Saints and Houston Texans each finished 8-8 in 2008. Looking back, breaking even was a remarkable accomplishment given the extreme circumstances each team endured.

After Oct. 12, 2008, the Saints did not play another game in the Superdome until Nov. 24, thanks in part to their international game in London and a bye week. They somehow managed to split the four games during that span.

The Texans began last season 0-4, including a devastating Week 5 home loss to the Indianapolis Colts that featured Houston squandering a 17-point fourth-quarter lead.

Each team produced a great salvage job. Which is primed to take the next step to being a contender?

In this edition of Double Coverage, NFC South blogger Pat Yasinskas and AFC South blogger Paul Kuharsky discuss what each team needs to do to break the .500 barrier and make a run to the playoffs.
| | |
| --- | --- |
| | |
| | NFL.com Video |
| | Check out highlights of the best moments from Drew Brees in 2008. |
THE QUARTERBACK FACTOR
Kuharsky: Well, Pat, topflight quarterback play is always a good first ingredient in a big jump for a team. I'm not going to suggest Matt Schaub is going to be better than Drew Brees in 2009. But if he cuts down on turnovers, Schaub can make a major leap and the Texans can be a playoff-caliber team. He's got one of the NFL's best receivers in Andre Johnson and they've established one of those special relationships. His offense ran the ball far better last season thanks to the new scheme of offensive line coach Alex Gibbs and the emergence of running back Steve Slaton. The offseason focus is on improving the defense -- which already has added free-agent end Antonio Smith. If Houston plays more aggressively and better defense under new coordinator Richard Bush, Schaub and the Texans' offense could feel less pressure. All those circumstances suggest to me, if he can stay healthy, Schaub is in prime position to help the Texans score more points per game. And if they tack some onto the 22.9 points per game they averaged in 2008, they've got an excellent shot at improving on 8-8 and making the playoffs.
Yasinskas: Paul, I like Matt Schaub, too, and I think the Texans can win with him. But Brees was the best quarterback in the league last season. He threw for more than 5,000 yards even though top receiver Marques Colston missed a big chunk of time with an injury and tight end Jeremy Shockey was banged up most of the season. Brees was spectacular with a very ordinary supporting cast around him and not much of a running game. He made receiver Lance Moore into a star and made former disappointment Devery Henderson into a respectable receiver. Brees is an absolutely perfect fit in Sean Payton's offense and I expect him to be even better in 2009. With a healthy Colston and Shockey, Brees could put up astronomical numbers. There's also a sense of urgency within the organization because the coaches and front office realize Brees is in the prime of his career and the Saints don't want to waste that with another mediocre season. Brees single-handedly carried the Saints to eight wins last year. With just a little more help around him, he should be able to lead the Saints to double-digit wins.
THE SCHEDULE
Kuharsky: Two seasons ago, the AFC South sent three teams into the AFC playoff field. For the Texans to make their first postseason appearance, the division might have to send three again, because the Titans and Colts are going to have a lot of the same ingredients they had last season. What suggests the Texans can join those teams or pass one? Well, the AFC South plays the NFC West in 2009. While Arizona was a great story last season and one can never accurately predict teams' success from one year to the next anymore, I think if every team in the league could pick one division to play this fall, it would love to have the Cards, 49ers, Seahawks and Rams on its schedule. Say the Texans go 3-1 against those teams, manage 2-2 against the AFC East and sweep the two games assigned based on their third-place division finish in 2009, Oakland and Cincinnati. That's seven wins. If they could pull off just 3-3 in their division, where they have historically done great against Jacksonville but horribly against Indianapolis and Tennessee, they're 10-6 and in range of a playoff berth, I think. Last season's late win over the Titans could serve as a catapult for them in divisional play.
Yasinskas: The most certain thing I can say about the Saints right now is that their 2009 schedule won't be anywhere near as difficult as it was in 2008. That's when the Saints drew the most brutal schedule any NFL team has had in recent memory. The Saints had to spend much of the year on the road, practicing for a week in Indianapolis to avoid an approaching hurricane. But that was the easy part. The Saints had a stretch where they went 42 days without playing in the Superdome as a "home" game in London and a bye week were surrounded by road games. To their credit, the Saints never pointed to the schedule as an excuse. But the fact is they were at a competitive disadvantage that no other team had to deal with. We haven't seen the exact schedule yet, but the Saints don't have an international game this year and it's safe to assume they won't have any stretch that compares to last year. But the Saints have to play better against the rest of the NFC South. They were 2-4 in division play last year and were the only NFC South team with a losing record against division foes.
| | |
| --- | --- |
| | |
| | Paul Spinelli/Getty Images |
| | Mario Williams is just one of many young, up-and-coming defenders on the Texans. |
YOUTH MOVEMENT
Kuharsky: The nicest NFL breakout stories are about teams that pieced themselves together relying largely on the draft. It's great to see a young group mature together, gaining confidence and feeding off it. The Texans have the right sort of characters to fit that script. They traded for Schaub, of course, but he'll be just 28 when camp opens. He's throwing to Johnson (also 28) and tight end Owen Daniels (26), handing off to Slaton (23), and enjoying protection on the edges from Duane Brown (23) and Eric Winston (25). The defense is built around Mario Williams, DeMeco Ryans, Smith, Dunta Robinson and Amobi Okoye. Robinson and Smith are currently the old men of that group at 27. It's possible all 11 guys of that core have not yet played their best football -- a great reason to be encouraged. And they've got draft help coming on defense.
Yasinskas: The Saints aren't a team you usually think of as being young. But, in a unique way, they've got a youth movement going on. They have only four picks in the 2009 draft at the moment, but it's almost like they've got another rookie class. Several rookies missed all or most of last season because of injuries. In particular, the Saints believe cornerback Tracy Porter and receiver Adrian Arrington can be very valuable players. Throw in the fact that Reggie Bush, Colston, Pierre Thomas and Sedrick Ellis are still young and the Saints have some youthful players who should continue to get better. But they've also got a nice mix of veterans. They've got guys like Brees, Jonathan Vilma and Dan Morgan as leaders who have won some big games in their careers. The Saints aren't relying heavily on many old guys -- defensive tackle Hollis Thomas and cornerback Mike McKenzie might be just role players. This is a team made up mostly of guys who are young or are in their prime and that's a nice combination to have.
THE CHANGES IN DEFENSIVE COORDINATORS
Yasinskas: I sincerely believe the best and most important move the Saints made this offseason was the hiring of defensive coordinator Gregg Williams. Gary Gibbs took the fall for last season and was fired. You can't put all the blame on Gibbs because the defense was decimated by injuries. But the defense was nothing short of horrible and it was the main reason the Saints didn't make the playoffs. Payton recognized that and went out and got the best defensive coordinator available. Williams likes to play very aggressive defense and that's something the Saints haven't done in a long time. Williams is intense and he might be able to light a fire under defensive ends Charles Grant and Will Smith. The return of a lot of injured players also should help and the Saints got linebacker Morgan back from retirement and signed cornerback Jabari Greer. This defense doesn't have to be great because the offense is. Williams just needs to get this defense to be average and the Saints will have a shot to go deep into the playoffs.
Kuharsky: Compared to Williams, we know nothing about Frank Bush, the Texans' new defensive coordinator. He's been part of Gary Kubiak's staff since 2007 and a lot of Texans faithful, fairly or not, really like one thing about him already: He's not Richard Smith. Though Houston made some progress in the latter part of the season when it turned more aggressive, the defense didn't come close to matching the offense in 2008. That needs to change in 2009 and it can if Bush can stamp the group with a defensive identity. Indications are the Texans will move toward making that late-season aggression more permanent. The big addition in free agency came on defense, and Antonio Smith can be a load to handle playing end opposite Mario Williams. Bush is going to get a personnel boost from the draft to help him try -- likely in the form of a linebacker, a tackle and a safety. Can Bush get the group believing and producing? Much like you say, Pat, with the Saints -- the Texans don't have to be one of the league's top defenses. If they move from 22nd to the mid or early teens and if they can knock some points off the average of 25 they allowed last year, that should be a sufficient boost for a team that should be offense-driven.
STAR POWER
| | |
| --- | --- |
| | |
| | Matt Stamey/US Presswire |
| | The Saints haven't been able to figure out exactly how to use Reggie Bush's unique talents. |
Yasinskas: For a small-market team, the Saints have an awful lot of star power. But it would help if all those stars played up to their ability level on a consistent basis. Brees was outstanding all last season and Vilma was very solid. But Shockey, Reggie Bush and Colston weren't able to match their hype for various reasons. The Saints have to get their stars playing like stars again. For Colston, that's just a matter of being healthy. Shockey was banged up almost all of last year, but still has the talent to be one of the league's best tight ends. Then, there's the curious case of Reggie Bush. If he hadn't been such a great college player and such a high draft pick, he'd be considered a decent player. But decent doesn't cut it for him. He's supposed to be spectacular all the time and the Saints haven't done him a lot of favors. They've never been able to figure out exactly how to use his unique talents. Payton
is widely credited with being a brilliant offensive mind. But he needs to focus all his thoughts on getting more out of Reggie Bush. If he ever comes close to being what he was in college, he'll be the biggest star New Orleans ever has seen.
Kuharsky: The Texans are a young team, but several of their guys have been around long enough to establish themselves as premier talents. Andre Johnson doesn't do popcorn stunts and doesn't make brash demands about how often the ball needs to come his direction. But he sets a standard for the franchise and everyone knows they can look to him to see how things should be done. Mario Williams is quiet, too, and he's won over all the Houstonians who wanted Reggie Bush or Vince Young at the top of the 2006 draft. With those two cornerstones, the Texans have the kind of star power a team needs -- not for a fancy marketing campaign or happy stories on "SportsCenter," but as tone-setters who show the other 52 guys that the work ethic, tone and philosophy of the organization can produce names that rank with the best in the league at their positions.
MOMENTUM
Yasinskas: The Saints didn't come close to ending last season on a high note, mainly because they finished with almost 20 guys on the injured reserve list. They never were able to build any momentum. They'd play well one game and horribly the next. That's a problem that has to be fixed next season. What the Saints need more than anything is a fresh start. They need to forget last season's brutal travel schedule and welcome back all the injured guys who are healthy now. Just getting the bulk of those guys back should be a nice shot in the arm.
Kuharsky: The Texans excel at winning at the end of the season. In 2007 they finished 3-1 to get to 8-8 and last year it was a big 5-1 push that got them to .500. That's nice momentum to carry into an offseason. But the team knows the question that now comes attached: Those good finishes are nice, but they came once it was apparent the team wasn't going to the postseason. Now Houston has to fare well enough in the first couple months of a season to earn a chance to show it can win late games that are more meaningful.
CONCLUSION
Kuharsky: Are the Texans better suited to build on 8-8 and be a playoff team in 2009 than the Saints, who are only two years removed from the conference championship game? It's too early to say. I picked the Saints to be in Super Bowl XXLIII, so I am wary of them. But I'd have to give them the edge right now based on two more proven commodities in Brees and Gregg Williams. I'd sure like to sit next to you at Reliant Stadium or in the Superdome to watch them play each other, though. It could well be a 38-37 game.
Yasinskas: Paul, I think the Texans have the potential for a breakthrough year. But I think the Saints will have a breakthrough year. They had an incredible run of bad luck last season, but they've got a ton of talent in place and they've made the moves they had to make to get their defense better. I'll go out on a limb and say the Saints make the playoffs in 2009.