December, 22, 2010
12/22/10
10:32
AM ET
Reading the coverage ...
Houston Texans
Dale Robertson looks at the Texans'
habitual bad starts
.
If the Texans have heart, they'd be wise to
show it now
, says John McClain.
Bill Cowher spreading or allowing word to be spread that he is interested in certain jobs is
out of bounds
, says Jerome Solomon.
People should be
taking a look
at Rick Smith's résumé too, says Richard Justice.
Indianapolis Colts
A trip to Oakland makes for
a home game
for a couple of Colts, says Phillip B. Wilson.
Should Austin Collie play or step away, asks Bob Kravitz. (
Video
.)
The transcript of Bill Polian's
weekly radio show
.
In a lot of ways, the Raiders may be
a tougher matchup
than the Jaguars, says John Oehser.
Peyton Manning and Tom Brady have had
similar success
against top defenses, says Nate Dunlevy.
Jacksonville Jaguars
Jordan Black
won't forget
Sunday's loss in Indianapolis, says Tania Ganguli.
Todd Bouman's been
the de facto third quarterback
even while not on the roster, says Ganguli.
Vic Ketchman thinks the Raiders
will beat
the Colts.
Don Carey is
not good
, says Alfie Crow.
Tennessee Titans
It's
uncertain
if Bo Scaife will be back in uniform Sunday in Kansas City, says John Glennon.
Only
one visitor
has scored more than 14 points at Kansas City, says Glennon.
The Titans
added two
to their practice squad, says Glennon.
Tennessee is
too hot and cold
, says David Boclair.
November, 29, 2010
11/29/10
7:17
PM ET
The Jaguars were down 4 points and had the ball at their own 27-yard line with all three of their timeouts Sunday at New Meadowlands Stadium against the Giants. They moved to the Giants' 29-yard line before things fell apart.
"The end of the game we're sitting there first and ten on their 29-yard line, all three time outs, just under two minutes and in perfect position to take that game back, really take it back, and just didn't get it done," Jack Del Rio told Jacksonville media Monday. "We certainly had many opportunities. There wasn't any one play or one person that was the difference. I think it was simply a matter of not executing and taking advantage of some of those opportunities we had."
Here is a closer look at back-to-back-to-back sacks of
David Garrard
that ended any chance for the Jaguars:
First-and-10 NYG 29 -- Left guard Vince Manuwai gets a good block on Chris Canty. Left tackle Guy Whimper goes left to get Osi Umenyiora and tight end Zach Miller stays outside, whiffing on a chip. Safety Antrel Rolle cuts inside the space between Whimper and Manuwai, chasing Garrard to his right where Justin Tuck sheds Jordan Black and gets in on half the sack. Result: Loss of 11 yards and a Jacksonville timeout.
Second-and-21 NYG 40 -- Garrard takes a deep drop and as the pocket starts to close he steps up. Whimper steers Jason Pierre-Paul past him, but Pierre-Paul managed to slap at Garrard's left elbow, prompting a fumble. Garrard recovers. Result: A 4-yard sack for Dave Tollefson and a Jacksonville timeout.
Third-and-25 NYG 44 – Black turns his head to the left at the snap and doesn't recover, whiffing on two blitzing defensive backs. Rolle goes outside him and is picked up by Maurice Jones-Drew, but Terrell Thomas goes inside Black and gathers some speed as he decks the quarterback from his right, forcing a fumble Rolle recovers. Result: A 12-yard sack, a lost fumble and, effectively, the end of the game. An injured left wrist for Garrard.
Said Garrard: "I just think we felt like we were going to be able to do fine with the pass game. We felt like they were playing a lot of single-high and they were bringing some blitzes. They brought a couple of blitzes that we hadn't seen before. Really it was just up to us executing and picking our guys out, me getting the ball out of my hands. We didn't do that and it showed."
November, 26, 2010
11/26/10
4:00
PM ET
»
NFC Final Word
:
East
|
West
|
North
|
South
»
AFC
:
East
|
West
|
North
|
South
Five nuggets of knowledge about Week 12:
Heavy heat:
The Chargers' pass rush has produced a league-best 32 sacks. Peyton Manning's been great at getting rid of the ball, but against a top rushing group there won't often be a lot of time for things to develop downfield for him. And it appears he will still be missing a top piece of his pass protection, because running back
Joseph Addai
(neck) is doing only non-contact work in practices this week. The Colts can be super-effective with the short and quick passing game, but if the Chargers can find a big play against it, they could throw Sunday night's game out of whack. As for deep stuff, Manning has a passer rating of 61.8, and six of his seven interceptions are on balls thrown 15 yards or longer.
[+] Enlarge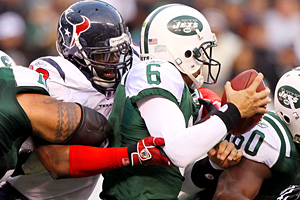 Jim McIsaac/Getty ImagesTexans defensive end Mario Williams will be on the mind of Titans rookie QB Rusty Smith.
Watch Williams early:
Titans rookie quarterback
Rusty Smith
has drawn a favorable matchup here, going against the terrible Texans' pass defense. The Texans simply can't afford to let Smith find any sort of comfort level early. The best hope for crushing the chance of any building confidence is for
Mario Williams
to introduce himself with a crushing hit. Deliver a jarring blow early, and Smith might be worrying about the next one for the rest of the game. Allow for good protection early by
Michael Roos
and the Titans' line, and you allow Smith to scan downfield and find someone, inevitably, running open.
Protecting Garrard:
The Jaguars have allowed 24 sacks this season. The Giants have recorded 27. If Jacksonville's offensive line doesn't pass protect well, the Jaguars will be in a lot of trouble.
Greg Jones
and
Marcedes Lewis
will need to play big roles. It's a big day for the backups. Either
Kevin Haslam
or
Guy Whimper
will play for
Eugene Monroe
at left tackle.
Jordan Black
has been the right tackle since
Eben Britton
went down and will see a lot of
Justin Tuck
. Fair or not, this game will do a lot for the national perception of the Jaguars. The Giants get as much coverage as anyone in the league and the Jaguars the least. If the Jaguars play well, a lot of people have no choice but to talk about it.
Twelve:
At 6-4, the Colts need to win the remainder of their regular-season games to keep their streak of 12-win seasons alive. They've won at least a dozen games in seven consecutive years and have quite a lead on the second best streak (Dallas did it four times from 1992-1995). To keep the potential of the streak alive, and more importantly to assure the Colts remain in first place after the weekend, they have to break through against a team that's been a serious problem recently. Since 2005, San Diego has fared better against Indianapolis than any other team, with a 4-1 record against the Colts, including the playoffs.
Johnson and Foster:
The Titans are sure to lean heavily on
Chris Johnson
in Smith's debut. If the pass game can be used to supplement a strong run effort, Tennessee won't have to ask Smith to do too much. On the other side, the Texans have not played their best in the first half of games. The route to faring better there might be getting
Arian Foster
the ball more. He's often looked like the best player on the field for Houston, but the Texans have struggled to find the right mix on offense, leaving themselves in position where they've had to mount some serious second-half comebacks.
November, 26, 2010
11/26/10
1:33
PM ET
The Jaguars declared
Eugene Monroe
(concussion) out of Sunday's game at New Meadowlands Stadium.

Losing a starting left tackle is bad news for anyone.
It's especially bad news for a team that has not protected especially, is already using its third tackle (
Jordan Black
) as a fill-in for a starter on injure-reserve (
Eben Britton
), and is facing a top rushing team.
Undrafted rookie
Kevin Haslam
and recent addition
Guy Whimper
are the two replacement candidates.
Marcedes Lewis
will probably have fewer chances to run routes as he will have to stay in more to help keep
David Garrard
upright. Jacksonville quarterbacks have been sacked 27 times this season. The Giants have 27 sacks.
The offense suffers when Lewis can't get out.
ESPN Stats & Info tells us that Lewis has been especially effective as the lone tight end in three-wide formations this year.
With that personnel on the field, Lewis has 24 receptions on 36 targets with 265 yards and four touchdowns as opposed to 11 receptions, 180 yards and four TDs in all other sets. In three wide, as defenses account for the Jaguars' additional speed, Lewis has operated well underneath, with 21 of his 23 catches coming on throws of 14 yards or less.
The loss of Monroe suggests the Jaguars won't be able to spread the field as much as they might like against New York's rush.
November, 4, 2010
11/04/10
11:19
AM ET
Our 10-point bye report on the
Jacksonville Jaguars
:
Major issue:
Inconsistency. They looked great in wins over Dallas and Indianapolis and did what they needed to against Denver and Buffalo. But they were terrible against San Diego, Philadelphia, Tennessee and Kansas City. To have a chance in the AFC South, the Jaguars will have to be a steadier team in the second half.

Playmaker update:
Marcedes Lewis
has been outstanding with seven touchdowns in 25 receptions and
Mike Thomas
is developing well and leads the team in catches. Still, this team needs to develop the stable of guys beyond Maurice-Jones Drew to consistently threaten a defense.
Protection issues:
David Garrard
plays a lot better when he's well protected, and the pass protection has been up and down. Right tackle
Eben Britton
is out for the season, replaced by
Jordan Black
. In the Dallas game,
Vince Manuwai
may have wrestled the left guard spot away from
Justin Smiley
.
Score more:
The Jaguars have been outscored 226-165. Jack Del Rio has said a blowout or close loss are the same to him, but they shouldn't be. Playing well in a loss is much healthier than playing poorly. The only teams with worse point differentials are Buffalo, Arizona, Carolina and Denver. That's not who you want to be bunched with.
Automatic:
Josh Scobee
is a perfect 19-for-19 on field goals, and nine of them have been from 40 yards or longer. He's the only kicker in the league with more than six attempts who's perfect. And his 59-yarder to win the Colts game on the final play was a kick he'll have a hard time topping in his career.
Safety concerns:
They've played them all -- trading one away and cutting another, twice -- and are going with kids
Courtney Greene
and
Don Carey
right now. It's good experience for them, but it's hard to imagine that this spot won't a huge offseason project. All the uncertainty at safety has made things harder on cornerbacks
Rashean Mathis
,
Derek Cox
and
David Jones
, who haven't always been as bad as they have looked at their low moments.
Star performance:
Maurice Jones-Drew
is averaging 4.0 yards a carry, but he actually has more passing touchdowns (two) than touchdown runs (one). He's got two games over 100 yards and two games under 50.
Deji Karim
seems to have the coaches' confidence and can lighten some of MJD's load to ensure he's as healthy as possible late in the season.
Developing well:
Terrance Knighton
and
Tyson Alualu
are developing into a top-flight interior defensive line tandem. Knighton is remarkably quick for a gigantic man and is a handful for multiple blockers. Alualu penetrates well and is getting better week to week. We'll mention outside linebacker
Justin Durant
here, too. He's played great since returning from an ankle injury.
About those blackouts:
Turn your attention to San Diego and Oakland, please. The Jaguars have played four home games and they've been on local TV four times. They have issues, but drawing enough people to ensure they're seen on TV has not been one of them to this point.
What's to come:
Out of the bye, the Jags have home games against Houston and Cleveland. They need good results there, because trips to the Giants and Titans follow.
November, 1, 2009
11/01/09
2:51
PM ET
Posted by ESPN.com's Paul Kuharsky
NASHVILLE, Tenn. -- The Titans promised changes beyond Vince Young for Kerry Collins.
But Jeff Fisher indicated they'd be minor and they are: Jason Jones is starting at left defensive tackle for Jovan Haye, who's inactive, and Rod Hood is starting at left cornerback for Jason McCourty.
Who's returning for Tennessee? Not Alvin Pearman, signed after Mark Jones suffered a hamstring injury. Pearman's inactive. Look for some combination of Kevin Kaesviharn and Ryan Mouton on punts -- they are fielding them now in warmups -- and either Michael Griffin or McCourty on kickoffs.
For the Jaguars, Reggie Nelson shifts to corner to start at corner for the injured Rashean Mathis and Brian Russell replaces Nelson at free safety. (Sean Considine was in line to replace Nelson, but is sick and inactive.)
Tra Thomas is starting at left tackle for Eugene Monroe.
The list of inactives:
Jacksonville
Receiver Tiquan Underwood
Mathis
Considine
CB Brian Witherspoon
LB Brian Smith
OL Maurice Williams
OT Jordan Black
DT Greg Peterson
Tennessee
CB Nick Harper
RB Javon Ringer
CB Cary Williams
OT Mike Otto
Haye
TE Craig Stevens
DE Jevon Kearse
PR-KR Alvin Pearman
October, 11, 2009
10/11/09
3:09
PM ET

Posted by ESPN.com's Paul Kuharsky
Mike Thomas
gets a much bigger role in Seattle Sunday with
Mike Sims-Walker
inactive because of a violation of team rules. The loss of Sims-Walker is a huge blow -- he's been a reliable target for
David Garrard
the last couple weeks. Injuries have set him back in the past, and now this.
Here's Jacksonville's whole list of inactives:
Brian Iwuh
will start for Durant.
September, 13, 2009
9/13/09
11:51
AM ET

Posted by ESPN.com's Paul Kuharsky
INDIANAPOLIS -- Here are the inactives for Jaguars at Colts:
Indianapolis
Jacksonville
September, 4, 2009
9/04/09
10:52
AM ET

Posted by ESPN.com's Paul Kuharsky

Houston Texans
Indianapolis Colts
Jacksonville Jaguars
Tennessee Titans

September, 3, 2009
9/03/09
9:46
PM ET
Posted by ESPN.com's Paul Kuharsky
The
Jacksonville Jaguars
are presumed set at tackle for the long term with first-round pick
Eugene Monroe
and second-rounder
Eben Britton
. They started at left and right tackle, respectively, in Thursday night's preseason finale against Washington.
But earlier in the day the team made a move that may indicate more about its veterans,
Tony Pashos
and
Tra Thomas
. The Jaguars
signed backup
Jordan Black
to a deal that runs for three years and is worth $3.65 million with an additional $1.8 million in possible incentives, according to ESPN.com senior write John Clayton.
So something is brewing and the team will be dealing or cutting a name lineman.
Pashos, who started at right guard Thursday night against Washington, or Thomas, the left tackle signed as a free agent this offseason, could be on the way out.
Uche Nwaneri
and
Maurice Williams
are valuable because of their versatility. Nwaneri can play all three inside spots and Williams, who was listed as the starter at right guard before Pashos' shift, can play anywhere on the line if needed.
Pashos signed as a free agent in 2007, getting a five-year, $24 million contract. Thomas' incentive-laden deal was for three years and from what I can find the financial details were never reported.
Brad Meester
is the starting center and
Vince Manuwai
, the team's best run blocker, is back at left guard after suffering a season-ending knee injury in last year's opening game.
August, 8, 2009
8/08/09
9:58
PM ET
Posted by ESPN.com's Paul Kuharsky
JACKSONVILLE, Fla. -- It was billed as a scrimmage. A somewhat clumsy scoring system was in place, but it wasn't well translated by the scorekeeper who was controlling the JumbroTron.
It's hard to declare a winner in a glorified practice anyway, which is what unfolded at Jacksonville Municipal Stadium in front of 14,112 fans who took advantage of a free night.
Some highlights, lowlights and developments from the AFC South Blog's final training camp night with the Jags:
Line judge Tom Symonette talked with offensive tackle Jordan Black after one series about how he was coming close to drawing a holding call near the end of an early period, saying he could tell Black was doing it more as he got tired.
At the end of a 2:00 drill period, on third-and-goal from the 1-yard line, David Garrard pitched to Maurice Jones-Drew who probably would have been taken down by a defender if things were live. MJD threw a wobbler to the right side of the end zone, and Mike Walker made a great play to go up and take it away from Reggie Nelson.
Rookie receiver Jarett Dillard went up to pull in a 25-tard gain to convert a third-and-11 from Garrard. It's the sort of catch Dillard's failed to make on a consistent basis in the last several days.
Defensive back Brian Williams put a shoulder down and crushed Todd Peterson after a mid-range reception. It was called incomplete, but the replay on the stadium scoreboard suggested he'd gathered the ball and taken a step. I asked Symonette about it and he said we'd "have to take it to replay." It was the sort of hit a lot of coaches wouldn't have been happy with in this setting, but that the Jaguars seem not to mind while working to instill their physical mentality.
Garrard looked for Troy Williamson in the back middle of the end zone from maybe 20 yards out and was picked by rookie corner Derek Cox. Garrard said he'd like to have the throw back, but it was a situation where if the team had game planned it probably would have looked to a different route.
Kicker Josh Scobee was impressive again, nailing all five field goal attempts from 35 to 52 yards all with quite a bit of room to spare. I was wondering if he's at a point where he should start dialing it down a little, a 27-year old maybe saving a little to help his chances as a 37-year old. Or is it good that he makes plenty of long kicks with eight or 10 yards to spare? There was a practice pause right after the field goal period, and since Jack Del Rio walked by right as I was thinking it, I asked him. He kind of shook his head and laughed, but then told me about how things have really clicked in mentally for Scobee.
Walker was hurt somewhere along the way, but Del Rio said afterward that a lower leg X-ray was negative and the team was optimistic it wouldn't be a big cause for concern.
Backup quarterback Todd Bouman threw a nice TD to tight end Greg Estandia over Gerald Alexander in the back left corner of the end zone. Not long later, Bauman was picked off by Scott Starks, who wrestled a pass away from Tiquan Underwood.
Tyron Brackenridge pulled in a pick of third string quarterback Paul Smith, who's not looked good while I've been here. The throw was a bit behind Clarence Denmark and defensive back Kennard Cox jostled him as it was arriving. It would have gone for a pick-six if officials didn't whistle a stop to the return.
In the final period, the offense got the ball at its own 35-yard line with 58 seconds on the clock. They got across the 50 in two plays, but the drive died as Garrard threw a terrible ball that Kennard Cox picked easily in front of Williamson. Wasn't much of a finish to the night.
Two-minute drill receiving totals provided by the team: Underwood 2-26, 1 TD, Dillard 1-25, Alvin Pearman 1-1, Estandia 1-11, Rashard Jennings 1-15, Zach Miller 2-28.
March, 30, 2009
3/30/09
11:21
AM ET
Posted by ESPN.com's Paul Kuharsky
The charitable foundation of the National Football League awarded $1 million in grants to support 89 charitable player foundations, as part of the inaugural NFL Charities Week.
"Our players know that the legacy they leave in the community is as important as any on-field achievements," said NFL Commissioner Roger Goodell, president of the NFL Charities board of directors. "We are proud to support their foundations and applaud their efforts to make their communities healthy, happy, and safe."
NFL Charities has awarded more than $10 million to player foundations in recent years. Here are foundations connected to the AFC South that were among those receiving awards:
Jacksonville offensive tackle Jordan Black: Suburban Missionaries Inc
Indianapolis linebacker Gary Brackett: Gary Brackett's IMPACT Foundation
Retired Indianapolis offensive tackle Tarik Glenn: DREAM Alive, Inc.
Indianapolis cornerback Marlin Jackson: Marlin Jackson Fight for Life Foundation
Indianapolis quarterback Peyton Manning: PeyBack Foundation
Retired Houston Oilers quarterback Gifford Nielsen: Won Heart Foundation