June, 5, 2010
6/05/10
4:23
PM ET
INDIANAPOLIS -- Last time I was at Lucas Oil Stadium, it was crackling for the AFC Championship Game.
Saturday, for a public minicamp practice, it was a bit different. And by a bit, I mean a lot. About 4,000 people came out, many focused on the half hour of autograph signing before things kicked off.
It's what you'd expect for a Saturday in June, with players not in pads, not hitting and opening day more than three months away.
Some observations:
People watched the punt returners with special interest as there is new potential at the position. (When they ran two punt drills at once, safety Jamie Silva shockingly failed to measure up to Pat McAfee.) Brandon James was out, while Ray Fisher, Brandon King and Devin Moore fielded balls. It's a training camp battle likely to be sorted out largely by preseason game performance. Hardly a newsflash here, but McAfee's leg can be simply electric.
On a day like this, I try to spot kids who look lost. The young quarterbacks had some bad moments, and I am sure there were some young players out there who were unsure of themselves. But they were not especially easy to pick out. At least part of that, I think, is testament to the Colts' way. They tend to draft and bring in smart guys and I am sure their rookie orientation and early days are quite thorough. While a lot of young guys are brought along slowly and benefit from patience, my sense is the Colts don't give kids a lot of time to be lost over the basics of how things work.
I don't believe Peyton Manning likes quiet time during practice, so even when quarterbacks might have some time to kill the Colts signal-callers do some sort of work. We watched while they were stationed at a 15-yard line and Manning, Curtis Painter, Drew Willy and Tim Hiller threw to the back left corner of the end zone. Austin Collie stood there and worked his feet on the boundary as passes arrived. One set of quarterback drops came with an early shoulder fake, and it appeared Manning was coaching the other three on how to make theirs more believable.
Rookie tight end Brody Eldridge figures to be more blocker than pass catcher early on, and I intend to write about him soon. But he appeared a comfortable route runner and pass catcher in the little bit we saw.
I only saw one snap of Jerry Hughes' work during one-on-one pass rush drills. (Remember, no pads, no real hitting; it's about speed, footwork and hand placement at this point.) Ryan Diem swallowed the first-rounder up.
No offense to any of the involved parties, but I'm still amazed at this element of springtime NFL: People came to the stadium and whooped and hollered at a Painter completion to Blair White over Jordan Hemby. Will any of them play a meaningful snap this season?
How desensitized am I to ridiculous pricing at professional sports venues? A special that got me a hot pretzel and a decent-sized Diet Coke for $5 felt like larceny.
The last three Colts on the field? Jim Caldwell signed autographs and Bill Polian threw passes to his young grandson. But Moore, the first-year running back from Wyoming, outlasted them both. And one set of lights went off just as he ran down the tunnel. Hope he didn't hold up a bus.
May, 26, 2010
5/26/10
11:12
AM ET
With third-round draft pick
Kevin Thomas
lost for 2010 due to a knee injury he suffered at an early rookie practice, cornerback depth is an issue for the
Indianapolis Colts
.
After
Kelvin Hayden
,
Jerraud Powers
and
Jacob Lacey
, the options are limited.
[+] Enlarge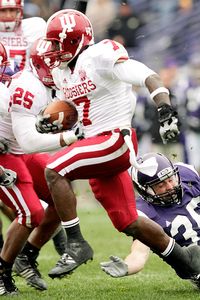 AJ Mast/Icon SMISeventh-rounder Ray Fisher didn't play cornerback until his final year at Indiana.
Indianapolis drafted
Ray Fisher
in the seventh round, brought in six undrafted corners and has a leftover from the practice squad.
I asked Steve Muench of Scouts Inc. if he could tell us a bit about each of them so we might gain a better feel for who has a chance to emerge this year the way Lacey did in 2009.
Here's what Muench said:
Ray Fisher (Indiana) -- Fisher is a developmental prospect who played receiver for the first three years of his career at Indiana and sustained a season-ending knee injury in his only season playing corner [last year]. It's going to take him some time to pick up an Indianapolis scheme that's been more creative under defensive coordinator Larry Coyer. So, as you point out, Fisher is going to make his biggest impact on special teams at least early on.

Here is how I would rank the rest of their options at corner at the back end of their roster. We don't see any of them developing into quality starters but they are capable of providing adequate depth.

Brandon King (Purdue) -- King doesn't have great man-to-man cover skills but he flashes the ability to reroute receivers at the line of scrimmage. In addition, it's still a base Cover-2 scheme and he can hold up in underneath zone coverage.

Mike Newton (Buffalo) -- Newton doesn't have great speed for a corner or size for a safety but he is a four-year starter who shows above-average instincts and can line up at corner as long as he gets help over the top. He's capable of picking up this scheme and giving Coyer some flexibility in coverage.

Terrail Lambert (Notre Dame) -- Lambert is the X factor here. He signed with San Francisco as a rookie free agent in 2009 and later signed with the Colts. I don't know how he's progressed over the course of the last year but I put him here because he spent some time on the practice squad last year and should be comfortable with the scheme/team.

Thad Turner (Ohio) -- Turner has the potential to be an effective reserve bump-and-run corner but he needs to add weight and his upside is limited by stiff hips.

Jordan Hemby (North Carolina) -- There's a lot to like about his upside but Hemby has had some problems staying healthy and it has hindered his progress. While he's someone to keep an eye on, I'd be surprised if he made a substantial contribution this year.

Donye' McCleskey (Indiana State) -- The good news is he has the tools to develop into an effective reserve safety. The bad news is he got away with suspect technique at Indiana State and he'll have to break those bad habits to succeed in the NFL.

David Caldwell (William & Mary) -- Caldwell is a small-school prospect who should have a more difficult time adjusting to the speed of the game than McCleskey because he doesn't have as much natural ability.
May, 24, 2010
5/24/10
1:04
PM ET
With all the teams that go from bad to great and great to bad from one season to the next, forecasting how things will pan out in the NFL is close to impossible.
It's another ingredient in why the NFL is the best thing going in sports, another piece of the unpredictability we love.
Generally, I have trouble forecasting big things for teams that are counting on a high number of unproven players to make simultaneous jumps and be productive -- though they can emerge as far better than I expect, of course. Still, it's why I am not particularly optimistic about the 2010
Tennessee Titans
.
I thought I'd go team-by-team in search of less-than-established spots in the lineup to create an AFC South uncertainty index.
Let's be clear: you may not prefer
Amobi Okoye
at defensive tackle for the
Houston Texans
,
Kyle DeVan
at right guard for the
Indianapolis Colts
,
Brad Meester
at center for the
Jacksonville Jaguars
or
Michael Griffin
at safety for the Titans. But they are guys who will play and have a degree of faith from the team.
I'm looking at spots where inexperience is a big factor.
We're not pretending to know the season-opening depth charts here, simply building off last year's versions. We'll look a bit beyond starting lineups with significant roles and return jobs included. Here's our look in order of uncertainty. (Starting positions labeled with an asterisk.)

Titans (10, with three starters)
*Defensive end: Derrick Morgan
*Outside linebacker: Gerald McRath
*Cornerback: Jason McCourty, Ryan Mouton, Alterraun Verner, Rod Hood, Tye Hill
Third outside cornerback: McCourty, Mouton, Verner, Hood, Hill
Second running back: Javon Ringer
Blocking tight end: Craig Stevens
Second receiving tight end: Jared Cook
Third defensive tackle: Sen'Derrick Marks
Punt returner: Damian Williams, Alvin Pearman, Ryan Mouton
Kick returner: Marc Mariani, Damian Williams, Mark Jones
Kuharsky's take:
Sure, young and talented can be exciting and promising, but that's quite a lot. You'd expect Morgan to be fine. And they went with numbers instead of value at corner, where I'd think one or two guys have to emerge. McRath, Stevens, Cook and Marks all need to contribute. If Jeff Fisher hasn't found solutions in the return game, they've got serious issues.

Jaguars (10 with two starters)
*Defensive tackle: Tyson Alualu
*Second and third wide receiver: Troy Williamson, Mike Thomas, Jarett Dillard
Second and third running back: Deji Karim, Rashad Jennings
Third or fourth defensive tackle: D'Anthony Smith
Third or fourth defensive end: Larry Hart, Austen Lane
Third tight end: Zach Miller
Nickelback: Don Carey, Scott Starks, Tyron Brackenridge
Punt returner: Scotty McGee, Thomas, Karim
Kick returner: McGee, Karim, Thomas
Kuharsky's take:
Alualu, the first rounder, should fare well. Finding playmakers (beyond hyphen guys
Mike Sims-Walker
and
Maurice Jones-Drew
) out of the receivers and running backs is a huge issue. McGee or Karim panning out as a returner would help in that department too. With shaky veteran safeties, nickelback will be especially important.

Indianapolis (six, with one starter)
*Left guard: Tony Ugoh, Andy Alleman, Jacques McClendon
Third (possibly second) tight end: Brody Eldridge, Tom Santi, Jacob Tamme
Third defensive end: Jerry Hughes
Fourth cornerback: Ray Fisher, Mike Newton, Brandon King, Jordan Hemby
Punt returner: Fisher, Jerraud Powers, Brandon James
Kick returner: Fisher, Sam Giguere, James
Kuharsky's take:
Potentially they've got just one starting spot in question. A season-killing knee injury to third-rounder
Kevin Thomas
hurts depth options at cornerback, but a lot of teams would be pleased for that to rank as one of its big issues. Eldridge could help upgrade run-blocking and Fisher and James seem to be more exciting return options than they've had recently.

Houston (four, with three starters)
Kuharsky's take:
I'd prefer to have inexperienced guys with upside in the mix at nose tackle and free safety, but they look to be sticking with the status quo in
Shaun Cody
and
Eugene Wilson
, respectively. If you're going to have new starters, let them be high draft picks like Tate (second), Caldwell (third last year) and Jackson (first).