March, 24, 2014
Mar 24
8:00
AM ET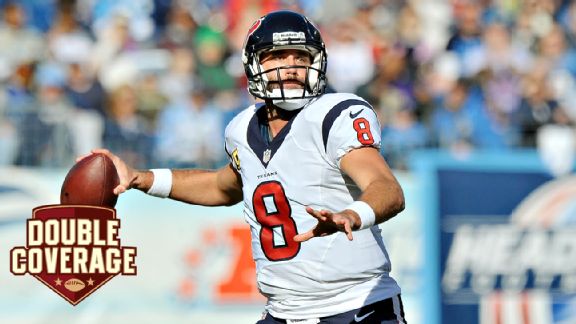 Jim Brown/USA TODAY SportsThe Oakland Raiders believe quarterback Matt Schaub can rebound this season.
The
Oakland Raiders
acquired two-time Pro Bowl quarterback
Matt Schaub
from the
Houston Texans
on Friday and Raiders coach Dennis Allen immediately anointed the 10-year veteran his starter, even as he already had
Trent Edwards
,
Matt McGloin
and
Terrelle Pryor
on his roster.
Schaub, though, is coming off a career-worst year in which he was often booed at home, threw a flurry of interceptions returned for touchdowns, lost his starting job and had a career-low total quarterback rating of 43.65. In fact, Raiders offensive coordinator Greg Olson saw his new quarterback's fall from grace as a blessing in disguise, saying, "Had he not had the season he had last year in Houston, he wouldn't be sitting here today."
ESPN.com Raiders reporter Paul Gutierrez and Texans reporter Tania Ganguli broke down Schaub and his leaving Houston for Oakland.
Paul Gutierrez:
It was obvious that Schaub bottomed out last year. The question is why -- was it more mental or physical?
Tania Ganguli:
There was certainly a physical aspect to it. His arm strength wasn't what it had been. But a bigger part of it was mental. You can't pin everything that went wrong with the Texans' offense on Schaub. But the pick-six is such a catastrophic play that the streak of four games with one thrown was mentally very taxing on both the team and the quarterback. I've heard a lot of people around him say that his pick-six to
Richard Sherman
(his third of last season) was the one that ultimately crushed his confidence.
Do you think Oakland is a place where he can regain his confidence?
Gutierrez:
So long as the offensive line holds up and gives him time. The Raiders have made a concerted effort to overhaul the offensive line since free agency began, picking up left tackle
Donald Penn
, right tackle
Austin Howard
and guard/center
Kevin Boothe
. The Raiders also got a veteran receiver in former Packers wideout
James Jones
, so general manager Reggie McKenzie has been building around the quarterback position, so to speak, to get a veteran signal-caller to serve as a bridge, of sorts. Schaub fits that description, no? Thing is, McKenzie and his scouts have failed thus far at identifying and settling on a franchise quarterback. They inherited
Carson Palmer
, but traded him away in favor of
Matt Flynn
, who bombed. Then they zeroed in on USC's
Matt Barkley
last spring in the draft before the
Philadelphia Eagles
swooped in and took him. They used a fourth-round draft pick on Arkansas'
Tyler Wilson
, who was cut a couple of times and ultimately picked off their practice squad by the
Tennessee Titans
. Finally, they seemed to botch the handling of Terrelle Pryor and undrafted rookie Matt McGloin. With the money owed Schaub, unless he restructures his contract, the Raiders believe he will regain his confidence.
And yet, after last season's debacle, is Schaub the kind of guy who would benefit from a mere change of scenery?
Ganguli:
ESPN Stats & Info passed along some stats that support your skepticism, but I think a change of scenery will be great for Schaub nonetheless. First their points: Schaub has declined over the past three seasons in stats like first down percentage, total QBR, yards per attempt and interception percentage. The dramatic drop in QBR (from 67 in 2011 to 64 in 2012 to 37 in 2013) and dramatic increase in interception percentage (2.1 to 2.2 to 3.9) indicate a statistical anomaly. Given what the Raiders are going to be spending on him, it's clear that's what they believe, too. What made 2013 so bizarre is Schaub had not been a turnover machine historically. If he's in a situation where things around him go well, he can recover. But things have to go well around him. The struggles the Texans had with their running game were a very underrated part of why their offense wasn't working. Schaub had done really well out of play-action in the past, but didn't last year. Is he going to a place where the running game will support his endeavors?
Gutierrez:
Which brings us to the $100,000 question (the amount of money guaranteed to running back
Darren McFadden
). It always comes back to the health of the perpetually injured McFadden. If McFadden is healthy -- he's never played more than 13 games in a season and has missed 19 of the Raiders' past 41 games, including six last season -- and used properly to his skill set, he's a quarterback's best friend. Look at how good and effective he made
Jason Campbell
look in 2011, before both were lost for the season with injuries. As noted above, the overhaul of the offensive line would suggest the Raiders are going to go all-in with a power running game and after McFadden, Oakland has the CFL's Grey Cup MVP in
Kory Sheets
, a virtual rookie in
Latavius Murray
, who missed all of last season with injury, and
Jeremy Stewart
. Obviously, there are more questions than answers when it comes to the Raiders' running game. No doubt, McKenzie & Co. are hoping Schaub brings some answers with him, without weighing him down with unrealistic expectations.
Schaub, you'll recall, is already in the Raiders' annals for his part in the "Divine Interception" play in 2011, when he was picked off in the end zone to seal an Oakland victory in Houston the day after Al Davis died and with the Raiders having only 10 players on the field. How cognizant is Schaub of NFL history in general, the Raiders and that play in particular, or is he simply a football player?
Ganguli:
Wow, I forgot all about that. And it figures, doesn't it? Run off on the heels of an uncharacteristically interception-laden season, Schaub gets traded to a team against which he threw an interception that led to an eerily perfect moment in the franchise's history.
He might be a student of the game's history, but will rarely let the public into any aspect of his being that isn't related to the game immediately in front of him. I challenge you, Paul, to extract the personality we all knew was beneath Schaub's stone exterior. By all accounts, he is interesting, funny and has a great personality. We just never saw it publicly. Schaub went to great lengths to make us believe he was dull, but he isn't.
It won't be long before Schaub faces his old team again. The Texans have a trip to Oakland on their schedule, which is less interesting than if the Raiders were to return to Houston with Schaub at the helm, but it'll be interesting nonetheless. What's your prediction?
Gutierrez:
I accept your challenge, Tania, and look forward to seeing what's underneath said "stone exterior." Many see it as more milquetoast and that was a reason so many fans clamored for the likes of
Michael Vick
because, really, ain't nothing boring about the artist formerly known as Ron Mexico. And actually, for what the Raiders are doing, Schaub is their man. He was their No. 1 target all along, followed by
Mark Sanchez
,
Josh Freeman
and then Vick. Fans may not agree with what McKenzie and Allen are doing but as far as the Raiders are concerned, it's exactly what
they
want to do. As far as a prediction, I'll wait until the roster is completely overhauled and the schedule is out and we see when, exactly, Schaub faces the Texans in Oakland. The cynic will predict a back-breaking and game-changing pick-six for Schaub against his former team. The optimist sees a 400-yard passing day and victory for Schaub and the Raiders against the Texans. Look forward to chatting again then.
March, 12, 2014
Mar 12
2:20
PM ET
MINNEAPOLIS -- If
Matt Cassel
hadn't already learned plenty about the value of keeping his mouth shut and going to work -- and during his years as
Tom Brady
's understudy in the School of Belichick, there is a good bet he did -- he probably realized it last season, when the
Minnesota Vikings
sent Cassel through what had to be the most bizarre season of his career.
Cassel went from being praised by his teammates for his assertiveness in guiding the Vikings to their first win of the season, to unseating
Christian Ponder
for the starting job, to the inactive list in a matter of three weeks. He reclaimed the job at the end of the season, after the Vikings seemed to have realized neither of the 25-year-olds on their roster (Ponder and
Josh Freeman
) were their long-term answer at quarterback, but the process left Cassel confused.
[+] Enlarge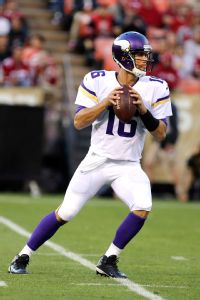 Kelley L Cox/USA TODAY SportsMatt Cassel on if he plans to be the Vikings' starter in 2014: "I do. That's my mentality, absolutely."
"I don't think I always knew where I stood from week-to-week," he said Tuesday. "As you guys well know that there was always something going on, and you never really knew until Coach would tell you what's going on."
There should be no such ambiguity for Cassel next season. He has a new two-year, $10 million deal with the Vikings, who were eager to bring him back after Cassel opted out of his original 2014 contract to get a better deal and guaranteed money. He's had a warm introduction to new coach Mike Zimmer and offensive coordinator Norv Turner, and a year after Cassel came in repeating the Vikings' talking point about how he was there to back up Ponder, there was no such talk from Cassel on Tuesday.
Asked if he plans to be the Vikings' starter in 2014, Cassel said, "I do. That's my mentality, absolutely. I go in with the expectation to be the starter and that won't change. At the same time, you've got to go out there and prove it and compete. There's going to be two other quarterbacks, maybe three other quarterbacks in here competing, as well, and that's what it is on every NFL roster."
The only scenario I see where Cassel isn't the starter in Week 1 is if a rookie comes in and plays so well that the Vikings can't keep from going that direction. That scenario might be even more far-fetched if the Vikings don't take a quarterback with the eighth overall pick -- though as
Russell Wilson
proved in Seattle, good rookie quarterbacks can come from further back in the draft. But if Cassel was here to be an insurance policy for Ponder, at least initially, in 2013, he's here for a much more significant reason this year. The bizarre carousel ride seems to have come to a smooth stop for him, for now.
"I felt comfortable -- like if you turned on that film from last year that you'd see that I could play and was confident in my abilities," Cassel said.
December, 30, 2013
12/30/13
5:41
PM ET
TAMPA, Fla. -- His 11-21 record over two seasons got
Tampa Bay Buccaneers
coach Greg Schiano fired. But Schiano said Monday that he's proud of how he changed the culture of the franchise.
"This is what Buccaneer football is supposed to be," Schiano said. "That was one of my goals -- to return it to that kind of feel, that kind of culture. And I believe it is. I believe that's a big undertaking and one that has moved very, very well. But I can't impress this enough. My responsibility is to win football games in the National Football League, so we didn't win enough games."
Schiano took a beating for his coaching, but let's give the man some credit for changing a franchise for the better in some ways. When Schiano came in, the locker room predecessor Raheem Morris left behind was out of control. Schiano proceeded to get rid of
Kellen Winslow
,
LeGarrette Blount
and
Aqib Talib
. All three were talented, but all three were trouble.
Schiano also unloaded
Josh Freeman
, who once was regarded as a potential franchise quarterback. Freeman started the first three games of the season before being benched in favor of rookie
Mike Glennon
. Freeman, who was late to or missed several team events, eventually was cut.
"That whole situation is a very, very tough situation," Schiano said. "I don't think there was any good way that was going to work unless it went the way that we thought it might go. That's being very productive. When it didn't, that's a tough situation. We did make decisions collaboratively as a group, especially big decisions. Myself, Mark Dominik and our ownership. One part of the job I really enjoyed was the open conversation and discussions. But then once a decision is made, whether I agree, disagree or somewhere in between, once a decision is made as an organization, I'm going to execute that like it's my own decision."
Schiano said he thinks Glennon has a bright future in the NFL.
"I think we did get it right," Schiano said. "We just got it right late. I think this guy is going to be very good."
Schiano also said he thinks whoever takes over the Bucs will inherit a good situation.
"Did I think we had an opportunity to move this forward? I still do," Schiano said. "I think that whoever takes over in this job is taking over a good situation now, a real good situation. Had I been coming back next year, I'd be excited about the potential of this team and where we're headed. But I'm not."
Schiano's name has been included in speculation about a possible opening at Penn State. But Schiano, who had three years remaining on his contract, said he's not sure what his future holds.
"I know this, I'll lean on my wife and my kids, my family and on my faith and kind of figure out where the next stop is for us," Schiano said.
October, 3, 2013
10/03/13
6:03
PM ET
JACKSONVILLE, Fla. -- Don't expect the
Jacksonville Jaguars
to make a run at newly released quarterback
Josh Freeman
. A source close to the team said the Jaguars' interest level in Freeman is "very little to none."

Tampa Bay released Freeman on Thursday afternoon after trying and failing to find a team willing to trade for the 17th overall pick in the 2009 draft. Bucs coach Greg Schiano benched Freeman for rookie
Mike Glennon
in the days before the Bucs' 13-10 loss to Arizona last Sunday.
The rocky relationship between Freeman and Schiano surfaced publicly over the last few weeks. SI.com reported that Freeman was fined twice in the last month for conduct detrimental to the team. Schiano revealed that Freeman had overslept and missed the team photo. Schiano also denied reports that he rigged voting to keep Freeman from being selected as a team captain, which he had been the previous three seasons.
August, 1, 2013
8/01/13
4:55
PM ET
The sophomore slump concept baffles me.
Sure, we see it at times. But it's as if just because there is a sing-songy and alliterative name for a second-year dip, it's a fact that any good rookie endures a sophomore slump.
I just had a pretty good view of
J.J. Watt
's second year. It was no slump.
[+] Enlarge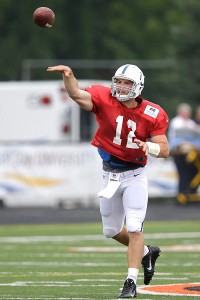 AP Photo/Michael ConroyColts quarterback Andrew Luck seems an unlikely candidate for a sophomore slump.
Coaches regularly say the biggest jump for players is between Year 1 and Year 2.
When it comes to
Andrew Luck
, I'm not predicting anything close to a sophomore slump.
Lee Singer of ESPN Stats & Information was kind enough to sort though numbers on quarterbacks over the past 10 years who played substantially in their first and second years.
There are 15 quarterback in the past 10 seasons who have qualified for the passer rating title in each of their first two seasons. That requires 14 pass attempts per game.
Here's the list of those 15:
Cam Newton
, CAR
Sam Bradford
, STL
Matt Ryan
, ATL
Andy Dalton
, CIN
Joe Flacco
, BAL
Byron Leftwich
, JAC
Ben Roethlisberger
, PIT
Mark Sanchez
, NYJ
Blaine Gabbert
, JAC
Vince Young
, TEN
Josh Freeman
, TB
Christian Ponder
, MIN
Trent Edwards
, BUF
Colt McCoy
, CLE
Kyle Boller
, BAL
Nuggets from Singer on those 15 regarding the idea of a sophomore slump:
Ten of them increased their completion percentage in their second year. Young had the biggest increase (51.5 to 62.3) while Bradford had the biggest drop (60.0 to 53.5).

Nine of the 15 increased or saw their yards per attempt remain consistent. Edwards had the biggest increase (6.1 to 7.2) while Ryan had the biggest drop (7.9 to 6.5).

Thirteen of the 15 saw their touchdown-to-interception ratio increase. Freeman had by far the biggest increase (.56 to 4.2, going from 10 TDs and 18 INTs to 25 TDs and six INTs) while Young had the biggest drop (.92 to .53, 12 TDs and 13 INTs to nine TDs and 17 INTs).

Thirteen of the 15 saw their NFL passer rating remain steady or improve. Freeman had the biggest increase (59.8 to 95.9) while Matt Ryan had the biggest drop (87.7 to 80.9).

There are 10 quarterbacks in the QBR era (since 2008) who have qualified for the passer rating title in each of their first two seasons. Seven of those QBs saw their QBR remain steady or increase. Freeman had the biggest increase (25.9 to 64.6) while Ryan had the biggest drop (74.1 to 56.6).
Improvement or decline in Year 2 hardly establishes a permanent arrow -- Freeman is much less of a sure thing now than he seemed after his second season; Ryan has become a much more known and desirable commodity since his second season.
But let's get past this default setting that a rookie quarterback who has a decent, good or very good first year is automatically going to suffer a second-year dip.
I'd bet on Luck being far better in completion percentage (where he was at 54.1 percent in 2012 and is in a system featuring shorter passing now). I also expect he will throw fewer than 18 interceptions, throw more than 23 touchdowns, absorb fewer than 41 sacks and post a rating higher than 76.5.
The trade off for improvements in those areas is likely to come in air yards. Luck's 10.1 air yards per pass last season, per NFL Stats & Information, was the highest number in the NFL.
January, 25, 2012
1/25/12
8:20
AM ET
A quick zip around the division to catch up on some things that have happened while I had a few days off.
The trio of coaches charged with shaping
Blaine Gabbert
in Jacksonville is in place: coach Mike Mularkey, offensive coordinator Bob Bratkowski and quarterback coach Greg Olsen. Olsen comes to the Jaguars from the Buccaneers where he worked with
Josh Freeman
, who regressed badly last season. Everyone's got a clean slate now, and these coaches will be judged largely on what they are able to make of Gabbert in his second season.
The Colts' list of candidates to be the new head coach is not going to excite the general population. There seems to be a lot of buzz about Jim Tressel, and it appears he's met with the team twice, but we don't know who else has and it may be a mistake to label him the front-runner. It's funny: When the team brought him aboard as a meager replay consultant, we tried to find a connection and label him as a Bill Polian guy, a Chris Polian guy or a Jim Caldwell guy. Whether he's the next coach or not, it turns out he was a Jim Irsay guy.
Dave McGinnis has been a valuable member of the Titans' coaching staff for years. He's left to re-join Jeff Fisher in St. Louis. While Mike Munchak will miss McGinnis as a sounding board, the addition of Keith Millard as a pass-rushing coach looks like a smart one. The Titans have not traditionally rushed the passer well from beyond the defensive line. The league is specializing, and having a coach who goes beyond positions to teach a set of skills is a fresh approach in Tennessee.
Texans center
Chris Myers
, Texans defensive lineman
Antonio Smith
and Jaguars special-teamer
Montell Owens
were added to the AFC Pro Bowl roster. Wade Phillips was named assistant coach of the year by the Pro Football Writers of America and Pro Football Weekly. Congrats to all.
November, 25, 2011
11/25/11
1:30
PM ET
»
NFC Final Word
:
East
|
West
|
North
|
South
»
AFC
:
East
|
West
|
North
|
South
Five nuggets of knowledge about Week 12:
Stacked box:
The Texans will welcome the Jaguars' defense to load up the box in an effort to slow the run game and put more on
Matt Leinart
's shoulders. Running back
Arian Foster
is excellent against fronts with an extra defender. According to ESPN Stats & Information, Foster has the fourth most rushes (125) against defenses with eight or more defenders in the box pre-snap over the past two seasons. Foster has done well in these situations, averaging 3.9 yards per rush, which is half a yard per rush better than the NFL average. He's also second in first downs over that time period with 39. The Jaguars will be without starting cornerback
Rashean Mathis
and the other starting corner,
Derek Cox
, is also expected to miss the game. Leinart should have some favorable matchups with
Andre Johnson
back.
[+] Enlarge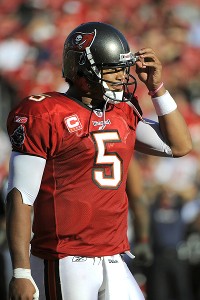 AP Photo/Brian BlancoBucs quarterback Josh Freeman, whom the Titans face Sunday, has 15 interceptions this season.
A struggling opponent:
Like the Titans, the Buccaneers have not played very well since a 3-1 start. Tampa Bay's actually had worse results. Per ESPN Stats & Information, only the Colts (32.0) have allowed more points per game since Week 5 than the Buccaneers (31.8). On offense,
Josh Freeman
has thrown 15 interceptions, second in the league to San Diego's
Philip Rivers
(17). Freeman has thrown at least two picks in his past two games and in five games overall this season. The Buccaneers are 1-4 in games in which he throws at least two picks.
Potential third-down bonanza:
The
Carolina Panthers
and
Indianapolis Colts
are two of the three worst teams in the NFL in yards-per-play allowed on third down this season. The Panthers give up an average of 7.4 while the Colts allow 7.0. The big difference is what the offenses can do. Indianapolis ranks 24th in third-down offense while Carolina ranks 13th. It's a pretty easy answer if you're choosing between
Cam Newton
or
Curtis Painter
when you're in need of a first down (or anything, really).
Capable of an upset:
The Jaguars have won four straight home games against the Texans, are 2-2 at home this season and are 2-1 against the AFC South. All that provides some reason for confidence Sunday at EverBank Field. But they face the league's top defense while ranking 31st in the NFL in scoring at 12.5 points per game. The Jaguars have yet to score more than 20 points in a game this season, making them just the second team to fail to score more than 20 points in their first 10 games in the past four seasons (2009 Raiders).
Blaine Gabbert
continues to show he's not ready to be playing -- Jacksonville's offense is producing an NFL-worst 249.5 yards per game. No team has averaged fewer than 250 yards per game in a season since 2008, when the Browns and Bengals did it.
Gut feelings:
In their past eight games, the Titans have beaten bad teams and lost to good ones. The Buccaneers are not a good team right now. But the Titans shouldn't expect
Chris Johnson
to contribute. They should go into the game intending to throw a lot. ... The Colts should have tried
Dan Orlovsky
at quarterback. Why are they afraid of change? Are things going to get worse? ... The Jaguars' defense has been quite good, but I don't think they have the depth at cornerback to survive without both their starters. The way to handle it is to pass rush very well, but they don't have the people for that either and Houston can protect Leinart well. ... Johnson will look like he was never out for the Texans.
November, 11, 2011
11/11/11
1:31
PM ET
»
NFC Final Word
:
East
|
West
|
North
|
South
»
AFC
:
East
|
West
|
North
|
South
Five nuggets of knowledge about Week 10
Scoring defense:
The Colts have allowed at least 23 points in all nine of their games this season. If they give up 23 to the Jaguars, they will become the third team in the last 30 seasons to allow at least 23 points in their first 10 games of a season -- joining the 2010 Texans (10) and 1981 Baltimore Colts (15). The Jaguars are probably prime candidates not to get to 23. Jacksonville is averaging just more than 12 points a game.
[+] Enlarge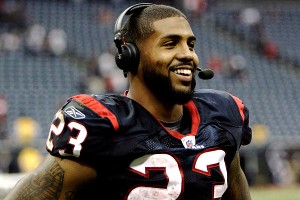 Brett Davis/US PresswireExpect running back Arian Foster to continue carrying the load for the Texans at Tampa Bay on Sunday.
Determined to run:
The Texans' run game is their foundation this season. They lead the NFL in attempts per game at 34.8 and are second in rushing yards per game at 155.1.
Arian Foster
has not only been a dominant force in the backfield, he's also picked up the slack as a receiver in the absence of
Andre Johnson
with a league-best 285 yards after the catch since Week 5.
Matt Schaub
has not been putting up big numbers, which is fine because the offense is doing so well with him handing off more than dropping back.
Contain Cam:
The Titans just lost to rookie quarterback
Andy Dalton
and the Bengals. Now they see a different style of rookie quarterback in
Cam Newton
. He's big and strong and can run effectively, but he's also done a nice job of being a throw-first quarterback. The Titans have not blitzed a lot, and the tendency against young quarterbacks is to try to confuse them with coverage. With a young quarterback who's hard to bring down, that may be even more the case. But the Titans would be wise to throw some new blitzes into the mix. An interesting contrast -- Newton has the most completions in the league (24) on throws of more than 20 yards in the air this season, and the Titans have allowed the fewest such completions (five).
Between the tackles:
Jacksonville's
Maurice Jones-Drew
has the most rushing yards in the league running between the tackles. His 457 yards give him a giant lead over
Adrian Peterson
(335). MJD has eight rushing touchdowns in 10 career games against the Colts. Indianapolis rookie defensive tackle
Drake Nevis
could be ready to return from a back injury, and the Colts should get a boost from him if he's on the field.
Tampa Bay's play-action:
The Texans have intercepted the most passes (five) and allowed the fewest yards per attempt (5.0) on play-action passes this season. That tells me guys have been disciplined about not biting on fakes. Tampa Bay quarterback
Josh Freeman
has thrown the most interceptions (five) on play fakes this season. So this could be a nice match for Houston in that department. The pass rush could be limited, though, because the Buccaneers have protected Freeman rather well.
January, 6, 2011
1/06/11
12:27
PM ET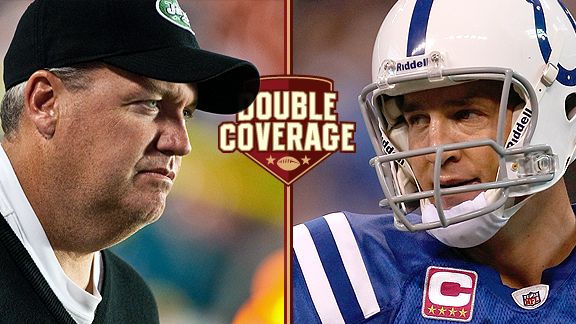 ESPN.com IllustrationWho has the advantage in the wild-card game between the Colts and the Jets this Saturday? Our bloggers debate.
In last season's AFC Championship Game, the upstart
New York Jets
were on their way to scoring their third straight road upset in the playoffs. They'd already knocked off a pair of division champions and led the
Indianapolis Colts
in the third quarter at Lucas Oil Stadium.
But the Colts outclassed the Jets in the second half and won easily to advance to the Super Bowl. The Jets had to regroup, knowing that to attain their Super Bowl dreams, they had to figure out a way to get past the Colts.
They won't need to look for them in the playoffs this year. The Jets and Colts will meet in the first round Saturday night, again in Indianapolis.
ESPN.com AFC South blogger Paul Kuharsky and AFC East blogger Tim Graham break down the rematch.
Tim Graham:
The first thought I have about the Colts is that
Peyton Manning
isn't going to win this game with his aura. Aside from past experience, the Jets don't have much reason to quake in their cleats Saturday night. They can beat this guy. Manning has proven to be a mortal without tight end
Dallas Clark
and receivers
Austin Collie
and
Anthony Gonzalez
to target. Seventeen interceptions? Almost knocked out of the playoffs by the
Jacksonville Jaguars
? These Colts are a shadow of what we've come to know.
Paul Kuharsky:
How about with his chakra, then? You've been spending too much time with
Ricky Williams
, dude. Has Manning been perfect? Hardly. But as Colts blogger Nate Dunlevy points out, and our ESPN Stats & Information confirms, Manning threw for 4,700 yards, tossed for more than 30 touchdowns, connected on 66 percent of his throws, had an interception rate of 2.5 percent and won 10 games. If that's a shadow of what you've known,
you must really know Tom Brady's 2007 season then
. Because that was the only other time it has happened.
[+] Enlarge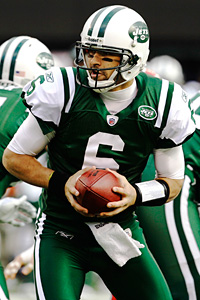 AP Photo/Kathy WillensJets quarterback Mark Sanchez reached 10 wins two games faster than former league MVP Peyton Manning.
TG:
Yeah, Manning won 10 games. So did
Eli Manning
and
Josh Freeman
. They didn't make the playoffs. The Colts' shadow doesn't have much to do with Peyton Manning slinging the ball all over the yard and racking up yardage. He's still great, but he's not a one-man show. If I were a Colts fan, my concern would be how they needed to close with four straight wins to avoid the embarrassment of being edged out of the playoffs by the Jaguars. The Jets, on the other hand, have shown to be a more complete team. That's how an erratic quarterback like
Mark Sanchez
can win one more game than Manning did and clinch a playoff berth weeks in advance.
PK:
Well, Manning's always been crushed for being great in the regular season and not good enough in the playoffs. Congrats on being the first to hammer him for winning "only" 10 games and the division while throwing to
Jacob Tamme
and
Blair White
.
TG:
That's what I mean. The Jets can contain those guys much easier than Clark and Collie. Plus, the Jets have been preparing for this matchup since last season's AFC Championship Game. They helplessly watched Manning carve the center of the field against them and realized immediately -- even though they had
Darrelle Revis
-- they needed more cornerbacks. Specifically with Manning in mind, the Jets traded for
Antonio Cromartie
and drafted
Kyle Wilson
in the first round. Previous starting cornerbacks
Dwight Lowery
and
Drew Coleman
gave them depth in nickel and dime packages. The Jets' biggest issue is at safety, where injuries have made them vulnerable.
PK:
Manning has a bit of experience against teams with poor safety situations. His numbers against Houston and Jacksonville? Just nine touchdowns, one pick and a 101.5 passer rating. On the other side is the unspectacular Sanchez. I doubt Sanchez will be able to attack
Aaron Francisco
, the Colts' fourth-string strong safety, in a similar fashion, but we'll see. The Sanchize was near perfect in the first half of last season's AFC Championship Game. But the Jets asked him to throw only seven passes. After intermission, Indy greatly reduced his potency. The Colts didn't sack him and were credited with only four hits that day. The Colts' big-play potential from their Pro Bowl defensive ends was neutralized, and they still rolled to a 30-17 win. Of course, it might have had something to do with Manning throwing two-second half touchdowns to Sanchez's zero (and one interception). What happens this time if
Dwight Freeney
and/or
Robert Mathis
are able to introduce themselves to him a few times?
TG:
Sanchez absolutely is the pivotal figure for the Jets on Saturday night. But, much like the personnel adjustments head coach Rex Ryan and general manager Mike Tannenbaum made on the defensive side to thwart Manning, they made changes on offense with the playoffs in mind. Sanchez might not have progressed much in his second season, but he didn't have a sophomore slump either. He has gained another 11 months and 16 games of NFL experience since the last time he faced the Colts. Plus, the Jets' offense has the ability to come from behind, something it couldn't do before. Last season's Jets were all ground-and-pound, and if an opponent took a two-score lead, the Jets' chances to win were slim. Sanchez showed several times this year he can strike in crunch time.
Santonio Holmes
and
LaDainian Tomlinson
out of the backfield give him much better weapons to go along with
Braylon Edwards
and tight end
Dustin Keller
.
PK:
The most dramatic on-the-field difference in the Colts this year as compared to last is how they finished up running the ball and defending the run. Indianapolis enters the playoffs coming off four games in which they ran for 4.5 yards a carry and held opponents to 3.5 yards. Last year in their final four meaningful regular-season games, they were getting 3.5 yards and allowing 4.1 yards.
TG:
Maybe the Colts will morph into the 1972
Miami Dolphins
before our eyes.
[+] Enlarge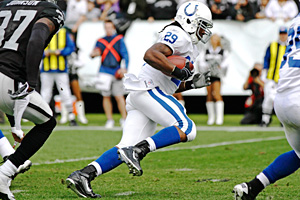 AP Photo/Marcio Jose SanchezColts running back Joseph Addai is averaging 4.3 yards per carry in an injury-plagued season.
PK:
A month ago the Colts defense recommitted to playing fast and having fun. It's funny how a team can get away from such simple themes, especially when a return to them produces such fine results.
Gary Brackett
's been great. Fellow linebackers
Pat Angerer
and
Kavell Conner
have been quite good, even as rookies. Veteran
Clint Session
could return to take time from Conner. Offensive coordinator Clyde Christensen's willing to send in whichever back is best suited for a situation or a matchup, so we could see any sort of mix of running backs Joe Addai,
Dominic Rhodes
and
Donald Brown
on Saturday night. They are running more than well enough to give the Colts a balance that makes Manning's play-action super effective.
TG:
Momentum on the ground has been a concern for the Jets since their bye in Week 7. Tomlinson went from MVP candidate to looking like the worn out player the
San Diego Chargers
thought they were bidding farewell. But
Shonn Greene
and Tomlinson found some traction in the closing weeks. Let's not even factor in what the Jets did against the
Buffalo Bills
in the regular-season finale, even though their backups trampled the Bills' first-stringers for 276 yards.
PK:
I'm always willing to toss out Buffalo. I don't even really like wings.
TG:
Yeah, but I know you still have a cache of Rick James 8-tracks. Anyway, the Jets ran the ball well against three of the NFL's best run defenses late in the year. They surpassed the
Pittsburgh Steelers
' league-leading average by 43 yards and the Chicago Bears' second-rated run defense by 34 yards. As for stopping the run, the Jets pride themselves on it and improved statistically this year. They ranked third this year at 90.9 yards a game and 3.6 yards a carry. But -- and this is a big one -- they allowed more than 100 yards in each of their games before the finale. The Steelers averaged 5.8 yards a carry. The Bears averaged 4.4 yards. That said, I would be willing to bet if the Colts wanted to try to run the Jets to death and not have Manning throw so much, then the Jets would be thrilled.
PK:
Give me a little impersonation of Rex Ryan thrilled after winning this game.
TG:
It probably would go a little something like this ... "Well, shoot, doesn't feel much better than that, to be honest with ya. We played like Jets today. It was a dogfight out there; I'll tell ya that much. Those Colts are sunthin' else. One thing I'll say about them: I saw
Joseph Addai
running like Lydell Mitchell out there and was, like, 'Whoa! Wait a second! We could be in for a long day here.' But our defense was flying around and eventually found a way to wrestle him down out there. I said earlier in the week this was personal with Peyton Manning, and they do a great job. He's great, and it's hard to get to him, but I just feel like we knew what to expect and were able to find a way to bear down and put all our chips in the center of the table and beat him. That guy's had my number and it feels good to know I can beat the guy when it counts. But I gotta give a ton of credit to our offense out there, too. Mark Sanchez played great and showed why we traded up to draft him. That right there's what we saw when we scouted him and just knew this guy was going to be a special player. Their crowd was tough with the way they were roaring at the opening kickoff I was, like, 'Whooo! Here we go!' It was full speed ahead. But one thing I should point out is that I broke out my lucky sweatshirt with the pizza stain this week." ... How would Jim Caldwell react to a Colts win Saturday night?
PK:
I can hear him, his voice just the same as if they'd have lost: "We're pleased to have beaten a good football team, a quality football team. It's gratifying that our work this week paid off. I shared with you some of the examples of the studiousness I encountered during the preparation week. You saw the rewards of that. We'll enjoy it, we should enjoy it, it was hard-fought and we're fortunate. We will have to do those same things to prepare for Pittsburgh. It's a tough place to play, an excellent football team. It's a new challenge. It will be fun to see them get out there and see what they can do."
TG:
In that case, I'm glad I'll be covering the Jets' locker room, win or lose. It'll be more interesting. I think the Jets have a better chance to win the game than a lot of prognosticators are giving them credit for. But even if they can't pull off the upset, they'll face a lot of questions as an organization. With all of the negative attention they've generated this season, a loss against the team they spent a year preparing for should lead to considerable introspection in Florham Park. Should we make picks?
PK:
Sure. I pick St. Elmo. Make a reservation.
August, 16, 2009
8/16/09
12:49
AM ET
Posted by ESPN.com's Paul Kuharsky
NASHVILLE, Tenn. -- Vince Young was the lead story for the Titans Sunday night in a 27-20 preseason win over Tampa Bay. When owner Bud Adams took a couple questions about the backup quarterback's future, that landed in a news story you'll find here.
| | |
| --- | --- |
| | |
| | Don McPeak/US Presswire |
| | Titans quarterback Vince Young was more confident in Saturday night's exhibition game. |
Even before Young found
Kenny Britt
with a 37-yard touchdown pass against a completely busted coverage, it seemed clear the backup quarterback had more bounce in his step, more confidence about where to go with the ball and a better feel for starting to make a move while continuing to look downfield than he showed last week in the Hall of Fame Game.
"I know what it feels like, all these people doubting all the time. Can Vince do this, is Vince going to be the No. 2? ... He goes out there and shows exactly why we drafted him, because he makes plays," said running back LenDale White, who saved Young from his one bad play, kicking a lateral out of bounds.
Said Kerry Collins: "I thought he operated well, he did what he can do, stepping up and making plays. I thought for the most part he made a lot of good decisions."
Beyond Young, here's a six-pack of what struck me from the Titans' performance at LP Field:
1. Britt left the game limping with a right ankle injury but said he'd merely been stepped on and anticipates missing no practice time. The TD was nice, but he's got to be able to score when he's left all alone thanks to coverage mishaps. I thought his first catch, a 38-yard reception up the middle, was the play that showed a lot more. He got cracked just after pulling it in by defensive back Will Allen and held on.
2. Collins said he didn't see the safety on his first interception, a bad ball intended for Nate Washington in the middle of the end zone that was picked by Sabby Piscitelli. His other interception came on a pretty good play by defensive end Stylez White, who leapt to deflect the pass, then managed to corral it on his way to the ground.
"That's what preseason's about, you make mistakes and learn from them and it doesn't cost you big," Collins said. "I need to make a couple better decisions, but this thing is a work in progress."
3. Third-round pick Ryan Mouton, the cornerback from Hawaii, jumped a pass from rookie Josh Freeman aimed for Patrick Carter and turned it into a 29-yard touchdown. Mouton played nickel in the first half with Vincent Fuller out with a groin injury, then moved outside for the third quarter.
"For a couple plays they'd been throwing the hitch out there and trying to get the three step game, so I got a good read, the coaches do a good job telling us to get the three step read," Mouton said. "I picked up on a three strep read and just broke on the ball."
None of the corner candidates behind Cortland Finnegan, Nick Harper and Fuller have stood out for the Titans so far. Maybe this is the play that sparks Mouton in the competition with Cary Williams, DeMarcus Faggins and Jason McCourty.
4. Defensive tackle Kevin Vickerson didn't want to beef about his unnecessary roughness penalty for a takedown of Byron Leftwich late in the second quarter. I initially thought Vickerson hit Leftwich in the head, but replays showed he didn't. The penalty was for the way he drove the QB into the ground.
"I've just got to get there faster I guess," Vickerson said. "He just told me it was how I landed on him, I guess that I used a little force. But I'm 310, that's hard to turn in midair when you're going down and Byron Leftwich is not a little quarterback. That's how you play it, right?"
5. The Bucs average gain per pass play, and there were 36 of them, was a whopping 3 yards.
6. White provided the best Twitter fodder of the night for @espn_afcsouth: "#Titans RB LenDale White with line of night, saying owner Bud Adams could turn 'Smash and Dash' into 'Smash, Dash and Cash.'"
April, 25, 2009
4/25/09
6:18
PM ET
Posted by ESPN.com's Paul Kuharsky
The AFC South will get some early looks at some of the skill-position guys who've been taken in the first half of the NFL draft.
Everybody in the division plays the New York Jets, including the Texans in Week 1 at Reliant Stadium. The Texans could be the first to defend Mark Sanchez if he's the Jets starter from the start.
And the whole division will get to see and defend receiver Michael Crabtree, who somewhat surprisingly lasted until San Francisco took him at No. 10. The 49ers play at Houston and at Indianapolis, while hosting Tennessee and Jacksonville this season.
Another first-round quarterback, Josh Freeman, went to Tampa Bay at No. 17.
He'll likely see his first action as a pro at Nashville's LP Field in the Bucs' preseason opener on Aug. 15 and will be in-line for some more work against the Jaguars in Jacksonville on Aug. 22.
April, 23, 2009
4/23/09
5:12
PM ET
Posted by ESPN.com's Paul Kuharsky
NASHVILLE -- A while back, a reader asked about whether the high salaries attached to the earliest picks of the draft had altered the draft value charts around the league. Teams use such charts, which assign a point value to every pick, to weigh and balance trades. GMs and coaches like to talk about how theirs are different, but the general construct is similar.
I asked Titans GM Mike Reinfeldt this week if he's got a new chart and if he thought most teams had altered theirs.
"Some of the trade charts have changed addressing the trade value of those top picks and it has gone down," he said. "What those picks were, it's not that way anymore. I think it's there is a burden associated with having those top 10 picks.
"...But you have two sets of charts -- depending on which way you're going, up or down, you pull out the appropriate one," he added as we laughed.
The early phone check-ins are usually 50-50 with teams talking about expecting to look to move up or back, Reinfeldt said. This time more people are talking about moving back.
Here are a few highlights from the Titans' pre-draft news conference Thursday:
National supervisor of college scouting C.O. Brocato said USC linebacker Rey Maualuga can play inside or outside, and he thinks his college teammate Brian Cushing, an outside backer by trade, can play inside. He said he views the third USC linebacker, Clay Matthews, as strictly an outside guy.
Brocato likes the crop of linebackers and tight ends but said running backs have fallen off.
Scouting coordinator Blake Beddingfield said there "is a value on every player" and that the Titans hadn't taken anyone off the board. But he joined the laughter when asked if Florida receiver Percy Harvin was a seventh-rounder on the Titans' board.
I believe the Titans will steer clear of Harvin because of the issues surrounding him. But director of college scouting for the Eastern region Mike Ackerley said Harvin is "the most explosive player in this draft by far," that he has no doubt Harvin can run routes and be a top receiver who can also work as a return man and that "he can play wherever he wants."
Reinfeldt said a number of receivers have grades that would make them worthy of the 30th pick, and such grades mean those players should be able to be productive early.
Weight gained by Hakeem Nicks after the combine was not a concern, Ackerley said. So much of a premium is put on 40 times at the combine, everyone drops weight for that, then gets bigger and stronger by the time pro days arrive.
Malcolm Jenkins, Vontae Davis and Alphonso Smith have separated themselves into the first tier of corners, but there is not that much space between them and the next group, Ackerley said.
Reinfeldt was coy when asked questions that were clearly aimed at getting him to show if the Titans have any real interest in trading for Anquan Boldin or Braylon Edwards. He said at some point the Titans would like to add a veteran receiver to the mix, which made it sound like it wasn't going to be a top name. He mentioned that after the draft some veterans would shake free. Asked if the team has to have another veteran wideout, he said: "It would be nice; I don't think it's a necessity."
Brocato gave a rave review of Kansas State quarterback Josh Freeman. "He's got everything you want for a quarterback," he said.