December, 19, 2013
Dec 19
10:00
AM ET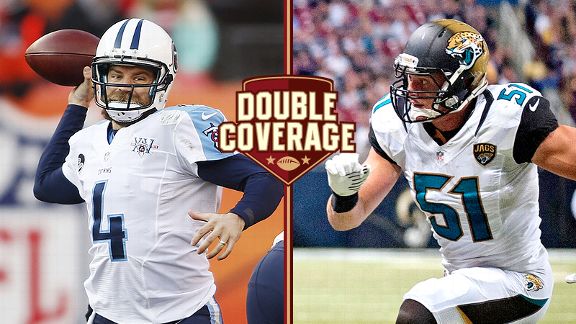 USA Today SportsPaul Posluszny and the Jags are aiming for a season sweep of Ryan Fitzpatrick and Tennessee.
JACKSONVILLE, Fla. -- Maybe
Delanie Walker
shouldn't feel so bad now.
The Titans tight end said he was embarrassed after the Jaguars won 29-27 in Nashville on Nov. 10 to pick up their first victory. Since then, the Jaguars are 3-2 with victories over Houston (twice) and Cleveland. The Titans are 1-4 with a victory over Oakland.
There seems to be much more stability in Jacksonville, too, because of the uncertain status surrounding Tennessee coach Mike Munchak.
Jaguars reporter Michael DiRocco and Titans reporter Paul Kuharsky break down Sunday's matchup at EverBank Field.
DiRocco
: Some Titans players were pretty vocal about being embarrassed due to becoming the first team to lose to the Jaguars. Is that something that still stings, and how have they rebounded from that loss?
Kuharsky
: It definitely left a mark. They are only 1-4 since then. It kind of set a bar for how bad they can be and re-established their propensity to lose to teams that are really struggling. The Jaguars are on an upswing since that game, and the Titans are on a downward spiral. If Tennessee losses to the Jaguars again, the Titans will be in line to finish in third place in an awful division, which is well short of their goals and expectations. The Titans are a better team than they were last year. But losing closer isn't a really big difference in the really big picture.
Let's turn that around. How has life changed for the Jaguars since that Nov. 10 breakthrough?
DiRocco
: I could go into a lot of stats that show how much better the Jaguars are playing, but that's not what's really important. The past six games have been more about the validation of the process, establishing the foundation of the franchise's rebuild, and confidence in the new regime. Coach Gus Bradley never wavered from the plan that he and general manager David Caldwell established. His message stayed the same throughout the eight-game losing streak to start the season: trust in the process, work hard, and focus on improving and not victories, and the victories will eventually come. Because that has happened, the players appear to have completely bought into what Bradley and Caldwell want to do, and there's a confidence in the locker room that the franchise is headed in the right direction.
We talked about
Jake Locker
the last time these teams met, but that was before he suffered a season-ending injury to his foot. How does that change the Titans' outlook on him and are they in the market for a quarterback in the offseason, too?
Kuharsky
: Locker is certain to be on the 2014 Titans. His fourth year isn't that costly and it's guaranteed. But they can't execute a spring option for his fifth year that would line him up for over $13 million. A lot of his fate depends on whether Munchak is back as the head coach. It's possible they go forward with Locker,
Ryan Fitzpatrick
and just-signed
Tyler Wilson
as their quarterbacks. It's also possible they'd draft a new guy, and depending on how high of a pick he could land in competition to start. I think it's less likely they chase a free agent like
Jay Cutler
if he comes free, but they have to assess all the possibilities. How can they completely commit to Locker based on his injury history?
One side effect of the Jaguars' surge is they aren't going to be in position to draft the first quarterback taken. What's your sense of what Bradley and Caldwell want in a quarterback and do you expect one to arrive in the first round?
DiRocco
: Offensive coordinator Jedd Fisch said something interesting last week. He said he wants his QB to scramble around, take off running to get yards and take some chances throwing the football. To me, that sounds like a pretty accurate description of Johnny Manziel. I'm not sure how that reconciles with the ideas of his bosses. Bradley comes from Seattle, which has the mobile
Russell Wilson
. Caldwell comes from Atlanta, which has the considerably less mobile
Matt Ryan
. My sense is that Bradley and Caldwell probably lean more toward the Wilson end of the spectrum. People think that eliminates Teddy Bridgewater, but that's not the case. He's not a runner but he can run if needed. If he's around, I'd expect them to take him. If not, then I would still expect them to go quarterback. It's their most glaring need.
You mentioned Munchak's job status. What's your take on whether he will be back next season -- and should he be?
Kuharsky
: He's shepherded improvement, but his team lacks an ability to finish. He's 0-4 in the worst division in football, 1-9 in the past two years. His teams have lost to the previously winless Jags in 2013 and the previously winless Colts in 2011. He's 4-18 against teams with winning records when the Titans played them and 2-19 against teams that finished the season with a winning record. To me, three years is a sufficient sample size to know what you've got and those numbers are the most telling thing on his resume. Keep him and they deal with all the limitations connected to a lame duck coach. I don't know what Tommy Smith, the head of the new ownership, will do. But the fan base overwhelmingly wants change, if that's worth anything. People still pay for tickets because they've got investments in personal seat licenses they do not want to throw away. But a lot of people are staying home on Sundays now.
Cecil Shorts
is done and
Maurice Jones-Drew
is uncertain. How can the Jaguars threaten on offense without their two best weapons?
DiRocco
: They were able to put up 20 points and post their second-highest yardage total of the season, including a season-high 159 rushing, in last Sunday's loss to Buffalo. Running back
Jordan Todman
stepped up big time and ran for 109 yards (Jones-Drew cracked 100 only once in the first 13 games) and tight end
Marcedes Lewis
was more involved in the passing game than in previous weeks (four catches for 54 yards and a touchdown). But I'm not sure that is sustainable. Teams will certainly concentrate on stopping Lewis and make quarterback
Chad Henne
move the ball with three receivers who have a combined 75 career catches. Todman doesn't scare anyone, either. The Jaguars will have to be creative on offense (they've run gadget plays the past three weeks) and capitalize on every opportunity they get.
December, 2, 2013
Dec 2
8:00
AM ET
A review of four hot issues from the
Jacksonville Jaguars
' 32-28 victory against Cleveland:
[+] Enlarge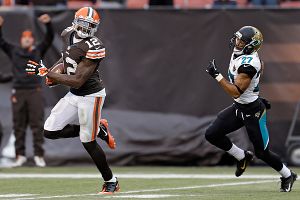 AP Photo/Tony DejakDwayne Gratz, right, and the Jacksonville secondary had its hands full with Cleveland's Josh Gordon.
Secondary issues:
One week after holding Houston receiver
Andre Johnson
to just two catches for 36 yards, the Jaguars' secondary was absolutely torched by Cleveland's
Josh Gordon
: 10 catches for 261 yards and two touchdowns, including a 95-yarder in the fourth quarter. Cornerbacks
Dwayne Gratz
and
Alan Ball
each had their troubles with Gordon, and they got little safety help from
Johnathan Cyprien
and
Winston Guy
. Both seemed to be late getting over to help, and the one time Guy did get there in time he was penalized for hitting Gordon in the head. Guy also was the main guy to blame for the 95-yard TD because he went for the interception -- coming from behind Gordon -- instead of trying to hit Gordon and knock the ball that way or just make the tackle. Cyprien did get his first career interception on a pass thrown behind tight end
Jordan Cameron
.
Help needed:
Rookie receiver
Ace Sanders
had his most productive day, and the Jaguars certainly needed it, with
Cecil Shorts
dealing with Browns cornerback
Joe Haden
(and two drops) and
Mike Brown
playing through a very sore shoulder. Sanders tied his season high with eight catches and set a season high with 67 yards receiving. He also carried the ball once for 4 yards on a misdirection pitch play. The biggest number, however, is six: Of his nine touches, six resulted in first downs. Shorts came up big late, but Brown had just one catch.
Improved pass rush:
All the attention since the bye week has been on how much the run defense has improved, but the Jaguars' pass rush also has been much more effective the past month. The Jaguars sacked quarterback
Brandon Weeden
three times on Sunday, including one by
Jason Babin
that resulted in a fumble that defensive tackle
Sen'Derrick Marks
recovered to set up a field goal. The Jaguars now have 20 sacks, which matches their 2012 total. They have recorded nine sacks in the four games since the bye and eight in the past three games. One thing they're doing differently is rushing middle linebacker
Paul Posluszny
more often. He had a half-sack (along with Babin) against Weeden.
A Marks man:
Marks had another big day: a sack, a forced fumble, a fumble recovery and a pass breakup. Marks' fumble recovery and 15-yard return set up
Josh Scobee
's 36-yard field goal at the end of the first half. Marks has three sacks this season after recording just three in his first four seasons in the NFL. Marks, who signed a one-year deal with the Jaguars in April, has been the team's best defensive lineman.
December, 1, 2013
Dec 1
4:26
PM ET
JACKSONVILLE, Fla. -- A few thoughts on the
Jacksonville Jaguars
' 32-28
victory
over the
Cleveland Browns
.

What it means:
It has been a while -- nearly three years, in fact -- but the Jaguars finally have a winning streak. Their victory over the Browns marks the first time they have won back-to-back games since Weeks 13-14 of the 2010 season. Jacksonville (3-9) has won three of its four games since the bye week. All of those victories have come on the road, which marks the first time since 2007 the Jaguars have won three consecutive road games.
Stock watch:
It had been a pretty miserable homecoming for Jaguars receiver
Cecil Shorts
, who grew up in Cleveland and played collegiately at Mount Union in Alliance, Ohio -- until the Jaguars' final drive. Browns cornerback
Joe Haden
had pretty much shut Shorts down and Shorts hurt himself with two drops. But he came up big when it mattered most, beating Haden for a 20-yard game-winning touchdown pass with 40 seconds remaining. On the other end of the spectrum, the secondary really struggled. The Jaguars had little trouble with Houston's
Andre Johnson
last week, holding the All-Pro to just two catches. But they appeared to be playing a man short because
Josh Gordon
absolutely shredded them for 261 yards and two touchdowns. Gordon's last touchdown was a 95-yard catch and run in which safety
Winston Guy
went for the interception instead of the tackle and rookie cornerback
Dwayne Gratz
chased Gordon for 20-plus yards and never dove for Gordon's legs.
Ace in the hole:
With Shorts a nonfactor for most of the game and
Mike Brown
playing with a very sore shoulder, the Jaguars needed somebody to step up at receiver, and
Ace Sanders
did, catching five passes for 38 yards and carrying it once for 4 yards in the first half. Those don't sound like big numbers, but Sanders converted four third downs. He finished with a team-high eight catches for 67 yards, including a 25-yarder on the Jaguars' game-winning touchdown drive.
Turnover binge:
The Jaguars went from trailing 14-7 to leading 20-14 in less than a two-minute span at the end of the first half thanks to three turnovers. Two were interceptions, which double the amount the Jaguars' secondary had entering the game. Rookie safety
Johnathan Cyprien
picked off the first pass of his career, which led to
Maurice Jones-Drew
's touchdown pass to
Marcedes Lewis
to tie the game with 1:24 remaining. Gratz intercepted
Brandon Weeden
's next pass, which led to
Josh Scobee
's 44-yard field goal and a 17-14 lead with 52 seconds remaining. The Browns tried to drive for a field goal but defensive end
Jason Babin
knocked the ball from Weeden's hand and defensive tackle
Sen'Derrick Marks
recovered the ball and returned it to the Cleveland 18-yard line with five seconds remaining. Scobee hit a 36-yard field goal to give the Jaguars a six-point lead.
What's next:
The Jaguars will play host to the
Houston Texans
on Thursday night.
November, 12, 2012
11/12/12
4:36
PM ET
Jerraud Powers
' season is over for the third consecutive season because of an injury.
Powers
The
Indianapolis Colts
cornerback went on injured reserve after 10 games in 2010 with an arm injury, after 12 games in 2011 because of an elbow issue and now after nine games because of a toe injury.
It's a very unfortunate development for a solid player at a position where the Colts are not deep.
Indianapolis beat Jacksonville last Thursday without both starting corners -- Powers and
Vontae Davis
.
Darius Butler
had a big game with two interceptions and a fumble recovery. But the Colts are going to face tougher opposition than the Jaguars moving forward.
Butler and Davis, once he's recovered from his knee injury, are the likely starters going forward, with
Cassius Vaughn
and
Josh Gordy
as the guys in line for nickel and dime roles.
I find Powers to be one of the most thoughtful guys in the division, so I will selfishly miss being able to look for him in the Colts locker room when I cover them.
His rookie contract is also expiring, and the injury history is going to work against him when the Colts, and maybe an outside bidder, make their offers.
It may be a string of bad luck, but if you've got a string of bad luck like this one, you're officially injury-prone.
In other Colts developments, the team activated nose tackle
Josh Chapman
from the non-football injury list. He's practices for three weeks and is all the way back from the torn ACL he suffered in his final year at Alabama.
Adding him to the 53-man roster is offset by losing
Drake Nevis
for the year. He too went on IR with a hand injury.
October, 22, 2012
10/22/12
12:15
PM ET
Reading the coverage…
Houston Texans

The Texans felt a lot of people doubted them after the loss to Green Bay, but they responded with
a statement win
as they clobbered the Ravens, says John McClain of the Houston Chronicle.
After three bad series, Andre Johnson
rallied the troops
on the sideline, urged everyone to stay calm, and saw good results, says Dale Robertson.
The defense
kick started
the big win with a furious series that produced a sack of Joe Flacco for a safety by Connor Barwin and a pick-six from Johnathan Joseph, says Randy Harvey of the Chron.
To which I say:
It was a big spark. But at Reliant Stadium it felt like if that hadn't happened, something else would have. The Texans were just the better team, and something was going to happen to get them started.
With each win, expectations and
hopes soar
for the Texans, says Jerome Solomon of the Chronicle.
The Texans will need
no one's help
to get where they want to go, says Ganguli.
Lots of good marks in McClain's
grades
.
This was
the burial
of the Ravens as we know them, says Pete Prisco of CBSSports.com.
To which I say:
They aren't the same team anymore. But it's not going to show the same way in the next two games with lesser matchups at Cleveland and against Oakland.
The Texans
reasserted their dominance
with the handling of Baltimore, says Don Banks of SI.com.
Indianapolis Colts

The Colts found the
five or six plays
they needed to beat the Browns, writes Mike Chappell of the Indianapolis Star.
This team feels just fine about
winning ugly
, which is what it took for them to get past the Browns on Sunday, says Bob Kravitz of the Indianapolis Star. Indy caught some major breaks along the way, too. It was also the first week all season that the Colts played the same offensive line as the week before.
To which I say:
I absolutely love the detail at the end of this piece about Joe Lefeged stepping in as a punt gunner to replace a gassed Lavon Brazill when the Colts had to re-punt after a penalty.
If ever the Colts were going to
get the run game going
, this was going to be the game, says Michael Pointer of the Star.
Chuck Pagano was
released from the hospital
and watched the win over the Browns from home, says Mike Chappell.
Kravitz gives out a lot of good grades in
this report card
.
Josh Gordon
took the blame
for the Browns' loss based on his late drop of a touchdown pass, says Phillip B. Wilson.
The Colts did
just enough to win
, says Conrad Brunner of 1070 The Fan.
There was
bolder coaching
, good days for the running backs and a tough afternoon for Jerraud Powers, says Nate Dunlevy of Bleacher Report.
Jacksonville Jaguars

It went from bad to worse for the Jaguars with their overtime loss in Oakland on Sunday, says Ryan O'Halloran of the Florida Times-Union. "The Jaguars added
blowing a double-digit advantage
to their ever-growing file of Ways To Lose."
The Jaguars have a strange affinity for
special kinds of misery
, says Gene Frenette of the T-U.
To which I say:
Jeremy Mincey's talking about never accepting being a loser. But if you simply don't have the talent or resolve to win, how do you help but come to terms with it at some point? Coach Mike Mularkey said the Jags were "inept" offensively. Not reassuring, because what's going to change it at this point.
The Jaguars await
further details
about the injuries to Maurice Jones-Drew and Blaine Gabbert, says Stellino.
Chad Henne had bad protection and
a bad performance
as he relieved Gabbert, says Vito Stellino of the T-U.
Frenette's
report card
.
Among the things John Oehser of the team website learned out of the loss, the run game
really needs
the pass game.
If the Jaguars are without Gabbert for any significant stretch, they could wind up with
the worst record
in football, says Dunlevy.
Tennessee Titans

When they can stay in a game,
they find a way to win it
, which is what the Titans did against the Bills in Buffalo, says Jim Wyatt of The Tennessean.
Given where the Titans were just a couple weeks ago, "there is reason for cautious optimism," writes David Climer of The Tennessean. "If nothing else, the Titans have
shown resilience
."
To which I say:
The AFC's down which helps keep the Titans up. Only three teams in the whole conference have more wins than Tennessee.
Chris Johnson's giant game harkened back to
his best days
, says John Glennon of The Tennessean. The context needs mention: The Bills' run defense is horrific.
In the eyes of Mike Munchak, the winning Matt Hasselbeck to Nate Washington TD was
a money throw and a money catch
, writes John Glennon of The Tennessean.
It's good marks for the offense, bad ones for the D in Wyatt's
report card
.
October, 21, 2012
10/21/12
6:31
PM ET
Thoughts on the
Indianapolis Colts
' 17-13
win
over the
Cleveland Browns
at Lucas Oil Stadium:
What it means:
The Colts are at .500 after recording their third home win and have surpassed last season's total just six games into the 2012 season.
What I liked:
A team that has struggled to run and to stop the run did both. The Colts turned 37 carries into 148 rushing yards with
Vick Ballard
and
Delone Carter
doing better with their chances and
Andrew Luck
running for two short scores. The previous Colts quarterback to score twice on the ground was Ricky Turner in 1988. The rush defense also fared quite well, at least in part because rookie back
Trent Richardson
was unable to play in the second half with the rib injury he suffered last week. The Browns managed just 55 yards.
What the Browns didn't like:
The dose of good fortune (for the Colts) that came with fewer than seven minutes left in the game, when rookie quarterback
Brandon Weeden
hit the mark on a play that would have put the Browns ahead, but receiver
Josh Gordon
dropped a long touchdown pass.
Good news:
Colts coach Chuck Pagano, who's battling leukemia, was out of the hospital and watched the win from
his family's home
.
Welcome back:
Inside linebacker
Pat Angerer
, who broke a foot in the preseason, appeared in his first game of the year. While the Colts didn't record a sack, Angerer had two of their quarterback hits.
What's next:
The Colts, who've played four of their six games at home, head for Tennessee, where they face the 3-4 Titans. The winner of that one will stand as the second-best team in the AFC South.