AFC South:

Josh McDaniels
December, 31, 2012
12/31/12
3:13
PM ET
The
Houston Texans
have a quarterbacks coach in Karl Dorrell.
That shouldn't stop Gary Kubiak from placing a call today to Greg Knapp, who held the post in 2012.

It wouldn't be admitting some sort of defeat to bring in a guy just
fired as Oakland's offensive coordinator
. Kubiak shouldn't regard it as some sort of concession or admission of failure.
He should see it as a chance to bring in a guy who might be a quarterback whisperer right when
Matt Schaub
could really use one.
Schaub probably loves and respects Dorrell. But he and all the team's quarterbacks were wild about Knapp.
Last year Bill Belichick pounced on a chance to take back Josh McDaniels when he was available because he'd been dismissed as coach of the
Kansas City Chiefs
.
Here's an opportunity for Kubiak to make a similar move. Hire Knapp back with some nebulous title.
What's Kubiak got to lose? I mean except Saturday's first-round playoff game against the
Cincinnati Bengals
?
March, 21, 2012
3/21/12
9:46
PM ET
Adam Schefter reports that before the Broncos finalized the trade of
Tim Tebow
to the Jets, they allowed Tebow to
share his preference
between the Jets and Jaguars.
If it had gone another way, I'd have a different stance.
But that Tebow picked the Jets did the Jaguars a great, two-part service.
1) They aren't saddled with a guy at least a share of the organization does not believe can play.

2) They'll always be able to say they wanted him and he picked someone else.
The Jets now employ a huge proponent of Wildcat formations in offensive coordinator Tony Sparano, and the Jets surely will use Tebow in such situations from game to game depending on the defenses New York sees and the success its base offense has.
The Jaguars won't be forced to employ such things, which are not the favored approach of general manager Gene Smith or coach Mike Mularkey and his staff. (I applaud those who frown upon gimmicks. It's just a default setting I have.)
Look,
Blaine Gabbert
was terrible as a rookie. But one season is far too soon to label a quarterback with his arm a complete bust. The Jaguars think the new coaching staff will improve his play a great deal.
If that happens, they will look smart. If that doesn't happen, well, they'll be in a tough spot. That spot could have been even tougher had Tebow been in the mix with an organization that didn't fully believe in him.
Tebow was Josh McDaniels' guy, which is why he was a first-round pick in Denver. Tebow wasn't John Elway's guy or John Fox's guy, which is why the Broncos dealt him at the first opportunity.
Tebow was not Gene Smith's guy or Mike Mularkey's guy.
Which is surely a big reason why, if he had a say, he chose to go be Rex Ryan's guy and Sparano's guy.
November, 17, 2011
11/17/11
1:37
PM ET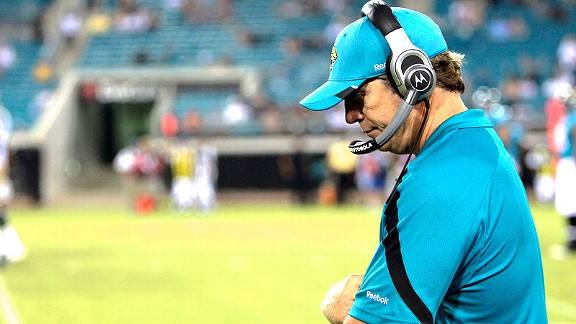 AP Photo/John RaouxIf the Jaguars replace Jack Del Rio, it makes sense to hire an offensive-minded head coach.
Ten weeks into most NFL seasons we have a good sense of head-coaching jobs coming open and the prime candidates for them.
This year feels different.
Jim Caldwell may coach a potential 0-16 team. But to hear Bill Polian talk, the Colts' coach may well survive. In Jacksonville, Jack Del Rio's got one year left on his contract and a lame-duck staff.
It's widely held that Jaguars owner Wayne Weaver will make a change if he judges the team to have shown insufficient improvement this season, and it's hard to envision a giant turnaround now for the 3-6 Jaguars based on how poorly the offense is producing.
As for prime head-coaching candidates, I sense no buzz about the hot, young offensive assistant who's the next big thing. In previous years -- no matter if they panned out or not -- we've seen guys like Josh McDaniels, Jason Garrett, Todd Haley and Ken Whisenhunt tabbed as up-and-comers who were ready.
Who are those guys now?
While Northern Florida might hold out hope that Weaver will want a name and would be able to lure one, I don't see Bill Cowher or even Jeff Fisher heading for EverBank Stadium.
The franchise should re-sign general manager Gene Smith, allow him to decide on Del Rio and make the recommendation on the next coach.
And if Smith's in the market, that next coach should be a young offensive mind who likes
Blaine Gabbert
and has the best shot at developing him. Smith needs to hit a home run finding the next Mike McCarthy, Sean Payton or, this year aside, Andy Reid.
I asked around this week, talking to a couple coaches and an executive about which NFL assistant qualifies as a QB guru who's ready to be a head coach.
Through those conversations, I present this list of possibilities:
Mike Mularkey, Atlanta offensive coordinator
-- Mularkey posted a 14-18 record as Buffalo's head coach in 2004-05. But he's got enough distance from that now that he could be worthy of a second act.
He took over as offensive coordinator in Atlanta in 2008, when quarterback
Matt Ryan
was a rookie. He has a bruiser of a running back in
Michael Turner
to go with Ryan. Ryan became just the second rookie quarterback in NFL history to throw for more than 3,000 yards, and the Falcons won 11 games.
There is a connection to Smith: Mularkey's son, Patrick, is a scouting assistant in Jacksonville's player personnel department.
Jay Gruden, Cincinnati offensive coordinator
-- Gruden's done fantastic work this season with rookie QB
Andy Dalton
. But is one good year enough to vault him to a head coaching job?
He worked on his brother Jon's staff in Tampa Bay from 2002-08, but as an offensive assistant he wasn't a year-round guy. He stacked the work on top of his duties quarterbacking and then coaching the Orlando Predators of the AFL.
Jay Gruden has head coaching experience in the AFL and the UFL, where he led the Florida Tuskers to the 2010 championship game as head coach and GM.
Word is he's different than his brother, calmer with a better presence with his players.
Rob Chudzinski, Carolina offensive coordinator
-- His first tour as an offensive coordinator came in Cleveland from 2007-08. The 2007 Browns won 10 games with
Derek Anderson
shining at quarterback.
Now Chudzinski's been lauded for his work with
Cam Newton
, revising and shaping the offense to feature what the rookie quarterback does best. He's got a strong background with tight ends, too, and is regarded as a rising star by many around the league.
He's also a quieter, unassuming type.
Tom Clements, Green Bay quarterbacks coach
-- Clements worked in the same post for New Orleans (1997-99), Kansas City (2000) and Pittsburgh (2001-03). During those stops he worked with
Tommy Maddox
during his comeback player of the year season in 2002 and with
Kordell Stewart
and
Elvis Grbac
during their best seasons.
He also worked as offensive coordinator in Buffalo in 2004 and 2005.
With Green Bay, Clements guided
Brett Favre
in his final Packers' years while helping prepare
Aaron Rodgers
. He's also had a hand in the progress of highly regarded backup
Matt Flynn
.
But does he have the qualities of a good head coach?
Pete Carmichael, New Orleans offensive coordinator
-- He's in his third year as Payton's top offensive lieutenant after three seasons as the Saints' quarterbacks coach.
Carmichael's been closely involved with an offense that has excelled with
Drew Brees
as quarterback, with a specific role in routes, protection schemes and quarterback responsibilities.
Like Clements in Green Bay, Carmichael works for a strong coach with an offensive background and so he doesn't function as the play-caller. While very smart, he comes across as bland and that could be a big issue for a guy expected to be the face and the personality of a franchise.
October, 5, 2010
10/05/10
6:32
PM ET
Our politically correct culture spills over into the NFL for sure.
Once upon a time it was a place where players and coaches would rip on each other as they felt warranted. Now, people fear bulletin board material as much as they fear
Mario Williams
on third-and-long going against a rookie left tackle.
So I took note when Josh McDaniels did a little crying about Jeff Fisher and the Titans' tactics this week, especially on the heels of a Broncos' win in Nashville
From John Glennon's article
on the back-and-forth between the coaches:
"You can put in any tape you want to of Tennessee and there's going to be 10 penalties," [McDaniels said.] "You either coach it or you allow it to happen. That's how I look at that.

"Our guys did a great job of keeping their poise and composure and not getting drawn into a big unsportsmanlike game because I know that's what they were trying to entice us into doing."

McDaniels said the Titans go beyond just being physical.

"There's a way to play tough and physical without being excessive and playing dirty after the snap," McDaniels said. "There's a lot of teams in this league that play like that. Tough and physical but also within the rules."
The Giants talked about this too, this idea that the Titans somehow seek to induce penalties or response to physical play.
Doesn't everybody? Shouldn't everybody? If my guy gets your guy to commit a penalty, he's getting a plus, not a minus on his report from the game.
Tennessee has too many penalties this season and needs to play cleaner games. The Titans aren't good enough to give away yards and first downs.
But that's not been a historic trait of Jeff Fisher teams. Do we think all of a sudden he decided coaching his team to be dirty is the way to go? That it's a missing ingredient in his formula, one that will help him get back to the playoffs and do better there?
I don't.
And while I fear anything that makes me seem an apologist for any AFC South team on any issue, Sen'Derrick Mark's penalty for a hit on
Kyle Orton
wasn't flag worthy. It's a defender hitting a quarterback with the ball still in his hand in the thighs.
So I thought Fisher's reply was pitch perfect:
"We play aggressive -- we don't play cheap," Fisher said. "If there's things after the whistle or during the play, players are fined for them. But we're not a cheap football team. I don't know what he's referring to.
"We did have six sacks against the quarterback and numerous other times they did have some difficulty with protection and blocking our defensive line. Maybe he's referring to that."
September, 8, 2010
9/08/10
7:16
PM ET
With the Broncos first game with
Tim Tebow
on the roster comes the expectation that Denver's Wild Horse package, little used last season, will be unveiled on a grander scale.

Tebow
It's their variation on Miami's Wildcat -- though I always like to point out that the thing that makes the Wildcat a) the Wildcat and b) potentially successful is that it's a non-quarterback taking the snap.
Jacksonville will be the guinea pig, as the first defense to face Denver's the new variation.
"Its effectiveness is debatable," Jack Del Rio told Jacksonville media Wednesday. "I think it's certainly been out there. Some teams are better at it than others. I think back to [reporter] Vito [Stellino's] point, the Wildcat for Miami with
Ronnie Brown
, he was pretty good at it because there would be a guy in the hole he'd make them miss.
"So I think clearly scheme is important but really the players are what makes things go, and so they'll have something there and we'll have something ready for that and we'll see how it plays out."
I don't expect we will be discussing a Wild Horse revolution on Sunday night. I do expect young guys on the defensive front might be a bit flummoxed by it. I do suspect Tebow will be given a good opportunity or two to score at EverBank Field, near his home against a team that (wisely) passed on him in the draft.
Does Del Rio expect Denver to have a playing role for Tebow Sunday?
"I would think they would," he said. "I didn't consult with Josh (McDaniels) before I told you that."
December, 13, 2009
12/13/09
2:48
PM ET


INDIANAPOLIS -- Some halftime thoughts from Lucas Oil Stadium where the Colts are delivering a methodic beatdown to Denver and lead 21-7.
Nervous moments in the first half when Melvin Bullitt and Dallas Clark got hurt. Maybe those still turn out to be significant, but each returned to action in relative short order. Looks as if they'll be in line for some rest, if needed, soon.
Brandon Marshall's strength and vision make him very good at going side to side in order to gain additional yards. Most of the time when I see a receiver going east-west I am skeptical. With him, not so much. The Colts have played a lot of nickel and even some dime to try to contain Kyle Orton's options.
Charlie Johnson did some effective work early against Elvis Dumervil. I intend to pay more attention to that matchup in the second half.
Reggie Wayne is relatively quiet, again, with three catches, nothing longer than 10. It's not hurting the Colts that they can't get it to him, again.
With a pick of a tipped pass, Brian Dawkins bailed Josh McDaniels out of a poor call to go for it on a fourth-and-one near midfield. The Colts could have squeezed out a field goal there very easily once Denver failed to convert. Indy collects points like that all the time.
The Colts have been cleaner, and benefited from a couple of penalties including two 15-yard unsportsmanlike conduct calls against the Broncos.
December, 13, 2009
12/13/09
10:36
AM ET
Houston Texans
The Seahawks are the
last team to visit
Reliant Stadium and the last seven first-timers have lost, says Dale Robertson.
Gary Kubiak wants to get Arian Foster
five touches
and have the rookie running back give him reason for another five, says John McClain.
During Friday's practice, Vonta Leach wore
a Santa suit
.
Fans are dragging
, says Alan Burge.
Indianapolis Colts
Will it be an
afternoon for the ages
for the Colts? Mike Chappell looks at the possibilities.
Two head coaches, Jim Caldwell and Josh McDaniels,
followed in big footsteps
, says Chappell.
The defensive tackles
made a big push to get better and have been a big key to the Colts' success, says Phil Richards.
John Oehser's
pregame walk-though
.
The Colts can
lock it all up
with a win over Denver, says Tom James.
Who to root for
from the Colts' perspective, from Deshawn Zombie.
Eyes in the backfield with
18 things to watch for
in Broncos-Colts, from Zombie.
A look at everyone not named Peyton Manning who has
thrown a pass
for the Colts this decade, from Stampede Blue. Fun piece.
Jacksonville Jaguars
In the game of the year, the Jaguars may be
playing without
John Henderson, Mike Sims-Walker and Rashean Mathis, says Michael C. Wright.
The Jaguars are
ignoring distractions
and focused on their playoff chance, says Damon Hack.
The robust rookie class
is a big part of the Jaguars' playoff push, says Wright.
The Jaguars have not heard from
anyone in Los Angeles
, says Vito Stellino.
Jacksonville
signed Chris Harrington
, a defense end from Arizona's practice squad, says Rich Jones.
What to watch for
in Dolphins-Jaguars, from Collin Streetman.
Tennessee Titans
Center of piles? Yes.
Center of attention
? No. A look at Stephen Tulloch from Gary Estwick.
Vince Young
plans to play
, says Jim Wyatt.
Wyatt breaks down
Rams-Titans
.
Tony Brown wasn't fined $10,000 for his eye poke of Kyle DeVan last week,
he was fined $20,000
, says Wyatt.
Jacob Bell returns
to LP Field as a Ram.
November, 25, 2009
11/25/09
5:02
PM ET
For a young team that's not loaded with talent and is at the start of a new regime, the buy-in is big.
If players aren't invested and don't believe in what the coach is telling them, it's a difficult road. But sometimes that buy-in can overcome a lot.
In the Jaguars' first year with general manager Gene Smith making personnel decisions, coach Jack Del Rio's players have stayed on message. And that message increases in strength when it produces results. Three wins in a row and four out of five serve the messenger well.
Jacksonville hasn't seemed to have any guys wandering this season, but if they were early on, they aren't now.
"I feel like the buy-in has been good," Del Rio told Jacksonville reporters. "I think when you string a couple wins together it helps any of those that maybe are holding something in reserve, and start to really understand maybe a little better. It kind of clears the picture a little bit for some of those people. But the energy and the commitment has been outstanding year-long, and we're going to need that to continue as a football team. If we can stack some wins together, who knows what can happen? But right now we've got to find a way to beat these 49ers."
With four consecutive losses, the shine is off of Denver's Josh McDaniels. Might Del Rio be at the top of the list of coach of the year candidates?
Jim Caldwell deserves strong consideration, but he inherited a good team, and voters typically look to upstart, surprise teams when casting votes for the honor.
I suspect Sean Payton would be the favorite right now, but I'd put Del Rio with Caldwell in the top five along with Brad Childress and Marvin Lewis at this point.
Del Rio currently stands at 79 percent in SportsNation's
coach approval ratings
, tied with Jeff Fisher behind Payton, Caldwell, Ken Whisenhunt, Tony Sparano, Childress, Jim Schwartz and Todd Haley.
November, 12, 2009
11/12/09
1:49
PM ET
| | |
| --- | --- |
| | |
| | Getty Images |
| | Jim Caldwell may be a first-year head coach, but he was an assistant in nine Colts-Patriots matchups, so has experience preparing for Patriots coach Bill Belichick. |
Posted by ESPN.com's Paul Kuharsky
Jim Caldwell's not some newbie who has been dropped into a matchup against New England and is preparing for Bill Belichick's game-plan wrinkles for the first time.
As one of Tony Dungy 's former assistants, he was been part of nine Colts-Patriots games, including three in the postseason. Indy was 4-5 in those games.
According to Elias Sports Bureau, Belichick is 28-19 in his career against first-year coaches, 20-11 while with the Patriots. Belichick is 1-2 this year, with losses to Rex Ryan and Josh McDaniels, and a win against Raheem Morris.
"[Caldwell] is not like most first-year coaches. He's been there for seven years, he's seen it, he's dissected the matchups, he's supervised a lot of the game-planning especially offensively for however many games they've played," Dungy said on a conference call arranged by NBC, for whom he's now an analyst. "So it's not like a new guy coming in. He's very aware of everything that's taken place those last seven years. I really don't look at this like a first-year coach in a normal sense."
Caldwell's been excellent in his first eight games as Dungy's successor, maintaining the good thing he inherited.
He's been a bit more aggressive on offense with some bold fourth-down calls. He's installed a defensive coordinator, Larry Coyer, and allowed him to increase the frequency is which the team blitzes and plays man defense. His new special-teams coach, Ray Rychleski, hasn't solved the team's long-standing return game issues, but he does have the coverage teams playing much better.
Caldwell is tied with Potsy Clark, of the 1931 Portsmouth Spartans, for the second best winning streak to start a career. (You remember those Spartans, of course. They went 11-3 and finished second. Yes, it was the same year the Frankfurt Yellow Jackets went 1-6-1.)
With two more wins, Caldwell will catch Wally Lemm, who won his first 10 in 1961-62 with the Houston Oilers and St. Louis Cardinals.
"They are obviously playing well and he's got them hitting on all cylinders and playing with a lot of confidence, playing good football," Belichick said. "I respect the job that he's done as a head coach, as an assistant coach and the job he's doing now with the Colts."
Belichick is notorious for changing things up game to game, so the Colts are unlikely to see much that looks familiar from the Patriots' performances in recent weeks. The ability of Caldwell, his staff and quarterback
Peyton Manning
to adjust as they go will be a major storyline in Sunday night's game.
Former Patriots safety Rodney Harrison, also an NBC analyst, said Belichick would flip him to corner against the Colts, with
Ty Law
playing some safety.
"The thing that Bill gave us to do was create a lot of freedom by trying to disguise the coverage," Harrison said on a conference call this week. "… We wanted to create some level of confusion for Peyton Manning as well as jam and wear down
Marvin Harrison
."
Dungy said that was very unusual.
Other wrinkles the Patriots used against Dungy's Colts were more about what Belichick deployed when, not unveiling something brand new.
"Usually what happens is, it's not something you haven't seen, it's just something that you don't expect or they haven't done," Dungy said. "Usually you'll come into a game, New England's showing a lot of blitzes, five-man pressures, and in our game they decide to rush three and drop eight, or vice versa. There has been a lot of three-man rush before and now it's a different look or it's nickel and dime defense on first down or it's four-man line."
"That's the thing from the Colts' standpoint that we've always admired about the Patriots. They've been able to have a different game plan even for halves sometime -- first half there is a four-man line, second half there is a three-man line, first half is base defense, second half is nickel or dime. You have to be ready to adjust when you play New England."
Tom Brady
said Caldwell's Colts play a more straight-up defense, relying on the pass pressure of
Dwight Freeney
and
Robert Mathis
.
"They'll have some new wrinkles," Brady said. "They always find a way to mix up some of their tendencies. But in the end -- through eight games -- that's really what they do. All of that's on film now.
October, 5, 2009
10/05/09
8:06
AM ET

Posted by ESPN.com's Paul Kuharsky
Some AFC South-related stat nuggets from Sunday's games:
Jacksonville wide receiver Torry Holt had three receptions in the Jaguars' 37-17 victory over the Tennessee Titans. Holt, who has 884 career receptions, surpassed wide receiver Keenan McCardell (883) and moved into 10th place on the all-time receptions list.
Rookie head coaches Jim Caldwell of the Indianapolis Colts and Josh McDaniels of the Denver Broncos have led their teams to 4-0 starts. This is only the second time in the Super Bowl era (since 1966) that two rookie head coaches have guided their teams to 4-0 starts in the same season (2000: Al Groh, N.Y. Jets and Mike Martz, St. Louis).
The Texans 29-6 win over Oakland marked a second-best in two categories for the franchise. Houston's 23-point margin of victory was the second-largest in franchise history, behind only a 29-point win over Cincinnati (35-6) on Oct. 26, 2008. The defense allowed the Raiders just 165 total yards of offense on the day, which was the second-fewest yards allowed in franchise history. Houston held Jacksonville to 126 yards on Dec. 26, 2004.
With 353 passing yards in the Colts' 34-17 win over Seattle, Indianapolis quarterback Peyton Manning recorded his fourth consecutive 300-yard passing game. Manning is the third player in NFL history to start a season with four consecutive 300-yard passing games. Only Kurt Warner (2000) and Steve Young (1998) had longer streaks in NFL history (six consecutive games).
The game was Manning's 51st 300-yard game, which pulled him into a tie with Dan Fouts for third most, behind only Dan Marino (63) and Brett Favre (56). Manning's two touchdown passes gave him 342, which tied him with Fran Tarkenton for third most in league history, also behind Favre (469) and Marino (420).
July, 3, 2009
7/03/09
7:52
AM ET
ESPN's Mike Golic discusses some of the new coaches heading into the 2009 season.