AFC South:

Julian Edelman
March, 24, 2014
Mar 24
8:00
AM ET
The talk of the NFL's free-agency period through the first two weeks in the AFC has centered on the
Denver Broncos
and
New England Patriots
.
The Broncos bulked up their defense by acquiring defensive end
DeMarcus Ware
, safety
T.J. Ward
and cornerback
Aqib Talib
to go with quarterback
Peyton Manning
and the rest of the offense. The Patriots signed cornerbacks
Darrelle Revis
and
Brandon Browner
while re-signing receiver
Julian Edelman
.
The
Indianapolis Colts
?
They didn't make any free-agent splashes outside of re-signing cornerback
Vontae Davis
. General manager
Ryan Grigson
easily could have panicked as the Patriots and Broncos, the two teams who played in the AFC Championship Game last season, made their moves.
Nope.
The Colts went into the free-agency period with a plan, a plan they weren't going to deviate from. Grigson said they signed all the players they wanted to get.
"You're competitive, but you can't be competitive in that way where you're watching what they're doing and say, 'We're going to one-up you.' That makes no sense to me," he said. "We're in our own little world over here with our own vision of the future with our own set of problems and circumstances and things we're trying to work through positionally and needs we're trying to address. And they have a completely different landscape on all of those different teams."
The Broncos loaded up their roster in an attempt to make at least one more run at a Super Bowl with Manning before his Hall of Fame career likely ends in the next couple of years.
The Colts, like the other 31 teams, want to win the Super Bowl, but don't have a short window to win a title like Denver and New England. Their quarterback,
Andrew Luck
, is headed into only his third season. Grigson also has to be financially conscious because they'll have to pay players such as Luck, offensive tackle
Anthony Castonzo
and receiver
T.Y. Hilton
sooner than later.
"It's a team effort when we bring guys into the building," Grigson said. "We really attack it like a team and at the end of the day, we stick to our plan and our vision. Again, it's forward thinking and always looking ahead and not necessarily living in the now even though we feel like Super Bowl XLIX is something that we can attain. With the quarterback that we have and the young players around him, you want to build for sustained success. It's something that you have to stay disciplined in day in and day out."
February, 27, 2014
Feb 27
5:05
PM ET
INDIANAPOLIS -- The start of the free agency is less than two weeks away. Receiver is one of the positions that the
Indianapolis Colts
need to address through free agency, trade or the draft.
It's about the present and the future for them at that position.
Decker
Depth was an issue for the Colts at the start of last season. It was a bigger issue when
Reggie Wayne
crumbled to the ground with a torn ACL against Denver in Week 7 and it remained an issue when the season ended last month.
The Colts can't get away with not adding any players at receiver. All indications point to Wayne returning from his knee injury, but you have to be realistic, too. Nobody knows what type of player he'll be when he returns because he's 35 years old. That leaves
T.Y. Hilton
and young receivers like
Da'Rick Rogers
,
LaVon Brazill
and
Griff Whalen
.
This takes us to the free-agent market.
There was a report
Wednesday that the Colts have interest in Denver receiver
Eric Decker
.
Decker is looking for a big payday like all free agents do. He told SiriusXM NFL Radio in an interview earlier this month that he needs to do what is the "best for my family."
The Colts will have money to spend – the fourth-most salary cap space – but they're going to be frugal spenders with all their money. That's bascially what general manager
Ryan Grigson
said last week at the combine.
Decker caught 87 passes for 1,288 yards and 11 touchdowns last season.
My issue with Decker is that you can't pay him like he's a No. 1 receiver because he's not a No. 1 receiver. He's more of a solid No. 2 receiver. He put up those nice numbers while not having to face the other team's best cornerback. Things could be different if Decker's asking price isn't too much.
And if that's the case, why leave
Peyton Manning
and Denver when you have a chance to make at least one more run at winning the Super Bowl?
Here's a look at some 2013 stats of some notable wideouts who are set to hit the free-agent market:
January, 11, 2014
Jan 11
8:00
AM ET
FOXBOROUGH, Mass. -- The transition for one was more bumpy than smooth. His top receiver, his security blanket, the one who often found a way to get open no matter the situation, lay on the field at Lucas Oil Stadium slapping the ground almost three months ago.
The other has five Super Bowl appearances on his resume, but not even the future Hall of Famer could say things were easy right away without his go-to guy.
[+] Enlarge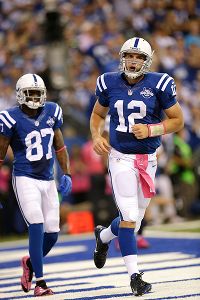 AP Photo/AJ MastAndrew Luck overcame security blanket Reggie Wayne's absence by placing a priority on jelling with the other Colts receivers.
Indianapolis Colts
quarterback
Andrew Luck
overcame his early struggles of not having
Reggie Wayne
by working, and working some more, to develop continuity with his young receivers. New England quarterback
Tom Brady
's transition without tight end
Rob Gronkowski
started out shaky, too, but evened out as the season progressed.
Luck and Brady will be the marquee names in Saturday's AFC divisional playoff game, and they're the reason why the two teams have reached this point. They've proven they can get the most out of their unproven receivers.
"[It's been] a challenge, but also an opportunity for guys," Luck said. "[They've] made the most of it. [Coach Chuck Pagano] tells us every week, 'Everybody prepares like a starter.' You never know, the injuries, whatever it is, it's an unfortunate part of the game."
LaVon Brazill
,
Griff Whalen
and
Da'Rick Rogers
aren't names people immediately bring up when talking about the Colts' receiving corp. Brazill was suspended the first four games of the season. Whalen and Rogers spent most of the season on the practice squad. But there was Rogers going up and outleaping a
Kansas City Chiefs
' defender to bring in a 46-yard pass from Luck in the wild-card playoff game last Saturday.
Brady had Gronkowski, one of the league's best tight ends, for all of seven games before a knee injury ended his season.
Enter
Julian Edelman
.
Who? Exactly.
The 5-foot-10 went from having a career-high 21 receptions in 2012 to hauling in 105 passes -- good enough for fourth in the league -- for 1,056 yards this season.
"Obviously, [the Patriots] got a first-ballot Hall-of-Famer in Tom Brady that is under center running that whole thing," Pagano said. "We've got guys that are athletic and guys that can make plays. They've got guys that are athletic and can make plays. They've done a good job of bringing guys in and plugging them in. That system has been in place. They make adjustments here and there. But he's done a great job with adjusting to life without Gronk, life without some of the other guys. It's going to be a huge challenge."
[+] Enlarge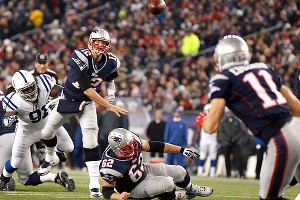 David Butler II/USA TODAY SportsWith Tom Brady under center and Rob Gronkowski out for the season with an injured knee, Julian Edelman stepped up.
It seems like there's a revolving door when it comes to the Patriots and their players. There's not too many Waynes or Marvin Harrisons, players who have spent their entire career with the same team, there. The Patriots have no problem replacing a player and bringing in somebody else, which is part of the reason why Brady always seems to be able to find a way to make things work.
"For me, over the course of playing a few years we lost certain guys at certain points in the year," Brady said. "I think the main thing is just to try to figure out what you need to do as an offense to still be productive. You can lose a tight end or receiver or running back at any point in any game, and no one really feels sorry for you at that point.
"Losing any player hurts on offense or defense, but you've still got to have enough guys on your team and have enough flexibility within your game plan to adapt and make the changes necessary so you can still be productive."
Luck and Brady both had built-in excuses if they struggled all season. Their competitive nature wouldn't allow it, though. It pushed them more.
They handle things in different ways -- Luck isn't one to be seen on camera going off on the sidelines during a game -- but one of the things they have in common is that they're demanding and expect the best out of their teammates.
Extra time in the film room. Extra passes before and after practice to ensure their timing is right. The conversations they have as they walk down the hallway at the facility.
Luck had to do those things to make sure he had somebody else to go to when
T.Y. Hilton
was not an option.
Luck had a relationship with Whalen because they were teammates at Stanford. Brazill and Luck were teammates as rookies, but the starting quarterback didn't have much to work with when it came to Rogers because most of his passes were thrown by backups
Matt Hasselbeck
and Chandler Harnish while on the practice squad.
Trust is a necessity between quarterback and receiver. Luck showed he had it in Rogers when the rookie caught six passes for 107 yards and two touchdowns Dec. 8 against the
Cincinnati Bengals
.
"He does do a good job of staying on top of us," Rogers said. "We're like a family here and when something needs to be done, it's nothing personal. It's what we need to have done to win the game.
"We might be walking down the hall and he might grab you for a minute and talk about a play or talk about a certain concept. It's all day long, in the middle of practice, before practice, in meetings, in the film room."
January, 5, 2014
Jan 5
5:30
PM ET
INDIANAPOLIS -- Three things to know about Saturday's
Indianapolis Colts
-
New England Patriots
divisional playoff game at Gillette Stadium. This will be the first playoff matchup between the two teams since the epic AFC Championship Game the Colts won 38-34 on Jan. 21, 2007.

1. Battle of receivers.
Quick: Can you name a receiver on either team not named
T.Y. Hilton
?
Andrew Luck
of the Colts and
Tom Brady
of the Patriots are the two best quarterbacks in the league when it comes to getting the most out of their receivers. They both lost their primary receiving targets to injury this season. Colts receiver
Reggie Wayne
's season ended in Week 7 with a torn ACL. Patriots tight end
Rob Gronkowski
's season ended with a torn ACL and MCL in Week 14. Receiver
Julian Edelman
led the Patriots in receiving this season with 1,056 yards and six touchdowns. Hilton, who set a franchise playoff record with 224 yards against Kansas City on Saturday, led the Colts with 1,083 yards and five touchdowns this season.
2. Ugly first game.
Luck is making his second appearance against the Patriots at Gillette Stadium. New England beat Indianapolis 59-24 during the 2012 season. The Colts led 14-7 at the end of the first quarter and trailed only 24-17 at halftime, but the Patriots outscored them 35-7 in the second half. Luck was 27-of-50 for 334 yards, two touchdowns and three interceptions. Brady was simply better, as expected. He was 24-of-35 for 331 yards and three touchdowns without an interception. But Brady won't have Gronkowski (137 yards) or
Wes Welker
(80 yards) to throw the ball to this time around. Hilton had six catches for 100 yards. Colts linebacker
Jerrell Freeman
had 12 tackles in that game.
3. Stopping the run.
Brady is obviously the focal point for the Patriots, but New England does have a decent running game, too. Running backs
Stevan Ridley
and
LeGarrette Blount
finished within a yard of each other during the regular season, with Ridley gaining 773 yards and Blount rushing for 772 yards. They also combined for 14 touchdowns. The Colts, on the other hand, had
Donald Brown
rush for 537 yards and
Trent Richardson
finished with 458 yards.
November, 29, 2013
11/29/13
12:00
PM ET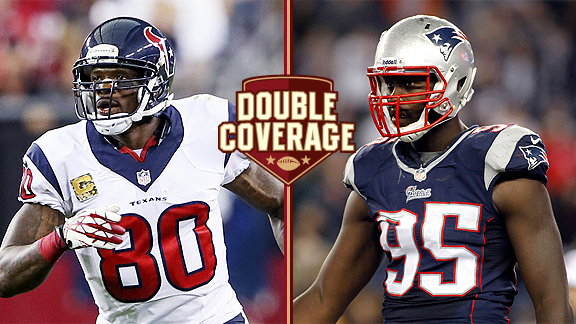 USA Today SportsAndre Johnson, left, and the Texans hope to surprise Chandler Jones and the Patriots.
HOUSTON -- The last time the
Houston Texans
faced the
New England Patriots
during the regular season, Houston was 11-1 and the hottest team in the league. To celebrate their youthful camaraderie, they ordered letterman jackets, the kind high school teams wear, and the jackets happened to come in right before the Patriots game.
That game marked a turning point for the Texans.
The timing of the jackets had nothing to do with the opponent; former Texans Connor Barwin and Shaun Cody were simply trying to create a tradition. That they lost so badly just after unveiling them turned the jackets into a punch line.
The Patriots won 42-14, and the Texans finished their season having lost three of their last four games. That meant losing the home-field advantage that seemed theirs before that game and led to another meeting with the Patriots in the divisional round of the playoffs. New England won again, 41-28.
It was a lesson for the Texans in what it takes to be a great team.
Heading into this season, many thought the Texans were positioned to be one of the top teams in the NFL. The Patriots seemed poised for a down year, by their standards, but here we are in Week 13 and they sit in their usual spot atop the AFC East.
ESPN.com Texans reporter Tania Ganguli and Patriots reporter Mike Reiss discuss the matchup.
Ganguli:
Mike, how has the loss of so many of his top targets from last season impacted Patriots quarterback
Tom Brady
?
Reiss:
We saw it impact Brady more significantly through the first eight games. But things have started to click the past two games, and it's no coincidence that it coincides with tight end
Rob Gronkowski
's reaching a new level of comfort since his return Oct. 20, and running back
Shane Vereen
's coming off the injured reserve list. With those two joining receivers
Aaron Dobson
,
Julian Edelman
,
Danny Amendola
and
Kenbrell Thompkins
, the pass-catching corps has been as stocked as we've seen all season.
I know it's been a down year for the Texans, but is
J.J. Watt
still creating havoc? Is that defense still tough?
Ganguli:
Watt is still creating havoc. He has 9.5 sacks, three forced fumbles and four passes defensed. He is someone opposing offenses must track on every play. The Texans' defense has played well, but it has holes. On Sunday, the Jaguars had success with the matchup of receiver
Cecil Shorts
against cornerback
Brandon Harris
in the slot. Injuries to middle linebacker
Brian Cushing
and strong safety
Danieal Manning
have been particularly damaging. The Texans have statistically been much better with Cushing than without him since he was drafted. Their attempt to add some mental toughness with
Ed Reed
didn't work as they had hoped, so two young players are starting at safety --
Shiloh Keo
at free safety and
D.J. Swearinger
at strong safety. Swearinger is the Texans' rookie second-round pick. He will be really good, but right now he's learning a lot about playing at this level. They haven't allowed a lot of yards, but have allowed too many points and not created enough turnovers.
Speaking of turnovers, as I watched Sunday night's Patriots game against the Broncos, it seemed every time I looked up the Patriots had either committed or forced a turnover. What did you make of that? Was it an aberration?
Reiss:
The forced turnovers were the norm, as the Patriots recently ended a streak of 36 games with at least one forced turnover (Nov. 18 vs. Carolina). The Patriots' committing turnovers was a little more out of character, although one of the pressing issues facing the club is what to do with lead running back
Stevan Ridley
(3 lost fumbles in the past three games). The Patriots are traditionally strong in turnover differential, and this season is no different, as they are plus-8 with 23 takeaways and 15 giveaways.
I know this probably comes out of left field, but how is the playing surface at Reliant Stadium? Patriots followers remember the last visit, in 2009, when
Wes Welker
tore his ACL. I saw a recent game, and it looks like there are patches of grass on the field with noticeable seams in certain parts.
Ganguli:
Not out of left field at all. If the game you saw was the Texans' Nov. 3 Sunday night game against the
Indianapolis Colts
, this was a major topic of conversation that night. The field looked pretty bad, mostly because there was a college game played on the same grass that week. They replaced the center of the field, but the outer grass was a mess. The University of Houston has played five games at Reliant Stadium this season while its stadium is being renovated. It has played most of them on field turf. The Cougars will play again on Friday morning, and none of the grass will be replaced between that game and the Texans-Patriots game Sunday. I believe the thinking is that will give it enough time to recover. Something to watch, though.
Let's talk more about defense to wrap up here. Will
Aqib Talib
be assigned to
Andre Johnson
on Sunday? How do you think he'll fare?
Reiss:
That would make a lot of sense, as Talib has often been assigned the opponent's top receiver. After a rocky game Nov. 18 against Carolina and
Steve Smith
, he was very good this past Sunday night against
Demaryius Thomas
in the 34-31 win against the Broncos. Talib has been key for the pass defense. Meanwhile, the loss of key players to season-ending injuries (defensive tackles
Vince Wilfork
and
Tommy Kelly
, and linebacker
Jerod Mayo
) has hurt the run defense at times, such as in the Broncos game. But they played a 4-2-5 nickel for most of the game, and I don't think that will be as much of a factor against the Texans. The Patriots will probably be in their base defense more often, and they played well against the Panthers' tough running attack in that package.
One thing I think Patriots followers would be interested to hear is what has happened to the Texans? How could a team go so quickly from the AFC divisional round of the playoffs and talking about "letterman" jackets to vying for the No. 1 pick in the draft?
Ganguli:
Even with some of the missteps in the offseason, it would have been difficult to foresee this. There are a lot of issues, but I'll focus on the quarterback situation. The biggest mystery is what happened to quarterback
Matt Schaub
. He was never on the level of Brady, but he gave the Texans what they needed. He was consistent and productive. He actually played really well in leading comebacks against the
San Diego Chargers
and
Tennessee Titans
this season. That seems so long ago. The Texans' turnover margin has been among the worst in the league all season, and Schaub was part of that. He became the first quarterback in NFL history to throw pick-sixes in four consecutive games. He threw one on the first pass of the game against the
San Francisco 49ers
, and that game marked the only time this season Schaub played poorly from start to finish. There were myriad other problems, but Schaub lost his starting spot when he suffered a foot and ankle injury in Week 6. First-year quarterback
Case Keenum
took over, but his play hasn't meant victories. In his first three starts, he played well in the first half and not so well in the second half. His most recent game, against Jacksonville, was his worst of the season. Keenum threw for 169 yards, no touchdowns and one interception.
.
March, 14, 2013
3/14/13
1:33
PM ET
I did not think receiver would be a spot the Titans delved into in free agency.
I was wrong on that.
They were players for
Danny Amendola
and were even part of the conversation about
Wes Welker
. (Regarding Welker, Titans GM Ruston Webster said on The Wake Up Zone in Nashville: "They contacted us and we looked into it ... but he had another destination.")
Clearly the Titans like the idea of finding a true slot guy, which would make
Kendall Wright
largely an outside receiver. If they add someone, they'd look to deal
Nate Washington
, who's expensive.
[+] Enlarge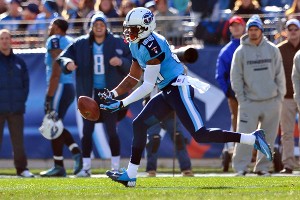 Jim Brown/USA TODAY SportsNate Washington is reportedly in coach Mike Munchak's doghouse.
I can understand them asking Washington to take a pay cut. He's due base salaries of $4.2 million this year and $4.8 million in 2014.
But he's a far more dependable guy than
Kenny Britt
, who's entering a contract year. Dumping Washington would leave the Titans with Wright, Britt, the newcomer,
Damian Williams
,
Lavelle Hawkins
(overpriced at $1.9 million this year) and
Michael Preston
. And a year from now they'd likely be subtracting Britt from that group.
Word is Washington lost favor with the team after he gave half-hearted effort over the last month of the season. If they didn't think he worked, they should have gotten in his face about it. They should tell him they can't pay him what he's scheduled to make. Perhaps they've done those things.
I'm not sure they should be looking to trade him. But there is a big theme with this team right now, that Mike Munchak will sink or swim in his third year as coach with his guys. And his guys don't give half-hearted effort in the last month of the season no matter how bad things are.
The thinking on Amendola or Welker was that they are different than anyone the Titans have, and could be super-reliable on short, simple passes for
Jake Locker
.
Who else out there profiles like that? I don't know if anyone does.
Julian Edelman
?
Brandon Gibson
of the Rams doesn't seem the same type of guy to me, and he's the next guy the Titans are courting.
Scouts Inc. rates him as an excellent route-runner, however, so I can understand the appeal of that.
"He understands how to read coverages and does a good job of finding seams to settle in when looking at zone schemes," Scouts Inc. says.
Is Gibson at a cheaper rate an upgrade over an expensive Washington? I'm not so sure.
March, 1, 2013
3/01/13
11:31
AM ET
By
ESPN.com staff
| ESPN.com
ESPN Insider takes an in-depth look

at the
Houston Texans
before free agency begins March 12. Former NFL scout Gay Horton and Insider reporter Field Yates break down Houston's philosophy on offense and defense, biggest needs and one player who could make for an ideal signing in free agency.
Horton lists linebacker, wide receiver and cornerback as the team's biggest needs, and Yates says New England receiver
Julian Edelman
would make a wise investment in free agency as a complement to
Andre Johnson
.
Yates: While he's not a vertical threat, Edelman has rare open-field elusiveness and can serve as an extension of the running game from the slot.
November, 18, 2012
11/18/12
10:11
PM ET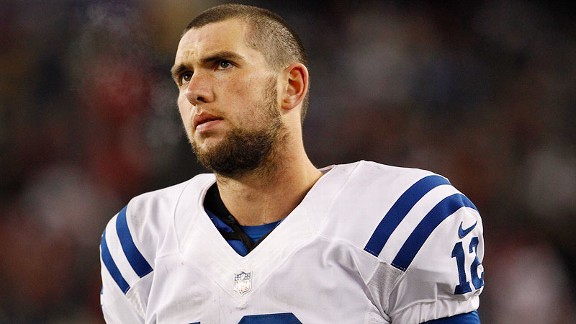 David Butler II/US PresswireDespite a subpar game from quarterback Andrew Luck, the Colts are still in the playoff picture.
FOXBOROUGH, Mass. -- They didn't want to hear it and most of them certainly weren't going to say it.
But these Colts might have been due for this. As good a story as they've been, as wonderfully as
Andrew Luck
has played, as well as they've rallied behind Chuck Pagano, this is still a team with holes.
Take those holes on the road against
Tom Brady
and
Rob Gronkowski
and new addition
Aqib Talib
, and this is what you get,
a 59-24 beatdown
. And it's fine. Not to apologize for them, but the Colts have plenty of room to endure a road loss to New England and still get to the playoffs.
Maybe the 7-3 Patriots are not what they used to be. But the Colts (6-4) are not what the Patriots are.
The company line, first served by interim coach Bruce Arians, was that it was a learning experience -- a bad learning experience, but a learning experience.
"We'll make damn sure we remember it," he said. "You don't throw things away."
It's a reference point now.
"We'll fight our tails off so we can come back here in January," Arians said.
It was an ugly afternoon. The Colts actually gained 2 more net yards than the Patriots did, 448-446. Indianapolis converted 57 percent of its third downs. And Andrew Luck had his fifth 300-yard passing game, a rookie record.
It was all washed away because Luck turned the ball over four times, with three picks and a lost fumble. Two of the passes to the wrong team turned into 59- and 87-yard interception returns. The takeaways produced a total of 21 Patriots points to go with a 68-yard
Julian Edelman
punt return touchdown.
Push it all into a pile and it's a five-touchdown mountain the Colts weren't going to climb.
I'm of the opinion that a rebuilding team that's ahead of schedule doesn't have to be embarrassed about getting boat-raced by the Patriots.
Mature rookie tight end
Dwayne Allen
concurred.
"No shame at all," he said. "Before the game I said this game would be a measuring stick. That first half told us we are good enough to compete -- compete -- with a championship-winning team. The game in its entirety, told us that we're not there yet. We're not at a point where we can beat a championship-contending team.
"The best thing about that is we've got six weeks, six weeks to prove that not only can we make it to the playoffs but we can get better to the point we can beat those kinds of teams."
The Colts have been the feel-good story of the NFL this season because of the way Pagano's team has responded to his battle with leukemia. It's rare for a young team to have something so important to rally around.
In a less-than-stellar AFC, it became obvious in recent weeks there can be room for the Colts to qualify for the playoffs despite many (meaningless) preseason rankings that had them 32nd at the start of the season.
Even at 6-4, they are in a great spot. At worst the Colts go into Week 12 with a one-game lead on Cincinnati for the final spot in the field. Indianapolis still hosts Buffalo and Tennessee. The Colts still go to Detroit and Kansas City. The season finale is a game at Houston that may be meaningless to the Texans.
Heading home, the Colts don't feel as if they've tumbled from some height with the failure against the Patriots. I don't mean to suggest they quickly accepted it or enjoyed it. They didn't. They were ticked. Luck was angry at himself over mistakes he knows he can't make, mistakes that he knows how not to make.
When it was 38-17 early in the fourth quarter, the Colts looked poised to tack on another TD and keep some hope alive. From the New England 23-yard line, Luck threw for
Reggie Wayne
on the left, clearly thinking he was cutting in. Wayne cut out, and
Alfonzo Dennard
easily caught the pass and raced for a touchdown.
Luck raced to try to stop the score, diving for the cornerback's ankles but failing to trip him up before sliding to a halt at about the 23-yard line. Face down, he slapped the ground once, twice, three times -- effectively counting the Colts out.
When's the last time he was on a team that lost by five touchdowns?
"I'm sure some time in Pop Warner," he said. "… You'd like to think that we'd have a chance to win if we could play them again, but they whipped our butts tonight. All the credit goes to them. They were the much better team tonight."
The Patriots' 59 points tied a franchise record for points in a game.
Minus both players they intended to have as their starting corners at this point, the Colts weren't as bad against receivers as they were against the Patriots tight end who causes matchup issues for virtually everyone. Gronkowski caught all seven balls Brady threw his way for 137 yards and two scores.
I don't know what the Colts can do with the people they have, like linebacker
Jerrell Freeman
and safety
Antoine Bethea
, to slow Gronkowski down.
What will slow down now, at least for a week, is the hype that's been building around the Colts.
"The media built us up and people tried to hop on that bandwagon and scream and tell us how good we are," Allen said. "And we shut them out because we knew we weren't as good as they were telling us we were. We knew we still had some things to improve in. That's why we've got the rest of the season. To first prove we can get to the playoffs, and then let the chips fall where they may."
As far as the potential for a return trip to New England that Arians mentioned, Allen wasn't biting.
"We've got Buffalo next week," he said. "That's our total and complete focus. We're off of the Patriots. We're on Buffalo."
November, 18, 2010
11/18/10
12:12
PM ET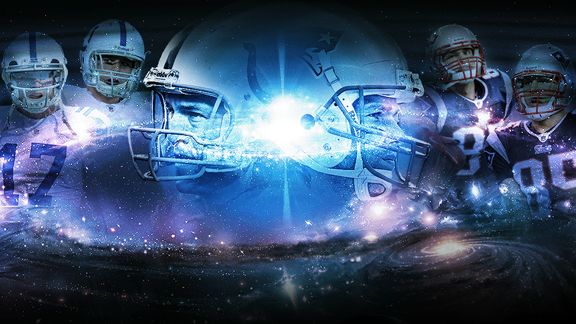 ESPN.com IllustrationPeyton Manning and Tom Brady have been at the center of arguably the best rivalry of the past decade. Who will carry it on when they step away from the game?
The annual AFC showdown is upon us, and with it come the recurring storylines.
That's right, the
Indianapolis Colts
will meet the
New England Patriots
on Sunday for an eighth straight season. The NFL's greatest ongoing interdivisional rivalry showcases two of the great organizations of this generation and renews the discussion about
Peyton Manning
's stats versus
Tom Brady
's championships.
We've decided to rekindle the debate, but before you throw your head back and groan in anticipation of the clichés, hold your horseshoes.
The purpose of this debate is to eliminate Manning and Brady and look into the future.
Which team has the better long-range outlook once Manning and Brady move on?
For the purpose of this discussion, we've set the target for 2015 -- one year beyond the length of Brady's latest contract extension -- to examine which team has the better infrastructure to cope with life minus its iconic quarterback.
Tim Graham:
Time to get after it, Paul. But no weapons this time, please. I've just recently completed the physical therapy from our last debate.
Paul Kuharsky:
Well, this back-and-forth will be less physically taxing, and since there is so much forecasting, you may actually be able to put your Jedi training to use.
Graham:
Get this debate started we shall, hmmm?
Kuharsky:
So what do the Colts and Patriots have now that's going to be a big factor for them in five years?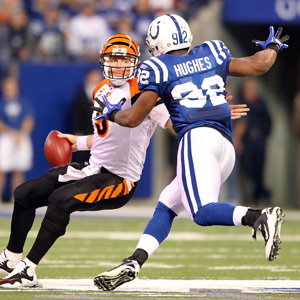 Andy Lyons/Getty ImagesWill 2010 first-round pick Jerry Hughes develop into a cornerstone on the Colts' defense?
I count eight guys who are in their first, second or third year with the franchise who I expect will still be prime contributors in 2015. But only three of the eight fit into the framework of the four most important positions on the field -- quarterback, left tackle, defensive end and cornerback. Those players would be corners
Jerraud Powers
and
Jacob Lacey
and defensive end
Jerry Hughes
.
Hughes is still unproven, but it's early and Colts president Bill Polian saw the potential for him to ultimately replace a
Dwight Freeney
or a
Robert Mathis
.
Others who may still be staples when Manning is gone: receiver
Austin Collie
, linebacker
Pat Angerer
, tight end
Jacob Tamme
, tight end
Brody Eldridge
and punter
Pat McAfee
. Can that group be the core of a team that continues to win? I wish I could offer a solid yes or no instead of a tepid maybe.
Beyond that, we've got five drafts to consider, right? And Polian regularly finds undrafted gems. I don't doubt the Colts will have talent. But they'll need new Freeney-,
Dallas Clark
- and
Reggie Wayne
-caliber stars, plus the replacement quarterback.
Graham:
Patriots overlord Bill Belichick has drawn deserved criticism for his draft failures. He has swung and missed at his share of Terrence Wheatleys and Kevin O'Connells and Chad Jacksons in the early rounds.
But when you accumulate as many picks as the Patriots have and have elite football minds evaluating the talent, those bad decisions are going to even out eventually. The Patriots appear to be warming up when it comes to successful drafting.
[+] Enlarge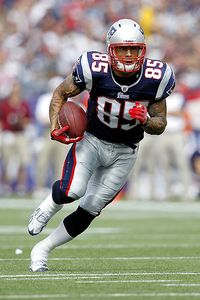 AP Photo/Paul Spinelli Rookie tight end Aaron Hernandez ranks second on the Patriots in catches and receiving yards.
The Patriots went into Heinz Field and manhandled the
Pittsburgh Steelers
with four rookies in their starting defensive lineup (defensive end
Brandon Deaderick
, outside linebacker
Jermaine Cunningham
, inside linebacker
Brandon Spikes
and left cornerback
Devin McCourty
) and a rookie tight end (
Rob Gronkowski
), who caught three touchdowns. Another rookie tight end (
Aaron Hernandez
) ranks second on the team in catches and receiving yards. Their punter is a rookie.
They don't have as many second- and third-year contributors, but inside linebacker
Jerod Mayo
was defensive rookie of the year in 2008. Among the sophomores are starting right tackle
Sebastian Vollmer
and receivers
Brandon Tate
and
Julian Edelman
, who also handle return duties.
Without question, there will be a drop-off at quarterback when Brady retires, but the Patriots are loaded with core youth.
Kuharsky:
The Colts may draft better, but they also draft less. Polian's not the draft pick wheeler-and-dealer Belichick is. Are those the guys who will be lining up the Manning and Brady successors?
It's a quarterback-driven league, and teams minus Manning and Brady will have major voids. We've got to talk about the replacements for the iconic quarterbacks, but it's hard to offer much conjecture on what kind of guy that will be without talking about who will be finding him.
Polian is 67 years old, and the last time I asked him about any sort of plan for retirement he gave me a head tilt and an uncomfortable expression.
Graham:
I've noticed a lot of people do that around you.
Kuharsky:
If things are neat and tidy, the suspicion is he and Manning -- the guy he hit the jackpot with when he picked him over
Ryan Leaf
-- will exit together. The next generation is waiting in the wings. Chris Polian is Indianapolis' vice president and general manager.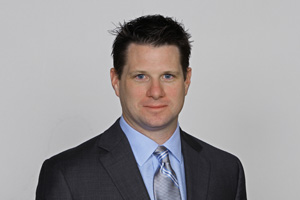 AP PhotoCurrent Colts VP Chris Polian is likely play a key role in finding Peyton Manning's successor.
I'd expect Bill Polian will have a strong hand in selecting the Colts' quarterback of the future. But it will ultimately be Chris Polian who's connected to that signal-caller the way Bill Polian is connected to Manning. The younger Polian has a good reputation and good football genes, but it's hard to know how much of his father's personnel judgment he's inherited and how much he's learned. And having to replace a guy many will argue is the greatest quarterback of all time will be an awfully difficult assignment.
Graham:
I don't know how long Belichick plans to coach, but even if he were to get tired of the week-to-week grind of getting his boys ready to play, it's fathomable he'll stick around to run the operation, handpicking his successor and overseeing football operations.
It would be silly to give Belichick more than a smidgen of credit for drafting Brady in the sixth round a decade ago. If Belichick truly knew what Brady was capable of, the Patriots wouldn't have passed on him until the 199th pick. So it's not like Belichick will simply wait until Brady's on the verge of retirement and automatically snag a replacement.
Kuharsky:
True. But they knew more than everybody else when they finally did take him.
Graham:
Belichick trusted his scout, and they unearthed a gem.
I believe Belichick's support staff is stronger than Polian's. Senior adviser Floyd Reese oversaw the Houston Oilers and
Tennessee Titans
' drafts when they picked
Steve McNair
and
Vince Young
. Player personnel director Nick Caserio, like a lot of Belichick's sidekicks over the years, will develop the tools to run his own show someday.
Kuharsky:
I don't know that Belichick's got better support. It's just more well known and visible support.
Graham:
And a high-profile owner who is willing to trust his front office, will spend money and doesn't dare meddle. That's another key component to New England's success over the past decade.
Kuharsky:
Moving onto the replacement quarterback himself,
Curtis Painter
is Manning's current backup. But based on his work in a couple of regular-season games the team didn't care about winning at the end of last season and some preseason work, most people aren't forecasting anything special from him. And that would amount to quite a lengthy apprenticeship anyway.
Graham:
You wouldn't think the Patriots have Brady's successor on the roster either.
Brian Hoyer
is an undrafted sophomore with virtually no experience so far. But you never can tell how these guys will develop while working alongside Brady for a few years. This is the team that identified
Matt Cassel
, a seventh-round draft choice who hadn't started a game since high school, as its top backup for 2008. He ended up going 11-5 when Brady blew out his knee.
Kuharsky:
The Colts will need a guy for a super-tough replacement job. It would be awfully difficult for them to land in a
Aaron Rodgers
for
Brett Favre
or
Michael Vick
for
Donovan McNabb
replacement situation.
After hitting a grand slam with the No. 1 pick in 1998, odds would suggest that it will be tough for them to line up with the right guy at the right pick at the right time. The way they build, odds are Manning's heir will be a guy who plays a full college career. So he's a college freshman or a high-school senior right now, depending on their plan for easing him in.
Graham:
The Colts and Patriots finish too high in the standings every year and don't get to pick until the 20s. That will make it nearly impossible to snag some golden-armed top prospect in their assigned draft positions. But the Patriots frequently go into drafts with other teams' picks -- and an abundance of them. They often have copious draft assets to move up if they want to. Or maybe the Patriots will obtain that big-ticket pick waaaaay in advance. A year ago, Belichick traded
Richard Seymour
to the
Oakland Raiders
for their 2011 first-round selection. That's the kind of creative investing that could pay off with a high-quality quarterback prospect down the road.
Kuharsky:
It will definitely be more difficult for the Colts to get to the top of a draft to get a premier guy. And there may need to be a post-Manning down-cycle for the team to get up there and find the guy. Scribes in Indianapolis often wonder aloud what happens to the Colts' crazed support if they turn into a 5-11 rebuilding project. The rest of the AFC South certainly hopes that's how it works, and that the division is a lot more wide open once Manning's not in it.
And while we're forecasting five years out, I have two questions: Will Manning still be a deadpanning TV commercial superstar? And will Brady have had a haircut?
Graham:
There's one unwavering prediction I can make about hair, Paul, but it's not about Brady's.
April, 30, 2010
4/30/10
7:14
PM ET
NASHVILLE, Tenn. -- It's out of training and combine mode, back into football mode for Titans rookies, who hit the field Friday for two orientation practices and have another Saturday before heading home.
Safety
Myron Rolle
said he's picked up on two big things so far: Punctuality and volume.
"It's just a massive amount of information that you're expected to know, quickly," Rolle said. "And be on time, be five or 10 minutes early. Coaches just don't like that and it doesn't make a good impression either."
Quick thoughts on my first impression of draftees from the second practice, which ran less than 90 minutes and included 24 players:
Defensive end Derrick Morgan -- I didn't see the defensive linemen except when they did a bit of special teams work. Their area of the field's been re-sodded, so they worked inside the practice bubble and never lined up across from offensive linemen.

I asked Morgan about the biggest change he feels coming.

"I'm kind of understanding more and more what Coach [Jim] Washburn wants from us and what he wants from me coming off the edge," Morgan said. "My aiming points coming off the edge and what my aiming points were. Really it's a lot different. It's more so just cutting it loose and making something happen. Back at school it was more so reading the guy in front of you. Now you're coming off, you're going 100 miles an hour and you're making the guy in front of you react to you."

Wide receiver Damian Williams -- Not quite as tall as I was imagining, he had a nice advantage in one-on-ones since the defensive group is three-fourth safeties. I heard one other sideline observe call him slithery, but thought it was premature based on the small sampling. He did some good things against mostly guys he should beat in given the drill and personnel. He looked pretty tired near the end, walking back to the line of scrimmage as if he was hurting.

Linebacker Rennie Curran -- "There were some times where I missed on a play in a one-on-one situation and a back got by me," he said. "I've just got to finish a play, got to show them that I can hustle and I don't get down on myself in adversity."

Cornerback Alterraun Verner --I saw good ball sense. While he didn't always maintain great position on receivers in one-on-ones, he always seemed to know where the ball was. He stayed with Mico McSwain to assure a breakup was all the way broken up and on another play, he nearly turned a bobbled and dropped ball by Bobby Sewall into a behind the back interception but at least made sure it was incomplete.

Safety Robert Johnson -- He's lanky and doesn't look like he's 203 pounds, but that's what they say he is and I am no doubter. He looks a little like Bobby Myers body-wise. He ran well with Marc Mariani on a ball that was thrown well beyond them both and had a quick close on McSwain for a breakup. Clearly the better coverage safety of the two drafted safeties, as we presumed he would be.

Quarterback Rusty Smith -- The guy Jeff Fisher and Mike Heimerdinger described after the Titans drafted Smith in the sixth round was just the guy we saw. Tall, poised, threw the ball on target and with great zip. He's got a nice quick delivery without a lot of wasted motion and throws a tight, fast spiral. He looks the part. One ball slipped out and was a duck and he seemed to do well laughing it off as Dinger called it "just a bit outside."

Rolle -- Ran up the back of a receiver more than once and didn't look particularly in coverage. I'm sure he'll be better and tracking and closing on running backs when we get to watch that.

Mariani -- He's wearing 83, so the first thing I thought was "smaller Drew Bennett." Then someone saw him run a few routes and catch a few balls and said poor man's Wes Welker, which made me think poor man's Julian Edelman. He caught the ball very well, always with his hands and seemed to be running to the right spots. I was impressed.

Defensive tackle David Howard -- Missed him on the field, like I did Morgan, and didn't get a chance to talk with him in the locker room either.