March, 7, 2013
3/07/13
3:18
PM ET
When I started to think of my broad reflection of
Jeff Saturday
I circled to
this piece
.
"I've played 10 years man, it's only ended good once," Saturday said, referring to Super Bowl XLI at the end of the 2006 season. "It's awful. What are you going to say? How do you make that finish good? You come out with full expectations to beat this team and play bad. That sums it up."
That quote about the Colts' staggering loss at San Diego was quintessential Saturday to me: candid, no-nonsense, real, revealing.
[+] Enlarge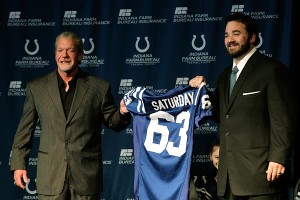 AP Photo/AJ MastJim Irsay signed Jeff Saturday to a one-day contract so that Saturday could retire a Colt.
History will always link Saturday to
Peyton Manning
, and there isn't a center in football who wouldn't be pleased to be tied to a quarterback of that quality. ("I rode his coattails for a long time," Saturday said, per a transcript provided by the Colts.)
History too will remember his role in the CBA solution in 2011, and
the picture
of him hugging Patriots owner Robert Kraft. Saturday came out of contentious negotiations looking fantastic, something that's not easily done.
The classy Saturday was sure to hit on trainers and equipment men right along with family, fans, ownership and teammates as he offered thanks Thursday at an official retirement news conference at Colts headquarters.
He talked about all the guys he played with, listing 14 specifically, from Manning to
Justin Snow
.
"Those men had a tremendous impact on my life. This is why we play the game, right? The players, the camaraderie we have in the locker room is unlike anything else on this planet. How much fun I've had in that locker room, how much fun I've had on plane trips on the way back from wins, on events you have to do in the community, you name it. All the things that we get to do together as a group, it made this job a family for me. I loved playing with each and every one of those guys and all the players that I had the opportunity to play with. I've played with a number of men who truly made a marked difference on my life. I encourage people to be a part of this game for that reason. I've played other team sports, I've been involved in a lot of other things, but football is the ultimate team sport. These men became my family and made this thing a true sport. We made it happen and we watched the city turn into a football city and I watched all these men mature and have families. We began to do life together and that's unparalleled and that's something I will never forget and I always will remember."
He'll function as some sort of ambassador for the Colts as he figures out life in retirement. It will be fun to see how that role evolves and to see him around the team.
September, 2, 2012
9/02/12
9:16
AM ET
Reading the coverage…
Can you fare better than a coin flip picking games against the spread? Prove it in a weekly pool with me and other AFC South blog readers. Create an entry and
join us here
.
Houston Texans

Houston Chronicle columnist Jerome Solomon has the Texans
winning
the Super Bowl.
Chronicle columnist Randy Harvey takes the other side and tells us why the Texans
will not win it all
.
Says the Chronicle's Dale Robertson: "Since 1999, when the franchise formerly known as the Houston Oilers finally, and improbably, landed in the Super Bowl as the Tennessee Titans, a head coach has led his team into the playoffs for the first time on nearly 40 occasions. Yet
only six of those teams
took the next step the following year -- and just one of them, Pittsburgh in 2008, went on to win a title."
John McClain of the Chronicle assesses
the final 53
.
A look at
the Texans' competition
in the AFC South from McClain.
Trindon Holliday gives the Texans
a special spark
, says Nick Scurfield of the team's website.
Indianapolis Colts

The Colts used their No. 1 spot in the waiver claim order to
add three players
, says Phillip B. Wilson of the Indianapolis Star.
Cornerback Vontae Davis now has
a second chance
to get it right, says Michael Pointer of the Star.
Long snapper Justin Snow, the team's longest tenured player,
wasn't surprised
when he didn't make the team, says Mike Chappell of the Star.
Jacksonville Jaguars

Coach Mike Mularkey's heard rumors that Maurice Jones-Drew will show up, but he
hasn't heard directly from MJD
, says Vito Stellino of the Florida Times Union.
What's ahead for the Jaguars?
Links
to all the Florida Times-Union's preview section stories.
In
Gene Frenette's piece
on Blaine Gabbert, guard Uche Nwaneri said this of the quarterback: "That's the difference in Blaine from last year. He's gained tons of composure in the pocket. It's been very noticeable that he hasn't gotten jittery. He's not worried about what's going on around him. He's worried about doing his job. You can't put a price tag on that."
From Vito Stellino's story on Mularkey in that section: "His knack of getting the players
on board
with his program without alienating them is a key component of his coaching style"
Jaguars scout Marty Miller
shares his story
of living with Parkinson's disease, from Ryan Robinson of Jaguars.com.
Tennessee Titans

The Titans are comfortable with just
four wide receivers
until Kenny Britt's suspension is over, says Jim Wyatt of The Tennessean.
The Titans decided not to use
the recall option
on defensive lineman Leger Douzable when they put him on injured reserve, says John Glennon of The Tennessean.
Dan Koppen
isn't a guy
the Titans are considering now that the Patriots have cut the center, says Glennon.
Reviewing
the final 53
with Tom Gower of Total Titans.
August, 31, 2012
8/31/12
8:33
PM ET
Click
here
for the complete list of
Indianapolis Colts
' roster moves.

Most significant move:
I didn't expect they were doing anything with
Dwight Freeney
, but his $19 million salary had stirred up a new round of rumors that the Colts could let him go. He's on the team, and there were no real cuts of note aside from the team's most senior player, long-snapper
Justin Snow
. It's not as if they were so deep there was no room, but the Colts held on to several players who weren't drafted -- tight end
Dominique Jones
, offensive tackle
Ty Nsekhe
, linebackers
Mario Addison
and
Mario Harvey
and long-snapper
Matt Overton
.
Onward and upward:
The Colts kept both
Drew Stanton
and rookie
Chandler Harnish
as backups to
Andrew Luck
. I understand that Stanton's been with the Colts through Bruce Arians' installation and there is value in that. But last season showed the value of a decent backup quarterback. If Luck gets hurt and the Colts need an alternative, I suspect there are some guys who just became available who qualify as more talented. General manager Ryan Grigson should have insight into one of them,
Mike Kafka
, who was released by Philadelphia. Grigson was hired by the Colts from the Eagles personnel department.
What's next:
Every player who is not a vested veteran is subject to waivers. And as the worst team in the NFL last season, the Colts still retain the first pick in the waiver order. That means they will get anyone they claim, so long as the claim comes with a corresponding roster move. That means guys who are feeling good tonight might still be in position to turn in their playbooks Saturday, or in the days to follow. Grigson could do a lot of work to upgrade the last five spots on his roster. Or more. I'd expect some turnover on the offensive line, in the secondary and perhaps at linebacker and quarterback.
August, 1, 2012
8/01/12
8:12
AM ET
Reading the coverage ...
Houston Texans
Left tackle Duane Brown is
the anchor
in the Texans' trench wars, says John McClain of the Houston Chronicle.
Ben Tate
doesn't begrudge
Arian Foster for his big contract, says Dale Robertson of the Chronicle.
Indianapolis Colts
Dwight Freeney gave Andrew Luck some
early camp advice
, says Phillip B. Wilson of the Indianapolis Star.
Only two players in Colts history -- Johnny Unitas and Peyton Manning -- have
longer tenures
than long-snapper Justin Snow, says Mike Chappell of the Star.
Jacksonville Jaguars
Rashad Jennings won't say that Maurice Jones-Drew's absence is
good for him
, writes Tania Ganguli. (More on Jennings from me in a bit.)
Guard Will Rackley suffered
an ankle injury
during the Jaguars' Tuesday morning practice, says Vito Stellino.
Tennessee Titans
Tommie Campbell
has persevered
to get his big chance at corner for the Titans, says David Climer of The Tennessean.
Kendall Wright and the Titans finally
struck a deal
for the rookie receiver, says Jim Wyatt.
July, 1, 2011
7/01/11
10:37
AM ET
Reading the coverage ...
Houston Texans
Dorin Dickerson is a guy a lot of people are pinning hopes on. Nick Scurfield writes about the receiver
here
.
Indianapolis Colts
Justin Snow (family fun center) and Ryan Diem (high performance auto shop) are tackling the world of
small business
, writes Phil Richards.
Jacksonville Jaguars
Catching up with
Eddie Robinson, from John Oehser.
Considering
key questions
on offense that the Jaguars may be asking when camp opens with Andre Hofheimer.
Tennessee Titans
Mike Munchak is
reconnecting
with Carl Parlavecchio, writes Jim Wyatt.
September, 24, 2010
9/24/10
12:36
PM ET
Reading the coverage…
Houston Texans
When the Texans need
a big play
, they're going to turn to Andre Johnson, says Jeffrey Martin.
Jerome Solomon
looks back
at the best Dallas-Houston game.
A
400-yard day
by Tony Romo would put the Texans in the record book, says John McClain.
The Texans are working to
beat the blitz
, says McClain.
Houston is
just better
than the Cowboys, says Richard Justice.
This
battle of Texans
actually matters, says Mike Silver.
Indianapolis Colts
Jeff Saturday
loves
protecting Peyton Manning, says Mike Chappell.
Bob Kravitz dreams of a son who's
a long snapper
, and gets words of wisdom from Justin Snow.
Phillip B. Wilson
talks matchups
.
Dwight Freeney
has an issue
with Sports Illustrated, writes Wilson.
Brian Dawkins
plays young
, says Curt Cavin.
Kavell Conner did
good work
filling in for Clint Session and could be needed again, says Phil Richards.
Banged up
Broncos' cover guys
are hoping to play.
Adjusted line yards
correlate to success, says Nate Dunlevy.
A look at all sorts of
Colts' numbers
from Jacob Crocker.
Jacksonville Jaguars
Derek Cox may be
thinking too much
, says Vito Stellino.
Stellino and Tania Ganguli analyze
Eagles-Jaguars
. (Video.)
Maurice Jones-Drew was limited but
is OK
, says Ganguli.
The defensive backfield is in
a hard transition
, says Vice Ketchman.
Tennessee Titans
The Titans are getting
big production
out of inexpensive additions Jason Babin and Will Witherspoon, says John Glennon.
Cortland Finnegan
will appeal
a $5,000 fine for his role in a fight in the Steelers game, says Jim Wyatt.
Jeff Fisher's looking to extend his
recent mastery
over Tom Coughlin, says David Boclair.
Mike Heimerdinger had a big hand in
the stuff
that got Vince Young benched, says Mike Tanier.
Phil Simms says playing the Titans is
a slamfest
, writes Glennon.
Rate
the Titans.
January, 3, 2010
1/03/10
10:36
AM ET
Peyton Manning, Chris Johnson and Brian Cushing get year-end
award votes
from Clark Judge.
Houston Texans
Bob McNair
should know
Gary Kubiak's fate already, says Jerome Solomon.
The Texans
can make history
and erase a lot of bad moments with a win over New England, says Dale Robertson.
Bernard Pollard and Tom Brady revisit the
battle of the wounded knee
, says John McClain.
Mario Williams' potential has been
unmet
, says Richard Justice.
Matt Schaub has
some history
against the Patriots, says McClain.
Where the Texans
would land
if they did make the playoffs, from Alan Burge.
Indianapolis Colts
Jeff Chadiha sees a
silver lining
in the Colts' storm clouds.
Curtis Painter is in line to get
a lot of work
, says Mike Chappell.
Snow is expected
in Buffalo, says Chappell.
Adam Vinatieri
won't play
, says Chappell.
Justin Snow has
added tackling
to his repertoire, says Phillip B. Wilson.
The NFL will look into
teams pulling starters
, says Chappell. But what can it do?
John Oehser's preview includes consideration of
the vibe
around the team and town.
The 2009 draft class
has been hit and miss, says Tom James.
Pat McAfee has worked to be ready as an
emergency quarterback
, says James.
Seven things
to look for in Colts-Bills, from Deshawn Zombie.
Who to root for
from the Colts' perspective, from 18to88.com.
Jacksonville Jaguars
The Jaguars will be
without
Rashean Mathis, Marcedes Lewis, Torry Holt and Attiyah Ellison (who's on IR) says Michael C. Wright.
A look at Jags who could be involved in their
final game
Sunday, from Wright.
GM Gene Smith returns to
his home state
for the season finale, says Ryan Robinson of Jaguars.com.
The playoff scenario
may not be as crazy as you think, says Big Cat Country.
Tennessee Titans
The Seahawks stand between Johnson and
several records
. Jim Wyatt's matchups.
Johnson's pursuit is a
rare individual record
that matters, says Mike Tanier.
His players
want to pay
Chuck Cecil's $20,000 fine, says Jim Wyatt.
His knee injury won't affect
Keith Bulluck's asking price
, according to his agent, says Wyatt.
Sacks have been
scarce
, says Gary Estwick.
Matt Hasselbeck is looking for
a big finish
.