January, 16, 2014
Jan 16
2:32
PM ET
NASHVILLE, Tenn. -- Getting permission to interview an assistant who is under contract is difficult business in the NFL.
Maybe San Diego wants to run away from tight ends coach Jason Michael. Maybe Pittsburgh wants to run away from linebackers coach Keith Butler.
I doubt it.
While those teams might want to keep those coaches, perhaps they are also doing a nice thing for quality employees and giving them a chance to look into a promotion, even if it comes elsewhere.
Perhaps part of it is that the Chargers and Steelers hold new
Tennessee Titans
coach Ken Whisenhunt in high regard, and that makes them more inclined to say yes. Perhaps in Butler's case, the Steelers feel badly about denying permission in the past and grant it.
For whatever reason, Ruston Webster and Whisenhunt got permission from San Diego and Pittsburgh, per Jim Wyatt of The Tennessean.
So for offensive coordinator, it looks like Michael or John McNulty, the former Tampa Bay quarterbacks coach.
And for defensive coordinator, it looks like Butler or Ray Horton, who has been granted broad permission by the
Cleveland Browns
to explore other opportunities.
UPDATE, 3:40 ET:
Gerry Dulac of the Pittsburgh Post-Gazette says Butler will remain with the Steelers.
January, 13, 2014
Jan 13
10:01
PM ET
NASHILLE, Tenn. -- During his final two years as head coach of the
Arizona Cardinals
, Ken Whisenhunt's wanted a Pittsburgh style, 2-gapping, 3-4 defense.
He could adjust given his second head-coaching job, with the
Tennessee Titans
. But if we're forecasting scheme, that might be the most likely defense we'll see.
What's that mean regarding potential coordinators on the other side of the ball for Whisenhunt, who played as an NFL tight end and is an offensive coach?
If defensive coordinator Ray Horton is fired by the
Cleveland Browns
, who are still searching for a head coach, he'd likely be a prime candidate to re-join Whisenhunt, for whom he worked with the Cardinals. It was Horton who went from Pittsburgh to Arizona to run that scheme for the Cardinals.
[+] Enlarge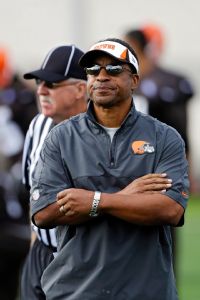 AP Photo/Mark DuncanIf Ray Horton is not retained when the Browns hire a new coach, he could be a prime candidate to join Ken Whisenhunt's staff.
A couple others I think could be defensive coordinator possibilities: Green Bay's inside linebackers coach Winston Moss and Baltimore's secondary coach Teryl Austin, who coached Arizona's secondary for Whisenhunt from 2007-09.
The Packers or Ravens would have to be willing to let them go in order for Whisenhunt to get them.
Steelers linebacker coach Keith Butler is someone Whisenhunt coveted for the role in his first go-round as a head coach. But Pittsburgh wouldn't let Butler go then and it's unlikely it will let him go now.
Gregg Williams was a 4-3 guy coming up with the Oilers/Titans, as head coach in Buffalo, as coordinator in Washington and Jacksonville. He did run some 3-4 in New Orleans, where he coaches a Super Bowl-wining defense.
Williams did well as a senior assistant/defense for Mike Munchak in 2013. His contract recently expired. He seems like an unlikely guy for Whisenhunt to want, but who knows what options the new coach will wind up with?
His two earlier defensive coordinators in Arizona -- Clancy Pendergast in 2007-08 and Billy Davis in 2009-10 -- ran hybrid fronts. But ultimately Whisenhunt landed on Horton and that 3-4.
If Whisenhunt puts the Titans on a course for a 3-4 defense, he'll likely need some time to get them there. In the traditional version of the scheme, linemen generally take on the man across from them and are expected to clog the gap on either side of the blocker depending on how a play develops. The linebackers fill in and make the bulk of the plays.
The Titans' best defensive player,
Jurrell Casey
, is a 4-3 tackle who would surely become a 3-4 end. Big nose tackles who demand a double team are hard to find, though perhaps 328-pound
Sammie Hill
could make the conversion.
The Titans linebackers were very unproductive in 2013 after a good start. None scream out to me that they'd be better standing up and adding some coverage duties, though
Akeem Ayers
was projected by many in that role when he came out of UCLA. I didn't think the Titans had one sufficient middle linebacker, better yet two who could be tackling machines sharing the inside.
Indianapolis coach Chuck Pagano got good results running a hybrid in his first season converting a 4-3 to a 3-4 in 2012, and in his second season the team was better stocked for his preferred front. But he had
Robert Mathis
, a pass-rushing demon at end who's taken well to playing as an outside linebacker.
When he's formally introduced Tuesday, we'll hear from Whisenhunt about his plans for Tennessee's defense.
January, 31, 2012
1/31/12
11:22
AM ET
Reading the coverage …
Houston Texans

Stephanie Stradley of the Houston Chronicle blogs talked
Texans' salary cap
with Andrew Brandt.
Alan Burge of the Houston Examiner starts to ponder the Texans draft and
assess needs
.
Battle Red Blog looks at pending Texans
free agents
.
Indianapolis Colts

Pittsburgh linebackers coach Keith Butler decided to
stay with the Steelers
rather than becoming the Colts defensive coordinator, says Jerry Dulac of the Pittsburgh Post-Gazette.
Former quarterback Kelly Holcomb
likes the match
between the Colts and offensive coordinator Bruce Arians, says Mike Chappell of the Indianapolis Star.
Jim Irsay's looking to put the Peyton Manning talk
aside
during Super Bowl week, says Chappell.
Jacksonville Jaguars

Jack Del Rio couldn't accept the idea of
a sabbatical
so he joined Denver as John Fox' defensive coordinator, says the AP.
John Oehser of the team's web site looks at the fully assembled Jaguars
coaching staff
.
Tennessee Titans

Some fans are campaigning for the Titans to
make a push
for Manning if he's available, says Teresa Walker of AP.
The Titans were
nearly in range
for the Giants' great pass rusher Jason Pierre-Paul, says John Glennon of The Tennessean.
January, 30, 2012
1/30/12
10:34
AM ET
Reading the coverage ...
Houston Texans
The Texans-coached AFC squad
won the Pro Bowl
, writes Nick Scurfield of the team's website.
While the votes were really spread out, more players at the Senior Bowl said they'd like to play
for the Texans
than any other NFL team, says Tommy Hicks of the Press-Register. (Hat tip to Alan Burge.)
Indianapolis Colts
Peyton Manning is
overshadowing
Eli Manning and Tom Brady, says Michael Silver of Yahoo!
Steelers linebackers coach Keith Butler is scheduled to interview for the Colts'
defensive coordinator job
Tuesday, says Mike Chappell of the Indianapolis Star.
The Ravens are set to hire Jim Caldwell as their
quarterbacks coach
, reports Adam Schefter.
Jim Irsay
denies
plans for Manning are set.
Jacksonville Jaguars
Jack Del Rio is the
new defensive coordinator
for the Denver Broncos, says Tania Ganguli of the Florida Times-Union.
Mike Mularkey's son, Patrick Mularkey, has moved from the scouting department to the
strength and conditioning staff
, says Ganguli.
Shahid Khan's
yacht is docked
in Jacksonville and it's for sale, says Matt Soergel of the Times-Union.
Tennessee Titans
Quarterback Matt Hasselbeck
breaks down
the Patriots-Giants Super Bowl with Jim Wyatt of The Tennessean.
Wyatt broke down the Titans with a look at
2011 salaries
.