April, 12, 2011
4/12/11
4:43
PM ET
A look back at pre-draft reviews of a late-round success or an early-round miss in the AFC South.
Paul Williams, former Titans receiver, Fresno State, 2007 third round, 80th overall
Mel Kiper, 12th receiver
"… Williams will have to step it up a notch at the pro level if he's going to reach his maximum potential. He has a chance if a team can be patient with him, coach him up, and bring him along slowly. In that scenario, he could be competing for a spot as a starter in his second or third year in the NFL. While he's transitioning at WR, Williams will pay big dividends with his outstanding performance on special teams. His ability in this area certainly enhances his draft rating.
[+] Enlarge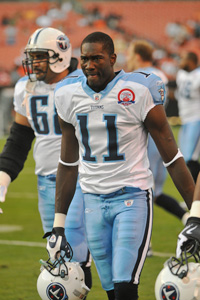 AP Photo/David RichardPaul Williams had just one catch for seven yards in his three seasons with the Titans.
Pro Football Weekly, 16th wide receiver
"Has everything you desire at the position. Is physically one of the most gifted receivers in the draft and flashed signs of brilliance at the Senior Bowl, but will require a very patient, sympathetic position coach who can improve his confidence."
NFL Draft Scout: 16th wide receiver
COMPARES TO:
Ken Lucas
, Carolina – "Williams just does not impress as a wide receiver, as you can plainly see he is not happy on offense. With his previous experience and family bloodlines on defense, he would be better served playing cornerback, but needs to sit down and do a gut-check to see if he has the heart to play the game."
After four seasons:
Fred Graves was the sort of position coach PFW suggested Williams would need, though Williams had a harsher, less patient coordinator in Mike Heimerdinger.
Williams was cut by the Titans before the start of the 2010 season and finished the season on the Houston Texans' practice squad.
He didn't play at all as a rookie, appeared in just five games and made just one catch for the Titans in his second year and was a practice squad guy in Year 3, doing his part to keep the Titans' never-ending search for a quality wideout moving.
Since the Williams miss, the Titans have spent five more picks on wide receivers. It's always easy to look at a miss and see players behind him who turned out better. In this instance, Arizona got
Steve Breaston
in the fifth round as the Titans drafted two more non-contributing receivers after Williams in Chris Davis (fourth round) and Joel Filani (sixth).
March, 26, 2010
3/26/10
10:17
AM ET
The Titans are looking at veteran defensive backs, and it seems there are two categories under consideration: corners who can add depth and physical safety types who can add some depth and contribute on special teams.
I asked Matt Williamson of Scouts Inc. for his assessment of the four names that have surfaced:
Cornerback Tye Hill
Williamson: "A former first-round pick who is physically gifted, especially from a pure speed perspective, He is the guy with the most upside of the ones you mentioned, but his recognition skills are very suspect and he doesn't offer a lot vs. the run."
Cornerback Ken Lucas
Williamson: "He was a guy that I was high on. Much bigger than Hill and has at least been successful at this level, but he had a pretty bad year in Seattle -- although he wasn't helped much by a pass rush. Still, he might be done."
Safety Aaron Rouse
Williamson: "Rouse is a big strong safety type. He had some good (and bad) moments with the Packers and then by default, got a lot of playing time for the Giants last year, where he was a liability in coverage. He needs to be near the line of scrimmage and is tight in the hips and in transition."
While Williamson was aware of
Tra Battle
, who played in the UFL, he said he doesn't have any insight on Battle's recent play.
If I am the Titans, if I can get Hill or Lucas inexpensively, I'd jump. Neither has the complete résumé the team would want in its second starter, but you don't find well-rounded players in this stage of free agency. I'd lean toward Hill on youth.
If they has Rod Hood, Hill or Lucas,
Ryan Mouton
,
Jason McCourty
and a draft pick, that's a pretty good pool from which to find a starter to play opposite
Cortland Finnegan
and to have sufficient options for when (it's rarely "if," anymore) that starter or Finnegan go down for a stretch.
As for safety, Rouse or Battle is unlikely to line up as Chris Hope's successor and it would be good if that extra safety was a young guy with more upside. It Titans should have a third safety who could step in if something happens to Hope or
Michael Griffin
, because pulling
Vincent Fuller
away from the nickel spot would weaken them there.

AFC SOUTH SCOREBOARD
Friday, 8/22
Saturday, 8/23