June, 6, 2011
6/06/11
10:27
AM ET
Reading the coverage…
Houston Texans
Reggie Herring says Brian Cushing will be
a tackling machine
as a 3-4 inside linebacker, writes Nick Scurfield.
Indianapolis Colts
Dan Pompei ranks Reggie Wayne as the league's
best old receiver
. I'm very surprised that Randy Moss also makes the list. He wasn't used correctly, but showed absolutely nothing in Tennessee.
Anthony Castonzo eats
until he can't eat any more
, he told Barry Shuck.
Jacksonville Jaguars
Gene Frenette isn't big on
seeing player workouts
. If players don't want media to see workouts, I can live with that. My issue is if they are unwilling to be available to talk after they are finished.
Tennessee Titans
Ken O'Brien has
big expectations
for Jake Locker, says Jim Wyatt.
April, 29, 2011
4/29/11
5:26
PM ET
NASHVILLE, Tenn. -- After he spent a little time with
Jake Locker
, Titans offensive coordinator Chris Palmer pointed the quarterback to a simple training device.
A jump rope.
[+] Enlarge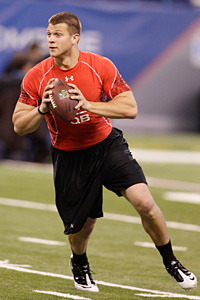 AP Photo/Darron CummingsThe Titans believe new quarterback Jake Locker will be able to improve his accuracy in the NFL.
"We went out to work him out as you guys are well aware, and through the workout I thought he could work on his feet which I think will help him," Palmer said. "We gave him the task to see how many successful rotations jumping rope he could have in 30 seconds.
"The first week he writes back, texts me back and says, 'Hey, I got 80 and I got 85.' I said, 'Well your goal is when you get in here [in about three weeks] is to be up over 100.' And he was up over 100 and that just spoke volumes about what kind of guy he was and the type of responsibility that he takes."
It's a symbolic story on a couple levels, showing Locker's willingness to take instruction, to buy into what a coach asks, to communicate about his progress while separate from the team. It also suggests to Palmer that footwork, which contributed to Locker's accuracy issues, is improvable.
Locker said he's maxed out at 113 rotations in 30 seconds of jumping rope in the only time he didn't hit the rope on his feet. He hasn't been able to match it, but he can consistently top 100.
And he's taken it well beyond what Palmer asked.
"He told me to do it once a day, but I couldn't keep telling him I was getting in the 80s so I had to bump it up a little bit until I started to improve," he said, laughing.
Locker refused to accept the premise he has accuracy issues and said his completion percentages don't tell the whole story. At the same time he didn't offer up some of the available excuses -- he had poor protection that meant he was always under fire and forced him to throw more balls away and he had receivers who dropped a lot of passes.
In working with former Jets quarterback Ken O'Brien as he prepared for the scouting combine, Locker said one thing they worked on was his stride length. He tends to overstride which can cause him problems.
Palmer and quarterback coach Dowell Loggains are likely to pick up on what O'Brien worked on and go well beyond it. And if they can get Locker throwing on target, they'll have addressed the one big question mark that had plenty of people thinking Locker wouldn't be drafted as high as eighth.
"I know when I went to New York in '07 that [Eli] Manning was a 56-57 percent passer," Palmer said. "And we think we have some drills that will be able to help [Locker]. With Dowell being here and the combination of the both of us working with him, you will see strides in his accuracy.
"I think some of that was from injury; the guy is a very courageous football player, and he had some injuries during the course of the year that I think affected that. I will say this to you, when we went and we worked him out the second day, his accuracy was really good."
April, 6, 2009
4/06/09
3:00
PM ET
Posted by ESPN.com's Paul Kuharsky
With the addition of Patrick Ramsey, the Titans now have three quarterbacks on their roster who were first-round draft picks:
Ryan McCrystal of ESPN Stats & Information talked to Elias Sports Bureau Monday about similar scenarios in recent NFL history. The folks there cannot assess rosters, just player participation.
So we don't know for sure when the last time a team had three first-round quarterbacks on its roster was -- if you recall such a scenario, drop a note in the mailbag and I will revisit.
According to Elias, the most recent team to play three first-round quarterbacks in the same season was the 1995 Miami Dolphins -- with Dan Marino, Bernie Kosar and Dan McGwire. But that trio gets an asterisk, as Kosar was a first-round pick in the supplemental draft.
The most recent example of three first-round quarterbacks from the April draft playing on the first team is the 1989 Jets with Ken O'Brien, Tony Eason and Mark Malone.
The Titans are unlikely to join the list. They carried three quarterbacks last season with Collins, Young and Chris Simms, but otherwise their recent preference has been to go with two.
And even if they went into the 2009 season carrying all three quarterbacks or wound up with all of them on their 53-man roster at some point, their offensive line provides exceptional protection and the odds of two quarterbacks being knocked out with injuries to make way for the third to play seem pretty slim.
Not to jinx them or anything.