August, 30, 2013
Aug 30
1:01
PM ET
NASHVILLE, Tenn. -- The game book from Week 3 told us quite a bit.
While the "did not play" list isn't ironclad -- even professional stat crews miss guys when there are 90 a side -- it tends to be pretty telling.

Of healthy guys who didn't play, four of the six were part of the cuts that got the Titans from 90 to 75. Defensive end
Nigel Nicholas
was listed a not having played, but he actually played five snaps.
The Tennessee-Minnesota game book doesn't offer such hints, though plenty of the coming cuts to get the Titans down to 53 are obvious.
The Titans sat a slew of veterans, both dinged and healthy. The team granted preseason action to plenty of guys who won't be on their team, and a number who won't be on any team.
Here's the list of guys who didn't play:
WR
Kendall Wright
WR
Kenny Britt
RB
Shonn Greene
RB
Chris Johnson
CB
Jason McCourty
S
Bernard Pollard
FB
Quinn Johnson
LB
Zaviar Gooden
LB
Zach Brown
LB
Akeem Ayers
TE
Brandon Barden
WR
Marc Mariani
WR
Nate Washington
DE
Derrick Morgan
DE
Ropati Pitoitua
DT
Sammie Lee Hill
DT
Jurrell Casey
Barden is the only guy on that list who is a likely cut, and he tweaked a knee during the preparation week. The injured Johnson could lose out to
Collin Mooney
. Mariani (shoulder) is in a fight for the return job.
Otherwise, everyone on that list is on the team. Ten of them will be starters. Wright is the third receiver. Greene is the second running back.
So we get no hints.
One more game book note: It's preseason for the stat guys, too. They gave credit for
Daimion Stafford
's third interception to
Al Afalava
.
June, 20, 2013
Jun 20
4:49
PM ET
ESPN.com's fantasy crew has its list of the
top 300 players
out, so we are here to comb though the fantasy standing of AFC South players (and defenses).
Here are the 31 names on the list, with their overall rank and their position rank.
2.
Arian Foster
, HOU, RB2
23.
Chris Johnson
, TEN, RB15
27.
Maurice Jones-Drew
, JAC, RB16
33.
Andre Johnson
, HOU, WR10
43.
Reggie Wayne
, IND, WR16
67.
Ahmad Bradshaw
, IND, RB28
68.
Cecil Shorts
, JAC, WR26
77.
Andrew Luck
, IND, QB11
81.
Vick Ballard
, IND, RB32
86. T.Y. Hilton, IND, WR34
94.
Owen Daniels
, HOU, TE9
102.
Kenny Britt
, TEN, WR40
120.
Ben Tate
, HOU, RB45
122.
Kendall Wright
, TEN, WR47
123. Texans defense, HOU, DEF3
124.
DeAndre Hopkins
, HOU, WR48
132.
Shonn Greene
, TEN, RB49
157. Randy Bullock, HOU, K7
169. Justin Blackmon, JAC, WR57
177.
Matt Schaub
, HOU, QB22
181. Justin Forsett, JAC, RB62
187.
Darrius Heyward-Bey
, IND, WR61
190.
Coby Fleener
, IND, TE19
197.
Justin Hunter
, TEN, WR66
201.
Dwayne Allen
, IND, TE21
230.
Denard Robinson
, JAC, RB79
232.
Nate Washington
, TEN, WR80
240.
Donald Brown
, IND, RB83
243.
Jake Locker
, TEN, QB26
256.
Delone Carter
, IND, RB92
264.
Marcedes Lewis
, JAC, TE28
278.
Cierre Wood
, HOU, RB100
279.
Delanie Walker
, TEN, TE31
293.
Ray Graham
, HOU, RB105
297.
Lestar Jean
, HOU, WR99
April, 23, 2013
Apr 23
9:11
AM ET
Reading the coverage ...
Houston Texans

How many
receivers will be drafted in the first round? Tania Ganguli of the Houston Chronicle found an over-under of three.
More on the Texans'
overdependence
on receiver Andre Johnson, from Ganguli.
The Texans' official Twitter account recently
started following
some prospects, Battle Red Blog points out.
To which I say:
That may mean actually nothing and a team wouldn't want to tip its hand by starting to follow guys it hopes to draft. Rick Smith is not running the Twitter account.
Indianapolis Colts

The Colts' draft results will be the result of
thousands of miles
and dozens of doughnuts, says Mike Chappell of the Indianapolis Star.
The Colts' best draft pick of their time in Indianapolis will play at Lucas Oil Stadium, as a visitor this season. Phillip B. Wilson with
the reveal
of an easy choice.
Anthony Castonzo helped make sure the Colts landed Gosder Cherilus,
an old friend
from Boston College, says Kevin Bowen of the team's website.
Jacksonville Jaguars

David Caldwell
won't wait long
for a call about a trade once the Jaguars are on the clock at No. 2, says Ryan O'Halloran of the Florida Times-Union.
The Jaguars will be looking for the best available player who
fits a need
, says O'Halloran.
Don't focus
on quarterbacks in this draft, particularly in the first two rounds, advises John Oehser of Jaguars.com.
Tennessee Titans

Jake Locker wants to be the Titans' leader, but he isn't ready to call them his team yet, says Jim Wyatt of The Tennessean. "I don't think it is something you ask for," Locker said. "It is something that
you earn
."
Receiver Kenny Britt
impressed some teammates
on the first day of the Titans' official offseason, says Wyatt.
Center Fernando Velasco
signed his tender
and was with the team as offseason work started, says Wyatt.
A
defensive preview
and an
offensive preview
of the Titans' draft from Tom Gower of Total Titans.
January, 4, 2012
1/04/12
1:00
PM ET
»
NFC Wrap-ups
:
East
|
West
|
North
|
South
»
AFC
:
East
|
West
|
North
|
South
Arrow indicates direction team is trending.

Final Power Ranking
: 12
Preseason Power Ranking
: 23
[+] Enlarge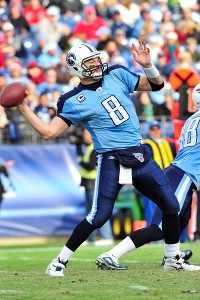 Don McPeak/US PresswireThe Titans became a passing team this season behind the solid play of veteran quarterback Matt Hasselbeck.
Biggest surprise:
The 9-7 record. The team was expected to suffer from the lockout and resulting lack of offseason work, but it came together and outperformed expectations given a new coach, new staff and new quarterbacks.
Matt Hasselbeck
had the best passing season in franchise history by anyone not named
Warren Moon
despite losing WR
Kenny Britt
early to a torn-up knee and not getting consistent production from running back
Chris Johnson
. Coach Mike Munchak set a tone and showed himself to be a straight-forward, well-measured coach who won the respect of his players. With a big contribution from their rookie class, the Titans started off well under a new regime.
Biggest disappointment:
Johnson secured a big new contract after he billed himself as a playmaker, not just a running back. But he and the run game were so ineffective that the Titans became a passing team even with Britt on IR. Over half of Johnson's yards came in four wins over bad teams. And although the team consistently defended him, it was completely fair to question his effort. He often went down too easily, he didn't make a guy miss when he wound up one-on-one and he didn't work hard enough at his responsibilities without the ball in his hands. The team is hopeful it can get him back on track with an offseason in which he's expected to be in Nashville far more often.
Biggest need:
Defensive pieces. Rookie middle linebacker
Colin McCarthy
, who was not part of the plan at the start of the season, was probably the best defensive player on the team at season's end. That indicts a lot of other guys. The Titans have to rush the passer better to be more consistent on defense and they need more than
Derrick Morgan
,
Jason Jones
(who should go back to tackle),
Dave Ball
and
William Hayes
. Three safeties are heading toward free agency, so the Titans have a lot to sort through there, too.
Team MVP:
Hasselbeck is the easiest choice. He played better than many of us expected and brought just the sort of leadership the Titans needed. But I'll go with receiver
Nate Washington
, who became the No. 1 receiver with Britt's injury and delivered a 1,000-yard season even with a bad ankle for the last part of the season. Washington thrived with the new coaching and new quarterbacks. His maturation serves as a symbol of what the Titans need from a lot of other guys at a lot of other spots.
Sorting out the secondary:
Safeties
Michael Griffin
,
Chris Hope
and
Jordan Babineaux
and cornerback
Cortland Finnegan
all have expiring contracts. Finnegan probably draws an offer in free agency beyond what the Titans would give him. The team cannot make a long-term commitment with big money to the inconsistent Griffin. Hope is likely done. Babineaux played well and would be nice to retain. That's a lot to decide on just in the secondary, but I'd expect a big infusion of new guys to work with young corners
Jason McCourty
and
Alterraun Verner
.
August, 5, 2011
8/05/11
10:06
AM ET
Reading the coverage…
Houston Texans
Jacoby Jones is
a prodigal son of a gun
, says Richard Justice. (Great headline, Chronicle editors.)
Dorin Dickerson's growth was helped by
offseason work
with Larry Fitzgerald.
Says Dale Robertson
: "Maybe everyone having to keep their distance for the last six months will prove to be a positive. You couldn't ask for a fresher start."
Michael Lombardi doesn't like the
Texans' toughness
, says David Barron.
Stephanie Stradley found Eric Winston's
reaction
to the soft accusations.
Indianapolis Colts
Anthony Gonzalez; 'This may be one of my last opportunities (with the Colts), if not the last opportunity."
Mike Chappell's story
.
Tommie Harris
isn't much
of a spin move guy, says Chappell.
Training camps are
smarter now
, says Bob Kravitz.
Tom Moore will be
a good resource
for the Jets offense, says Peter King. I do not buy the idea I've heard that he'll be a big factor in helping New York deal with Peyton Manning.
Jacksonville Jaguars
Jack Del Rio started easing his new guys
into the lineup
Thursday, says Vito Stellino.
David Garrard
should be OK
and Aaron Kampman may switch sides, says Tania Ganguli.
Paul Posluszny's transition
bears watching
, says Gene Frenette.
Brad Meester and Jaguars PR man Ryan Robinson have
helped inspire
6-year-old Luke Akerstrom to walk again. Watch the attached
video
.
Blaine Gabbert could
ultimately be
a top five quarterback, says John Oehser.
Tennessee Titans
Matt Hasselbeck put down the sweet tea and
got to work
, says John Glennon.
Mild-mannered offensive coordinator Chris Palmer has
a stern side
, writes Jim Wyatt.
Jake Scott says players
have issues
with the HGH testing company, writes Glennon.
Kenny Britt is disappointed yoga
didn't help him
avoid hamstring troubles, says Wyatt.
June, 8, 2011
6/08/11
4:10
PM ET
NASHVILLE, Tenn. -- The Titans certainly got some good out of a two-hour, player organized practice session that included more than 50 participants on Wednesday morning at Father Ryan High School.
Cornerback
Cortland Finnegan
and guard
Jake Scott
deserve credit for getting so many players out.
Of note:
Paul Kuharsky/ESPN.comOffensive linemen Eugene Amano, left, and Jake Scott work against each other.

Running back Chris Johnson was part of things. He said his contract isn't on his mind right now and declared that he expects rookie quarterback Jake Locker to start right out of the gate. Here's the news story.

Locker had some nice moments and some that were not so good. About what you'd expect. He certainly threw the ball better than Brett Ratliff. And he didn't go the Joe Cool route like Ratliff and Rusty Smith, who practiced in sunglasses.

The host school's football staff ran the individual position drills, which had to be a cool thing for most of them. From the stretch through some team work, players seemed to strike just the right measure of laughs with work.

Safety Michael Griffin said the defense just worked through basic coverages. Players expect the new defense, coordinated by Jerry Gray will touch on them all. They thought running through basics rather than trying to learn and execute anything new was the smart approach.

Among the notables under contract who were missing -- and let's be clear they didn't have to be there and could have had very legitimate reasons for not making it -- were Michael Roos, David Stewart, Kenny Britt, Nate Washington, Damian Williams, Lavelle Hawkins, Alterraun Verner, William Hayes and Brett Kern. Justin Gage was a late arrival and just watched.

Without their own receivers, the Titans benefited from the presence of three quality outsiders: Derrick Mason of the Ravens, Golden Tate of the Seahawks and Patrick Turner of the Jets. Mason started his career with Tennessee and still has an area home while Tate and Turner are both from Nashville. Tate went to Father Ryan arch rival Pope John Paul II, and wore his purple Ryan shirt inside out.

Paul Kuharsky/ESPN.comLinebacker Gerald McRath coaches up second-round pick Akeem Ayers.

Several players who are not under contract for 2011 participated: defensive end Dave Ball, guard Leroy Harris, linebacker Tim Shaw and safety Donnie Nickey. Nickey had a big, early collision in seven-on-seven work with Marc Mariani as both went up for a pass from Ratliff that put the receiver at risk. It was the only obvious injury scare of the day. Both bounced up.

Plays of note: Mariani dropped a well-thrown deep ball from Locker after slipping behind multiple defenders. Corner Jason McCourty dropped a pick of a pass that bounced off Jared Cook; Ratliff threw an incredibly bad, incomplete pass down the deep middle, a duck that wobbled more than a lot of punts do.

Among the guys I saw doing a great deal of leading of young guys were Scott, Ball, defensive back Vincent Fuller and linebacker Gerald McRath.

The Titans will have another session Thursday.
June, 8, 2011
6/08/11
9:37
AM ET
Reading the coverage ...
Houston Texans
Owen Daniels wasn't
all the way back
from his knee surgery even when he said he was, writes Arthur Arkush.
The 10
most painful
Texans losses, according to Marc Vandermeer.
Gary Kubiak led
the Texans' support
of wounded veterans at a 5K race, says Nick Scurfield.
Indianapolis Colts
Assessing PFF's look at the Colts' offensive line. Nate Dunlevy notes the numbers show that Peyton Manning "
invited" pressure
just twice all season.
Jacksonville Jaguars
Gene Smith sees Daryl Smith as
super steady
, says John Oehser.
Where spots can be found for Rashad Jennings,
he'll have a role
, says Oehser. The question he's answering is an odd one to me. This is not a Fred Taylor-Maurice Jones-Drew situation.
Considering some
free-agent possibilities
with Jason Love.
Tennessee Titans
On the first day of an unofficial minicamp, one big question is whether Kenny Britt
will show
, says John Glennon.
Eagerness to see fans led Cortland Finnegan to
jump the gun
, says Glennon.
November, 23, 2009
11/23/09
7:19
PM ET
HOUSTON – Inactives for Monday Night Football between the Titans and Texans.
Tennessee
Kenny Britt
starts for Gage,
Gerald McRath
starts for Thornton.
Houston
Glenn Martinez
will return punts for Jones. He won AFC special teams player of the week honors as a member of the
Denver Broncos
for an 80-yard punt return for a TD against the Titans in 2007.
September, 2, 2009
9/02/09
6:34
PM ET

Posted by ESPN.com's Paul Kuharsky
The Titans are going to
take a closer look
at
Matt Jones
.
The troubled receiver has been out there since the Jaguars cut him March 16.
I think he can be an effective possession receiver, assuming he's got his off-the-field stuff together. He'll benefit from the differing expectations of a new team counting on him to convert a third-and-7 rather than a team looking for him to be a big-play receiver, as Jacksonville inevitably did when it spent the 21st pick in the 2005 draft on a player who was a quarterback at Arkansas.
I know Titans fans are going to jump to conclusions, but having Jones in and signing him are two different moves. (Recall, please,
Byron Leftwich
.)
Would he be the right guy for the Titans?
Well, I think
Justin Gage
is a more physical, more polished version of the same cut of receiver and that first-round pick
Kenny Britt
can be, too. Would you be stunting Britt's growth by bringing in Jones?
Yes, many had Jones running a sub 4.4 40 coming out, but as he developed as a receiver I don't think he played nearly that fast. Ask any Jaguars fan if he was threatening defenses deep.
Adding Jones wouldn't be indicting Gage, the injured
Nate Washington
or Britt. It would be saying the Titans aren't completely confident in
Dominique Edison
, a sixth-round draft pick, or
Lavelle Hawkins
, a fourt- rounder from 2008, who's still not reliable enough.
My guess is the Titans want to be poised to grab Jones, but that they'd hope to find a better fit -- a shiftier, faster and more explosive guy who also might be a return candidate -- on Saturday when they comb through players cut around the league.
July, 11, 2009
7/11/09
9:00
AM ET
Posted by ESPN.com's Paul Kuharsky
Charles in Jacksonville, Fla., writes: Mailbag question for you: Which division team can least afford a prolonged holdout from their top pick?
Paul Kuharsky: Charles, you are formally invited to submit a great question like this once a week.

One thing -- a holdout is technically done by a guy with a contract. So a rookie is better classified as a contract dispute or a prolonged negotiation. Here's my thinking:

Kenny Britt is the Titans third wide receiver at best, and they've succeeded with far worse.

A healthy Joseph Addai is a more than capable lead back and the Colts also like Mike Hart, so a late start for Donald Brown would hardly be deadly. Also backs can jump in without knowing the entire playbook provided they know their blitz pick up responsibilities.

The Jaguars have enough options at tackle beyond Eugene Monroe to hold down the fort with Tra Thomas, Tony Pashos and Eben Britton if Monroe needs extra time.

Houston is thin and smallish at linebacker without Brian Cushing, and he's a guy whose tempo and energy are going to influence the whole defense. I think the Texans need him from day one of camp more than any of the other team needs its top pick to be signed and sealed.
---
David in Jacksonville, Fla., writes:
Chat Question: What is your assessment of the overhaul of the Jaguars roster by Gene Smith? I like the way he is building the roster even though it may not pay dividends this year in terms of wins. If you are going to be successful franchise you must be able to build the majority of your team through the draft. My condolences to all Titans fans on the passing of
Steve McNair
. He was a fierce, tough, competitor and leader.
Paul Kuharsky: I like what Smith is doing. But it's going to take time. When things don't go well for this group, it has a lot better chance of holding together and sticking with Jack Del Rio. Personnel-wise, I think they need another year at least. A lot of stars would have to align for them to get good this season in terms of all the young guys and other new pieces panning out simultaneously. And the depth behind veterans they are counting on like Torry Holt, Maurice Jones-Drew and Rashean Mathis is not good.
---
Max in Los Angeles, Calif., writes: I know you probably don't read these but, I like the job you did with Steve McNair and am really liking the survey says. SS is one of the few actually insightful things you can get in football coverage during this down period. Don't work too hard, just post like 3 or 4 of those a day. Oh and stop pushing the Titans so much. One more question. You see LenDale, Keith Bullock, and Chris Johnson regularly, are they as big of turds as they come across, or are they misunderstood? (I think Keith might be okay)
Paul Kuharsky: Actually, I read every one of these. Thanks for the note.

I don't expect I have enough to manage three or four "Survey says" entries a day, but I have enough to scatter throughout July and I am thrilled you like the concept.
Feel free to tell me how I push the Titans. McNair obviously warrants huge attention, and Vince Young garnered some attention recently, hardly positive from me. They're the defending division champs and they were the last team to conclude its offseason. Pretty much that simple.

Bulluck is a great guy. White is up and down. Johnson, it's too early to say.
---
JB in Houston writes:
Well said, PK. I'm a fan back to his first start in '95, this is tough for all of us to reconcile. We don't know what was going on in Steve's life, we just know it didn't warrant him getting shot and killed. Anyway, I've been in chats before talking about his HOF chances, and one HOF QB he compares very favorably to is
Troy Aikman
.
McNair (12 seasons): 60.1% 31,304 yds 174 TD 119 INT 82.8 rating. 3590 rush yds 5.4 avg 37 TDs. 91-62 as a starter, 5-5 playoffs.
Aikman (11 seasons): 61.5% 32,942 yds 165 TD 141 INT 81.6 rating. 1016 rush yds 3.1 avg 9 TDs. 94-71 as a starter, 11-4 playoffs.
So in 12 more reg. season games as a starter Aikman only had 3 more Ws, less TDs and more INTs. Obviously voters weigh heavily on Super Bowls, but when it came to winning games McNair was better, especially considering the talent around both guys. And Steve won the only head to head (Thanksgiving 1997). Anyway, I'd been saying he had no shot at it, but I think someday he might, even if not on the 1st ballot. We'll see.
Paul Kuharsky: Three Super Bowls aren't a little addendum; they are a HUGE deal as is the playoff winning percentages -- Aikman at .733, McNair at .500.

And this line of thinking where we have to uplift good players who weren't surrounded by great talent is silly. Some guys are more fortunate than others, sure, but that is part of the success and failure of most pro athletes. I'm supposed to grade Aikman down because he played with good players? Was Michael Irvin a Hall of Famer if Aikman wasn't delivering the passes?

Paraphrasing John McClain here, but he hit the mark: McNair was good and sometimes great, but not great often enough to qualify as a Hall of Famer. Too many people take that as some sort of insult and it isn't one, it's just an honest assessment.
AFC SOUTH SCOREBOARD
Thursday, 12/5
Sunday, 12/8