February, 14, 2014
Feb 14
8:00
AM ET
INDIANAPOLIS -- At some point in March,
Indianapolis Colts
tight end
Dwayne Allen
will likely be medically cleared after having hip surgery in the fall.
Returning to the field -- when it happens -- will be a significant step for Allen, who said before last season he was one of the best tight ends in the NFL.
Allen
Much of the Colts' injury talk -- and rightfully so -- has surrounded receiver
Reggie Wayne
's recovery from a torn ACL at the age of 35, but Allen has significant value, too.
The Colts went into last season thinking they would have two of the league's up-and-coming tight ends in second-year players Allen and
Coby Fleener
to go with their other offensive weapons.
Allen wanted to build on his rookie season in which he started all 16 games and caught 45 passes for 521 yards and three touchdowns.
Those thoughts quickly changed in Week 1 against the
Oakland Raiders
.
Allen injured his hip during the second half when he landed awkwardly after going up for a pass that Oakland's
Kevin Burnett
tipped.
Allen's injury left the Colts without stability at tight end outside of Fleener, who had to become a complete tight end and not just one who could catch passes. Allen excelled at blocking and catching the ball, which is why he started during his rookie season.
Justice Cunningham
.
Jack Doyle
.
Weslye Saunders
.
Dominique Jones
.
Those are the tight ends not named Fleener who caught passes from
Andrew Luck
last season.
"This past season was very exciting from the standpoint of watching the guys go out there and play," Allen said. "Every week, not knowing what you're going to get on the field. The way that we just picked and plugged guys in and continued to have success is the highlight of the season. Of course, the low light was me not being able to play. That's a part of this game. Injuries happen. I was able to cope really quick and get over it and cheer those guys on."
Allen isn't talking about what he plans to do on the field. He simply wants to get back there first then he's taking a show-them rather than a talk-about-it approach because he knows that won't get him anywhere.
"I'm nowhere near I was and my goal in the offseason is not to get where I was, but to surpass that," he said. "With the increase in the range of motion in my hips, I should."
October, 12, 2013
10/12/13
7:00
PM ET
INDIANAPOLIS --
Dwayne Allen
opened the season with the mind frame that he was one of the best tight ends in the NFL.
Allen
It was only a few weeks after those comments that the Indianapolis Colts' second-year player spent almost two days being hard on himself because his season had come to an end due to a hip injury suffered in their Week 1 victory over the
Oakland Raiders
.
"Very tough, very tough," Allen said. "I kind of had it hard on myself and took it very hard. Just had a hard time dealing with the fact I was going to be done for the season."
The Colts and Allen were hoping his hip would heal on its own, but they decided surgery was the best option after getting a second opinion. Allen has about three to four months of recovery time ahead of him.
Allen came down awkwardly after Oakland linebacker
Kevin Burnett
tipped quarterback
Andrew Luck
's pass across the middle of the field in the Sept. 8 season opener.
"I guess I came down too quick or something and I guess my leg got caught in the turf," Allen said." I immediately knew something was wrong, grabbed for [my hip], but my high school coach, who is like my father, always told me if it ain't bleeding and the bone ain't sticking out, you get up. I grabbed for it, stretched and went back to the huddle, but I knew something was wrong."
The injury happened so early in the season that Allen will be ready to go by the time offseason workouts begin.
"The silver lining really is me injuring it, I was able to correct something that I possibly could have injured in high school," Allen said. "I just didn't have the proper care "
September, 9, 2013
9/09/13
11:00
PM ET
INDIANAPOLIS – In at a time when
Robert Griffin III
,
Russell Wilson
and
Colin Kaepernick
are the players rightfully talked about the most when it comes to mobile quarterbacks, there's one in Indianapolis who doesn't mind using his feet to make things happen.
That's understandable, since he technically is a drop-back passer. But Colts quarterback
Andrew Luck
can be called a mobile quarterback, too. He has no problem tucking the ball and taking off with it.
Just ask the
Oakland Raiders
.
With his receivers covered and the middle of the field wide open midway through the fourth quarter Sunday, Luck took off, got a good block from
Darrius Heyward-Bey
and went left into the end zone for what turned out to be the game-winning touchdown.
"I don't think it's necessarily a strong suit, but I've always been taught going back to college, even high school, if you can get a first down with your legs as a quarterback, that can be a good thing," Luck said about his mobility. "It can be somewhat demoralizing for a defense in a sense."
Luck finished with 38 yards rushing -- half of which came on his touchdown jaunt. He proved on one of his runs that he knows how to elude defenders. Luck got free from Raiders linebacker
Kevin Burnett
's attempt to wrap him up and ran for nine yards and a first down.
Luck has rushed for 293 yards and six touchdowns in his young career.
While teams like Oakland, Seattle, San Francisco and Washington run the read-option offense, Luck's runs aren't by design. The Colts don't have any designed runs for their quarterback in the playbook.
"The guy, he's a pro-style, drop-back pocket passer," coach Chuck Pagano said. "But if things open up and people play tight coverage on you and there's nowhere to go with the ball, instinctively that's what you're going to do."
Luck doesn't want to be hanging onto the ball. His preference is to hand it off or find an open receiver downfield.
"I want the ball out of my hands 99.99 percent of the time," he said. "The ball doesn't need to be in my hands all the time, per se. In certain situations when it opens up like that, you do run."
The last thing anybody wants is for the Colts' franchise player to get injured.
Luck has admitted he's not the most graceful when it comes to sliding to the ground. He also wants to fight for every yard he can get.
"Instincts take over, and he's an instinctive football player," Pagano said. "But we're going to tell him, 'You get close to the sidelines, throw it away, run out of bounds, slide,' all those things. We talk to him daily about it."
December, 8, 2010
12/08/10
4:31
PM ET
NASHVILLE, Tenn. --
Stephen Tulloch
didn't flinch.
I had a chance to ask him this week about the role of linebackers in
Peyton Manning
's 11 interceptions over his last three games, and the Titans' middle linebacker rattled them right off.
[+] Enlarge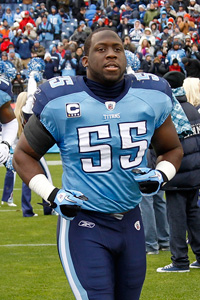 AP Photo/Paul SpinelliStephen Tulloch and the Titans defense will do everything they can to keep Peyton Manning from getting comfortable.
"He's thrown four picks to linebackers --
Kevin Burnett
with San Diego, two to
Sean Lee
of Dallas and one to my guy
Stephen Cooper
of San Diego," Tulloch said. "So he has thrown to linebackers.
"I think it's due to the fact that he's off his spot. D-lines are getting pressure and making him move up in the pocket or move around and he's out of his comfort zone. I'm sure he'll figure out what's going on and get it corrected."
Tennessee linebackers have not been big contributors in the turnover department this season. Tulloch and
Will Witherspoon
each have one of the team's 15 interceptions. ('Backers have just one forced fumble and one fumble recovery as well.)
To change that, the Titans will do their best to move Manning off his spot. It's a theme that dates way back for Tennessee against Manning. When he was in his prime in Tennessee,
Albert Haynesworth
used to talk about Manning being average when he was off his spot.
Nobody's making such bold claims now, but the intent is the same.
"It helps a lot," defensive tackle
Jovan Haye
said. "Manning just wants to stay in the pocket. He has his pocket, he has his comfort zone. The only way to get him off being as great as he is is to get him off line, have him moving around the pocket, get him uncomfortable. If you just let him sit back there, he's going to make things happen.
"We have a great game plan going in and we have the right guys to get him off the spot. But that doesn't guarantee anything."
The Titans were a great pass-rushing team early this year. They had 25 sacks through their first seven games and were 5-2. During the current five-game losing streak, they've got only eight sacks.
Manning might be better served to take a sack a bit more often rather than rush a throw that turns into a pick. But he hasn't made his name tucking it and going down, or even throwing it away, and odds are against us seeing a lot of that now.
September, 20, 2010
9/20/10
7:33
PM ET
David Garrard
said he wished he could erase the loss in San Diego from his mind. No quarterback wants a four-interception game on his résumé.
I just had a chance to look at each of the four passes closely. Not good.
December, 25, 2009
12/25/09
6:31
PM ET
NASHVILLE, Tenn. -- Christmas night callout for illegal procedure: Titans punter
Brett Kern
is wearing gray sweatpants either over, or instead of, his uniform pants while holding for Rob Bironas' pregame field goals.
Brett, buddy, everyone is cold out there. Am I wrong in saying he needs to tough it out? Nashville sportswriter David Boclair points out Kern's legs are his livelihood and maybe it's akin to a pitcher wearing a jacket when he runs the bases.
I am told Kern even wears them during the game and takes them off when it's time to punt or hold.
Do we think Ray Guy did that?
Anyway…
Only one lineup change from the pre-printed flip cards --
Nick Hardwick
is starting at center for the Chargers.
Inactives are in, I know you've been waiting anxiously all day, so without further delay:
Titans
Chargers
March, 5, 2009
3/05/09
12:32
PM ET
Posted by ESPN.com's Paul Kuharsky
A couple visits have come to light:
Arizona free-agent cornerback Eric Green will visit with the Titans Thursday, according to Jim Wyatt. He'd be the second corner in town in two days after Justin Miller met with the Titans, who need depth at cornerback.
Houston free-agent long snapper Bryan Pittman will meet with Seattle, according to our NFC West maven Mike Sando. The Texans have indicated they won't bring Pittman back. Clark Harris filled in capably at season's end when Pittman was suspended.
[Updated 2:50 p.m.] Dallas free-agent linebacker Kevin Burnett is visiting the Texans, reports John McClain. He looks to have appealing versatility and size.