January, 14, 2012
1/14/12
10:17
AM ET
Reading the coverage…
Houston Texans

J.J. Watt works tirelessly, but he starts out with a lot of
natural talent
, says Jeffrey Martin of the Houston Chronicle.
Says Jerome Solomon of the Chronicle: "Wade Phillips has been fired from three head coaching jobs -- in the East (Buffalo), the West (Denver) and the South (Dallas) -- but you can't tell him that he isn't a good head coach. Yet so many believe that is the case.
They are wrong
."
The best the Texans have done against the Ravens in the past
won't be good enough
Sunday, says John McClain of the Chronicle.
Indianapolis Colts

Rich Nye of WTHR
caught up to
Chris Polian who said "a lot of things were not reported truthfully" over the Colts bad season that led to he and Bill Polian being fired. He wished the franchise the best moving forward. (Hat tip to Colts Authority.)
Brett Mock of Colts Authority
looks at contracts
and salary cap implications for the team heading into 2012.
Jacksonville Jaguars

Mel Tucker's disappointment over not getting the top job
didn't linger
, and he will be part of Mike Mularkey's staff, says Tania Ganguli of the Florida Times-Union. Joe Cullen and Mark Duffner will also return.
Writes Gene Frenette of the Times-Union: (Shahid) Khan, in both an attempt at humor and to be complimentary of season-ticket holders, did say: "For me, a fan is somebody who's a season-ticket holder for the Jaguars." Many took it as a slap against fans who don't own season tickets, which is
a ridiculous notion
since Khan obviously wants to market his product to folks that are on the fence or ambivalent about spending money on tickets."
Tennessee Titans

Kevin Carter played for the Rams that beat the Titans in the Super Bowl, then changed sides. He thinks Jeff Fisher's
a great hire
for St. Louis, say Jim Wyatt and John Glennon of The Tennessean.
The Titans have
offered
their open secondary coach job to Brett Moxie, but the Cowboys would like to keep him, says Wyatt.
Tennessee re-signed tight end Craig Stevens, says Wyatt. He's
a valuable piece
who was heading for free agency.
October, 16, 2010
10/16/10
4:30
PM ET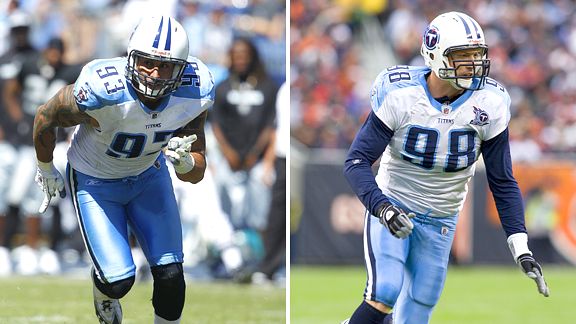 Getty Images/AP PhotoTennessee's Jason Babin (left) and Dave Ball have combined for 10 sacks this season.
NASHVILLE, Tenn. -- Longtime
Tennessee Titans
defensive line coach Jim Washburn answered the phone recently and heard
Josh Evans
on the line.
A productive but troubled defensive tackle for the Titans from 1995-99 and in 2001 after completing a suspension, Evans still feels a strong connection to the guys Washburn oversees because they play the same way his lines played.
"He said, 'I watched you on TV and I was so proud because I knew I was a part of that,' " Washburn said. " 'That group on the field 10 years after I left, I knew that was still my group and they still play hard.' "
Which led a sentimental Washburn to ask: "What's better, that or winning the division?"
His best rush groups have featured a star -–
Jevon Kearse
,
Albert Haynesworth
and
Kyle Vanden Bosch
were top rushers,
Kevin Carter
was a big name -– surrounded by mostly mid- and late-round picks.
But the linemen leading the charge for the NFL's No. 1 sack team heading into Jacksonville for "Monday Night Football" (8:30 ET, ESPN) aren't marquee names. Twenty-two sacks have come from a group of outcasts, misfits and football orphans from the scrap heap mixed with draft picks from Eastern Michigan, Winston-Salem State and Central Arkansas.
They are a lot like Evans, who was undrafted out of Alabama-Birmingham.
The Titans probably expected their starting ends at this point to be rookie first-rounder
Derrick Morgan
and
William Hayes
, a three-year veteran from Winston-Salem State.
Morgan, though, is out for the year with a torn ACL, and after Hayes was slowed by a knee injury in the preseason, he's working as part of a deep rotation.
The front-line rushers on the outside are
Jason Babin
and
Dave Ball
, regular Joes who are personable, low-key guys six days a week and fierce quarterback killers Sunday.
Washburn makes them sound like they are related to Darth Vader when he says they each have a "dark side."
"When emotions get high and things get crazy, my alter ego and my inner being kind of come out," Babin said. "And he's not a nice guy. I wouldn't say I am trying to maim or hurt people. But I am definitely not considerate by any means.
"Off the field, I'm a dad, I'm a husband. I help out with dinner. I do bath time. But not out there."
The Titans fleeced the
Houston Texans
in
a 2004 draft-day trade
made for the 27th pick in the first round. The Texans took Babin and tried to turn him into a linebacker in their 3-4, but things never worked out in his three seasons there. Babin then bounced from Seattle to Kansas City to Philadelphia.
The Titans grabbed him last spring with a one-year, $1 million deal. In their simple get-the-quarterback scheme, he has 5 1/2 sacks in five games, more than his total in any of his previous six seasons.
He knows it will take a much longer stretch of quality production to remove his bust reputation. But he's a poster boy for how complicated schemes and projected position changes can get in the way of a player playing solid football.
"It's a simple game, it's basic and if you try to draw X's and O's and scheme, that stuff doesn't work," Babin said. "Here, we come off the ball, and whatever happens, happens …
[+] Enlarge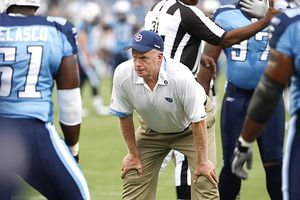 AP Photo/Mark HumphreyTitans assistant Jim Washburn has made his mark by getting production from unheralded players.
"Wash likes to joke, 'If I had my hands on you, you'd have a lot more money and a lot more sacks,' and maybe that's true. But the journey that I took has really made me who I am today. I'm more humble and more respectful than I was when I started. I really cherish practice, working out and every play on the field."
Ball has bounced around as well. Drafted out of UCLA in the fifth round by San Diego in 2004, he spent time with the Chargers, Jets and Panthers and then had a season out of football. He signed with the Titans in early 2008.
Mostly a rotation guy for Tennessee in his first two seasons, Ball has stayed healthy and been productive this season. He has 4 1/2 sacks while holding off Hayes,
Jacob Ford
and Morgan (while he was healthy) despite regular worries about losing rank.
"He's a paranoid dude," Washburn said. "He is just afraid to fail. He's obsessed, just like Kyle (Vanden Bosch). He's afraid every day."
Ball said his receding hairline is partly because of that mentality. Although he doesn't come to work fearful that he could be cut as he once did, he still is concerned about the potential for drop-off.
"I worry about not keeping up the pace I've been going," he said. "I always want the best for me and my family. Any little wrinkle, any bump in the road I get freaked out because I've sat out a year, I bounced around at the beginning of my career.
"I've been paranoid for the longest time. I always get tremendously nervous during football. I wasn't going to play good, or someone was going to beat me out or I wasn't going to be the best kind of player … It makes me work extremely hard."
Ball has the ability during games to set his concerns aside and have fun, helping him be consistently disruptive.
Evans, who played some of his best football as the Titans went to Super Bowl XXXIV in January 2000, had that sort of fun and effect when he played for Washburn too. He'll likely be watching the Titans against the Jaguars, feeling connected. So will a lot of former Washburn linemen people have never heard of or forgotten.
"We just play off the theme we've been playing off for 12 years," Washburn said. "We're nobodies or whatever. Nobody thinks we're very good. I would imagine it's what most coaches play off of if they have small-school guys, reclamation projects, guys that have not experienced a lot of success."
"What would you do? You'd do the same thing, wouldn't you?"
July, 10, 2009
7/10/09
4:08
PM ET
Posted by ESPN.com's Paul Kuharsky
It's a thought that came back to me repeatedly Thursday as I talked to former teammates of Steve McNair at his memorial:
In six months, the Titans will celebrate the 10th anniversary of their biggest moment -- their appearance in Super Bowl XXXIV. What's that going to be like for them without McNair as a part of it?
"Well, we're going to leave that seat [at the head of the table] open, and we know Steve will be there in spirit because he's with us all," Eddie George said. "We talked about him [Wednesday] night, sharing some great stories. We laughed, we cried. It's going to be different. It's surreal."
"I'm going to try to not even think about that right now," Jevon Kearse said. "He will be missed very deeply by myself and a lot of other people."
"It won't feel the same," Samari Rolle said. "He's the face of Nashville. When you think of Steve McNair, you think of that drive in '99."
Several guys who played with McNair said their indelible image of him will come from "that drive in '99," a play that read like this in the official play-by-play sheet from Super Bowl XXXIV:
| | |
| --- | --- |
| | |
| | AP Photo/Susan Walsh |
| | Kevin Carter wasn't the only rusher Steve McNair miraculously escaped on the second-to-last play of Super Bowl XXXIV. |
3-5-SL 26 (:22) S. McNair (shotgun) pass to K. Dyson to SL 10 for 16 (D. McCleon). QB Pressure by K. Carter and J. Williams
If you saw it, that play-by-play line doesn't do it justice.
"I still point back to the second-last play of that game where Kevin Carter and D'Marco Farr literally have him tackled and have him halfway dragged down to the ground and somehow with the power and strength he had he gets away and delivers the ball downfield to Kevin and gives us a chance to win the game on the last play," kicker Al Del Greco said. "If he gets tackled there, the game is over. It just said what he was all about. He was Superman at times."
Three points about the final two plays of that game, and I am not picking on Del Greco, who's hardly the only person to misremember some details.
On that signature play when McNair shed two rushers to stay alive, it's become a habit for many of us to say it was Carter and Farr. But this blog officially offers an apology to Farr, who may have failed to get to McNair but was not brushed aside. Moving forward I pledge to remember the second guy was Jay Williams.
The game wouldn't have been over if McNair had been sacked. The Titans would have called their third and final timeout just as they did after the completion to Dyson. But then the last play would have been from around the 26-yard line instead of the 10.
Had the Titans scored in either scenario, an extra point would have tied it and forced overtime, not won it.
July, 9, 2009
7/09/09
10:52
PM ET
Posted by ESPN.com's Paul Kuharsky
| | |
| --- | --- |
| | |
| | AP Photo/George Walker IV, Pool |
| | Former Titans players, including Brad Hopkins, top left, and Benji Olson, top right, served as pallbearers at the memorial service. |
WHITES CREEK, Tenn. -- For all who watched Steve McNair assisted off the field during his 13 seasons as an NFL quarterback, the conclusion of his memorial service was especially tough to digest.
Pallbearers who played with him surrounded his casket, lifted it and carried it out of Mount Zion Baptist Church, surely hoping they were also transporting at least a degree of the pain shared by the family, the franchise, the city and the league.
"That was tough, to carry his casket out," Eddie George said. "Right after they said those kind words, they said the eulogy, reality set back in again, that he has to go to his final resting place. Knowing that's Steve's remains, that's his shell in that casket, that's not Steve, and I'm not going to remember him in that capacity. This is a part of the process, this is closure for us, for me. Now the healing can begin, and I don't know how long it will take."
| | |
| --- | --- |
| | |
| | AP Photo/George Walker IV, Pool |
| | Ravens wide receiver Derrick Mason takes part in a memorial service for Steve McNair. |
In his eulogy at the conclusion of a service that included impressive versions of "Press On" and "God is Able," Bishop Joseph W. Walker III called McNair "a humanitarian, a philanthropist, a supreme athlete, a motivator, an entrepreneur." In citing the biblical instruction that one without sin cast the first stone, Walker said it was "time to have a stone-dropping service."
During the memorial, Jeff Fisher told a story of McNair considering giving up the game in 2000 after suffering a sternum injury and conveyed the condolences of a high-ranking military official he met just last week while visiting troops in the Persian Gulf.
Later, the Titans coach said he was sure even more of McNair's old teammates wanted to attend but could not. Fisher said that he might soon take McNair's sons fishing.
Asked about watching George, Samari Rolle, Zach Piller, Kevin Long, Frank Wycheck, Brad Hopkins, Benji Olson, Kevin Carter and Vince Young lift McNair's coffin and walk it out the door, Fisher said he couldn't put words to his thoughts.
"I can't describe that, no," he said.
Plenty of others leaving the church felt the same way.
Count me among them.
***
An add to the previous entry, which included a list of many of the most notable players in attendance. I later spotted several others, including Keith Bulluck, Bo Scaife, Young, Fred Miller, Drew Bennett and Kenny Holmes.
July, 9, 2009
7/09/09
8:23
PM ET
Posted by ESPN.com's Paul Kuharsky
| | |
| --- | --- |
| | |
| | AP Photo/Mark Humphrey |
| | Eddie George, right, and Craig Hentrich were among the former teammates to attend Steve McNair's memorial. |
WHITES CREEK, Tenn. -- Lance Schulters arrived at Steve McNair's memorial with another former teammate of the fallen Titans quarterback, Robaire Smith.
The two also saw Samari Rolle and Eddie George.
Those four friends always thought they'd be reunited with McNair for happier times.
"That's our seats right there, playing cards all day on the plane," Schulters said, gesturing the circle they'd comprise. "Steve always won the big hands. All the big pots he won. We just joked about that, like 'Man, this is crazy.'"
Instead, they gathered in this suburb north of Nashville, not to shuffle and deal, but to join more than 5,000 others to mourn McNair, who was shot and killed Saturday in a murder-suicide.
"We might feel indestructible and indispensable on the field, but the reality of it is we're all human, and we all have an end," said Kevin Mawae, Titans center and president of the NFL Players Association. "We just don't know when that end is going to come.
"It's a difficult thing to be here. But we're all NFL players and there are not very many of us and when one of us passes under these circumstances or any circumstances, you mourn the loss of that guy. He was a brother in the locker room to many of us."
More than 30 teammates -- Titans past and present -- attended the memorial, as did the franchise's owner, Bud Adams, Tennessee Governor Phil Bredesen and Nashville Mayor Karl Dean.
The list of current and former players also includes Derrick Mason, Samari Rolle, Jevon Kearse, Kevin Carter, Frank Wycheck, Yancey Thigpen, Benji Olson, Blaine Bishop, Kyle Vanden Bosch, Jon Runyan, Josh Evans, Justin Hartwig, Al Del Greco, Erron Kinney, Zach Piller, Craig Hentrich, Gary Walker, Joe Nedney, Chris Sanders, Al Smith, Chris Hope and Vincent Fuller.
Current Titans assistant coaches Dave McGinnis, Mike Munchak and Marcus Robertson (who was also a teammate) are also here, as is the team's starting quarterback, Kerry Collins. McNair was drafted third by the Oilers in 1995; Collins fifth by Carolina.
Jeff Fisher will speak during the memorial and is set to talk with the media after it's over.
George said he gathered with 15 or 20 former teammates to remember McNair Wednesday night at The Palm in downtown Nashville
McNair was killed on July 4, which led different players to different thoughts of future Independence Days.
"Here's an opportunity for us to get together every Fourth of July and celebrate his life," George said.
"I know from this point on, my July 4 will never be the same," Kearse said. "I may not even celebrate July 4 from this point on. Instead it will be on July 9 or something like that."
George wrote a poem -- entitled "Where Do Warriors Go?" -- in recent days as he tried to sort through his feelings about McNair's death.
"It was a great question, and based off of that question, these words just started coming out of me and I tried to put it into form," said George, who read the poem at the memorial service. "It was something that I wanted to send off to him, directly speak to him and send him off in the right way. Maybe one day I can recite it for you.
"It's a special place they go to. I don't know the exact place, and that was the question. In it all, he's done his best, right or wrong, and basically it was a message to say, 'You know what, you're free to go into that life, without any judgment. You've done the best you can do and we're going to hold it down here for you.'"