April, 26, 2013
4/26/13
9:07
PM ET
The
Jacksonville Jaguars
spent a second consecutive pick on their defensive backfield with their third-rounder, 64th overall, on UConn cornerback
Dwayne Gratz
.
Scouts Inc. gives him a three out of five in coverage skills:
Possesses quick feet and good short-area quickness. However, has some tightness in his hips and ankles particularly when matched up in off man coverage. Most effective in press technique when having man coverage responsibilities. He's physical at the line of scrimmage to disrupt receivers release and shows ability to open and mirror in trail technique. Shows good balance with hips faced toward quarterback in zone coverage. Closing burst is above-average and can make up ground when the ball is in the air. Flashes an extra to recover when caught in trail technique.
He's added to a less than stellar, hardly proven group of corners:
Alan Ball
,
Kevin Rutland
,
Mike Harris
and
Antwaun Molden
.
He's 5-foot-11, weighs in about 201 and ran a 4.44, so he does fine in the height-weight-speed departments.
Pro Football Weekly says he draws comparisons to the Packers
Casey Hayward
, who's coming off an excellent rookie season.
April, 4, 2013
4/04/13
12:29
PM ET
The
Jacksonville Jaguars
have not been afraid to say they are in a rebuild. It's a rebuild that will be centered on drafts and be quiet in free agency.
Still, some of their additions have adjusted their needs. Understanding they need just about everything, let's look at the big question mark positions and how free agency has affected them.
[+] Enlarge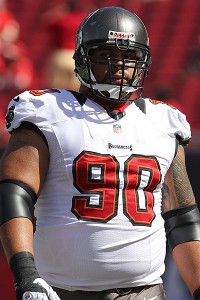 Kim Klement/USA TODAY SportsNew Jaguars defensive tackle Roy Miller should help solidfy Jacksonville's defensive line.
Offensive line
-- This remains a giant need. General manager David Caldwell indicated early in the offseason that the Jaguars didn't have people they thought could start at left guard and right tackle. And they've added nothing to address the issue. A tackle is certainly in play with the No. 2 overall pick, and it will be a surprise if the Jaguars don't draft two offensive linemen.
Cornerback
--
Alan Ball
didn't play well for the Texans last year, but perhaps another change of scenery and Gus Bradley's system will resurrect him. Still, the Jaguars are quite thin at corner, with well-regarded second-year man Mike Harris joined by young
Kevin Rutland
and journeyman
Antwaun Molden
. It's hard to look at this group and feel like it can slow
Andre Johnson
or
Reggie Wayne
. Corner is a major need.
Safety
-- They cut the expensive
Dawan Landry
. So aside from
Dwight Lowery
, they are very thin. Strong safety is a blank spot that needs filling and ranks right there with offensive line and corner in the desperate need category.
Quarterback
-- No, I don't think
Blaine Gabbert
or
Chad Henne
is a long-term answer. So if the new regime loves a guy in this draft, it certainly can add a quarterback. But given the holes on this team, it would make perfect sense to build up the infrastructure that would make Jacksonville a better landing spot for a quarterback in a year.
Defensive end
-- The Jaguars had fewer sacks as a team last season than Houston defensive lineman
J.J. Watt
had on his own. They haven't added an end and absolutely need a dynamic pass-rusher.
Running back
--
Justin Forsett
was a nice addition as
Maurice Jones-Drew
's primary relief. But MJD could be in his last year with the team, so a running back of the future could arrive in the draft.
Linebacker
--
Geno Hayes
could be a starter on the outside as it doesn't appear
Daryl Smith
is going to be back.
Russell Allen
is serviceable, so maybe the team has its two starting OLBs. Not as pressing in the draft as some other areas, but if they see one they like they won't steer away.
Fullback
--
Greg Jones
is gone to Houston and indications are the team plans on using a fullback. Maybe a late draft pick. But it's a niche spot that a lot of teams may fill with an undrafted guy.
Defensive tackle
-- They've added
Roy Miller
and
Sen'Derrick Marks
. Those two and a healthy
Tyson Alualu
could be sufficient along with competition for a back-end spot between
D'Anthony Smith
,
Jeris Pendleton
and an undrafted guy or two. I could see the Jaguars leaving this spot alone now.
August, 27, 2012
8/27/12
5:01
PM ET
Aaron Ross
is in line to start at left cornerback for the Jaguars on opening day at Minnesota, with
Rashean Mathis
as the nickel back, coach Mike Mularkey told the team's press corps Monday.

But it's not that Ross has won a battle between two veterans which was set up for the winner to start and the loser to play the nickel. Mularkey said Mathis, recovering from a torn ACL suffered in November, can still use more time.
"I would say that right now (Ross will start), because I think we're still working on Rashean to get back to the level of play," Mularkey said. "He'd tell you the same thing. He's probably not a hundred percent yet but he's working his way back to it. I think he can play. I am not sure he can play at the level he's capable of playing right now."
That means Mathis will line up in the slot against three-wide sets.
Starting right cornerback
Derek Cox
won't play in the preseason finale and is in doubt for opening day with a lingering hamstring injury.
"I don't know yet," Mularkey said. "It's iffy. Again, you've got two weeks almost. Thirteen days to make that decision, but if it was tomorrow that would be the way we go."
Kevin Rutland
or
William Middleton
would fill in.
August, 5, 2012
8/05/12
10:11
AM ET
JACKSONVILLE, Fla. -- If you care to think the Jaguars are a mess and going to be in the running for the No. 1 pick in the 2013 draft, they're fine with that.

As they worked through the early days of Mike Mularkey's first training camp, they repeated the new coach's mantras (like, "we just want to get a little bit better every day"), fell in line with his policies (like potential $10,000 fines for answering media inquiries about injuries) and gave team-first answers to questions about the absence of their two biggest names --
Maurice Jones-Drew
(holding out for a new contract) and
Justin Blackmon
(unable to strike a rookie deal).
Sure, they don't have much choice but to buy in, but there is an undertone that suggests they have a secret to spring on the league in a couple of weeks.
Every team at this stage of camp thinks it can be good. In Jacksonville, a significant improvement from 5-11 is certainly possible, no matter what the popular storylines are. Honest.
Theirs is a defense loaded with quality, front-line talent. Beyond middle linebacker
Paul Posluszny
, most of it remains largely unknown. But if you don't know linebacker
Daryl Smith
or cornerback
Derek Cox
or defensive tackle
Terrance Knighton
, that's not the Jaguars' concern.
"If anyone feels we are not in a proper place or we have problems, that's OK," Posluszny said. "We feel like inside these walls we're doing everything that we can to be a very successful team.
"Mularkey's done a great job for us. He's a former player who's been through it. To me, that all means a ton, because he knows exactly what we are going through and what it takes to be successful."
While the offense is being revamped, and Mularkey and his assistants are trying to reformat quarterback
Blaine Gabbert
after a horrific rookie season, the defensive system and bulk of the staff have been in place for a while now.
Gabbert has nice moments, but his overall inconsistency at practice halts any proclamations that he made a significant offseason jump.
No matter how much players and coaches talk about his gains in leadership, no matter how much faith the organization has in him, no matter how patient they are, it comes down to making throws under pressure.
The early snapshot says the defense can be really good, but that a limited offense could be the obstacle to the surprise the Jaguars would so like to produce. There is a lot of time to work on what's been installed, to find what works and to run it better than it's been run so far.
THREE HOT ISSUES
[+] Enlarge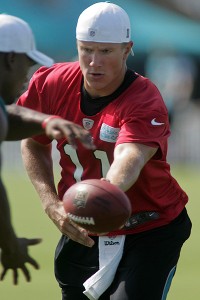 Phil Sears/US PresswireBlaine Gabbert finished his first season with 12 TD passes, 11 interceptions and a 50.8 completion percentage.
1. Is Gabbert good enough?
He folded under pressure too often last season, but the rush wasn't all he was facing. The team drafted him 10th overall intending for him to sit and learn for a season, but that plan didn't pan out and Gabbert was hurried into the starting role for 14 games during which he had poor pass protection and very limited receivers.
There were big distractions off the field, too: Jack Del Rio got fired and the team was sold.
Mularkey was hired in large part because he's developed quarterbacks, and he, coordinator Bob Bratkowski and quarterbacks coach Greg Olson have to get steadier play from Gabbert and get his arrow pointing up. His good moments look very nice, but there are still too many bad ones that leave you shaking your head. A kneel-down would seem less disheartening in many of those instances.
It's a slow process, installing a new offense and rebuilding a quarterback's confidence. Exactly how slow is the question we need answered.
Mentions of mechanical or technical adjustments by his coaches have been well-received, and he acts on them quickly. That's great, but when the rush turns live and the pocket starts collapsing, will he have open people he can stand in and find? We simply can't know yet.
2. The missing pieces.
Jones-Drew is demanding a new contract. The Jaguars have said they won't give him one with two years left on the old one. Boom -- a stalemate. I can't see the team altering its stance unless he holds out into the season and it struggles horribly without him. He's got an ego that will make it hard for him to return without any contract alteration, so this could drag on.
Blackmon is a rangy target who can go get the ball, and missing early camp is helping no one. He got a DUI after being drafted fifth overall, and the team wants insurance against any further troubles. Blackmon's unwilling to give the Jaguars what they are looking for, though.
So we're seeing second-year man
Cecil Shorts
work in the Z spot where Blackmon will eventually be, with veteran addition
Laurent Robinson
at the X.
Rashad Jennings
is the lead back without Jones-Drew in camp, and is a bigger guy who also ranks as a power runner. I liked what I saw and heard from him.
3. Will there be enough of a pass rush?
The Jaguars had 31 sacks last season, and to reach their potential on defense they need more in 2012. More consistent pressure and more sacks will come with improved coordination from the defensive linemen.
Their line coach, Joe Cullen, said they just missed on a bunch of chances last season, and another season together and the work they are doing now will result in better communication. The Jags face
Tom Brady
,
Aaron Rodgers
,
Matthew Stafford
,
Jay Cutler
and
Andy Dalton
in addition to two games against
Matt Schaub
and two against hotshot rookie
Andrew Luck
this season, and they won't win many of those without consistent pressure.
The relentless
Jeremy Mincey
promises the production will increase.
Andre Branch
was drafted in the second round to help, and looks like a quality player. Depth off the edge remains a concern.
Austen Lane
suffered yet another injury while I watched practices, during which
John Chick
walked the width of a practice field dragging heavy weight as he rehabilitated his knee.
REASON FOR OPTIMISM
[+] Enlarge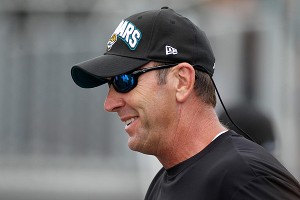 AP Photo/John RaouxNew head coach Mike Mularkey and his staff have made a positive impression on the players.
Mularkey and his staff. There is planning and logic to everything going on here, and the new staff has genuine concern for players on and off the field. Players are being told what the plan is and the right way to execute it. They felt that was lacking with the previous regime, and welcome it.
Position coaches like Olson, receivers coach Jerry Sullivan and one of the key holdovers, linebackers coach Mark Duffner, are true teachers, and they have guys under them who want to learn. That leadership and teaching faltered in many areas at the end of Del Rio's tenure. It's present in full force now. If guys follow and doing so produces results, it'll snowball.
REASON FOR PESSIMISM
A lot more is in place for Gabbert, and everyone has a stake in his performance: the GM who traded up to draft him needs him to succeed; the new coach who was hired to polish him needs him to succeed; the high-priced free-agent receiver and first-round draft pick receiver need him to succeed; the talented defense needs him to succeed.
Gabbert's saying the right things and working hard, and you can see improvement on some drop backs. But there are still enough dud plays sprinkled into practices to make you wonder if he can succeed. The team wants him to avoid turning the ball over -- staying away from the worst-case scenarios -- and it's a smart goal, but will it make Gabbert too cautious?
Can you ask him to be careful and function as a game-manager type when the best attribute he has is a big arm that can get the ball into tight windows? It might turn out to be complicated.
Also, there is not great roster depth. I have particular concerns about the offensive line, defensive end and safety if someone goes down.
OBSERVATION DECK
The team appears to be high on undrafted rookie linebacker Julian Stanford out of Wagner. With Clint Session's future in doubt because of post-concussion issues, Russell Allen is likely to start opposite Daryl Smith outside. Stanford could make the team as a special-teamer who can provide depth. Brandon Marshall, a fifth-round pick, also has what looks to be an NFL-ready linebacker frame.

Mike Thomas needs Blackmon signed, in camp and taking the bulk of the snaps at one of the two outside receiver spots. I'm convinced that to get his head right, Thomas needs to be given the slot role and allowed to focus on it exclusively. His snaps were cut down during my visit, with Shorts working at the front of the line in Blackmon's Z spot. The slot is what Thomas is best suited for, and his performance has slipped when he's been expected to do more. He had a lot of drops early in camp, and Mularkey agrees with the potential for less to be more with Thomas.

Josh Scobee has the leg to get a lot of touchbacks and Bryan Anger has the leg to force a lot of fair catches. The Jaguars obviously still have to work on covering kicks and punts, but how often will they actually be covering kicks and punts? If the offense can produce some first downs, we should see more scoring, and more scoring will mean more kickoffs from Scobee and less work for Anger.

The depth at tight end is interesting after No. 1 Marcedes Lewis. Colin Cloherty got a lot of work as the No. 2 early on, and Zach Miller is another move guy who's very intriguing, though Miller is rarely healthy. Zach Potter is giant, but hasn't earned a lot of time, and undrafted rookie Matt Veldman is also extra large.

Posluszny is the centerpiece of this defense. He covers a ton of ground and makes big hits. He's a model for doing things the right way, which is a major point of emphasis for Mularkey and his staff. Posluszny was a solid signing last season, and continues to deliver just what the team hoped for. That helps offset the fact Session, who also came to Jacksonville for a big contract in 2011, might not be on the field any time soon, or ever again.

The cornerbacks look good. Cox is really solid, and Aaron Ross and Rashean Mathis will be effective as the Nos. 2 and 3. The depth grew with last season's injury onslaught, and William Middleton and Kevin Rutland can play, too.

Branch, the rookie pass-rusher, came into the league facing questions from many teams about his ability to stand up against the run. The Jaguars have no such concern at this point. He's got to be an effective part of a four-man group at end with Mincey, Lane and Chick. Branch certainly looks the part, but so did former Jaguars bust Derrick Harvey, so we can't put much on the early eyeball test.

Along with Stanford, running back Jalen Parmele caught my eye. He's spent time with Miami and Baltimore.
July, 10, 2012
7/10/12
1:08
PM ET
I've been pondering depth in the AFC South, and thought as we await the start of training camps we should look at what position groups compose the deep end, and which compose the shallow end on each roster.
Next up is Jacksonville …

Deepest:
It's tempting to say linebacker, but
Clint Session
has to prove healthy to make it a four-pack with
Russell Allen
as the extra. And four isn't that deep. So I go cornerback, where the starters might not be as good, but the team has solid options beyond its top three (
Derek Cox
,
Rashean Mathis
and
Aaron Ross
) in
William Middleton
and
Kevin Rutland
, and two others who got time last season showed some potential:
T.J. Heath
and
Ashton Youboty
.
Thinnest:
Offensive tackle.
Eugene Monroe
is solid on the left side, but needs to emerge as elite. The team is counting on a big comeback from
Eben Britton
on the right after a season pretty much lost to a back injury. But beyond those two I don't have much faith. They like second-year man
Cameron Bradfield
, who's unproven, and they gave a new deal to veteran
Guy Whimper
, whose play was too inconsistent during a lot of work last season. Better protection for
Blaine Gabbert
is a priority. If Britton has a setback or something happens to Monroe, do they really feel like they can offer it with those guys?
December, 15, 2011
12/15/11
12:58
PM ET
Five things to look for tonight in the Jaguars game at Atlanta tonight:

Khan!
He won't take over the team until Jan., but Shahid Khan's been approved by the league to buy the Jaguars. He will be at the Georgia Dome to watch his new team for the first time tonight, and NFL Network cameras are sure to find him. He was absolutely beaming as he participated in a news conference after approval, and he figures to start off all smiles at kickoff. But if things go badly for Jacksonville early, the expression under the mustache might change.
The defensive backs:
Jacksonville is ridiculously thin in the secondary. Cornerbacks
Ashton Youboty
and undrafted rookie
Kevin Rutland
have both had some good moments. But surely Atlanta offensive coordinator Mike Mularkey and quarterback
Matt Ryan
see the potential to attack on the outside and win.
Points:
The Jaguars hadn't topped 20 points all season until they exploded for 41 last week in a romp against the Buccaneers. The Falcons are playing good scoring defense. In the past month they've given up 23, 17, 14 and 17.
The receivers:
Both
Mike Thomas
and
Cecil Shorts
are out with injuries. With them,
Blaine Gabbert
's got a super limited number of weapons. Without them we'll see if newcomer
Taylor Price
and youngsters
Jarett Dillard
and
Chastin West
can make any plays. Mike Sheppard's been working as the receivers coach for a couple weeks now, is he able to have a positive influence on this group?
Energy:
High motor defensive end
Jeremy Mincey
qualifies as a tone-setter for the Jaguars. With a short turnaround and a road game, the team needs to show some hop against a team that's primed to be a playoff entry. I'll watch Mincey to see if he can provide the sort of early spark that could serve notice the Jaguars won't go down easily.
December, 6, 2011
12/06/11
1:44
AM ET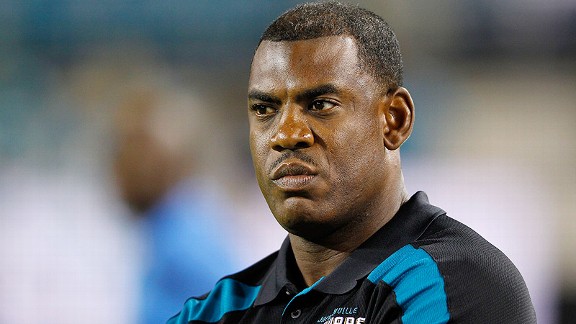 Mike Ehrmann/Getty ImagesThe Jaguars, who haven't scored more than 20 points this season, managed 14 in interim coach Mel Tucker's debut.
JACKSONVILLE, Fla. -- After a news-filled week with change, the Jaguars took the field for "Monday Night Football" and promptly proved talent trumps everything.
Depleted at cornerback and ineffective rushing quarterback
Philip Rivers
, Jacksonville allowed the Chargers' quarterback to find big plays all night. He missed on only 6 of 28 passes and threw for 294 yards and three touchdowns in a
38-14 win
that ended San Diego's six-game losing streak and snapped the Jaguars' hopes that a new coach could quickly change their course.
All the promise the Jaguars brought into the first game under interim coach Mel Tucker with a national audience watching flamed out Monday night at EverBank Field.
Tucker preached to his team that just because it didn't see immediate results didn't mean the changes they'd adopted weren't the right ones, and asked them to rededicate and recommit.
With four games left, they may have the right roster character to do so, but the improvements and dividends are likely to be small.
"We did improve as a football team this week in a lot of areas," Tucker promised. "Those are some things that didn't show up for the entire game, but they will give us a chance to win and sustain winning in the future."
Tucker's in a tough spot, trying to sell hope and change with only so much he can do and no influx of talent walking into team headquarters.
I want to believe his belief, but at the same time it's hard to buy into a predictable offense that lacks anything dynamic beyond
Maurice Jones-Drew
, and into a defense that's too injured to cover against quality receivers being targeted by an accurate quarterback.
Jacksonville rookie quarterback
Blaine Gabbert
and the offense pieced together a nice second quarter, when they turned a 10-0 deficit into a 14-10 lead. It was his first game with two touchdown passes, but an interception resulting from a miscommunication with receiver
Mike Thomas
late in the second quarter positioned San Diego to retake the lead before intermission.
And a team that hasn't scored 21 points in a game all season never threatened to do so from that point forward.
"We executed well in the second quarter, but the biggest thing we've got to take out of this game is that we've got to execute like that the whole game," Gabbert said. "We've got to play four quarters of football. We can't just have one great quarter."
I'd rather not carve up Tucker's postgame comments, but how they squared with the game that came before them was somewhat striking to me.
He said playing from behind, the team remained confident in its game plan. "I didn't see confusion, I saw an element of sharpness and crispness, I saw a confidence as guys broke the huddle," he said.
I saw two Keystone Cops moment, with Gabbert simply dropping the football on a scramble before batting it out of bounds to earn a penalty, and with long snapper
Jeremy Cain
sending holder
Nick Harris
in wild pursuit of a well-wide snap on what was to have been a long field goal attempt.
Tucker said he did see a sense of urgency, but the Jaguars never really stepped up their tempo. Had they, things might have gotten worse, not better. But as with many things at this stage of a bad season, you have to ask: Why not try?
Tucker said "we did what we could," and that I believe.
This is a limited team that needs a new coaching staff and its young quarterback to spend an offseason together, re-crafting an offense to be less predictable and feature more explosive pass catchers -- like San Diego receiver
Vincent Jackson
, who scored a 35-yard touchdown and is heading for unrestricted free agency.
Jacksonville doesn't get to shop for such players yet, it's got to make do with the ones it has.
Like undrafted rookie corner
Kevin Rutland
, who had good position against
Vincent Brown
in the end zone on a 22-yard touchdown reception, but failed to turn his head to locate the ball and make a play on it.
Rutland's been with the Jaguars since the start of camp, he's gotten sufficient work as an understudy and he should have been ready, he said.
"There should have been no slack," he said. "I imagined my first start going a lot different. This is step one and I can grow from here."
He and a lot of people.
December, 5, 2011
12/05/11
12:11
PM ET
JACKSONVILLE, Fla. -- In his first year calling plays for the Jacksonville defense, Mel Tucker's had a solid season for the Jaguars.
He was given a huge upgrade in personnel out of free agency, and the team's issues in a 3-8 season have been primarily on offense.
[+] Enlarge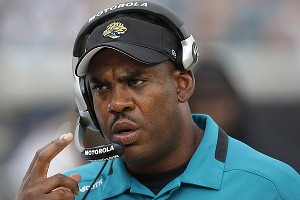 AP Photo/Phil Coale, FileJaguars interim coach Mel Tucker makes his debut on Monday against San Diego.
Tonight, as he debuts as the team's interim coach in a home "Monday Night Football" game against San Diego, Tucker will be without his three top outside cornerbacks.
Will Middleton has joined
Rashean Mathis
and
Derek Cox
on injured reserve.
While Chargers quarterback
Philip Rivers
has struggled this season, he could be in line to make some connections at EverBank Field, where recent addition
Ashton Youboty
, undrafted
Kevin Rutland
and retread
David Jones
are in line to play in Jacksonville's secondary. Jones, who struggled mightily last season, was re-signed as Middleton went to IR.
Drew Coleman
plays as the nickel corner and seems to be pigeonholed there, but whether Tucker likes him outside or not, the Jaguars might have to use him more.
I'm not sure what Tucker can do in the team's remaining five games to hold on to the job. He's respected and he's expected by those who put him in place to do well. But after nearly nine seasons of Jack Del Rio, the Jaguars are a team in need of fresh air, and new owner Shahid Khan is likely to want to make a splash with an outsider who revamps the way the team plays.
Tucker has been assured of an interview, and many are mentioning him as a strong candidate for the post. At this stage I'd guess it's more likely the new coach, hopefully an offensive mind, recognizes the Jags' productive defense and tries to get Tucker to return to the coordinator post.
ESPN's Mike Tirico will do the play-by-play of tonight's game. He watched Saturday's practice and was part of a production meeting with Tucker.
"He's very detailed, very organized," Tirico said. "I think it's definitely an approach that would be what I'd expect from a guy who's learned from Nick Saban and Jim Tressel, among others. The practice was a crisp, well-paced practice."
It's been a whirlwind week. Tucker had no hint of what was coming when he reported to work Tuesday. Since then, he dismissed receivers coach Johnny Cox, shifted Mike Sheppard from quarterbacks to receivers coach and gave offensive coordinator Dirk Koetter full sway over the quarterbacks.
He's overseen the construction and installation of a game plan. He's dealt with Middleton's injury.
And he's very likely implemented some other unseen alterations to the operation.
"For that sort of fire drill for a guy who's 39 and has never been a head coach, he's seems pretty organized," Tirico said.
At his first practice as the head man leading up to this game, Tucker arrived 30 minutes early. He talked of wanting to get some fresh air, but also confessed it gave him the vantage point he wanted as he began to watch everything.
The Jaguars know they've got new eyes on them.
What Tucker sees will be important. What Tucker shows will be more important.
November, 14, 2011
11/14/11
6:27
PM ET
The Jaguars don't have great outside cornerback depth.
In four games starter
Derek Cox
missed earlier this season, Jacksonville lost all four and gave up an extra 40 passing yards a game.
Now Cox's counterpart, veteran cornerback
Rashean Mathis
, is lost for the remainder of the year with a torn ACL.
While the Jaguars have a nickel corner in
Drew Coleman
best suited for inside work, their options to replace Mathis outside are a significant drop-off:
William Middleton
played for Cox, and the other corners on the team are undrafted rookies
T.J. Heath
and
Kevin Rutland
.
"(Middleton) did a solid job finishing the game for us," Jack Del Rio said. "We've got some other young players and I know that Gene (Smith) is busy trying to acquire a player. I'm sure before the day's out or by tomorrow we'll have somebody at that spot..."
"The task for all of us on this team is to know your role and make sure you take care of your assignment and do your job within the confines of what the football team is asking you to do. So that doesn't really change for Will."
The Jaguars also put offensive lineman
Eben Britton
, who's enduring complications from back surgery, and linebacker
Kyle Bosworth
(hand) on IR.
They signed tight end
Fendi Onobun
from the Redskins' practice squad. They still have two open roster spots.
September, 3, 2011
9/03/11
9:58
PM ET
Click
here
for a complete list of the Jaguars' roster moves.

Surprise moves:
Three undrafted rookies stuck -- offensive lineman
Cameron Bradfield
, receiver
Jamar Newsome
and cornerback
Kevin Rutland
. The Jaguars already have a deep IR, with running backs
Rashad Jennings
and
Richard Murphy
, defensive tackle
D'Anthony Smith
(for the second year in a row), corner
David Jones
and end
Aaron Morgan
.
No-brainers:
Getting another defensive back in a trade with the Jets for
Dwight Lowery
was a good move. With
Rashean Mathis
,
Derek Cox
,
Drew Coleman
and Lowery the team is deeper at corner than it was last year. But Lowery has some safety experience. Could the Jaguars want him there? The
Don Carey
experiment in the defensive backfield depth mix needed to end.
What's next:
This has to be the only team in the league with more fullbacks (three) than running backs (two). No matter how much Jack Del Rio talks of giving the
fullbacks carries
, a run-based team needs another running back. It should upgrade offensive line depth, too.
July, 26, 2011
7/26/11
5:45
PM ET
The Jaguars have agreed to terms with 24 undrafted rookies and GM Gene Smith has again dipped into some small schools for prospects.
South Dakota State? Check. Colorado School of Mines? Yup. West Virginia Tech? Accounted for.

Five of the 24 had writes ups in Pro Football Weekly's annual draft book. Being in there is no guarantee a guy's good and not being in there is no guarantee he's not, but it's one place we can get a sense of a couple guys.
Cincinnati receiver
Armon Binns
ranks as "a big solid, possession receiver.
Troy running back DuJuan Harris could compete for reserve job with solid special teams showing.
UConn linebacker
Scott Lutrus
was seen as a possible late-round pick who projects as backup and special teamer.
Central Florida receiver
Jamar Newsome
projected as a player who might be effective on screens and crossing routes.
Missouri cornerback
Kevin Rutland
will bring measurables and special teams abilities.
Here's the entire list:
WR Armon Binns, 6-3, 209 Cincinnati
OT Cameron Bradfield, 6-4, 302 Grand Valley State
CB Cole Brodie, 5-10, 188 South Dakota State
LB JoJo Dickson, 6-1, 245, Idaho
WR Greg Ellingson, 6-3, 197, Florida International
S Matt Estrada, 5-10, 196, Northern Arizona
TE Tommy Gallarda, 6-5, 262, Boise State
LB Eric Gordon, 6-0, 225, Michigan State
G Brandon Harper, 6-2, 320, Duke
RB DuJuan Harris, 5-7, 197, Troy
CB T.J. Heath, 6-0, 179, Jacksonville State
WR Dontrelle Inman, 6-3, 198, Virginia
CB Jalil Johnson, 5-10, 184, Jackson State
LB Michael Lockley, 6-1, 237, Florida Atlantic
LB Scott Lutrus, 6-3, 241, Connecticut
TE Kyle Miller, 6-5, 257, Mount Union
RB Richard Murphy, 6-1, 208, Louisiana State
WR Jamar Newsome, 6-1, 201, Central Florida
DE Odrick Ray, 6-4, 276, Tulsa
QB Scott Riddle, 6-0, 211, Elon
CB Kevin Rutland, 6-0, 188, Missouri
P Brian Saunders, 6-0, 203, Virginia Tech
DE Marc Schiechl, 6-2, 252, Colorado School of Mines
G Troy White, 6-5, 300, West Virginia Tech