June, 4, 2010
6/04/10
5:53
PM ET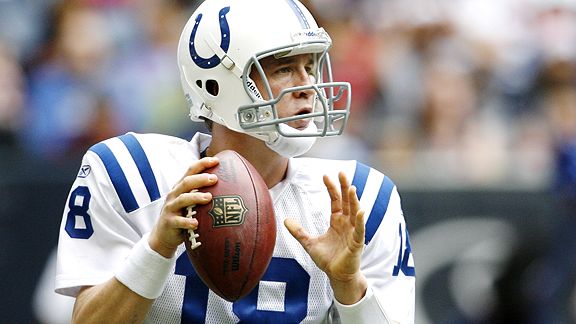 Aaron M. Sprecher/Icon SMIBad news for opposing defenses: Peyton Manning's relentless drive to improve his game means the four-time MVP could be even better in 2010.
INDIANAPOLIS -- His neck is
repaired
and he's been working with receivers since April. Now he's leading the
Indianapolis Colts
through minicamp paces, intent on a return to the Super Bowl and a better big-game result.
How does
Peyton Manning
, the league's first four-time MVP, get better for 2010?
Head coach Jim Caldwell has seen the process up close as a participant. He knows just the sort of meticulous deconstruction of the 2009 season Manning has done with quarterback coach
Frank Reich
in search of bullet points to concentrate on for 2010.
"He's a very unusual guy," Caldwell said. "Every year he kind of goes through this process where he and Frank will sit down and they'll take a look at what he was able to accomplish last year, he'll look at all his strengths and weaknesses. He'll review every single snap of every game he played. And not just glancing over it, but I'm talking about detail. They'll take notes of ever single throw, every single play call, every single check.
"And then from that he'll go through it and then make a determination on where he thought he could improve on that setting. He'll dissect his entire season that way and then he'll set new goals for himself in terms of what he thinks he can accomplish. And he seems to certainly keep moving forward, each and every year you see he gets better… I don't think there is any limitation on him, on what he can improve upon."
How long does it take? A week? A couple?
"Months," Caldwell said. "Plural."
That's not talk from Caldwell the rest of the NFL will be excited to hear, but it's hardly surprising. Saying Manning is meticulous is akin to saying Santa Claus is overweight. Still, we don't frequently get details of just how Manning goes about things, just like we don't get readings from a scale at the North Pole.
I asked Caldwell about avenues for Manning to improve upon after Manning spoke at the media center podium at team headquarters Friday. I certainly wish I were getting the scoop from Manning. But odds are Manning, who's super savvy with the media but not a big sharer with stuff that could ever qualify as state secrets, wouldn't have offered much up on it anyway.
[+] Enlarge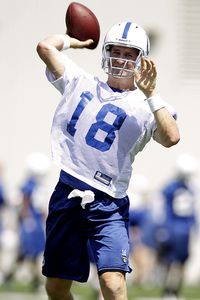 AP Photo/Michael ConroyPeyton Manning practiced Friday after surgery to alleviate a pinched nerve in his neck that's bothered him for four years.
A lot of offseason morning meetings start at 7 a.m., he said, while suggesting his timing with pass-catchers always will be a big point of emphasis in this offense.
"The main thing I try to work on is the timing with these new receivers, Brody [Eldridge] who's a new tight end here, Sam Giguere who's healthy and obviously try to get even more sound with Pierre [Garcon], [Austin] Collie," Manning said. "And everybody acts like this is the start. We've been here since April, we've been throwing. We've been working a lot on the field.
"I've had another good offseason with [Anthony] Gonzalez now that he's back. Getting the timing down with all these young receivers, the more I can get on the same page with them the more we have a better chance at success."
Clyde Christensen is the offensive coordinator now, with Tom Moore in a lesser role.
Manning has worked closely with Christensen in recent years. He's been the coach who has been in charge of third-down situations and red zone plays, two excellent areas for the Colts. While some players will need to adjust to the change in coordinators, the switch won't slow Manning down at all.
At minicamp practice, Manning looked like Manning.
In a breeze that was occasionally strong, the throws were crisp and precise whether the target was
Dallas Clark
or
Dudley Guice
. The quarterback's conversations with a coach or player to the side during breaks were accented with points and hand gestures about patterns and positioning.
I'd never expect that Manning would decide he's got it all under control.
But I do suspect it can get increasingly hard for very good players in any sport to find macro-issues to target this time of year. That's why it's so great when we learn that Kobe Bryant spent offseason time with Hakeem Olajuwon to become a better player in the post, and why details from Caldwell on Manning's determination to be more accurate can be pretty interesting.
Before 2008, Manning's tear-down of 2007 led him to a more intense focus on pass placement, according to Caldwell, who was the assistant working most closely with him then.
So what did that lead to?
"He works each and every drill in terms of placing the ball where he wants to place it and if he doesn't hit it right on the spot, he'll say, 'Hey, let's do that one again,'" Caldwell said. "He'll repeat it. And for most people, the initial pass would have been one that would have been highly acceptable.
"But for him, it maybe wasn't right on the pinpoint of the left shoulder. Or maybe it wasn't at the right ear. He's very, very precise in that regard, and I think that's what makes him unusual."
Anything Manning has discovered since then has also been layered into his private individual work with targets and sessions like today's.
Reggie Wayne
is absent in a contract protest. Upon his return, the group of Wayne, Garcon, Collie and Gonzalez gives the team a "chance to be as deep as ever" at the position, Manning said.
The draft class is supplemented by the return of Gonzalez and safety
Bob Sanders
from injury -- players Manning feels almost qualify as free-agent additions. Given those factors, the Colts seem like they'll be in position to improve as they try to defend their AFC title.
But Manning emphasizes they've got to do the things to make it so, not rely on how it all looks on paper.
Notes from his season breakdown are on paper, too. It's hard to imagine they won't come to life on fall Sundays.
"He's got such great presence of mind, such great will and determination that I think you will see him improve in almost every area," Caldwell said.
April, 29, 2010
4/29/10
4:10
PM ET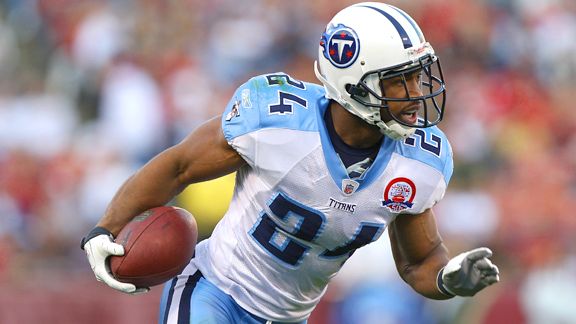 Jed Jacobsohn/Getty ImagesCoaches were concerned that Chris Hope may have prepared too much last season.
NASHVILLE, Tenn. -- As is often the case,
Chris Hope
was among the last Titans off the field after Thursday's practice. He'd set up some cones and worked with some defensive backs after the session ended, but even as he left the field he wasn't finished.
With hand gestures and footwork examples, he talked second-year safety
Nick Schommer
through a technique all the way to the walkway to the locker room.
That sort of devotion is what made Hope such a valuable addition to the Titans in 2006, when he was brought in from Pittsburgh as a free agent. It's what helped him earn a Pro Bowl spot in 2008 -- one of three members of the secondary to earn the honor.
Working just as hard, maybe harder, he was also in the middle of the defensive backfield's brutal drop-off in 2009. The league's ninth-best pass defense plummeted to 31st.
Hope was still a constant, but he didn't qualify as the same steadying presence in a group that featured some injury replacements and was going against opponents who had more time to find targets downfield.
"I didn't play consistently at a high level every game," Hope said. "Not the big year that I expected from myself and not the big year coming off the Pro Bowl season. When you lose, a lot of things get pointed out. I'm a professional about it. Every year I try to find something to get better at.
"The numbers are considerably close, but the game isn't about numbers, it's about how effective you are every Sunday and wins. …I feel like I played well enough to win every Sunday, but I didn't have those big spectacular plays and those consistent big hits that I was looking for coming into the season."
Defensive coordinator
Chuck Cecil
looks back on Hope's year and has come to a conclusion that he said he never has reached before as a coach.
Hope may have studied too much and gone into games overprepared.
"I don't even know how to say this without it sounding wrong, but I think it was almost to the point of being counterproductive because he was so prepared," Cecil said. "I think it became a situation where he was studying it so hard and so much, and putting in so much time that he was assuming when he saw something that he knew what the play was. Rather than just playing football and playing what happened, he was playing what was supposed to happen."
"…As far as what you tell him? 'Hey, don't study so much. Play ball.'"
Hope didn't completely agree with that assessment, and said he didn't have any plans to change his preparation style.
But he did say he found himself watching things unfold last year and sometimes felt helpless.
"It's sometimes frustrating, because you know what's coming, you know what's going to happen, you know you can make the play and you're not in position to make the play," he said.
"Sometime you may tweak your assignment or tweak your alignment a little bit. When you're a playmaker, and you're one of the leaders of the team you get a little frustrated. That was more of the problem than anything."
Cecil is one of several people in the organization who credit Hope with changing the tone of the defensive back meeting room and setting standards for work ethic and preparation for young players like
Cortland Finnegan
,
Michael Griffin
and
Vincent Fuller
.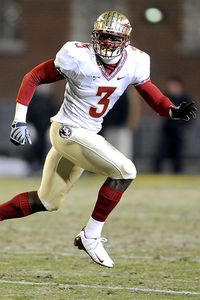 G Fiume/Getty ImagesRhodes Scholar Myron Rolle could learn a lot from Chris Hope.
The next time the veterans are on the field for an OTA the rookies will be mixed in. They'll include safeties
Robert Johnson
and
Myron Rolle
, a Rhodes Scholar the team may be viewing as Hope's eventual replacement.
It can be an awkward stage of a guy's career when he's in position to help train his successor, but Hope will be a guy who handles it gracefully.
"If I'm here to teach those guys how to play and get to be a professional, I embrace that," he said. "I feel like I owe it to the game. I didn't get here on talent alone."
Still, he believes he's got three to five years left, and he's determined not to fall into a trap he thinks hurt him in 2009.
With Finnegan and Griffin also coming off Pro Bowl years, Hope said he backed off, placing friendships ahead of football. It's a mistake he pledges he won't make again.
"We were experienced, we were all friends," he said. "Sometimes the leader had to take the bad side, and I didn't want to do that. I regret not doing it now. This year I will be more prominent and not really worry about friends and friendships as much as success and the growth of guys. I took a lot of pride in seeing Griff grow into one of the best safeties in the league and I feel like I kind of let him down."
Hope will turn 30 on Sept. 29, a number that's becoming a flashing warning light for teams no matter the position. He's got two years left on the six year-deal he signed when he came to Tennessee after helping the Steelers win a Super Bowl.
"Father Time is undefeated, he gets everybody," Cecil said. "I think Chris has been around long enough to understand that. His professionalism is almost unmatched. It's not a discussion that you have. But it's something that sooner or later everybody comes to understand."
Hope said he knows Kobe Bryant can still do a lot of what LeBron James does, but that the Laker now picks his spots.
"[Bryant] chooses when it's time to put the dagger in someone," he said.
Titans coach Jeff Fisher mentioned the possibility of giving Hope days off during the season next year. Hope said he'll pass on those. To glue a secondary together, to press guys to do the extra work, to train Rolle in the intricacies of the job, Hope needs to be on the practice field.
For Cecil to get him back to reacting to football as it unfolds rather than as it should unfold based on what he's seen on film, Hope will want to be in uniform.