April, 21, 2014
Apr 21
6:00
PM ET
INDIANAPOLIS -- Center
Phil Costa
wasn't even around long enough to be asked about dating Hulk Hogan's daughter let alone possibly hike the ball to quarterback
Andrew Luck
with the
Indianapolis Colts
.
Costa, in a surprising announcement, has decided to retire.
"Phil feels it's in his best interest to retire from the game," Colts general manager Ryan Grigson said in a statement released by the team. "We certainly understand and wish him nothing but the best."
The Colts signed Costa to a two-year, $2.7 million contract that included $450,000 guaranteed last month.
UPDATE:
The Colts do not have to pay Costa any of the guaranteed money he was scheduled to make since he decided to retire.
The idea was for Costa to compete with
Khaled Holmes
for the starting center position, but I got the sense that the Colts were hoping Holmes would win the job. Costa, who started with the
Dallas Cowboys
in 2011, was beat out by rookie
Travis Frederick
last season.
Holmes only played 12 snaps and was a healthy inactive 11 times last season as a rookie.
Now the Colts are in serious of need of adding another center to the roster. This isn't a position they should be in with their franchise player Luck. The little bit of good news out of Costa telling the Colts he was retiring is that he did it now and not after training camp had already started. It gives Grigson some time to try to find another center to add to the roster.
Alex Mack
?
Nope. The
Cleveland Browns
quickly matched the offer the
Jacksonville Jaguars
gave him.
Mike McGlynn
?
McGlynn, who plays guard and center, was the best center on the Colts' roster last season, but the team had no interest in re-signing him. McGlynn is now with the
Washington Redskins
.
Samson Satele
?
Next.
Kyle Cook
,
Mike Gibson
and
Steve Vallos
are the three best centers still available on the free agent market, according to Bill Polian's free agent tracker.
Grigson said during the NFL owners' meetings last month that he wasn't overly impressed with the group of free agent centers.
That takes us to the draft. The Colts' first pick is not until No. 59 in the second round.
Here's a recap of the top 10 centers in the draft, according to ESPN draft analyst Mel Kiper Jr.:
1.
Marcus Martin
, USC
2.
Weston Richburg
, Colorado St.
3.
Russell Bodine
, North Carolina
4.
Travis Swanson
, Arkansas
5.
Jonotthan Harrison
, Florida
6.
Gabe Ikard
, Oklahoma
7.
James Stone
, Tennessee
8.
Bryan Stork
, Florida St.
9.
Corey Linsley
, Ohio St.
10.
Tyler Larsen
, Utah St.
March, 26, 2014
Mar 26
3:30
PM ET
ORLANDO, Fla. -- Finding a new center to replace the retired
Brad Meester
is one of the
Jacksonville Jaguars
' top priorities this offseason, but the fact that they didn't sign one during the first few weeks of free agency isn't a concern for general manager David Caldwell or coach Gus Bradley.
They're confident they can find a starter among the players already on the roster, beginning with third-year player Mike Brewster.
"We felt like going through our end-of-season evaluations that Brew could hold the fort down," Caldwell said during the NFL owners' meetings this week. "This is a big year for him. He's going into his contract year and it felt like that it could be a year for him to really excel and be the guy. I know the players feel comfortable with him. I know our coaching staff feels comfortable with him.
[+] Enlarge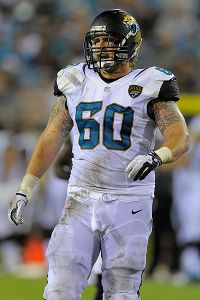 AP Photo/Scott A. MillerMike Brewster has played in 26 games with 10 starts since making the Jacksonville Jaguars as an undrafted free agent in 2012.
"If we found one that we really liked that we felt like could come in and be an appreciable upgrade then we'd go that route, but if not we felt like between the draft and between Brew and even a guy like Pat Lewis, who we have some feeling for that we claimed off Cleveland's practice squad, that one of those guys could come in and be the starter for us."
Jacques McClendon
, whom the Jaguars claimed last September and ended up playing in five games (two starts) at guard, also can play center. But Brewster, who was a four-year starter and Rimington Award finalist at Ohio State, gets the first chance. He missed the final two games of the season after suffering a fractured left ankle, but is expected to be healthy in time for OTAs in April.
Bradley said Brewster has worked hard in rehab alongside left tackle
Luke Joeckel
, who missed 11 games after suffering a fractured right ankle, and appears to have gotten bigger and stronger.
"I think that he's in the mindset that he has the opportunity right in front of him and he's really going to take advantage of this opportunity," Bradley said. "We'll see. He looks the part, coming off of his injury very well, but it's going to be competitive. We have confidence in him to play that position. We've talked in our offensive staff meetings and our overall staff meetings specifically about that one position, and his name keeps coming up."
The 6-foot-4, 305-pound Brewster, however, has yet to play a snap at center in his first two seasons. He has played in 26 games with 10 starts since making the team as an undrafted free agent in 2012, but all have been at left or right guard.
In fact, only one of the Jaguars' other current options at center has taken a snap. McClendon snapped once against Tennessee when Meester moved to tight end so he could catch a pass in his Jaguars finale. McClendon, a fourth-round pick by Indianapolis in 2010, has played in just nine games, five of which came with the Jaguars last season.
The Jaguars signed Lewis from Cleveland's practice squad on Dec. 17. He has yet to play in an NFL game.
There are still 13 free-agent centers available -- led by
Kyle Cook
,
Brian de la Puente
,
Mike Gibson
and
Rich Ohrnberger
-- so the Jaguars might still add one on a bargain contract before the draft. Even if they do, however, they'll still likely draft one in May. Starting a rookie center is not ideal because of the responsibilities of making line calls and adjustments, but signing veteran guard
Zane Beadles
and re-signing quarterback
Chad Henne
makes it more palatable, Bradley said.
"The center spot is always dangerous," Bradley said. "If you start with a rookie center and a rookie quarterback, I think that makes it difficult. But if you have a veteran quarterback and it happens to be a rookie center, you'll still go through some growing pains, but it's not to the extreme of both being rookies."
It's Brewster's job for now, but the Jaguars are obviously keeping their options open.
January, 5, 2012
1/05/12
2:00
PM ET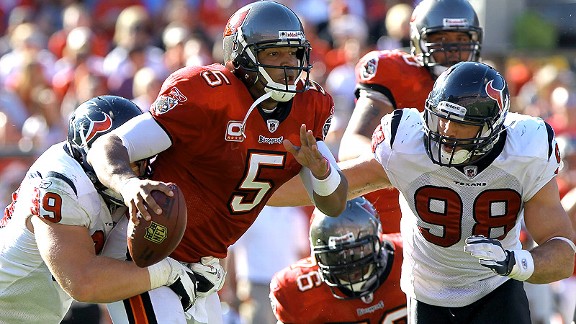 Kim Klement/US PresswireJ.J. Watt, left, and Connor Barwin (98) are part of a ferocious Texans pass rush.
They come from everywhere, with a great initial push that puts blockers on their heels and speeds up the clock in quarterbacks' heads.
The
Houston Texans
have a lot of excellent pieces. But to me, nothing sets the tone more than their swarming defensive front. A different defensive lineman or linebacker pops through into the backfield and forces a mistake, drags the quarterback down or strips the ball and pounces on it with great frequency.
Forty-four sacks are nice, and ranked sixth in the league. But they are hardly the only representation of how effectively the Texans have rushed. Opposing quarterbacks completed a league-low 51.9 percent of their passes against Houston. They've been hurried and harassed, throwing inaccurately and throwing balls away to avoid hits and sacks. The front always has hands up, and batted down a league-best 19 passes.
The work of the group is going to be the No. 1 thing to watch Saturday at Reliant Stadium. Can Cincinnati's big offensive line keep the Texans off quarterback
Andy Dalton
long enough to let him work? If it can't, the Texans should wind up in prime position for a second-round game in Baltimore.
"The front seven is probably the best in football; they flat get after you," Colts center
Jeff Saturday
said. "
Antonio Smith
is their best player.
J.J. Watt
, to be a rookie, he's been very impressive. And then those guys [
Connor Barwin
and
Brooks Reed
] come off the corners -- they call them linebackers, they're really defensive ends.
"So you're playing a five-man front all day.
DeMeco Ryans
and
Brian Cushing
can run with the best of them. They just give you everything they've got. I respect the heck of the way they play."
Dalton, who's missed work with the flu this week, said the constant effort of the Texans' defense is what he notices every time he watches it and what the Bengals have to be prepared to counter.
"They just play so hard," he said. "That's the one thing you see on film. They are never giving up. Even guys who are getting blocked, it's not like they are stopping their feet. They are doing everything they can to get off of their blocks. That's what makes their defense play the way they do."
An AFC personnel man I spoke with this week said he sees a weakness for Cincinnati on the interior line, where left guard
Nate Livings
, center
Kyle Cook
and right guard
Mike McGlynn
will be susceptible against Houston.
The Texans do superb work with stunts and twists where a defender loops around and makes an offensive line switch who they block. Those plays will cause the Bengals' bigger, slower linemen problems.
"They run their stunt game better than anybody," the personnel man said. "They rush to the point where the offensive line cannot pass off, they are so deep into their sets, deep into their rush, that you can't pass it off. If you pass it off, another guy is going to come free. They do a real good job making it so those offensive linemen cannot come off of you to take the looping rusher.
"The Texans are just too deep into their rush, you can't do it. There is not enough time. They do it so quick, they are so tight. If you want to put on a clinic of how to rush with stunts, put on the Houston Texans' defense. That's like no other team I've seen do it, that's as perfect as you can do it."
Houston defensive coordinator Wade Phillips will find stuff out of the regular-season matchup, which the Texans won in Cincinnati on Dec. 11, to exploit in a second chance.
What's the antidote for the Bengals?
Dalton will have to get rid of the ball in a hurry, and drives will be reliant on yards after the catch and the ability to string together long drives with a lot of first downs. The Texans will win some plays by taking away Dalton's first and second reads, and he simply won't have the time or opportunity to find the third.
Of course, Cincinnati rushes the quarterback well, too. The Bengals had 45 sacks from 15 different guys. But their 4-3 front is more straightforward, and Houston's offensive line is another team strength.
Smith said the Texans take pride in dependably rushing the passer every week. Those 44 regular-season sacks were the sixth-best total in the NFL. Eleven different linemen and linebackers factored into those sacks.
"That's consistent, man," Smith said. "The front seven has done a tremendous job, especially with all the sacks spread over not just one or two guys. … Each and every person on this defense has a role and a job to do, and is capable of getting it done.
"We're capable of getting to the quarterback, I don't think that's been a problem all year. Teams started changing up the way they attacked us with the quick passes and the three-step drops and slide protections. But with our outside rushers we're still able to get there."