May, 29, 2014
5/29/14
5:45
PM ET
JACKSONVILLE, Fla. -- One of the expected battles of training camp has already started to play out for the
Jacksonville Jaguars
in the first week of OTAs.
Seven players are fighting for two remaining spots at receiver behind
Cecil Shorts
,
Ace Sanders
,
Marqise Lee
and
Allen Robinson
. There are guys who were on the team last season, some practice squad guys, a veteran free-agent signing, and some undrafted free agents all trying to make the 53-man roster.
"That's going to be a fierce competition throughout [the summer]," coach Gus Bradley said after Thursday's OTA.
[+] Enlarge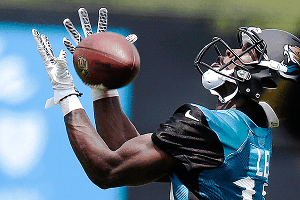 AP Photo/John RaouxThe Jaguars' receivers, including Marqise Lee, have been competing hard during OTAs this week, coach Gus Bradley said.
Since this is the first week of OTAs, it's still a pretty wide open race. It would be logical to assume that
Mike Brown
,
Kerry Taylor
and
Tandon Doss
have a bit of an advantage since Brown and Taylor were on the team last season and the Jaguars signed Doss to a two-year, $1.5 million contract in March.
Brown caught 32 passes for 446 yards and two touchdowns and Taylor caught 19 passes for 189 yards and one touchdown playing mainly near the end of the season because of the suspension of
Justin Blackmon
and Shorts' season-ending sports hernia injury. Doss has only 26 receptions in his first three seasons with Baltimore but did lead the NFL in punt return average in 2013.
Special-teams play could be the deciding factor on which receivers the Jaguars keep, Bradley said.
"My challenge to our guys is -- especially like the fourth, fifth and sixth spots -- those guys have got to be really good special-teams players," Bradley said. "The competition you're seeing really even takes place on special teams because they know how valuable that is, so there's a number of guys in there that are really battling. A guy like Tandon Doss had a really good day [Wednesday], so you're seeing each one of them really try to maximize their reps."
Bradley really lit up when talking about Brown, praising his work ethic and leadership. The former quarterback at Liberty missed four games after suffering a fractured vertebra in his back in the 2013 season opener but was impressive in his return. He was on the field for all but five of the Jaguars' offensive snaps against Denver despite only having practiced minimally because of his injury. The following week he caught five passes for 120 yards, including a career-high 43-yarder.
"Mike Brown is really, really solid," Bradley said. "That's what I would have said last year, but I feel like he's stepped up his game because of the competition. He's really taking command and you're seeing him lead other guys at that position. That in itself tells me he has a better command of things, but he's playing with a lot of confidence right now."
Brown doesn't worry about whether that gives him an edge over Doss and Taylor or any of the other players competing for the final two spots: 2013 practice squad players
Chad Bumphis
and
Lamaar Thomas
(who also played in two games) and undrafted rookie free- agents
Allen Hurns
and
Damian Copeland
.
"It's the same thing every year," Brown said. "That's one thing I love about this game. It's all about competition. We're all in here competing together, helping each other get better. Our focus is on being the best that we can be personally. Ultimately we don't control the outcome of who's here or who's not, so there's no use in even really thinking about it.
"You just go out there and you put your best foot forward and you get yourself to be the best that you can be and you kind of live with how it plays out. That's the mindset you've got to take."
Brown, Taylor and Doss have gotten a lot of work during the first week of OTAs. The Jaguars have created what Bradley is calling an "opportunity period" specifically for the younger, less-experienced players to gain additional reps at the end of each workout. Hurns, Copeland and Bumphis have benefited from that extra work. Thomas had limited participation this week because of a knee injury.
There's a long way to go before any kind of final decision and it will undoubtedly heat up during training camp, but the battle for those final receiver spots will be interesting to watch.
May, 26, 2014
5/26/14
12:00
PM ET
JACKSONVILLE, Fla. -- The
Jacksonville Jaguars
begin organized team activities (OTAs) on Tuesday. While the players are only allowed to wear helmets and are restricted to six hours of work per day it marks the first time the veterans and rookies will be together, so it's the first chance to get a glimpse at how the team may look in September.
Here are five things to ponder during the 10 OTAs and mandatory minicamp over the next four weeks:
Gerhart
The running back depth chart:
Despite the Jaguars' confidence in
Toby Gerhart
, there is still some doubt among those outside the team over his ability to be a feature back. He has not done it since his days at Stanford, spending the past four seasons backing up
Adrian Peterson
in Minnesota. The plan is around 20 touches per game, but if he's not able to handle that workload or be productive, there are not a whole lot of options behind him. Second-year player
Jordan Todman
, who backed up
Maurice Jones-Drew
last season and ran for 109 yards in his only start of the season, is the only proven ball carrier behind Gerhart.
Denard Robinson
has to fix his ball security issues. Seventh-round pick
Storm Johnson
has quickly become a fan favorite, but he was taken that late for a reason. Moments after drafting him, coach Gus Bradley said Johnson really struggles in pass protection and he also has trouble holding onto the football. After Johnson, it's undrafted rookies
Beau Blankenship
and
Terrance Cobb
.
Who's No. 5-6?
There are four locks to make the team at receiver:
Cecil Shorts
,
Ace Sanders
,
Marqise Lee
and
Allen Robinson
. After that, there's a wide-open competition for the fifth and sixth spots between
Mike Brown
,
Kerry Taylor
,
Chad Bumphis
,
Damian Copeland
,
Tandon Doss
,
Allen Hurns
and
Lamaar Thomas
. Doss has more career catches (26) than any of the others, plus he's got good size (6-foot-2, 205 pounds). However, his issue in Baltimore the past three seasons was running routes consistently and drops. He is a solid kick returner and that gives him an advantage over the others. Brown and Taylor were on the roster last season and have valuable experience in offensive coordinator Jedd Fisch's system, but so does Hurns, a former Miami standout who played two seasons under Fisch as the Hurricanes' offensive coordinator.
Henne
Bortles vs. Henne:
It's not really a competition between first-round pick
Blake Bortles
and veteran
Chad Henne
at this point, but it will be interesting to see them throwing together. The thing to watch will be the 11-on-11, in which Henne should have a significant advantage. He is completely comfortable in the offense and therefore his throws should be quicker and more decisive. If Bortles looks comparable, that may be a clue the competition in training camp may start off closer than most anticipated.
Joeckel's return:
Luke Joeckel
spent only about a quarter at left tackle before suffering a fractured ankle that kept him out for the rest of the 2013 season. He spent all of training camp and the first four weeks at right tackle, so this will essentially be his rookie season at left tackle. Defensive coordinator Bob Babich will at times put four leos on the field on third down, so it'll be interesting to watch Joeckel match up against some of the pass-rushers. One matchup I'd like to see is Joeckel vs. rookie
Chris Smith
, who doesn't have prototypical leo size (he's 6-1) but has long arms and is very quick off the line. The Jaguars want to see Joeckel play the way he did before getting injured against St. Louis when he pretty much stoned
Robert Quinn
, who went on to record 19 sacks last season.
Safety dance:
Johnathan Cyprien
is the starting strong safety. That's set in stone. But the situation at free safety is less certain.
Josh Evans
(sixth round) and
Winston Guy
(waiver wire) shared the spot last season, but the Jaguars signed a pair of undrafted rookies --
Craig Loston
and
Jerome Junior
-- to compete with Evans and Guy along with
Chris Prosinski
,
Joe Young
and
Sherrod Martin
. Evans really shouldn't have been on the field as much as he was last season but was forced into action because of an injury to
Dwight Lowery
in Week 3. That experience should give him an advantage going into OTAs. This position battle will be one of the more interesting ones to watch throughout training camp and preseason.
April, 21, 2014
4/21/14
5:15
PM ET
JACKSONVILLE, Fla. -- The
Jacksonville Jaguars
begin offseason conditioning on Wednesday. There is minimal on-field work allowed and only strength and conditioning coaches are allowed on the field, so there's not much football coaching going on.
But this is the first look at the 2014 Jaguars. They'll look a lot different after next month's draft, but here's an early look at the offensive depth chart. The defensive depth chart will appear Tuesday:
Henne
Quarterback
Starter:
Chad Henne
.
Reserves:
Ricky Stanzi
,
Matt Scott
.
The Jaguars are going to draft at least one quarterback, but the job belongs to Henne. GM David Caldwell and coach Gus Bradley have said they don't want a rookie quarterback to play right away. They want him to take the time to learn the game while not having to worry about winning games each week. It wouldn't be a surprise to see Stanzi the second active quarterback for the first part of the season.
Gerhart
Running back
Starter:
Toby Gerhart
.
Reserves:
Jordan Todman
,
Denard Robinson
,
Delone Carter
.
Gerhart was signed to replace
Maurice Jones-Drew
and the Jaguars believe he can be an every-down back. He's never done it at the NFL level, though he was a beast at Stanford, so there's an element of uncertainty. The plan is 15-20 touches per game. The player everyone is watching is Robinson, who struggled holding onto the ball last season. This will certainly be a make-or-break offseason for him. Expect the Jaguars to draft a back as well.
Fullback
Starter:
Will Ta'ufo'ou
.
Reserves:
Shaun Chapas
,
Bradie Ewing
.
The Jaguars claimed Ewing in late March. He was a fifth-round pick of Atlanta in 2012 but missed all of his rookie season with a torn ACL. He played in two games last season before being placed on IR with a shoulder injury. The fullback wasn't really involved in the offense in 2013. That may change if the talent level improves.

Lewis
Tight end
Starter:
Marcedes Lewis
.
Reserves:
Danny Noble
,
Clay Harbor
,
Brandon Barden
.
Lewis really came on in the last third of the 2013 season and should be a 50-catch guy in 2014. Harbor is a flex tight end and is better used off the line of scrimmage. Noble had the big catch-and-run against Arizona but otherwise was a blocker. This position needs another weapon, but it's probably not going to be that high of a priority in the draft.
Wide receiver
Starters:
Cecil Shorts
,
Ace Sanders
.
Reserves:
Mike Brown
,
Kerry Taylor
,
Chad Bumphis
,
Stephen Burton
,
Tandon Doss
,
Jeremy Ebert
,
Lamaar Thomas
,
Stephen Williams
.
This is a position the Jaguars are sure to address in the draft as well. Outside of Shorts, Sanders and Brown, the Jaguars have little experience and not much production.
Justin Blackmon
is still suspended and the Jaguars aren't counting on anything from him. Doss had more success as a kick returner than receiver in Baltimore and that's likely to continue in Jacksonville. The Jaguars need a big, physical receiver as well as someone who can demand double teams and free up other receivers to make plays. They could find all of that in
Sammy Watkins
at No. 3.
Offensive line
Starters:
LT
Luke Joeckel
, LG
Zane Beadles
, C
Mike Brewster
, RG
Will Rackley
, RT
Austin Pasztor
.
Reserves:
OT/G
Cameron Bradfield
, OT
Sam Young
, C
Matt Stankiewitch
, G
Jacques McClendon
, G
Stephane Milhim
, G
Drew Nowak
, OT
DeMarcus Love
.
The question marks are Brewster and Rackley because they're going to have to hold off challenges from guys already on the roster, as well as any rookies. The Jaguars nearly landed
Alex Mack
in free agency but when the
Cleveland Browns
matched the Jaguars' offer sheet, Brewster inherited the starting job. Caldwell and Bradley publicly said they have confidence in Brewster, a third-year player from Ohio State who suffered a fractured ankle in Week 15, but that was before they signed Mack to an offer sheet. Rackley struggled last season, but he deserves credit for playing much of the season with a knee injury. Expect the Jaguars to draft a center and a guard and bring in several undrafted free agents to compete at those spots. Bradfield started 25 games at right and left tackle but also can play guard, which makes him a valuable reserve.
January, 9, 2014
1/09/14
12:00
PM ET
Each day for the next two weeks we'll review how each position group performed in 2013, and take an early look at 2014. Today we'll examine the wide receivers. We did
quarterbacks on Monday
, running backs on Tuesday, tight ends on Wednesday, and we will do the offensive line on Friday.
Wide receivers
Breakdown of starts:
Cecil Shorts
(13),
Mike Brown
(6),
Justin Blackmon
(4),
Ace Sanders
(4),
Kerry Taylor
(4),
Stephen Burton
(2).
Shorts
Recap:
For four games -- the only four in which Blackmon played -- the Jaguars were in pretty good shape. It was a little rougher in the other 12, however, especially after Shorts went on IR with a groin injury. By the end of the season, though, there were a few pleasant surprises.
Shorts still led the team with 66 catches for 777 yards and three touchdowns despite battling shoulder and groin injuries throughout the season. He struggled in the role as the team's No. 1 receiver when Blackmon was suspended for the first four games but handled it much better during Blackmon's second suspension.
He was the only other proven receiver on the roster when the season began but fourth-round draft pick Ace Sanders and first-year player Mike Brown developed into solid complementary receivers. Sanders, drafted mainly to be the team's punt returner, got more work early because of Blackmon's suspension and a back injury that kept Brown off the field for four of the first five weeks. His 51 catches were the third-highest among rookie receivers this season.
Brown (32 catches, 446 yards, 2 touchdowns) had the best per-catch average (13.9 yards) among the Jaguars' wide receivers. He was impressive in his return to the lineup after a four-week absence due to a broken vertebra, catching five passes for 120 yards in his second game back, making him the only receiver beside Blackmon to have a 100-yard receiving game.
Taylor was perhaps the most pleasant surprise. He was signed Nov. 4 and caught 16 passes for 162 yards in the last three games.
Looking ahead to 2014
Players under contract:
Blackmon, Shorts, Burton, Sanders, Brown, Taylor,
Stephen Williams
,
Jeremy Ebert
,
Lamaar Thomas
, Chad Bumphis, Jabin Sambrano.
The skinny:
Shorts will be in the final year of his contract so he'll have that as some added motivation to reach 1,000 yards for the first time in his career. Sanders, Brown and Taylor will go into camp as the Nos. 2-4 receivers and should be improved in their second season in the offense.
The wildcard is Blackmon. He can apply for reinstatement before the season begins. If he is reinstated, the Jaguars have to decide whether to cut or keep him, knowing that if they do keep him they run the risk of him failing another drug test and being suspended again.
It's likely the Jaguars also will draft a receiver or try to add one in free agency. It's also likely that whoever they add will be a bigger, physical receiver, which is something they do not have on the roster. They need a receiver that can go up and win the 50-50 battles for balls, especially in the red zone. Right now tight end
Marcedes Lewis
is the only player on the roster who has proven he can do that.
December, 22, 2013
12/22/13
3:53
PM ET
JACKSONVILLE, Fla. -- A few thoughts on the
Jacksonville Jaguars
' 20-16
loss
to the
Tennessee Titans
:

What it means
: The Jaguars (4-11) were unable to overcome a slew of injuries and pick up their second victory at EverBank Field this season. It's just the second time in franchise history the Jaguars have won just one game at home. They went 1-7 at EverBank last season and 1-6 this season (they played a home game against San Francisco in London).
Stock watch
: The Jaguars' group of no-name receivers did a solid job against the Titans. Injuries have left the Jaguars with little experience at the position. Entering the game, the team's four active receivers (
Ace Sanders
,
Kerry Taylor
,
Mike Brown
and
Lamaar Thomas
) had a combined 75 catches this season. None of them have more than a year of experience in the NFL. The group responded, especially Brown and Taylor. Brown caught five passes for 71 yards and one touchdown while Taylor had four catches for 45 yards.
Honoring Meester
: The Jaguars had a quick postgame ceremony to honor center
Brad Meester
, who is retiring at the end of the season after 14 years with the team. Offensive coordinator Jedd Fisch tried to send him out in style by calling a screen pass for Meester that was designed to get him a touchdown. Meester made the catch but cut left instead of right and got tackled at the 4-yard line. Hard to criticize him for making that wrong cut, though. As former Jaguars offensive tackle Tony Boselli joked at halftime, it's not like offensive linemen regularly read blocks.
Depleted defense
: The Jaguars were already without three starters (linebackers
Russell Allen
and
Geno Hayes
and defensive tackle
Roy Miller
) and they lost two more key players during the game: defensive tackle
Brandon Deaderick
(elbow) and cornerback
Dwayne Gratz
(ankle). That forced the Jaguars to use defensive tackle
Jordan Miller
, who was active for the first time this season, and start inexperienced linebackers
J.T. Thomas
and
John Lotulelei
. You could see the drop off. The Titans ran for 182 yards and had most of their success in the passing game in the middle of the field.
What's next
: The Jaguars end the 2013 season at Indianapolis on Sunday.