January, 3, 2013
1/03/13
2:25
PM ET
Chris Johnson
is going to have his fifth different position coach when the Titans kick off the 2013 season.

Earnest Byner was Johnson's first position coach, but Jeff Fisher replaced him in 2009 with Kennedy Pola, a coach he'd long coveted.
Pola turned around and left before coaching a game to join Lane Kiffin's staff at his alma mater, USC.
Fisher shifted quarterbacks coach Craig Johnson to running backs for 2010.
Then Mike Munchak took over as head coach and hired Jim Skipper, who came from Carolina.
Now, after two years with Skipper, Adam Schefter reports Munchak decided not to renew Skipper's contract.
Does that mean Munchak thinks a position coach can get more out of CJ? Does it mean Skipper didn't sufficiently help guys like
Jamie Harper
and
Javon Ringer
develop?
I suspect it's some of all of it.
November, 15, 2011
11/15/11
4:39
PM ET
Texans' quarterback
Matt Schaub
has been great the past two seasons at throwing from outside of the pocket, largely because of the way the team employs bootlegs and rollouts.
[+] Enlarge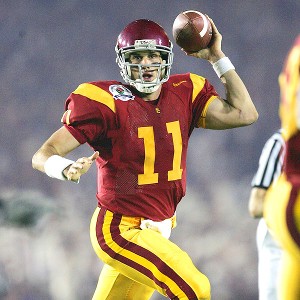 Stephen Dunn/Getty ImagesThe offense Matt Leinart will be running with the Texans is similar to the one he ran at USC.
He has thrown 14 touchdowns and two interceptions outside the pocket, while connecting on 11 pass plays of at least 30 yards, second most in the NFL during that span.
I expect
Matt Leinart
will be sent on the move just as often when the Texans look to throw now that he is taking over for the injured Schaub. The team will try to maintain balance, but we are likely to see them go left more often than right as he's left-handed.
Texans quarterback coach Gregg Knapp was offensive coordinator in Oakland for two seasons, where he worked for Lane Kiffin. Kiffin coached Leinart at USC.
"The play-passes and keepers that Lane used were very similar to what Gary Kubiak has done here," Knapp said. "When Matt Leinart got here last year, we saw he had a real quick reference from experience with our play-pass and our keepers."
Leinart got some recent practice work with the first team offense when Schaub needed some time to rest after getting banged up.
But he's also had intensive tutorials from Knapp, who's worked with
Steve Young
,
Jeff Garcia
and
Michael Vick
in previous coaching stops. (Leinart raves
about the quality
of the Texans' coaching.)
Knapp said he's worked for 10 to 15 minutes with Leinart after practice every day, as the quarterback's thrown to young receivers and/or tight ends. Then on Sunday's there is a 30 minute fundamental session on the field three hours before kickoff.
"He has spent a lot of extra time working on our drops and our progressions," Knapp said. "What we believe is so important is the way our footwork is tied in with our progressions. That's what we spend a lot of extra time on.
"As far as the classroom goes, he is definitely one of the sharpest guys I've worked with… Matt's very studious about knowing his progressions with the reads based on the coverages he's getting."
A few other notes on Schaub from ESPN Stats and Info, as he shifts into the background:
He had started 46 straight games for the Texans and entering Week 10 he was one of seven quarterbacks to take every snap.

After throwing a combined 27 interceptions in 2009 and 2010, Schaub had just six in 10 games this season, tied with Colt McCoy and Jay Cutler behind only Aaron Rodgers (three).

According to Total QBR, Schaub has been an elite-level quarterback since the 2008 season. His 66.2 QBR in that time period trails only Peyton Manning, Tom Brady, Rodgers and Drew Brees.
July, 30, 2010
7/30/10
5:03
PM ET
NASHVILLE, Tenn. –- A few things Jeff Fisher said at his camp opening press conference.
Some of Lane Kiffin's recent thinking is absurd. News story on it here.
Rookies report Friday evening. The first mandatory thing of camp for everyone is a Saturday breakfast. There is then conditioning testing. Players who attended 80 percent of offseason workouts run 300-yard shuttles in 50-yard spurts; those who did not attend have to stop and turn twice as frequently running in 25-yard bursts.
He has no reason to expect linebacker Stephen Tulloch, who stayed away for the offseason upset that he didn't get a long-term deal instead of a restricted free agent tender, not to show up.
Linebacker David Thornton is healthier, but could still possibly land on the PUP list. Fisher expects him to play in the preseason.
The Titans had been in some contact with Keith Bulluck, the veteran who recently signed with the Giants, despite Bulluck's claim that he had talked with no one from the team since February.
New running backs coach Craig Johnson will get extra assistance from coordinator Mike Heimerdinger if needed during the transition.
It's unrealistic to talk Super Bowl on Day One. Fisher operates in much smaller increments, setting short term goals for his team, he said. And any good from last year has to be rebuilt. "You can't escrow stuff and withdraw it," he said.
A guy that rarely says something surprised him, or he didn't anticipate something again took the blame for last year's return issues: "I didn't address that adequately enough," he said.
July, 27, 2010
7/27/10
11:50
AM ET
Reading the coverage…
Houston Texans
Bob McNair talks about
camp and the season
with Anna-Megan Raley.
John McClain
wants to know
if you'd take Matt Schaub or Tony Romo.
Stephanie Stradley talks to Bill Barnwell about Football Outsiders' six-win
expectation for the Texans
.
The pass rushers
the Texans will face could make things tough on Schaub and create the possibility of a six-win season, says Alan Burge.
Houston Diehards runs through
the defensive linemen
.
Indianapolis Colts
The Colts
signed fifth-round tight end
Brody Eldridge, says Mike Chappell.
Phillip B. Wilson wonders if defensive tackle Mitch King could be the Colts' next big find,
What can we
expect
from Jerry Hughes? John Oehser considers.
Dallas Clark
waved the green flag
at the Brickyard 400, says Jeremiah Johnson.
Jacksonville Jaguars
Why an Everbank naming rights deal for the Jaguars stadium
makes sense
, from Abel Harding.
The
10 worst
free agent signings in Jaguars' history, from Vito Stellino.
Five storylines
for camp from Vic Ketchman of jaguars.com.
Tennessee Titans
Chris Johnson has set
lofty goals
, says John Glennon.
Clay Travis looks at
the Titans' lawsuit
against Lane Kiffin and USC.
Late to this one: Doug Farrar looks at whether Keith Bulluck can
handle a role
in a Giants' Tampa-2 scheme.
Bulluck
might make payback hurt
the Titans, says Joe Biddle.
Will Witherspoon uses
a family farm
to get ready for the season, writes Phil Brame.
A look at
the tight ends
from Andrew Strickert.
July, 26, 2010
7/26/10
5:47
PM ET
Jeff Fisher's stinging comments about Lane Kiffin's lack of professionalism in luring Kennedy Pola away from the
Tennessee Titans
' staff were only a first indication of the team's discontent.
[+] Enlarge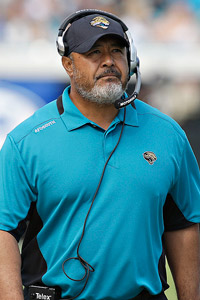 AP Photo/Phil CoaleThe Titans hired Kennedy Pola to be their running backs coach in January.
Jim Wyatt reports
the team has sued both Kiffin and USC
. The school hired Pola, Fisher's running backs coach, away from the Titans on Saturday, to be its offensive coordinator just a week before the Titans' first training camp practice.
"According to the lawsuit, 'USC and Kiffin maliciously intended to -- and did -- induce Pola to breach his contract with the Titans.' The lawsuit alleges 'USC and Kiffin engaged in improper means in their procedure of the breach and were not legally justified in their actions.'

"According to the lawsuit, Pola agreed he would 'not under any circumstance solicit discussions or entertain employment with any other person or entity during the term without given written permission to do so,' under the terms of his contract with the Titans. Pola was not given written consent by the Titans.

"'Kiffin and USC's actions through him were part of a course and pattern of conduct fostered by Kiffin and USC to use improper methods and means to the direct harm and damage of parties to contract, to interfere with an existing contract includes the breach thereof,' the lawsuit reads."
The Titans would love to stop Kiffin and USC from having Pola, but they certainly wouldn't want him back after this. If the suits are successful, they could see USC or Kiffin penalized financially and make a statement about protecting their turf, which might also set a precedent that would help ensure other franchises don't wind up dealing with similar issues in the future.
Pola joined the Titans in January, leaving Jacksonville. Fisher long coveted Pola and fired Earnest Byner to make room for the new assistant. Byner wound up replacing Pola on Jack Del Rio's staff.
Since Pola jumped to USC, Fisher has faced a second round of bashing from fans over the Byner move. How, they ask, could he have fired a coach who oversaw
Chris Johnson
during a 2,000-yard season?
I've been critical of Fisher for being overly loyal to assistants in the past. In recent years, however, largely because of his stability, he's put together and held together one of the NFL's better coaching staffs.
If he didn't love Byner and did love Pola, then making the switch was fine by me. And it's not as if Fisher could have foreseen that (a) the new coach at his alma mater would steal Pola away, or that (b) Pola would actually leave him in such a bad spot so late in the year.
Fisher told Wyatt he intends to replace Pola from within.
Fisher could shift quarterbacks coach Craig Johnson over, or elevate one of three assistants who don't have their own position groups -- assistant special-teams coach Marty Galbraith, offensive quality control coach Dowell Loggains or offensive assistant Richie Wessman.
July, 24, 2010
7/24/10
3:06
PM ET
By
ESPN.com staff
| ESPN.com
Reading the coverage:
Houston Texans
Forbes magazine's annual list of the 50 most valuable sports franchises has the Texans listed at number 10.
The Houston Chronicle reports
: "The Texans' exalted financial status -- the franchise is valued at $1.15 billion, according to Forbes -- reflects the almighty power of the NFL, football's cherished place in Texas' culture, the largesse of Harris County taxpayers and the kismet of showing up at the right place at the right time."
HoustonTexans.com has a
position preview
of the team's safeties.
Indianapolis Colts
The Colts signed
another pick from the 2010 draft class
after inking a four-year deal with seventh-round pick linebacker Kavell Conner.
Jacksonville Jaguars
Jacksonville is
focused on signing defensive tackle Tyson Alualu
after inking a
deal with sixth-round draft pick
running back and punt returner Deji Karim.
Tennessee Titans
Running back coach Kennedy Pola is leaving Tennessee
and will be the new offensive coordinator at USC. Coach Jeff Fisher was particularly upset that USC coach Lane Kiffin failed to contact him before the hire. Fisher told The Tennessean: "So I am very disappointed in the lack of professionalism on behalf of Lane, to call me and leave me a voice mail after Kennedy had informed me he had taken the job. It is just a lack of professionalism."
The Titans will start the season
with a new group of linebackers
. "I think everyone tries to prepare themselves for whatever might happen because we have no idea what the final look is going to be," linebacker Colin Allred told the The Tennessean.
April, 30, 2010
4/30/10
2:53
PM ET
Kirk Morrison
met the Jacksonville media Friday, and the Jaguars' new middle linebacker talked about how excited he is to play for a head coach with a background as a linebacker.
In his five seasons with the Raiders he played for Tom Cable, Lane Kiffin, Art Shell and Norv Turner, all coaches with offensive backgrounds. Now he's looking forward to following Jack Del Rio's lead.
"Even when I came out back in 2005 I did visit with the Jacksonville Jaguars. They were one of my teams that I took [pre-draft] trips to [in 2005] and I met with coach back then and I always thought about how neat it would be to play for Jacksonville when you have a head coach who is a linebacker coach, who played linebacker in this league, knows what I would say a linebacker envisions, what he sees. I'm excited because now I feel like I have a new pair of eyes, and when I say that is the way I look at the game a certain way but the way he may look at the game a little different."

"But him playing a lot longer than I have in the league so far, I'm going to be able to see what he sees out there on the football field and look for him to give me as many tips and things that I never got a chance to see so far in this league that it'll help me out and help me be the best every week."
September, 18, 2008
9/18/08
12:02
PM ET
ESPN.com's James Walker, Paul Kuharsky and Bill Williamson discuss the slow starts in Cleveland and Cincinnati, the Vince Young saga in Tennessee and Lane Kiffin watch in Oakland.