AFC South:

Lardarius Webb
February, 4, 2013
2/04/13
11:16
AM ET
In the AFC South, only the
Houston Texans
faced the eventual Super Bowl champion
Baltimore Ravens
in 2012.

On Oct. 21, 2012, the Texans
crushed the Ravens
43-13 at Reliant Stadium.
It qualifies as ancient history in a league where things can change dramatically week to week.
The Texans peaked early, and the win over the Ravens was big for the Houston franchise, which was less than a year removed from a playoff loss in Baltimore.
That regular-season win was every bit as dominant as the score indicates. Houston outgained the Ravens 420 yards to 176, held the ball for 38:16 and played great on third down on both sides of the ball.
Matt Schaub
outplayed
Joe Flacco
and
Arian Foster
outplayed
Ray Rice
. The Texans also got big plays from cornerback
Johnathan Joseph
(a 52-yard interception return for a touchdown), defensive end
Antonio Smith
(back-to-back sacks) and special-teamer
Bryan Braman
(who recovered a surprise onside kick).
It's nice to be able to say you beat the eventual Super Bowl champs, but ultimately the season isn't about Week 7. So how do the Texans really stand up to the Ravens?
Some areas to consider ...
Peak timing:
The Texans bolted to an 11-1 record but faltered big time from there and didn't recover from late struggles in the regular season to play at a high level in a divisional round playoff game in New England. The Ravens, meanwhile, had a worse regular-season finish than the Texans. Baltimore lost four of its last five games down the stretch. But they recovered starting with a home win over Indianapolis in the wild-card round and took flight from there.
Taking on top quarterbacks:
During the regular season, the Ravens beat
Tom Brady
and
Eli Manning
. Their playoff run saw them beat
Peyton Manning
and Brady in consecutive weeks. The Texans did beat Peyton Manning, but they generally struggled against top quarterbacks -- losing regular-season games to
Aaron Rodgers
and Brady, then seeing their season end in the playoffs against Brady again.
Quarterback play:
Both Schaub and Flacco went into training camp with contracts set to expire after the season. The Texans got a four-year extension done with Schaub just before the season started. It's worth $62 million, with $24.75 million guaranteed. Flacco played out the year, knowing at worst he'd wind up with a franchise tag and at best he'd wind up having the sort of year that prompted his team to give him a giant deal. Schaub petered out late in the season and didn't raise his game when things got more important. Flacco, meanwhile, went head to head with some future Hall of Famers. As a Super Bowl winner, he's now in line for a monster deal.
Injuries:
While the Ravens lost an excellent cornerback in
Lardarius Webb
, they got key defensive starters
Terrell Suggs
and
Ray Lewis
back from injuries along the way. Houston ultimately missed
Brian Cushing
badly and Joseph's play dropped off in a season where he was hampered by leg injuries.
Options:
The Texans' offense is different than Baltimore's. But the Ravens got giant plays from their two top receivers in the playoffs, with
Torrey Smith
getting behind defenders for huge plays and
Anquan Boldin
consistently fighting for, and winning, balls in the air. Beyond
Andre Johnson
, the Texans simply didn't have a second receiver who was threatening in a similar fashion.
Big adjustments:
It took a while for the move to pay off, but Baltimore boldly made a late-season change at offensive coordinator, firing Cam Cameron and replacing him with Jim Caldwell. Caldwell found an excellent play-calling rhythm in the postseason. With that change came a late shuffle of the offensive line, and moving people around up front paid big dividends. The Texans didn't require any firings or big shuffling. But the Ravens were willing to take some risks and got big payoffs. It's hard to look at Houston's season and find any big risk-reward decisions.
October, 21, 2012
10/21/12
7:55
PM ET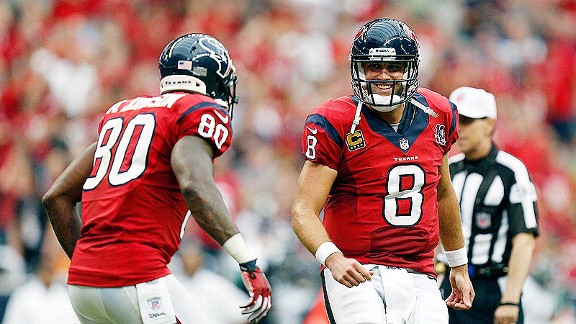 Thomas Campbell/US PresswireHouston captains Andre Johnson and Matt Schaub had a huge game against Baltimore after a disappointing loss to Green Bay.
HOUSTON -- The patch is small.
Saturday night in front of his entire team, Texans coach Gary Kubiak put a big spotlight and magnifying lens over it.
The guys with that small rectangular "C" on the right breast of their jerseys needed to elevate their game and lead, he said, issuing a challenge at the team meeting. On the eve of a game pitting the AFC's two best teams, Kubiak called on his captains to show why their teammates voted them the title.
In
a 43-13 thrashing of the Ravens
, Houston's captains did just that.
Matt Schaub
played efficient and effective at quarterback (a 100.7 passer rating) with
Andre Johnson
dictating coverage as he moved around to pull in nine passes for a game-high 86 yards. On the other side of the ball,
Antonio Smith
put fourth-quarter exclamation marks on a stifling defensive effort with sacks of
Joe Flacco
on consecutive plays.
In the franchise's first win over Baltimore, Houston set a new team record for points in a game.
A week after the Texans let down against the Packers and got shelled in their first game without injured defensive leader
Brian Cushing
, the Ravens endured the same sort of trouble adjusting to life without two players lost last week to injury -- their top cornerback,
Lardarius Webb
, and their longtime leader,
Ray Lewis
.
The Ravens looked nothing like the best team in the AFC, or even the second best.
Meanwhile, Houston heads into its bye feeling awfully confident.
"I knew we were going to bounce back," Schaub said.
"Last week was a hiccup, but we're just fine," defensive end
J.J. Watt
said.
They are hardly perfect, but six of the nine teams left on their schedule are currently .500 or worse.
There isn't a team in the conference with as good a balance between its offense and defense or between its rush offense and pass offense. Barring another big injury, it should not be difficult for the Texans to win 11 games. I can't be sold on the idea that they'll lose more than one -- if one -- of their remaining four at home, against Buffalo, Jacksonville, Indianapolis and Minnesota.
In getting to 5-0 they proved they were awfully good. In rebounding from their first loss and lone dud of the season, they showed there is quite a bit of distance between themselves and the teams they will likely be fighting with come the playoffs, which should run through Reliant Stadium.
"We didn't lose to a team still searching for their identity," said Baltimore linebacker
Terrell Suggs
, who made his season debut to the surprise of many and had a sack and a pass knockdown. "They know who they are."
Cushing might qualify as the Texans' best leader, which is part of why Kubiak singled out his other captains in the team's second game without the inside linebacker since he suffered a torn ACL.
"It's human nature to say, 'OK, how are we going to be?'" Kubiak said, referring to the Texans' first time on the field without Cushing. "... What we found out today is we can still play great defense and expect to do that the rest of the year."
It was great offense, too, after a slow start.
Outside linebacker
Connor Barwin
provided a spark with his first sack of the season and a safety, and cornerback
Johnathan Joseph
, who's been struggling with a groin injury, grabbed a pass tipped by Watt and returned it for a 52-yard touchdown. The defensive scoring was nice, but by the end, the offense had more than found its bearings with 420 total net yards and 27 first downs in 38:16 of possession time.
Schaub spread his passes around, with 10 aimed for Johnson, 10 for tight end
Owen Daniels
and six for
Kevin Walter
. Typically, when the Texans are able to feature Johnson, things go well for Houston. When Schaub can target him, the coverage reacts and that creates space for Daniels and other pass-catchers as well as
Arian Foster
and the rushing offense.
"What weren't they able to do?" Ravens coach John Harbaugh asked. "They ran the ball, they threw the ball, protected it. It was about as complete a performance as you can have on both sides of the ball."
Kubiak has another captain vote midway through the season because he knows a team is always evolving and new, emerging leaders may be deserving of joining the captains already in place.
It's unlikely the coach will call on them again in such a setting for a boost -- it's a hand you can probably only play once.
"Coach doesn't do it often, but he looked to those guys to step up and represent that C on their chest that all the players voted on them for," Daniels said. "Not that they hadn't been doing a great job this season. But today was one of those games where we needed to bounce back from last week and we needed to make a statement."
It's one I'm not sure anyone in the conference is going to be able to answer.
October, 21, 2012
10/21/12
4:13
PM ET
HOUSTON -- Thoughts on the Texans'
43-13 pounding of the Ravens
at Reliant Stadium on Sunday:


What it means:
At 6-1, the Texans own the best record in the AFC, and with a win over the Ravens in their pocket, they are in an advantageous position to set up a playoff bye and home-field advantage in the postseason. They showed a nice bounce-back ability, recovering from the pounding they suffered a week ago at the hands of the Packers, exploiting matchups and showing themselves to be far better in the playmaker department.
What I liked on offense:
The Texans wisely attacked the Ravens' secondary in their first game without injured cornerback
Lardarius Webb
.
Andre Johnson
has had a relatively quiet season, but had no problem routinely getting open, mostly against corner
Jimmy Smith
.
Matt Schaub
also did well finding tight end
Owen Daniels
. The Texans spread out the carries as they used
Ben Tate
, but
Arian Foster
still gained 98 yards and had two scores to round out the offensive effort.
What I also liked on defense:
Whitney Mercilus
had a sack fumble and
Connor Barwin
had a sack for a safety on back-to-back plays in the first quarter.
Antonio Smith
had back-to-back fourth-quarter sacks of
Joe Flacco
. With pressure and pretty good coverage, the Texans never let Flacco find any sort of comfort zone.
Bounce-back effort:
Cornerback
Johnathan Joseph
(groin) got called for a couple of penalties, but appeared far more effective than he had been the past two games. He picked off a fluttery ball from Flacco that was tipped by
J.J. Watt
and returned it 52 yards for a touchdown.
What's next:
The Texans have a bye before returning to action with a trip to Buffalo. The remaining home schedule is hardly intimidating with the Bills, Jaguars, Colts and Vikings.
October, 21, 2012
10/21/12
2:55
PM ET
HOUSTON -- Over the past two weeks, the Texans' offense developed rhythm problems.
Houston was disjointed in the Monday night win over the Jets. It got nothing going in the Sunday night blowout loss to the Packers.
But halfway through what ranks as the biggest game of the season so far in the AFC, the Texans are tapping their feet and feeling the beat.


Leading 29-3
, they've seized absolute control of the
Baltimore Ravens
in a game that will determine who the conference's lone 6-1 team will be at the end of the day.
Quarterback
Matt Schaub
's done nice work picking apart a secondary that's missing cornerback
Lardarius Webb
and hasn't yet adjusted to life without its top coverage guy.
The Texans looked shaky on their first two series, as Schaub threw to running back
Arian Foster
on third down each time. Foster dropped the first and couldn't corral the second.
But things smoothed out from there and Schaub has regularly found
Andre Johnson
and
Owen Daniels
.
They've combined for 14 catches and 125 yards, with Daniels pulling in a 1-yard play-action touchdown.
The defense chipped in with a sack for a safety by rookie
Whitney Mercilus
and a 52-yard interception return by
Johnathan Joseph
, who picked off a
Joe Flacco
pass tipped by
J.J. Watt
.
October, 18, 2012
10/18/12
12:00
PM ET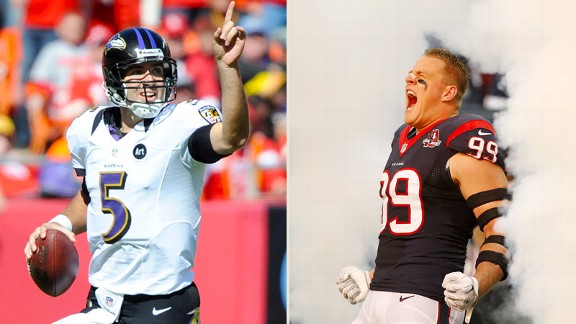 US Presswire, AP ImagesHow Baltimore's Joe Flacco, left, fares against Houston's explosive J.J. Watt could be key Sunday.
The last time we saw the Texans and Ravens square off, we were watching a divisional-round playoff game at M&T Bank Stadium in Baltimore.
Terrell Suggs
had six tackles and a pass defended as the Ravens' rush linebacker. Houston featured third-string rookie
T.J. Yates
at quarterback, and his three interceptions -- paired with multiple special-teams gaffes by Texans returner
Jacoby Jones
-- were big factors in a 20-13 Baltimore victory.
The Texans returned home to rave reviews for their first playoff season but also couldn't help wonder what might have been if they'd had injured starting quarterback
Matt Schaub
and played a cleaner game. Baltimore advanced to the AFC Championship Game in New England, where it lost to the Patriots, but a near-catch for a touchdown by
Lee Evans
could have won it with 27 seconds left and a missed 32-yard field goal by
Billy Cundiff
could have forced overtime.
This rematch doesn't carry the same stakes but could have big implications. The winner will have the AFC's best record at 6-1.
AFC North blogger Jamison Hensley and AFC South blogger Paul Kuharsky will be watching closely.
HENSLEY
: I think it's easy to say this is a battle of the two best teams in the AFC. Not really going out on a limb here because the Ravens and Texans are the only teams with winning records in this mediocre conference. I know there are going to be nine games after this one, but this is shaping up to be the Ravens' most important game of the regular season.
The result of this game could become a tiebreaker for home-field advantage or a first-round bye at the end of the season. The Ravens, who have won a league-best 14 consecutive games at home, don't want to go on the road in the playoffs. The Ravens' mindset is that they won't have to come back to Houston this year if they win there Sunday. What's the mindset of the Texans after what happened in Houston last Sunday night?
KUHARSKY
: Because the Texans are so young, they've played a lot of "biggest games in franchise history." This is certainly the newest one to top the list. Their critics look at the 5-1 record and see wins over mostly softies and a pasting by the Packers on Sunday night. A victory over the Ravens validates everything they've done and regains a firm hold on Best in the AFC. A loss would create some serious concerns. They do have the cushion of playing in a terrible division they simply can't lose. But Baltimore has been an obstacle and ended the Texans' last season in the playoffs. If they meet again with such high stakes, they don't want to be traveling.
It might be a good time to draw the Ravens, too, right? I know
Ray Lewis
wasn't what he has been, but their first game without a leader like that and without an underrated, great corner like
Lardarius Webb
may make them a bit more susceptible, no?
HENSLEY
: This is the most vulnerable I've seen the Ravens' defense in 13 seasons. Lewis wasn't playing like the Lewis from 10 years ago, but he was still an above-average linebacker in this league. The Ravens have given up more than 200 yards rushing in each of the past two games, and losing Lewis only makes that run defense shakier.
Dannell Ellerbe
, who has made seven starts since entering the league as an undrafted free agent in 2009, will take Lewis' spot.
Though the Ravens will miss Lewis' leadership, the bigger loss is Webb. He was emerging as one of the top cornerbacks in the league. His nine interceptions since the start of the 2011 season was tied for the league lead. So, the Ravens have taken shots to both their run and pass defenses this week. How do you see the Texans attacking the Ravens' defense Sunday?
KUHARSKY
: Although they might not run first chronologically Sunday, the Texans are a run-first team. Everything they do offensively is keyed on the one-cut-and-go running of
Arian Foster
, who did great work running for 132 yards in that playoff game on Jan. 15. They send him left most often now, because
Duane Brown
and
Wade Smith
are steadier blockers than the guys on the right side, where they have two new starters who aren't even full time.
Spinning off that run game, we'll see play-action heavy with bootlegs and rollouts. It's always remarkable to see
Owen Daniels
out in space awaiting a Matt Schaub pass.
Andre Johnson
is certainly dangerous too, though they've not been able to feed him the ball as much as usual. He hates the talk that he's getting older and slowing down, but he hasn't looked like the same player so far this season. Two weeks ago, Jets cornerback
Antonio Cromartie
really smothered Johnson. I figured Webb would be a guy who could do similar work. If AJ sees someone like
Cary Williams
instead, it could be a different story.
Speaking of Schaub, let's turn to quarterbacks. He has been quite efficient this year, doing what Houston needs and not getting caught up at all in his numbers. I came into the season not sold on
Joe Flacco
and thinking the Ravens didn't have the right guy under center to become an offensive team. But he has done some very good work in the games I've seen and started to change my opinion. Even minus
Brian Cushing
, the Texans' front throws a lot at a quarterback. Green Bay might have exposed some coverage deficiencies. How's Flacco at assessing such things on the fly and taking advantage?
HENSLEY
: Flacco's biggest improvement this season has been his ability to audible at the line. The Ravens are using the no-huddle more than any other time in Flacco's five seasons. It's not to the point of being
Peyton Manning
, but Flacco is constantly changing the play at the line. Flacco, who ran the no-huddle during his college days, is comfortable with this. He has wanted to have more control of the offense and he's now getting it.
A lot of credit goes to quarterbacks coach Jim Caldwell, who is familiar with this style from his days with the Colts. Flacco makes his mistakes when he gets pressured. His pocket awareness has improved and he can scramble for yards. But Flacco will rush and make poor throws when a defender is in his face. Left tackle
Michael Oher
(four sacks) and rookie right tackle
Kelechi Osemele
(three sacks) have struggled at times keeping rushers away from Flacco. Is there any chance the Ravens slow down
J.J. Watt
and Houston's pass rush?
KUHARSKY
: It sure seems like the key to the game for me. Watt is going to get his at some point, and it's not just sacks. Watch how he'll stop rushing when he knows he's not getting there and time his jump to bat down, or even pick off, a pass.
And although the numbers of the other guys aren't in his stratosphere,
Brooks Reed
,
Antonio Smith
and
Connor Barwin
are very effective rushers who will have a bearing on Flacco's pocket comfort. Force some mistakes with that rush, and I like Houston's chances. Get stonewalled and fall victim to the ball coming out super-fast, and I feel differently.
One note about the quicker Ravens offense: With Cushing out,
Brice McCain
, the nickelback, will have a bigger role in covering players such as
Ray Rice
and
Dennis Pitta
on routes. If the Ravens run hurry-up or no-huddle, they can potentially trap the Texans in base if they want McCain off the field. I am eager to see whether they try that. The Texans are obviously are familiar with Jim Caldwell's no-huddling.
How about special teams? Tell me how Jacoby Jones is now reliably explosive? The Texans have some serious special-teams issues.
HENSLEY
: Jacoby Jones has been one of the bigger surprises this season for Baltimore. The Ravens were looking to upgrade the return game this offseason and failed to sign
Eddie Royal
or
Ted Ginn
in free agency. That's why they jumped on Jones when he was cut by the Texans. He has been average as a punt returner (9 yards per return), but he really keyed the win over the Cowboys on Sunday. His 108-yard kickoff return for a touchdown, which tied an NFL record, was the big play in that game.
The only reason the Ravens turned to Jones on kickoffs was because rookie
Deonte Thompson
fumbled a kickoff the week before. If you think about it, it's kind of funny that Jones got his chance to be explosive because another player couldn't hold onto the ball, especially after Jones' problems fielding kicks in the past. But that really hasn't surfaced so far with the Ravens.
Baltimore's coverage teams are both ranked in the top half of the league, which is a big improvement from last year. In 2012, the Ravens allowed three touchdowns on returns. Another improvement is at kicker. Rookie
Justin Tucker
has made 12 of 13 field goals this season and has hit both attempts beyond 50 yards. If this game is close, the Ravens have a lot of confidence in Tucker to make a pressure kick. So, what are the issues with the Texans' special teams?
KUHARSKY
: Well,
Trindon Holliday
was absolutely electric as their returner in the preseason. But it didn't carry over and they gave up on him. You saw Holliday playing for the Broncos on Monday night.
Keshawn Martin
is the man now. The team averages only 9.8 yards a punt return and 18.5 yards a kick return.
Their average start after a kickoff is the league's worst -- the 17.7-yard line. Their coverage isn't that bad -- it's 31st in the league instead of 32nd. Opponents start at the 26.9-yard line.
Donnie Jones
is a middle-of-the-pack punter in net average.
Shayne Graham
has been good on field goals, hitting 11 of 12, but is tied for 24th in touchbacks playing at home in what amounts to a domed stadium.
It's gambler's logic that the Texans are due to break through against the Ravens. Maybe they will, maybe they won't. If they don't and Jacoby Jones has something to do with it, it'll hurt a little bit extra.
It's certainly no stretch to predict we'll see these teams facing off again in the playoffs. In what round and where is the question, and Sunday's winner will lead the race to be in position to host.
January, 15, 2012
1/15/12
4:11
PM ET
BALTIMORE -- Thoughts on the Texans'
20-13 loss
to the Ravens at M&T Bank Stadium:
What it means:
The Texans blew a gigantic opportunity to get to the AFC Championship Game. Although they outplayed the Ravens for much of the afternoon, they didn't do enough to overcome two early mistakes and paid the price.
T.J. Yates
had the Texans in good position for a drive that could have forced overtime, but he threw a jump ball for
Andre Johnson
that was picked by
Ed Reed
just before the two-minute warning. The sting and regret will last a good while, but the season will be rated a giant success once we look at it from a broader perspective.


What I didn't like:
Houston committed two early gaffes that would have killed a lot of teams given the setting.
Jacoby Jones
foolishly misplayed a punt that the Ravens recovered, and Yates threw a bad interception to
Lardarius Webb
. Baltimore turned both takeaways deep in the Houston end into touchdowns. Yates wound up with three interceptions.
What I liked:
The pass rush on
Joe Flacco
was a constant source of trouble for Baltimore. He was sacked five times, including three times by rookie end
J.J. Watt
in the second half. Flacco felt the heat even on the rare occasion when there was not any, but the Ravens' protection scheme was often overmatched. Johnson had 111 receiving yards, and
Arian Foster
had 132 rushing yards.
What I wonder:
Why doesn't
Kareem Jackson
turn his head or play the ball? A couple of completions from Flacco to
Anquan Boldin
came on excellent throws into small windows with Jackson in close coverage. If he'd turned as the ball arrived, he'd have had chances to break up a play.
What I also wonder:
If
Matt Schaub
and
Mario Williams
played in these playoffs, where would the Texans be standing?
What's next:
An offseason with reset expectations for a team that's likely the favorite to repeat as AFC South champ and be a popular Super Bowl pick. There is a big decision ahead on Williams' contract situation. There will be a lot of rehab for Schaub, who's recovering from foot surgery.
January, 15, 2012
1/15/12
2:42
PM ET
BALTIMORE -- Houston owns the two giant mistakes of the first half, so the Texans are incredibly fortunate to be in the game at halftime.


It's 17-13
and it feels like the Texans are steering the game right now.
That's pretty impressive considering
Jacoby Jones
' terrible botched punt return positioned the Ravens for one touchdown and
T.J. Yates
' poor interception to
Lardarius Webb
set up another.
If the Texans can avoid gigantic mistakes like that in their own end, they stand a reasonable chance at pulling an upset here.
Yates has bounced back nicely, and
Arian Foster
's finding a rhythm -- he's got 95 yards on 15 carries. Cornerback
Kareem Jackson
has been beaten on a couple great throws by
Joe Flacco
, but Jackson's been in good position against
Anquan Boldin
; he's just not been able to make a play on the ball.
All things considered, Houston's got to feel good about being within four points.