AFC South:

Leger Douzable
April, 24, 2013
4/24/13
11:50
AM ET
In free agency, the Titans downplayed their need at defensive end, adding only 6-foot-8, 315-pound
Ropati Pitoitua
.
But depth was an issue in 2012, when
Kamerion Wimbley
and
Derrick Morgan
were overextended.
Some combination of
Keyunta Dawson
,
Leger Douzable
and
Dave Ball
behind the starters would have helped. But Douzable and Ball were on injured reserve in the preseason and Dawson played in just three games before he was hurt.
Currently the depth is Pitoitua, Dawson and
Scott Solomon
. A drat pick could upgrade the group.
With Gregg Williams added to the defensive coaching staff, there is more talk of blitzing and more discussion of splashing in some 3-4 looks. Outside linebacker
Akeem Ayers
was increasingly involved in the rush later in the season and figures to be more prominent going forward. He could blitz from his usual spot and he could line up sometimes as an end.
Last season, the Titans sent four or fewer rushers nearly 75 percent of the time, recording 18 sacks. The quarter of the time when they sent five or more, they recorded 21 sacks.
That was 26.0 drop-backs per sack for standard pressure (28th in the NFL) and 7.6 drop-backs per sack with five or more rushers, best in the NFL.
Even if they blitz more, they need to do better with a standard rush and probably need to ease the workloads of Morgan (who played 81 percent of the defensive snaps last season) and Wimbley (80 percent).
September, 2, 2012
9/02/12
9:16
AM ET
Reading the coverage…
Can you fare better than a coin flip picking games against the spread? Prove it in a weekly pool with me and other AFC South blog readers. Create an entry and
join us here
.
Houston Texans

Houston Chronicle columnist Jerome Solomon has the Texans
winning
the Super Bowl.
Chronicle columnist Randy Harvey takes the other side and tells us why the Texans
will not win it all
.
Says the Chronicle's Dale Robertson: "Since 1999, when the franchise formerly known as the Houston Oilers finally, and improbably, landed in the Super Bowl as the Tennessee Titans, a head coach has led his team into the playoffs for the first time on nearly 40 occasions. Yet
only six of those teams
took the next step the following year -- and just one of them, Pittsburgh in 2008, went on to win a title."
John McClain of the Chronicle assesses
the final 53
.
A look at
the Texans' competition
in the AFC South from McClain.
Trindon Holliday gives the Texans
a special spark
, says Nick Scurfield of the team's website.
Indianapolis Colts

The Colts used their No. 1 spot in the waiver claim order to
add three players
, says Phillip B. Wilson of the Indianapolis Star.
Cornerback Vontae Davis now has
a second chance
to get it right, says Michael Pointer of the Star.
Long snapper Justin Snow, the team's longest tenured player,
wasn't surprised
when he didn't make the team, says Mike Chappell of the Star.
Jacksonville Jaguars

Coach Mike Mularkey's heard rumors that Maurice Jones-Drew will show up, but he
hasn't heard directly from MJD
, says Vito Stellino of the Florida Times Union.
What's ahead for the Jaguars?
Links
to all the Florida Times-Union's preview section stories.
In
Gene Frenette's piece
on Blaine Gabbert, guard Uche Nwaneri said this of the quarterback: "That's the difference in Blaine from last year. He's gained tons of composure in the pocket. It's been very noticeable that he hasn't gotten jittery. He's not worried about what's going on around him. He's worried about doing his job. You can't put a price tag on that."
From Vito Stellino's story on Mularkey in that section: "His knack of getting the players
on board
with his program without alienating them is a key component of his coaching style"
Jaguars scout Marty Miller
shares his story
of living with Parkinson's disease, from Ryan Robinson of Jaguars.com.
Tennessee Titans

The Titans are comfortable with just
four wide receivers
until Kenny Britt's suspension is over, says Jim Wyatt of The Tennessean.
The Titans decided not to use
the recall option
on defensive lineman Leger Douzable when they put him on injured reserve, says John Glennon of The Tennessean.
Dan Koppen
isn't a guy
the Titans are considering now that the Patriots have cut the center, says Glennon.
Reviewing
the final 53
with Tom Gower of Total Titans.
August, 31, 2012
8/31/12
9:42
PM ET
Click
here
for the complete list of Tennessee Titans' roster moves.

Most significant move:
Al Afalava
didn't stick with the Colts when they were thinned out in the secondary, but he's the Titans' fourth safety at the start. Another former member of the Indianapolis secondary,
Aaron Francisco
, had done some great special teams work and I thought he would win that job. Afalava may be sturdier, which could have helped his case. With end
Dave Ball
(concussion) and
Leger Douzable
(shoulder) put on IR, there was room for an additional tackle. But the Titans cut
Zach Clayton
in favor of
DaJohn Harris
on the inside rather than keeping both.
Onward and upward:
Running back and returner
Darius Reynaud
was a big story in camp, and may have been destined to stick even before return man
Marc Mariani
suffered a terrible broken leg. The running back can do nice work in the screen game and should be a pretty good returner. On defense,
Pannel Egboh
, has floated around the practice squad circuit. Now he gets the big payoff and should get some work as the third end who takes some snaps on clear run downs while giving
Derrick Morgan
or
Kamerion Wimbley
a rest.
What's next:
The Titans third corner,
Tommie Campbell
, is in his second season. And beyond him cornerback depth is very inexperienced, with rookie
Coty Sensabaugh
and
Ryan Mouton
(who missed his second season hurt). A veteran corner could be a quality addition. The team is heavy at running back with
Chris Johnson
,
Javon Ringer
,
Jamie Harper
and Reynaud plus fullback
Quinn Johnson
. I'm skeptical of the need for a fullback who's not an ace special teamer, and Quinn Johnson is not one.
August, 14, 2012
8/14/12
12:15
PM ET
NASHVILLE, Tenn. -- Like everyone in the NFL, the 2011 Titans were hurried together.
Unlike most other teams, they were hurried together by a new coaching staff.

Mike Munchak's coordinators -- Jerry Gray on defense and Chris Palmer on offense-- had to show patience and restraint. They brought exciting new ideas to Nashville, but they weren't able to implement much of them in the wake of the lockout. The personnel could only be revamped so much, but more importantly they didn't have much time.
No offseason, no organized team activities and no minicamps meant sticking mostly to basics.
Now, they say, after a full offseason together, they'll show us far more.
Whether
Matt Hasselbeck
or
Jake Locker
is at quarterback, we'll see Palmer implement run-and-shoot concepts while using two tight ends or a fullback. He'll look to regularly threaten teams deep with what can be a great compliment of pass-catchers:
Kenny Britt
(presuming he's healthy and available),
Nate Washington
, rookie
Kendall Wright
,
Damian Williams
,
Chris Johnson
,
Jared Cook
and
Taylor Thompson
.
If the evolution into more of a passing offense pans out, Johnson should get more space when he takes a handoff, and that should help him rebound from a disappointing 2011 season. He's looked better after participating fully in the Titans' offseason activities for the first time.
Defensively, Gray is looking to allow some players to excel in narrow roles in specific situations.
Akeem Ayers
, for example, should get to show off his rush skills by lining up as an end in a special rush package. Ideally, free safety
Michael Griffin
will play more in center field, where he's best.
Do Palmer and Gray have enough people to do what they want? And does what they want to do work? Progress seemed steady in the first couple weeks of camp, but there are still questions to answer.
THREE HOT ISSUES
The quarterback battle:
It hasn't drawn the spotlight one might have expected, because
it's friendly
and doesn't pit good versus evil on any level.
The Titans drafted Locker eighth overall in 2010 to be their starter -- for a long time, they hope. It's not a matter of if he gets into the lineup, but when. If he can take advantage of game situations to show improved accuracy and make plays from the pocket as well as on the move, Locker certainly has a chance to displace Hasselbeck now. He was better by at least a bit in the preseason opener and will start the second game Friday night at Tampa Bay.
But the team feels it's going to compete for a playoff spot now, and the younger, less experienced quarterback comes with a learning curve. If coaches feel Hasselbeck has a mastery of the offense and is playing effectively, it might be difficult to make the switch heading into an opening month that looks very challenging.
[+] Enlarge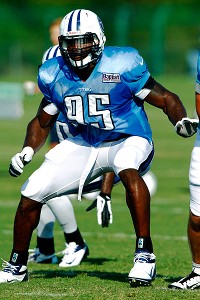 AP Photo/Wade PayneLinebacker Kamerion Wimbley looks to be an asset on the field and in the locker room.
The pass rush:
Everything the Titans' defense wants to do can blossom out of a more productive pass rush. Gray came to the team determined to beef up the D and get back to run-stopping basics. The Titans certainly want to maintain that theme, but they need a better pass rush to go with it.
They hired Keith Millard to coach not a position but a skill: rushing the passer. I like the concept, but Millard was in Tampa last year and they were a bad pass-rush team. It also has to make you wonder a bit about the pass-rush education defensive linemen were getting from position coach Tracy Rocker.
Kamerion Wimbley
looks like a potential difference-maker, but the other projected/expected starter at end,
Derrick Morgan
, is hardly locked in as a threat yet. He's been working behind 2011 practice-squader
Pannel Egboh
recently.
The interior includes very intriguing rush guys in
Karl Klug
and rookie
Mike Martin
, and has some depth. Ayers is slated to scoot up and work as an end in some nickel situations, perhaps shifting Morgan inside. However, what hear about Ayers' versatility and what I see from him don't match up yet.
Britt:
A suspension under the personal-conduct policy is looming for Britt after a DUI arrest at a military base. He has not shown he's learned from mistakes and turned into a better decision-maker. And he's still on the physically-unable-to-perform list, recovering from a torn anterior cruciate ligament suffered early last season and subsequent cleanup procedures. When healthy and available, Britt is an absolutely tantalizing receiver who can make everyone else's matchups more advantageous.
His recent rehab work makes him look close to ready. His recent meeting with the commissioner makes us expect an announcement soon about some time on the shelf. Once that's over, he has to settle down and show up every week while not giving the team cause for concern when he's away from the facility.
REASON FOR OPTIMISM
One big reason the Titans didn't think cornerback
Cortland Finnegan
was worth the money he got as a free agent from St. Louis is that his brand of professionalism didn't match up with the team's. Finnegan was beyond feisty at times, and a surly mood and an ego that prompted him to leave the team for a day during camp in 2011 in a contract dispute weren't things the Titans could overlook.
Know what to do and do it. That's Munchak's basic requirement of his players. In guard
Steve Hutchinson
and Wimbley, the Titans added two more standard-bearers of a message other players should continue to respect and respond to.
REASON FOR PESSIMISM
Estimating who will be good and who won't in advance of a season is fraught with peril, but it's hard not to do. Look at the Titans' first four games and it's hard not to foresee trouble. The Patriots visit on opening day; any game against Bill Belichick and
Tom Brady
is a major challenge. Then a trip to San Diego, where the Titans have long struggled. Detroit brings burgeoning quarterback
Matthew Stafford
to Tennessee before the Titans travel to Houston to face the division favorite.
With their current questions, it's hard to envision the Titans ripping off a good start against that early schedule. But the league's unpredictability is its best feature, so the quality of that four-pack is not written in permanent marker.
OBSERVATION DECK
The Titans have invested a lot of time and energy into Rusty Smith, and I don't doubt they like their third quarterback. It'll be hard to justify a roster spot for him, though. Third quarterbacks are a luxury, and both Locker and Hasselbeck should be on the team in 2013.

Johnson seemed to be back to form in practices, but it's hard to gauge running backs in practices. He was awful in limited action in the preseason opener at Seattle, failing to press the hole and appearing completely disinterested in the passing game, where he had two drops. That was enough to officially put him back in the "major concern" department for me.

Dave Ball contemplated retirement after dealing with another concussion last year. He had another early in camp and is likely fading on the depth chart while missing time. Egboh should be the third end, and guys like rookie Scott Solomon and veterans Leger Douzable and Keyunta Dawson give the Titans some alternatives.

[+] Enlarge

Jim Brown/US PresswireRookie Mike Martin helps with pass rushing depth -- and could yet displace veteran Shaun Smith.

Beau Brinkley is in line to be the long-snapper. The rookie right end out of Missouri takes over for veteran Ken Amato, who was not re-signed after filling the role since 2003. So far, so good for Brinkley, who's been invisible through camp and a preseason game, which is what you want from a guy in that role.

Martin, a third-round pick from Michigan, has gotten some work with the first team and figures to be another piece in a talented group of interior linemen. Though he gives up nearly 20 pounds to Shaun Smith, he could help knock the veteran off the roster. Smith has worked hard at becoming more of a penetrator and turned quiet rather than being the boisterous guy of last season, but his changes may have come too late. The Titans brought him in last year as they tried to get bigger, but had to know he was a space-eater who wasn't programmed to get into the backfield the way they want tackles to.

If Britt is healthy and somehow avoids suspension for his off-field transgressions, he certainly should be an opening-day starter. But if Britt isn't available, I won't be surprised if Williams is ahead of first-round pick Wright against the Patriots on Sept. 9 at LP Field. Williams has become increasingly assertive and knows what to do, while Wright could need some time to bring an expanded repertoire onto the field.

Cook is the more explosive receiver, so he gets talked about. But the Titans' other top tight end, Craig Stevens, is underrated. He's a good blocker who may not have receiver speed, but can get open and make some catches when called on.

Weakside linebacker Will Witherspoon is a quality veteran guy in the locker room. But he comes and goes as a playmaker. Second-round pick Zach Brown brings tremendous speed. I don't think he'll dislodge Witherspoon from the job at the start. He may earn a role in covering tight ends like Rob Gronkowski, Antonio Gates, Brandon Pettigrew and Owen Daniels -- players the Titans will be game-planning against in their first month. Tennessee has had some major issues recently covering top tight ends.

The Titans have a find in cornerback Jason McCourty, who is going to be good as their lead guy and will help reshape the tone of the defensive backs meeting room. I actually feel better about him and Alterraun Verner as the team's starting cornerbacks than I do about Griffin and Jordan Babineaux as the safeties. My suspicion is that good offenses are going to find plays down the middle of the field.
April, 6, 2012
4/06/12
9:30
AM ET
By
ESPN.com staff
| ESPN.com
Houston Texans
The Texans
re-signed Quintin Demps
on Thursday to a one-year deal worth $700,000. Demps is a "
young player with a huge upside
," according to defensive backs coach Vance Joseph.
ProFootballWeekly.com identifies
the Texans' top three needs
heading into the 2012 NFL draft.
Indianapolis Colts
The team signed free agent defensive tackle
Brandon McKinney
, who had been with the Ravens since 2008.
ProFootballWeekly.com identifies
the Colts' top three needs
heading into the 2012 NFL draft.
Jacksonville Jaguars
After struggling to recover from the three concussions he suffered during the 2011 season, linebacker Clint Session
finally found relief
.
Terrance Knighton has
taken being in shape more seriously
this offseason. "I don't want to be remembered for the guy who had weight problems, I want to be remembered for the guy who turned it around, is a positive role model for kids," Knighton said in an interview with Florida Times-Union's Tania Ganguli.
Tennessee Titans
The newest Titan, Leger Douzable, said he considers himself "
the steal of free agency
."
The Titans
need more help at defensive end
, writes the Tennessean's John Glennon, and with no clear-cut upgrades still available in free agency, the team will likely turn its attention to the draft.
April, 5, 2012
4/05/12
8:51
AM ET
By
ESPN.com staff
| ESPN.com
Houston Texans
Arian Foster
won't be on the cover
of "Madden NFL 13." But that's a good thing, right, Texans fans?
The Texans'
home preseason slate
includes games against the Minnesota Vikings and San Francisco 49ers.
Indianapolis Colts
Bob Kravitz of the Indianapolis Star
: "Robert Mathis, the Pro Bowl defensive end-turned-outside linebacker, looked around the reconstituted and redecorated Indianapolis Colts practice-facility locker room Wednesday and shook his head. 'I feel like a freshman,' he said with a smile."
There are a lot of new faces as the Colts begin "
Building The Monster
."
Jacksonville Jaguars
Terrance Knighton is out to prove that his
weight won't be an issue this coming season
. "It's not going to change overnight because I came in in good shape today," Knighton said on Wednesday. "I want to prove to them this year that I won't be a problem and go above and beyond their expectations and show that I'm committed to it and it's an area where I've matured and changed."
The Jaguars will host the defending Super Bowl champion New York Giants to
launch their preseason schedule
.
Tennessee Titans
Recently signed Leger Douzable says he likes the Titans'
history of developing defensive ends
.
Quarterback Matt Hasselbeck will
face his former team
when the Titans open their preseason schedule at Seattle.
March, 29, 2012
3/29/12
11:00
AM ET
»
AFC Assessments
:
East
|
West
|
North
|
South
»
NFC
:
East
|
West
|
North
|
South
Houston Texans

Key additions:
None.
Key losses:
OLB
Mario Williams
, RG
Mike Brisiel
, CB
Jason Allen
, TE
Joel Dreessen
, RT
Eric Winston
(cut), ILB
DeMeco Ryans
(traded), FB
Lawrence Vickers
(cut), QB
Matt Leinart
(cut).
Keepers and finance:
Not everyone got away. The Texans managed to keep two very important players. They re-signed running back
Arian Foster
before he reached restricted free agency. And after he'd explored the market some, they struck a deal with unrestricted-free-agent center
Chris Myers
, a vital piece to a line that lost the two starters on the right side when Winston was cut and Brisiel bolted to Oakland.
Ryans was not a full-time player in the 3-4 defense, and his price tag was high. While Houston takes a $750,000 hit this season, he's cleared from the books in the future. That will help the team as it tries to make sure players like outside linebacker
Connor Barwin
and left tackle
Duane Brown
don't get away like Williams did.
What's next:
Depth paid off in a big way in 2011 as the Texans managed to win the division and a playoff game despite major personnel losses. At several spots, like on the offensive line and at corner, the draft will serve to replenish the roster with the same kind of insurance.
But the Texans are not without need.
While they are likely to stick with
Jacoby Jones
as part of the team and like
Kevin Walter
, a more reliable and dynamic weapon to go with
Andre Johnson
at receiver is something they acknowledge wanting. A third outside linebacker can reduce the high-snap strain on Barwin and
Brooks Reed
. While they hope
Rashad Butler
will replace Winston and
Antoine Caldwell
will take Brisiel's spot, adding a guy who can compete for one or both of those spots would be healthy.
Indianapolis Colts

Key additions:
DE
Cory Redding
, WR
Donnie Avery
, C
Samson Satele
, S
Tom Zbikowski
, G
Mike McGlynn
, RT
Winston Justice
(trade), QB
Drew Stanton
(trade).
Key losses:
QB
Peyton Manning
(cut), WR
Pierre Garcon
, TE
Jacob Tamme
, C
Jeff Saturday
, TE
Dallas Clark
(cut), LB
Gary Brackett
(cut), S
Melvin Bullitt
(cut), RT
Ryan Diem
(retired), WR
Anthony Gonzalez
, QB
Dan Orlovsky
, CB
Jacob Lacey
(not tendered), QB
Curtis Painter
(cut), DE
Jamaal Anderson
, G
Mike Pollak
.
So much we don't know:
We know background on coach Chuck Pagano and his coordinators and we know what Pagano and general manager Ryan Grigson have said. But there will be a degree of mystery well into the season about what they intend to run and with whom. It's unlikely to be a sweeping transition to a 3-4 defense, as it takes time to overhaul the personnel. But as they play a hybrid defense and move toward a conversion, they'll need more than they've got -- starting with a nose tackle.
On offense, they've said they'll use a fullback. That's a major departure from the previous regime. And we don't know if a
Donald Brown
-
Delone Carter
duo at fullback will be sufficient to run behind. They need help virtually everywhere after the cap purge and free-agency turnover. Not everything will get addressed as much as they'd like in their first offseason.
What's next:
I expect more role players like Zbikowski and McGlynn, more castoffs like Justice and Stanton and more guys who are presumed finished by a lot of teams, like Avery.
They are all guys who didn't cost much but who have upside and can help, at least as role players. And if they don't pan out, it's hardly a death blow to Indianapolis' major, long-term plans. Money is limited with big dead-money charges and a $19 million cap hit for defensive end
Dwight Freeney
the team has indicated it's willing to carry.
Jacksonville Jaguars

Key additions:
WR
Laurent Robinson
, CB
Aaron Ross
, QB
Chad Henne
.
Key losses:
DT
Leger Douzable
(did not tender).
Keeping their own:
The Jaguars did well to hold on to players who have been valuable to them. The top of that list belongs to safety
Dwight Lowery
. They traded with the Jets for him before last season, shifted him full time to safety and got good work from him before he was hurt. It was crucial for the team to stay fixed at the position where it was horrific in 2010 before signing
Dawan Landry
and adding Lowery.
They also re-signed defensive end
Jeremy Mincey
, a great effort defensive end who was overextended in terms of playing time last year. He's no sack-master, but he's going to bust it on every play, break through sometimes and make the opponent work hard to stay in his way. And with the lack of quality defensive ends who hit the market, the Jaguars did well to keep him from jumping to Chicago.
What's next:
Receiver has to be addressed beyond a change in position coach and the addition of Robinson. If it's not in the first round, it needs to be early. The franchise is trying to maximize
Blaine Gabbert
's chances to be a franchise quarterback, and few would be able to establish themselves with the current cast of wideouts.
The Jaguars are a top pass-rushing end away from being a top-flight defense. Can they find him seventh overall in the draft? They could tab someone like South Carolina's
Melvin Ingram
, though it's hard to say he or any rookie would be an immediate solution. Most ends need some time to become impact guys in the league.
The Jaguars could certainly look to add in the secondary free-agent market and when players are set free late in training camp.
Tennessee Titans

Key additions:
DE
Kamerion Wimbley
, RG
Steve Hutchinson
.
Key losses:
CB
Cortland Finnegan
, DL
Jason Jones
, WR Donnie Avery.
Sidetracked:
Did the Titans miss out on real chances to sign either
Scott Wells
, who went to St. Louis, or Chris Myers, who stayed in Houston, as their new center because they were focused on chasing quarterback Peyton Manning? Perhaps. But when the owner declares that his executives and coaches need to put the hard sell on an all-time great QB with roots in the team's state, that's what you do.
Ideally, the team will still find an alternative to
Eugene Amano
. If the Titans find a new center to go with Hutchinson, who replaces free agent
Jake Scott
in the starting lineup, the interior offensive line could see a big improvement. That could have a big bearing on running back
Chris Johnson
, provided he takes care of his own business.
What's next:
The Titans think Wimbley will excel as a full-time defensive end, but they can't afford for him to be too full time. He's a smaller guy who's played mostly as a 3-4 outside linebacker, and shouldn't be asked to play every down of every game. That means they still need more help at end, where the only other guys they have right now are
Derrick Morgan
and
Malcolm Sheppard
.
Look for them to address depth at corner -- where they feel fine about
Jason McCourty
and
Alterraun Verner
as the starters, if that's how it falls -- as well as at receiver. One wild-card spot could be running back. Are they content with
Javon Ringer
and
Jamie Harper
as changeups to Johnson, or would they like to add a big back?
December, 24, 2011
12/24/11
12:13
PM ET
November, 27, 2011
11/27/11
11:55
AM ET
JACKSONVILLE, Fla. --
Matt Leinart
and the Texans rank as the biggest story in the AFC South since it became clear the Colts would be horrible.

Leinart
I've crossed paths with few national media members this season at games.
As Leinart steps in for the injured
Matt Schaub
today at EverBank Field, I'm with writers from The New York Times, Sports Illustrated and Yahoo.
Andre Johnson
is back in Houston's lineup. He's averaged 102 receiving yards in his first game back from missed time because of injuries in his career.
Arian Foster
is averaging 161 yards from scrimmage against AFC South teams over the last two seasons. No player comes close against division opponents.
LeSean McCoy
is at 137 yards against the NFC East over the same stretch.
And Houston's defense is allowing just 186 yards to division opponents this season. That doesn't bode well for the Jaguars and their terrible offense.
The inactive lists for both teams:
Texans: QB
Kellen Clemens
, CB
Brandon Harris
, FB
Lawrence Vickers
, G
Thomas Austin
, T
Andrew Gardner
, TE
Garrett Graham
, DE
Tim Bulman
.
Jaguars: WR
Brian Robiskie
, C
John Estes
, DE
Aaron Kampman
, TE
Fendi Onobun
, DE
Matt Roth
, DT
Terrance Knighton
, QB Dan LeFevour.
For the Jaguars,
Leger Douzable
starts at left defensive end,
C.J. Mosley
starts at defensive tackle and
Ashton Youboty
starts at left cornerback.
August, 7, 2011
8/07/11
3:55
PM ET
Initial depth charts are like all of them -- unofficial and not always accurate.

Still, they are teams putting players and slots on the record.
The Jaguars' release for their preseason debut is out, and a depth chart is a required part of it.
No major surprises, but here's stuff of note:
May, 17, 2011
5/17/11
11:18
AM ET
Mel Kiper
recently wrote about seven 2010 rookies
he expects to have a big second year. None were from the AFC South.
Kiper mentioned seven other players, and only one plays for an AFC South team.
Of the Colts first-round pick from 2010, Kiper says: "I was shocked at how little [defensive end]
Jerry Hughes
saw the field. Will he rise to the challenge? The innate pass-rushing skills are there if he responds to the coaching."
Who's got the combination of promise and opportunity to make that second year jump?
Here's a name for each team from me:
Houston Texans

Mitchell
We
wrote recently
about
Shaun Cody
and
Earl Mitchell
(a third-rounder out of Arizona in 2010) as the guys expected to fill the nose guard role in the Texans new 3-4 deployed by new defensive coordinator Wade Phillips. Mitchell's got a great outlook and will have great opportunity. While Cody will be first in line, with the new coordinator, seniority should mean less and Mitchell may have more upside once he catches on to what the Texans ask him to do. But it could take some time. He's only been a tackle for four seasons, having played as a fullback prior to that.
Indianapolis Colts

Eldridge
I was big on fifth-round tight end
Brody Eldridge
heading into his rookie season and thought he'd have a big influence on the rushing game. He didn't really. Injuries allowed for the emergence of
Jacob Tamme
, a pass catcher, and more guys involved in a three-receiver set as the team sorted through receiver injuries. I'll say Eldridge again. With two big rookie additions to the offensive line (
Anthony Castonzo
and
Ben Ijalana
), a new goal line style back (
Delone Carter
) and a healthier stable of
Peyton Manning
targets, he'll have more chances to have an impact.
Jacksonville Jaguars

Smith
The Jaguars feel like their interior defensive line has turned into a strength because of the past two drafts, with 2009 third-rounder
Terrance Knighton
and 2010 first-rounder
Tyson Alualu
playing side by side. But the depth wasn't what they'd planned on having because they lost third-rounder
D'Anthony Smith
early in training camp with a right Achilles injury. We don't know what kind of pro Smith will be yet, but he stands to be an upgrade over guys like
Leger Douzable
,
C.J. Mosley
and
Nate Collins
, who finished last season as the interior depth.
Tennessee Titans

Williams
Mike Munchak
and his offensive coordinator, Chris Palmer, simply have to find ways to get young receivers like
Damian Williams
to contribute earlier than their predecessors did. As a rookie third-rounder out of USC he didn't win the return job and he didn't get many chances at receiver, even late in the season when the Titans were foolish not to give him a thorough look.
Justin Gage
shouldn't be around any longer and Williams should rank behind only
Kenny Britt
and
Nate Washington
in the Titans order, ahead of
Lavelle Hawkins
and
Marc Mariani
. Williams had a clear connection with
Kerry Collins
when the two played, a result of their team working on the scout team together. Whether Collins is the veteran QB ahead of
Jake Locker
or not, Williams should have opportunity.
August, 8, 2010
8/08/10
6:31
PM ET
Jacksonville added linebacker a couple veteran linebackers in
Tony Gilbert
, who played 2003-2007 with the franchise, and
Kris Griffin
. Gilbert's been with Atlanta the last two seasons.
While I was recently with the team indications were they weren't thrilled with their depth at the position after
Daryl Smith
, Keith Morrison,
Justin Durant
, and
Russell Allen
.
Freddy Keiaho
, who had some good stretches in Indy, could have ranked fifth but hardly stands out.
Teddy Lehman
could also be bumped down the depth chart with the moves.
The Jaguars also added second-year defensive tackle
Leger Douzable
.
Receiver
Nate Hughes
, safety
Terrell Whitehead
and offensive lineman
Andrew Crummey
were cut to make room for the additions.
AFC SOUTH SCOREBOARD
Thursday, 12/18
Sunday, 12/21