October, 14, 2010
10/14/10
3:05
PM ET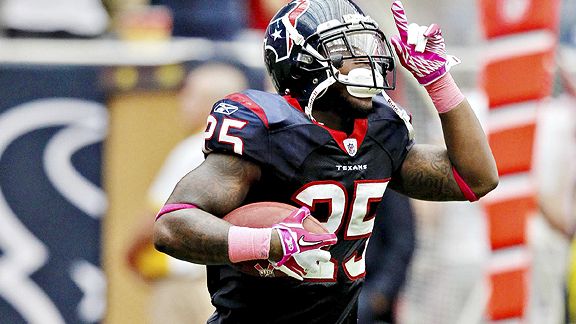 Derick E. Hingle/US PresswireFirst-round draft pick Kareem Jackson hasn't gotten off to the start the Texans had hoped for.
The secondary has to cover better. The pass rush has to help by hurrying quarterbacks more often or getting them off rhythm.
Certainly the personnel deserves a lion's share of blame for what's wrong with the
Houston Texans
so far.
The players are the ones who compose the league's 32nd-ranked pass defense, after all. They are the one's giving up an average of 329.6 passing yards a game and 8.34 yards per pass attempt. They are the ones quarterbacks are tossing it over and between while mounting a gaudy combined passer rating of 104.0.
Still, they aren't the only culprits here.
Coach Gary Kubiak and general manager Rick Smith crafted this roster. When they trimmed it on cut day, they decided the Kiddie Corners -- starters
Kareem Jackson
and
Glover Quin
, nickel guy
Brice McCain
and backup
Sherrick McManis
-- would suffice.
The formula, however, counted on a few things that haven't happened yet:
Quick and steady growth by the corners.

An improved pass rush that would force quarterbacks to hurry.

A high-scoring offense that would mean it was OK if the opponent could mount yards and points.
After two weeks, I thought it was
too early to worry
. Now, however, the team still doesn't get a check-mark on any of those.
This leaves a stand-up guy like Quin saying: "If you can't stop it, they're going to continue to do it. That gives us a chance to make a bunch of plays in the pass game and put on film and show the league you can't just sit there and throw the ball on us. But it's going to take more than one game to stop the pass until we weather the storm and get out of it."
Let's circle back and take on those three issues one at a time.
1) The corners are struggling, with first-rounder Jackson topping the list. It seems the Texans are asking a lot of him awfully soon. Maybe it hardens him quickly and we see a growth spurt.
In the meantime, however, when they want to scale him back as they did Sunday in the home blowout at the hands of the Giants, the alternative is to use McCain as the second corner, with McManis, a fifth-round rookie, in the nickel package.
I had no problem with the team admitting
Fred Bennett
and
Jacques Reeves
were no longer useful and letting them go. But at some point after they decided to let
Dunta Robinson
walk (he wasn't worth the money) and they failed to land
Leigh Bodden
(he may have used them to secure a deal in New England), they needed to add a veteran with the potential to be a useful reserve who can at least calm panic and be average.
Who? I don't know. But players like
Walt Harris
,
Ellis Hobbs
,
Lito Sheppard
and
Benny Sapp
changed teams and have roles where they are.
Rod Hood
might have been the same sort of guy had he not gotten hurt.
One of them or someone else could have provided more than
Karl Paymah
, the current veteran on the bench who's still learning the system. You need a guy who can fill in if the kids need a break and can be a resource to them -- though Quin said talking to a veteran isn't such a huge help, that young guys simply need to learn through experience.
Barring injuries, I think it's an architectural mistake when a team doesn't have a reasonable mix of youth and experience at a position group. This qualifies as that.
Smith disagrees.
"I can't tell you that I have ever really sat down and said, 'Gosh, we've got all young guys in this group, we need a veteran,'" he said. "Because if all the young guys are playing well, you don't need a veteran. It's difficult to look at it that way. ..."
"When you make a decision to go young, particularly in the secondary, you do that with the full awareness that there are going to be some growing pains. We certainly are experiencing some of those. But you do that because you are betting on the upside. And you know once you learn those lessons and get through some of those tough experiences you're going to have a group of players that is capable of playing together for a while at a high level. I believe they'll answer the call and we'll play good defense."
Players want to prove that Smith and Kubiak did the right thing, Quin said.
[+] Enlarge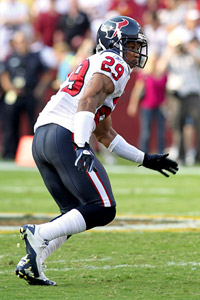 Jeff Fishbein/Icon SMIGlover Quin is still searching for his first career interception.
"Those guys see something or saw something that they felt like, 'We're going to go in this direction and it's going to be good for us,'" Quin said. "So I don't feel like just because we started off the season and we're last, this was a bad decision. We've got to play better and make it a great decision. They stuck their necks out for us, now we have to go out and perform for them."
2) The rush got only one addition of note, tackle
Earl Mitchell
, a third-round pick.
Connor Barwin
, a rush-specialist end, was lost for the season with an injury suffered opening day, which hurt as he was in line to be the most improved player on the team.
But the Kubiak-Smith duo doesn't appear to have done enough here either, expecting patience would pay off with growth that we simply haven't seen.
They hope
Mark Anderson
or
Adewale Ogunleye
can catch on to what they are doing and ultimately help replace Barwin. A second rushing force to go with
Mario Williams
is crucial, and a better rush would offer a lot of relief to the defensive backs.
The Texans have faced very good quarterbacks so far.
Still, according to ESPN Stats & Information, they have thrown 147 passes against the Texans when they've rushed just four defenders, completing 111 of them for a 75.5 percentage and 1,352 yards. Those are the highest number in the league in each of those categories.
With a four-man rush, the Texans have given up eight touchdowns, a 110.1 passer rating and recorded only four sacks.
For context: The
Tennessee Titans
have faced 10 fewer pass attempts against their standard pressure and have 10 more sacks than Houston in those situations.
"I think Mario Williams has been great," said Matt Williamson of Scouts Inc. "Fulfilling all of his vast and amazing potential. But the rest of the crew is letting him and their terrible pass defense down."
3) It was reasonable to expect that the Texans, who felt they'd made great strides in balancing out the offense and running in the red zone, would improve from 10th in scoring a year ago. Overly reliant on the pass, the 2009 Texans averaged just more than 24 points a game.
Matt Schaub
's got enough on his plate with his own struggles, which include
an adjustment
to coordinator Rick Dennison and a balky ankle for
Andre Johnson
.
Now as the leader of the offense, he sees his counterparts slinging the ball all over the field and has to be feeling more pressure than he should to get some crooked numbers on his side of the scoreboard.
With no major personnel change, the team's gotten a touch less than that while allowing nearly a touchdown more a game. It's hit 30 points in three wins.
But in two hard-to-swallow blowouts, the Texans' offense struggled. It didn't get a touchdown against Dallas until under two minutes were left. It didn't find the end zone against the Giants until the third quarter.
"We've hit a couple of rough patches, but that's expected," Smith said. "I've got total confidence in our guys and that we'll make plays and continue to play good on offense."
Houston's been outscored 78-40 in the first half. The offense can do more to keep the Texans in a tough game.
July, 12, 2010
7/12/10
11:04
AM ET
Reading the coverage:
Michael Lombardi adds up rushing attempts and pass completions for an interesting chart
in here
.
Houston Texans
Alan Burge asks if you'd
rather have
Kareem Jackson or Leigh Bodden.
Indianapolis Colts
I look at John Chick for "
On The Radar
" last week. Here's Phillip B. Wilson with more on
the former CFL star
.
Running down some of what Football Outsiders says about
the Colts offense
with Nate Dunlevy.
Jamie Dukes follows the consensus and ranks Peyton Manning the league's
top quarterback
.
Brandon Scott
previews Colts camp
. There's a Manning interview from his quarterback camp attached.
Rookie safety
David Caldwell talked with Coltzilla.
Jacksonville Jaguars
Will this
bumper sticker campaign
help the Jaguars in Jacksonville?
A closer look at
undrafted defensive lineman
Aaron Morgan from Adam Stites.
Hunter Ansley thinks the Jaguars could be
a surprise team
.
Tennessee Titans
It's
not been the best
Titans' offseason, but don't jump to say it's the worst says David Boclair.
Kevin Matthews has
special ties
to the Titans, writes Phil Brame.
March, 9, 2010
3/09/10
11:25
AM ET
March, 8, 2010
3/08/10
11:58
AM ET
Houston Texans
Leigh Bodden and Wade Smith arrived in Houston and
had dinner
with Gary Kubiak and some assistants, says John McClain.
"If Houston wants me,
they can get me
," Leigh Bodden told Mark Berman.
Original Texan Chester Pitts would like to
stick around
, says McClain.
Richard Justice gets
riled up
.
The draft
is the way to go at running back, says Clark Judge.
@StephStradley
is pushing Texans fans to tweet
@Leigh Bodden
and encourage him to sign with Houston.
Indianapolis Colts
Brian Burke
parses
Bill Polian on statistical analysis.
Free agency Colts-style is
prudent
, not press-worthy, says John Oehser.
Dennis Dillon ranks Antoine Bethea as one of the
top restricted free agents
available.
Jacksonville Jaguars
Old friend Brad Meester
helped sell
Aaron Kampman on Jacksonville, where the free-agent acquisition said he aims to be known as tough and smart, writes Michael C. Wright.
The Jaguars are banking on Aaron Kampman
not being
another Bryce Paup, says Gene Frenette.
Pete Prisco is
wary
of aging pass-rushers.
Kassim Osgood's deal is for three years and $6.675 million, with $2.975 million guaranteed. The
total package
could reach close to $11 million with incentives, says Wright.
Tennessee Titans
We looked at Jason Babin
earlier
.
Assessing
the running backs
with Tom Gower.
March, 7, 2010
3/07/10
7:33
PM ET
The Texans have free-agent cornerback
Leigh Bodden
in Houston
, the first visit for the Patriots cornerback, reports Mike Reiss of ESPNBoston.com.
John McClain
tweeted Sunday evening
the guest was on his way to dinner with Gary Kubiak and free agent guard
Wade Smith
.
Seattle and Pittsburgh are also suitors and New England would like him back.
The Texans aren't going to be able to pay Bodden anything close to Dunta Robinson's six-year deal in Atlanta worth $57 million with $25.5 million guaranteed.
Reiss says Bodden could be aiming for more like $5 million a year.
If the Texans think he's worth it and can land him, they'd trim a list of needs that includes running back, free safety, interior offensive line and defensive tackle in addition to corner.
Scouts Inc. grades Bodden a 77, second only to Robinson (80) in the free agent
pool of corners
on
our free agency tracker
. Here is their review:
He is a great combination of size, strength and athleticism. Bodden is an instinctive player who leverages receivers well, while keeping proper cushion and body position to react quickly from the perimeter. He has excellent vision of his opponent and the play as it unfolds, which allows him to anticipate, jump patterns and make a plays on the ball. Bodden can be physical to jam and re-route receivers from the press position. He has good hips, quickness, agility and speed to turn and run deep with his opponent. Bodden is also a solid open-field tackler with good technique to wrap up his opponent and he keeps his pads over his feet, which enables him to be sure in space. He is an aggressive player who uses his hands well in block protection to keep himself alive to the pile. Bodden is a very good football player who fits well in [Bill] Belichick's complex defensive scheme.