August, 25, 2013
8/25/13
3:18
AM ET
Observations and thoughts out of the
Jaguars' 31-24
Week 3 preseason loss to the
Philadelphia Eagles
on Saturday night:
The Justin Blackmon-Cecil Shorts receiving duo produced five catches for 70 yards playing with their backup quarterback, Chad Henne. The two looked smooth and efficient, though each had a play that rated as a drop.
Jacksonville's blockers gave up seven sacks, four of them coming against Henne. That's simply too much pressure and it's creates too much risk of injury back there while Blaine Gabbert is already out with a thumb injury.
I liked the one-play, 63-yard touchdown drive after an interception. That sudden change in possession was thanks to rookie corner Dwayne Gratz's pick -- followed by sudden change on the scoreboard thanks to running back Jordan Todman's cut back touchdown run. But the Jaguars had just one first-half drive with more than one first down -- the opening 12-play touchdown drive.
Has Todman dented Justin Forsett's status or security? Forsett injured a toe early in camp and hasn't been seen in game action. Todman has done some good work and had an eight carry, 105-yard game with the 63-yard TD. Denard Robinson averaged 4.7 yards a carry on seven runs.
The Jaguars were 45 percent on third- and fourth-down conversions while holding Philly to 36 percent.
Linebacker Paul Posluszny and rookie strong safety Jonathan Cyprien both bit on bad play-action fake where it was not at all believable that Michael Vick was handing off to LeSean McCoy. But the early movement of Poz and Cyprien helped create the play and the space where Vick found Riley Cooper for a 9-yard scoring catch.
Chip Kelly's offense seeks to maximize plays run. But they ran 70 in this game to the Jaguars' 73. One big difference, however, was average gain per pass play, where the Eagles posted a 7.8 to the Jaguars 3.7.
Philadelphia gained 189 yards on kick and punt returns, meaning the Eagles had an average drive start of their own 38-yard line, 14 yards better than Jacksonville's average start.
Tight end Allen Reisner made a nice 8-yard touchdown catch and his game play certainly indicates he's going to make this team as a tight end behind Marcedes Lewis.
We had an Andre Branch sighting. The defensive end knifed inside and snuck by guard Evan Mathis who was preoccupied on combo block on the outside. Center Jason Kelce passed off defensive tackle Sen'Derrick Marks, but it was too late for Kelce not to whiff on Branch storming up the middle.
September, 25, 2012
9/25/12
10:11
AM ET
We certainly heard from some Packers after they were robbed by replacement officials Monday night.
But we need more.
Coaches are, largely, following the talking points passed down from the league office.
I asked Tennessee's Mike Munchak Monday what would happen if he or one of his coaching colleagues crumpled up the NFL's talking points and talk candidly about the how officiating is negatively impacting the game.
Foster
McCoy
He said if he's got something to talk about with the league, he calls the league. It serves no purpose for him to spill at a podium during a news conference.
I respectfully disagree.
A coach needs to bravely go against the grain here, for the purpose of advancing the story and helping increase the pressure on the league office. Instead, we've mostly got robots who blindly, willingly say what Park Avenue tells them to.
More importantly players need to go beyond the weak efforts of their weak union. They need unite and be heard.
Public reaction is one thing. Player reaction is another.
I'm not sure any of it prompts change. But why not try?
So here's my proposal.
Arian Foster
and
LeSean McCoy
, two of the league's best running backs, are also two of the league's best tweeters. (Foster tweeted that the end of Seattle's win was "drama" that was "
good for business
." Sarcastic or no? Looks like he deleted it.)
These two running backs should rally the troops and spearhead a campaign. Foster should reach out to the AFC stud backs, McCoy do the same for the NFC. Those guys all take it to their teammates and spend a couple days getting the word out.
Encourage every player in the league who tweets to tweet something like this between 4 and 5 p.m. ET on Friday (or a small time window of your choice):
Goodell, owners: The replacement official situation is not fair, not safe & not acceptable. Players & fans deserve better. Fix this disaster. #replacementrefs
Bad PR doesn't seem to have the muscle to affect change here. I don't know if stealing a win from the Packers will change that. Still, imagine if a slew of player tweets make the issue trend in a giant way heading into the weekend slate of games. It would, at the very least, guarantee that the players are heard.
It would make the fans feel like the players care about the issue and don't care about the threat of fines. Is the league going to fine hundreds of guys for tweeting their opinion?
Maybe it's a silly idea. It would make me feel better.
What do you think,
@ArianFoster
and
@CutonDime25
?
December, 28, 2011
12/28/11
1:48
PM ET
Barring a crazy development,
Maurice Jones-Drew
is going to win the NFL rushing title.
It's an incredibly impressive feat considering the 4-11 Jaguars have spent a lot of time playing from behind and have the league's worst passing offense by a large margin. We covered some of
that context
a few weeks ago.
He talked on a conference call Tuesday night, after he learned he was a Pro Bowler for the third consecutive year. I liked that he said he wasn't bothered by not being the starter.
Ray Rice
of the Ravens drew that assignment. He reminded us he started last year when
Arian Foster
was more deserving.
Heading into the final game, MJD has a 128-yard lead on Philadelphia's
LeSean McCoy
.
Jones-Drew is sure to get plenty of carries against the Colts Sunday, and he ran for 114 yards on 25 carries in the first meeting between the teams.
"It's bittersweet," he said of likely winning the title in such a bad year for the team. "It's something obviously growing up that's what every running back wants. I think what we've done, though, is shown that there is no quit in our team. We're facing eight- and nine-man boxes every week, and so to get that and obviously be up in the top in the league rushing where there's always two or three extra guys in the box, it definitely shows that our guys are doing a great job and they deserve to get the recognition of being one of the probably top offensive lines in the game."
He rewarded the linemen, his fullback and his primary blocking tight end with Gucci watches. The seven primary guys involved in blocking for him have black diamonds in their watches.
Jones-Drew has accounted for 46.5 percent of the Jaguars offense through 15 games, the highest percentage in the NFL. In 11 of 15 games, he has accounted for at least 40 percent of the club's offense and at least 50 percent in seven games.
Rice is in second place on that list, accounting for 36.8 percent of his team's offense.
Jones-Drew's percentage is impressive, but it also shows how overly reliant the Jaguars have been on him. They need to get that number down by adding significant offensive weaponry. Less can be more, and extend his career, going forward.
Some additional notes on Jones-Drew's season:
In the previous 16 seasons, the Jaguars have never had a player finish in the top three in the NFL in rushing yards. Mark Brunell (4,367 passing yards, 1996) and Jimmy Smith (116 receptions, 1999) are the only two players in franchise history to lead the NFL in one of the main statistical categories.
Jones-Drew is 136 yards from surpassing Fred Taylor's single-season franchise record of 1,572 rushing yards in 2003.
Jones-Drew is likely to wind up as the only current NFL player to have three straight seasons with at least 1,300 rushing yards.
In addition to leading the NFL in rushing yards, Jones-Drew also ranks among the NFL leaders in several statistical categories: rushes (1st, 318), rushing touchdowns (T-11th, 8), touchdowns (10th, 11), yards from scrimmage (3rd, 1,807), first downs (2nd, 86), rushes of 10-plus yards (2nd, 38), rushes of 20-plus yards (T-10th, 8) and offensive touches (1st, 360).
In the Jaguars' past five games, Jones-Drew has averaged 145.4 yards from scrimmage. Three of his top 10 career games have come in 2011. He had a season-high 188 yards from scrimmage (97 rushing, 91 receiving) on Dec. 5 against San Diego, the third-most of his career.


September, 15, 2011
9/15/11
12:17
PM ET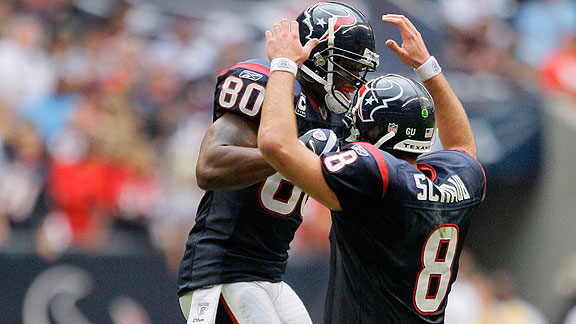 Bob Levey/Icon SMIAndre Johnson and Matt Schaub help lead a Texans team that has a clear path to the division title.
It's a bit easy to say the AFC South should belong to the
Houston Texans
this season.
But I'm joining the chorus and saying it anyway: If this team can't win this division, it'll be time for owner Bob McNair to crumple up the plan and aim it for the closest trash can.
The Texans have a championship-caliber quarterback, receiver, tight end and running back (maybe two or three of those) all working with a smart and skilled offensive line that understands how it needs to work.
Mindset is the only question mark on offense, starting with
Matt Schaub
's ability to rise to big moments. Even if he's only average in that category, with
Peyton Manning
out for at least the bulk of the season, Schaub is the best signal-caller in the division by a wide margin.
The Schaub-
Andre Johnson
-
Arian Foster
combination is among the league's best. Who has a better trio?
Philadelphia perhaps, with
Michael Vick
-
LeSean McCoy
-
DeSean Jackson
. Maybe
Matt Ryan
-
Roddy White
-
Michael Turner
in Atlanta. If we sub tight ends for running backs, San Diego with
Philip Rivers
,
Antonio Gates
and
Vincent Jackson
is in the conversation as is Green Bay with
Aaron Rodgers
,
Greg Jennings
and
Jermichael Finley
.
[+] Enlarge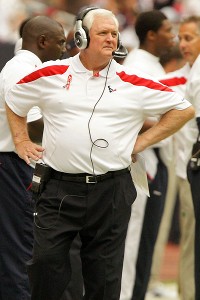 Troy Taormina/US PresswireThe Texans' defense had an outstanding performance in its first game under coordinator Wade Phillips.
The revamped Houston defense was outstanding in the opener. Sure, much of that had to do with the Colts' offense in its first game with
Kerry Collins
playing in place of Manning. But we saw all the elements of a defense that can win games -- stout run defense, consistent pressure on the quarterback, quality coverage, the ability to cope with sudden-change situations.
One can see swagger and confidence in the body language of guys thrilled to be working under defensive coordinator Wade Phillips. I think he's too low key, but it can clearly work for him as a coordinator. He has a way of keeping things simple and keeping the mood light, and players have bought in. I never sensed a similar feeling when Richard Smith or Frank Bush manned the post, though they obviously didn't have the same quality of personnel Phillips will enjoy.
On special teams,
Neil Rackers
has a big leg that will make a lot of touchbacks and long field goals.
Jacoby Jones
and
Danieal Manning
can provide a jolt in the return game. Rookie punter
Brett Hartmann
isn't proven yet but has a big leg.
The schedule is hardly a breeze, but look at the quarterbacks they could face: Collins twice,
Chad Henne
,
Matt Hasselbeck
twice (or maybe rookie
Jake Locker
),
Luke McCown
twice (or maybe rookie
Blaine Gabbert
),
Colt McCoy
,
Andy Dalton
and
Cam Newton
.
Houston's been called a soft team, a finesse franchise. Not too many soft teams produce the NFL rushing champion the way this team produced Foster last season.
If the Texans' offensive blocking scheme amounts to a finesse one, so be it. The Colts have won the division eight times in nine seasons with a lot of finesse. They're fine with you insulting them over it while admiring their success.
The Texans can show their toughness this season in how they stand up to Pittsburgh on Oct. 2 and at Baltimore on Oct. 16 and in how they fare in their games with the Jaguars.
The Colts' issues should be a huge assist for the Texans, as will the fact that the Titans and Jaguars are trying to stay afloat with temporary quarterbacks while developing top-10 draft picks in Locker and Gabbert. Although both teams may be ascending, their talent doesn't match Houston's.
If the Texans can make it through the first three-fourths of the season with a good record and in good health, they should be golden with a home stretch against Cincinnati (away), Carolina, Indianapolis (away) and Tennessee.
It sets up for success.
If this team folds under the expectations, if it cannot go get what's so attainable, it's going to have to be dismantled. It will require no more Mr. Nice Guy from McNair, who will have to part ways with a lot of nice guys he truly admires, starting with GM Rick Smith and coach Gary Kubiak. McNair will have no choice but to look for a different tone after a house cleaning.
I don't think that's how things will play out. I think Manning's injury is a big break that opens the door, a door the Jaguars and Titans are not ready to approach. The Texans are more than talented enough to storm through it if they don't complicate things. Run the ball. Work the play-action and bootleg game off of it. Rush the passer. Build from there as the season goes on and finish strong.
Watch pundits pick you to be a team that can do damage in the playoffs, and respond to it.
It sounds simple.
It just might be.
March, 26, 2011
3/26/11
10:31
AM ET
William Grooms from Hilton Head Island, S.C., writes:
I am a Jaguars season ticket holder. And you're always fair to them. My question is, and I know we need a lot of help on defense. But if one of the top three QBS are available at 16, do you think we should use the pick on him, and take or chances in the rest of the draft on our other needs?
Paul Kuharsky:
Who's the third guy? It doesn't seem there is a consensus on that. My feeling at this time is if
Blaine Gabbert
and
Cam Newton
are gone, and I expect they will be,
Jake Locker
,
Ryan Mallett
or anyone else would be a force at 16.
As
I've written
, I'd be more comfortable tabbing
Christian Ponder
,
Colin Kaepernick
,
Andy Dalton
or
Ricky Stanzi
in the second or third or positioning to get the one you like best with a move up.
---
Mike from Victoria, Texas, writes:
Good running back list, but like all lists, there are always going to be questions. Why is it that you feel that
LeSean McCoy
is a top five back, but
Arian Foster
still needs to show more? They are both 2-year players and Arian had a far superior second year. In their rookie years, statistically speaking, Foster actually stacks up comparable to McCoy, despite playing only late in the season. McCoy only had more than 100 yards from scrimmage twice, the same as Foster. Foster has performed like a top-flight back ever since his number got called in Week 14 of 2009… Justify your pick.
Paul Kuharsky:
Reasonable request, which I won't fare well with. I saw Foster a lot and thought he was great, but when I looked at him with those other people, I felt like I wanted to see it for longer. I saw McCoy a couple times last year and was very impressed with his versatility -- he was a lot better than I was expecting.
So I probably overrated McCoy based on his newness to me and downgraded Foster based on his familiarity. Which doesn't amount to a good answer at all, but it's the one I've got.
These lists are somewhat brutal to put together, and ultimately each ballot is imperfect. Hopefully when eight are melded, we help smooth out one another's mistakes. And the fact there is no right answer is what's making for lively debate.
I appreciate the feedback.
---
Luke Hillis from Murfreesboro, Tenn., writes:
Do you think the Titans are desperate enough to offer next year's number one plus an early-round pick this year for
Kevin Kolb
? Do you think the Eagles are asking too much and should we be excited if we get him?
Paul Kuharsky:
I don't think they are desperate enough, no. And if the league isn't up and running by the time the draft arrives, they cannot do a deal for a player that involves at 2011 pick. They won't be able to deal for a veteran until there is a new CBA, and it would be with a 2012 pick or picks.
I think Kolb will be too expensive for Tennessee.
He's a guy groomed in a good system, and his team was ready to start him until
Michael Vick
landed in its lap. No guarantee. But way more ready than anyone they can draft.
---
Dan from Raleigh, N.C., writes:
I don't view it as Jack Del Rio questioning his player's intelligence and endurance so much as him questioning his coaching. He's already discussed that he has worked the team very hard, they lost what, two weeks of OTAs last year? And his defense being too complicated I'd chalk up to him wanting his players to play up to the schemes without really maximizing the talent level on the field. Does that sound reasonable?
Paul Kuharsky:
It does. But I think there is an element of pass-the-buck and campaign speech to
his comments here
and in the stuff he said at the combine about backing off.
---
Carl Follmer from Iowa City, Iowa
writes:
Just a quick note on the kickoff rule change as it pertains to the Colts: I imagine most people will think the new rule benefits the Colts because they may well not have to defend as many kicks (something they're notoriously shaky at). But another aspect that isn't as visible is that the rest of the pack may come back to the Colts' level as far as returns are concerned. I can count on one hand the number of times the Colts got a good kickoff return and began a possession at or past their own 40 last season.
Peyton Manning
is used to constructing 80-yard drives, so this won't have much impact on him, as opposed to teams like the Bears or Browns that have trouble scoring (to put it mildly) and rely on that extra yardage. The teams with effective offenses won't be impacted, and any offensive stagnation will only be magnified. In a world where most everyone begins at the same point on the field, I'll gladly take Manning.
Paul Kuharsky:
A good way to look at it, thanks.
And now for what's becoming a weekly section, our Friday speed Q&A via Twitter:
@damiansmith0812
I read a lot of message boards, I know bad idea, but would Tenn ever consider moving Finnegan to S? Played it in college.
PK
: I'm anti-position change. Waste a lot of work at corner and could wind up weaker there. Maybe even at two spots.
@coltsjunkie
Were the players (who voted the Top Ten passrushers) from the LFL? Where's @RobertMathis98?
PK
: You might want to
check my ballot
-- left
Julius Peppers
off, had
Dwight Freeney
first when
DeMarcus Ware
got all the other firsts. Has Mathis on there.
@naturalJay
is TCU's Dalton a good fit for the Jags at 16?
PK
: I think it's too high.
@chrisbrown44
what will be biggest difference for titans under munch?
PK
: I hope accountability and discipline, which has slipped. No way to know at this stage, though.
@Hodari11
Gene Smith hinted that the MLB is the QB of the D. He wants a guy to step right in. Paul posluszny is a free agent. thoughts?
PK
: Looks like a potentially great match.
March, 15, 2011
3/15/11
1:00
PM ET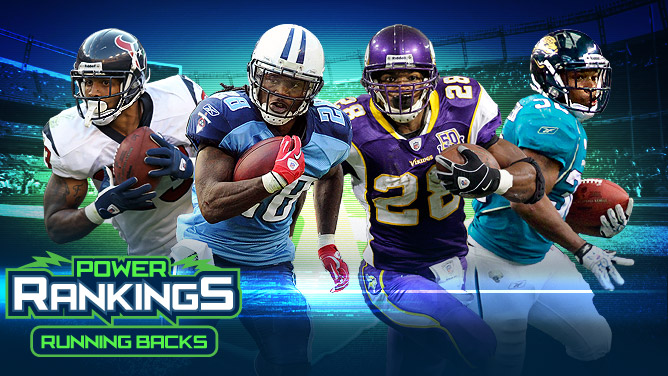 ESPN.com IllustrationThe voting for the NFL's top running back was a tight one between Tennessee's Chris Johnson and Minnesota's Adrian Peterson.
ESPN.com's NFL writers rank the top 10 running backs in the league today. Next week: Top 10 pass-rushers.
When it came to deciding who we think is the NFL's best running back, everyone representing the NFL Blog Network chose between
Chris Johnson
and
Adrian Peterson
at the top of the ballot.
Everyone except AFC West blogger Bill Williamson, that is.
Williamson's second-place vote for Kansas City's
Jamaal Charles
bumped Peterson to third on his ballot. So instead of Peterson splitting the top spot with Johnson, he came in second by a mere point -- 76 to 75.
Johnson joins Houston receiver
Andre Johnson
as
tops at his spot in our positional power rankings
.
"I squeezed Charles in between Johnson and Peterson because I think Charles may be rising some and Peterson may be falling just a tad," Williamson said. "We all know running backs have short shelf lives, so any little indication of slippage could be significant.
"I know Johnson slipped some in 2010, but this is still a highly productive player who has plenty left in the tank. I think Johnson gives defensive coordinators more Tuesday night headaches than any tailback in the league right now. I get to see Charles quite a bit, and he is simply explosive. He truly can score any time he touches the ball."
Full disclosure: I very nearly put Charles second, too, though had I made the move it would have pushed back Johnson, not Peterson -- and given us that tie. Ultimately, I put Peterson first because I think he's largely resolved his biggest issue, fumbling, while Johnson regressed in 2010 as a pass-catching threat. I think Charles is fantastic, but he hasn't approached the workload of AP or CJ yet, so I put him third.
The overall ballot created a tie for third between two other top-flight backs, Jacksonville's
Maurice Jones-Drew
and Houston's
Arian Foster
, giving the AFC South three of the top four backs in the poll.
Foster was dinged by an eighth-place vote by me (love him, but one year is not a big enough sample size for a lead back), while Jones-Drew was hurt by an eighth-place vote by NFC North blogger Kevin Seifert.
"Maybe next time MJD will think twice about crossing an NFC North player," Seifert said. "Seriously, his Twitter criticism of
Jay Cutler
played no role in my decision. As I did last week with Andre Johnson, I'll plead unfamiliarity. I don't have anything against Maurice Jones-Drew. As an NFC North divisional blogger, I haven't had many opportunities to see him play. First-person observations tend to have a bigger impact on your judgment. Plus, I wanted to give the Jaguars' fan something to get upset about."
Charles finished fifth, with the second-place vote from Williamson and No. 10 vote from NFC South blogger Pat Yasinskas, who also cast the lone vote for Charles' backfield partner,
Thomas Jones
.
Yasinskas put Jones, who was with the
New York Jets
in 2007-09, two spots ahead of Charles.
Yasinskas said he didn't want to give too much weight to flavor-of-the-year candidates and still wants to see more from Foster and Charles before really anointing them.
[+] Enlarge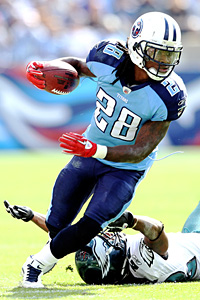 Andy Lyons/Getty ImagesTennessee's Chris Johnson rushed for 1,364 yards and 11 touchdowns last season and topped the list of four of our eight panelists.
"That's why I based my ballot mainly on looking independently at combined rushing totals of the last two years and the last three years and then drawing conclusions," Yasinskas said. "Foster's had one good year and Charles has had two. I tried to focus on guys who have been consistently productive for at least two years and preferably the last three years.
"That thinking led me to cast the lone vote for Thomas Jones, who didn't make our top 10. I've got no regrets about that vote. Jones' numbers dipped last season and there is no doubt he's nearing the end of his career. But his numbers in the previous two seasons were outstanding, and when you combine them with his numbers from last year he still stacked up well compared to most running backs over two- and three-year spans, which were the time periods I tried to focus on."
Jones, 32, and
LaDainian Tomlinson
, 31, were the oldest backs to draw votes. Seifert placed Tomlinson 10th.
Otherwise the panel leaned to youth.
Among the 12 backs who made our top 10 list, based on ties,
Michael Turner
(29),
Steven Jackson
(27) and
Frank Gore
(27) rank as the old men. The other nine are 25 or younger.
Turner edged Jackson for sixth, making every ballot. AFC East blogger Tim Graham didn't include Jackson in his voting.
"I couldn't bring myself to vote for Jackson because he averaged only 3.8 yards a carry, scored six touchdowns and had little impact in the passing game," Graham said.
Ray Rice
has a big cushion for eighth while
Rashard Mendenhall
finished ninth, with two seventh-place votes but three voters not including him.
Gore,
LeSean McCoy
and
Darren McFadden
finished tied for 10th, while Jones,
Peyton Hillis
and Tomlinson got votes but didn't make the final list.
I found it tough to pass on Gore, but he played in only 11 games in 2010 before landing on IR with a hip injury. There was such stiff competition, so I leaned on guys who were more durable.
"Gore has certainly played at a high level longer than Rice, Turner or McFadden," NFC West blogger Mike Sando said. "He's produced across systems for a team that has had a different offensive coordinator every season of his career.
"He's never had a quarterback to take pressure off him. Defenses have known what was coming, and Gore has kept coming anyway. It's bitten into his production and taken a toll on his body, but he has produced."
December, 2, 2010
12/02/10
12:00
PM ET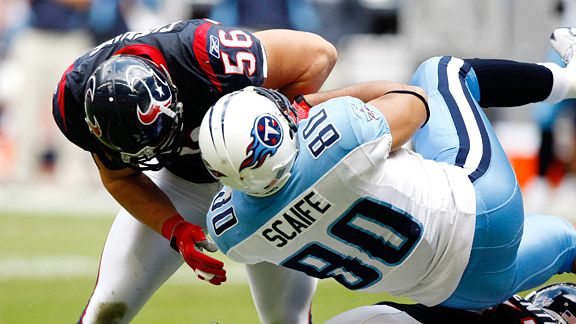 Bob Levey/Getty ImagesBrian Cushing and the Houston defense will have their hands full against Michael Vick and Philadelphia.
The
Houston Texans
had given up at least 24 points in each of their first 10 games. Now they are coming off a shutout of the Titans.
As we prepare for Houston's game in Philadelphia tonight, here are five things to consider.
Can the defense contain Michael Vick?
Titans rookie quarterback
Rusty Smith
was no scrambling threat. Against Smith, Texans defensive tackle
Amobi Okoye
had one of his best games. But the defensive line might be coached not to be overly aggressive in this game. Get too far upfield and you risk taking yourself out of the play -- leaving Vick with one fewer guy to get past when he decides to run.
The Giants and Bears had success against Vick pushing the left-hander from left to his right. If the Texans can guide him that way, he's clearly less comfortable and less dangerous when he's moving against his throwing arm. But whichever way he's moving, he tends to keep plays alive for a long time, and the Texans do not have defensive backs who can cover quality, speedy receivers downfield for extended periods of time.
"The guy can throw ball for miles," safety
Bernard Pollard
said. "He can run like a running back. Then you have a two-headed monster in the backfield along with some dynamic receivers. We know and understand that and we are ready to go."
Will they punch it in from the red zone?
Houston's really worked on improving its red-zone offense and has had pretty good results once it gets inside the 20-yard line. The Texans are ninth in the league with a touchdown percentage of 59.5.
That lines up nicely with a Philadelphia weakness. The Eagles have the league's worst red-zone defense, by a mile. They allow touchdowns 76.7 percent of the time an opponent crosses the 20, and that's a substantial lead on the second worst team (Kansas City, 67.9 percent.)
If we see much of
Neil Rackers
on field-goal attempts of 37 yards or under, that will be a bad sign.
Can they stand toe-to-toe?
The Texans get sick of hearing themselves branded a finesse team, and the tough, physical
Arian Foster
has helped them fight the label this season.
Philly isn't super physical, but the Texans haven't been great in their three games against NFC East opponents so far. They mounted a great comeback to win in Washington, but got pasted by Dallas and the Giants. Houston's AFC South competition is 1-2 against the Eagles, who beat Jacksonville and Indianapolis but lost to the Titans.
"Coming off a short week, it's about getting fresh and being mentally ready to go with your game plan,"
Matt Schaub
said. "It will be a physical battle up there, always is. We've played a few physical games this year, none more physical than the one we played on Sunday. We just have to bounce back and be ready to step to the plate."
Will they be able to protect the ball? The Eagles lead the league in turnover differential at plus-14, and no one has more than their 26 takeaways. The Texans are at plus-1.
"They do a lot of different things, a lot of different complex looks and you just got to be aware of what coverages they're playing behind and they've got some veteran guys that know what you're trying to do, as far as routes," Schaub said. "They jump things. They're opportunistic. You got to be right with your protections and where you're going with the football. You can't guess, because you'll be wrong more often than not."
Texans wide receivers
Kevin Walter
and
David Anderson
are both dinged up. They are both more dependable than
Jacoby Jones
, who will be featured more if one or both of them are missing or limited.
Can Brian Cushing build off last week?
Insert your PED joke here. But since returning from his four-game suspension to start the season, Cushing's hardly been the impact guy he was as defensive rookie of the year. Last week against the Titans, he played like the 2009 version.
If he can fly around and handle
LeSean McCoy
the way he helped stop
Chris Johnson
, the Texans' chances will improve greatly.
"If I'm going good or if someone else is going good and the defense is playing well, it's just one of those spark kind of things," Cushing said. "It's momentum. It's a snowball effect that just keeps it going."
Philadelphia cornerback
Asante Samuel
leads the league with seven interceptions, but is questionable with a knee injury.
Will they get it to Foster?
He's showing himself to be not just a great running back but also a great pass catcher. In half of the Texans' six losses, he's had fewer than 20 touches. Last week he had 39 touches in the shutout of Tennessee.
Houston can still fall into the idea that it's a passing team, because in 2009 it was unable to run the ball. But now, Foster's the second-best player on the team next to
Andre Johnson
. Coach Gary Kubiak needs to remember it and be sure to get Foster the ball no matter how the game unfolds. The Texans have also had too many games with too few offensive snaps.
"I hope we run 76 plays again," Kubiak said. "That's the first time in a while we were able to hold the football that long. There were plenty of snaps to go around. We ran a football game that demanded that we hang on to the football and run the ball well. When he's able to touch it that many times, usually good things happen."
October, 26, 2010
10/26/10
1:00
PM ET
»
NFC Decisive Moments
:
East
|
West
|
North
|
South
»
AFC
:
East
|
West
|
North
|
South
Poised to boost their lead to 23-7 or at least 19-7 with just under six minutes left in the third quarter Sunday, the Eagles had a first-and-goal from the Tennessee 3-yard line.

But Tennessee right defensive tackle
Jason Jones
knifed through center
Mike McGlynn
and right guard
Max Jean-Gilles
barely touched and got to quarterback
Kevin Kolb
, disrupting his attempt to hand off to
LeSean McCoy
.
Cornerback
Alterraun Verner
pounced on the loose ball to gain possession, continuing the Titans' excellent red zone defense. Tennessee drove 74 yards to a field goal that cut the lead to 16-10 and the flow of the game changed.
Tennessee went on to win 37-19, a score that looked like a rout.
As much as
Chris Johnson
and
Vince Young
, Jones and Verner are the kind of players who are making the Titans work and work very well right now.
October, 24, 2010
10/24/10
2:46
PM ET
NASHVILLE, Tenn. -- Two plays of note concerning the Titans coming back to the ball in the first half . The
Eagles lead 13-7
at intermission.
On Kerry Collins' poorly thrown interception, he patted the ball several times and managed a pump fake before trying to find Nate Washington. Quintin Mikell got in front of Washington to make the play. Washington had a chance to turn into a defender, either getting in Mikell's way, batting it down or wrestling it from him as he collected it.
On the Eagles' trick play, Jeremy Maclin took the snap, gave it to LeSean McCoy and McCoy got the ball to Kevin Kolb who was wide left. Kolb was late throwing deep left and the throw was into a stiff wind. But Chris Hope stood and waited on the ball as if he were fielding a punt, completely unaware that Riley Cooper was still very much alive in the play. Cooper came in from Hope's right, cut in front of him and pulled in a 37-yard reception that set up a touchdown.
On offense or defense, players like Washington and Hope (who made a nice play a bit later to break up a deep ball for Maclin) need to be more aware of where they are and who's around them.
I expect a good second half and a close finish. Another miscalculation or two on balls in the air could spell doom for Tennessee.
October, 14, 2010
10/14/10
9:00
AM ET
By
Scouts Inc.'s Matt Williamson
| ESPN.com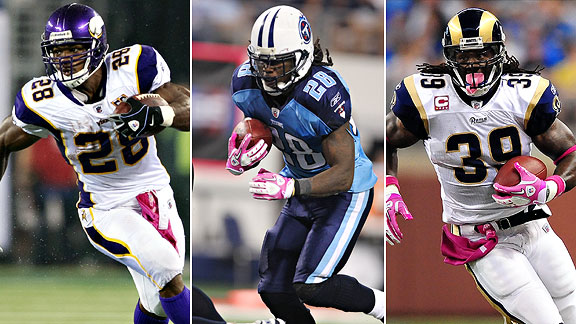 US PresswireAdrian Peterson, Chris Johnson and Steven Jackson lead a pack of talented running backs.
The majority of these decisions were clear-cut for me, including deciding between the top two. But after
Michael Turner
, this list became very difficult to compile.
I was torn between
Rashard Mendenhall
,
Jamaal Charles
and
LeSean McCoy
for the last two spots. For me, a true barometer when judging a running back's greatness is consistency over a long stretch of time -- though I realize that running backs' life spans are very short. And Mendenhall, Charles and McCoy have not demonstrated that consistency. I left Charles off the list because he isn't the clear lead dog on his team -- although he certainly should be.
Two other backs I'm very high on,
Jonathan Stewart
and
Beanie Wells
, obviously have no case for being on this list, but they do have the skill sets to be among the best in the league.
An all-time great who I thought was washed up,
LaDainian Tomlinson
, could very well convince me that he belongs back on this list if he continues to perform as well as he has for an extended stretch. What Tomlinson is doing is pretty remarkable, but I also think we need to keep it in perspective. He is in the ideal offense to succeed, with a hammer lead-blocking fullback, the best center in football, outstanding overall blocking, a quarterback who needs the safety blanket check-down receiver that Tomlinson provides and a playcaller dedicated to the run. Just look at how different
Thomas Jones
has been in Kansas City instead of New York. Still, Tomlinson has completely blown me away.
It's too early to include Houston's
Arian Foster
among the top 10 running backs, but what he has done in 2010 is very impressive. I must see more from him, however, to put Foster with the big boys. Foster, the leading rusher in the NFL with 564 yards, has durability concerns and looks to be nicked up. He isn't special enough to be the type of guy who can be counted on week to week, but his downhill, no-nonsense running style is exactly what Gary Kubiak wants in his zone-blocking scheme. (Check out
Jeffri Chadiha's Hot Read
on Foster.)
Here are my top 10 running backs.
1. Adrian Peterson, Vikings:
He is noticeably better than he was a year ago in all phases of his game. And he was the best back in the league last year. I said it then, and I will say it now. Peterson is an all-time great and clearly the best overall running back in football.
2. Chris Johnson, Titans:
Johnson has been up and down this year, but some of that has to do with his supporting cast. He did look like the 2009 version of himself in Week 5. There isn't a more dangerous player in the game.
[+] Enlarge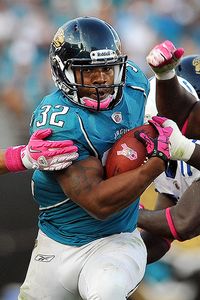 AP Photo/Stephen MortonMaurice Jones-Drew has only rushed for one touchdown this season after rushing for 13, 9, 12 and 15 in his first four seasons, respectively.
3. Steven Jackson, Rams:
Jackson recently eclipsed the 7,000 rushing yards mark. Just think how many he would have on another team. Jackson contributes in every way possible.
4. Maurice Jones-Drew, Jaguars:
I actually worry that MJD might, just might, be showing the very first signs of decline to his lofty game. I hope I am wrong about that, because he is a joy to watch and is remarkably consistent. Jones-Drew is a touchdown machine who can beat you as a runner or receiver.
5. Frank Gore, 49ers:
The only knock I have on Gore is durability, as he seems like a lock every year to miss a game or three with a lower-body injury. But he is a very special talent who can put a football team on his shoulders. It looks like he is going to have to for the 49ers to rebound.
6. Ray Rice, Ravens:
This past week, we finally saw the Rice of 2009. He really does everything well at the running back position. If anything, he should move up this list soon.
7. DeAngelo Williams, Panthers:
Wow, do I wish that we all could see Williams in Green Bay this year. Instead, he is in an absolutely dismal situation on one of the worst offenses in the league. Since Williams should be a free agent after this season, next year I might just get my wish. I bet he wouldn't complain either.
8. Michael Turner, Falcons:
Turner is a perfect fit for Atlanta's power running game and they tend to go as he goes. For a big back, he breaks a lot of long runs, but he offers little in the passing game.
9. LeSean McCoy, Eagles:
McCoy has come into his own. He is now stronger and understands the NFL game much better. Remember, last year he was one of the youngest players in the league. He's a dual threat with rare elusiveness. And he really fits the Eagles' offense. I am a believer.
10. Rashard Mendenhall, Steelers:
Mendenhall has not been spectacular during the first four games this season, but he has gotten a ton of attention from opposing defenses because the Steelers didn't have a quarterback to speak of. Prediction: The next 12 games will justify this ranking. He is quietly coming into his own and dripping with natural gifts.
May, 4, 2010
5/04/10
1:00
PM ET
»
NFC Big Question
:
East
|
West
|
North
|
South
»
AFC
:
East
|
West
|
North
|
South
Does a record-setting running back and arguably the league's most explosive player deserve a giant raise -- even if he's heading into just the third season of a five-year contract?
Chris Johnson
certainly thinks so and has said so.
The Titans running back hasn't been part of the team's offseason workouts this spring and did not join in on the first couple OTA sessions. Johnson said after he topped 2,000 rushing yards in 2009 that he'd stick with working out on his own because it helped produce good results.
[+] Enlarge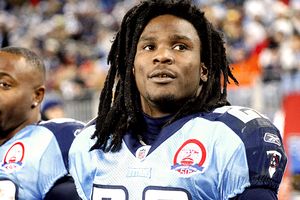 AP Photo/Wade PayneChris Johnson is scheduled to earn a base salary of $550,000 this season.
Clearly, he's making a statement by staying away.
The Titans are limited by a rule that allows for only a 30 percent raise from year to year. That's base salary. It can be circumvented by bonus money, but it would take a huge bonus to make it a fair- market deal. Teams are understandably reluctant to craft a contract with so much guaranteed.
Here's a
recent post
from Andrew Brandt that explains the economics.
Johnson got a $7 million bonus when he signed his original deal as the 24th pick in the 2008 draft. His base salary this season will be $550,000.
I spoke with Johnson's close friend, Jacksonville receiver
Mike Sims-Walker
, about CJ during the Jaguars' recent minicamp. The two grew up together in Orlando. They are training together with Tom Shaw, an expert on speed.
"He's looking pretty good," Sims-Walker said of Johnson. "We work out together three or four times a week. We go on the road [and] we still work out, like for a whole week. We were working out in Vegas and everything. He's still getting his work in."
What's Johnson's mood and how focused is he on the contract?
"I don't think he's mad, but I wouldn't say he's happy," Sims-Walker said. "He's taking his time. He hired an agent and he's letting him handle that. That's what CJ hired him for, that's what he's paying the man for, to make the business decisions that he feels are best with Chris."
One concern from the Titans' side is how Johnson
bounces back
from the heavy workload that got him over 2,000 yards last season.
Sims-Walker says Johnson's already proved what he can do in consecutive seasons with a 1,228-yard effort as a rookie and the 2,006 yards last year.
"How much more does he have to do?" Sims-Walker asked. "We all know this is a production business. You get paid the way you play. ... He well exceeded his contact, we all know. He's probably one of the lowest-paid starting running backs in the league. He's just trying to get paid how he plays."
Sims-Walker overstates one thing there: Other young running backs who are starters drafted in later rounds haven't produced like Johnson, but aren't making more than him. That list includes guys like
Ray Rice
,
Matt Forte
,
Jerome Harrison
,
Steve Slaton
,
Jamaal Charles
,
Ahmad Bradshaw
,
Shonn Greene
and
LeSean McCoy
.
As for the Titans' remaining 12 OTA dates, Sims-Walker said his guess is that Johnson won't make any of them.
But his sense is that Johnson will show up for training camp.
"That's when you get the mandatory fines and all that. I don't know if he's taking it that far," Sims-Walker said. "I think he'll show up. But hopefully he'll get to camp with a [new] contract ...
"They can give him a big signing bonus and still deal with 30 percent. He's worth offensive-player-of-the-year money, that's the award he won, right? At least he should be the highest-paid running back."