February, 23, 2014
2/23/14
4:00
PM ET
INDIANAPOLIS -- The year of the running quarterbacks was the 2012 draft class which featured Indianapolis'
Andrew Luck
, Washington's
Robert Griffin
III and Seattle's
Russell Wilson
.
Luck
RG III roasted the other quarterbacks by running 4.41 in the 40. He was followed by Wilson with a time of 4.54. Luck, whose speed is overlooked, was fourth behind LSU's Jordan Jefferson in the 40 that year with a time of 4.66.
RG III has rushed for 1,304 yards in his NFL career. Wilson has rushed for 1,028 yards and Luck has ran for 632 yards.
"There is nothing more difficult for a defensive coach to deal with than that element of the scrambling quarterback that can create after the regular play starts and then begins again," Seattle coach Pete Carroll told reporters during the combine.
The quarterbacks in this year's draft class ran the 40-yard dash over the weekend at the scouting combine.
Here were the top runners:
Logan Thomas
(Virginia Tech) 4.61
Stephen Morris
(Miami-FL) 4.63
Connor Shaw
(South Carolina) 4.66
Johnny Manziel
(Texas A&M) 4.68
Derek Carr
(Fresno State) 4.69
Luck would have been tied for the third fastest time at the combine this year.
Brandon Kelsey
from Midwestern State ran the fast time last year at 4.52.
January, 23, 2014
1/23/14
12:50
PM ET
MOBILE, Ala. --
Logan Thomas
expects the question.
Whenever he meets with NFL teams, the quarterback knows he will be asked why he was so inconsistent throughout his career at Virginia Tech. Why his production was not nearly as impressive as his physical tools?
His answer is short and honest.
"I say, 'Ya'll are exactly right,'" he said. "I have been a little inconsistent, but it's all mechanical. It's all fixable, and they agree with me."
[+] Enlarge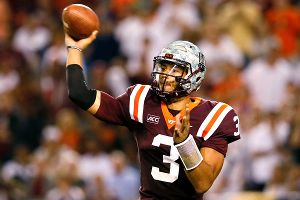 Kevin C. Cox/Getty ImagesLogan Thomas threw 53 touchdown passes and 39 interceptions at Virginia Tech.
Thomas is clearly the most physically gifted quarterback at the Reese's Senior Bowl. He's got a huge frame (6-feet-6, 250 pounds), a strong arm, and his athleticism and running ability compare to Carolina's
Cam Newton
. But he completed only 55.5 percent of his passes and threw 53 touchdown passes and 39 interceptions at Virginia Tech.
Thomas said his mechanical issues stem from poor fundamentals with his left leg, and he has been working with renowned quarterback coach George Whitfield.
Thomas has had his moments during Senior Bowl practices this week, but he has also delivered some off-balance, inaccurate throws. He has missed seeing open receivers, too, and has taken off running too soon at times.
Jaguars general manager David Caldwell said Thomas is an intriguing prospect, but in order to draft him a team has to decide if his inconsistency really is related to mechanical issues that can be corrected, or if that's just who Thomas is.
"Well you have to project a little bit, and what our offense would be, what he'll be two years from now, three years from now, and can you develop [him]," Caldwell said. "His issues with consistency, are they something that can be corrected or are they something that, as you know with certain quarterbacks, they're just habitual and they've had them their whole life."
That's the scenario that plagued Tim Tebow in his short NFL career. He tried to tinker and fix the throwing motion he used his entire life and was not able to make a significant change. Is Thomas the same way?
Caldwell said the Jaguars are interested in Thomas -- he said they are interested in everybody at the Senior Bowl, too -- but he would need some work before he'd be ready to get on the field.
"You always kind of draft for the floor," Caldwell said. "Whenever you take a player you hope that they're going to get better, but expect them to be who they are. If you expect to be like, 'Oh, we're going to turn this guy into a Pro Bowler even though he doesn't have this, this and that.' It doesn't happen. It happens sometimes, but if you draft to the floor you know you're going to at least get that, and then if it turns out to be more than that, that's great."
January, 20, 2014
1/20/14
7:10
PM ET
MOBILE, Ala. -- Here are 10 observations/thoughts from Monday's Senior Bowl practices and interviews:
1. Though there was only one period at the end of South team practice in which the entire offense faced off against the entire defense, Monday was a good day to evaluate the quarterbacks. It was mainly from a mental standpoint, Jaguars offensive coordinator Jedd Fisch said. The offense was put in Sunday night and Monday was the first chance to see how well the quarterbacks transferred it from the meeting room to the field. Fisch said he was pleased with the way
Jimmy Garoppolo
(Eastern Illinois),
Derek Carr
(Fresno State) and
David Fales
(San Jose State) handled that. There were mistakes and issues, but all the quarterbacks did a solid job.
2. There isn't a lot of size among the quarterbacks for either team, with the exception of
Logan Thomas
(Virginia Tech), who measured in at an impressive 6-5 5/8 and 250 pounds. Fales (6-1) and Carr (6-2) were both listed at 6-3 on the pre-measurement roster.
[+] Enlarge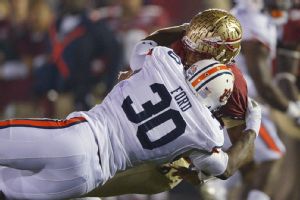 AP Photo/Mark J. TerrillDee Ford, who had 2 sacks in the national title game against Florida State and 10.5 sacks for the season, impressed on Monday at Senior Bowl practices.
3. Maybe it's my SEC background (I covered Florida and the league for 13 seasons), but defensive ends
Dee Ford
(Auburn) and
Chris Smith
(Arkansas) were noticeably quicker than the other defensive linemen. It really showed during one-on-one pass-rush drills. Offensive tackles
Joel Bitonio
(Nevada),
Wesley Johnson
(Vanderbilt),
Ja'Wuan James
(Tennessee),
Morgan Moses
(Virginia) and
Billy Turner
(North Dakota State) really struggled with those two players on the edge. Turner had a particularly hard time, which is partly to be expected because of the step up in competition. However, it was a bit surprising to see Johnson, James and Moses have issues. The layoff is partly to blame.
4. Ford had 10.5 sacks, including two in the national title game against Florida State, and was consistently beating the tackles around the edge. It'll be interesting to see how he handles coverage responsibilities. He's not really big enough to play a down end (6-2 1/4, 243 pounds) so he'd likely fit in the Jaguars' scheme as a leo.
5.
Jon Halapio
(Florida) had a rough start in one-on-one run-blocking drills -- defensive tackle
Will Sutton
(Arizona State) threw him aside pretty easily -- but he rebounded to have a solid performance in the pass-rushing drills. He handled Sutton and tackle
Deandre Coleman
(California) in pass-rush drills.
6. From the Don't Read Too Much Into This Department: Jaguars GM
David Caldwell
wandered over to watch some of the one-on-one run-blocking drills and stood next to end
Ed Stinson
for a while. The two appeared to be chatting while Stinson was sitting out some drills. Stinson weighed in at 292 pounds so he'd be a better fit for the spot that
Tyson Alualu
plays. The Jaguars were satisfied with the way Alualu played the run last season but they'd like more pass-rush production out that spot.
7. Here's a name to keep an eye on as the draft rolls into the later rounds: defensive tackle
Caraun Reid
(Princeton). He had a really strong day in run-blocking and pass-rushing drills. He moves very well for his size (6-2 1/8, 301 pounds) and showed good strength and quickness. He tossed guard
Gabe Jackson
(Mississippi State) aside and got underneath center
Bryan Stork
(Florida State) and drove him back.
8. Another small-school player that caught my eye was running back Lorenzo Taliaferro (Coastal Carolina), mainly because he's the biggest running back participating this week (6-0, 231 pounds). He had a couple nice runs during the short 11-on-11 period. He ran for 1,742 yards and 27 touchdowns and averaged 6.3 yards per carry last season. He has lost only 20 yards in 356 career carries.
9. Receiver
Jordan Matthews
(Vanderbilt) made a nice catch with a DB all over him during 11-on-11. Matthews (6-2, 209 pounds) is a physical player who caught 201 passes the past two seasons. He has good hands, knows how to use his body, and will make the tough catch. He doesn't have top-end speed, but he'll be one of the first several receivers drafted.
10. I wasn't that impressed with fullback
Jay Prosch
(Auburn), who struggled whenever he had to block an end or on the edge. Granted, there were only a few live periods but he seemed to be much better whenever he had to take on an inside linebacker.
January, 2, 2014
1/02/14
5:15
PM ET
JACKSONVILLE, Fla. -- As expected, the
Jacksonville Jaguars
were announced as one of the two teams that will coach in the Reese's Senior Bowl later this month.
Head coach Gus Bradley and the staff will coach the South team while Atlanta head coach Mike Smith and his staff will coach the North team. The game will be played Jan. 25 at Ladd Peebles Stadium in Mobile, Ala.
This should be a huge benefit for the Jaguars (4-12), who have the No. 3 overall pick. Getting a firsthand look at some of the country's top senior talent, as well as getting hands-on coaching experience with them, is valuable additional information that should give the Jaguars and Falcons a leg up over other teams.
"I think it's awesome," Bradley said. "I think it's a great opportunity. I did it one year and was part of it when we did it in Tampa and I think it's great.
"It's a great evaluation tool. It's maybe better for us as coaches instead of sitting in our rooms watching tape over and over again. We can evaluate all aspects of the game. I don't want to make a habit of it but as long as we have this opportunity we need to take advantage of it."
Coaching in the game should provide valuable insight into how each player handles himself in the locker room and meeting room and how well they handle being pushed at practice. The game plans will be stripped down and simplified, but it will still give the coaching staff a chance to see how quickly players can pick up and adjust to NFL concepts.
That's especially important for the quarterbacks, which is the Jaguars' most pressing need. Rosters won't be released until mid-January but so far six quarterbacks have accepted invitations to play in the game: Clemson's
Tajh Boyd
, Fresno State's
Derek Carr
, San Jose State's
David Fales
, Miami's
Stephen Morris
, Virginia Tech's
Logan Thomas
and Georgia's
Aaron Murray
. Murray will not play because of a torn ACL.
The Jaguars' No. 2 need is pass-rusher and so far eight defensive ends have accepted invites: Georgia Tech's
Jeremiah Attaochu
, Auburn's
Dee Ford
, Virginia Tech's
James Gayle
, North Carolina's
Kareem Martin
, Missouri's Michael Sams, Arkansas' Chris Smith, Louisville's Marcus Smith, and Virginia's
Brent Urban
.
This is Bradley's second chance to coach the Senior Bowl -- he was part of a Tampa Bay staff that coached in the Senior Bowl in 2006 -- and he's hoping the Jaguars do a better job of capitalizing on the opportunity than the Bucs did. Their No. 1 pick, Oklahoma guard
Davin Joseph
, developed into a Pro Bowler and second-round pick
Jeremy Trueblood
just finished his eighth season (he's now with Atlanta).
Quarterback
Bruce Gradkowski
, whom the Bucs took in the sixth round, has been a backup for five teams. The other seven draft picks lasted three or fewer seasons.
This is the second time the Jaguars have coached in the game. Jack Del Rio and his staff coached in the game in 2009. Six of the nine players the team drafted that year are still active -- all with other teams. First-round pick
Eugene Monroe
was the lone remaining player from the Jaguars' draft on the roster this season until he was traded to Baltimore a month into the season.
Offensive tackle
Eben Britton
(Chicago), defensive tackle
Terrance Knighton
(Denver), cornerback
Derek Cox
(San Diego), receiver
Tiquan Underwood
(Tampa Bay) and running back
Rashad Jennings
(Oakland) are also still active.
Receivers Jarett Dillard and Mike Thomas and tight end Zach Miller are out of the league.