August, 22, 2012
8/22/12
8:38
AM ET
Reading the coverage…
Houston Texans

Brian Cushing and Bradie James plan on being
Batman and Robin
, and James is happy to be second fiddle at this stage of his career, writes Dale Robertson of the Houston Chronicle. Communication between the two is at a premium.
Considering
the shape of the roster
with John McClain of the Chronicle.
The Texans know they need to
be smart
with J.J. Watt, says Tania Ganguli of the Chron.
Peter King looked in on the Texans. Gary Kubiak told him Rashad Butler and Derek Newton
might both play
early in the season.
Indianapolis Colts

The Colts
acquired
St. Louis cornerback Josh Gordy for an undisclosed draft pick, says Mike Chappell of the Indianapolis Star. Gordy started nine games for the Rams last year.
Andrew Luck protected himself and his team by sliding when he ran, but
don't question his toughness
says Phil Richards of the Star.
Considering Austin Collie's concussion and some medical opinions on
multiple concussions
with Phillip B. Wilson of the Star.
Jacksonville Jaguars

"The Jaguars are poised to
broaden their horizons
and attempt to become London's team as well as Jacksonville's team," writes Vito Stellino of the Florida Times-Union.
Players see a good opportunity to
grow the game
and the Jaguars' popularity, says Stellino.
The Jags in London will be
good for business
. But will it be good for the team? Gene Frenette of the Times-Union ponders.
Shahid Khan will be featured in a piece on
60 Minutes
, says Stellino.
Justin Blackmon
can play
, says Peter Schrager of Fox Sports in a review of preseason Week 2.
Tennessee Titans

"One of (Jake Locker's) first challenges will be to prove he can become
a consistently accurate passer
, which is really the only flaw that critics have harped on since he was drafted eighth overall last year," says John Glennon of The Tennessean.
Middle linebacker Colin McCarthy is showing a real
nose for the ball
, says Glennon.
Kenny Britt is
still recovering and still waiting
for word on a potential suspension from the NFL, says Jim Wyatt of The Tennessean.
August, 20, 2012
8/20/12
8:36
PM ET
With the Rams bowing out of an opportunity to play multiple games in London, it's no surprise the Jaguars are stepping in.

The team will announce tomorrow its intention to try to become London's home team by playing one home game there
in four consecutive seasons
starting in 2013.
Growing the fan base of the league's least popular team seems a smart idea, and I hardly think it means the Jaguars would be destined to land completely and permanently in London.
After all, there are a few requirements for that sort of move. League owners have to be willing to endure what an overseas team would mean to the league's operational logistics. And London has to show it would respond favorably to a full slate of American football games.
I don't think either is a guarantee.
In the meantime, I don't think owner Shad Khan will have such a hard time selling his team's American fan base on this idea.
I'd start by telling fans this: A season ticket package is expensive. It just got smaller and less expensive for the next four seasons. Instead of a 10-game slate, you get nine. (Sorry we can't fix the preseason rip-off part, that predated our ownership.) Nine is cheaper than 10. You can live without one. And that one is going to help us in the revenue department in a way that should make us a more stable franchise, assuring you at least nine.
January, 13, 2010
1/13/10
10:41
AM ET
Gene Frenette asked an excellent question about Wayne Weaver's press conference Tuesday:
Where was
coach Jack Del Rio?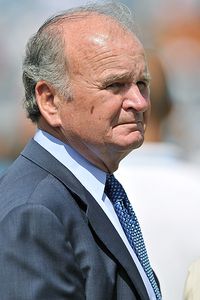 Fernando Medina/US PresswireJaguars owner Wayne Weaver described the team's recent body of work as "average."
It seemed natural that at a state-of-the-team address on a day in which it was established that Del Rio would remain in place, an appearance by the coach to say he's pleased to be around and to touch on the USC stuff once, officially, would have been prudent.
Accountability was perhaps Weaver's biggest theme, and in that light the press conference included this exchange:
In talking about accountability, do you think you could get Jack to come out here and talk to us?
Wayne Weaver
: I think right now Jack, he had his day planned. He's really in some deep meetings with his staff. You'll have a chance to get with him.
Do you think it's important that he repairs his image publicly?
WW
: I think Jack will be in front of you as he always is and he'll answer any of your questions, but I think right now with what he's got on his plate, on his agenda today … Personally I didn't feel like it was a press conference for Jack and I to sit together, (singing) Kumbaya.
And later:
Don't you think the fans would like to hear Jack say he's here and he's committed?
WW
: That's what he will say when he gets in front of you.
I think Del Rio could have altered his schedule pretty easily to make an appearance, and since he didn't, he needs to be very visible, just once, very soon.
After reviewing the transcript of Weaver provided by the team, I thought it sounded like general manager Gene Smith is almost under more pressure than Del Rio.
Weaver ran through the failures of the team and said any blame should be pointed first at him, but clearly it was also another indictment of former personnel chief James "Shack" Harris.
"We've had some good seasons but if you look at the body of work we've been average," he said. "And I think you have to go deeper than that and much of that responsibility belongs right on this guy's shoulders, is that when you look at missing first-round draft choices in multiple years, it hurt this football team; it set us back.
"Had we hit on two or three of those draft choices, we'd be a different football team than we are today. So I have to accept responsibility for that along with Jack and Gene Smith, but I have to tell you sitting here today I feel good about my meeting this morning. I feel good that Jack and I are on the same page, I feel good that the team of Gene Smith and Jack Del Rio is going to take this franchise to an elite level. I'm energized with what I saw in our last draft and the way our young players played. We've got a core of veterans and young players here that we can build around. I think (with) another meaningful draft in 2010 that my expectation is this team will compete for the playoffs next year. "
Smith had a great first draft and there is no reason to expect he won't do as well in 2010. But drafting isn't an exact science. Harris resigned in December 2008, Smith was put in place and has gotten good reviews.
It's Del Rio's 58-57 record which started that conversation about being average, and he's been the constant in the power mix.
Weaver suggested accountability and personnel are the two big issues.
It will be interesting to see how Del Rio's able to make any changes in the team's culture on the first issue, while he chimes in to help Smith on the second.