February, 12, 2013
2/12/13
1:11
PM ET
Jaguars owner Shad Khan can call on Wayne Weaver anytime.

Jaguars president Mark Lamping can now do the same with Macky Weaver.
Macky Weaver
resigned
from the Jaguars' front office and will serve as a senior advisor for Jacksonville after being part of the team's front office for all 19 years of the franchise's existence.
Most recently, he was senior vice president of sales. He started as an account executive in corporate sponsorship and moved up to director of corporate sponsorship in December 1997 and to executive director in 2004. The final title change and responsibility shift came in April 2010.
Macky is a nephew of Wayne, and it makes sense that as Khan gets his front office fully in place that a Weaver is no longer a big part of it.
Other moves:
Hussain Naqi was promoted to senior vice president of fan engagement.

Chad Johnson was promoted to senior vice president of ticket sales.

Megha Parekh will join the organization March 1 as vice president and general counsel. She replaces Sashi Brown, who was hired by the Cleveland Browns last month.
Khan has now been in control of the organization since late in the 2011 season.
He's now put Lamping in place as president, shed the GM he inherited and now has the last tie to the old ownership minimized.
He hired his own general manager, David Caldwell, who hired his own coach, Gus Bradley.
It's Khan's deal now. We need time to evaluate him as an owner. But his people and the plan they've all come up with is in place.
September, 16, 2010
9/16/10
9:15
AM ET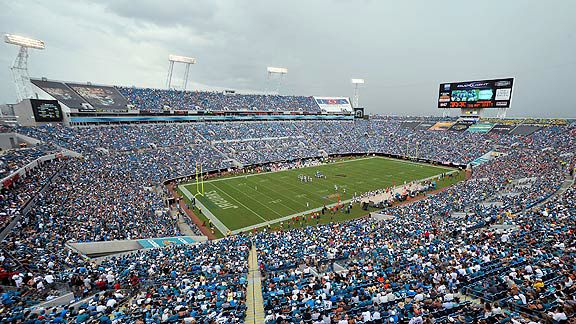 AP Photo/Stephen MortonThe Jaguars sold enough tickets for their opener to avoid a blackout after having seven last season.
Forget that the Jaguars are 1-0 and have reasons to feel good about themselves right now.
Some of their most diehard fans are Kuharsky-level cranky, in large part because of the national perception of their team and the way national NFL columnists address Jacksonville and its NFL entry.
Buy up a media outlet or follow advice I hand out regularly. Don't let what I -- or anyone else -- write influence your enjoyment of your team.
I had a good chat with Macky Weaver, the team's senior vice president of sales and marketing, this week to get context from the team. I wanted to weave together stuff from him and my own take on some of these issues that seem to be causing such an uproar, at least from monitoring my emails,
Twitter
,
Facebook
and
mailbag
.
Complaint:
San Diego, Oakland and Tampa Bay all have ticket sales issues and no one ever talks about them.
My reply:
The Jaguars and the Raiders each had seven of their eight games blacked out last season. That was 14 of the NFL's 22 total blackouts all season. So it makes sense that they would be the primary teams cited when someone is using an example, no? Yes, the Raiders should be mentioned right there with the Jags. As for the talk of a move, connecting a team in a very small market that's not doing especially well at the gate to a big market where revenues would likely rise sharply is not a criminal connection.
Home stadiums in San Diego and Oakland are terrible. There are a lot of bad seats in those buildings. So at least part of the reason people don't go to their games is because they can't stand the venue or the view. They may also not care for the management that hasn't gotten the Chargers and Raiders into a better situation while so many teams have upgraded.
Tampa Bay has a great stadium, which means the team isn't leaving town. So people are far slower to jump from trouble selling tickets to a move to Los Angeles. The Bucs bought a lot of long-term goodwill with a Super Bowl win just eight seasons ago. They were blacked out last week and could be heading to a long, bad stretch. If that stretch occurs and coincides with a Jaguars' rebound, why wouldn't the Bucs become poster boys for poor ticket sales instead of the Jaguars? They would.
The Jaguars fall in the middle. I think EverBank Field is a great place to watch a game, far better than Qualcomm Stadium or Oakland Coliseum, but not as good as Raymond James Stadium. I don't believe people are staying away because of the venue. There is the possibility that when team owner Wayne Weaver sells, it'll have to be to someone with an inclination to leave.
Team's take:
Macky Weaver and the Jaguars want to be transparent and are running
this chart
monitoring tickets sold to remaining home games. Based on historical data, what they've done so far from group and individual sales, they are optimistic about the next four games.
There are uncounted tickets already accounted for in that companies have vouched to buy them for employees, who have not yet chosen their game or games and completed the transaction.
"Say someone has agreed to contribute $20,000 to subsidize tickets to individual games at $20 apiece," Weaver said. "So there are 1,000 tickets that are going to be supplemented for their employees. If you look at the amount that are outstanding, it's a pretty good number still out there in the wing. Someone that's looking at potentially going to the Houston game in November, they aren't going to buy that now because they know that offer will be out there and keep in communication with the HR department and things like that."
Weaver and the Jaguars are still knocking on corporate doors seeking more of those deals. Weaver said 20 to 30 percent of the team's tickets are sold that way, through more than 50 companies.
To sell out non-premium seats and get a blackout lifted, the team needs to sell 50,900 tickets. It has 41,000 season ticket holders.
The bad economy hit the market extra hard, and -- combined with two bad seasons -- gave the Jaguars a black eye at the gate.
"All of a sudden we were the poster child for blackouts," Macky Weaver said. "Even though it might be referenced that another team is having a blackout, never are the potential consequences of it ever to the level that's been focused on Jacksonville. There is a frustration level with that fact. But the fact is, the games were blacked out, so there is some legitimacy in the conversation.
"End of the day I think people here want to prove to the other NFL markets and people around the country that this is a very viable NFL market and one that has the potential to really, really support the team and make sure that it's successful."
Complaint:
The Jags will sell enough tickets to get a lot more games on TV than the opener, but people keep saying we're at risk of blackouts.
My reply:
Include me on that list. I've twice written about how expecting and anticipating selling tickets and no longer having money to replace them in your ticket office are two different things. That's great that good things should happen.
[+] Enlarge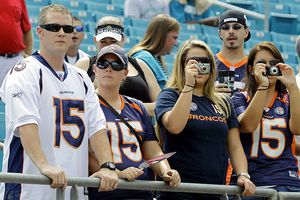 AP Photo/John RaouxThere were plenty of Tim Tebow fans in attendance on Sunday.
But a good share of the league's teams already know that they aren't going to be blacked out and need no such chart, because they sell their tickets in the offseason, not during the season.
That's the standard in the most popular league we have. People in many other NFL markets think of home tickets as a coveted commodity that cannot easily be had, not something you can walk up and buy the week of the game.
Selling out in June and selling out non-premium seats before Thursday [the blackout deadline] are the same thing in some ways, and different in others. The team has this chart on its web site because all the tickets are gone and games on TV are not assured.
"There is a difference between feeling positive about where we are versus being over the hump," Weaver said. "The work's not done yet, and the work is not going to be done at the end of the year. This is an ongoing effort. It's going to be important that everybody that can support this team does, whether it's on a one-game basis or a 10-game basis. We do need the support of the community."
A full stadium enjoying a quality team and a fun atmosphere is the key to attracting more fans inside. (Wins help. A lot.)
Games on TV are the best marketing tool any team has. Every team wants to be assured of being on TV in its home market every week.
"It's a three-hour infomercial," Weaver said.
Complaint:
The stories aren't about football, they are about the tickets and the marketing and
Tim Tebow
.
My reply:
Yeah, same with what you're writing me.
Fans don't generally get to choose storylines, but I assure you, the writers and editors who do are picking ones they believe a) paint the most relevant pictures and b) draw the most eyeballs.
You are kidding yourself if you think Tim Tebow isn't an enormous story. He may not turn into an NFL star, but he's a star already and a giant personality, particular where he's from and where he went to school. And the media writes about stars, mostly because people love to read about them.
Maurice Jones-Drew
is the most written-about Jaguar. Know why? He's the team's biggest star.
Team's take:
"There were not near as many Tebow jerseys in the crowd Sunday [for the Week 1 game against Denver] as I thought there would be," Weaver said. "There were definitely Tebow jerseys. I would say more Gator Tebow jerseys than Broncos. Certainly it helped [sales], but to try to delineate between opening game and all the excitement that had been built up this offseason versus the Tebow factor is hard."
Weaver said the feeling around the team has changed -- on the football side and the business side -- as Gene Smith enters his second season as general manager, with strong community guys who will play hard on Sundays and win over and hold onto new fans.
Complaint:
Why are non-Jaguars fans inclined to cheer their difficulties? This one is mine, not one I've heard from readers, though they may well share it. [Important aside: I do not perceive the organization to be whining. At all.]
My take:
Too many people outside of North Florida revel in the Jaguars' economic issues.
I'm as cynical as they come, but I also hope to catch and temper myself when I am tempted to take delight in someone else's downfall or struggle. I do love it when the Red Sox suffer, but of all the things I might mock a Boston fan with, I hope a potential move out of town never becomes one.
Why are non-Jaguars fans inclined to cheer their difficulties?
"I don't know," said Weaver, who said he has a sense of it too. "I don't know if it's a byproduct of our early success [the Jags went to the AFC Championship Game in their second year in existence] and now seeing that there are ups and downs in this league. That might have something to do with it.
"And I think because it's become it's so mainstream in conversation that when you talk about blackouts the first thing most media outlets do is mention us because we were tops on that list.
"We're going to get off that list."
May, 17, 2010
5/17/10
9:12
AM ET
I longed to remain in the Bristol area, spending time on the ESPN campus, collecting business cards of bosses and colleagues while brainstorming. But I have returned home.
We thank you for your patience, and hope it won't be long before the payoff from some of the things I was involved in appears right here.
We'll restart here by catching up on the significant developments around the division.
Houston
In many ways it's unfortunate that
Brian Cushing
is branded going forward in a way that many who tested positive for a banned substance before him were not. It's a result of The Associated Press' decision to revote on his defensive rookie of the year award and the approach he and his advisers took to addressing it and defending him.
Too, I think there is a cumulative affect from the sins of those before him and more of an inclination to compare an NFL incident to baseball that have both increased the degree to which he's suffered image-wise.
That may not be fair, but it's part of the risk that comes with a positive test. Yes, HcG can be naturally produced. Cushing's argument that's the case with him seems filled with holes. Some fans/media on the periphery have gone a bit overboard with an intense defense of him.
Indianapolis
Former Colts offensive line coach Howard Mudd is part of
this Mike Sando piece
about the potential for assistant coaches to unionize.
I don't have a lot of sympathy for anyone who's going to wind up "suffering" as a result of the likely lockout next spring. But assistant coaches are the exception, as they'll just kind of be left in limbo and never known when owners could lay down new and difficult rules for them.
My tendency is to say if you're a good assistant who can impact a position group, there will always be a place for him and good job security. But the uncertain labor situation is probably as stressful for this group as anyone.
Jacksonville
Wayne Weaver's nephew, Mackey Weaver, is now a high-ranking team executive who's ability to sell the Jaguars could have
a big bearing
on their future.
Because the Jaguars have 15,000 season-ticket accounts, Macky Weaver is asking each season-ticket holder to find one more friend to buy a season ticket.

"If every one of our season-ticket holders found one person, whether it's a friend, a family member, a co-worker, a neighbor, and got them to buy one ticket, we'd be sold out,'' he said.
Hey, enthusiasm and new ideas are what the Jaguars need in their front office and overall approach to ticket sales. But if I'm a happy season-ticket holder watching the Jaguars, wouldn't I have already made such inquiries?
And while I understand the attempt to create a ripple effect starting with their most devoted fans, isn't there an element of passing the buck on to your best customers in this plan?
Tennessee
The Titans weren't in the market for an additional vice president, and hiring one always means selling Bud Adams on the value of an additional salary.
Ruston Webster's entrée as vice president of player personnel, then, is no small development. He was a candidate for the GM job when Mike Reinfeldt was hired in 2007 and has a strong connection to Reinfeldt through the
Seattle Seahawks
.
Reinfeldt said it was a job he simply hasn't had an opportunity to fill until this point and he wanted time to see how things worked before filling the post, so perhaps Adams signed off on the idea a good while ago.
Webster's addition shows that Reinfeldt's got good pull in Houston and gives the GM an additional, experienced sounding board. The Titans were long too thin in the scouting department, and Reinfeldt's been able to beef it up some. More isn't always better, but it could be a big help here.