August, 13, 2014
Aug 13
7:46
PM ET
NASHVILLE, Tenn. -- A daily review of the hot topics coming out of
Tennessee Titans
training camp:


Receiver Justin Hunter continued to make things difficult on cornerbacks on jump balls. He went up and got one over Coty Sensabaugh from Jake Locker. He jumped over rookie Marqueston Huff for another. He skied to the crossbar in the back of the end zone to pluck another with Sensabaugh nearby.
Charlie Whitehurst had to call "ball" on one throw up the right side for Michael Preston, who turned but wasn't ready and watched it sail through his hands, though he had some room on Micah Pellerin.
Locker threw a duck that found the ground quickly when it looked like he was aiming for Nate Washington with Blidi Wreh-Wilson in coverage. Locker seemed to be trying to stop himself from throwing it, but the motion was well underway and it came out of his hand. Wound up harmless.
Other red-zone TD catches besides Hunter's: Marc Mariani from Whitehurst and Chase Coffman stretching at the back line from Zach Mettenberger.
Linebacker Zaviar Gooden didn't get his head around on a Whitehurst throw for Taylor Thompson, but Gooden got his arm up to hit the ball for a breakup.
While the Titans have been very reserved with their kickers, Brett Kern punted for the second day in a row.
Whitehurst was "sacked" when the he dashed left and ended up swallowing the ball. It looked like the play was supposed to be a handoff to Bishop Sankey but was unclear who made the mistake. Sankey made some nifty moves on a couple of carries.
Whitehurst threw an interception to Huff in a ball intended for Isaiah Williams.
DaQuan Jones is working as the second nose tackle, and Al Woods is also in the loop there behind starter Sammie Hill. Antonio Johnson has been out for a while in recovering from a knee scope. Jones and Woods can play inside or out, while Johnson doesn't bring the same versatility. He's likely in trouble.
Travis Coons hit field goals of 38 and 44 yards at the conclusion of two-minute drill work by the offense. Whisenhunt said Maikon Bonani's groin was bothering him a little bit. Coons hit both field goals on a better trajectory with room to spare. He told me he was hitting the ball a bit lower than usual as he worked with snapper Beau Brinkley and holder Kern to speed up the snap, hold, kick process. Now that they've made progress on that he's getting his natural swing back and getting more height on his kicks.
Whisenhunt said he will allow players to go home after they return from their trip to New Orleans for Friday night's game. That ends camp in one way. But Whisenhunt said while the Titans will structure next week like a normal practice week, that they will still work ones against ones and rotate people in competitions. For him, camp really ends when the first round of cuts come and as the team focuses on planning for an opponent.
That likely means the practice rules change next week and you won't be seeing any more of these practice reports. Hope you enjoyed them and they gave you some insight.
August, 11, 2014
Aug 11
7:21
PM ET
NASHVILLE, Tenn. -- A daily review of the hot topics coming out of
Tennessee Titans
training camp:
It was a horrific day for the offense, which came out flat and had mistakes in every area you can think of. There were multiple drops, fumbles, interceptions and bad snaps. Ken Whisenhunt downplayed it as one bad day, and of course it was, but the degree of badness was alarming. Said receiver Derek Hagan, who dropped a pass near the end of practice "It was bad, we didn't get anything going at all. It was a crazy day. Nobody was catching the ball, bad blocking, missed assignments. Just an overall bad day."
Shonn Greene had a fumble that Zach Brown recovered. Bishop Sankey fumbled twice, the first recovered by Brandon Copeland and the second bounced back to Sankey.
Kendall Wright streaked across the middle to collect a Locker pass, beating Jason McCourty. Michael Preston made a nice catch over Coty Sensabaugh up the left side from Charlie Whitehurst. Taylor Thompson had a couple more nice plays.
Jake Locker made a bad throw for Nate Washington in the right side of the end zone in red zone work. Tommie Campbell may have pushed off, but he easily collected the bad throw.
Whitehurst threw a terrible pick as he looked for Marc Mariani to his right. The line drive throw was easily caught by Blidi Wreh-Wilson who was practically halfway between quarterback and his target. Perhaps the worst play of all on a terrible day.
Daimion Stafford had a nice breakup of a throw for Mariani, whose helmet popped off in the process. Ri'Shard Anderson broke up a Zach Mettenberger dart for Hagan. Wreh-Wilson had a too-easy breakup of a Locker pass for Dexter McCluster. The defense made some plays, for sure. But more of the offensive failures were self-inflicted.
Justin Hunter wore a jersey that said "J A G" across the back instead of "Hunter." He said Whisenhunt and receivers coach Shawn Jefferson talked to him after he forgot to convert a route Saturday night. Hunter didn't know they'd follow through with the jersey, but they did. He said he'll continue to work to be more than "just a guy."
Hunter made a nice play in the middle of the field, winning a contested ball from Locker by taking it away from safety Michael Griffin.
Among the targets with drops: Delanie Walker, Preston, Washington (who had a chance to recollect the ball on the sideline but bobbled it until his feet were out), Thompson, Hagan.
Guard Andy Levitre said he played one game at center for the Bills against Miami and was bad at it. Whisenhunt reminded a questioner that he'd said in the past he intended to work Levitre a little at center to prepare a contingency. Now with Chris Spencer (ankle) out, it was the right time. Levitre said he lost focus and snapped as if the quarterback was under center a couple times when he wound up rolling balls past Zach Mettenberger. Ultimately, they put starting center Brian Schwenke in with the third team to settle things down.
Kickoffs: Maikon Bonani put one 9 yards deep and another 4 yards deep into the end zone. With less hang time, Travis Coons put one kickoff 4 yards deep. Coons also punted some.
August, 11, 2014
Aug 11
3:30
PM ET
NASHVILLE, Tenn. -- So if
Maikon Bonani
or
Travis Coons
is not the Titans' kicker on Sept. 7 at Kansas City, who will be?
Bonani has a huge leg but doesn't seem to have harnessed it in his work so far this camp. Coons is beating him on accuracy, but his field goals and kickoffs seem to have a low trajectory that could be a problem.
I surveyed my ESPN.com NFL Nation brethren and could see a viable alternative to Bonani or Coons coming from one of these places.
Feely
Arizona
Veteran
Jay Feely
is working against rookie
Chandler Catanzaro
. Our Josh Weinfuss said it's too early to tell who'll win the job and that either could be on the market.
Catanzaro took the work in the preseason opener. He hit field goals from 32, 28 and 25 yards, all three PATs and kicked off well with a touchback and two others that went 6 yards deep into the end zone.
Buffalo
The Bills have
Dan Carpenter
and
Dustin Hopkins
. Mike Rodak says coach Doug Marrone has said they'd only keep Hopkins as a kickoff specialist.
Hopkins put two kickoffs 4 yards into the end zone against Carolina while Carpenter hit both his field goals and extra points.
Nugent
Cincinnati
Bengals reporter Coley Harvey says we should keep an eye out for Bengals backup kicker
Quinn Sharp
.
Mike Nugent
is the team's kicker. Against the Chiefs, Sharp hit a fourth-quarter extra point chance, left his one kickoff 4 yards short of the goal line and saw the Chiefs recover his onside kick attempt.
"He's only in camp to serve as an additional leg, so he'll get cut," Harvey said. "His accuracy hasn't impressed me much, but he's been hitting well from distance. Not saying he's a great kicker by any means, but maybe he's better than the two guys Tennessee has? Could be one to watch."
Detroit
The Lions have a fairly open kicking competition now between seventh-round pick
Nate Freese
and
Giorgio Tavecchio
, who has been in San Francisco and Green Bay's camp the past two seasons. Said ESPN's Michael Rothstein: "Right now it's a very close competition, but I don't know if either guy gets picked up if he gets cut since neither one has kicked in a regular-season game."
Freese hit field goals from 37 and 32 yards against the Browns with kickoffs that went 3 and 5 yards deep into the end zone. Tavecchio hit a PAT and put kickoffs 1 yard and 9 yards deep into the end zone.
Bullock
Houston
The Texans have incumbent
Randy Bullock
and an undrafted rookie out of Rice,
Chris Boswell
, competing. Boswell made 13 50-plus yarders in college, and can punt, says Tania Ganguli, so the Texans might keep him for versatility and would have a backup in case
Shane Lechler
gets hurt.
As Houston got blown out by the Cardinals, only one of them did anything -- Bullock put the opening kickoff 6 yards short of the end zone.
Kansas City
The Chiefs have veteran
Ryan Succop
and rookie
Cairo Santos
.
Against the Bengals, Succop hit a 27-yard field goal, three PATs and all three of his kickoffs were touchbacks. Santos his a 28-yard field goal, two PATs and four kickoffs -- one 4 yards short of the goal line, one 5 yards deep into the end zone, one to the goal line and one that was a touchback.
Graham
New Orleans
Saints have a competition between veteran
Shayne Graham
and youngster
Derek Dimke
. Dimke has never cracked an NFL roster but did go a combined 8-of-9 in the past two preseasons with Tampa Bay (2013) and Detroit (2012). ESPN's Mike Triplett thinks Dimke would "definitely be an option" for a team in need if Graham hangs on to the job in New Orleans.
Against St. Louis, Graham hit a 37-yard field goal, missed one of two long extra points when he hit the left upright and put two returnable kickoffs into the end zone, 5 yards and 4 yards deep. Dimke hit a 37-yard field goal, his one PAT and put four kickoffs into the end zone. Three of those -- 9 yards deep, 2 yards deep and 5 yards deep -- were returned.
New York Giants
Veteran
Josh Brown
was their kicker last year and was re-signed in free agency. His competition is
Brandon McManus
, a former Temple kicker who was in Colts camp last year. McManus has a big leg. They like him because he went to Temple and knows how to kick in Northeast weather, and because he's an all-touchbacks guy on kickoffs, according to Dan Graziano of ESPN.
If McManus shows he can make field goals, he could win the job and set Brown loose. McManus has hit two attempts in two games. He had three touchbacks against the Steelers, but Brown had two as the Steelers didn't have a kick return.
Washington
The Redskins have a competition. They drafted
Zach Hocker
from Arkansas in the seventh round and already had
Kai Forbath
. "If Forbath becomes available, he has a track record from the past two years," ESPN's John Keim said. "There's definitely a chance Forbath could get cut."
Against New England, Hocker had a 39-yard field goal, a long PAT, a touchback and a kickoff that went 8 yards deep into the end zone. Forbath hit from 39 yards, was short from 46 yards, hit a PAT, had one touchback and two kickoffs short of the end zone.
August, 6, 2014
Aug 6
1:41
PM ET
NASHVILLE, Tenn. -- A daily review of the hot topics coming out of
Tennessee Titans
training camp:
Defensive linemen Mike Martin (hamstring) and Antonio Johnson (knee) remain out. Head coach Ken Whisenhunt said Martin could miss Saturday's preseason opener against Green Bay and that Johnson has more of a chance to play.
Taylor Lewan's No. 77 jersey was missing his last name. He said he was not in trouble or anything. Fifteen minutes before practice he discovered his jersey was missing.
Cornerback Tommie Campbell has struggled throughout camp, but he had a much better day. He ran deep with receiver Nate Washington on one play and was close enough to cause an incompletion. He batted away another pass by Jake Locker for Washington in the end zone during red-zone work.
Tight end Craig Stevens does a lot of unnoticed dirty work as a blocker. He had some nice opportunities in the passing game and took advantage. He caught a throw in the red zone from Locker at the goalpost and had a leaping catch in the end zone.
I watched Locker closely in one red-zone period. He hit Washington, dropped a snap for a fumble that killed a play, hit Washington in the end zone, hit Stevens for that leaping touchdown and saw Campbell bat that pass away from Washington.
The Titans went live (with tackling) for a goal-line snap and running back Shonn Greene plowed forward and got into the end zone from the 2-yard line. On the next snap, not live, Bishop Sankey was going straight ahead, made a sharp cut right and slid around the one guy with a chance of keeping him out of the end zone. Very nice.
We saw some kickoffs. Maikon Bonani put one through the end zone and had another high one come down halfway into the end zone. Travis Coons took one and hit a liner that landed at the goal line and looked like a long squib kick.
All 2-minute drive work ended with field goals: Bonani hit from 40, Coons hit from 49 (with a low liner), Bonani hit from 48.
Whisenhunt missed Ri'Shard Anderson swinging his helmet at a member of the Falcons during a scrap Monday. The coach said if he had seen it, Anderson would have been pulled.
The Titans practice at 2:50 local time Thursday. It is closed to the public.
August, 4, 2014
Aug 4
7:17
PM ET
FLOWERY BRANCH, Ga. -- A daily review of the hot topics coming out of
Tennessee Titans
training camp:
The Titans got no one injured Monday in a joint practice with the Falcons at their facility, always the best development to come out of a preseason practice. Defensive linemen Antonio Johnson and Mike Martin and tight end Dorin Dickerson came in with injuries and didn't practice.
The first fight turned out to be the only big fight. It came as the Titans and Falcons worked on punt returns and Coty Sensabaugh swiped a helmet off Robert McClain and a lot of players from both teams came onto the scene to get involved. It may have settled itself down, but Tommie Campbell came flying in to shove two Falcons, Bernard Pollard got involved and Ri'Shard Anderson came in with helmet in hand and swung it into Atlanta's Ricardo Allen "We got it over and out of the way and moved on," coach Ken Whisenhunt said. "We thought it might come, it came early and we settled down." Whisenhunt doesn't fine players for practice fights, but Anderson should be fined for a foolhardy and dangerous move.
Later, Falcons center Joe Hawley got tossed by officials for his role in a smaller scrap with Michael Griffin.
Whisenhunt was audibly upset when Falcons defensive end Osi Umenyiora hit Jake Locker's arm on a pass. "He grabbed his arm, he hit his hand," Whisenhunt said. "Osi apologized. He knows he can't do that."
Marqueston Huff looked like he's got the potential to be a quality gunner on punt returns. I saw him quickly burst between Kimario McFadden and Jordan Mabin to get en route in a hurry.
On a very early snap in one-on-ones matching Titans defensive backs against Falcons receivers, Jason McCourty was right with Roddy White on a quick throw from Matt Ryan, got an arm in and watched the ball pop loose. Another pass for White with McCourty on him was overthrown. McCourty was very solid in that period. The rest of the defensive backs were not as good. Griffin drew two flags for contact. (Khalid Wooten made a nice play and had a near pick of a Jeff Matthews pass for Tramaine Thompson. I think Wooten is steadily improving though he's not playing against the high-caliber guys.)
In one-on-ones, the Titans' offense connected on a big play early as Justin Hunter ran away from corner Robert McClain, collecting a throw from Charlie Whitehurst. Hunter caught another deep one from Zach Mettenberger.
Locker didn't throw deep much, as the Falcons seemed to be offering open stuff underneath far more often. Some plays worked great against it. Locker hit Kendall Wright out of the slot and Wright ran away from Josh Wilson for what would have been a touchdown. On another play, Dexter McCluster worked into open space in the short middle and had a ton of space from there. Whitehurst found room for some shots. One of them connected up the right side with Derek Hagan over corner Javier Arenas and safety Sean Baker.
In many practices Locker still seems to have one moment that could be deadly. He held the ball and shuffled left as the pocket began to collapse and threw for Delanie Walker. But Desmond Trufant got to it and dropped what should have been a pick. "For any quarterback, there is always at least one you wish you could have back," he said when I asked him about that specific play.
Both of the Titans' kickers attempted field goals against the Falcons field goal defense from 33, 36, 39, 42 and 46 yards. Travis Coons made them all, Maikon Bonani missed his attempt from 46 wide right.
Andy Levitre took three snaps in each team period before rookie Taylor Lewan replaced him. Levitre had his appendix removed on July 24. He still didn't participate in the high contact one-on-one pass-rush drills.
In one team period, the offense worked exclusively in "penny," its three-cornerback, one-safety package.
Falcons receiver Harry Douglas made a catch over Sensabaugh after the Falcons had the Titans jumping around before the snap. Derrick Morgan started with his hand down at left end, stood up and backed out, then returned to his initial position while multiple defenders shouted out multiple signals and waved each other around in what appeared to be confusion.
Akeem Ayers made a couple plays, including batting down a pass from Sean Renfree. In one-on-ones he made a great spin move against tackle Lamar Holmes that got him to the quarterback. But in a seven-on-seven period, T.J. Yates threw to running back Devonta Freeman and Ayers had no chance against him in space.
Avery Williamson impressively ran step for step with running back Josh Vaughan on a deep route and the pass glanced on the rookie linebacker's helmet.
Moise Fokou worked as high in the linebacker rotation as I can remember, pairing with Zaviar Gooden as the inside tandem with the second team at least some.
On a snap where DaQuan Jones and Al Woods were the two defensive linemen, neither put a hand on the ground. The Titans played that one with everyone starting off standing up.
On one snap of nickel where nose tackle Sammie Hill came off the field, the standing up, off-the-line outside linebacker Kamerion Wimbley actually lined up inside of right end Jurrell Casey.
There were a bunch of penalty flags on both sides. The most popular offense was illegal contact by defensive backs. The second biggest was offside. More to come on that
It's always amazing to see how many guys know each other when two rosters of 90 and their coaching staffs combine. Titans linebacker Zach Brown saw Yates and exclaimed, "T.J, what's up buddy?" Atlanta offensive coordinator Dirk Koetter chatted with Hagan. Falcons owner Arthur Blank got off his cart to hug Titans tight ends coach Mike Mularkey, who used to be Atlanta's offensive coordinator. A lot of it was pre-practice, a lot was during the kicking period when non-special teamers had time to chat. I watched Chris Spencer and Griffin talk with Devin Hester as Pollard shouted to the Titans, "Y'all be careful with making friends right now."
Find pictures at pkuharsky on Instagram.
The Titans are off Tuesday, then have an open practice at 9:20 a.m. CT Wednesday.
August, 2, 2014
Aug 2
9:49
PM ET
NASHVILLE, Tenn. -- A daily review of the hot topics coming out of
Tennessee Titans
training camp:


The Titans were at LP Field tonight, with a small audience of fans connected to one sponsor.
Backup center/guard Chris Spencer was excused to be in Canton, Ohio, to be on hand at the induction of old teammate Walter Jones into the Pro Football Hall of Fame.
Guard Andy Levitre (appendix) and three defensive lineman Mike Martin (tight hamstring), Antonio Johnson (leg) and Marcus Dixon (calf) were out.
Between the end of offensive drives in team period and additional kicks in full team work, Travis Coons hit from 41, 39, 42 and 47 yards and missed left from 49. Maikon Bonani made from 33, 39 and 47, pulling a kick from 43 badly left and also missing slightly left from 42. It's early to panic, but it was not a great kicking evening.
Punts from a machine were caught by Leon Washington, Marc Mariani and Dexter McCluster, in that order. Beyond that, a sore McCluster was given the night off.
In one-on-one offensive line vs. defensive line work, I saw Taylor Lewan handle Akeem Ayers and play a strong snap against DaQuan Jones. But Karl Klug had a nice swim move that got him free of Lewan. I thought Klug and Lavar Edwards rushed better than in some other practices. Klug had what amounted to a sack on the first play of the team period matching the second offense against the second defense. Chance Warmack blocked Edwards around the neck once snap and they re-played it. The guard yielded little on the second try.
Inside linebacker Wesley Woodyard had a interception of Zach Mettenberger in seven-on-seven. The pass was meant for Michael Preston. Jake Locker overshot Delanie Walker in that period, but completed his four other throws to four different targets.
The remainder of practice was four drives of about 12 plays each matching first-team offense vs. first-team defense and on down the line. The offense and defense each took a timeout along the way, and Ken Whisenhunt wasn't happy about that. It was the team's first in-stadium work sorting out coaching communication. Whisenhunt communicated with QBs, while defensive coordinator Ray Horton relayed calls from the booth to linebackers coach Lou Spanos. Spanos passed them on to a player, with Woodyard passing them onto the first team. "We had some mistakes on the call sheet, I blew it," Whisenhunt said. "I gave the wrong play or we had the wrong personnel. The defense had the wrong matchup a couple times." The Titans expect any kinks to be worked out before they are back in a week to play Green Bay in the preseason opener.
Locker threw a bad ball for Walker at the goal post and Zach Brown dropped an easy pick. Michael Griffin was also in close range. The defense was called for offside, but it still was a poor play. "He went through his progressions and as he came off he said, 'The play was there, I missed the throw,'" Whisenhunt said. "He needed more air under it to get it over the top."
Zach Mettenberger threw a deep ball for Preston and rookie corner Marqueston Huff got called for illegal contact. But the officials ultimately concluded the pass, which Preston had to turn around to find, was uncatchable.
August, 17, 2013
8/17/13
10:16
PM ET
Quarterback
Jake Locker
played a confident and efficient first-half. The run game looked good again. Defensive tackle
Jurrell Casey
turned a triple play with a sack, forced fumble and fumble recovery all in one swoop.

Those were encouraging developments.
That was about it for the front-liners, and those positives were swallowed up by a pretty lengthy list of bad stuff for the
Tennessee Titans
in preseason game No. 2, a
27-19 loss at Cincinnati
on Saturday night.
A look at much of what went wrong:
Third-and-long failures.
Tennessee allowed Cincinnati to convert third-and-longs and string together three long drives before halftime as the Bengals built a 17-3 lead. The headliner in third-down defensive gaffes was strong safety
Bernard Pollard
. He and nickelback
Coty Sensabaugh
missed chances to tackle
Mohamed Sanu
on a 24-yard catch and run to the 1-yard line that set up Cincinnati's first score. A bit later, Pollard couldn't bring down a crossing
Brandon Tate
, who ran away from him for another third-and-long conversion.
Injuries.
Both strongside linebacker
Akeem Ayers
(right ankle) and wide receiver
Kendall Wright
(knee) rode a cart to the locker room after suffering first-half injuries. Both rank high on the list of players the Titans can least afford to be without. The Titans don't have a quality, big linebacker backup for Ayers and Wright is probably the most unique receiver on the team. Ayers was on the sideline in the second half,
not in a walking boot
per Jim Wyatt of The Tennessean on Twitter.
Drops.
Receiver
Nate Washington
could have made a tough catch at the goal line. He was well covered by
Adam Jones
for a while, but the ball looked like it went through his hands. Receiver
Kenny Britt
let a good throw from Locker bounce off his hands. Undrafted tight end
Jack Doyle
had a terrible drop on what should have been an easy catch for a good gain.
Run defense.
Bengals rookie running back
Giovani Bernard
looked very good (seven carries for 37 yards). He took one carry 22 yards and went the same distance for his one catch. Bernard got a lot of his work on one drive and looked to tire out the Titans' defense. On a
Cedric Peerman
run, the Titans missed two chances at a tackle for a loss (linebacker
Patrick Bailey
and defensive end
Ropati Pitoitua
), allowing him to escape outside.
Missing kicks:
After moving ahead 3-0, the Titans missed three field goals in a row, with two of the off-target kicks coming from
Rob Bironas
and another from
Maikon Bonani
. It's bad enough that the Titans had to settle for field goals. Bironas hooked the first miss wide-left, and the second went wide-right. The usually reliable Bironas missed time recently with a back issue and this was his first preseason action. Hopefully for Tennessee, his problems were related to rustiness.
Solid fade:
The Bengals got a very nice
Andy Dalton
throw and Sanu catch on a 2-yard fade in the back left of the end zone.
Tommie Campbell
wasn't as bad as he was in the preseason opener, and he had a good play on him here. He did get his hands on Sanu early, but Sanu just made a good play. That said, he didn't look to seize the job in this game.
Alterraun Verner
made two plays in the first five minutes of the second half. Forget the physical attributes. Verner is a just better football player who understands the game better and has superior instincts.
The second half:
The second and third teams fared better and produced a couple of touchdowns. One gaffe of note early in the fourth quarter, however: Right end
Scott Solomon
crashed to the middle of the field rather than containing on his side. Young Bengals running back
Dan Herron
reversed course and ran to where Solomon should have been. The result was a 39-yard touchdown scamper that wound up providing the winning margin.
August, 10, 2013
8/10/13
1:00
PM ET
NASHVILLE, Tenn. -- Look at the
Tennessee Titans
from any angle and the focus winds up on the same spot: starting quarterback
Jake Locker
.

The Titans did a lot of overhauling after a miserable 6-10 season. All of it puts the third-year quarterback in a better position to succeed.
"I think throwing with confidence makes a big difference, and that's what I feel like I am doing this year," Locker said.
The Titans parted with
Matt Hasselbeck
and brought in
Ryan Fitzpatrick
as the No. 2. They are confidant Fitzpatrick can step in and win games if needed, but they have no leash on Locker. The entire organization is committed to him and believes he's the right guy to quarterback the team to a turnaround.
"He's really taken ownership," Fitzpatrick said. "You can see he's a confident guy, and that's one thing that you really need as a quarterback. He's really worked at his game mentally. We're progression-based now, and he's really trying to take it to the next level in terms of his footwork and accuracy. This whole offseason I've definitely seen improvement."
Locker will be running an easier, more straightforward system. He's got a "move" tight end in
Delanie Walker
(not currently healthy) who adds a dynamic the Titans haven't had since Locker was drafted with the eighth overall pick in 2011. The receivers are deep and talented. The offensive line could be a dominant group, which should mean a
Chris Johnson
/
Shonn Greene
run game will provide great balance. And the defense should get Locker the ball back more often and with better field position.
I've seen steady progress and more consistent play in recent practices. But he needs to carry that over into games, and he needs to address two things that might qualify as habits: a tendency to start slow, and a propensity to throw more comfortably and more accurately to his left than to his right.
THREE HOT ISSUES
[+] Enlarge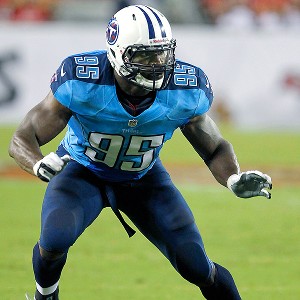 AP Photo/Tom DiPaceThe Titans hope to give pass-rusher Kamerion Wimbley a lighter workload this season.
1. The pass rush.
The Titans generated a reasonable total of 39 sacks last season, with 6.5 from
Derrick Morgan
and six apiece from
Kamerion Wimbley
and
Akeem Ayers
. The Super Bowl Champion
Baltimore Ravens
ran the same number of defensive plays (1,086), and they had 37 sacks.
But no single player on the Titans' defensive front ranked as a scheme-changer that offenses had to account for before every play. And the committee work in conjunction with coverage that was far too soft, far too frequently, played a big role in allowing a league-worst 471 points.
They didn't change a lot at end. They added size in end
Ropati Pitoitua
, who figures to play a lot of run downs, and depth in fifth-rounder
Lavar Edwards
. Ayers will be a much more regular presence as a pass-rusher, and both Morgan and Wimbley will play much less than 80 percent of the snaps, which wore them down a year ago. Does all that and a more aggressive scheme influenced by Gregg Williams turn the Titans into a more threatening pass-rushing team? I can't say yes yet.
2. Two important coaches.
Dowell Loggains took over as offensive coordinator with five games left last season, but it's not like he could revamp everything Chris Palmer was doing. Given an offseason, he has. These Titans will be less reactive and try to dictate more, and the options routes that complicated things and counted on receivers and the quarterback to read things the same way are gone. Things are tailored to Locker now, and Loggains has more talent at his disposal than Palmer did in 2011 or 2012.
On defense, Williams returns from his year in Bountygate exile with a simple promise he expected would help him win players over: That he can make them better. He's not the same guy he was back when he was the Titans' defensive coordinator from 1997-2000, but the season suspension certainly made him reflect and he comes back a different guy from the one who was coordinator for the Saints. I suspect he will positively impact key guys on this defense like Ayers, cornerback
Tommie Campbell
, safety
Michael Griffin
and defensive tackle
Jurrell Casey
.
3. The offensive line.
Last season was a disaster, as the Titans had to call on more depth than any team can have. But the franchise counted on coach Mike Munchak and another offensive line Hall of Famer, line coach Bruce Matthews, to develop guys. A couple they counted on who never reached the expected level are gone now, and the Titans have much better players in place of
Leroy Harris
and
Eugene Amano
.
With a line of
Michael Roos
,
Andy Levitre
,
Fernando Velasco
/
Robert Turner
/
Brian Schwenke
,
Chance Warmack
and
David Stewart
, Tennessee feels like it has re-identified
its identity
.
"If we're going to win, it's going to be because our offensive line is a lot better than it was last year, and we're physical, and we're relentless, and we're going to move people around on both sides of the ball," Munchak said at the start of camp.
REASON FOR OPTIMISM
They identified last season's issues and have addressed them all in some fashion. That's with coaching staff alterations, changes in thinking and scheme, major player additions in free agency and a draft that looks solid. This isn't a team that sat back and assumed that given another year of seasoning, its 6-10 record could turn into 10-6. It took action. Now we have to find out if the moves and changes total up and produce a big difference in overall outcome.
[+] Enlarge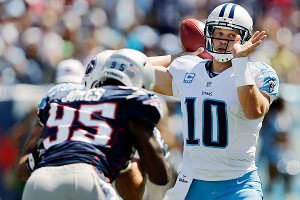 AP Photo/Joe HowelThe Titans need QB Jake Locker to make big strides quickly if they are to survive a tough early schedule.
REASON FOR PESSIMISM
The unproven quarterback and the schedule. The Titans open at Pittsburgh and at Houston, and also play San Diego, a team Tennessee always struggles with, at Seattle and San Francisco before the Oct. 27 bye. It's impossible to predict how the competition will be. But through the first seven games, 4-3 might qualify as pretty good but might still leave them having to chase to get into playoff contention.
OBSERVATION DECK
July, 26, 2013
7/26/13
10:13
PM ET
NASHVILLE, Tenn. --
Some observations from Friday evening's Tennessee Titans training camp, the first open to fans...
In 7-on-7 work with no linemen:

Tight end
Taylor Thompson
angled away from a defender and was open about 15 yards from the line of scrimmage, but
Jake Locker
missed him with a wobbly ball that sailed too long.
Undrafted rookie receiver
Rashad Ross
was well-covered by corner
Tommie Campbell
, but quarterback
Rusty Smith
zipped a short pass completion to him anyway.
From his own 15-yard line, Locker looked for receiver
Michael Preston
but his terrible pass found cornerback
Coty Sensabaugh
, who picked off
Ryan Fitzpatrick
on Thursday.
In team periods:
Locker rolled left, against his arm, a few times by design. On one, he did very well to square his shoulders and hit
Craig Stevens
. On another he hit
Justin Hunter
, but cornerback
Blidi Wreh-Wilson
had it so well sniffed out he would have leveled the rookie receiver if allowed.
Locker threw a deep ball over
Nate Washington
's head up the right sideline. After he bounced one to
Kenny Britt
, Locker hit
Damian Williams
on a very nice pass down the middle for roughly 20 yards.
Defensive tackle
Jurrell Casey
showed great lateral movement and got nearly to the sideline to end one breakout running play by
Jalen Parmele
. Later Casey managed to knock the wind out of
Shonn Greene
after tracking him on a dump off pass closer to the line of scrimmage and the center of the field.
You can already see stretches where the Titans are working to mimic the sort of no-huddle, high-speed offense they will sometime have to defend. With a new batch of offensive players quickly taking over for the group that just ran routes and blocked, the defense had to race to get back into position for a snap.
On a "now" pass, the quarterback throws immediately to a receiver split wide who hasn't really moved off the line of scrimmage. The ball has to arrive in a way that the receiver can run with it immediately. Locker threw one left to
Kendall Wright
, but Wright had to bend at the waste to pull it in from too low. That doesn't lend itself to the play working.
Line of the day, from Britt to safety
Bernard Pollard
: "Your name's Bernard, you ain't THAT tough."
Receiver
Marc Mariani
let a Fitzpatrick pass bounce off his hands that was picked off by linebacker
Tim Shaw
.
Campbell does look very confident and was in good position a lot. On another play, where Locker had someone in his face as he checked down short over the middle, Campbell closed and batted down a pass thrown for Hunter.
Backup kicker
Maikon Bonani
has a gigantic leg. But during the field goal period he had one atrocious miss, shanking his ball low and left and missing the wide screen set up well behind the goal posts.
I wanted to note one play in particular: Fitzpatrick lined up in the shotgun and the defense couldn't get lined up. Multiple players were shouting calls, waving each other around and didn't know what to do or where to line up. It's a play where Fitzpatrick has to get his guys set -- maybe one was late, but I didn't see it -- snap it quickly and take advantage of the defensive confusion. Instead, however, Fitzpatrick waited a long time and the defense found some semblance of organization. He wound up throwing a short incompletion that may have been a throwaway. The defense can't win that play but did.
"Yes, we'd want him to snap it," Mike Munchak said afterwards. "I don't know if he was waiting for the defense or waiting for one of our guys. Generally, in a game we'd go. In a practice, I think he was making sure, because we weren't in a hurry-up mode. The offense should have an advantage there, yes."
May, 9, 2013
5/09/13
7:54
PM ET
The names have been reported, but as the Titans kick off their rookie minicamp they've made it official. Here are their 15 undrafted rookie additions:
C Eloy Atkinson, UTEP
CB George Baker, South Florida
K Maikon Bonani, South Florida
DT Stefan Charles, Regina
TE John Doyle, Western Kentucky
WR Travis Harvey, Florida A&M
RB Stefphon Jefferson, Nevada
G Oscar Johnson, Louisiana Tech
DE Nigel Nicholas, Oklahoma State
CB Matthew Pierce, Valdosta State
WR Rashad Ross, Arizona State
T Matt Sewell, McMaster
WR Dontel Watkins, Murray State
LB Jonathan Willard, Clemson
LB Tom Wort, Oklahoma