AFC South:

Malcolm Jenkins
September, 2, 2010
9/02/10
11:19
PM ET
NASHVILLE, Tenn. -- Some bullet-point thoughts on the Titans' 27-24 preseason win over New Orleans on Thursday night.
Impressive:
With Chris Johnson not dressing, Javon Ringer showed an ability to keep his feet moving and his eyes open on an early 47-yard run. He felt space open to the left side and took it, slipped a tackle attempt by Leigh Torrence, and moved back to the right. Samkon Gado got a lot of work relatively early with the first team, and broke off a 31-yard run.
Defensive tackle Jason Jones was very good again, with some nice pass rushes. He did well chasing stuff downfield when needed. If he stays healthy, he's looking like a guy who will be heard from outside of Nashville this season.
Gerald McRath showed his ability to cover pretty deep, breaking up a pass down field with Robert Johnson and Nick Schommer also arriving at the throw from Patrick Ramsey intended for Jimmy Graham.
Jared Cook and LeGarrette Blount had some nice yards after the catch by hurdling defenders. Eventually, though, one of the hurdlers will get crushed when he encounters a defender who anticipates it, stays upright and buries a helmet in his chest.
Unimpressive:
Kenny Britt dropped two early passes -- the first on a right-to-left short crossing route, the second on about a 22-yarder on which he was cutting left to right. Both throws were on target from Vince Young. A bit later, Britt caught a 7-yard pass with Jonathan Casillas draped on him and Malcolm Jenkins fast arriving. But then he had a false start penalty when Collins was in at quarterback. Craig Stevens and Lavelle Hawkins also dropped balls they should have caught.
Schommer, in a battle for one of the last safety slots, hurt himself on special teams. Lined up on the right of the line, he allowed Junior Galette to get past him and casually block a Brett Kern punt with one hand. Harry Coleman juggled a bit but kept it in play for himself and pulled it in for a 1-yard touchdown. Kern should have felt the pressure from two rushers on a second block in the fourth quarter.
Too many penalties. Marc Mariani had two nice returns, one undone by penalty against Stevens, one with 15-yards chopped off thanks to a personal foul call against Donnie Nickey. In all, Tennessee was flagged nine times for 133 yards. Schommer needlessly shoved a receiver out of bounds for a late pass interference call. Thankfully, the Saints didn't kick on the fourth-and-2 from the Titans' 16 that came after that with 11 seconds left.
August, 19, 2009
8/19/09
7:08
PM ET
Posted by ESPN.com's Paul Kuharsky
HOUSTON -- Lightning in the area forced the Texans and Saints inside for their second practice Wednesday. Bummer, I thought. It'll be cramped in there and we'll see them do far less.
But in terms of focus and watchability, it was actually better than the morning.
Outside of some special teams work, both teams drove the ball from just over midfield against the defenses for much of the practice. There was also a section of alternating possessions where the offenses tried to string together longer drives, at least some of which were 2-minute drills.
Some highlights and thoughts:
April, 25, 2009
4/25/09
11:41
AM ET
Posted by ESPN.com's Paul Kuharsky
Houston Texans
Indianapolis Colts
Jacksonville Jaguars
Tennessee Titans
April, 24, 2009
4/24/09
8:26
AM ET
Posted by ESPN.com's Paul Kuharsky
Houston Texans
Indianapolis Colts
Jacksonville Jaguars
Tennessee Titans
April, 23, 2009
4/23/09
5:12
PM ET
Posted by ESPN.com's Paul Kuharsky
NASHVILLE -- A while back, a reader asked about whether the high salaries attached to the earliest picks of the draft had altered the draft value charts around the league. Teams use such charts, which assign a point value to every pick, to weigh and balance trades. GMs and coaches like to talk about how theirs are different, but the general construct is similar.
I asked Titans GM Mike Reinfeldt this week if he's got a new chart and if he thought most teams had altered theirs.
"Some of the trade charts have changed addressing the trade value of those top picks and it has gone down," he said. "What those picks were, it's not that way anymore. I think it's there is a burden associated with having those top 10 picks.
"...But you have two sets of charts -- depending on which way you're going, up or down, you pull out the appropriate one," he added as we laughed.
The early phone check-ins are usually 50-50 with teams talking about expecting to look to move up or back, Reinfeldt said. This time more people are talking about moving back.
Here are a few highlights from the Titans' pre-draft news conference Thursday:
National supervisor of college scouting C.O. Brocato said USC linebacker Rey Maualuga can play inside or outside, and he thinks his college teammate Brian Cushing, an outside backer by trade, can play inside. He said he views the third USC linebacker, Clay Matthews, as strictly an outside guy.
Brocato likes the crop of linebackers and tight ends but said running backs have fallen off.
Scouting coordinator Blake Beddingfield said there "is a value on every player" and that the Titans hadn't taken anyone off the board. But he joined the laughter when asked if Florida receiver Percy Harvin was a seventh-rounder on the Titans' board.
I believe the Titans will steer clear of Harvin because of the issues surrounding him. But director of college scouting for the Eastern region Mike Ackerley said Harvin is "the most explosive player in this draft by far," that he has no doubt Harvin can run routes and be a top receiver who can also work as a return man and that "he can play wherever he wants."
Reinfeldt said a number of receivers have grades that would make them worthy of the 30th pick, and such grades mean those players should be able to be productive early.
Weight gained by Hakeem Nicks after the combine was not a concern, Ackerley said. So much of a premium is put on 40 times at the combine, everyone drops weight for that, then gets bigger and stronger by the time pro days arrive.
Malcolm Jenkins, Vontae Davis and Alphonso Smith have separated themselves into the first tier of corners, but there is not that much space between them and the next group, Ackerley said.
Reinfeldt was coy when asked questions that were clearly aimed at getting him to show if the Titans have any real interest in trading for Anquan Boldin or Braylon Edwards. He said at some point the Titans would like to add a veteran receiver to the mix, which made it sound like it wasn't going to be a top name. He mentioned that after the draft some veterans would shake free. Asked if the team has to have another veteran wideout, he said: "It would be nice; I don't think it's a necessity."
Brocato gave a rave review of Kansas State quarterback Josh Freeman. "He's got everything you want for a quarterback," he said.

April, 21, 2009
4/21/09
4:25
PM ET
Posted by ESPN.com's Paul Kuharsky
Jon in silver spring writes: Paul, love the blog...have a question about the Texans draft needs. Im an old school Houston guy, and have been watching this team since they been in existence and one MAJOR aspect thats lacking is secondary...yet all i hear is them picking another LB or DL...when Malcolm Jenkins is out there, the guy from Mizzou is out there...what gives? Thanks.
Paul Kuharsky: I think it's that the linebackers are perceived to be more worth the 15th pick than the corners -- this corner class is getting middling reviews. I agree it's a need, especially when there is no guarantee of Dunta Robinson beyond this year. And they could well take a corner at No. 15. Really, it's too bad there is no first-round caliber safety. That would be a real solution, but this draft doesn't appear to have one. "The guy from Mizzou," I presume, is safety William Moore. He's rated as a second- or third-rounder and they could go for him there.
---
Chris Kirk from parts unknown writes: I've been waiting to see what you had to say about Rhodes leaving for Buffalo but I decided to go ahead and e-mail you for your thoughts. This move has to move Running Back up on the list of the Colts priorities to address in the draft right? I'm as big an Addai-hater as you'll find among Colts fans so I've been hoping for them to address that position anyway. That being said I could have seen Polian standing pat(no matter how much I disagree) since between Rhodes, Addai, and Ball/Simpson we would have had a nice mix of youth and vets in our Running Back corps. Looking back at most of the Addai apologists from your column about replacing a Colt a lot of them brought up Rhodes potential presence in a two-back system as a reason to expect better production from Addai. With Rhodes gone our already anemic run game just went on life support leaving us with one barely proven runner. With a number of mock drafts having Wells and /or Moreno available at twenty-seven and two Receivers already on the roster good enough to start for most teams how can the Colts possibly put Receiver as a higher priority than Running Back?
Paul Kuharsky: I don't think they are crestfallen that Rhodes is off the market, but I think they would have loved to have retained the option of coming back to him after the draft as a low cost guy for sure. This is one of the toughest questions of the offseason -- how much was Joseph Addai responsible for the Colts' run struggles, how much was on the line and how much was it that both were banged up?

I think a third receiver still ranks as at least as big of a need as a second running back, if they still see Addai as the lead guy -- and I expect they do. Look at it this way -- in which situation would you be more confident:
A) Addai goes down and they have to make do with Mike Hart, Lance Ball, Chad Simpson, mid- to low-draft pick or undrafted rookie.
B) Reggie Wayne or Anthony Gonzalez goes down and they have to rely on Roy Hall, Pierre Garcon, mid- to low- draft pick or undrafted rookie.

I think they survive A better than B, which leads me to conclude they spend a value pick on a receiver over a back. Also I think this is a much better draft for receivers than backs and there will be more attractive wideouts at 27 than runnning backs..

Hey, we could see receiver and running back as two of the first three. Bill Polian may think he can fix defensive tackle and linebacker with less than premium picks.
April, 19, 2009
4/19/09
8:00
AM ET
Posted by ESPN.com's Paul Kuharsky
Jason from Parts unknownwrites: The Colts cut a player named Ed Johnson last year. He got into legal troubles, but it appeared he was well liked by the coaches and players. My question is: Where is this guy and why isn't anyone picking him up?
Paul Kuharsky: The Colts told him one incident and he was done. And he had one incident and, to their credit, they stayed true to their word.

Why isn't anyone picking him up? Do you want your team to rely on a guy who couldn't stick to rules spelled out for him by the team that really liked him? Also, you don't see many homegrown DTs from Indy landing elsewhere and playing much because everyone else is generally looking for bigger interior linemen than the Colts use. They are unique in how they value quickness above all else.
Indianapolis suffered last year when Quinn Pitcock retired before camp and Johnson got himself cut.
---
Jason from Chicago writes: Paul you are known to hate VY this should be good for you to read. I acknoledge he cant read coverages or throw intermediate but he just wins... Of course you can compare Cutler to Young, they are both quarterbacks who were taken in the first round in 2006. Both were pro-bowl quarterbacks, both started in their first year in the league. One got his coach fired the other got his coach a new contract. One is abused for quitting during a game the other is praised for refusing to talk to his coach or the owner. One dealt with his benching by going to work to get his job back. The other dealt with the attempted trade by pouting like a little girl until the owner said to hell with this, get him outta here. You want more. One we have been told got into the face of his defensive team-mate when he thought he was unnecessarily rough on a receiver in practice. The other we have been told verbally abused his receiver during a game for dropping a pass. Vince Young is a leader, Cutler isn't. That is why Cutler has never won anything since high-school and Vince has never had a losing season in his life period.
Paul Kuharsky:
I don't hate Vince Young. I'm allowed to judge him, however, on his body of work independent of
Jay Cutler
, and I have far more first-hand information on Young.
I've said that Young, Cutler and Matt Leinart have all come across as guys who seem to feel entitled rather than guys hungry to earn it. I think it's somewhat representative of their generation.

That's great that Young is a leader and I know you and a lot of his fans are super excited about it.

But his coach and his coordinator benched him, so that leadership must have been judged by two pretty good coaches to not be sufficient enough to outweigh his abilities as a quarterback. And when they did bench him, his teammates rallied to an incredible degree around his replacement and were relieved by the change in leadership. There is no such thing as an NFL QB who won with leadership even though his arm was not great, his touch was poor, he didn't read defenses well and he couldn't respond well to adversity or hardships.
---
Jordan from Austin, TX writes: Hey Paul, I guess I'm just thick but I just no longer see the reasoning behind people believing that the Texans are for sure drafting an OLB with their first rounder, I believe they signed Cato June(29 years old too)who to my knowledge was very good in a 4-3 cover 2 scheme and now he's signed with the Texans whom run some sort of 4-3. Seems to me like they should take Peria Jerry or maybe even Vontae Davis (eek)/Malcolm Jenkins if he falls.
Paul Kuharsky: I don't know that we could say for sure the Texans were taking a linebacker before or since the recent additions of June and Buster Davis. But those guys are hardly huge upgrades, and they can do better if they so choose. The other guys you mention are intriguing. I'd sure rather have Jerry than risk him slipping to the Colts at 27 -- I think he'll go before then -- and have to face him twice a year.
---
Steven Matheny writes: My name is Steven Matheny and I am the Titans Superfan for the Football Today podcast on ESPN Radio. I have heard you on the podcast and have read your blog for a long time now. I thought that I could email you on a subject that has been slightly overlooked this offseason. With the new NFLPA head what will this do the possibility of no salary cap in the NFL? As a giant Titans fan this scares me because the Titans would not spend anywhere near the amount of money as Jerry Jones or Dan Snyder. I am afraid that this league will turn into the MLB. What are your thoughts? Thanks.
Paul Kuharsky: It won't be as bad as it sounds. There are several mechanisms to offset the lack of a cap -- players need more service time (six years rather than four) to get to unrestricted free agency, teams get an additional franchise tag, the best teams are limited in what they can add in free agency.

I don't think it will turn the NFL upside down if it gets to an uncapped year. A few guys with very fortunate timing will make a load of money, but it won't be enough to alter the general parity.
---
Joshua Sloan in Noblesville writes: I just saw that the Colts resigned Hagler today. Do you think that will change there draft needs? You had mentioned that in your AFC South work left to do column. Seeing that there not as thin at linebacker as they were, any chance that they bring back Freddy Keiaho.
Paul Kuharsky: No idea about Keiaho at this time, sorry.
They still need to add there, but they are not as desperate as they were and I don't expect they will use one of their premium picks.
---
Earl from Seattle writes: First off, Paul, love the blog. It's daily reading here even if I'm not a fan of any of the teams in the division. As for your question about three first-round QBs on the roster at the same time, not sure if it was the last time, but the 1980 Raiders had three first-round QBs on their roster: Dan Pastorini (Oilers, 1971), Jim Plunkett (,1971), Marc Wilson (Raiders, 1980)
Paul Kuharsky: Thanks, Earl. He's responding to this blog entry about three first-round quarterbacks on a team simultaneously.
April, 13, 2009
4/13/09
4:31
PM ET
Posted by ESPN.com's Paul Kuharsky
New mock drafts from the National Football Post and NFL.com. We hit the AFC South highlights for you here, but you can find West Bunting's three-round draft here, and Steve Wyche's first round here. Also included, Don Banks' mock from late last week.
Bunting, interestingly, has defensive tackles as the first three picks in the AFC South.
You can still drag and drop guys into our draft list to do your own mock.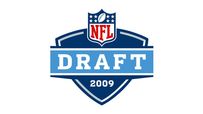 No. 8: Jacksonville Jaguars
Bunting: Defensive tackle B.J. Raji, Boston College
Wyche: Receiver Jeremy Maclin, Missouri
Banks: Maclin
No. 15: Houston Texans
Bunting: Defensive tackle Peria Jerry, Mississippi
Wyche: Defensive end/linebacker Aaron Maybin, Penn State
Banks: Cornerback Malcolm Jenkins, Ohio State
No. 27: Indianapolis Colts
Bunting: Defensive tackle Evander Hood, Missouri
Wyche: Hood
Banks: Linebacker James Laurinaitis, Ohio State
No. 30: Tennessee Titans
Bunting: Cornerback Vontae Davis, Illinois
Wyche: Receiver Hakeem Nicks, North Carolina
Banks: Davis
April, 9, 2009
4/09/09
9:00
AM ET
Posted by ESPN.com's Paul Kuharsky
Team needs: Receiver, defensive tackle, offensive tackle, defensive back
| | |
| --- | --- |
| | |
| | AP Photo/Michael Conroy |
| | It's unlikely that Boston College defensive lineman B.J. Raji will still be on the board at No 8, but if he is, expect the Jaguars to jump. |
Dream scenario
: It's possible the Jaguars could have the best player at two need positions on the board when they draft at No. 8.
Michael Crabtree
of Texas Tech could be around, and while Jacksonville may be wary of first-round receivers based on past failures --
R. Jay Soward
,
Reggie Williams
,
Matt Jones
-- it would be hard to resist a prime weapon for
David Garrard
considering the team's top receivers now are
Dennis Northcutt
and
Mike Walker
. Still, new general manager Gene Smith has talked a lot about starting to build by concentrating on the foundation, and Boston College defensive tackle
B.J. Raji
could do a lot to help the interior line. Paired with
John Henderson
, Raji could help return the team regain the identity it enjoyed with the Henderson-
Marcus Stroud
combo and help take attention away from second-year ends
Derrick Harvey
and
Quentin Groves
.
Plan B: The Jaguars have lots of holes and if they can't address one directly with No. 8, the way Smith has talked of building through the draft, it's hard to imagine he wouldn't want to bump back to gather extra picks. Maybe the Jaguars are really interested in USC quarterback Mark Sanchez. But they struggled to sign Harvey last season. It would surely be harder to strike a deal with a top 10 quarterback who they don't expect to start this year. Perhaps they want someone else who's interested to come up and get Sanchez here. The Jaguars traded into this pick last year, so teams will have a good sense of what it would take to make a deal.
PollCenter: On the Clock

What is the Jacksonville Jaguars' biggest positional need? VOTE
Scouts Inc. take: "After signing Tra Thomas, the Jaguars are now able to draft a project offensive tackle later in the draft as opposed to reaching in the first round for Andre Smith or Michael Oher. But, the Jaguars are not deficient in terms of glaring needs and wide receiver ranks right at the very top of that list. Michael Crabtree would be the ideal selection and in my opinion, as getting the best player in the draft at number eight would be a complete steal. Still, chances are that Crabtree doesn't make it that far. Is Jeremy Maclin worth that pick for Jacksonville? He certainly could be considering the position he plays and his big play ability, but overall, he isn't polished enough to come in an immediately be a go-to option. Two defensive players to keep an eye on are B.J. Raji, who is also unlikely to still be available but would be a tremendous get for the Jags, and Malcolm Jenkins, who could be exactly what Jacksonville needs to sure up their ailing and thin secondary. Mark Sanchez has been mentioned here, but I just don't see that happening." -- Matt Williamson of Scouts Inc.
Who has final say: Jack Del Rio's desires will certainly be heard, but Smith made it clear when he took the post that he's got the final say on both draft picks and the roster.
On the Clock: Oakland Raiders, April 10.
Previous On the Clock: Green Bay Packers. The team-by-team series.
April, 3, 2009
4/03/09
12:15
PM ET
Posted by ESPN.com's Paul Kuharsky
Todd McShay has reevaluated the draft. Here's what he's forecasting for the AFC South:
8. Jacksonville Jaguars: Michael Crabtree, wide receiver, Texas Tech

15. Houston Texans: Malcolm Jenkins, cornerback, Ohio State

27. Indianapolis Colts: Peria Jerry, defensive tackle, Mississippi

30. Tennessee Titans: Hakeem Nicks, wide receiver, North Carolina
March, 12, 2009
3/12/09
1:51
PM ET
Posted by ESPN.com's Paul Kuharsky
Opened my mailbox Wednesday (the kind outside at the end of a driveway), found Albert Pujols on the cover of Sports Illustrated, flipped inside to Jim Trotter's mid-March mock draft, scanned it, and immediately had this thought:
That's a nightmare scenario for the Jaguars.
In Trotter's draft, the top two offensive tackles, the top two receivers and the top defensive tackle are all gone before the Jaguars come around at No. 8. He's got them taking Ohio State cornerback Malcolm Jenkins, a player I'm hearing has sinking stock.
I'll bet the Jaguars are hoping things don't pan out like this projection.
Onward...
Here's a mock-by-mock roundup of the AFC South, with some thoughts splashed in.
The mockers in addition to Trotter: Mel Kiper and Todd McShay, Don Banks, Rob Rang, Chad Reuter, Pete Prisco and Pat Kirwan of NFL.com.
Jacksonville, No. 8
Kiper: Quarterback Mark Sanchez, USC
McShay: Receiver, Michael Crabtree, Texas Tech
Trotter: Jenkins
Banks: Quarterback Mark Sanchez, USC
Rang: Quarterback Josh Freeman, Kansas State
Reuter: Offensive tackle Michael Oher, Mississippi
Prisco: Quarterback Matthew Stafford, Georgia
Kirwan: Sanchez
My thoughts: There are two ways to view a quarterback pick here (and I think Freeman would be a stretch) considering the Jaguars are just a year removed from a big contract for David Garrard. It's a smart move for new GM Gene Smith, who was not the decision-maker when that deal was made, if he's not sold on Garrard. Or it's a major white flag for an organization that was sure it had a long-term guy less than 12 months ago. Prisco's got as good a read on the Jags as anyone, so put stock in his thinking here. But boy they have other spots in which they need help. I don't think Crabtree will be there at No. 8, but he'd be hard to resist no matter who the QB is.
Houston, No. 15
Kiper: Outside linebacker Brian Cushing, USC
McShay: Defensive end Robert Ayers, Tennessee
Trotter: Cornerback Vontae Davis, Illinois
Banks: Linebacker Clay Mathews, USC
Rang: Running back Chris Wells, Ohio State
Reuter: Matthews
Prisco: Receiver Darrius Heyward-Bey, Maryland
Kirwan: Wells
My thoughts: Hearing more and more linebacker talk, and if Cushing or Matthews is judged the value, I'd have no beef. I think it's got to be a defender. But if Heyward-Bey is what he appeared to be at the combine, I'd ask the same question Prisco does -- could you imagine him paired with Andre Johnson?
Indianapolis, No. 27
Kiper: Defensive tackle Peria Jerry, Mississippi
McShay: Defensive tackle Evander Hood, Missouri
Trotter: Linebacker James Laurinaitis, Ohio State
Banks: Laurinaitis
Rang: Hood
Reuter: Jerry
Prisco: Hood
Kirwan: Laurinaitis
My thoughts: It's easy to give the Colts the best defensive tackle or outside linebacker left here. But I think they will have more good options to choose from at wide receiver and won't be surprised by virtually anything considering how Bill Polian goes with best player available regardless of need.
Tennessee, No. 30

Kiper: Defensive end Everette Brown, Florida State
McShay: Receiver Hakeem Nicks, North Carolina
Trotter: Defensive end Tyson Jackson, LSU
Banks: Ayers
Rang: Cornerback Darius Butler, Connecticut:
Reuter: Butler
Prisco: Laurinaitis
Kirwan: Ayers
My thoughts: Right now, cornerback is the biggest need, but one signing and the Titans won't be desperate for anything. Still, they don't value middle linebackers like a lot of other teams, so I just don't see Laurinaitis. And while they could go Ayers, Brown or Jackson if he's the best on their board, they have a pretty deep pool of defensive ends. The guy who slips and everyone wonders how he's still there, that's who I think they'll take.
February, 5, 2009
2/05/09
10:30
AM ET
Posted by ESPN.com's Paul Kuharsky
I asked Rob Rang, NFLDraftScout.com's senior analyst, to share his thoughts on the Tennessee Titans in the first round given these parameters -- their primary needs are wide receiver, cornerback and defensive tackle or outside linebacker.
Here's what Rang had to say in our e-mail exchange:
WR: Remains an area of need for this team, though they have refused to spend a 1st round pick on this area since Kevin Dyson... Florida's Percy Harvin makes the most sense due to his speed and agility. North Carolina's Hakeem Nicks has the body control and sneaky speed to make big plays in an offense that forces the safeties to come up against the run. Even Maryland's Darrius Heyward-Bey, who remains a bit of a track star in shoulder pads, could be a Bernard Berrian-like big-play threat on the outside.

CB: At this point it looks like the top three CBs -- Malcolm Jenkins, Vontae Davis, D.J. Moore -- will be long gone. The others have speed or size questions. Utah's Sean Smith could move up with a strong workout, as could two other western corners flying up the board -- Oregon's Darius Byrd and San Jose State's Coye Francies -- each offer a presence in tight man coverage that make them a nice fit in Tennessee.

DT: Evander "Ziggy" Hood is big and athletic enough to make some sense for the Titans at this point in the draft, but certainly wouldn't come close to matching the production lost if Big Albert [Haynesworth] left.

OLB: Good value late in the first round at outside linebacker... The Titans are willing to gamble on small school and intangible guys more than other teams, meaning that Northern Illinois' Larry English and USC's Clay Matthews, Jr. make some sense.
February, 5, 2009
2/05/09
9:00
AM ET
Posted by ESPN.com's Paul Kuharsky
I asked Rob Rang, NFLDraftScout.com's senior analyst, to share his thoughts on the Jacksonville Jaguars in the first round given these parameters -- their primary needs are left tackle, defensive tackle and cornerback.
Here's what Rang had to say in our e-mail exchange:
Left tackle: This appears to be the Jags' best bet in the first round, as the talent and depth of this year's tackle class is so good they'll almost surely have at least one of the elite offensive tackles -- Eugene Monroe, Jason Smith, Andre Smith, or Michael Oher available to them. All four are ranked by most teams as legitimate top ten selections. Oher is the most controversial of the bunch due to questions about his mental strength, but in coaching him at the Senior Bowl (where he was very good), the Jaguars will have an unrivaled history with him. That fact has led me to give Oher to Jacksonville in each of my first three mock drafts.

DT: The only defensive tackle worthy of consideration at No. 8 would appear to be Boston College's B.J. Raji. He'd provide the team with a similar run-stuffer they lost with the trade of Marcus Stroud, but like Stroud, there are concerns about his consistency.

CB: If Ohio State's Malcolm Jenkins is available, he could be a steal at this point in the draft. Jacksonville has been willing to gamble on pure athleticism with Matt Jones and Reggie Nelson in the past and Illinois' Vontae Davis is expected to put together an eye-popping workout ala his brother (Vernon) a few years ago.
AFC SOUTH SCOREBOARD
Thursday, 12/18
Sunday, 12/21