AFC South:

Manchester United
December, 19, 2013
Dec 19
10:00
AM ET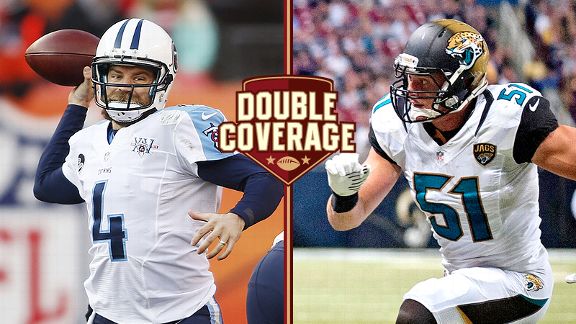 USA Today SportsPaul Posluszny and the Jags are aiming for a season sweep of Ryan Fitzpatrick and Tennessee.
JACKSONVILLE, Fla. -- Maybe
Delanie Walker
shouldn't feel so bad now.
The Titans tight end said he was embarrassed after the Jaguars won 29-27 in Nashville on Nov. 10 to pick up their first victory. Since then, the Jaguars are 3-2 with victories over Houston (twice) and Cleveland. The Titans are 1-4 with a victory over Oakland.
There seems to be much more stability in Jacksonville, too, because of the uncertain status surrounding Tennessee coach Mike Munchak.
Jaguars reporter Michael DiRocco and Titans reporter Paul Kuharsky break down Sunday's matchup at EverBank Field.
DiRocco
: Some Titans players were pretty vocal about being embarrassed due to becoming the first team to lose to the Jaguars. Is that something that still stings, and how have they rebounded from that loss?
Kuharsky
: It definitely left a mark. They are only 1-4 since then. It kind of set a bar for how bad they can be and re-established their propensity to lose to teams that are really struggling. The Jaguars are on an upswing since that game, and the Titans are on a downward spiral. If Tennessee losses to the Jaguars again, the Titans will be in line to finish in third place in an awful division, which is well short of their goals and expectations. The Titans are a better team than they were last year. But losing closer isn't a really big difference in the really big picture.
Let's turn that around. How has life changed for the Jaguars since that Nov. 10 breakthrough?
DiRocco
: I could go into a lot of stats that show how much better the Jaguars are playing, but that's not what's really important. The past six games have been more about the validation of the process, establishing the foundation of the franchise's rebuild, and confidence in the new regime. Coach Gus Bradley never wavered from the plan that he and general manager David Caldwell established. His message stayed the same throughout the eight-game losing streak to start the season: trust in the process, work hard, and focus on improving and not victories, and the victories will eventually come. Because that has happened, the players appear to have completely bought into what Bradley and Caldwell want to do, and there's a confidence in the locker room that the franchise is headed in the right direction.
We talked about
Jake Locker
the last time these teams met, but that was before he suffered a season-ending injury to his foot. How does that change the Titans' outlook on him and are they in the market for a quarterback in the offseason, too?
Kuharsky
: Locker is certain to be on the 2014 Titans. His fourth year isn't that costly and it's guaranteed. But they can't execute a spring option for his fifth year that would line him up for over $13 million. A lot of his fate depends on whether Munchak is back as the head coach. It's possible they go forward with Locker,
Ryan Fitzpatrick
and just-signed
Tyler Wilson
as their quarterbacks. It's also possible they'd draft a new guy, and depending on how high of a pick he could land in competition to start. I think it's less likely they chase a free agent like
Jay Cutler
if he comes free, but they have to assess all the possibilities. How can they completely commit to Locker based on his injury history?
One side effect of the Jaguars' surge is they aren't going to be in position to draft the first quarterback taken. What's your sense of what Bradley and Caldwell want in a quarterback and do you expect one to arrive in the first round?
DiRocco
: Offensive coordinator Jedd Fisch said something interesting last week. He said he wants his QB to scramble around, take off running to get yards and take some chances throwing the football. To me, that sounds like a pretty accurate description of Johnny Manziel. I'm not sure how that reconciles with the ideas of his bosses. Bradley comes from Seattle, which has the mobile
Russell Wilson
. Caldwell comes from Atlanta, which has the considerably less mobile
Matt Ryan
. My sense is that Bradley and Caldwell probably lean more toward the Wilson end of the spectrum. People think that eliminates Teddy Bridgewater, but that's not the case. He's not a runner but he can run if needed. If he's around, I'd expect them to take him. If not, then I would still expect them to go quarterback. It's their most glaring need.
You mentioned Munchak's job status. What's your take on whether he will be back next season -- and should he be?
Kuharsky
: He's shepherded improvement, but his team lacks an ability to finish. He's 0-4 in the worst division in football, 1-9 in the past two years. His teams have lost to the previously winless Jags in 2013 and the previously winless Colts in 2011. He's 4-18 against teams with winning records when the Titans played them and 2-19 against teams that finished the season with a winning record. To me, three years is a sufficient sample size to know what you've got and those numbers are the most telling thing on his resume. Keep him and they deal with all the limitations connected to a lame duck coach. I don't know what Tommy Smith, the head of the new ownership, will do. But the fan base overwhelmingly wants change, if that's worth anything. People still pay for tickets because they've got investments in personal seat licenses they do not want to throw away. But a lot of people are staying home on Sundays now.
Cecil Shorts
is done and
Maurice Jones-Drew
is uncertain. How can the Jaguars threaten on offense without their two best weapons?
DiRocco
: They were able to put up 20 points and post their second-highest yardage total of the season, including a season-high 159 rushing, in last Sunday's loss to Buffalo. Running back
Jordan Todman
stepped up big time and ran for 109 yards (Jones-Drew cracked 100 only once in the first 13 games) and tight end
Marcedes Lewis
was more involved in the passing game than in previous weeks (four catches for 54 yards and a touchdown). But I'm not sure that is sustainable. Teams will certainly concentrate on stopping Lewis and make quarterback
Chad Henne
move the ball with three receivers who have a combined 75 career catches. Todman doesn't scare anyone, either. The Jaguars will have to be creative on offense (they've run gadget plays the past three weeks) and capitalize on every opportunity they get.
May, 6, 2009
5/06/09
12:00
PM ET
| | |
| --- | --- |
| | |
| | ESPN.com Illustration |
| | London has reportedly launched a bid to host the Super Bowl some time in the next decade. Should the NFL export its marquee event? |
Posted by ESPN.com's Pat Yasinskas and Paul Kuharsky
The Super Bowl, America's greatest sporting event, could be played outside the United States as early as 2014.
At least that's what some reports are suggesting. London, which already has hosted two regular-season games and is scheduled to hold a third this year, seems to be at the top of the list for the first overseas Super Bowl.
Is it possible and is it practical to put American football's spectacle in the land of soccer? Pat Yasinskas and Paul Kuharsky debate the merits, logistics and chances of a London Super Bowl.
Would a Super Bowl outside of the States be un-American?
Paul Kuharsky: Pat, I know you were in London for a game last year and have a better sense of how this would play over there than I do. And I'm no xenophobe; I don't want to call it un-American. But I do think proselytizing our football to this degree runs counter to present-day American interests. A Super Bowl funnels a lot of money into the host city, and any qualified city in America could use it -- no matter the state of the American and world economies in 2014.

Sure, a load of NFL fans are priced out of their team's biggest moment when the game is played in the lower 48. How many more won't be able to even consider it when they'd need an overseas flight and a London hotel room? A lot of hardcore football fans would not take this well at all. Is it worth alienating people who buy jerseys and tickets and paint their faces in an attempt to soften up foreign populations you may have no chance of winning over?
Pat Yasinskas: I'm going to say something I thought I'd never say before I traveled to London for last year's regular-season game between the Saints and Chargers. I'm all for a London Super Bowl.
| | |
| --- | --- |
| | |
| | Matthew Lewis/Getty Images |
| | Wembley Stadium in London has been host to two NFL regular-season games and could be a venue for an overseas Super Bowl. |
The atmosphere in London for that game was simply amazing and I think it would be 100 times bigger for a Super Bowl. Sure, I'm a little hesitant about taking the economic impact out of the United States. But you've got to think big picture here. The economics are going to grow throughout Europe and throughout the NFL by placing the game in London. Really, can the Super Bowl get any bigger than it already is in the United States?
London, all of Europe and the rest of the world still are largely untapped and it's time to tap them. I still think there will be huge economic benefits to the U.S. in terms of sponsorship, television and the sale of merchandise. People are still going to watch the game on television, and isn't that really what the Super Bowl is all about? Think about it, how many people do you know who actually have been to a Super Bowl? The common person watches it at home. The people who actually go to the game are the corporate types, and they're going to go no matter where it is (a lot of Saints and Chargers fans came to London last year and made it a vacation). In fact, I think you'll have a much easier time selling outrageously priced tickets in London than you would in recent venues like Detroit and Jacksonville. It's time to truly open the Super Bowl to the world.
Wouldn't the logistics create some nightmares?
Pat Yasinskas: Yes, there's no doubt that a Super Bowl in London would present some major challenges. Start with the time difference. London is five hours ahead of the East Coast and eight ahead of the West Coast. That's the biggest issue of all because it impacts television, which is the driving force behind the Super Bowl. Do you play the game in the same evening time slot it's been in and start the Super Bowl late at night in London? Or do you cater to the audience in the stadium and start the game in the middle of the afternoon back in the States? That's a huge issue for the NFL to work out, but I'm thinking a compromise like starting at 3:30 p.m. ET time could work. People still are going to watch the Super Bowl on television, no matter when it's played.
The time factor also is something coaches and players aren't going to like. But they'll deal with it if they have to. The Saints and Chargers spent the whole week there last season and that gave everyone plenty of time to adjust their body clocks.
Paul Kuharsky: I'm picturing Bill Belichick muttering to himself while mapping out an itinerary with an overseas flight and an odd kickoff time. The owners may back it, but players and coaches aren't going to be fired up. (What player was it last year who asked what language they speak over there?)

I'm also wondering about the weather. According to weather.com, average February weather in London is a high of 47, a low of 36 and the month has an average rainfall of 1.34 inches. If I'm Nashville or Charlotte -- or even New York, Washington, Philadelphia or Baltimore -- I'm asking why the league's willing to play in that weather outdoors across the pond, but not at home. And I am beginning to clamor for a Super Bowl in my stadium, which was paid for, built and is regularly filled by Americans who buy the tickets and merchandise and provide the TV ratings.
Professional soccer hasn't exactly been a big hit in the United States. Can American football fly in London?
Paul Kuharsky: I don't get the sense that Europe is especially interested in American football on any sort of grand scale. While I understand the league's desire to globalize, I also know one of the reasons the NFL is our most popular league and so immensely successful is its ability to maintain an accurate and sensible sense of itself. The idea of a Super Bowl in London makes me think of soccer's failures in the U.S. Most Americans who are not soccer fans concede it's big everywhere else, but have a long list of reasons why it just doesn't work here.
Flip that list inside-out and Europe's got a handy cheat sheet for a conversation of why American football doesn't work over there. (Bring Manchester United to Giants Stadium and you'll have a sellout, sure, but it doesn't say anything big about American interest in soccer -- the same way a Super Bowl in London wouldn't speak broadly to European interest in football.) The NFL should consider that example when it tries to market an inherently American game to Europe and the rest of the world. If American football would work in Eur
ope, wouldn't NFL Europe have done at least well enough to survive?
Pat Yasinskas: Paul, I understand your argument. Heck, I shared the same view until my trip to London, but that experience made me see things much differently. Londoners are ready to embrace something like this. NFL Europe didn't work because it was a minor league. One thing I learned last year is that people in London are fascinated with America and want desperately to be a part of it. I was there a few weeks before the presidential election and the British were paying far more attention to that than I was. They're different from us.
I wouldn't go to a soccer game if you paid me and, to date, have successfully avoided watching my niece and nephew play a sport that bores me -- although I've been to dozens of their baseball and softball games. But the people in London have this raging curiosity about all things American. True, they may not understand the intricacies of a 3-4 defense, but they're going to come out for a show. And when it comes right down to it, isn't the Super Bowl just one big show?
Will we really see a Super Bowl in London?
Pat Yasinskas: Yes. I know some of the reports have said it's possible as early as 2014. I don't see it happening that quickly because there are too many logistical issues to be worked out. But I do think the game will be played in London sometime around 2020. Commissioner Roger Goodell has been trying to figure out the European market since he took the job. The regular-season games have gone over well and shown there's room for growth. The NFL's not going to ignore that opportunity. At some point, there will be a Super Bowl on foreign soil and London is the logical choice.

Paul Kuharsky: It's probably inevitable, Pat, but I agree that 2014 is a little ambitious. Let's see the league master the regular-season overseas games and let's give the game more time to percolate over there. And most important -- and this is what the league is already doing by sparking conversations just like this one -- let's get American football fans used to, and more accepting of, the idea that the Super Bowl's going to be an export.

In the meantime, with the Rolling Stones and Paul McCartney already having done it, let's ponder who's in line for a halftime show.