AFC South:

Mario Manningham
October, 24, 2013
10/24/13
12:00
PM ET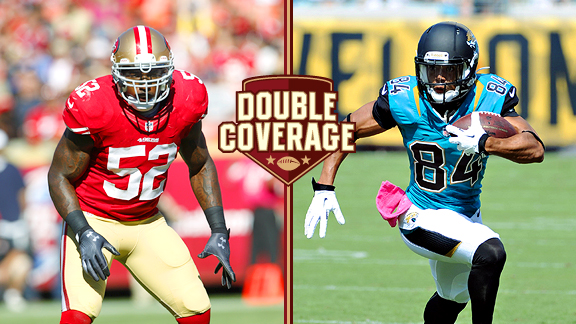 Getty Images, USA Today SportsPatrick Willis' 49ers meet Cecil Shorts' Jaguars in the second NFL game in London this season.
JACKSONVILLE, Fla. -- The
San Francisco 49ers
have righted the ship after a shaky start. The
Jacksonville Jaguars
are still sinking.
The teams going in opposite directions will meet Sunday in London's Wembley Stadium in the second of two NFL games being played in the United Kingdom this season.
The 49ers (5-2) have won four games in a row -- and scored at least 31 points in each of those games -- since starting the season 1-2. The Jaguars are 0-7 and are the first team since the 1984 Houston Oilers to lose their first seven games by double digits.
That makes Sunday's game look like a giant mismatch, yet the Jaguars were 28-point underdogs to the
Denver Broncos
two weeks ago but lost by only 16 points -- and trailed by just two at halftime.
ESPN.com Jaguars reporter Michael DiRocco and 49ers reporter Bill Williamson break down the matchup:
DiRocco:
The 49ers used the read-option the most they have all season against Tennessee in Week 7. Will that be a bigger part of the offense again as the season progresses?
Williamson:
Mike, I think it is going to be a week-to-week situation. The 49ers used the read-option seven times last week after using it a total of nine in the first six games. The 49ers saw they could exploit Tennessee's defense using it. I think we will see it again, but probably in more challenging games and only in certain situations, when the 49ers are confident it will work. We could maybe see it some in London, but I have a feeling it will be more like the first six weeks of the season.
Mike, if the 49ers do run a lot of read-option offense, do you think the Jaguars can handle it?
DiRocco:
Probably not. The Jaguars are last in the NFL in rushing defense (153.3 yards per game) and have given up a league-high nine rushing touchdowns. The defense's biggest problem against the rush is that it has given up a lot of explosive plays. Jacksonville has allowed an NFL-worst 10 rushing plays of 20 or more yards. Stopping the read-option is assignment football and the Jaguars' ends have not been as disciplined as needed. For example, Oakland's
Terrelle Pryor
ran for 50 yards in Week 2, including a 27-yard run in which the entire defensive front bit on the inside fake.
Bill, the Jaguars have had trouble with tight ends all season and now they face
Vernon Davis
. Who is the last team that's shut him down how?
Williamson:
Davis hurt his hamstring late in the Seattle game in Week 2. He was pretty well shut down in that game before getting hurt. He missed Week 3 against the Colts and then came back against the Rams. He's been good and he is healthy. If the Jaguars have trouble against tight ends, the 49ers will exploit it. Davis and quarterback
Colin Kaepernick
have a great chemistry going this season. The 49ers' coaching staff is great at exploiting weaknesses.
Mike, do you seeing this being a big problem for Jacksonville?
DiRocco:
Absolutely. Tight ends have combined to catch 42 passes for 401 yards and five touchdowns against Jacksonville this season. Depending on the defense called, the Jaguars will either have a safety or linebacker on the tight end. At times, the job has fallen to middle linebacker
Paul Posluszny
, who is very good against the run but not fast or quick enough in pass coverage. The Jaguars won't use the approach New England did against New Orleans standout
Jimmy Graham
-- the Patriots put their best corner,
Aqib Talib
, on him -- so I'd expect Davis to have chances to exploit some matchups with linebackers on Sunday.
Speaking of exploitation, the
Anquan Boldin
trade looked like a steal in Week 1. How is it regarded now?
Williamson:
Still, unabashed thievery. Sure, Boldin had 13 catches in the first week and a combined 21 catches in the following six. But the 49ers would be in trouble without Boldin. He had three circus catches at Tennessee and he's been the team's only reliable wide receiver with
Michael Crabtree
and
Mario Manningham
out. The 49ers would not be 5-2 without Boldin.
Mike, do you think the Jaguars will keep him in check Sunday?
DiRocco:
The Jaguars have done a solid job the past two weeks of playing umbrella coverage and making sure they don't give up deep throws. That does leave the short and intermediate routes open, though, and that's where Boldin thrives. He's a physical receiver and the Jaguars don't yet have the kind of personnel to match up with him. Coach Gus Bradley wants to build a secondary similar to the one he helped build in Seattle, which includes big, physical corners. The Jaguars still have work to do there, although rookie third-round pick
Dwayne Gratz
(5-foot-11, 201 pounds) is finally back from his high-ankle sprain.
.
October, 4, 2013
10/04/13
12:00
PM ET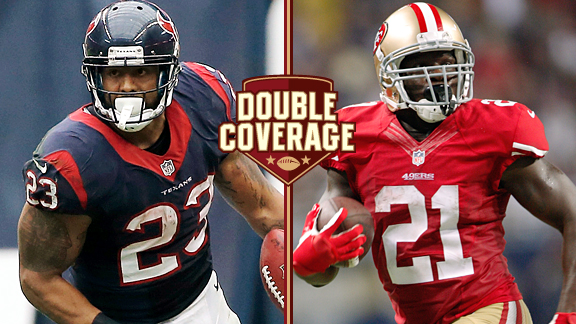 Getty ImagesTwo of the NFL's top rushers, Arian Foster and Frank Gore, will try to carry their teams Sunday night.
The
Houston Texans
are not pleased with themselves, and neither is their Week 5 opponent, the
San Francisco 49ers
.
After starting off Week 4 the right way with a big win at St. Louis, the 49ers bitterly watched the Texans blow a huge fourth-quarter lead at home in an eventual overtime loss to Seattle, allowing the Seahawks to maintain their two-game lead over the 49ers in the NFC West.
San Francisco will try not to fall further behind when it welcomes the shell-shocked Texans to Candlestick Park on Sunday night. Texans reporter Tania Ganguli and I discuss the matchup.
Ganguli:
What changed for the 49ers between Weeks 3 and 4? Is it as simple as playing a weaker opponent, or did they rediscover their identity?
Williamson:
Easier competition may have had something to do with it. Against Seattle and Indianapolis, the 49ers were outscored by a combined 56-10. Against the Rams, the 49ers had their way in a 35-11 victory. I truly think the 49ers' struggles this season have been more because of themselves than their opponent. The trouble in Weeks 2 and 3 started on offense. The 49ers badly miss injured receivers
Michael Crabtree
and
Mario Manningham
; they don't have much beyond
Anquan Boldin
and tight end
Vernon Davis
, who has been injured. Fortunately, the rushing game got going in Week 4. If the 49ers can keep the run game hot and if quarterback
Colin Kaepernick
can get the ball to Boldin and Davis, the 49ers will be fine. That will take pressure off a good defense that wasn't the main problem against the Seahawks or the Colts.
Tania, do you believe the Texans are up to the task of staying with the 49ers, especially after the heartbreak of the Seattle loss?
Ganguli:
They were angry about that loss, especially
J.J. Watt
, who held a menacing news conference (menacing in general, not menacing toward reporters) after the game. They have taken steps to regroup mentally, holding a players-only meeting that allowed for venting, but I think their ability to bounce back will depend on being able to fix some of the problems they had in their first game. Those problems go well beyond quarterback
Matt Schaub
, who made the most costly and talked-about error this past Sunday in throwing a pick-six late in the fourth quarter. The Texans gave up a crucial fumble, dropped a couple of passes and committed a 15-yard penalty that helped set up the game-winning field goal. You're right that the Texans' defense hasn't been the team's biggest problem this season, but Houston has given up drives of 99 and 98 yards this season, and it would like to change that.
How has losing
Aldon Smith
affected San Francisco's defense?
Williamson:
It would be inaccurate and na´ve to think the 49ers don't miss Smith. He will be away from the team for about a month as he seeks treatment for alcohol abuse. Smith had 4.5 sacks in the first three games this season, and he has an NFL-high 38 sacks since 2011. Last week, the 49ers dominated the Rams' offense without Smith and star inside linebacker
Patrick Willis
, who was out with a groin injury, and recorded five sacks. Rookie
Corey Lemonier
and special-teamer
Dan Skuta
both played well in place of Smith, and linebackers
NaVorro Bowman
and
Ahmad Brooks
led the way with big games. Still, Smith is such a presence. The 49ers will be hard-pressed to have sustained dominance without him.
Tania, do you think the Texans can take advantage of Smith's absence?
Ganguli:
The Texans have had their own issues in the trenches lately. Left tackle
Duane Brown
has missed the past two games with turf toe and is still considered day-to-day. Left guard
Wade Smith
rotated with second-year guard
Ben Jones
last weekend. Coach Gary Kubiak said that was to preserve Smith for the long term; Smith had knee surgery during the preseason and returned from it after three weeks. Meanwhile, right tackle
Derek Newton
, another young player, has really struggled. In fact, Brown's replacement,
Ryan Harris
, has played far better than Newton, Houston's regular starter on the other side. Now right guard
Brandon Brooks
is hurt with a toe injury that's got his foot booted. The most consistent player, in terms of health and production, on the offensive line has been center
Chris Myers
, but Schaub has faced a lot of pressure this season.
Speaking of Schaub, he had a rough weekend against the best secondary in the NFL. What challenges will he face against the 49ers?
Williamson:
I think Schaub's struggles start with him, and I think the 49ers will try to pressure him quickly to see if he crumbles again. You know better than I do, but from seeing replays, Schaub looked broken after the
Richard Sherman
pick-six. The 49ers are well aware that Schaub has thrown interceptions that have been returned for touchdowns in the past three games, and they will be looking to add to the list. A player to watch is rookie safety
Eric Reid
. He has proven to be a ballhawk already. I could see him benefiting from Schaub's issues.
This is a huge key to the game, Tania. Do you think Schaub can bounce back and be effective?
Ganguli:
That will be the most important factor in this game. While I don't blame the entire collapse on Schaub, you're absolutely right that he looked broken after Sherman's interception. By contrast, in Week 2, Schaub threw a late pick-six against Tennessee that put the Texans in an eight-point hole, but he recovered quickly enough to lead a game-tying drive that forced overtime. He didn't bounce back as well against the Seahawks. He made a few nice throws, including a 17-yard pass to
Andre Johnson
, but overall, looked rattled. If he can't recover, the Texans have no chance. But if he can rediscover the guy who led that comeback effort you and I watched live against San Diego in Week 1, I think the Texans are in good shape.
February, 14, 2012
2/14/12
3:49
PM ET
K.C. Joyner breaks down seven free-agents to-be in the coming
wide receiver pool

in this Insider piece.
I wish he also included two Colts,
Reggie Wayne
and
Pierre Garcon
.
The Jaguars had one of the NFL's two worst groups of receivers in the NFL last season and will definitely be considering free agents at the position. If the Colts don't keep one or both of their guys, they'll also have a need.
Here are Joyner's bottom lines on the seven guys he writes about:
Dwayne Bowe, Kansas City:
"Bowe may have stretch vertical limitations, but he should be able to upgrade the short and medium pass game of any team."
Marques Colston, New Orleans:
"Colston has the potential to be the best possession receiver in the NFL, but his productivity could drop off if he joins a team with less creative playcalling than he received with the Saints."
DeSean Jackson, Philadelphia:
"There is a reason the Eagles have shown some hesitation in paying him a big contract and why they may be considering either putting a franchise tag on or trading Jackson. He has more big-dollar bust potential than any other wide receiver in this year's field."
Vincent Jackson, San Diego:
"Jackson might be biggest risk-reward wideout in this year's free-agent class."
Steve Johnson, Buffalo:
"Johnson wants to be paid like a true No. 1 wideout but there are too many facets of his game that say he has a production ceiling that doesn't justify that type of expenditure."
Brandon Lloyd, St. Louis:
"Lloyd has the highest volume of notable negatives in this comparison."
Mario Manningham, NY Giants:
"Manningham's postseason performance, age and 2010 numbers show that he may have the most upside of any wideout in this group. Depending on how his postseason is viewed by teams in the free-agent market, he could end up as the best value acquisition wide receiver."
I asked Matt Williamson of Scouts Inc. about the field-stretching speed of those seven plus Wayne and Garcon and what he'd like to see Jacksonville do.
"The Jags might need two of those guys! In terms of field stretchers, which is clearly a need for Jacksonville, Vincent Jackson and DeSean Jackson are way ahead of the rest. And both are excellent in this capacity. I prefer Vincent Jackson overall-bigger. And Mike Mularkey is going to want his receivers to block, which isn't DeSean Jackson's game. Manningham should be the cheapest on the list and if they were able to get two, he would be an ideal WR2 -- also with field stretching ability. Although not a burner, Dwayne Bowe could be the best fit. Physical and plays tough. But I bet Bowe is franchised."
While we linked to a piece earlier today about how Jaguars' GM Gene Smith isn't completely determined to add only choir boys, I think Jackson's attitude might be a turnoff to Smith.