January, 29, 2014
Jan 29
12:00
PM ET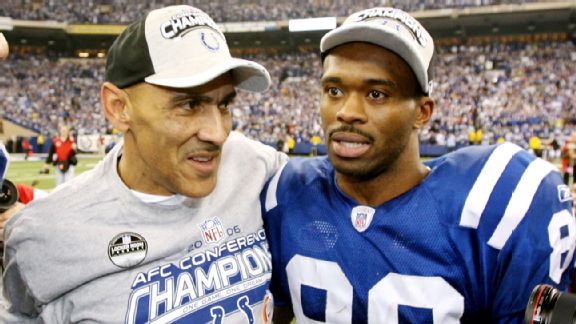 Matthew Emmons/USA TODAY SportsCoach Tony Dungy and wide receiver Marvin Harrison combined for some very memorable Indianapolis Colts teams.
INDIANAPOLIS – The joke about
Marvin Harrison
during his 13-year career with the
Indianapolis Colts
is that he would be in plain sight but he was still hidden because he was so quiet. You didn't know he was around unless he was embarrassing defenses while catching passes from quarterback
Peyton Manning
.
Harrison didn't worry about the extra thing. His focus was getting better on a daily basis and helping the Colts win games.
"He was very quiet away from the field," former Colts general manager Bill Polian said. "Marvin wasn't one of those guys that thrived to be the center of attention. When it was time to play -- practice time or games -- it didn't matter, he was business 100 percent of time. He is one of the all-time best."
Harrison, and former Colts coach Tony Dungy, could be thrust to the forefront Saturday if things go as planned for them.
The Colts receiver and coach are two of the 15 Hall-of-Fame finalist. A finalist must receive 80 percent of the votes.
The statistics scream first-ballot Hall of Famer for Harrison. He's third in NFL history in receptions, fifth in touchdown receptions and seventh in receiving years to go with eight straight 1,000-yard seasons.
"Marvin Harrison had a tremendous impact on my career," Manning said. "My very first football game in the preseason, on the third play of the game, I threw my first pass. I threw him about a 4-yard pass, and he ran 48 yards for a touchdown. I said, 'Boy, this NFL is pretty easy. All you do is throw it to Marvin Harrison and he runs for touchdowns.' That's pretty much what he did throughout the time we played together. He is just an outstanding football player. A great teammate, and he truly helped me out a lot."
Harrison was a perfectionist of his craft. His footwork had to be precise, he tried to catch anything thrown in his direction. He wanted the team's best defensive backs defending him in practice, not a practice squad player who could be released at any moment.
"That was Marvin for you," Polian said. "His unique ability at his size to get open and continue to play for as long as he played is witness to his phenominal athletic ability, great hands and work habit. He's extremely, extremely gifted athlete. Far more than people realize because he's made it look so easy. He was a clutch performer."
Harrison's career, which included going to the playoffs 10 times and winning a Super Bowl, ended in February 2009 when the Colts terminated the final three years of his contract because he didn't want to take a pay cut.
"It was time," Harrison said told the Indianapolis Star in a recent interview. "I had the perfect owner (Jim Irsay), the perfect team, one team my whole career, Dungy leaving, I played my one year in the new stadium (Lucas Oil).''
Dungy wasn't far behind Harrison in leaving the Colts. He stepped down as coach almost two months later.
Dungy, who coached in Tampa Bay and Indianapolis, is in the top seven in wins amongst coaches with at least 100 victories. The Colts won at least 10 games in all seven seasons under Dungy. They won five division titles during that same time span, and Dungy is the first African-American head coach to win a Super Bowl.
"Everybody who makes the finals deserves to be in, but Tony is in a class by himself," Polian said. "His record speaks for itself. He has replaced Wellington Mara as the public conscience of the NFL. "
Manning added, "Coach Dungy's influence on me and our entire team was very strong…I'm indebted to him for his help for me in my career, and of course, our teams there in Indianapolis. I was very honored to play for him for a number of years."
October, 4, 2009
10/04/09
2:51
PM ET

Posted by ESPN.com's Paul Kuharsky
INDIANAPOLIS --
Peyton Manning
is just the second quarterback in league history to throw 55 or more touchdown passes to two different receivers.
Dan Marino threw 79 to Mark Clayton and 55 to Mark Duper.
Manning's second-quarter scoring pass to
Reggie Wayne
Sunday afternoon against Seattle was the 55th scoring connection between the two.
Manning and
Marvin Harrison
hooked up a record 112 times.
January, 9, 2009
1/09/09
1:33
PM ET
Posted by ESPN.com's Paul Kuharsky
Peter King's All-Pro Team includes several people from the AFC South: Andre Johnson, Michael Roos, Dallas Clark, Albert Haynesworth, Cortland Finnegan and Jim Washburn. Peyton Manning is King's MVP, but not his All-Pro QB?
Meanwhile, Don Banks' All Disappointment Team features Brad Meester and Jack Del Rio, with mentions for Vince Young, Jerry Porter and Chris Myers.
Houston Texans
Gary Kubiak interviewed Rod Marinelli for the Texans open defensive line coach post, says John McClain.
Richard Justice is hot and he says the dismissals of strength coach Dan Riley and trainer Kevin Bastin "rank as two of the monumental acts of stupidity in the brief history of the Texans.
Indianapolis Colts
Marlin Jackson is recovering well after season-ending knee surgery, writes Cliff Brunt.
Jacksonville Jaguars
Gregg Williams has started to interview for other defensive coordinator jobs. In an even bigger development, Vito Stellino actually got a comment from Williams' agent, the usually ellusive Marvin Demoff.
Tennessee Titans
The Titans expect Leroy Harris to do just fine filling in at center for the injured Kevin Mawae, writes Gary Estwick. (The team officially designated Mawae as out Friday afternoon.)
Dan Pompeii looks at Mike Heimerdinger's strong return to the Titans.
Craig Hentrich thinks he's figured out a punting problem, says The Tennessean's notebook. Also assistant coach Bart Andrus is in the mix for the CFL Argos head coaching job.
Brandon Jones and Mark Clayton were on the same side for the BCS title game, says Estwick.
Some Titans-Ravens history in pictures, from The Tennessean.