January, 20, 2014
Jan 20
1:15
PM ET
MOBILE, Ala. -- Nearly the entire Jaguars football staff is on hand for the Reese's Senior Bowl. The Jaguars will coach the South team and the
Atlanta Falcons
will coach the North team, but each will switch rosters for a day on Thursday so they can interact with all the players.
Here's a primer of what to expect:
Help wanted:
Jaguars coach Gus Bradley said he expected his staff to remain intact, but linebackers coach Mark Duffner left the team on Sunday night to take the same position with the
Miami Dolphins
. Duffner just finished his eighth season with the team. Defensive coordinator Bob Babich, who spent seven seasons as a linebackers coach with the
Chicago Bears
and
St. Louis Rams
, will work with the linebackers this week. In addition to being a college all-star game, the Senior Bowl is also part coaches convention. Unemployed assistants are here trying to land jobs and head coaches are also here trying to fill staffs.
Keep your eye on:
The Jaguars certainly have a lot of needs to fill, beginning with quarterback and pass rusher. So naturally all the quarterbacks -- particularly
Derek Carr
,
Tajh Boyd
and
David Fales
-- are players to watch during the practices and games. Though he is unable to play because of a torn ACL he suffered in late November against Kentucky,
Aaron Murray
is here to participate in meetings and interviews. It's a smart decision and one that GMs will like.
As for those pass rushers, Jeremiah Attaochu (who played linebacker at Georgia Tech), Michael Sams,
Kareem Martin
,
Chris Smith
, and
James Gayle
are defensive ends to watch. At outside linebacker,
Trent Murphy
and
Christian Jones
are worth watching.
Unfortunately, two of the country's top pass rushers won't be here. Buffalo's
Khalil Mack
has opted not to participate and UCLA's
Anthony Barr
will miss the week because of an undisclosed injury. Both are considered top-10 draft picks.
Some other players to watch: WR
Jordan Matthews
, TE
C.J. Fiedorowicz
, TE Jacob Pederson, G
Cyril Richardson
and C
Weston Richburg
.
What you'll get:
Each day I'll provide Jaguars news and notes as well as observations from practice. I'll concentrate on players at positions that correspond to the Jaguars' top needs (QB, DE, OLB, interior OL, RB, WR) but there will be other players as well. I'll have several blog posts a day and you also can follow me on Twitter @ESPNdirocco.
ETC.:
Among the other players who either opted out or cannot participate because of injury are RBs
Carlos Hyde
(opted out),
Andre Williams
(injury) and
Tyler Gaffney
(injury), OTs
Jake Matthews
(opted out) and
Taylor Lewan
(injury), WR
Tevin Reese
(injury), and DT
Dominique Easley
(injury).
January, 22, 2013
1/22/13
8:13
AM ET
The Jaguars went 2-14 this past season and there was an element of coaching/management that was delusional about how close the team was to being good.

New coach Gus Bradley found at least two things from Mike Mularkey's regime worth keeping: receivers coach Jerry Sullivan and linebackers coach Mark Duffner.
The two assistant coaches
will stay on
as part of Bradley's staff, per Ryan O'Halloran of the Florida Times-Union.
I think they were the two best position coaches on the team last year, and continuity at the two positions will be a good thing.
That's particularly the case with Sullivan, a real teacher who came out of retirement to join Mularkey and did good work with youngsters
Cecil Shorts
and
Justin Blackmon
. Those two guys will have to learn a new offense with coordinator Jedd Fisch in place, but the primary voice that will be teaching them will remain the same.
It's a rare instance where continuity for the Jaguars will be a good thing.
All the way back in training camp last summer it was clear Sullivan liked Shorts and saw promise in the second-year receiver. Shorts seemed to have game-day stage fright as a rookie in 2011. He was a fourth-round pick out of Mount Union.
Sullivan found just the right way to develop Shorts, who caught 55 passes for 979 yards and seven touchdowns in 2012. His 17.8-yard average with
Blaine Gabbert
and
Chad Henne
at quarterback provided a real boost to an offense that lacked big plays.
At Jaguars camps over the year as I watched position group work, I've always thought Duffner was a good teacher.
Coaches who can really teach are at a premium for a young team installing new systems. Bradley's shown a feel for that by retaining these two coaches.
January, 10, 2013
1/10/13
11:13
AM ET
The
Jacksonville Jaguars
just issued a news release announcing Mike Mularkey has been fired as their head coach.
"I informed Mike today that he will not return as head coach of the Jaguars," new general manager David Caldwell said in a statement. "I know Mike well and do not want anyone to misinterpret the rationale behind my decision. Mike is an excellent coach and I am sure he will succeed in his next stop in the NFL. However, I must do what I believe is best for the Jacksonville Jaguars and immediately explore every avenue possible to turn our football team around. For that to happen as seamlessly as we want, and as quickly as our fans deserve, I feel it is in everyone's best interests for an immediate and clean restart."
Added owner Shad Khan: "Mike Mularkey is leaving our organization with my utmost respect. Mike gave the Jaguars everything he had on and off the field, and his efforts as our head coach will always be appreciated. Mike will land on his feet soon. Until then, I wish nothing but the best for Mike and his family."
San Francisco 49ers
offensive coordinator Greg Roman is regarded as
one likely candidate
to replace Mularkey. He and Caldwell went to college together and worked together early in their careers with the
Carolina Panthers
.
Mularkey is a good coach who didn't have a very good year with a bad roster. He got caught up in bad timing with the Jaguars. While he tends to be too conservative, he's a quality offensive coordinator candidate.
His assistants were told recently they were free to look for other work. But if they don't find it, perhaps the best of them will be considered for spots on the new staff. I consider receivers coach Jerry Sullivan and linebackers coach Mark Duffner the best of the assistants.
January, 14, 2012
1/14/12
10:17
AM ET
Reading the coverage…
Houston Texans

J.J. Watt works tirelessly, but he starts out with a lot of
natural talent
, says Jeffrey Martin of the Houston Chronicle.
Says Jerome Solomon of the Chronicle: "Wade Phillips has been fired from three head coaching jobs -- in the East (Buffalo), the West (Denver) and the South (Dallas) -- but you can't tell him that he isn't a good head coach. Yet so many believe that is the case.
They are wrong
."
The best the Texans have done against the Ravens in the past
won't be good enough
Sunday, says John McClain of the Chronicle.
Indianapolis Colts

Rich Nye of WTHR
caught up to
Chris Polian who said "a lot of things were not reported truthfully" over the Colts bad season that led to he and Bill Polian being fired. He wished the franchise the best moving forward. (Hat tip to Colts Authority.)
Brett Mock of Colts Authority
looks at contracts
and salary cap implications for the team heading into 2012.
Jacksonville Jaguars

Mel Tucker's disappointment over not getting the top job
didn't linger
, and he will be part of Mike Mularkey's staff, says Tania Ganguli of the Florida Times-Union. Joe Cullen and Mark Duffner will also return.
Writes Gene Frenette of the Times-Union: (Shahid) Khan, in both an attempt at humor and to be complimentary of season-ticket holders, did say: "For me, a fan is somebody who's a season-ticket holder for the Jaguars." Many took it as a slap against fans who don't own season tickets, which is
a ridiculous notion
since Khan obviously wants to market his product to folks that are on the fence or ambivalent about spending money on tickets."
Tennessee Titans

Kevin Carter played for the Rams that beat the Titans in the Super Bowl, then changed sides. He thinks Jeff Fisher's
a great hire
for St. Louis, say Jim Wyatt and John Glennon of The Tennessean.
The Titans have
offered
their open secondary coach job to Brett Moxie, but the Cowboys would like to keep him, says Wyatt.
Tennessee re-signed tight end Craig Stevens, says Wyatt. He's
a valuable piece
who was heading for free agency.
October, 13, 2011
10/13/11
5:12
PM ET
From the sympathetic sorts, the presumption is that Jack Del Rio must be really having a hard time with a proverbial ax over his head.
Those sorts would be focusing on the wrong people.
[+] Enlarge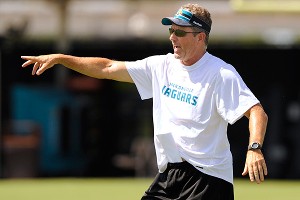 AP Photo/Rick WilsonJacksonville offensive coordinator Dirk Koetter was a candidate for the Denver head coaching job and coveted by the Rams as an offensive coordinator this past offseason.
Del Rio might not have a job next season, but he'll still be paid $5 million just as he will be this year.
It's his staff that's facing doom.
It's easy to say if they'd done better jobs they would have forced the Jaguars to extend them and they'd have no issues. But the fact is contracts for assistant coaches usually run a year less, or just as long as, the one for the head coach they work for.
I know some of JDR's staff better than others. There are some good coaches there no matter the results they are getting. If you think house should be cleaned, so be it. Perhaps it should.
The only change you might see this season is an early exit for JDR, and an interim stint for one of the coordinators, Dirk Koetter or Mel Tucker, or linebackers coach Mark Duffner.
No matter who's in the big office, assistants with expiring contracts will be working the phones in the last quarter of the season, when some college jobs start to come free. Hopefully they can compartmentalize and give the Jaguars their best while also looking out for their futures.
Koetter nearly got the Denver head coaching job last winter, and St. Louis wanted him as its offensive coordinator but the Jaguars wouldn't let him go.
His offense in Jacksonville certainly has not gotten it done to this point this season. A good share of that has to fall on the coordinator. But he's got a rookie quarterback, very few weapons and a boss who seems to handcuffs him and has thrown him under the bus for not opening things up more in the loss at Carolina.
Part of the reason I am on record as a fan of Koetter as a coach is he's a straight-shooter.
He was asked about
job uncertainty
going forward last week and, to his credit, he didn't evade the topic.
"That's a good question," he said. "I'm fighting my honest policy right now. My personal honesty policy is under attack. What am I going to say to that question?''
"…It's in the back of your mind, okay. You can't deny it, but again it happens to coaches at all levels all the time. It's not like something bad happens and you are never going to work again.''
He also said, "I've got mortgage payments to make.''
Even off a bad season, the good coaches on Del Rio's staff will be on a football field somewhere next year.
In quiet moments well after dark, when they flick off the film on their TV screens or computer monitors and shuffle to their cars, they've got to be daydreaming about just where that might be.
May, 18, 2010
5/18/10
7:41
PM ET
NFC West blogger Mike Sando was anti-social at our recent meetings in Bristol, in part because he was working on a story connected to
this post
.
I thought you'd want to see Sando's chart of NFL Coaches Association team reps as the group considers unionizing.
June, 1, 2009
6/01/09
3:33
PM ET
Posted by ESPN.com's Paul Kuharsky
JACKSONVILLE, Fla. -- Every blog entry with OTA practice observations comes with a disclaimer: These practices are about installations and themes. There are no pads and no real contact. These settings favor receivers and don't feature a lot of information about line play. Guys can look like superstars here and be terrible come camp or vice versa.
That said, here's what I saw, thought and heard during the Jaguars session Monday:
Somersaulting: Near the start of practice, defensive players stuttered stepped over five blocking bags on the ground, then rolled into a somersault and looked to grab a loose ball rolled by a coach. "Find the ball, scoop and score," linebacker coach Mark Duffner urged them. Safety Sean Considine's helmet popped off when he hit the ground.
First impression: In one-on-one work in the red zone, my first look at rookie corner Derek Cox was as he intercepted a pass to the back left corner intended for Maurice Dupree. Later, Todd Peterson broke away from Cox along the back line of the end zone under the goal post for an easy TD, Mike Walker dropped a catchable ball against Tyron Brackenridge and Brian Williams break up a pass for Dennis Northcutt. Cox looked pretty smooth.
During that red zone one-on-one period, defensive coordinator Mel Tucker stood under the goal posts and offered a lot of instruction. After a play he'd often talk with the defensive back involved about what unfolded and how it could have or should have been different in very specific terms. A bit later in a defensive walkthrough, Jack Del Rio's was the voice everyone was listening to.
Out of action: John Henderson fell out very early and didn't come back. He was under the shed at one end of the practice field in the shade. Everyone was presuming he fell out because of the heat - recent OTA sessions have been on cool rainy days. But it's sunny and in the high 80s or low 90s Monday. Not a good sign, but we don't have all the info in it yet.
Lineup stuff on defense: Williams was at right corner with the ones, with Considine paired at safety with Reggie Nelson. In nickel, Cox came in and took Williams' spot, while Williams kicked inside. The consensus among observers is that the competition is between Considine and Cox. If coaches feel the D is better off with Considine as a starting safety, then Williams winds up playing corner. If Cox is better, he plays corner and Williams goes to safety.
Justin Durant is playing middle linebacker, but Daryl Smith and Clint Ingram on either side of him. Didn't get a good read on the line, as people were shuffling, Henderson was out, and the O-line was sometime only using three people in team drills with the ends basically kneeling down at the snap. Line play in team periods in these situations often doesn't mean a whole lot.
Lineup stuff on offense: The starting line was, left to right, Tra Thomas, Uche Nwaneri, Brad Meester, Maurice Williams, Tony Pashos and the first two wideouts were Torry Holt and Mike Walker. (Walker gave Holt 81 without any resistance, happily returning to his college number 11 once it wasn't any longer being used by Reggie Williams.)
Wildcat work: Put the Jaguars on the list of teams experimenting with the Wildcat. In the first full team period, the offense broke the huddle and red-shirted David Garrard went wide right as a receiver, with Maurice-Jones Drew behind center in the shotgun, First play: handoff to Northcutt coming on an end around. Second play fake handoff to Troy Williamson and a run up the middle by Jones-Drew. (On defense before the snap, someone yelled, "You know 32 ain't throwing the ball." After the play, Del Rio said. "He got through the hole a little quicker than out quarterback power [run] does.") Third play: the snap went awry. Fourth play, handoff to Montell Owens.
With the second unit, tight end Zach Miller and Owens took snaps.
Update: 5:56 p.m.: I've since spent some time with offensive coordinator Dirk Koetter, who indicated it would be wise to read that period as more about getting the defense ready to defend it than the offense ready to run it. That doesn't mean they won't roll it out, but he urged me to keep in mind I just happened to be here on the day it came around for them.]
Shiny: The new sparkly teal quality to the helmets isn't as bad as I expected. In the sunlight, there is a special kind of shine that bounces off each one. As I sat down to talk with David Garrard, he pulled his out of the locker and we inspected it together. He's a big fan of that sunlight effect and the overall streamlined uniform look. He looked to be in command though the session, but in a 2:00 drill, he missed Tiquan Underwood deep left and Williamson deep right on consecutive passes as the offense failed to score. (More about Garrard specifically in a column to come later Monday.)
Fielding kicks: In kickoff return work, I saw Cox, Underwood, Williamson and Mike Thomas field balls. I am sure Brian Witherspoon was back there as well - I must have managed to miss him.
Different perspective: During a red zone team period, Torry Holt stood off to the side, away from the rest of the team. Later he told me it's just a matter of him getting away from the clutter and being able to better focus on a mental rep. He offered some commentary after a few plays. "You've got to catch that, you aren't going to get more open," he said to tight end Greg Estandia after he broke free from Considine running across the back of the end zone to the right corner. Estandia let Garrard's pass slide off his hands. Later Holt told Thomas, "You're letting them dictate to you."
Plays: Ingram had a pick of fourth-quarterback Paul Smith, as did Considine. Northcutt had a bobbling catch on the left sideline against Thomas Williams, who should have picked it. Russell Allen dropped an interception of a pass intended for Estandia.
Burst: Hard to gauge running backs in this setting, but Rashad Jennings showed a nice burst knifing through the middle on one play. He's a guy that's going to get a lot of attention. Regular observers love what they've seen of the seventh-rounder out of Liberty and said you can't find a nicer or more well-spoken rookie.
May, 14, 2009
5/14/09
2:15
PM ET
| | |
| --- | --- |
| | |
| | Icon Sports Media |
| | For Jacksonville to rebound from a disappointing 2008 season, it will need a better performance from linebackers Clint Ingram (51) and Justin Durant (56). |
Posted by ESPN.com's Paul Kuharsky
Jack Del Rio was a third-round draft pick, a tough player who earned a spot on the All-Rookie team, built an 11-season résumé, made a Pro Bowl trip and amassed nearly 1,000 career tackles.
With a linebacker's mentality underneath his headset, it would befit Del Rio's Jaguars to be led by its linebackers, a group that failed to make enough plays for the 2008 season's disappointing 5-11 squad.
Now, without fixture Mike Peterson -- whose falling out with Del Rio last season added to the team's troubles -- three backers will be trying to put their stamps on the 2009 team: Daryl Smith, 27, a second-round pick from 2004; Clint Ingram, 26, a third-round draft pick from 2006; and Justin Durant, 23, a second-rounder from 2007.
"He expects a lot out of you," Ingram said of Del Rio. "Having him around is really an advantage. He's somebody who played the position and knows exactly what you're looking at. He's not been out of the game too long, he can relate to what we are going through, a lot of the things that we are seeing on the field."
A Closer Look
Coach Mark Duffner and a scout weigh in on Justin Durant, Clint Ingram and Daryl Smith:
JUSTIN DURANT

Duffner: "A very quick, athletic, fast player. He has excellent change of direction, he's a very quick-twitch player. He has a lot of range. We feel like he's got a lot of big play capability and ability. He has played primarily as an outside linebacker for us. He's a very active player."

Scout: "He's a bit undersized and I expect they're moving him inside to the Mike. He's a phenomenal athlete, he's quick to the football, he's an aggressive tackler, he can play in coverage with range, he can man up. He's got the greatest upside of all of them and he can really develop into a consistent 100-tackle type. [He had 113 last year, according to the team's count.] ... The horses up front [John Henderson and Rob Meier] will allow for Durant's instincts to help him get to the football quickly, free up a lot of stuff for him to run tackle to tackle or sideline to sideline. Whether or not he has the ability to hold up will be the question, and I think the guys up front can limit the amount of hits he takes."
CLINT INGRAM

Duffner: "Clint started off very slowly last year, you know it was a personal situation where a close friend of his and one of our teammates got injured. I think that affected Clint early in the start of our season. But as the year went on, particularly in the latter half of the season I thought he really started to come on and play. He's a very strong, sudden, explosive player, a very strong hitter, he has very natural strength. We've put him at outside linebacker, and those are really interchangeable, that's where he's had the vast majority of his experience and repetition."

Scout: "He's not as fluid straight line as Durant and lacks Durant's speed. His big thing is attacking well against the run. He's a Sam type, an on-the-line, jam-the-tight-end guy who works well going downhill and in gaps on the offensive line. He has some struggles in coverage dropping back, being fluid, in his ability to see and react to crossing routes and ranging to the sidelines."
DARYL SMITH

Duffner: "I think he's a very good football player, he's got size, speed, strength, quickness, change of direction. He's very versatile, he's played all of our linebacker positions and we're going to try to keep him at really one and let him continue to ascend as a player. He's strong against the run, he's got pass rush ability. He's really got everything you're looking for in terms of a linebacker. I think he's a bright guy, I think he's a very instinctive player too, he has big-play ability. ... We moved him around, he played outside, he played Mike and never really had a home where he could really take off. I thought he had a solid year for us last year, but if he's in one spot, you'll see him really start to spike up in terms of his productivity."

Scout: "He's got the versatility to play inside or outside. He's aggressive, he's a good athlete. He's tough against the run. He plays pass better than Ingram, but not as good as Durant. He has little holes you can poke with the passing game and run fits. I see him as the weakside guy who can run and chase, but he can bounce around."
Ingram said Del Rio interacts with the linebackers quite a bit -- "I don't even see where he has time to take care of any of that stuff he has to do as a head coach as much as I see him around" -- and has learned much from Del Rio about being patient in making his reads and using precise footwork.
The Jaguars are finished reflecting on last season, but in conversations with the AFC South Blog this week both Durant and Ingram said they are holding themselves and the linebacker group accountable.
"We had a lot of mental errors, we allowed too many big plays, we allowed too many rushing yards, we just really weren't good as a whole," Durant said. "... I missed too many tackles last year, I didn't make as many plays as I should have made. I put a lot of pressure on myself to perform. I think that I am a playmaker. That's what I am working on this year, my tackling, my open-field tackling and being more physical."
On Ingram's report card, last year the linebackers played C-plus or B-minus football, and he gave himself a C.
"When things are going like that, I feel like I should be able to step up and do some things and get guys going and be one of those guys who can get something rolling," he said. "Defenses feed off of big plays, hits, emotion. Some of that type of stuff I feel like I should have done a better job of, I should have done a better job out on the field showing it. I did all right, but nowhere close to what I expect out of myself, nowhere close to what coaches expect."
He's reluctant to use it as an excuse and knows it affected the entire team, but Ingram was not himself early in the season. He was coming to terms with the shooting of offensive tackle Richard Collier, a close friend who wound up losing a leg.
For a Jacksonville bounce back this fall, the Jaguars' athletic trio of linebackers will need to more consistently make plays. At this time of year, everyone around the league is optimistic about just about everything, but at least they can sketch out why.
Linebackers coach Mark Duffner said the Jaguars allowed their scheme to get blurred a bit last year. The focus now is making things clearer for players so that they are able to use their talents without over-thinking things. They should resist the temptation to overextend. [Still, the defense was centered on takedowns by the linebackers far more than anyone else in the AFC South: Some 42 percent of Jacksonville's tackles were by linebackers, with Houston at 33 percent, and Indianapolis and Tennessee at 29 percent.]
January, 30, 2009
1/30/09
3:40
PM ET
Posted by ESPN.com's Paul Kuharsky
We asked for your input earlier this week on who you think the Jaguars' best assistant coach is.
Here's a sampling of replies in the comments to the post and in my mailbag:
Charles in Jax: In response to your question, I think Tice is the best assistant on Del Rio's staff. Before the offseason I would've said Joe DeCamillis, but sadly the Jags were not able/willing to renew his contract. Tice brings a wealth of knowledge from experience as a former player, a former position coach, and a former head coach. Although he may be thought of as a TE coach, he spends a great deal of his time assisting Andy Heck with the o-line. Tice also has Del Rio's trust since they've been friends since their playing days in Minnesota. Given the constant turnover in his staff, this is an important and oft overlooked quality. Sorry for the long response.
Dan in Rochester, NY: As far as best assistant for the jags, I would agree Kennedy Pola is a great coach and should win because of his work with Fred and Maurice, but I'd have to give an honorable mention to linebackers coach Mark Duffner. He's done a good job in the development of Daryl Smith and Daryl looks ready to take over the middle linebacker position for good next year, as well as helping Clint Ingram bounce back last year after an underwhelming second season. Linebacker Justin Durant should have a great year next year, and offers the most potential out of the bunch. He is a really fun player to watch.
Jeremy: My vote would go for QB coach Mike Shula. I know any Alabama fans out there are suppressing a gag reflex, but he helped turn David Garrard from backup to Pro-Bowler. Before Shula worked with Garrard, especially on his footwork, David was an interception machine. After Shula, Garrard has greatly improved his accuracy, and rarely turns the ball over.
Anthony in La Jolla: I think the best Jags assistant is coach Pola. The Jags running backs have all produced from Fred and MoJo to Toefield (when he was there) and Chauncey Washington.
Alex in Charleston, SC: Kennedy Pola is the best assistant coach the Jags have. Not only has Pola helped resurrect Fred Taylor's career and groom MJD into the young star he is, but behind the scenes Pola is working extensively with two rising stars in Montell Owens and Chauncey Washington. Pola has also helped Greg Jones become an allstar fullback that balances physicality with finesse. On the other hand Andy Heck, the offensive line coach, must be credited for his recent successes with the front five. Even after losing three starters in the first game and Richard Collier before the 2008 season, Heck built a decent patchwork line that provided sufficient protection. In 2006 and 2007 the Jaguars rushed for the two highest single-season rushing totals in Jags history. Pola and Heck are easily the two best assistants the Jaguars have
GoJags4362seats: The best assistant coach is, in my opinion, Kennedy Pola. But the most IMPORTANT assistant coach this off-season & into next year is Andy Heck, the offensive line coach.
To two of the big mentions: I thought the Jaguars linebackers were a huge disappointment in 2008, so while Duffner may be a good coach, I'm not handing out the title to an assistant who will have guys ready in 2009, but to someone who did well in 2008. This is based more on current standing, though that's hard to garner in a 5-11 season. The same thing goes for Shula. Garrard turned the ball over plenty last season, with 13 interceptions, 10 more than the season before.
Your comments pointed most often to Pola, and I think he's deserving. Yes, he's been given a lot to work with, but he's a coach who's helped groom or maintain productive players, he's said to be in Jack Del Rio's inner circle, and a few years ago Jeff Fisher tried to lure him away when the Titans had an open running back coach spot -- a big compliment.