June, 10, 2014
Jun 10
6:00
PM ET
JACKSONVILLE, Fla. -- The two pools and 20 cabanas that are part of a
$63 million renovation to EverBank Field
have grabbed headlines recently, but the
Jacksonville Jaguars
are doing much more in an attempt to enhance the game-day experience.
And a byproduct is the team is going to be removing some of the tarps that have covered certain sections since the 2005 season.
The team has added premium seating throughout the stadium, added field-level seats, and upgraded a covered full-service section that is open to all fans. That's in addition to the world's largest video boards in each end zone.
"We're trying to give fans a compelling reason to leave the comfort of their homes and to come and watch the Jaguars in person," Jaguars president Mark Lamping said before conducting a hard-hat tour of the stadium. "We have to make sure the experience, when people spend their money, is really good. But more importantly, it is unique and distinctly different than what you can get at home."
Because of that added seating, as well as the construction of the video boards and pools, the Jaguars will be removing 9,500 seats and take tarps off 12 sections. Only four sections, totaling about 3,000 seats, will have tarps in 2014. The capacity before the renovations was 67,246 and will roughly remain the same.
The Jaguars' new four premium seating options, which include all-you-can-eat food and all-you-can-drink beer, wine and soda, are:
180 field-level seats at $350 per game.
Four-seat tables outside the East Stadium Club at $350 per seat per game.
Four-seat tables outside the West Stadium Club at $375 per seat per game.
120 bar rail seats along the north end zone (adjacent to the pools) at $150 per game.
The team also is expanding the State Farm Neighborhood Fan Cave. A second level is being added and the capacity is increased from 400 to more than 600. It's open to any ticket holder and includes Wi-Fi, flat-screen TVs, tablets, video game consoles, and power leather home theater recliners. There also are three bars and food stations, including a dessert bar.
The additional premium seating allows the Jaguars to increase their revenue without raising ticket prices across the board.
July, 25, 2013
7/25/13
10:14
AM ET
NFL fans who don't pay close attention to the details love to use the
Jacksonville Jaguars
as a punchline over attendance issues. EverBank Field is unlikely to be filled on a regular basis as the team looks to dig out of a 2-14 season.
But critics looking for a blackout poster boy will have to steer clear of North Florida. The team hasn't had a blackout since Dec. 13, 2009.
While ticket sales are off last year's pace and expensive club seats don't count in the blackout equation, team president Mark Lamping has guaranteed that every game will be on local TV this season.
From Vito Stellino
of the Florida Times-Union:
"(Lamping) can make that guarantee because teams can write a check for 34 percent of the cost of the unsold non-premium seats to avoid blackouts.

Last year, the Jaguars sold all of the non-premium seats and didn't have to buy any.

"We're not planning on doing that this year, either,'' Lamping said. "First, there won't be any blackouts. We can put that aside. Our goal last year was not to buy any tickets. That's our goal this year and we're going to do everything we possibly can to achieve that.''
No blackouts and no ticket issues are not the same thing. And with the games on TV, empty swaths of seats in the club areas don't look good.
You won't hear any talk from inside team headquarters complaining about the challenges of the market.
Stellino cites a message owner Shad Khan delivered recently about that possibility.
"I think it's not about Jacksonville. It's about leadership of the Jaguars,'' Khan said. "We've got to have the value proposition so the fans want to come out and support the team. I put it all on the leadership of the team. We've got to reach out to the fans [and say], 'Please come out and spend your hard-earned money on us.'''
July, 22, 2013
7/22/13
10:03
AM ET
Reading the coverage ...
Houston Texans

Young players who will need to offer the Texans depth are
one concern
as camp approaches, says John McClain of the Houston Chronicle.
McClain is amazed over
how much heat
Matt Schaub has taken for the Texans' late-season struggles and playoff failure in New England.
Sorting through
outside linebackers
with Patrick Starr of State of the Texans.
Indianapolis Colts

Five questions
facing the Colts as training camp approaches, from Mike Chappell of the Indianapolis Star.
Offensive tackle Ben Ijalana has a healthy left knee and, like his bosses and fans of the team, is
eager to see
what he's got to offer, says Chappell.
Assessing the running backs
on the Colts with Marcus Dugan of Colts Authority.
Jacksonville Jaguars

Depth behind Marcedes Lewis
at tight end
is a concern for the Jacksonville Jaguars, says Ryan O'Halloran of the Florida Times-Union.
Front office executive Mark Lamping has been
a major addition
, says John Oehser of the team's website.
Lamping has
already been named
to the board of Shad Khan's newest franchise, Fulham of the English Premiere League, says Cole Pepper on his blog.
Tennessee Titans

Damian Williams and Alterraun Verner recently
visited Guatemala
, a perspective-changing trip for the two Titans, says Jim Wyatt of The Tennessean.
Previewing
the cornerbacks
heading into camp with Wyatt.
Some thoughts about
new defensive tackle
Sammie Hill from Tom Gower of Total Titans.
February, 12, 2013
2/12/13
1:11
PM ET
Jaguars owner Shad Khan can call on Wayne Weaver anytime.

Jaguars president Mark Lamping can now do the same with Macky Weaver.
Macky Weaver
resigned
from the Jaguars' front office and will serve as a senior advisor for Jacksonville after being part of the team's front office for all 19 years of the franchise's existence.
Most recently, he was senior vice president of sales. He started as an account executive in corporate sponsorship and moved up to director of corporate sponsorship in December 1997 and to executive director in 2004. The final title change and responsibility shift came in April 2010.
Macky is a nephew of Wayne, and it makes sense that as Khan gets his front office fully in place that a Weaver is no longer a big part of it.
Other moves:
Hussain Naqi was promoted to senior vice president of fan engagement.

Chad Johnson was promoted to senior vice president of ticket sales.

Megha Parekh will join the organization March 1 as vice president and general counsel. She replaces Sashi Brown, who was hired by the Cleveland Browns last month.
Khan has now been in control of the organization since late in the 2011 season.
He's now put Lamping in place as president, shed the GM he inherited and now has the last tie to the old ownership minimized.
He hired his own general manager, David Caldwell, who hired his own coach, Gus Bradley.
It's Khan's deal now. We need time to evaluate him as an owner. But his people and the plan they've all come up with is in place.
February, 6, 2013
2/06/13
11:11
AM ET
Having the league's biggest scoreboards would help make EverBank Field much more of a destination, the Jaguars believe.
But how would they pay for them and when would the concept for them that the Jaguars
unveiled Tuesday
actually come to life?
Vito Stellino
explored those questions
in the Florida Times-Union.
If quick financing could be arranged, we could see the boards this fall.

Houston's new boards at Reliant Stadium will go up this offseason. If and when the Jaguars get theirs, the AFC South would boast three of the four largest boards in the NFL and four of the top nine.
The Jacksonville boards would cost close to $50 million.
I'm great at spending other people's money. Stellino points out that Jacksonville libraries are having financial issues; I'd propose that owner Shad Khan finance the new screens.
That's not how things generally work, however.
From Stellino:
"(Team president Mark) Lamping said that if they can finalize a deal with the city, which owns the stadium and would be responsible for paying for the scoreboards, in 60 to 90 days, the scoreboards could be installed by this fall. They would be about 52 feet high and 348 feet wide.

"At a time when the city is cutting library hours and the buying of books for the libraries, the negotiations could be difficult, but Lamping said the team hopes to come up with creative financing that includes using the money generated by the stadium.

"He said the original model when the Gator Bowl was rebuilt for $121 million in 1994-1995 was to pour back revenues created by the stadium into stadium upgrades."
I'm guessing it's hardly that simple, and that stadium revenues are already accounted for. But the Jaguars did well to generate some excitement for the idea that could prompt the city to strike a deal with the team to make it happen.
Should they?
February, 5, 2013
2/05/13
5:24
PM ET
The Jaguars are not yet in a place where they can do much to change their roster.
Today in a state-of-the-team type of address, they unveiled a new logo and spoke of themes, ticket process and scoreboard concepts.
[+] Enlarge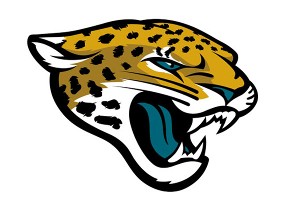 Ric Tapia/NFLThe Jacksonville Jaguars revealed a new team logo for the 2013-14 season.
It's part of a repackaging for the franchise, which has a long climb up from 2-14 in 2012.
Regarding the logo, team president Mark Lamping said the team sought something more lifelike and fierce that would retain the teal accents in place since the beginning. A secondary mark is in the shape of a military style badge that incorporates the logo and the shortened Jags' nickname. ESPN.com's Uni Watch
likes the new logos
.
The biggest thing to come out of the news conference in my eyes was the start of a discussion about local revenue. Lamping said the team has fallen from No. 2 in the NFL in 1995 to 29th in 2011 in total local revenue.
"We need to fix this," Lamping said. "If we do not, we threaten the financial stability of the franchise."
Here are three big revenue generators they believe can help reverse the trend:
New seats. EverBank Field will be revamped to include upper level loge boxes and field seats. Lamping said next year, and I interpreted that as meaning 2014 though I'm not yet certain.

[+] Enlarge

Jacksonville JaguarsThe Jaguars released a new alternate logo too.

Giant upgrades to the scoreboards that would give the team the biggest boards in the NFL, turning EverBank Field into more of a destination. "It will finally give us something where we are the best," Lamping said. The financing for these and the timing of installation were not made clear.

A full-time salesperson in London, where the team will play a home game for the next four seasons that will create an opportunity to sell and share sponsorship money in the United Kingdom.
As for ticket prices in the coming season: Eighty percent will remain flat, 17 percent will increase and three percent will decrease.
The team is emphasizing three words -- proud, bold, committed -- as part of an overall theme: Stand United.
Owner Shad Khan said the team now has an "ideal franchise model."
GM David Caldwell and coach Gus Bradley spoke briefly at the end of the news conference.
Team-building and winning will trump any logo, slogan or enormous scoreboard.
Caldwell and Bradley are the guys to take care of those two departments. Although they can evaluate now, they are a while away from being able to make the moves that will contribute to that.
October, 4, 2012
10/04/12
5:11
PM ET
It's daylight for section 403 at EverBank Field.

The Jaguars are pulling off the tarp for Sunday's game against the
Chicago Bears
. A limited number of tickets there are available for $35 each.
Bears fans are likely driving this. They showed up en masse in Dallas on Monday night and I suspect they are looking for a big weekend in North Florida.
"We're pleased with demand for tickets for this game and we're thrilled to be able to make additional tickets available to our fans," Jaguars President Mark Lamping said in a press release.
Buy a couple and your stubs can become a real collector's item. If the Jaguars continue to play as they have, demand's going to sink, not rise.
And it could be some time before there is cause to uncover 403 or anything again.
September, 14, 2012
9/14/12
10:33
AM ET
A couple of smaller stories or notes this week served to solidify the Jaguars' new thinking regarding blackouts.

I just spoke with Jaguars president Mark Lamping to hear for myself and get it all on the record here. Lamping, who joined the team during the offseason, brings new thinking to the issue: He wants it not to be an issue at all.
Gone is the barometer on the team's website gauging day-to-day ticket sales and telling fans how close the team is to selling the 50,000 general bowl seats needed to avoid a local blackout of home games.
"We don't sell tickets to avoid blackouts," Lamping said. "We sell tickets to create revenue and to create a home-field advantage."
The Jaguars haven't had a blackout in two years, but talk of the possibility was still a prevalent storyline before virtually every home game. Lamping called it a "negative sales proposition."
That's over, Lamping said.
"We're in good shape. We certainly have some tickets available, but all of our games are going to be televised locally," he said. "We're just going to turn the page on blackouts."
Owner Shahid Khan can assure that by paying 34 cents on the dollar for the seats needed to be sold by the Thursday before a game.
"We feel good where we are," Lamping said. "We're not going to have to buy tickets for this week."
February, 15, 2012
2/15/12
9:30
AM ET
Reading the coverage…
Houston Texans
Why Peyton Manning
won't be playing for the Texans
, from John McClain of the Houston Chronicle.
Without a discount, Mario Williams
won't be affordable
for the Texans, says McClain.
Indianapolis Colts
Putting it all on Manning is a great PR move by Jim Irsay, but Bob Kravitz on the Indianapolis Star
isn't convinced
it's a great football move.
Mike Chappell of The Star with the paper's
rundown
of its conversation with Irsay.
"Why at this stage of
this crude, clumsy campaign
should Peyton Manning trust Jim Irsay?" Dan Wetzel of Yahoo! examines the question.
Bill Polian thinks the public back-and-forth will help the two sides
reach a resolution
, says Alex Marvez of FoxSports.com.
Clark Judge of CBSSports.com thinks it was
a smart move
for Irsay to say what he did.
The 30-story Lombardi Trophy
is gone
, says Zak Keefer of the Star.
Jacksonville Jaguars
Shahid Khan
continues the evolution
of the Jaguars with the hiring of team president Mark Lamping, says Joe Wilhelm Jr. of the Daily Record.
Tennessee Titans
Defensive tackle Lamar Divens
passed up the Bucs
hoping the Titans would call. And Tennessee has signed the former Vanderbilt and Tennessee State player, says John Glennon.
February, 13, 2012
2/13/12
11:15
AM ET
Shahid Khan has beefed up his team's front office, naming Mark Lamping
team president
, reports Tania Ganguli of the Florida Times-Union.
[+] Enlarge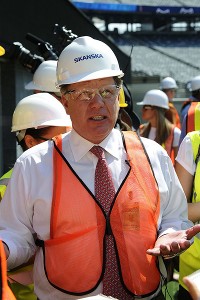 Jeff Zelevansky/Icon SMIMark Lamping, shown here during a 2010 tour of New Meadowlands Stadium, becomes just the second team president in Jaguars history.
Lamping was president of Major League Baseball's St. Louis Cardinals for 13 years and will take over the non-football side of the Jaguars on Feb. 27. Since 2008 he's been CEO of MetLife Stadium, home of the Jets and Giants. He's also worked for Anheuser-Busch.
Notes Ganguli: "The Jaguars have only had one other team president in the franchise's history. David Seldin held the position in the early years of the organization. He resigned in late 1997 to take a job with the organization that eventually bought the National Hockey League's New York Islanders, of which he then became president."
It appears to be a good sign for the Jaguars. Adding to the front office isn't always a good thing. But in Jacksonville, the front office isn't especially beefy.
Khan now has a top football executive in general manager Gene Smith and a top non-football executive in Lamping. Both will report to Khan in an organizational structure that's used by many teams with great success.
Khan and Lamping were quoted in a news release that followed Ganguli's report:
Khan: "This is a very important and exciting development in the Rebirth of the Jacksonville Jaguars. Mark will bring to the Jaguars and to the Jacksonville community a mix of sports and brand marketing, stadium management expertise and team front office leadership that is very difficult to find in one person. Mark's resume speaks for itself and I am very grateful to the Giants and Jets for making it possible for the Jaguars to present Mark with a new challenge and the prospect of success here in Jacksonville."

Lamping: "The Jacksonville Jaguars have vast potential, and I'm honored that Shad Khan is asking me to play a leadership role in reaching that potential. We have the opportunity to revitalize the franchise and build something special, memorable and hopefully historic for the league, our partners and especially Jaguars fans, who will be central to our mission. My wife Cheryl and I are ready to get started and excited to make Jacksonville our home."
The Jaguars seek to put new ideas into play while marketing the team and selling tickets. Lamping is sure to bring some of those.