AFC South:

Marty Mornhinweg
January, 17, 2013
1/17/13
9:25
PM ET
In whatever story
Andrew Luck
writes as an
Indianapolis Colts
quarterback, Bruce Arians will always occupy a vital place in the initial chapter.
Barring a reunion later in their careers, that's likely to be the extent of it.
Arians
reportedly has been hired
for the last of eight NFL head-coaching jobs that opened this offseason and will take over the
Arizona Cardinals
.
For his work as the Colts' interim coach for 12 games in 2012, Arians earned a special place in the hearts of the team's fans. The franchise had bottomed out at 2-14 in 2011 as
Peyton Manning
missed the season with a neck problem.
[+] Enlarge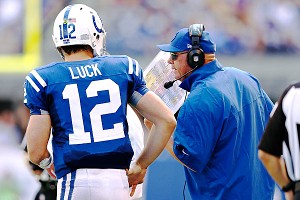 Joe Robbins/Getty ImagesAndrew Luck and the Colts went 9-3 with Bruce Arians, right, at the helm this season.
It jettisoned the guy who ran the team, Bill Polian, his head coach, Jim Caldwell, and Manning.
Owner Jim Irsay then hired Ryan Grigson and Chuck Pagano. Pagano hired his old friend Arians as his offensive coordinator, and the organization drafted him an ultimate quarterback to groom in Luck.
When Pagano was diagnosed with leukemia and left the team for treatment, he tabbed Arians as his stand-in.
And Arians is expected to win coach of the year honors, probably sharing them with Pagano.
The Colts went 11-5 this season, 9-3 under Arians, earning a playoff berth.
It was an incredible story and one that got Arians in the pipeline for at least three of the open jobs despite the fact that most teams looked for a guy younger than him. He lost out in Chicago, where he was a finalist, and in San Diego. But now the 60-year-old Arians is an NFL head coach with a more challenging job because he's got to find a quarterback to develop.
The Colts will be thrilled for him but sad to lose him.
And Pagano needs a new coordinator.
I'd hate to see the offense move far from the scheme it ran this past season, as it was very effective and a vertical offense is a lot of fun to watch.
Can quarterbacks coach Clyde Christensen, who coordinated for Tony Dungy in Tampa Bay and for Caldwell in Indianapolis, take over and carry on? Or will Pagano be inclined to bring in someone new?
Among those available now who've done the job before are Cincinnati receivers coach Hue Jackson, former Browns coach Pat Shurmur, former Eagles offensive coordinator Marty Mornhinweg, former Baltimore coordinator Cam Cameron and former Jaguars coach Mike Mularkey.
Former Cardinals head coach Ken Whisenhunt might have been a great fit, but he was introduced as the new offensive coordinator in San Diego on Thursday.
Arians is a tough loss, for sure.
Pagano isn't going to wave a white flag over it. He'll always be grateful to Arians. But it doesn't mean he hasn't been formulating a contingency plan.
January, 13, 2012
1/13/12
7:28
AM ET
You should have been there.
At Thursday's chat, we covered a great deal of ground. It included:
Marty Mornhinweg.
Andrew Luck compared to Aaron Rodgers.
Wade Phillips as a defensive coordinator as opposed to a head coach.
Judging Mike Mularkey on the Falcons' playoff loss.
Peyton Manning's bonus.
Mario Williams' future.
The potential for a Titans free agency splash.
Football venues with roofs versus ones without roofs.
I hope you'll read and reread
this chat
as I have. Thanks to all the participants.
January, 11, 2012
1/11/12
10:34
AM ET
Does new Colts general manager Ryan Grigson have any connection to Jim Caldwell?

He may, but nothing I see in either of their bios suggests a strong connection.

I don't think Jim Irsay would give his new hire an edict about his head coach, and we just saw Reggie McKenzie toss Hue Jackson aside in Oakland in a similar situation.

A new GM keeping an old coach who's not "his guy" seems to set up trouble.

If Mike Holmgren had 2010 back, I feel certain he wouldn't have tried to make things work with Eric Mangini. He would have done what McKenzie's done. Holmgren basically cost his franchise a year by trying to keep the coach he inherited when he became the Browns' decision-maker.

Grigson's first decision is likely to be on Caldwell, and we could know today whether he wants to stick with the coach in place or make a change.

I'm not sure who out there for Grigson would qualify as "his guy." Marty Mornhinweg has been on the Eagles' staff for nine seasons and had a two-year stint as the Lions' head coach in 2001-02. He's the one easy guy to mention, but we have no idea what kind of relationship Grigson has with him or what he wants to see in a head coach.

He'll be introduced today, and we'll begin to find out.