December, 19, 2013
Dec 19
10:00
AM ET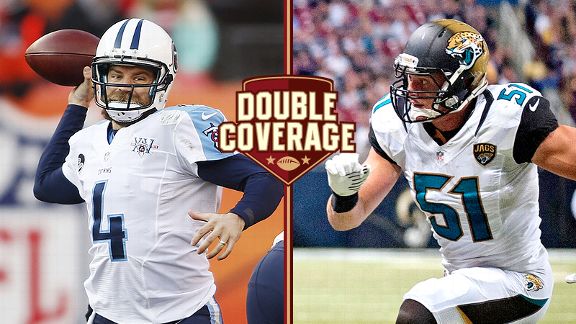 USA Today SportsPaul Posluszny and the Jags are aiming for a season sweep of Ryan Fitzpatrick and Tennessee.
JACKSONVILLE, Fla. -- Maybe
Delanie Walker
shouldn't feel so bad now.
The Titans tight end said he was embarrassed after the Jaguars won 29-27 in Nashville on Nov. 10 to pick up their first victory. Since then, the Jaguars are 3-2 with victories over Houston (twice) and Cleveland. The Titans are 1-4 with a victory over Oakland.
There seems to be much more stability in Jacksonville, too, because of the uncertain status surrounding Tennessee coach Mike Munchak.
Jaguars reporter Michael DiRocco and Titans reporter Paul Kuharsky break down Sunday's matchup at EverBank Field.
DiRocco
: Some Titans players were pretty vocal about being embarrassed due to becoming the first team to lose to the Jaguars. Is that something that still stings, and how have they rebounded from that loss?
Kuharsky
: It definitely left a mark. They are only 1-4 since then. It kind of set a bar for how bad they can be and re-established their propensity to lose to teams that are really struggling. The Jaguars are on an upswing since that game, and the Titans are on a downward spiral. If Tennessee losses to the Jaguars again, the Titans will be in line to finish in third place in an awful division, which is well short of their goals and expectations. The Titans are a better team than they were last year. But losing closer isn't a really big difference in the really big picture.
Let's turn that around. How has life changed for the Jaguars since that Nov. 10 breakthrough?
DiRocco
: I could go into a lot of stats that show how much better the Jaguars are playing, but that's not what's really important. The past six games have been more about the validation of the process, establishing the foundation of the franchise's rebuild, and confidence in the new regime. Coach Gus Bradley never wavered from the plan that he and general manager David Caldwell established. His message stayed the same throughout the eight-game losing streak to start the season: trust in the process, work hard, and focus on improving and not victories, and the victories will eventually come. Because that has happened, the players appear to have completely bought into what Bradley and Caldwell want to do, and there's a confidence in the locker room that the franchise is headed in the right direction.
We talked about
Jake Locker
the last time these teams met, but that was before he suffered a season-ending injury to his foot. How does that change the Titans' outlook on him and are they in the market for a quarterback in the offseason, too?
Kuharsky
: Locker is certain to be on the 2014 Titans. His fourth year isn't that costly and it's guaranteed. But they can't execute a spring option for his fifth year that would line him up for over $13 million. A lot of his fate depends on whether Munchak is back as the head coach. It's possible they go forward with Locker,
Ryan Fitzpatrick
and just-signed
Tyler Wilson
as their quarterbacks. It's also possible they'd draft a new guy, and depending on how high of a pick he could land in competition to start. I think it's less likely they chase a free agent like
Jay Cutler
if he comes free, but they have to assess all the possibilities. How can they completely commit to Locker based on his injury history?
One side effect of the Jaguars' surge is they aren't going to be in position to draft the first quarterback taken. What's your sense of what Bradley and Caldwell want in a quarterback and do you expect one to arrive in the first round?
DiRocco
: Offensive coordinator Jedd Fisch said something interesting last week. He said he wants his QB to scramble around, take off running to get yards and take some chances throwing the football. To me, that sounds like a pretty accurate description of Johnny Manziel. I'm not sure how that reconciles with the ideas of his bosses. Bradley comes from Seattle, which has the mobile
Russell Wilson
. Caldwell comes from Atlanta, which has the considerably less mobile
Matt Ryan
. My sense is that Bradley and Caldwell probably lean more toward the Wilson end of the spectrum. People think that eliminates Teddy Bridgewater, but that's not the case. He's not a runner but he can run if needed. If he's around, I'd expect them to take him. If not, then I would still expect them to go quarterback. It's their most glaring need.
You mentioned Munchak's job status. What's your take on whether he will be back next season -- and should he be?
Kuharsky
: He's shepherded improvement, but his team lacks an ability to finish. He's 0-4 in the worst division in football, 1-9 in the past two years. His teams have lost to the previously winless Jags in 2013 and the previously winless Colts in 2011. He's 4-18 against teams with winning records when the Titans played them and 2-19 against teams that finished the season with a winning record. To me, three years is a sufficient sample size to know what you've got and those numbers are the most telling thing on his resume. Keep him and they deal with all the limitations connected to a lame duck coach. I don't know what Tommy Smith, the head of the new ownership, will do. But the fan base overwhelmingly wants change, if that's worth anything. People still pay for tickets because they've got investments in personal seat licenses they do not want to throw away. But a lot of people are staying home on Sundays now.
Cecil Shorts
is done and
Maurice Jones-Drew
is uncertain. How can the Jaguars threaten on offense without their two best weapons?
DiRocco
: They were able to put up 20 points and post their second-highest yardage total of the season, including a season-high 159 rushing, in last Sunday's loss to Buffalo. Running back
Jordan Todman
stepped up big time and ran for 109 yards (Jones-Drew cracked 100 only once in the first 13 games) and tight end
Marcedes Lewis
was more involved in the passing game than in previous weeks (four catches for 54 yards and a touchdown). But I'm not sure that is sustainable. Teams will certainly concentrate on stopping Lewis and make quarterback
Chad Henne
move the ball with three receivers who have a combined 75 career catches. Todman doesn't scare anyone, either. The Jaguars will have to be creative on offense (they've run gadget plays the past three weeks) and capitalize on every opportunity they get.
December, 5, 2013
Dec 5
10:00
AM ET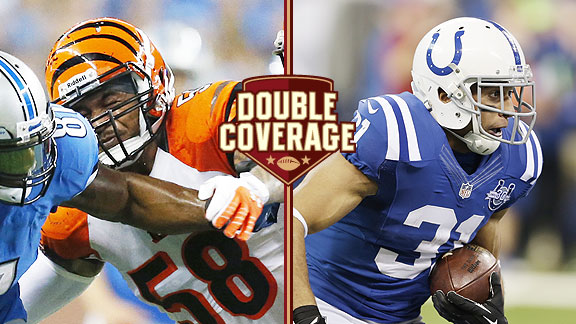 AP PhotoRey Maualuga and the Cincinnati Bengals know the Indianapolis Colts will try to establish the running game with Donald Brown.
After holding off the
Tennessee Titans
and
San Diego Chargers
last weekend, respectively, the
Indianapolis Colts
and
Cincinnati Bengals
come into this Sunday's showdown with one another knowing the stakes have been raised.
Whichever division leader emerges victorious from Paul Brown Stadium will have the No. 3 playoff seeding, and most likely will retain it, barring a complete collapse across the final three weeks of the season. The only other reason they wouldn't retain the No. 3 seed? Because they would have the No. 2 seed. Currently, the
New England Patriots
have that.
Cincinnati could claim that this weekend with a win and a Patriots loss. The Bengals have a tiebreaker over New England after beating the Patriots in October.
Like Sunday's game, that one was in Cincinnati. The Bengals are 5-0 at home, providing an added layer of difficulty for the Colts. Why have the Bengals been so good there? How can the Colts prevent losing their No. 3 seed? ESPN NFL Nation Bengals reporter Coley Harvey and Colts reporter Mike Wells have the answers to those questions and more.
Coley Harvey:
Mike, there are so many different places I could go with this first question, but I really want to ask about the Colts' rushing game. Bengals fans certainly were intrigued when the
Trent Richardson
trade deal went down earlier this season because they knew their team still had to face him this year, even if he was no longer playing for the division-rival Browns. He's had a rough go of it in Indy, prompting
Donald Brown
's start this past Sunday. Does Indianapolis believe Brown really is the back who will lead it through the postseason?
Mike Wells:
The Colts hope the demotion will turn out to be a good thing for Richardson. I know that sounds crazy considering the Colts gave up a first-round pick to acquire Richardson. Not starting should ease some of the pressure on Richardson because he's had a problem of overthinking since he joined the team. Brown may be the starter now, but coach Chuck Pagano will go with the hot hand during the game. So all it takes is a few big runs by Richardson and he'll be back in the mix. The trade so far is completely in Cleveland's favor, but this setback doesn't mean the Colts are throwing in the towel on Richardson. They really can't afford to when you think about all they gave up to acquire him. The Bengals have excelled at playing at home. What makes them a dangerous team there?
Harvey:
That's a good question. I'd say the weather has made them dangerous. The crowd has made them pretty dangerous, too. The reason I say the weather has made them dangerous is because twice this season, coach Marvin Lewis has been accurate in his prediction of what the weather would do. Back in early October, he smartly told his players to expect a sudden rain shower late in a game against the Patriots. A fourth-quarter monsoon came right when New England got the football for the last time and attempted a comeback drive.
Tom Brady
couldn't complete a pass. The rains were too hard. Eventually,
Adam Jones
intercepted Brady with 16 seconds remaining, clinching a big early-season Cincinnati win. Against the Browns three weeks ago, Lewis also told his players not to worry about the possibility of a delay that some weathermen had predicted. He was right. The game went along mostly smoothly, and about an hour after play, a line of strong storms moved through the area.
In addition to the advantage "meteorologist" Marvin gives them, the Bengals have had a great lift from their fans. Every game has been a sellout, and has had some moment in it that sent the crowd into a frenzy that's barely been seen since the team moved from the old Riverfront Stadium. The Bengals are confident they'll keep getting that energy the rest of the season.
Andrew Luck
has played in some meaningful games already in his young career. Most notably this season, he gutted out a win during
Peyton Manning
's return to Indianapolis. Because of what's at stake in Sunday's game, how much confidence do you think Luck's big-game play gives the Colts, Mike?
Wells:
Luck will have to carry the Colts if they expect to go into Cincy and get the victory. The former No. 1 overall pick doesn't have much to work with on offense now that veteran receiver
Reggie Wayne
is out for the season with the torn ACL. Opponents have found a way to slow
T.Y. Hilton
down lately by sending help over the top. Tight end
Coby Fleener
is doing what he can to help Luck out. I'm not even going to talk about receiver
Darrius Heyward-Bey
. The running game can't gain any traction and the offensive line has struggled this season. That leaves Luck having to improvise and do what he can to make things work. That won't be an easy task since the Bengals have the sixth-best defense in the league. The Bengals probably like their chances at being able to sack Luck. He's been sacked 29 times this season.
Speaking of quarterbacks, there seemed to be different stories floating around earlier this season that questioned whether
Andy Dalton
could win big games. Do you think he has the ability to take the Bengals to the next level?
Harvey:
In all honesty, it's tough to say, Mike. Dalton has been so inconsistent this season that it's tough to actually believe he'll be able to put this team on his back and be as successful as Luck has proven to be. That said, it looks like the Bengals learned something about Dalton and the rest of their offense in San Diego this past weekend. They discovered that with a little help from a solid running game, their passing game can actually produce big, explosive plays.
For a four-game stretch in October, Dalton looked like he would be able to make the Bengals an unbeatable force come the postseason. But since then, he hasn't been as efficient and he hasn't had the same type of prolific passing numbers. After throwing for more than 300 yards in four straight games in October, Dalton has hit the 200-yard mark just once since. Two games ago, against Cleveland, he didn't even reach 100. If the Bengals are going to make noise in the playoffs, it's probably not going to be because of Dalton. It most likely will be because of their defense.
Speaking of defenses, tell us about the Colts' defense. What has contributed to its struggles this year, particularly against the run?
Wells:
The Colts have struggled to stop the run all season -- 28
th
in the league -- and things may get worse for them. Defensive tackle
Ricky Jean Francois
is out two to four weeks with a partial tear of his plantar fascia.
Fili Moala
will start in his place. Stopping the run is just one problem for Indianapolis. The secondary has also had a difficult time stopping teams from passing on them. It all started when cornerback
Greg Toler
went down five games ago with a groin injury. But the defense stepped up by forcing four turnovers, including three interceptions, against Tennessee on Sunday. And there's a chance Toler will be back in the lineup this weekend. The rest of the secondary feeds off of Toler's energy. It's a perfect time for Toler to return because the Colts can use his help to try to slow down receiver
A.J. Green
, who is averaging 91.9 yards a game receiving.
Like Pagano, Marvin Lewis is a defensive coach. What makes the Bengals' defense so successful?
Harvey:
It starts with the combination of Lewis' background and defensive coordinator Mike Zimmer. The pair of defensive gurus have established quite the formidable two-headed monster for the Bengals, coming up with a slew of adjustments and lineup tweaks that has made the unit one of the best in the league, even when it maybe shouldn't be. Injuries have ravaged the Bengals' defense, most notably at defensive tackle (
Geno Atkins
) and cornerback (
Leon Hall
). The fact Will linebacker
Vontaze Burfict
has come on and had an unbelievably strong sophomore season has helped, too. The former undrafted free agent leads the NFL in tackles and played last week on a bad ankle. Because of his near-reckless style of play and the fact Zimmer's scheme has produced results, the Bengals believe in their system and that has made them successful.
January, 4, 2013
Jan 4
1:30
PM ET
»
NFC Final Word
:
East
|
West
|
North
»
AFC
:
North
|
South
Five nuggets of knowledge about wild-card weekend:
Rematch in Houston:
This is the fourth time under the current playoff format that teams are meeting in the wild-card round in back-to-back seasons. In each of the previous three instances, the team that won the first game also won the second game. Houston won on Jan. 7, 2012, at Reliant Stadium 31-10. The Bengals haven't won a playoff game since 1990. Every other NFL franchise has won a playoff game since then. Cincinnati is 0-5 all-time on the road in the postseason, tied with the Saints (also 0-5) for the worst road record in NFL postseason history. If the Bengals lose, Marvin Lewis will become the first head coach to lose his first four playoff games since Wade Phillips (now the Texans' defensive coordinator) lost his first four before earning his postseason victory in 2009.
[+] Enlarge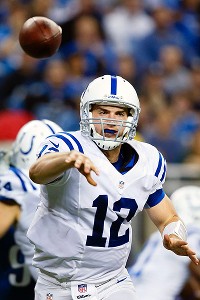 AP Photo/Rick OsentoskiColts QB Andrew Luck hasn't thrown an interception since Dec. 9 in a win against Tennessee.
Playing cleaner:
Colts rookie quarterback
Andrew Luck
led the NFL with 23 turnovers in his first 13 games. But in the last three, he's protected the ball well and not turned it over at all. Can he stay clean against the Ravens and ball hawking safety
Ed Reed
, or does he fall back into bad plays? Luck has thrown 10 interceptions on passes 15 or more yards downfield this season, tied with
Mark Sanchez
and
Drew Brees
for most in the league. Seven of Luck's interceptions on such throws have come on the road, the most in the NFL.
Big plays from Andre:
Andre Johnson
has 10 receptions of 30 or more yards this season, tied for fourth most in the league. The Bengals' defense has allowed only 10 such passing plays all season, the fewest in the NFL. The Texans' ability to find such a play could be a gigantic factor in what I expect to be a defensive game.
Matt Schaub
has looked to Johnson too much in the Texans' three recent losses. If the Texans are able to spread the ball around better, it can actually increase opportunities for the throws to Johnson to result in back-breaking, field-flipping plays.
Wayne in the end zone:
As good as
Reggie Wayne
has been this season, less than 5 percent of his 105 catches and less than 3 percent of his 180 targets have been for touchdowns. ESPN Stats & Info says his one touchdown every 36 targets is Wayne's lowest touchdown rate in the past five seasons, and the sixth-lowest rate in the NFL this season among receivers with at least three touchdowns. (The Colts'
Donnie Avery
has the fourth lowest with one touchdown every 38.7 targets.) Wayne needs 162 receiving yards to pass Cliff Branch for the third most in NFL postseason history and he needs one touchdown reception to tie Fred Biletnikoff,
Antonio Freeman
,
Randy Moss
and
Hines Ward
for third most touchdown receptions in NFL postseason history.
Also:
A.J. Green
has four touchdown catches this season on play-action passes, tied for third most in the league.
Andy Dalton
has not thrown a touchdown pass to any other receiver out of play-action this season. … The Ravens are trying to become the fourth team in NFL history to win a playoff game in five straight seasons. … Of the 16 teams he has faced more than once since 2008, Schaub's Total QBR of 89.4 against the Bengals is his best against any team. …
Arian Foster
's 285 rush yards are the most ever by a player in his first two career playoff games. …
Joe Flacco
's not been pushing the ball downfield as much since Jim Caldwell took over as offensive coordinator.
January, 24, 2011
1/24/11
11:33
AM ET
Cincinnati quarterback
Carson Palmer
is ready for
a change of scenery
.
The Titans are in need of a quarterback.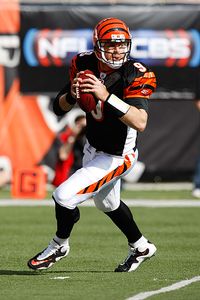 Scott Boehm/Getty ImagesCarson Palmer made the Pro Bowl in 2005 and 2006.
I'd tossed out Palmer's name after Tennessee announced it was finished with
Vince Young
, but once Marvin Lewis got a new contract from the Bengals and said Palmer was his guy, I backed down. Now I'll jump on the idea again even as Mike Brown of the Bengals says they won't move the quarterback.
Palmer is no sure thing. He's not been the same quarterback since the knee injury he suffered in the 2005 playoffs. An elbow problem that surfaced in 2008 has also been an issue.
If he's physically OK, I would put him at the head of my wish list for the Titans. Jeff Fisher and offensive coordinator Mike Heimerdinger have long coveted a traditional dropback passer who can scan the full field.
Heimerdinger's health is a question going forward; he's battling cancer. But if quarterbacks coach Dowell Loggains returns or Fisher puts a coach in place who would assume Heimerdinger's duties if needed, they'd be in line with a similar philosophy.
Those coaches would likely love to work with a healthy Palmer. His chances of rehabbing his career in Tennessee might be as good as anywhere.
If Tennessee's offensive line gets back to form, it's capable of providing time and protecting such a guy. If he's handing off to
Chris Johnson
and throwing to the likes of
Kenny Britt
,
Jared Cook
,
Nate Washington
and
Damian Williams
, I believe the Titans would have a chance to be an effective offense and their bigger issue would be defensive repair.
I'm leaving
Kevin Kolb
off this list because I think he'll simply be too expensive on the trade market, or maybe completely unavailable as the Eagles worry about
Michael Vick
making it through a full season.
Conventional wisdom says the Titans will both draft a quarterback and find a veteran.
Here's my veteran wish list:
Palmer. Maybe I am leaning too much on my memories of him back when he was very good, but if the Titans had a chance to get him back to that form, I'd want to see it.

Kyle Orton, Denver. He can really throw it. He's the sort of hard worker and stand-up guy the Titans covet.

Matt Flynn, Green Bay. The sample size is small, but the trade price might be more reasonable. There is always a Rob Johnson/Scott Mitchell issue, where you worry about getting a guy who flashed and it turned out to be just a flash.

Matt Hasselbeck, Seattle. He's too prone to getting beat up, but he'd have better protection with a fixed Titans' line and is another smart guy.

Chad Pennington, Miami (free agent). His health is a question and he does not have a big arm. But he's a guy who might give the Titans enough while a rookie is developed.
Two other names that could surface:
Marc Bulger
(Baltimore) and
Shaun Hill
(Detroit).
All the Titans need now is a new CBA that would allow for trade offers and free-agent movement.
January, 5, 2011
1/05/11
11:31
AM ET
Reading the coverage ...
Two AFC South players made John Clayton's NFL
All-Pro Team
.
Houston Texans
The Texans talked to Marvin Lewis before he re-signed with Cincinnati and
will talk
to Wade Phillips today, says John McClain.
The new defensive coordinator needs be
a proven winner
and the Texans should follow the path of the Saints and Packers, says McClain.
Finally, Gary Kubiak's job looks to be
on the line
, says Jerome Solomon.
Rick Smith hasn't taken
enough heat
here, says Richard Justice.
The porous defense was
a constant problem
for the Texans, says McClain.
Indianapolis Colts
The Colts have to keep the Jets' pass rush
at bay
, says Mike Chappell.
If the Jets' Rex Ryan can't beat Peyton Manning this time,
when will he
? Bob Kravitz considers the question.
The Colts face
another return star
in Brad Smith, says Phil Richards.
Breaking down
the matchup
with Phillip B. Wilson.
Manning's
Wednesday talk
with the media.
The Polian Corner
features Chris
, not Bill.
Manning's
year in context
, from Nate Dunlevy.
Better or worse
? Dunlevy's 2010 review.
Will Dwight Freeney be put in position to
go after
young guard Matt Slauson? Scott Bolander considers.
Jacksonville Jaguars
Vito Stellino and Tania Ganguli discuss Jack Del Rio's season wrap-up. (
Video
.)
Del Rio
is hopeful
for next season, says Ganguli.
The Jags must play better at
crunch time
, says Vic Ketchman.
Players the Jaguars
should target
for the defense, from Alfie Crow.
Tennessee Titans
Former Titans coaches
back Jeff Fisher, writes Jim Wyatt.
Talks about Fisher's future are
still ongoing
.
Recapping
Fisher versus Vince Young with Jason LaCanfora and the AP.
Marc Mariani set a team record in large part because of
how many kicks
the Titans fielded, says David Boclair.
Guys who should
not be back
, from Andrew Strickert.
January, 16, 2010
1/16/10
11:46
AM ET
It's rare that a very good team plays for a new coach. The vast majority of movement comes because a team is bad.
Tony Dungy's retirement created the uncommon scenario for Jim Caldwell, who's done excellent work in his rookie season as the Colts coach. He'll walk the sideline Saturday night at Lucas Oil Stadium on his 54th birthday, coaching his first playoff game.
But voters on
the AP panel
who select coach of the year stuck with the custom, and looked to the coach of a turnaround team in
naming Marvin Lewis
the winner.
Lewis got 20½ votes, with Sean Payton second at 11½, Norv Turner third with nine, Caldwell fourth with seven and Andy Reid and Ken Whisenhunt getting one vote apiece.
Caldwell's done excellent work, and maintaining the Colts' culture, expectations and production isn't as easy as it may appear. Nonetheless, enough people judged him as a guy who hit the jackpot with his inheritance and managed not to botch it.
December, 24, 2009
12/24/09
9:03
AM ET
Award season is almost upon us.
I thought I'd give you a run through of where I believe AFC South candidates should fit in the voting. Please note I don't have a ballot, and could be missing good candidates here from outside the division. I'm also two games early.
As always, I invite a conversation in the comments.
MVP:
Peyton Manning
should win it and I believe he will. I'm not big on the "without-him" criteria, where you say how bad the Colts would be without him. I'm not big on the "so dependent" criteria, where you say the team's run game is poor and they are so dependent on Manning it increases his value.
Here's what I am big on: I believe he's the best football player in the league right now. Seven fourth-quarter comebacks, a 14-0 record and early clinching of the big trifecta -- the division, a bye and homefield advantage. What else could you ask him to lead his team to?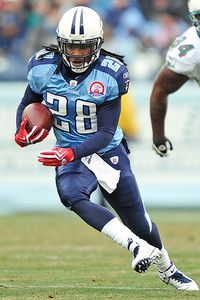 Don McPeak-US PRESSWIRETennessee running back Chris Johnson's stats are worthy of heavy consideration for offensive POY.
Offensive Player of the Year:
Chris Johnson
should win it. I understand that some voters will feel compelled to put
Drew Brees
here if they go with Peyton Manning for MVP or vice versa, but that would be a mistake and here is why:
Johnson is miles ahead of the next most-productive running back, while Manning and
Andre Johnson
, the NFL's leading receiver in yardage, have no such distance between them and their competitors.
Chris Johnson has run for 1,730 yards.
Steven Jackson
is second with 1,353. That 377 yard difference amounts to 22 percent more for CJ. Johnson is 17 percent ahead of
Ray Rice
on scrimmage yards.
Manning is one of six quarterbacks with a passer rating over 100. He leads a group of eight signal-callers who've already eclipsed 4,000 yards or are all but certain to.
Andre Johnson has 1,433 receiving yards. How many guys are within 22 percent of that total? Six.
Are running backs down? Sure. Is it more and more a passing league? Absolutely. Are people still handing the ball off? Yup.
Chris Johnson's rushing performance this season is the single best offensive performance of the season. He should win this award by as large a voting margin as any postseason award is won.
Defensive Player of the Year:
A case can be made for
Dwight Freeney
, who's got 11.5 sacks in a very consistent rushing season. But the Colts defense has been good at all three levels and his push doesn't stand out.
Charles Woodson
and
Darrelle Revis
are the buzz guys now and I think Woodson is a worthy winner. I'd lean to
Darren Sharper
.
Offensive Rookie of the Year:
Percy Harvin
looks to be in line to win it, and he's been an explosive addition to the Vikings. But just be sure you're not putting him here as a receiver alone, because it's his additional work as a kickoff return man (his 28.3-yard average is third in the NFL) that puts him over the top.
Austin Collie
's receiving numbers (53 catches for 567 yards and seven touchdowns) aren't too far off Harvin's (49, 691, six).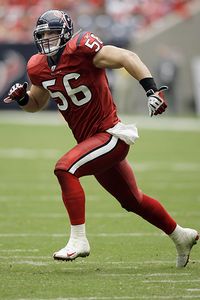 Brett Davis/US PresswireTexans rookie linebacker Brian Cushing has received praise from coaches around the league.
Defensive Rookie of the Year:
Brian Cushing
's been a huge addition to the Texans and I've listened to opposing coaches, on and off the record, rave about him all season. He's played like a veteran despite missing camp with a knee injury and sitting out a lot of practices during the season with a foot injury. He should win this because of how much impact he's had for the Houston defense. I've been asked about
Jerraud Powers
, who's been quite good for what the Colts ask of a corner, but he's not on par with Cushing. Buffalo's
Jairus Byrd
will get votes for an excellent season with an NFL-high nine interceptions and
Brian Orakpo
is a strong candidate.
Coach of the Year:
Jim Caldwell deserves serious consideration. Broad national thinking is he inherited a great situation and didn't screw it up. But he made two significant staff changes. The defense, under coordinator Larry Coyer, has been excellent, and the special teams' coverage, under Ray Rychleski has been better. The Colts didn't plan on life without
Bob Sanders
or
Anthony Gonzalez
, yet they've not missed a beat with those guys missing.
But voters traditionally lean heavily on turnarounds or surprises. I figure that means Sean Payton and maybe Marvin Lewis get the most attention here. If the Jaguars find a way into the playoffs, so should Jack Del Rio.
Comeback Player of the Year:
I've heard some
Vince Young
talk. I think this requires coming back from more than a self-inflicted benching, and more than a 10-game season. I don't think he's in the same class here as
Cedric Benson
, who had been dismissed as a bust. And I know a lot of folks will look to
Tom Brady
.
December, 10, 2009
12/10/09
5:10
PM ET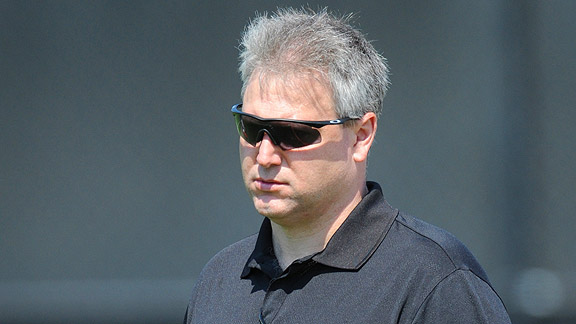 Al Messerschmidt/Getty ImagesFirst-year general manager Gene Smith appears to have the 7-5 Jaguars on the right track.
Gene Smith is straightforward, simple and a little uncomfortable when he's the focus. He's no jokester pulling punch lines out of his pocket.
Those are qualities that make him seem like a perfect fit for his job. Twelve games into his first season as GM of the
Jacksonville Jaguars
, he works quietly, anonymous to most NFL fans. That's just fine with him.
With his team surprisingly in control of one of the AFC's final playoff spots as it prepares to host Miami Sunday and Indianapolis next Thursday night, he's been more popular this week, carving out more time to talk to people like me.
His first draft class has made as big a contribution as any in the league and includes a third-round defensive tackle from Temple,
Terrance Knighton
, and a third-round cornerback from William & Mary,
Derek Cox
. Coming from those non-powerhouse schools, both picks raised eyebrows when their names were called in April. Both have been effective and look to be long-term building blocks.
Some of Smith's personnel peers say he deserves applause for his willingness to go with them.
"You've got to identify what your needs are, really look at the players and not worry about what everybody else says and I think that's what they did," one AFC personnel man said. "You'd prefer not to have to make those decisions your first or second year, you'd like that to come further down the road. But sometimes you don't have a choice. I think he gets a lot of credit for stepping forward and doing what he thought was the right thing."
Unless things come apart for the 7-5 Jaguars in spectacular fashion from here, I believe Smith has done enough of the right things that he ought to be seriously considered for any executive of the year awards.
In a wide-ranging conversation Thursday afternoon, we covered a lot of ground.
Here is my attempt to plug you into all of it.
November, 25, 2009
11/25/09
5:02
PM ET
For a young team that's not loaded with talent and is at the start of a new regime, the buy-in is big.
If players aren't invested and don't believe in what the coach is telling them, it's a difficult road. But sometimes that buy-in can overcome a lot.
In the Jaguars' first year with general manager Gene Smith making personnel decisions, coach Jack Del Rio's players have stayed on message. And that message increases in strength when it produces results. Three wins in a row and four out of five serve the messenger well.
Jacksonville hasn't seemed to have any guys wandering this season, but if they were early on, they aren't now.
"I feel like the buy-in has been good," Del Rio told Jacksonville reporters. "I think when you string a couple wins together it helps any of those that maybe are holding something in reserve, and start to really understand maybe a little better. It kind of clears the picture a little bit for some of those people. But the energy and the commitment has been outstanding year-long, and we're going to need that to continue as a football team. If we can stack some wins together, who knows what can happen? But right now we've got to find a way to beat these 49ers."
With four consecutive losses, the shine is off of Denver's Josh McDaniels. Might Del Rio be at the top of the list of coach of the year candidates?
Jim Caldwell deserves strong consideration, but he inherited a good team, and voters typically look to upstart, surprise teams when casting votes for the honor.
I suspect Sean Payton would be the favorite right now, but I'd put Del Rio with Caldwell in the top five along with Brad Childress and Marvin Lewis at this point.
Del Rio currently stands at 79 percent in SportsNation's
coach approval ratings
, tied with Jeff Fisher behind Payton, Caldwell, Ken Whisenhunt, Tony Sparano, Childress, Jim Schwartz and Todd Haley.
April, 3, 2009
4/03/09
1:55
PM ET
Posted by ESPN.com's Paul Kuharsky
Could news of a positive drug test for former Boston College defensive tackle B.J. Raji at the scouting combine help the Jacksonville Jaguars?
ESPN's John Clayton said on the air since the report that it could drop Raji out of the top five, but not out of the top 10.
| | |
| --- | --- |
| | |
| | AP Photo/Winslow Townson |
| | If B.J. Raji (90) is available at the No. 8 pick in the draft, the Jagaurs may be willing to overlook some off-field issues to take him. |
The Jaguars are at No. 8.
Raji seems universally regarded as the draft's top player at his position.
New Jaguars general manager Gene Smith has talked about building from the inside out and told me last month that he'd like to reacquire the identity the team had when Marcus Stroud and John Henderson were paired in the middle of the defensive line and were regarded as the league's toughest interior tandem.
Raji was reportedly very good during Senior Bowl week. Jack Del Rio saw him up close, though he and his staff coached the other team. (Marvin Lewis and the Bengals, who pick sixth, got to work with Raji as they coached the North team.)
If the Jaguars check out Raji and are OK with him missing the 2007 season because of academics and are OK with the drug test and the direction he's heading now, they could find him a great value when their turn comes.
If that's the case, they are sure to be hoping that teams ahead of them like Seattle (No. 4), Cleveland (No. 5), Cincy (No. 6) and Oakland (No. 7) are turned off by recent developments. History, of course, suggests it wouldn't turn off the Bengals or Raiders if Raji's their guy.
I asked Matt Williamson of Scouts Inc. what bearing he thought a positive drug test could have on Raji's status. Here's what he said:
Williamson: Hard to comment on that one due to not knowing the specifics. What drug was found in his system? Is the entire thing confirmed? Assuming that it has been, it surely doesn't help Raji's cause, but there are several teams (Oakland, Cincinnati, Kansas City) who really could use him and Oakland and Cincinnati are prone to overlooking an off-the-field indiscretion or two. Still, it isn't like those teams do not have other needs, so a tie would probably go to a prospect other than Raji. However, the position he plays, his versatility at that position and the lack of anyone really close to him as defensive tackles go in this draft ensures that he will be off the board quickly. No way he gets out of the top 10 and I say 33 percent that he is there for Jacksonville. But ... Jacksonville all of a sudden could really benefit from the problems of two huge prospects in Raji and Michael Crabtree (injury). Both are among the best players in this draft, but Jacksonville might snare one at No. 8, which would be a home run.
December, 14, 2008
12/14/08
2:31
PM ET
Posted by ESPN.com's Paul Kuharsky
It comes as no surprise that Gregg Williams isn't going to be back as Jacksonville's defensive coordinator, according to ESPN's Chris Mortensen.
He and Jack Del Rio, both strong-willed coaching personalities, never seemed a good fit for each other. Del Rio is safe because of his big contract, and he's never hesitated to make changes on his staff.
In a normal year, Williams might have hit the market and found a better situation.
But with Mike Nolan already available and other head coaches who could be fired likely to be available as defensive coordinators, it could be a tough market. That list could include names like Rod Marinelli, Romeo Crennel, Jim Haslett as well as less likely possibilities like Herm Edwards, Marvin Lewis and Mike Singletary.
Many will automatically presume Williams will land back in Tennessee, where he worked his way up under Jeff Fisher before leaving to become head coach of the Buffalo Bills after the 2000 season.
Fisher could have an opening if Jim Schwartz gets his first head coaching job. But with such a vacancy, Fisher would also look at strong in-house candidates Dave McGinnis and Chuck Cecil.