August, 1, 2013
8/01/13
7:43
AM ET
Reading the coverage ...
Houston Texans

DeAndre Hopkins is
emulating
Andre Johnson to the point where he's beating the veteran to the hot tub for a morning soak, says Dale Robertson of the Houston Chronicle.
Joe Mays hopes fans
forgive him
for last year's hit on Matt Schaub, says Tania Ganguli of the Chronicle.
Rookie right tackle Brennan Williams needed to have
fluid drained
from his recently scoped knee, says Robertson.
Hopkins was well covered by Jonathan Joseph on two one-on-one red zone snaps but the rookie receiver still managed to
win both
, says Lance Zierlein of Z Report.
Indianapolis Colts

Among five Wednesday observations from Chappell, John Chapman's
penetration
from nose tackle.
Greg Toler was on the sideline at the end of practice with a concussion, according to The Associated Press.
Owner Jim Irsay and offensive coordinator Pep Hamilton are both talking about the importance of
running the ball
, which kind of makes Andrew Mishler of Stampede Blue wary.
Ryan Lilja signed with Denver, where he's reuniting with Peyton Manning, says the AP. The two had great success as
teammates with the Colts
.
Coby Fleener is
generating buzz
, says Marcus Dugan of Colts Authority.
Jacksonville Jaguars

The Jaguars are preaching that "
it's all about the ball
" as the defense searches for takeaways, says Ryan O'Halloran of the Florida Times-Union.
Luke Joeckel's
avoided looking like a rookie
in the early days of Jaguars training camp, says Hays Carlyon of the Times-Union.
Denard Robinson was out to practice to catch passes
20 minutes early
, says O'Halloran's in the T-U's daily camp report.
Blaine Gabbert said he'll be
all the way back
in practice today with his sprained right ankle "unless something magical pops up," says AP's Mark Long.
Gus Bradley said eight or nine reps in a row for the defense might have been
too much
, from Wednesday's "Inside the Jaguars" episode from Jaguars.com.
Geno Hayes is looking at his first year with the Jaguars as
a reinvention
, says John Oehser of the team's website.
Tennessee Titans

With running backs reliant on instincts, how much do
running back coaches
influence what their guys do? John Glennon of The Tennessean considers the question.
Kenny Britt tied something new this offseason and mostly
stayed out of New Jersey
, says Glennon.
Ryan Fitzpatrick
swallowed his pride a little
to sign for a backup job with the Titans, says Jim Wyatt of The Tennessean.
Former Titans running back Jamie Harper is
asking for support
after an arrest, says Wyatt.
Colin McCarthy was back working as
the starting middle linebacker
on Wednesday, says Glennon.
David Stewart's had a picture of him and Bernard Pollard
ready to fight each other
in a Titans-Chiefs game from 2009, for some time. The Titans right tackle asked the team's new strong safety to sign it, says Teresa Walker of the AP.
September, 4, 2012
9/04/12
8:02
AM ET
Reading the coverage ...
Can you fare better than a coin flip picking games against the spread? Prove it in a weekly pool with me and other AFC South blog readers. Create an entry and
join us here
. The NFL's first game is Wednesday night, so you have to be in before then. Please don't delay.
Houston Texans
"[As] the Texans prepare for Sunday's regular-season opener against the Miami Dolphins at Reliant Stadium, Matt Schaub is
under pressure
to make 2012 better than last season when the Texans finished 10-6, won the AFC South for the first time and defeated Cincinnati in the wild-card round before losing at Baltimore," writes John McClain of the Houston Chronicle.
Indianapolis Colts
Receiver Austin Collie
has been cleared
from the concussion he suffered Aug. 19 at Pittsburgh and is expected to play Sunday in Chicago, says Mike Chappell of the Indianapolis Star.
Shaping the roster in
a never-ending job
for general manager Ryan Grigson, says Chappell.
Jacksonville Jaguars
Mike Mularkey intends to use Maurice Jones-Drew as
the third-down back
Sunday against Minnesota, says Vito Stellino of the Florida Times-Union. The feature back takes the bulk of the carries, but there is a role for the second guy who comes in, too.
Four
undrafted rookies
-- receiver Kevin Elliott, linebacker Julian Stanford, interior offensive lineman Mike Brewster and safety Antwon Blake -- made the Jaguars' final roster, says Ryan O'Halloran of the T-U.
Tennessee Titans
Cornerback Jason McCourty, whose twin brother plays for the Patriots, jokes about the 2009 59-0
loss at New England
: "No memories. We totally erased that from our mind." Jim Wyatt's story from The Tennessean.
The Titans are
unfazed
by the replacement officials, says John Glennon of The Tennessean,
"Regardless of whatever psychic connections do or do not exist between those who shared prenatal proximity, it is certain that Jason and Devin McCourty will
experience different emotions
Sunday when the Titans host the Patriots in the 2012 opener for both teams," writes David Boclair of The City Paper.
June, 16, 2012
6/16/12
10:27
AM ET
LX from Chuco, Texas, writes:
You are soooooo defensive about the Texans' org and especially about the lunch-money-victim coaches (Kubes and Phillips). You wrote that "General manager Rick Smith and coach Gary Kubiak crafted and fielded a team that made a major breakthrough last season: the Houston Texans' first trip to the playoffs." ...Well, isn't that what was expected of them last year. The entire division played horrible, Manning's injury exposed the Colts, Arian proved he wasn't a one-hit-wonder, and the Texans' Def improved (because history showed it would in Philips' 1st yr). Kubes and his people show you just enough each year to say that they improved, but they have yet to beat PHI, SD, BAL, or NYJ ever; win at IND (even if Peyton wasn't playing); or sweep the division. Speaking of history,
Matt Schaub
will not finish the season-again, both he and
Kareem Jackson
will hinder late-game comebacks, most of the rookies will be broken by the time the season starts, Phillips' D will struggle, and a guaranteed loss awaits them in Indy (possibly lose the other Colts game because they tend to drop games to rookie QBs).
Paul Kuharsky:
So by your thinking, if a team is expected to win its division and does, it doesn't count as an accomplishment because it only did what was expected?
You and I have different qualifications for being good.
Mine is that you get to and advance in the playoffs.
Houston's defense was better because history shows it would be under Wade Phillips in his first year? So what, it was better. If you're going to say they won it in part because
Peyton Manning
wasn't playing, then are you giving them a pass for all the years they didn't make the playoffs because he WAS playing?
C'mon.
You play the schedule you're given and if you win your division, guess what? You were its best team. The Texans also beat Cincinnati in the playoffs, so guess what? They were also better than at least one playoff team.
And please don't pretend like you know Schaub's health future. He played two straight healthy seasons before a freak injury last year. Any QB who had his leg twisted by
Albert Haynesworth
the way Schaub did was likely suffering that injury.
---
Travelz from Rio de Janeiro writes:
Paul, ... you're joking right??!!??......... MJD is the entire Jags O, plus heart and soul of team!! And, as a Jax fan, I think I am ready to email ESPN and ask them to get you to submit a drug test, if you think Ras Jennings is ready to handle the load solo, and get weak weaky Gabby a nice level of comfort !!!! You have limited tape or stats at pro level to support the Jennings claim at all !!! Injured most of last year, over his head the year prior, thus he has shown that he is feature back.
Paul Kuharsky:
I don't think I said
Rashad Jennings
is an NFL feature back on the level of
Maurice Jones-Drew
. I do think the Jaguars would hand him the ball and be OK with it so long as MJD isn't around. And trust me, when it comes time to start missing paychecks, he'll be back. They all are.
He's not the boss.
Why be mad at the team and not mad at him for not anticipating that the deal he signed just two years ago would be out of sync with running backs in just two seasons? And is being the eighth-best paid back really a crime for one of the league's top five backs? (Please don't reply with he's the best because he led the league in rushing.) Players take their turns -- when you sign, you're at the top. In subsequent years, you fall down the list at your position.
It's called life in the NFL.
Boo hoo.
---
@indydadof3 writes:
How will
Dwight Freeney
and
Robert Mathis
handle the new defensive scheme?
Paul Kuharsky:
Chuck Pagano is a smart guy and he knows those two guys are premier pass-rushers. He's not going to ask them to spend a lot of time doing stuff they aren't good at. They will move around and it will make them less predictable and create some confusion. But I envision an adjustment like the one
Mario Williams
was making last year before he was hurt in Houston. He was surrounded by better players, but had five sacks in five games when he got hurt.
---
Kevin Cunningham from Portland, Ore., writes:
The Texans have four top flight players coming to free agency this summer all at premium positions. Of the four (
Duane Brown
,
Connor Barwin
,
Brian Cushing
, Matt Schaub) which one is the most vital to what the Texans do? I think Brown is one of the best LT in the league, and Barwin is going to cost a ton due to his sack totals and we all know Cushing and Schaub are the leaders on their respective sides of the ball. Can the Texans keep all four?
Paul Kuharsky:
Cushing is under contract for 2013 -- due a base salary of $2.193 million. He'll be in line for a new deal, but he won't be heading for free agency just yet.
---
LX from CHUCO, TX writes again:
A popular phrase around the NFL is "If you have two starting QB, you have no QB"; shouldn't the same apply to Kareem Jackson and the HOU CBs? Joseph, as you pointed out, seems to agree by saying ??They drafted him here in the first-round to be a fulltime corner, not to be a split-time corner." If you draft a player in the first round, he should be held to a higher standard and be expected to hold the position w/o the aid of a tag-team. This arrangement burns-up an extra spot on the ROSTER and SALARY CAP space (common excuses for cuts in HOU).
Jason Babin
showed early promise and was cut,
Dunta Robinson
and Mario Williams were used until they needed a raise, and the defensive CAPTAIN (not a 1st rounder, but just as important)
DeMeco Ryans
was tossed away like a soiled diaper; with such disregard for high-draft-choices (that actually did their job solo), why is Kareem so well liked? Why doesn't HOU spend a high pick on another CB? They drafted RB Tate when
Arian Foster
was emerging and hoard TEs as if prepping for an Apocalypse; why not invest in a caliber CB if available?
Paul Kuharsky:
They aren't burning a roster spot by having a
Jason Allen
or an
Alan Ball
. They need that cornerback depth no matter how well or how much Jackson plays. It's just a matter of how much that third guy plays.
I agree, Jackson should be an every down guy. But if he's not good enough to be an every down guy, then they have to do something else. It's better than leaving him out there when he's not good enough when they have a better alternative.
Jason Babin was ages ago and was terrible in Houston, miscast as a 3-4 OLB. They changed to a 4-3 and back to a 3-4 since then. Robinson wasn't worth what they would have had to pay, and neither was Williams.
And it's time to get over the Ryans trade. He played less than half the snaps last year and didn't do a lot. He didn't fit the system. If you like
J.J. Watt
and
Brooks Reed
, who are great in the 3-4, then you have to accept collateral damage like Ryans.
He did. You can.
Finally, having
Ben Tate
is hardly a bad thing. You seem to be anti-depth. That's a bad stance, because the Texans won the division last year because of their depth.
---
@TitanSizedJason writes:
In two years time, who will be the better LB for the Titans:
Akeem Ayers
or
Zach Brown
?
Paul Kuharsky:
I'm not much for such forecasts, but it's important to note they are very different players. The Titans used to allow for their two outside linebackers to be very similar players. Not these two.
Ayers is a big, strongside guy who should be able to manhandle some tight ends and be an effective rusher. Brown is keyed around his speed and will drop to cover far more than he will go forward to get near the quarterback.
Let's see them both work in Jerry Gray's system before a big comparison. Ayers was limited last year as Gray didn't install a whole lot as a first-year Titans coordinator without offseason work.
***
Thanks to everyone for the questions.
You can send more via the
mailbag
or
Twitter
. Follow me
here
, too.
June, 8, 2012
6/08/12
10:21
AM ET
Some wrapup thoughts from my visit to the Texans during their most recent three days of OTAs:

The confidence level of the defense is at an all-time high, and understandably so. These guys are young and hungry and well coached. I don't believe any of them will be content to rest on their laurels from last year, and they'd hate to be seen as a one-year wonder. That doesn't guarantee anything beyond top-flight effort, of course.
While
Rashad Butler
and
Antoine Caldwell
are at the front of the line to replace departed right tackle
Eric Winston
and right guard
Mike Brisiel
, don't lock them in. I don't think we'll see two guys with no starting experience in the lineup, but I won't be surprised if tackle
Derek Newton
or rookie guard
Brandon Brooks
fight his way into the lineup.
I wrap all talk of emerging receivers at this time of the year in a huge, cautionary flag. No position is in better position to look good in OTA and minicamp settings that wide receiver. In that context,
Lestar Jean
and
Keshawn Martin
are generating more buzz for the Texans right now than
DeVier Posey
is.
Nickelback
Brice McCain
is an underrated player who is coming on and looked to be the crispest of all the defensive backs in some settings. He's got a huge up arrow on him. Also among defensive backs, undrafted rookie safety
Eddie Pleasant
from Oregon looks like a guy to keep an eye on.
We'll hit on this more later, but the Texans should bail on the idea of a fullback.
James Casey
is really an H-back type. Use him that way. Derrell Smith's been moved from linebacker to fullback and is worth rooting for. But this team has far too much proven offensive talent to put someone like Smith on the field for anything beyond a short-yardage situation. And that's too small a role to carve out on a Sunday 46-man roster.
I see no reason to doubt that
Matt Schaub
and
Andre Johnson
will be ready to go for training camp as they come off of foot and knee injuries, respectively.
The versatile
Connor Barwin
recently wrote a concert review for the Houston Press. Check it out
here
.
January, 12, 2012
1/12/12
9:02
AM ET
Reading the coverage …
Houston Texans

Arian Foster is
a different kind of guy
, writes Steve Campbell of the Houston Chronicle. "He's driven by a different burning inside," says Ray Lewis.
Lewis sees
some of himself
in the Texans' high-motor Brian Cushing, says Jeffrey Martin of the Chronicle.
Good soldier Matt Schaub is doing
all he can
to help T.J. Yates, says Jerome Solomon of the Chronicle.
The Texans are looking to prevent the sort of
big pass plays
they gave up last time they played in Baltimore, says Sam Khan of the Chronicle.
Indianapolis Colts

Writes Bob Kravitz of the Indianapolis Star: "[Ryan] Grigson arrived Wednesday with a nice mix of
confidence and humility
, even if he was a bit uncomfortable under the klieg lights for the first time. He knows what he wants but knows he doesn't know it all. And he's not going to pull the trigger on massively important decisions without thinking it through thoroughly."
Grigson will roll up his sleeves as he examines
every corner
of the building, says Mike Chappell of the Star.
Grigson radiates
confidence and work ethic
, says Phillip B. Wilson.
Jacksonville Jaguars

When owner Shahid Khan and GM Gene Smith stepped out of a seven-hour interview, Mike Mularkey knew it was either really good or really bad. But he had
a good vibe
and got the offer, says Tania Ganguli of the Florida Times-Union.
Many
NFL people
like the Mularkey hire, but it's getting a different review from the press, says Vito Stellino of the Times-Union.
The Jaguars did
the safe, practical thing
here, says Gene Frenette of the Times-Union. Now Smith has to give Mularkey the right tools.
Mularkey sees his previous stops as
learning opportunities
says Garry Smits of the Times-Union.
Mike is not the Jaguars'
first Mularkey
, says Smits.
Tennessee Titans

A look at Brett Maxie,
a Titans' target
for their open secondary coach job, from Jim Wyatt of The Tennessean.
The Titans could
lean defense
with their first pick in the draft, says John Glennon.
Eddie George is
playing Julius Caesar
in a Nashville play, says Erin Quinn of The Tennessean.
December, 12, 2011
12/12/11
5:30
PM ET
When the
Houston Texans
got off the team bus after they got back from Cincinnati as AFC South champions, the first person to greet them was of great significance.
"When the buses parked last night, the first guy waiting on us in the parking lot was Mario (Williams)," coach Gary Kubiak said at his Monday news conference. "He did not make the trip. That meant a lot to the team. And Mario had brought a lot of the guys' families over. I told Matt (Schaub) this after the game: 'I know it's a great day for you, but I know it's a tough day for you because you're not out there playing.'
[+] Enlarge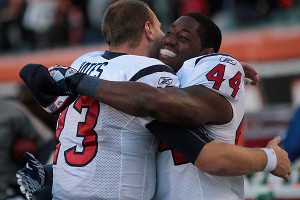 AP Photo/Tony TribbleHouston QB T.J. Yates, left, hugs running back Ben Tate after Houston defeated Cincinnati on Sunday, clinching the AFC South title.
"I let Andre know how I felt about him after the game, but I could sit here and talk about Mario, I could talk about
Matt Schaub
, I could talk about (Daryl) Sharpton. I could talk about all those guys that have been a part of this that unfortunately are not going to be a part of it as we move forward. We're here today because of a lot of people, and out players understand that, we respect that. We carry those guys with us every week that we go on."
Williams (pectoral) and Schaub (foot) have been a big part of the Texans' franchise building, but are among the players on IR who aren't a part of what's been happening on the field.
Andre Johnson
(hamstring) didn't play against the Bengals and has missed significant time, too. Kubiak gave Johnson a game ball after the Texans clinched the division thanks to a combination of their win in Cincinnati and the Titans' loss to New Orleans.
Now the Texans will be without right guard
Mike Brisiel
, who suffered a fractured fibula and had it repaired Monday morning. He will be replaced by
Antoine Caldwell
, but the Texans hope Brisiel won't miss extensive time. Safety
Danieal Manning
missed three games and four weeks after the very same injury and surgery.
One player who won't be part of things going forward is veteran receiver
Derrick Mason
. The Texans cut him to create some roster flexibility as Kubiak said they can use a special teams' contribution from their fourth receiver.
The Texans were delighted by the response they got after returning to Houston. (Here are some players
addressing the crowd
.)
Kubiak grew up in Houston and once greeted the Oilers at the Astrodome when they returned from an AFC Championship Game loss in the late 1970s.
"I'm a proud Houstonian like everybody," Kubiak said. "…I grew up five miles down the road, so it's special to see that excitement. I know the hard work that's been put in, the job that the coaches and players and this organization has done. To walk around our building today and see how proud everybody is that works here and is part of this organization, it's a great day."
The coach said he had good conversations on the plane and upon the team's return with players about staying focused and keeping blinders on.
"They've got to keep going," Kubiak said. "They understand."
This team's done an excellent job of refocusing week-to-week.
I expect it to do the same as it prepares for a visit from Carolina. The Texans said clinching the division and a playoff spot was only step one. They currently hold the AFC's No. 1 seed and all indications are they'll put a premium on holding on to it.
March, 2, 2011
3/02/11
12:32
PM ET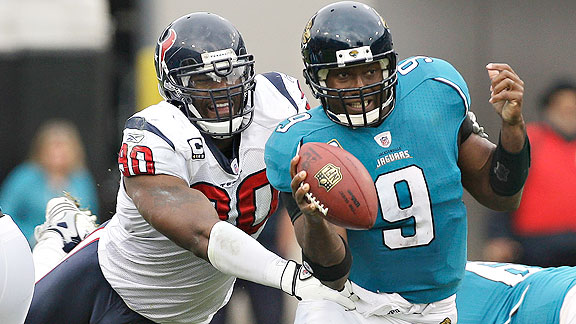 AP Photo/Phil CoaleMario Williams and David Garrard are two of the 53 players under contract in the AFC South slated to make more than $1 million this season.
After being struck recently with how the NFL's labor rift has been cast as billionaires vs. millionaires, I thought I'd look at some players' salaries.
Totaling-up career earnings is quite difficult, and bonus money can be hard to nail down and sort through.
We can still get an interesting snapshot by looking at scheduled 2011 base salaries. I suspect many readers will be surprised that the vast majority of players will earn less than $1 million this fall.
Here, according to the NFLPA, are the players from each AFC South team currently scheduled to make a base salary of $1 million or more in 2011. Keep in mind guys in line for some form of free agency are not part of things here.
Fifty-three of 216 players under contract are slated to make $1 million or more. That's 24.5 percent of the division.

Houston Texans
Total base salaries of $1 million or more:
13
Total players under contract for 2011:
49
Percentage of roster making $1 million or more:
26.5

Indianapolis Colts
Total base salaries of $1 million or more:
11
Total players under contract for 2011:
57
Percentage of roster making $1 million or more:
19.3

Jacksonville Jaguars
Total base salaries of $1 million or more:
13
Total players under contract for 2011:
51
Percentage of roster making $1 million or more:
25.5

Tennessee Titans
Total base salaries of $1 million or more:
16
Total players under contract for 2011:
59
Percentage of roster making $1 million or more:
27.1
*Young will be cut or traded, the Titans have announced.
December, 30, 2009
12/30/09
2:49
PM ET
It qualifies as an obvious answer, but I thought Gary Kubiak was especially articulate when asked by New England reporters in a conference call about what's next for
Matt Schaub
.

Schaub
Schaub didn't get the third quarterback slot on the AFC Pro Bowl team --
Tom Brady
did.
The Houston Chronicle says Schaub is second alternate behind
Peyton Manning
,
Philip Rivers
and Brady. Presumably,
Ben Roethlisberger
is also ahead of him.
Here's Kubiak's answer:
"Statistically, he's been healthy this year and the numbers he's put up are comparable to everyone else in the league. But let's face it: Quarterbacks in this league are judged in the long haul on winning. He's played good football. It's time for him to take his team to the next [level] and that's being a playoff team and having a chance to compete for a championship someday. That's what it's all about. Tom, Peyton and of course I was around John Elway all those years. That's ultimately what those guys are judged upon. We're trying to get this football team good enough to where he's got a chance to get it to that point. I think he's doing his part. We have to continue to improve as a team and he has to continue to improve as a player. Him being healthy has been a big part and he's been able to do that this year."
I can see how Schaub's not in the Pro Bowl.
A lot of players who finally put together a full and successful season don't really get their full recognition until the year after that. But even if he lights it up next year, that's a crowded, quality field he's battling.
December, 30, 2009
12/30/09
12:08
PM ET
In reviewing
Pro Bowl snubs
, Pete Prisco mentioned David Stewart, Antoine Bethea and Matt Schaub.
Houston Texans
The Texans send a team-record
four players
to the Pro Bowl and Schaub is a second alternate, says John McClain.
He's in, but Mario Williams has
not had
a Pro Bowl season, opines McClain.
If things break right, the Texans and Patriots
could play again
next week in a first-round playoff game, says Dan Graziano.
Some
thoughts on the Patriots
, from Alan Burge.
When resting players impacts your team, you can't have it
both ways
, says Battle Red Blog.
Indianapolis Colts
Dallas Clark is
finally a Pro Bowler
, one of six Colts elected to the AFC squad, says Mike Chappell.
Gary Brackett and Bethea
should have made it
, says Clifton Brown.
Fans are
still fuming
, writes Phil Richards.
A final look at
an unresolvable conflict
, from John Oehser.
The Colts
failed their fans
, says Rick Gosselin.
Potential pitfalls
, from Deshawn Zombie.
The Colts' decision
will be debated for a long time, says McClain.
Jacksonville Jaguars
Maurice Jones-Drew ended a two-year
Pro Bowl drought
for Jacksonville, says Michael C. Wright.
Mike Thomas rates his rookie season as "
OK
," says Wright.
Are the Jags
the most mediocre
team of the decade? Front Office Fans thinks so. Hat tip to Big Cat Country for the link.
Tennessee Titans
Chris Johnson is the Titans'
lone Pro Bowler
, says Gary Estwick.
A little attention for
the Titans' offensive line
, from David Climer.
Michael Roos
should be in the Pro Bowl ahead of Jake Long, says Shutdown Corner.
Five things Jim Wyatt knows: Like the Chargers, the Seahawks have always been
a struggle
for Jeff Fisher.
Music City Miracle's links post gets a mention because of its
clever headline
that provided me a late-morning laugh.
December, 24, 2009
12/24/09
6:16
AM ET
Projecting
the playoff field
with Dom Bonvissuto. He has Jags losing two, Titans winning two but not getting in and Texans losing two.
Brian Cushing and Jacob Lacey make Mike Tanier's
All-Rookie Team
.
Jim Caldwell's on Dave Goldberg's list of
the best coaches
; Gary Kubiak's among the worst.
Houston Texans
Arian Foster needs to
take advantage
, says Jerome Solomon.
Duane Brown (knee)
may not be able
to play, says John McClain.
The case for Matt Schaub
as a Pro Bowler, from Mike Kerns.
Possible
courses of action
regarding Steve Slaton, from Battle Red Blog.
Rookie ratings
from Lance Zierlein put Cushing first, Percy Harvin second and Clay Matthews third.
Indianapolis Colts
Peyton Manning is
looking good
in a poll of MVP voters, says Mike Chappell.
Over the past eight seasons, no team has
turned the ball over less
than Indianapolis, says Phil Richards.
After practicing Monday, Anthony Gonzalez
was out
Wednesday, says Chappell.
Ryan Diem
isn't slipping
, Chappell says.
Adam Vinatieri says it's a
now or never
type of thing, says John Oehser.
Seven
surprising gifts
the Colts got this year, including the development of Pat McAfee and Lacey, from Oehser.
Breaking down the strength of
the Colts' schedule
compared to San Diego's, with Deshawn Zombie.
The Colts are
the team to beat
in the AFC, says Clifton Brown. (Vinnie Iyer says it's
the Chargers
.)
Jacksonville Jaguars
History
isn't kind
to the Jags against the Patriots or Tom Brady, says Vito Stellino.
Fred Taylor
expanded on his remarks
about the Jaguars, and said LA may be a better alternative, says Michael C. Wright.
Fearing "
the banana cream pie effect
" with Vic Ketchman.
Can the Jags
finally get by
the Patriots, asks Jonathan Loesche.
Tennessee Titans
Chris Johnson still thinks he
has a shot
at Eric Dickerson's rushing record, says Jim Wyatt.
Rod Hood's working
in the place
of the injured Nick Harper, says Wyatt.
Wyatt's
game breakdown
.
Gerald McRath and Colin Allred feel
ready to step in
as the outside linebackers, says Terry McCormick.
McRath's
got the spotlight
now, says Estwick.
June, 10, 2009
6/10/09
8:58
AM ET
Posted by ESPN.com's Paul Kuharsky
A look at new defensive coordinators, including the four in the AFC South, from Mike Wilkening.
Adrian Hasenmayer gives us his top rivalries right now. Colts-Patriots is No, 2, Titans-Steelers is No. 4.
Houston Texans
Indianapolis Colts
Jacksonville Jaguars
Tennessee Titans
AFC SOUTH SCOREBOARD
Sunday, 10/19
Monday, 10/20